This post has been sponsored by Italia Regina. All opinions expressed are my own.
Today's recipe features a bed of arugula framed in roasted bell peppers, topped with pepper crusted strip steak, and dressed in a creamy balsamic vinaigrette. The end result is a steak salad that is a light yet satisfying meal unto itself, which can easily serve either as a light dinner or as the centerpiece of a summer dinner party.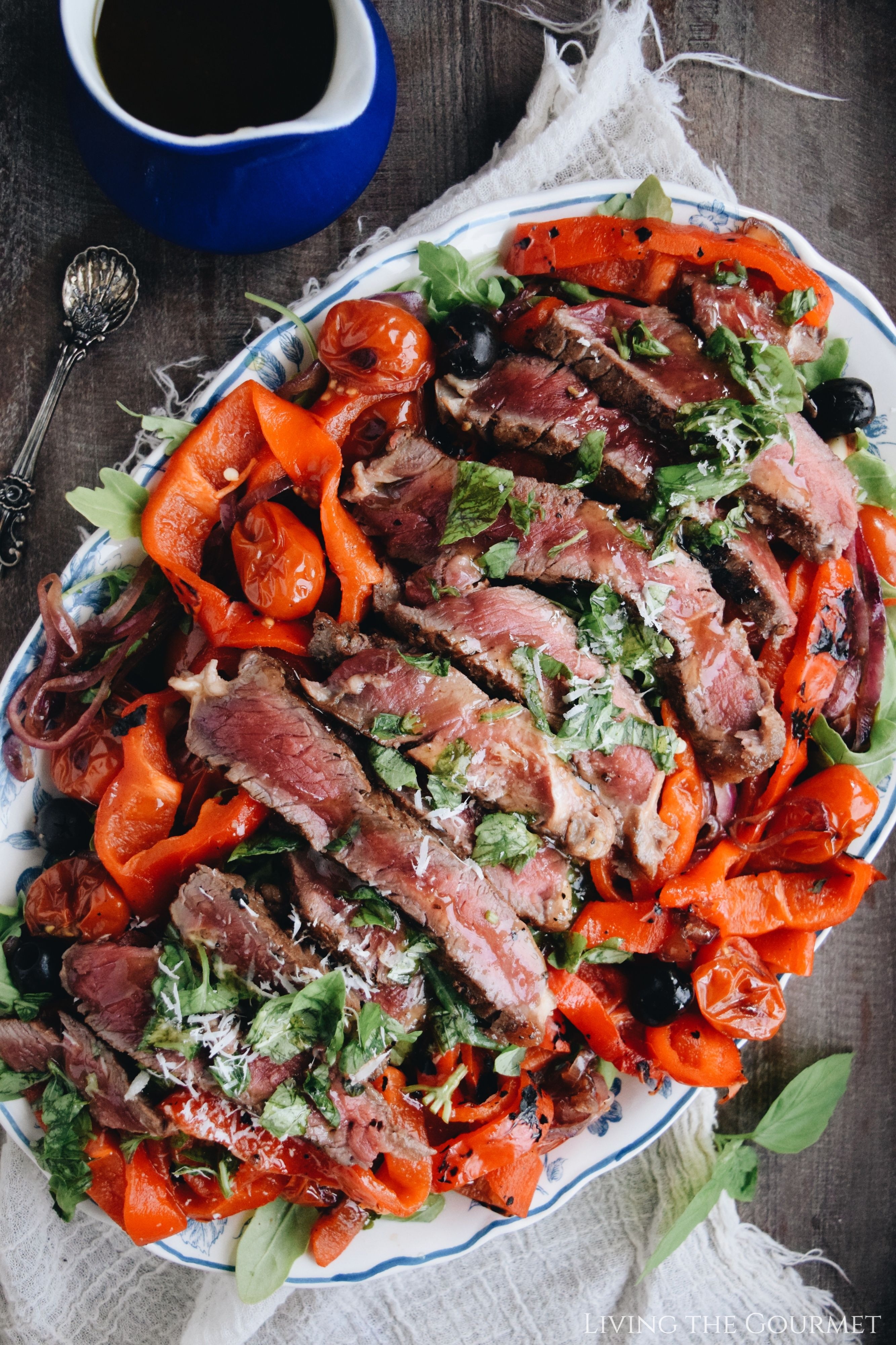 Assembling the Salad – In Three Parts
1) First The Greens. Today's salad begins with a bed of greens with roasted bell peppers, grilled fresh cherry tomatoes, and garlic. Now, while you can probably sub in any type of 'large' pepper in place of today's bell peppers, particularly if you want a bit of heat, I'm going to make a few recommendations on the greens. I'm using arugula since I find the slightly bitter taste melds nicely with the pepper and garlic marinated steak, whereas greens with a 'brighter' flavor or 'crisper' in texture would risk clashing with the umami from the steak and the marinade.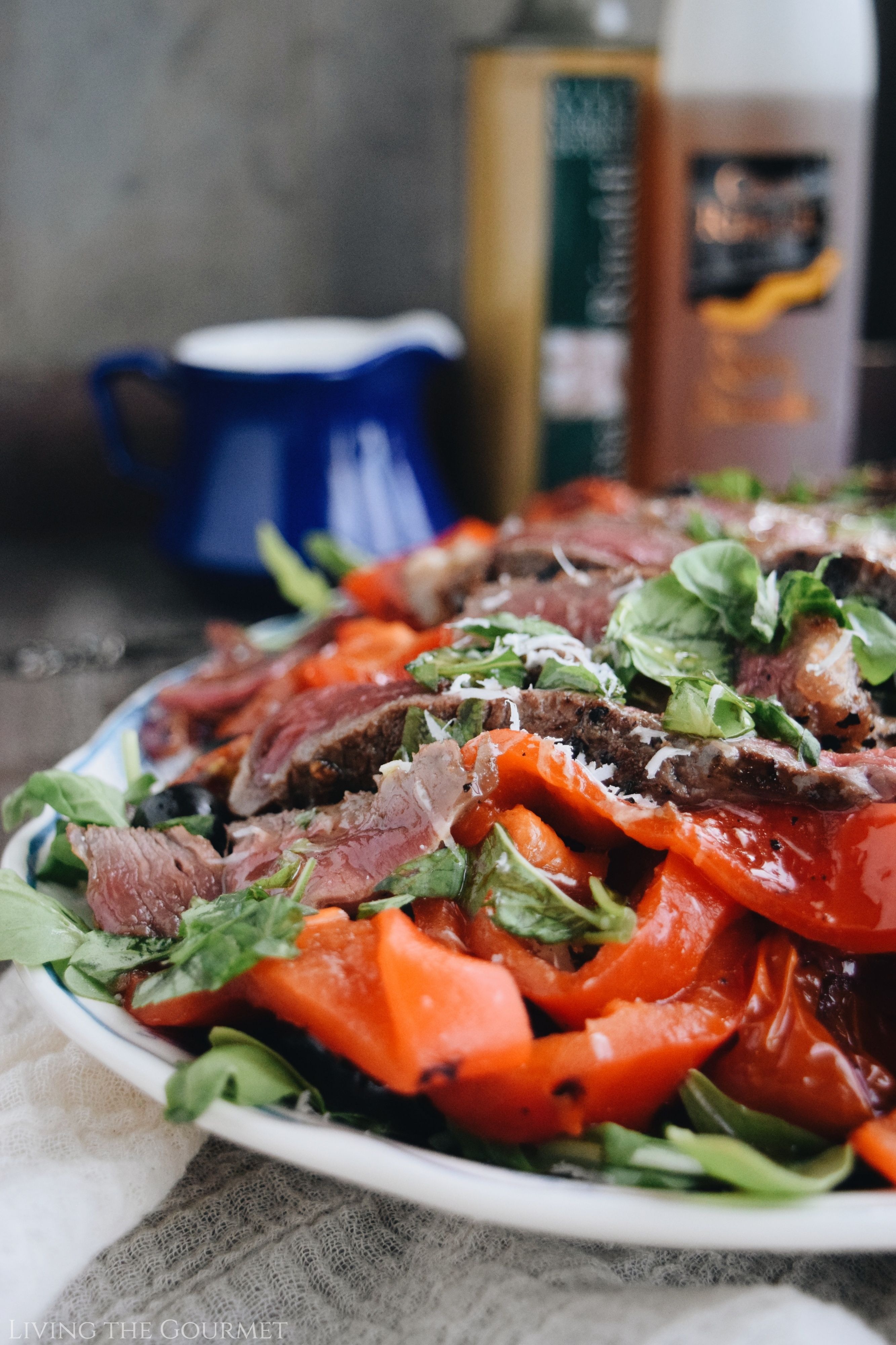 2) Then The Meat. A variety of cuts work well for this salad, including ribeye, New York strip, and sirloin. What you want here is a steak that remains 'substantial' after being sliced thin, and tenderness is paramount. You also want a fair bit of marbling and 'juice' in order to give the salad a bit of beef broth texturing.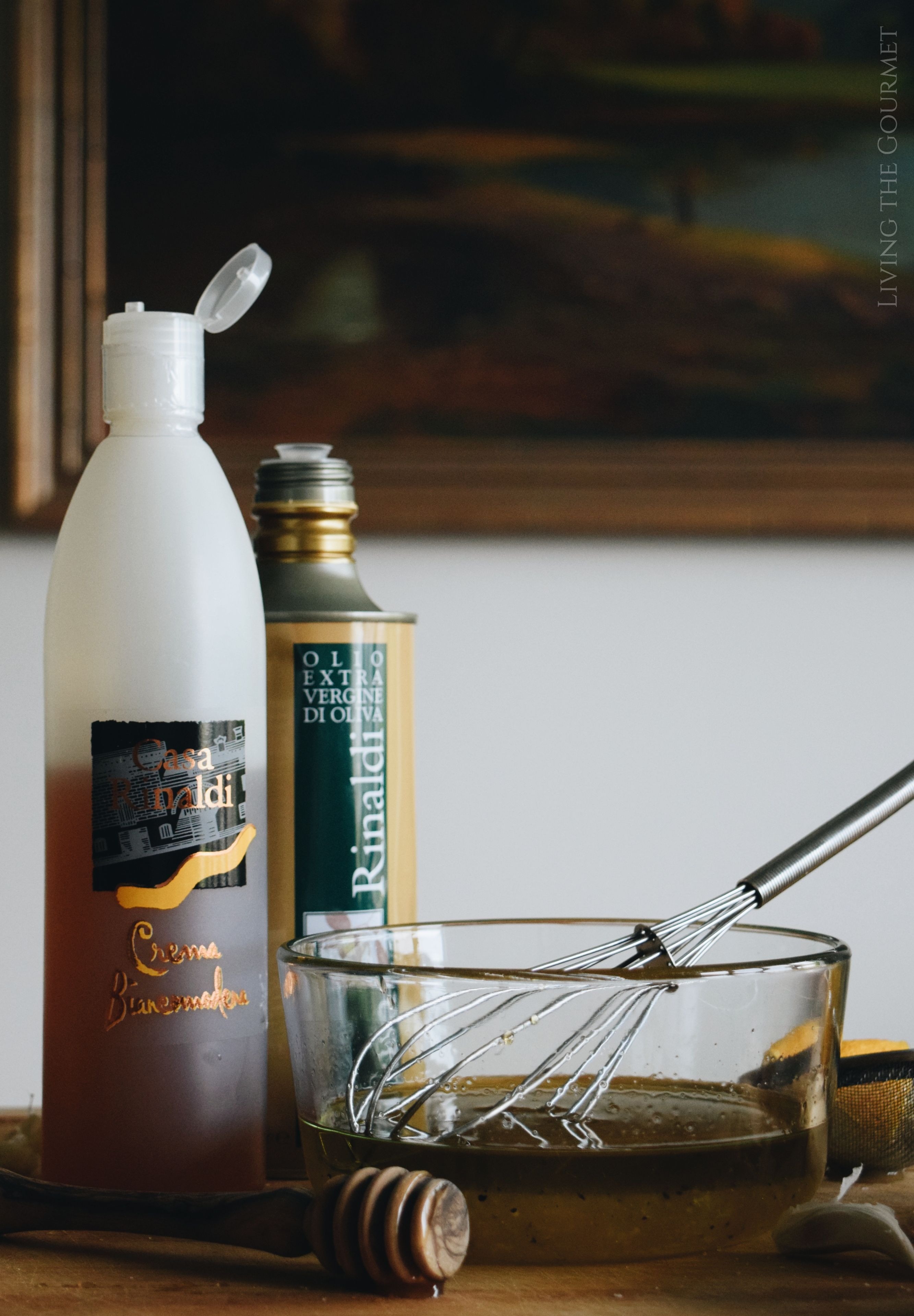 3) Finally The Vinaigrette. Today's vinaigrette is thicker than what I usually put together, and this is by design since I wanted it to really coat the meat and the greens. The base of the vinaigrette is a creamy Italia Regina White Cream Balsamic Vinegar coupled with a high quality olive oil. More on those below. In terms of flavor, we're combining honey, lemon, and white balsamic vinegar, the end result of which gives us a vinaigrette with just a hint of sweetness and citrus, and a thick body that thoroughly coats both the salad and the steak.
Notes On the Ingredients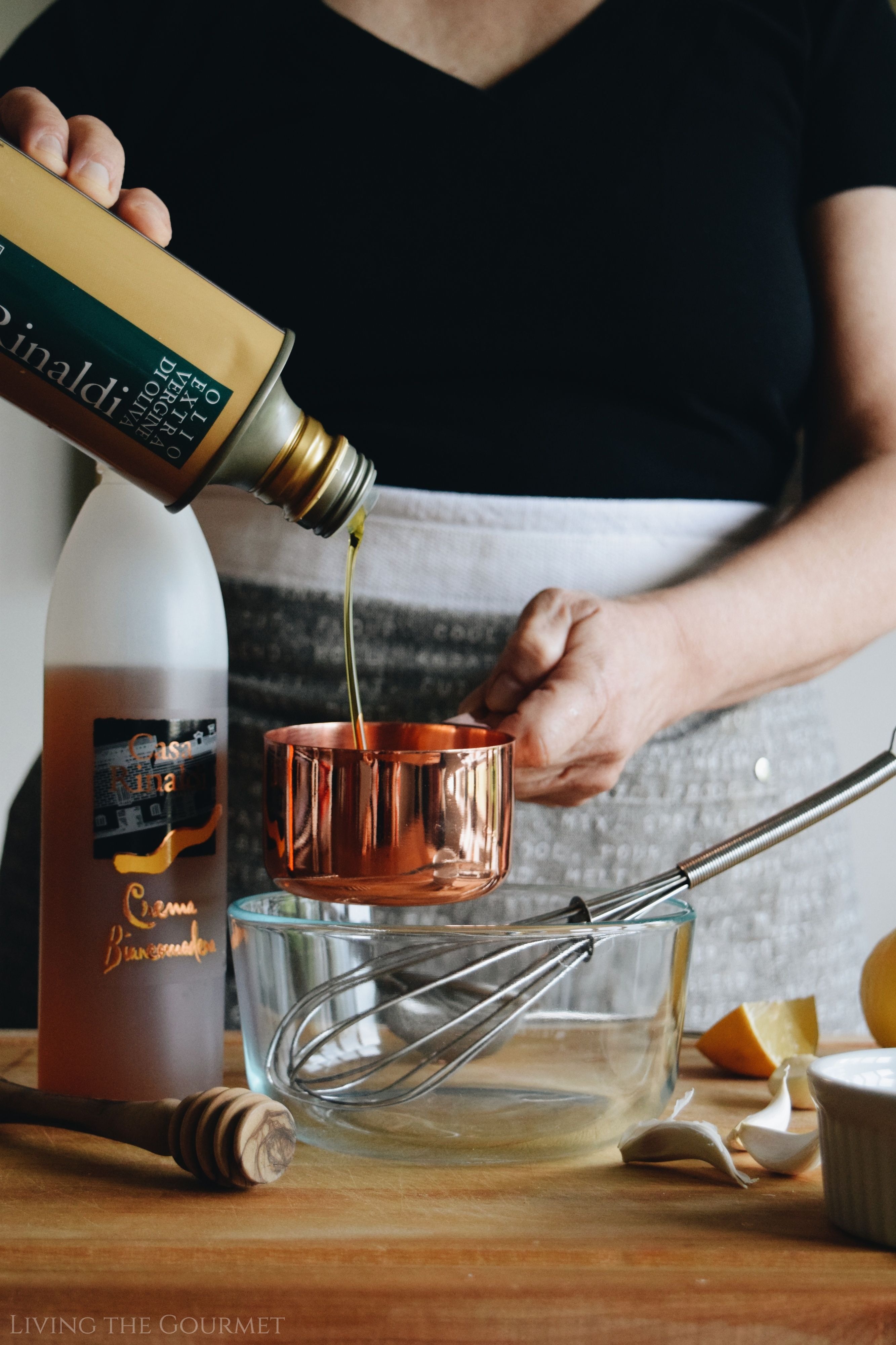 1) The Olive Oil. There's nothing worse than ruining an otherwise great recipe with low quality oil. Today we're using 100% Italian Olive Oil, which is a quality oil that's deeply aromatic and richly flavored, making it ideal for today's vinaigrette and marinades.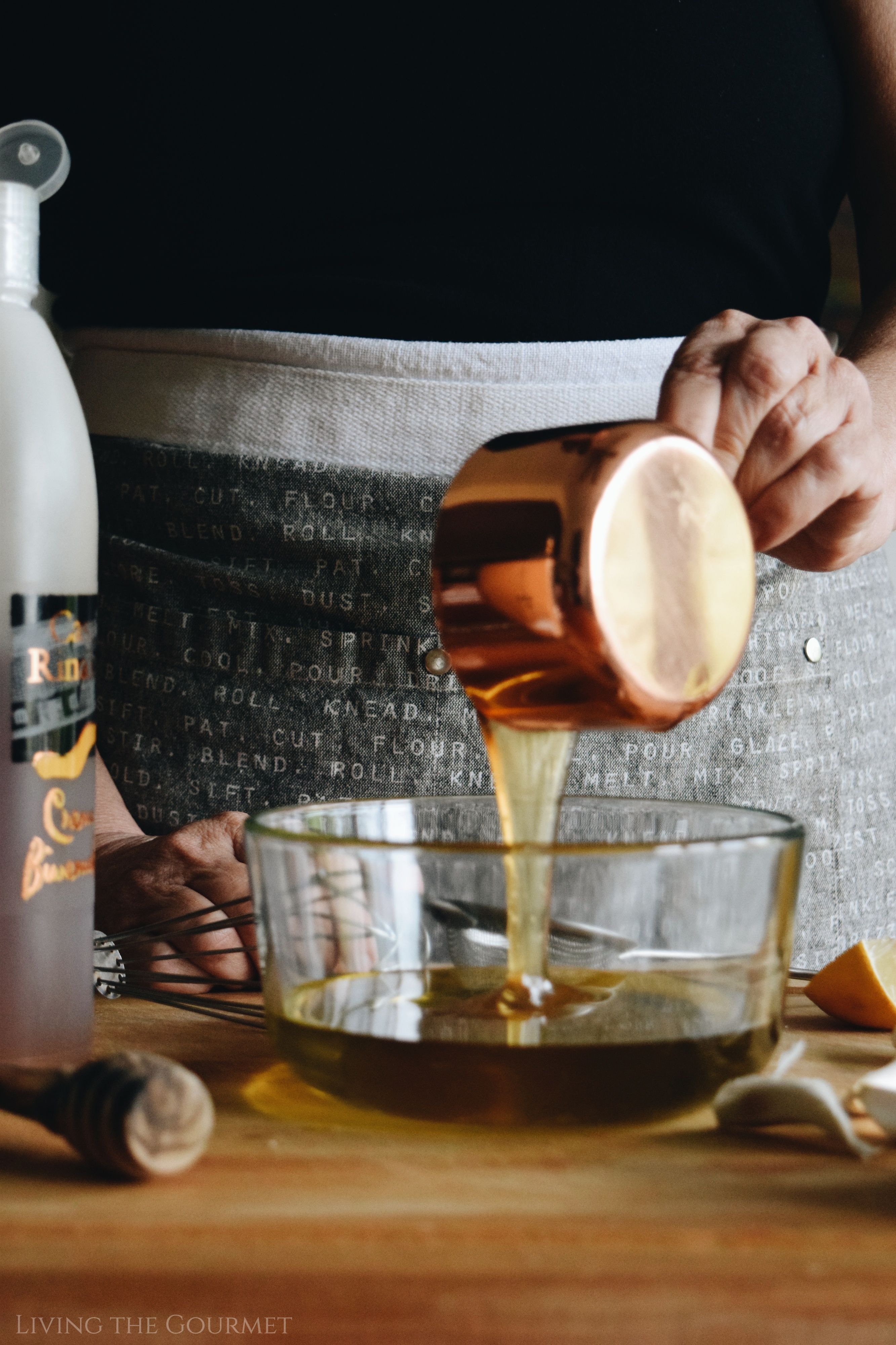 2) Creamy Balsamic. Today's vinaigrette simply doesn't work without this key ingredient, as it would be far too watery with a standard vinegar. We're using Casa Rindaldi Crema Biancomodena, which is a creamy white balsamic vinegar dressing. It's absolutely delicious on its own over salads, and works great in vinaigrettes as shown here today.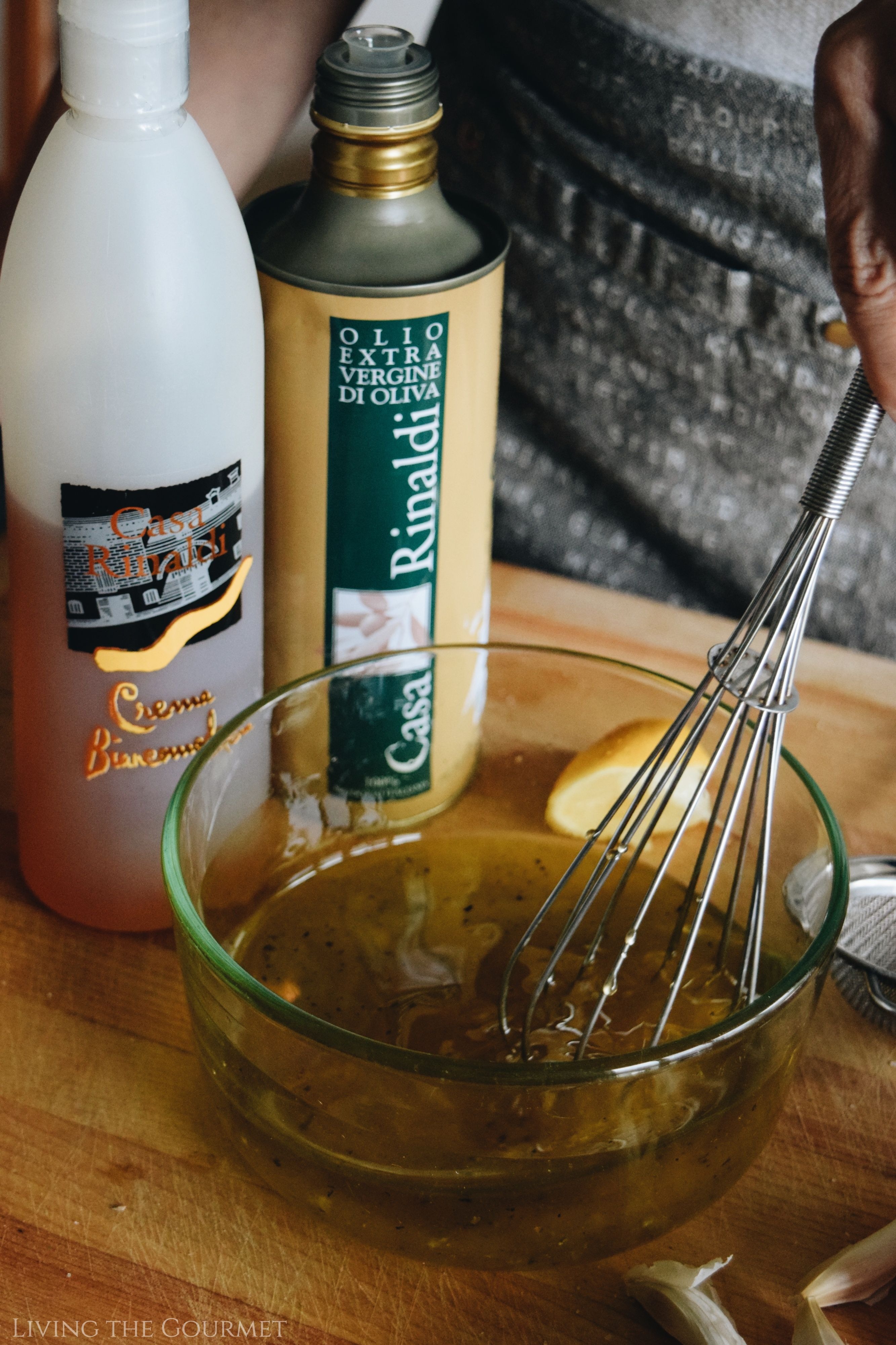 3) The Pepper. Don't roll your eyes, because I know what you're thinking "What could she possibly have to say about this singularly ubiquitous item?" I just want to say that neither freshly ground pepper nor pre-ground pepper are a suitable substitute for whole crushed pepper corns. The difference comes down to texture and the distribution of flavor. Grinding pepper evenly distributes the flavor throughout the resulting 'specks' and gives you an even texture free of crunchy 'grinds' or 'shards.' Typically, that's desirable. However, 'crushing' whole peppercorns distributes the flavor unevenly, leaving much of the peppery flavor 'trapped' in the shards and grinds. This is precisely what you want since you want the crushed pepper corns to give a nice 'crunchy' texture packed with bursts peppery flavor.
What to Serve Alongside The Steak Salad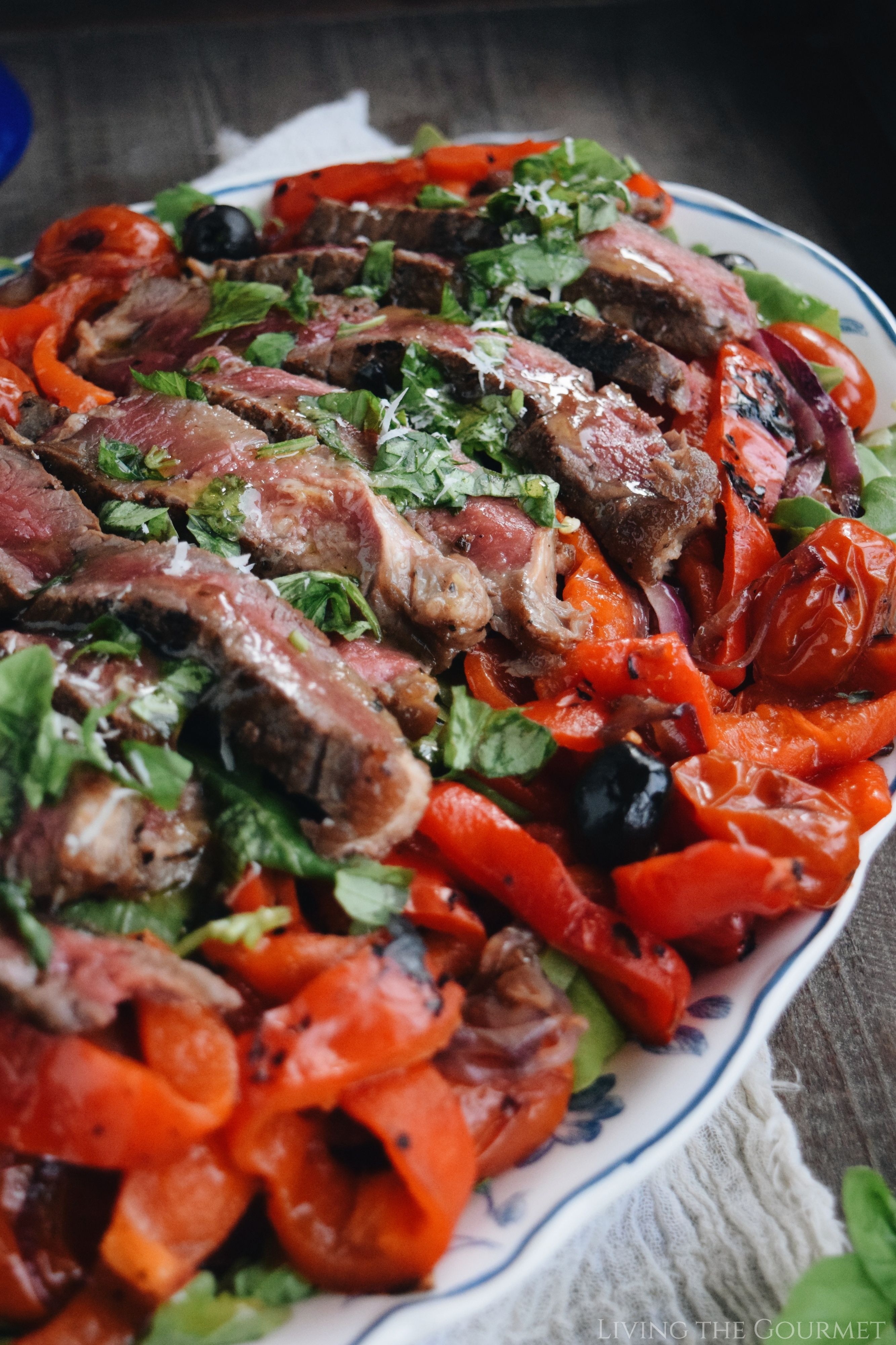 Since a steak salad is still very much a 'salad' in my book, here are a few suggestions for what to serve alongside it.
1) Antipasto Board. For a charcuterie-based antipasto, check out my recipe here. For a more traditional 'everything' antipasto board, check out this recipe here.
2) Flat Breads. Today's salad would go absolutely great wrapped in some homemade flatbreads. Also, if you're looking for one of the easiest ways ever to impress your guests, these flatbreads are exactly what you're looking for, since they're deceptively simple to prepare.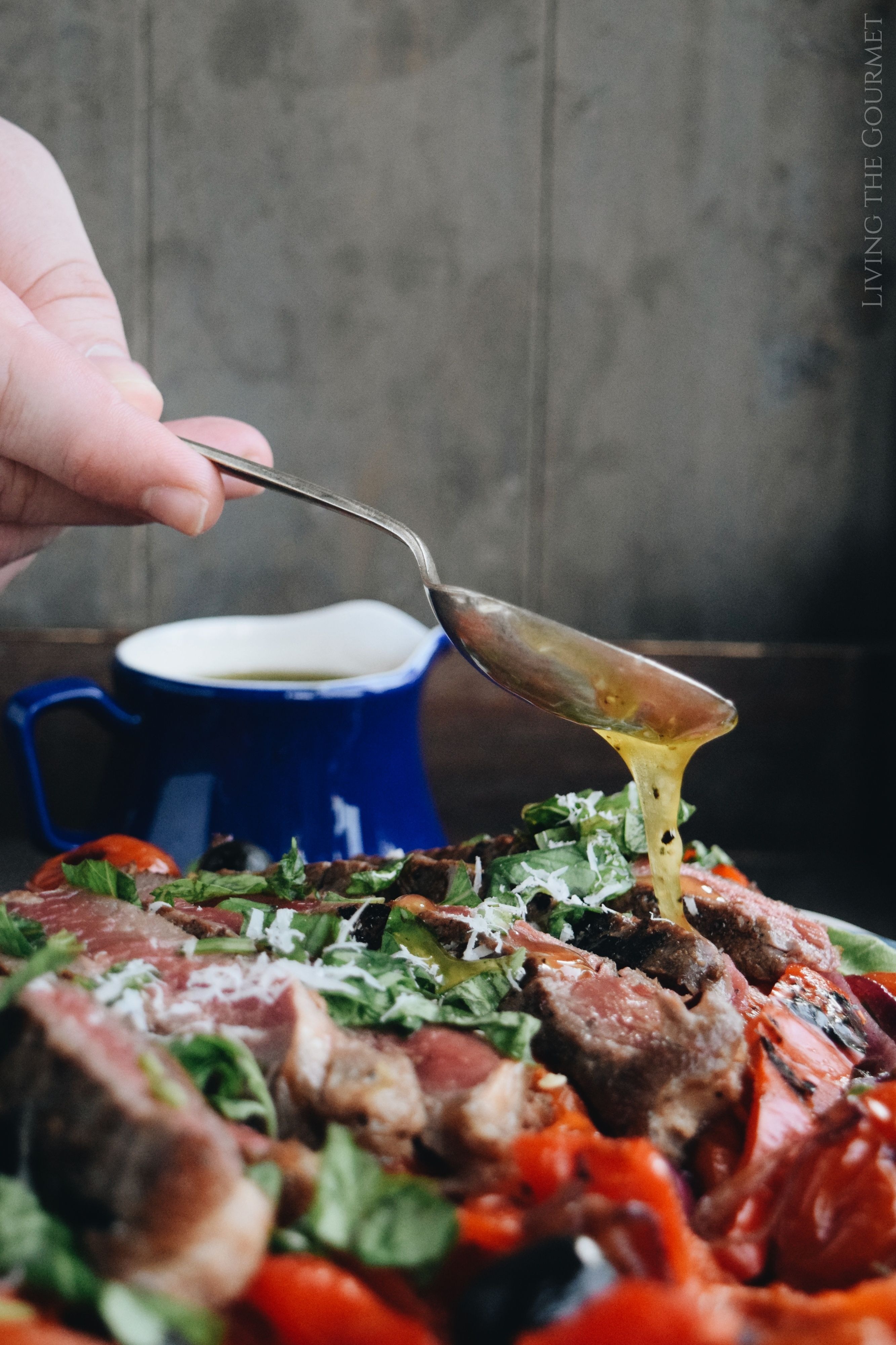 Print
Steak Salad
Author:
Prep Time:

10 minutes

Cook Time:

15 minutes

Total Time:

25 minutes
3

NY Strip Steaks about

1

inch thickness – boneless
For the steak marinade:
2

tbs. pepper corns – crushed with a rolling pin

1

tbs. sea salt

1

tbs. garlic powder

4

tbs. olive oil
For the Salad:
2

bell peppers – roasted

1

pint

of cherry tomatoes

4

cloves of garlic – whole

1

red onion – sliced thin

3

–

4

cups

of Arugula

5

–

6

fresh basil leaves
For the Vinaigrette:
1

cup

of Casa Rinaldi Olive Oil

1/2

cup

of Casa Rinaldi White Creamy Balsamic Vinegar

1

clove of garlic – grated

1

tbs. honey
Juice of

1/4

lemon

1 tsp

. sea salt
Fresh ground black pepper to taste
Instructions
Crush the peppercorns with a rolling pin. You may place a piece of plastic wrap over the peppercorns as you crush them.
Place the crushed peppercorns, sea salt and olive oil in a small bowl to form a paste.
Rub each steak with this mixture and place a plastic bag.
Place in the refrigerator for at least one hour or up to a day or two.
Heat a large cast iron frying pan over a high heat. Place the steaks in the frying pan.
Heat a large cast iron frying pan over a high heat for about 5 minutes.
Place the steaks in the dry frying pan and cook 3 to 4 minutes to let a nice char form; do not move steaks while cooking.
Turn the steaks over and cook 2 minutes more for rare steak, or 3 to 4 minutes more for medium-rare.
The more firm the steak feels to the touch the more well done it is. Place on a cutting board and let the steak rest for about 5 minutes.
Slice steaks against the grain.
For the Salad and Vinaigrette:
Place all of the ingredients for the vinaigrette in a small bowl and whisk.
Place the peppers over a flame to form a char. Place the peppers in a plate to let cool down.
Scrap the char off of the peppers and slice.
Heat a large cast iron frying pan and place the tomatoes, onions and garlic in the pan and sprinkle with sea salt and a drizzle of olive oil. Let the vegetables achieve a nice char and remove from the pan to cool.
Place the arugula on a platter and arrange the steak slices over the leaves.
Top the steak with the ripped fresh basil leaves.
Arrange the peppers, tomatoes, onions and garlic around the edges and drizzle with the vinaigrette.
Recipe Card powered by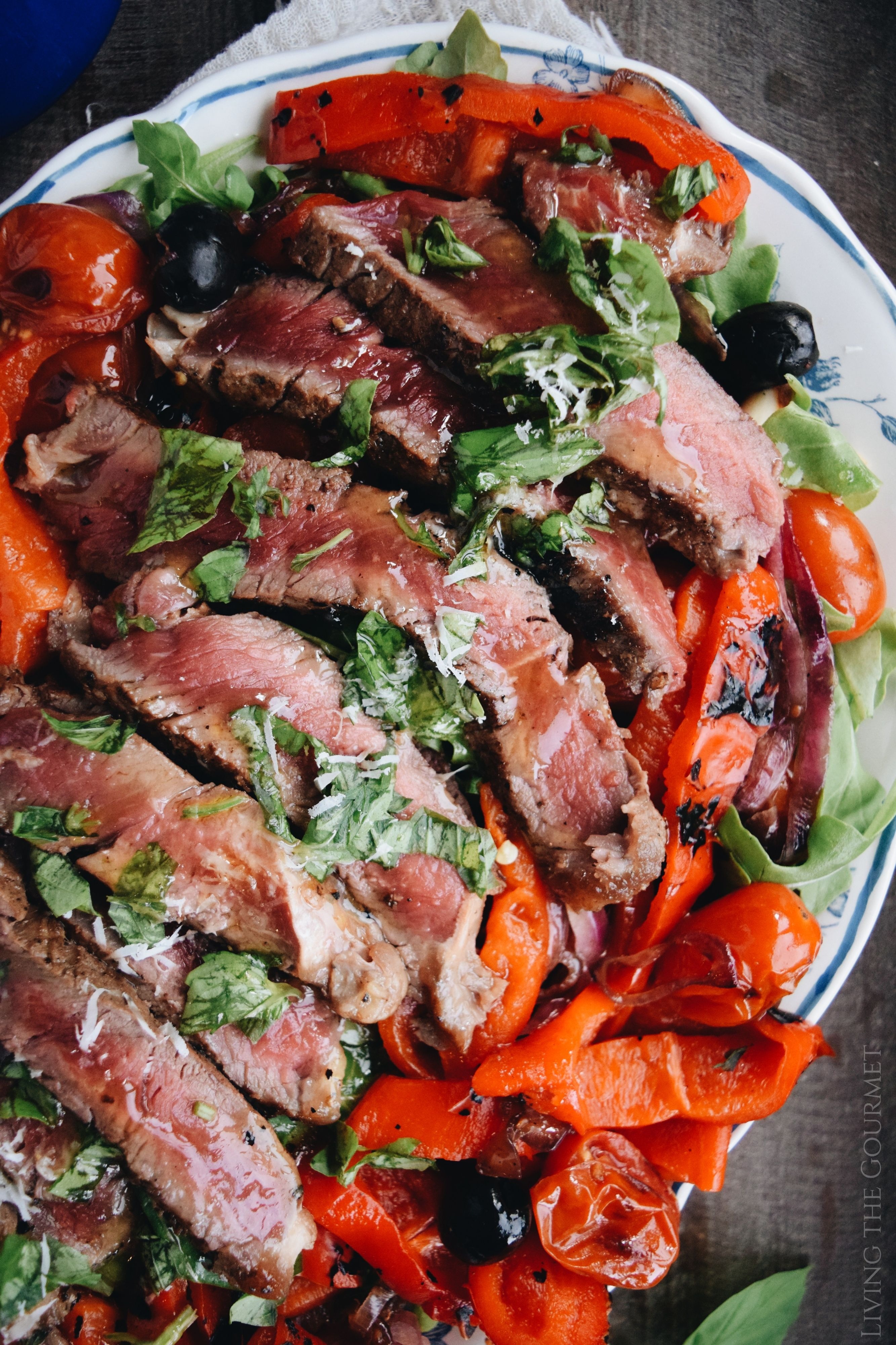 Did you make this recipe?
If so, let me know in the comments down below, or post a picture to Instagram, or to Pinterest, and I'll give you a shoutout on Instagram, or post your pin to one of my Pinterest boards!
Enjoy with Love!
0