This shop has been compensated by Collective Bias, Inc. and its advertiser. All opinions are mine alone. #TeaProudly #FallForBenefitsTea #CollectiveBias
Though Fall evokes feelings of staying in and getting cozy, it can also be a hectic time of year as we prepare for the holidays and deal with last minute school or work projects. At the end of the day there is nothing more comforting than a cup of tea.
**Try Bigelow Benefits Tea for yourself and hover over the photo below to click through for purchasing!
There's a saying by Roy T. Bennett that speaks to the masses, "No amount of regretting can change the past, and no amount of worrying can change the future." I'm sure we can all relate in some aspect or another to this simple truth.
With the holidays now in our sights, lingering just around the corner, the weight of their stress can already be felt.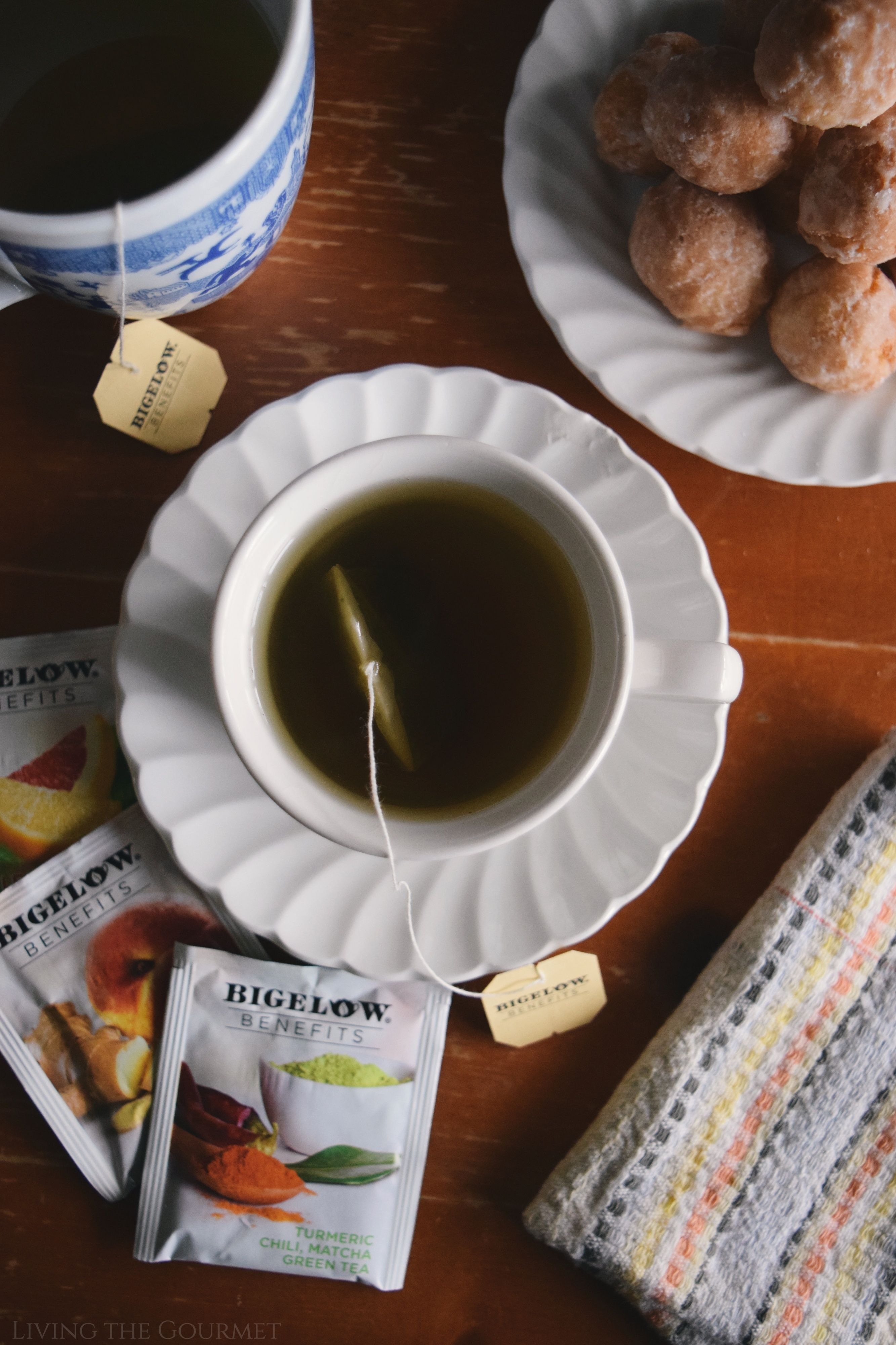 I, myself, am in a unique position where by the time Thanksgiving comes around, I'll have celebrated it three or so times over. I'm not complaining though, it's all for a good cause. I celebrate early, so you can plan the perfect holiday and nail it the day of. No pressure of course.
Aside from being a stressful time of year for obvious reasons, for many, it is a bittersweet time of year also. A wave of nostalgia came over me this afternoon while I was leaving the store. The air was filled with the scent of warm spices and pine cones, holiday music already playing in the background, yet, it all left me with a mixed feeling of joy and loneliness. Age has a way of toying with our memories and emotions.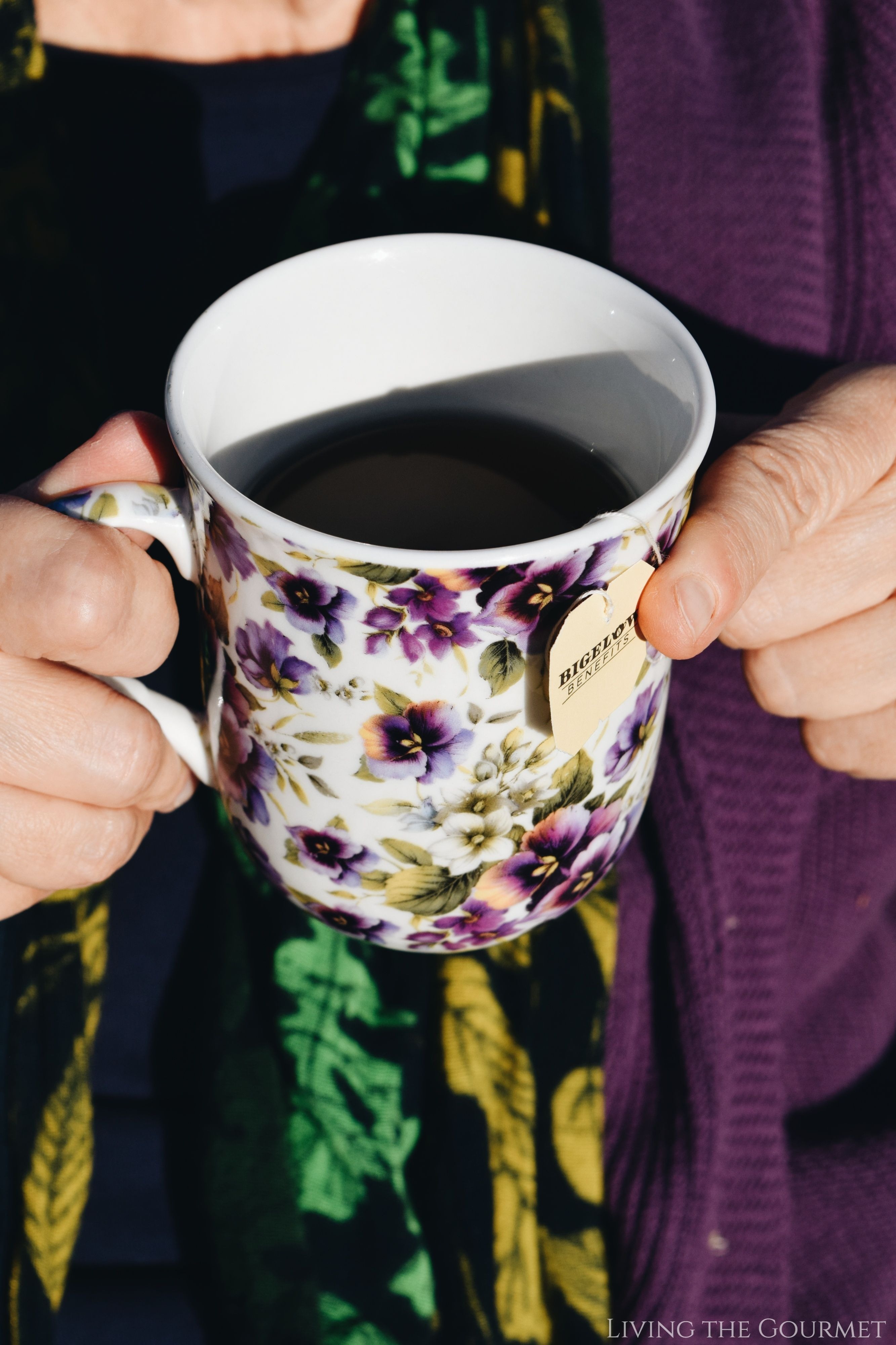 There is an unspoken pressure that is universally felt this time of year to adapt, to always be a step ahead, to be organized and efficient, but most of all, to be happy. Now, my intent is not to discourage, but to simply tell you, it is ok NOT to be any of those things.
As we planned out our holiday calendar here at LTG, I wanted to ensure that our content was inclusive- not only offering recipes and inspiration, but also comfort. So no matter how you are celebrating this year, know that when you come to Living the Gourmet, you are welcomed guests and will always have a place at our table. Here is where you can always come and bring along your joys, your excitement, and yes, even your sorrows.
Harkening back to Roy T. Bennett, may we find peace this holiday season. I'm pleased to share a few simple ways to decompress this holiday season with Bigelow Benefits Teas which can be found at your local Stop & Shop, Kroger, Giant, Shoprite, or Market Basket (Demoulas) retailer in the tea and coffee aisle.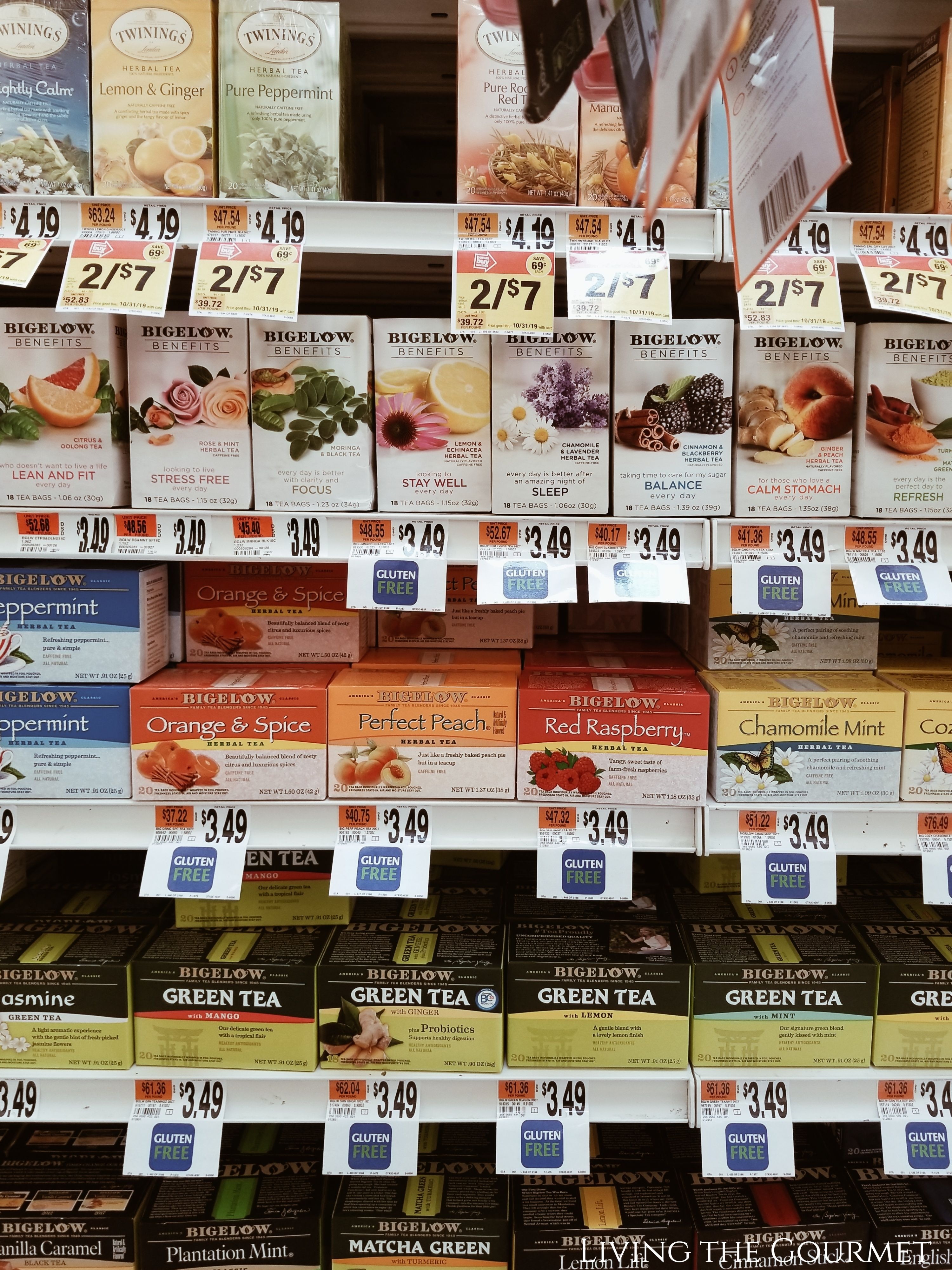 BALANCE
Stay Active – One of the my favorite ways to unwind and refocus especially during the holiday season is to take at least twenty minutes and head out for a walk or doing aerobics indoors. Easier said than done for busy working moms, but I cannot stress enough, how important it is to put your health first.
To help boost my metabolism, I enjoy brewing a cup of Bigelow Benefits Citrus & Oolong (Lean and Fit). With ingredients like yerba mate that contains some caffeine to boost energy levels, parsley to aid digestion, and red clover that has been proven to aid in water retention, it is a perfect blend to enjoy on your walks or post workout. I also enjoy brewing this blend in the morning before I start my day. It's been an important swap for me to trade in my usual cup of joe for a cup of herbal tea. Certainly, not the easiest, but just a few mornings out of the week, will make an impact difference in your health and mood.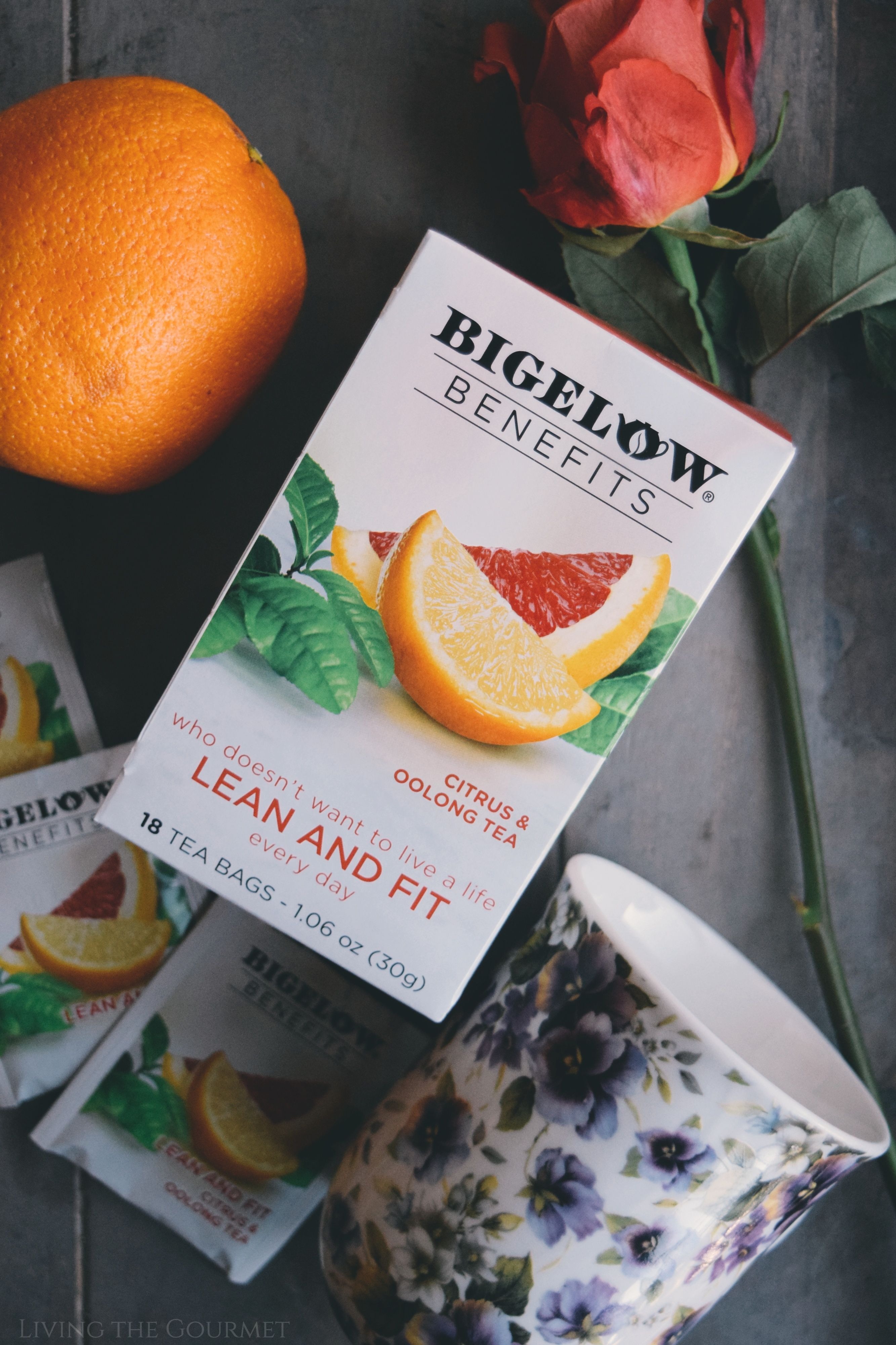 REFRESH
Sunshine & Fresh Air – The oldest medicine in the book, but 15 minutes of sunshine has been scientifically proven to aid in sleep, improve your mood, and support a healthier immune system. I don't need to remind you that flue season is also upon us, which means it is all the more essential to get in some vitamin D and r&r. Lately, I've been taking the time to sit outside and 'refresh'.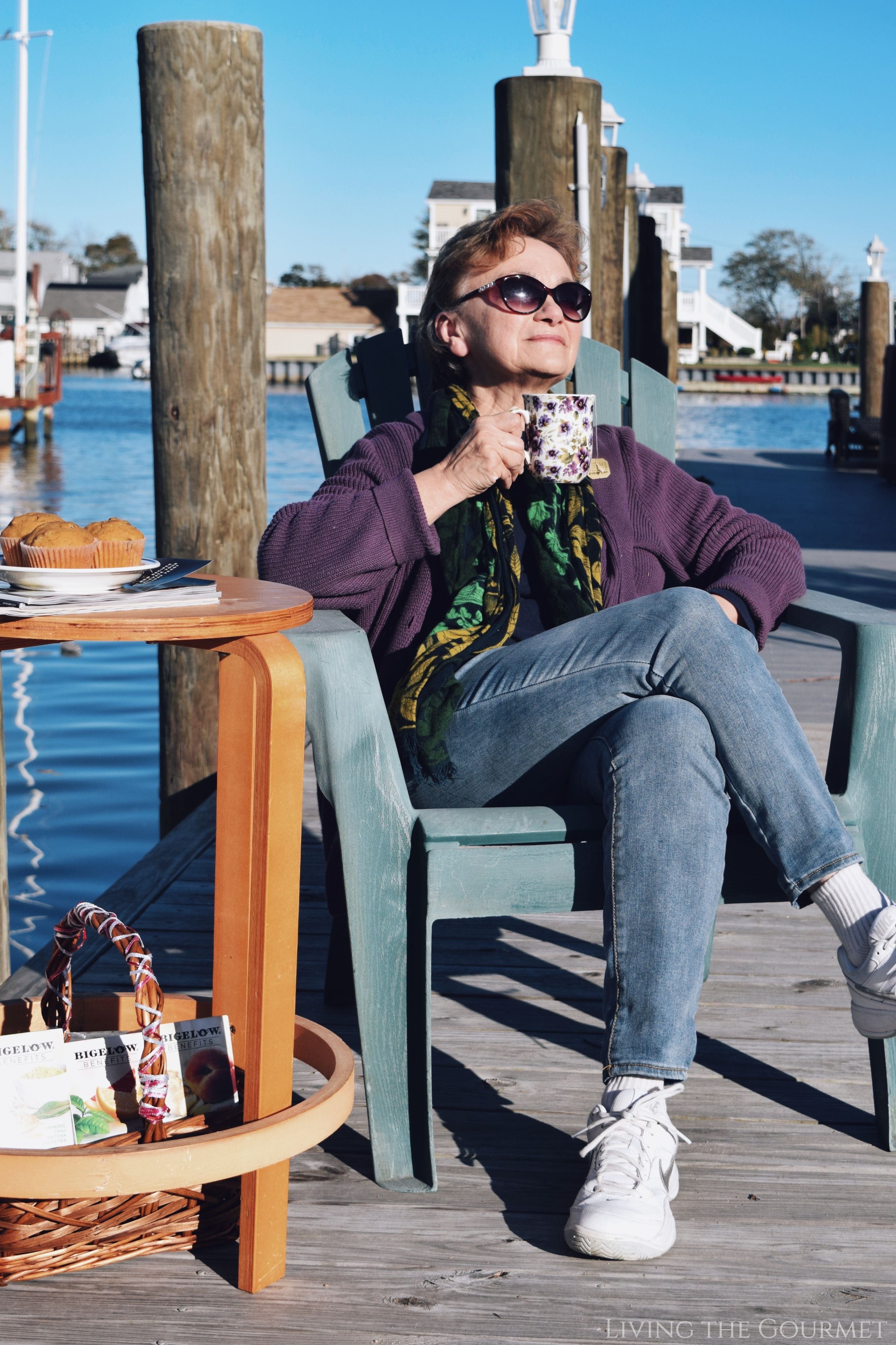 There is nothing more cleansing to the soul than crisp autumn air and plenty of sunlight. To accompany the perfect temps, I love a hot cup of the Bigelow Benefits Turmeric Chili Matcha Green Tea (Refresh). It's a slightly sweet blend with spices like turmeric, chili, and black pepper. Lately, I've also been on a matcha kick, so this one has quickly become a favorite blend of mine with dandelion, nettle, and matcha. Steep your tea bag for four minutes and enjoy the aromatic flavors of this blend.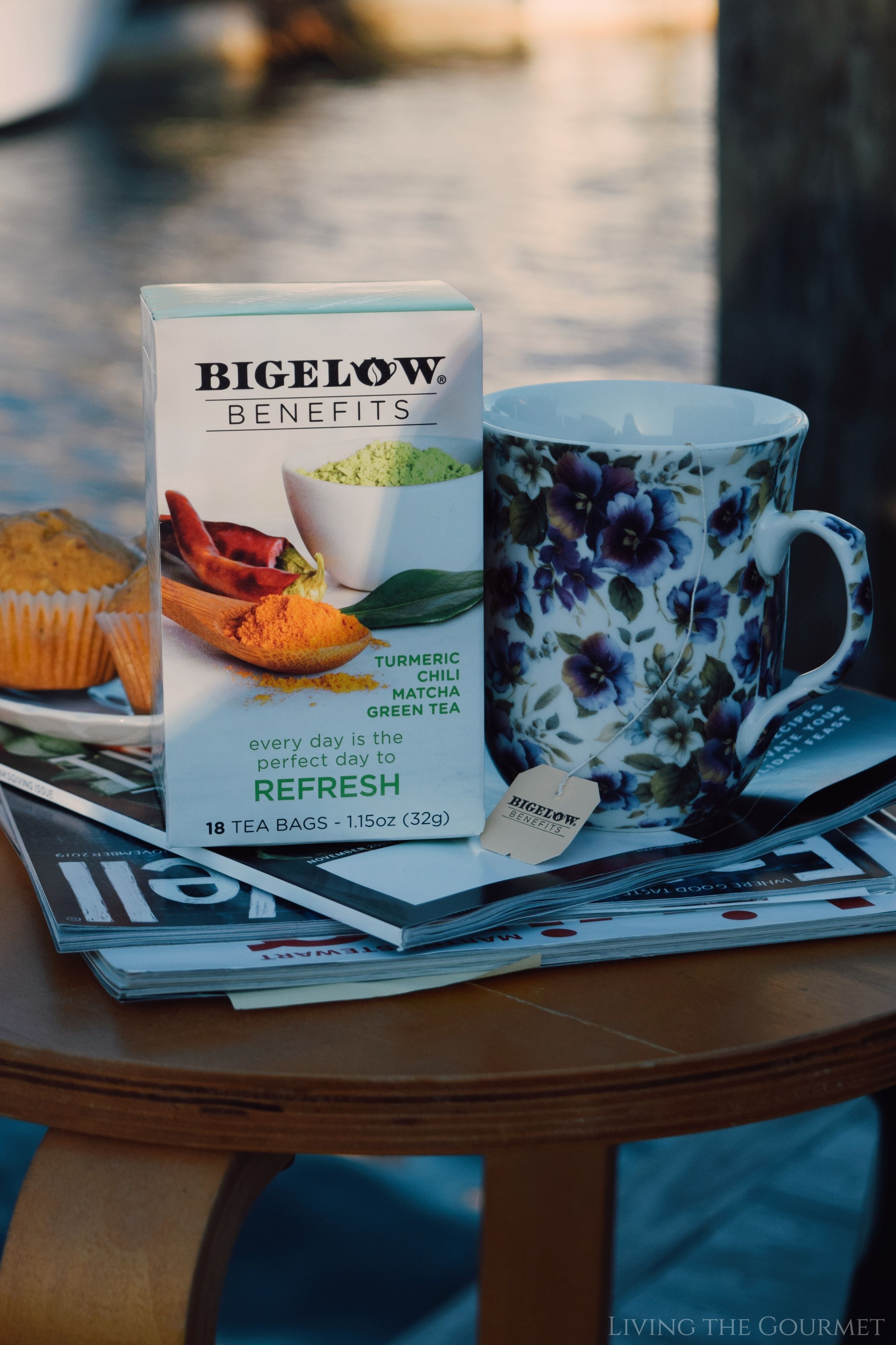 CALM
As if the holidays weren't stressful enough, we have the added stress of trying to keep on track with a healthy diet. I've learnt recently from a favorite fitness influence of mine, how to keep those holiday binges at bay, and keep the stomach calm during the height of the season when we're tempted by richer foods.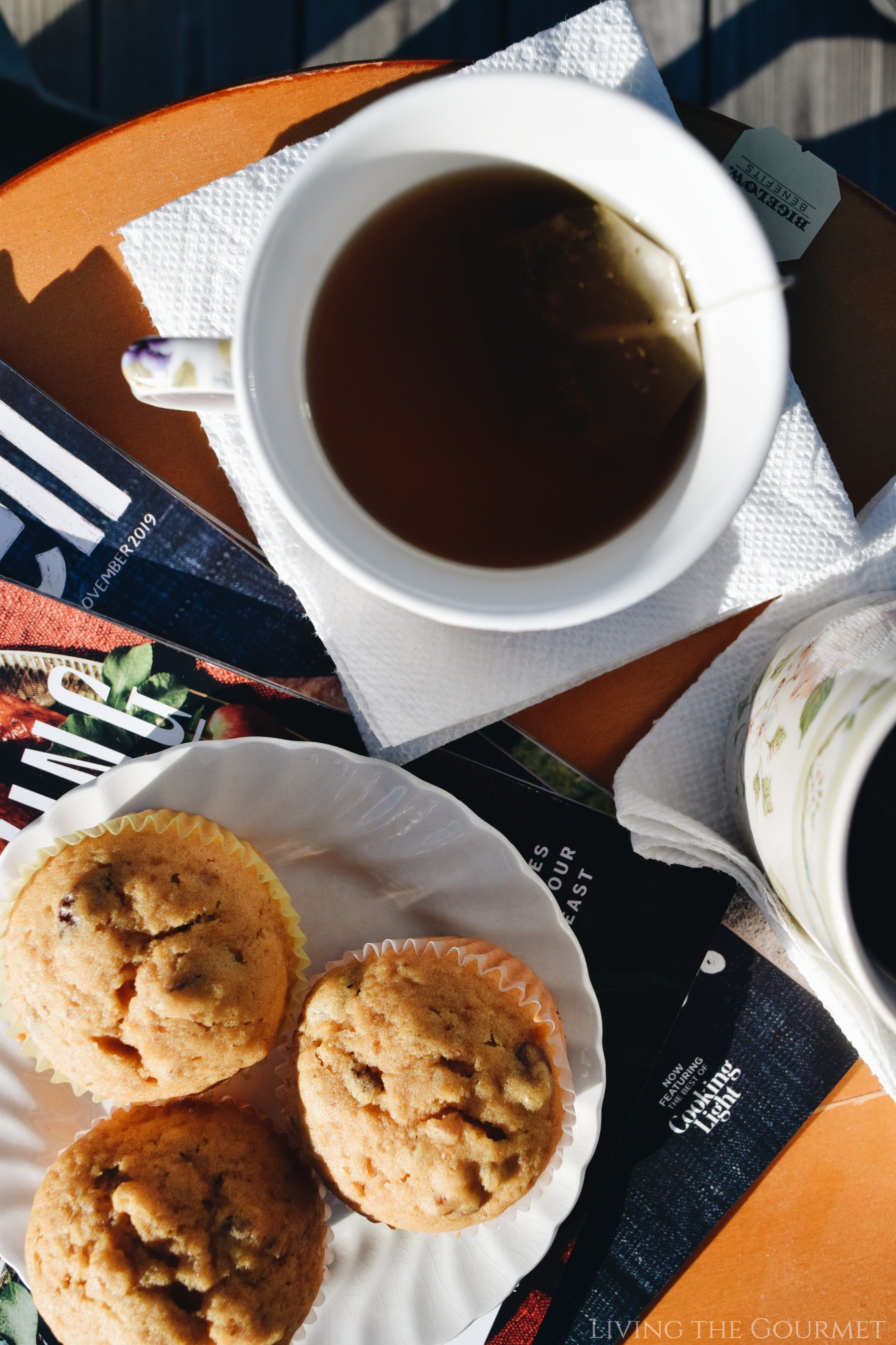 Indulge now, rather than later. This helps keep things in moderation, because realistically, the dilemma of 'eating healthy' during the holiday season, is not always achievable. This method flips the mind so we don't feel 'deprived' by the time Thanksgiving and Christmas roll around, which is the catalyst for us going a bit haywire and throwing our digestive track out of sorts. It's an idea I can get behind and have already successfully gotten through fright of the candy night Halloween. And since we're on the subject of calm, let us admit that there is nothing that soothes the soul more than a cup of tea and something sweet.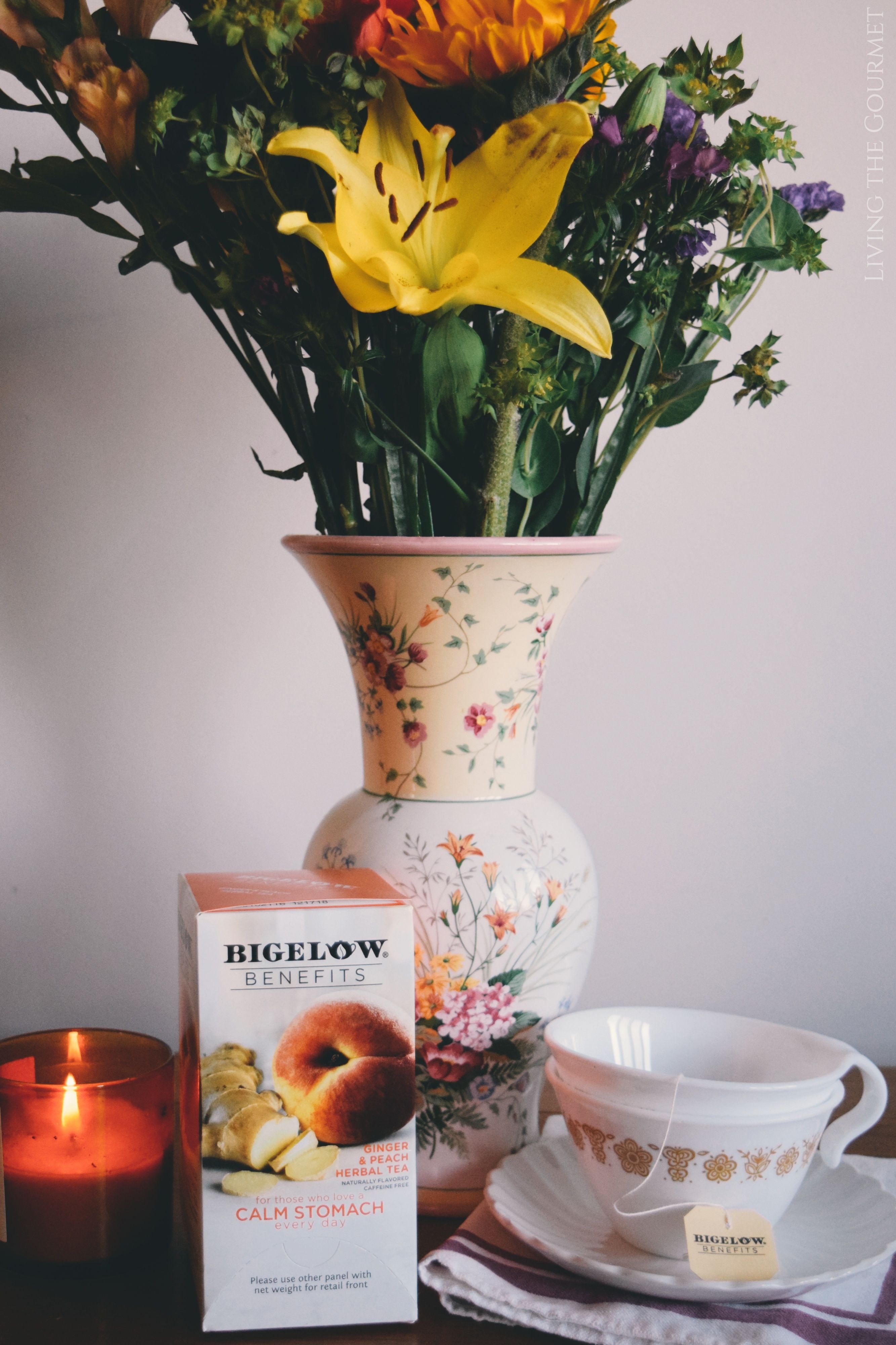 Tea after Dinner. Finally, this brings use to our next blend- Bigelow Benefits Ginger and Peach (Calm Stomach). It boasts of peppermint which supports healthy digestion as I am sure we are all familiar with, ginger root, and marshmallow root which is commonly used to soothe healthy digestion. I'm going to guess this will be a popular blend this holiday season. It would even be a thoughtful idea to add it to holiday gift baskets.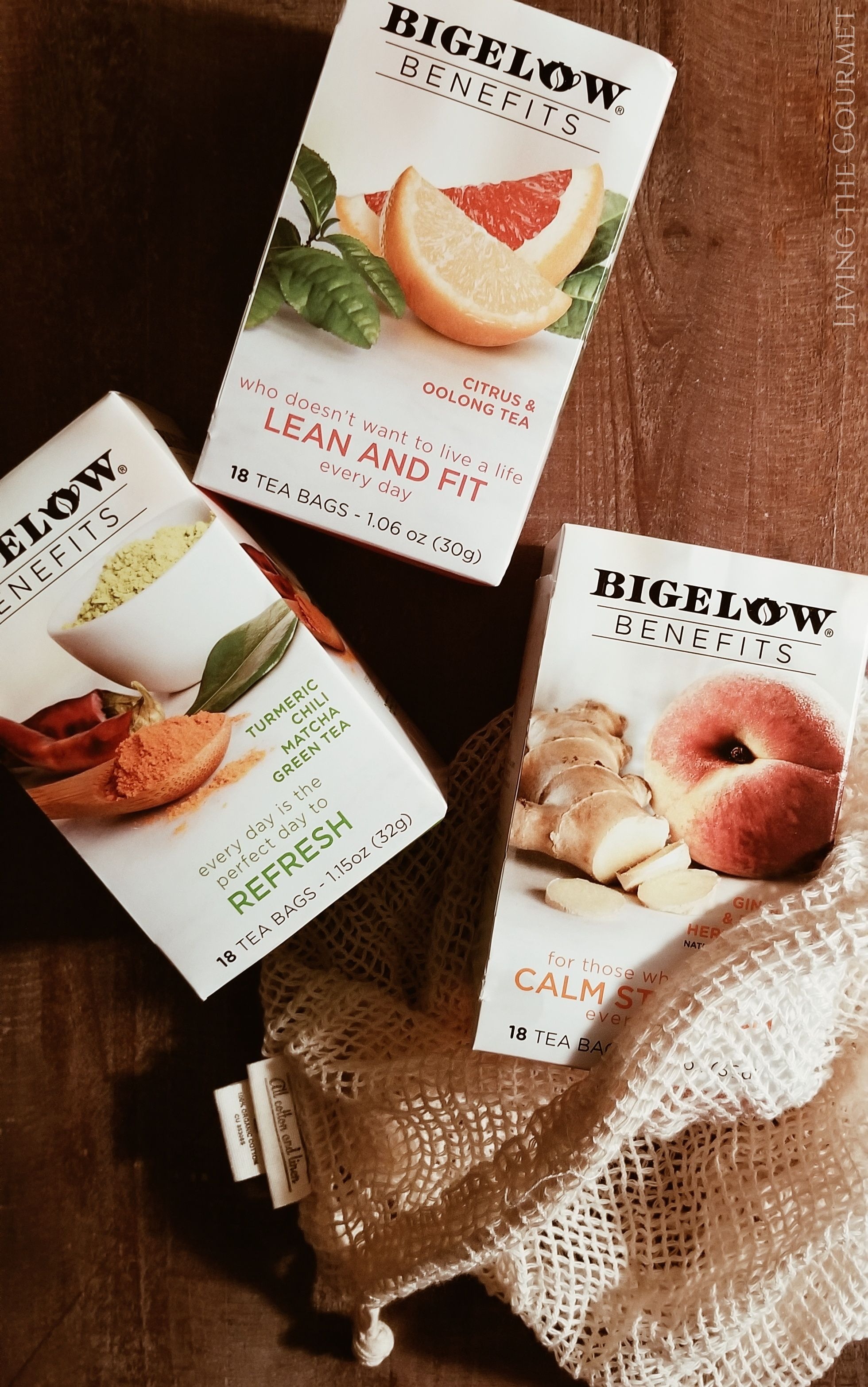 If you're looking for something sweet on the healthier side to enjoy with your tea here are a few ideas:
Pumpkin Spice Muffins – In a world where everything has pumpkin and/or pumpkin spice in it, here's a super simple recipe for Pumpkin Spice Muffins speckled with raisins and nuts, these are a perfect accompaniment to any cup of tea.
Baked Donut Muffins – These may not exactly be the first thing you think of when we're tossing around words like 'balance' and 'healthy' but these are no ordinary donuts. These are baked and filled with an all-natural fruit jam, and small enough to feel like you're treating yourself with the guilt, and for those reasons I feel they are a nice way to 'indulge' just enough.
Apple Granola Muffins – These are still a favored treat of mine. Packed with fiber and whole grains, but never skimping on flavor, these morning muffins are another, perfect match with your AM cuppa.
Spelt Cherry Muffins – Rounding out our sweet and healthy-ish muffin collection are these seasonal gems. I love spelt muffins in the winter. They are heartier and healthier too, but these have sweet bits of cherry in them and a crumb topping with almonds.
If You Enjoyed Today's Post…
Be sure to follow us on Instagram to stay up to date with all things Living the Gourmet, and for more great recipes, tips and tricks. Cheers!
30