Plump raisins and sweet pecans make these Pumpkin Spice Muffins a quintessential autumn treat that can be enjoyed any time of day.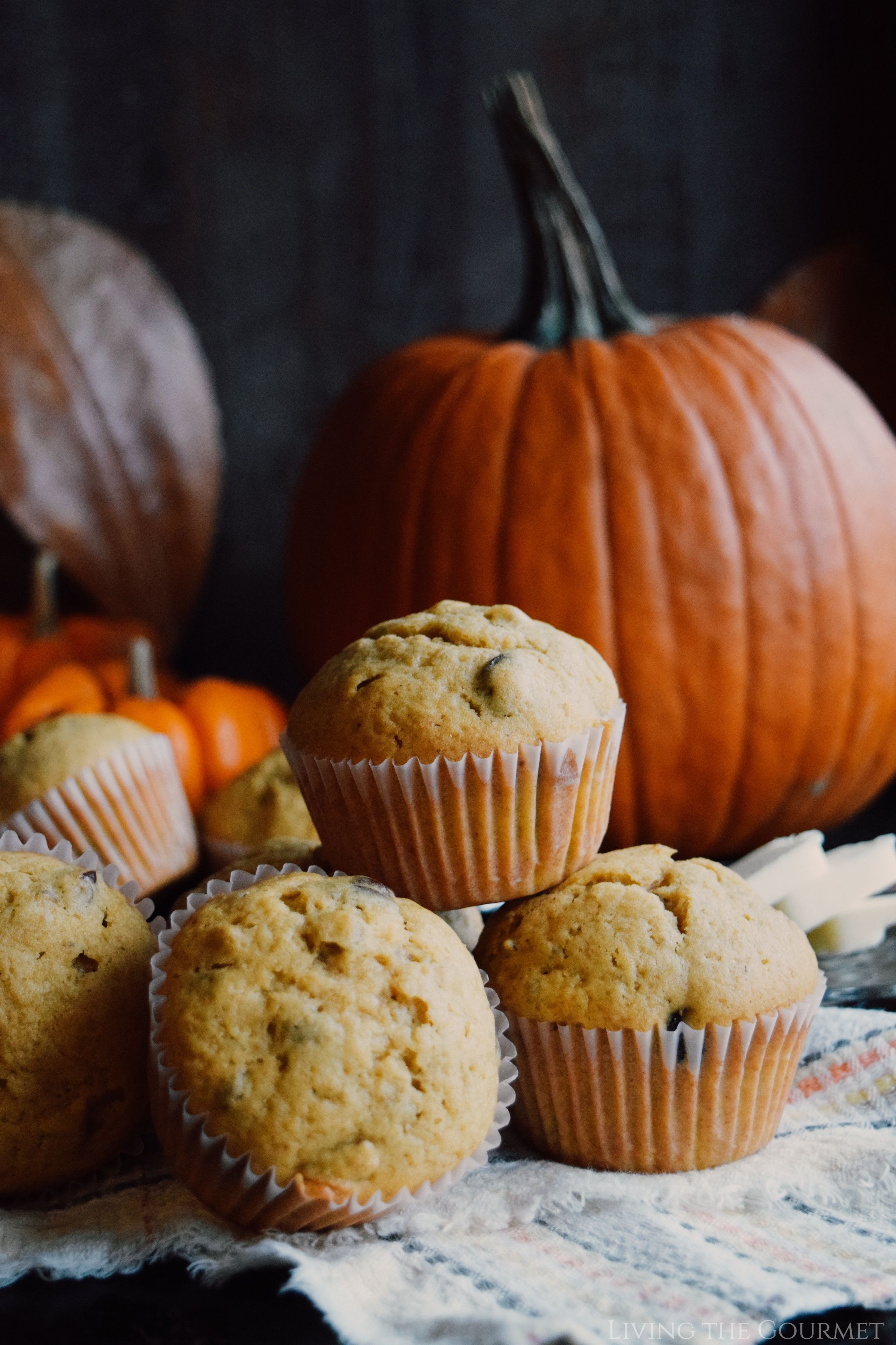 While I'm probably one of the the last people who will admit to 'enjoying' winter, I will say there is something undeniably comforting about dark autumnal mornings and the early frost on the paling trees. There's something about the cold that even makes tea and coffee taste better.
Such days call for something heartier (and warmer) than my usual cold yogurt bowl and fruit. Think warm oats, scones, and muffins. I've been planning a few recipes that fall in each of these categories, and today I am pleased to pass on these Pumpkin Spice Muffins. The recipe is easy and is comprised of pantry staples, making it accessible too.
So, roll up your sleeves and heat up the oven, we're making muffins today, and if you ever had trouble getting the household up and at 'em- you won't after today.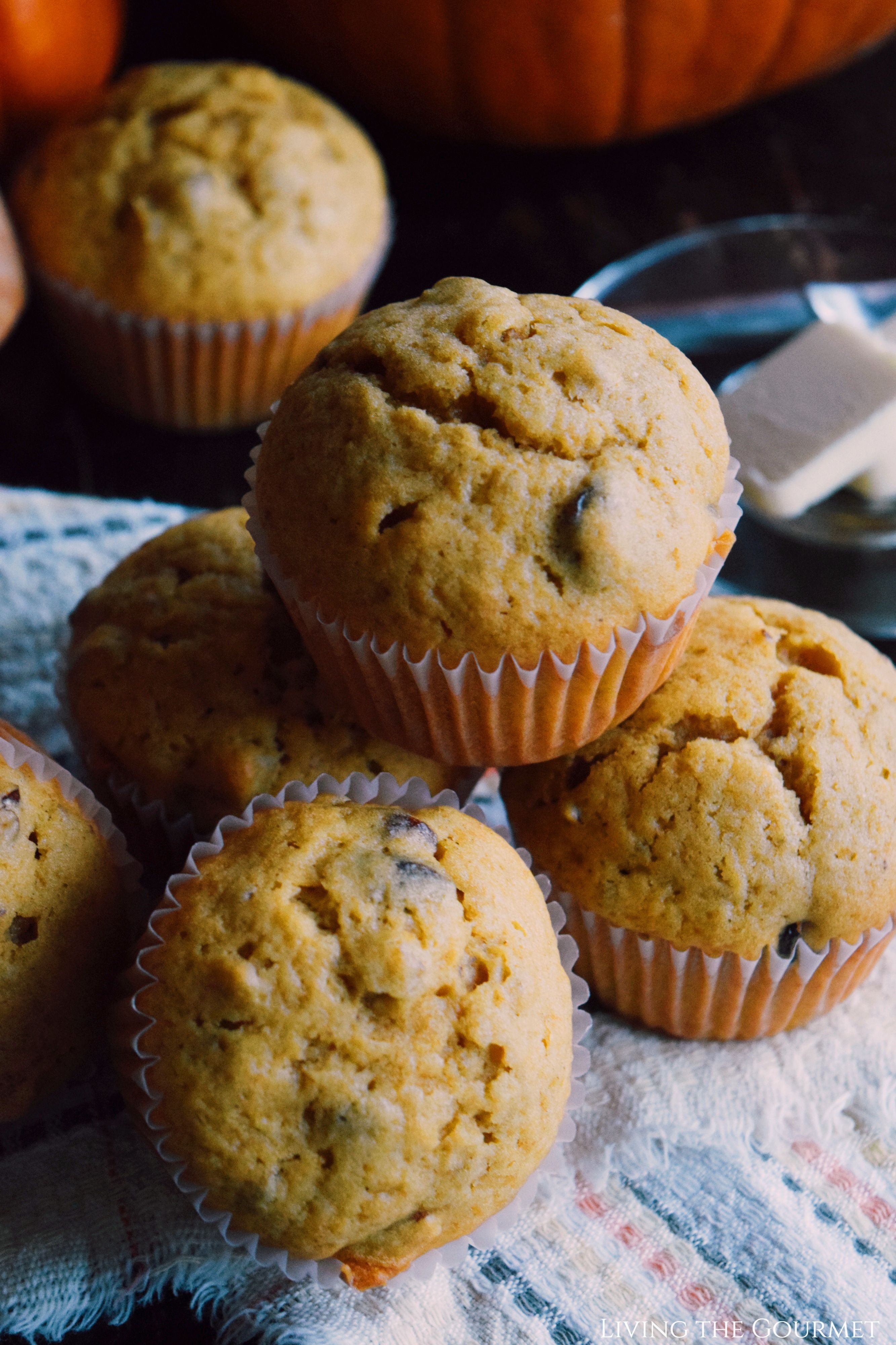 Ingredient Checklist
Flour Power. The process is a simple one. No fancy equipment is required just a bowl and a whisk. This recipe can arguable be considered a one-bowl trick if you have self-rising flour on hand. I did not and if you don't either, check my recipe card below for notes on how to swap self-rising flour.
Pumpkin Pie Spice. Pumpkin Pie Spice or Pumpkin Spice- whatever you call it, we covered this topic earlier in the season with our very own Pumpkin Pie Spice blend. While the proper term is Pumpkin Pie Spice, I feel like some may think it's purpose is strictly for making pies which is kind of misleading. It's a simple spice blend and on its own, is not sweet. It goes far beyond pie, which we have covered here in the past. From casseroles, seasonal coffee drinks, to healthy shakes, this spice blend can even be added to soups and rubs. Naturally, it can also be used in muffins.
**You may also note that I added a little extra nutmeg to this recipe, despite there already being nutmeg in the Pumpkin Pie Spice mix. I love the extra warmth it offers to this recipe without giving it an overpowering taste.
Pumpkin Puree. So, you're faced with a dilemma (unless you're like me, a bonafide pumpkin freak, then it's a 'welcomed' dilemma), a recipe only calls for half a cup of pumpkin puree, not an entire can. Now typically, I stock up on Libby's canned pumpkin- you know, the large 29 ounce cans. I assume everyone else does too…in any case, don't fret about having 'too much' pumpkin leftover. With any leftover puree, check out our Pumpkin Spice French Toast, Spicy Pumpkin Soup, Homemade Pumpkin Butter, White Chocolate Pumpkin Bundt, and of course, our Classic Pumpkin Pie.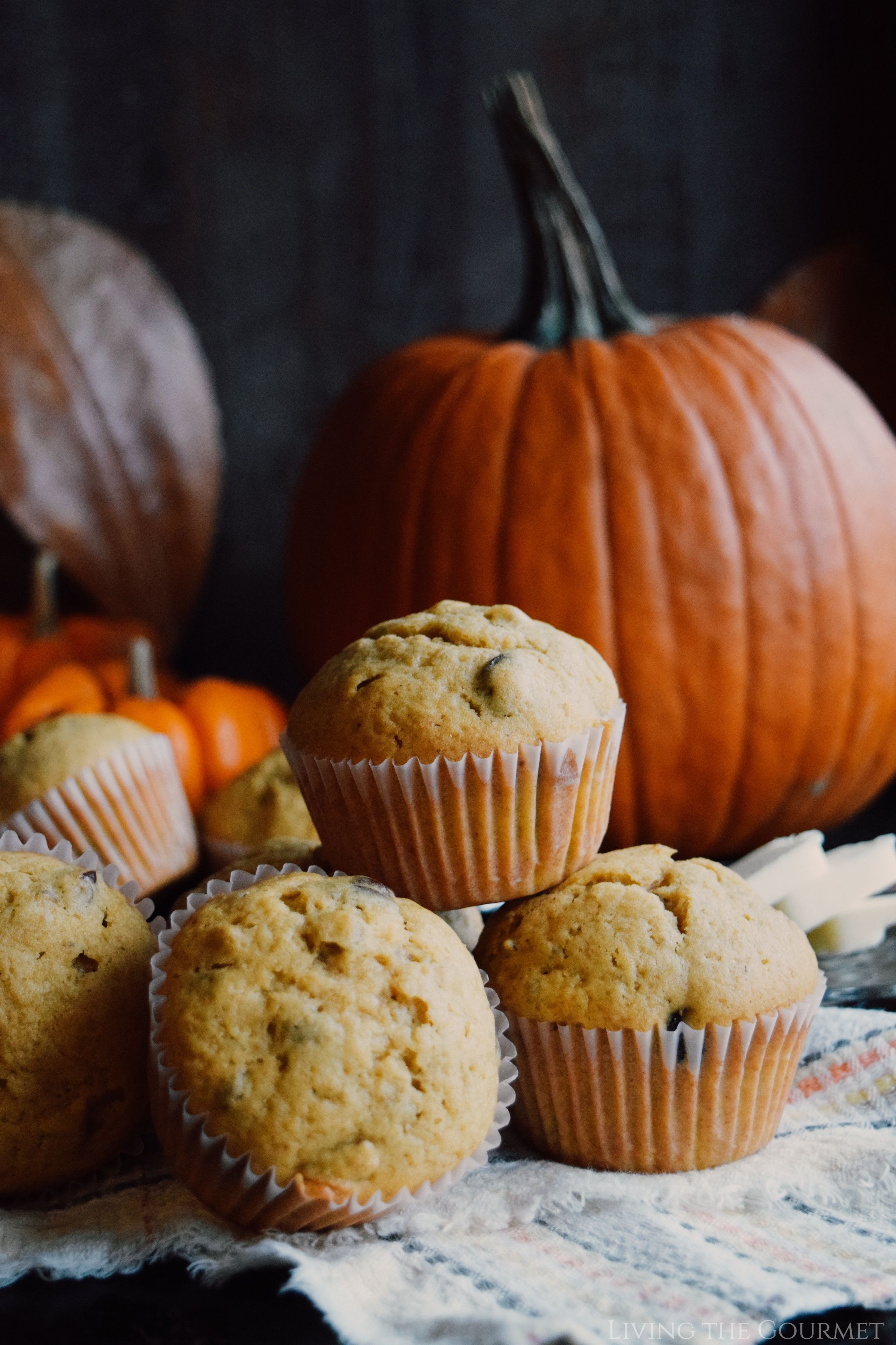 Dried Fruit. One of my favorite additions to any sweet winter recipe is dried fruit. That being said, I always keep raisins, currants, and dried cranberries and cherries, on hand. Feel free to swap any of the aforementioned fruit in this recipe. It adds an added pop of flavor that mingles perfectly with the warm spice notes.
Go NUTS. My go-to is usually pecans or walnuts when I'm baking. That said, you can use either here, even slivered almonds would work nicely. You can toast the nuts slightly before added them to the batter or just add them blanched. I like the pecans here personally, because they have a hint of maple-like sweetness to me.
The recipe yields a dozen cupcake size muffins or 6 regular sized muffins if using a proper muffin tin. I enjoyed having them in a smaller size and I think they retain their moist consistency better over time that way. You can store them for up to a week in an airtight container.
Enjoy as is, or toast them slightly with a pat of butter and jam if you're feeling a little extra. Either way, I know you'll love today's recipe and I cannot wait for you to give them a try!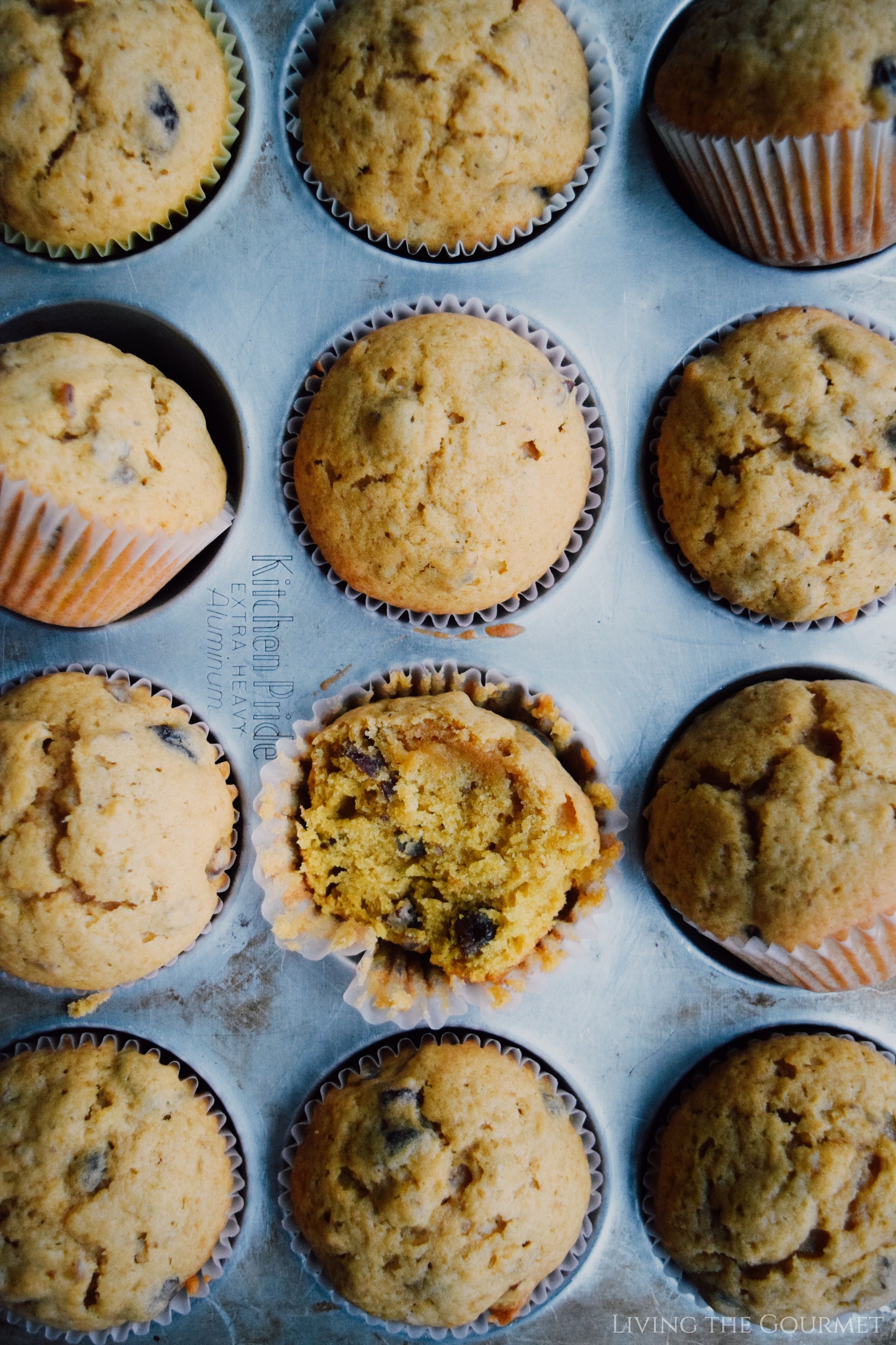 Print
Pumpkin Spice Muffins
Author:
Prep Time:

10 minutes

Cook Time:

25 minutes

Total Time:

35 minutes

Yield:

12

muffins

1

x
1 1/2

cups

all-purpose flour

1 teaspoon

baking powder
Pinch of salt

1 teaspoon

Pumpkin Pie Spice

1/2 teaspoon

freshly ground nutmeg

1

cup

granulated sugar

3/4

cup

vegetable oil

1/2

cup

canned solid packed pumpkin

2

large eggs

1 teaspoon

vanilla extract

1/2

cup

chopped pecans

1/2

cup

raisins
Instructions
Preheat oven to 350 degrees F. Prepare a cupcake tin with liners and set aside.
In a small bowl, place raisins and cover with enough boiling water to cover. Let stand for about 5 minutes until plump, then drain and set aside.
**In a medium bowl, whisk together flour, baking powder, salt, sugar, Pumpkin Pie Spice, and fresh nutmeg.
In a separate bowl, whisk together eggs, pumpkin, oil, and vanilla. Add the wet ingredients to the dry ingredients and mix to combine.
Fold in the reserved raisins and chopped pecans to the batter. Divide the batter between the muffin tins and bake for about 25 minutes until golden or until the cake tester comes out clean. Cool slightly before serving.
Muffins can keep for up to one week when stored in an airtight container.
Notes
**If you have self-rising flour, simply omit the AP flour, baking powder, and salt from this recipe and replace with simply 1½ cups self-rising flour. If you however, do NOT have self-rising flour on hand, then follow the recipe card above for easy substitution.
Recipe Card powered by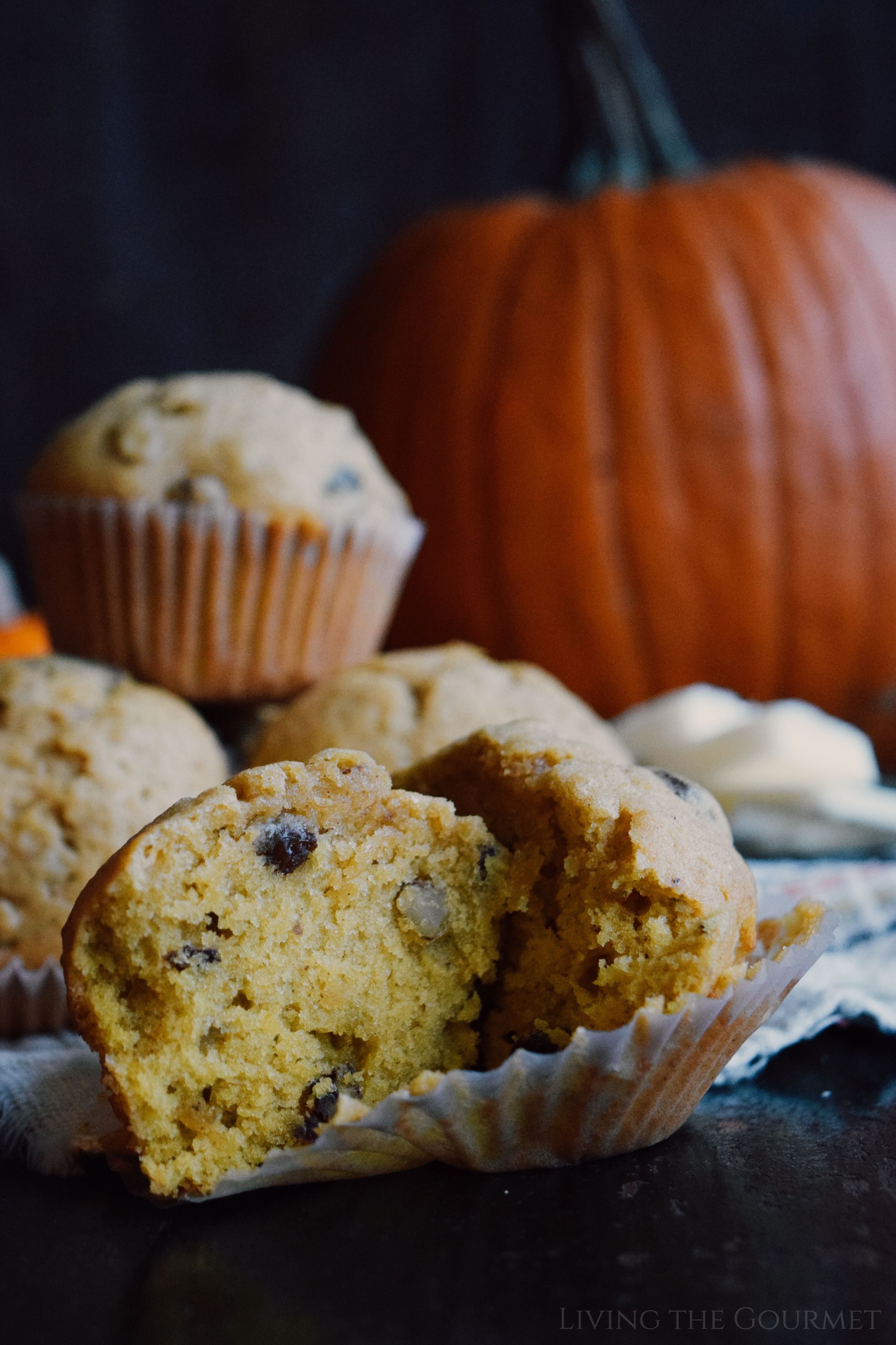 If You Enjoyed Today's Recipe…
Be sure to follow us on Instagram to stay up to date with all things Living the Gourmet, and for more great recipes, tips and tricks.
Did you make this recipe?
If so, let me know in the comments down below, or post a picture to Instagram, or to Pinterest, and I'll give you a shoutout on Instagram, or post your pin to one of my Pinterest boards!
0