The broth of this soup is, in my opinion, the best part. Thanks to the meatballs, the broth develops this 'seasoned meat' flavor, and a 'juicy thickness' that's just to die for. With warming flavors for crisp autumn nights, this is a soup that's an instant must for your seasonal repertoire. Now, since there's a surprisingly fair amount to say about today's soup and its ingredients, let's get right to it.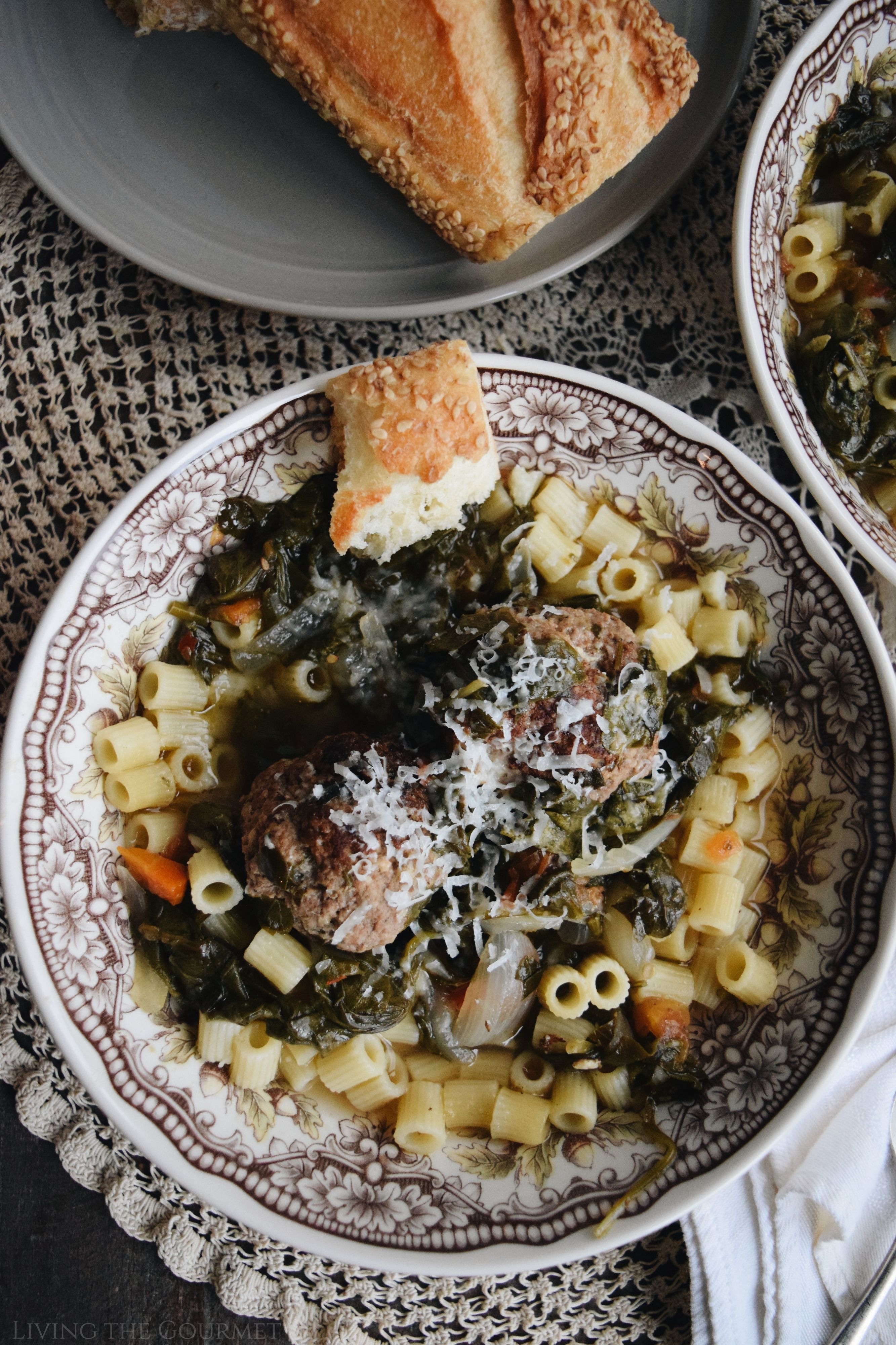 Ingredient Notes and Explanations
1) Italian Parsley vs Flat Leaf Parsley. These is very little difference between these two types parsley…usually. Let me explain. The first and most obvious difference comes to appearance, and that's usually the deciding factor that goes behind which type of parsley you'll want to use. Italian Parsley feature 'ruffled' or 'frilled' leaves, and usually a 'brighter' green, and as such is typically considered much more eye appealing – this is also why it usually costs a few pennies more. Flat leaf parsley, by contrast, starts is life looking worn and drawn and…sadly, stays that way. However, there are some that claim Italian Parsley has a slightly less 'punchy' flavor than flat leaf, or that Italian Parsley's flavor is simply less intense or robust, or that it's simply 'more pleasant' on the palate. The truth is, both parsley varieties, when it comes to flavor, are very sensitive to where they're being grown, meaning flavor, and the robustness of their flavor, can vary wildly. For today's recipe, while I personally prefer Italian Parsley, there is truly no harm in subbing in flat leaf parsley if that's all that's available.
2) Pecorino Romano vs Parmesan vs Reggiano. One of the most enduring 'Food Myths' is that all grating cheese is more or less 'the same.' To start, Parmesan is simply American produced Parmigiano Reggiano – both are produced from cow's milk, and both are aged for two or more years, which imparts the cheeses with what many describe as a 'sharp' and 'salty' flavor. Parmigiano Reggiano 'must' be produced in Italy due to EU and Italian trademark laws. So, at least in this case, the two grating cheeses are 'basically' the same, although Reggiano is considerably pricier, and regarded to be of generally higher quality overall. Pecorino Romano, by contrast, is produced from sheep's milk, and is only aged for less than a year, giving it a slightly less sharp and considerably less salty flavor. Despite these differences, these three cheeses are often used interchangeably, and once they've been melted over sauce, or baked into something like a lasagna, few if any palates would 'really' be able to tell the difference unless these cheeses were used in positively 'silly' amounts. Bonus Fact: Locatelli is 'not' variety of cheese, it is instead an Italian brand of Romano.
3) Italian Style Breadcrumbs…And How I Learned That Not All Crumbs Are Created Equal. "There are two types of breadcrumbs in this world, those who are Italian, and those who wish they were Italian." To begin, 'all' breadcrumbs begin their life as grated bread, which is then either toasted in the oven on sheets, or toasted in cast iron pans, typically with either butter, olive oil, or cooking oil. "Italian Style" is…well, it's more or less a "New World" phrase used by various companies to denote breadcrumbs that are baked in oil, and typically have some combination of parsley, pepper, garlic powder, oregano, onion powder, basil, and (rarely) red pepper. Naturally, these breadcrumbs are my default choice for things like today's meatballs, breading eggplant, and baked ziti.
4) Baby Spinach vs 'Adult' Spinach. Contrary to popular belief, Baby Spinach is not undeveloped 'standard' spinach. Instead, baby spinach is simply the smallest variety of flat leaf spinach, and contains all of the same nutrient values as its larger cousins. While some frown on cooking baby spinach, the larger varieties, in my opinion, would simply be 'too much' for the soup, and I would have ended up chopping down into smaller portions anyway…so I suppose you might say I'm letting 'nature' do my chopping for me by using baby spinach.
A Meatball Primer – Take Two: Soup Meatballs vs Sauce Meatballs
Yes, there is difference – a fairly substantial one – that might not be apparent at first glance. Standard sauce meatballs should be not only be juicy and moist, to point that they're 'oozing' fatty juices, but they should also be 'fluffy,' almost 'airy' rather than 'dense' on the inside, they should be tender, they should be a delight of 'texture' not merely of flavor.
Soup meatballs should be slightly 'less' delightful in terms of texture. On the contrary, they need to be firmer, and they need to be dense inside. If they aren't, the meatballs will quite literally soak up the soup like sponges and then begin to fall apart. Also, the denser the meatball, the more it will resist the urge to continue cooking in the soup. This isn't to say that you want golf-ball-hard meatballs, but it is to say that soup meatballs and sauce meatballs need to be quite different in terms of texture.
Now, how do you go about achieving this? Quite simply by packing the meatballs tighter and denser, and then proceeding to work them somewhat longer than you would standard meatballs.
If You're Craving More Meatball Goodness, Here Are Some of My Favorites
1) Pignoli and Raisin Meatballs. Possibly my favorite way to prepare meatballs, these have a subdued 'buttery' sweetness courtesy of the pine nut and raisin combination, set against a backdrop of moist, meaty juices of the fluffy meatballs.
2) Paprika Meatballs. Rustic 'old world' style meatballs in red sauce over spaghetti. The addition of the paprika gives these a bit of 'earthy smokiness' and just a hint of background 'spice.'
3) Meatball Subs. Probably my son's favorite 'sandwich' ever, these are my take on the classic "New York Meatball Hero."
4) Greek Meatballs. The addition of cinnamon, golden raisins, and copious amounts of oregano, paired with a Greek Red Sauce, differentiates these Hellenic delights from their Italian counterparts.
Print
Spinach & Meatball Soup
---
Author:

Total Time:

45 minutes

Yield:

4

-

6

1

x
For the Soup:
½

lb. fresh baby spinach

2

carrots – sliced

4

–

5

cloves of garlic – chopped

1

large tomato – diced

1

large sweet onion – sliced

½ cup

fresh Italian parsley – chopped

3

tbs. olive oil

2 tsp

. salt

1 tsp

. fresh ground black pepper

¼ tsp

. red pepper flakes

1 ½ tsp

. dried oregano
Fresh nutmeg grated

8 cups

of water or chicken broth

1

lb. of your favorite pasta
For the Meatballs:
2 ¼

lbs. ground beef

1 cup

fresh grated Romano cheese or Parmesan cheese

¼ cup

fresh Italian parsley – chopped

1 cup

Italian style bread crumbs

2

eggs

½ tsp

. salt

1 tsp

. fresh ground black pepper

1 tsp

. dried oregano
Olive oil for frying
---
Instructions
For the Soup:
Place the sliced onion, tomato, garlic and carrots in a sauce-pot on a gentle heat. Drizzle with the olive oil and let the veggies cook down so the onion and carrots become softened and the tomato "melts".
Taking a pastry cutter carefully and gently press down with the pastry cutter to chop the veggies a bit.
Add the baby spinach and seasonings.
Add the water or chicken broth; I made my soup with water. If you use chicken broth you may have to adjust the salt, since the chicken broth may be salted already.
For the Meatballs:
Combine all of the ingredients for the meat ball mixture in a large bowl and mix; do not over mix.
Form into desired sized meatballs.; I would go on the smaller size, since it is soup.
Heat a large cast iron frying with 2 – 3 tbs. of olive oil and add a few meatballs at a time. Do Not Overcrowd the pan.
Turn the meat balls to brown and crisp on all sides.
When the meat balls become slightly firm, then you may gently transfer them to the soup.
Keep the soup at a gentle temperature for 45 – 50 minutes.
Place the pasta at the bottom of the soup bowl and ladle the soup on top, along with a meat ball or two.
Top with the fresh grated Romano cheese a small drizzle of olive oil and fresh ground black pepper.
Keep the heat on a gentle heat, you Never! want to boil your soup!!
Taste for seasonings to adjust the seasonings.
Grate a bit of nutmeg into the soup; a few gratings go a long way. `
Prepare the pasta as directed.
Romano cheese for grating when serving.
Prep Time:

15 minutes

Cook Time:

30 minutes
Recipe Card powered by
If You Enjoyed Today's Recipe…
Be sure to follow us on Instagram to stay up to date with all things Living the Gourmet, and for more great recipes, tips and tricks.
Did you make this recipe?
If so, let me know in the comments down below, or post a picture to Instagram, or to Pinterest, and I'll give you a shoutout on Instagram, or post your pin to one of my Pinterest boards!
0