Sweet and savory gets a whole new meaning with these Sweet Paprika Meatballs simmered in a hearty red sauce. Serve this dish with your favorite pasta for classic Mediterranean comfort food!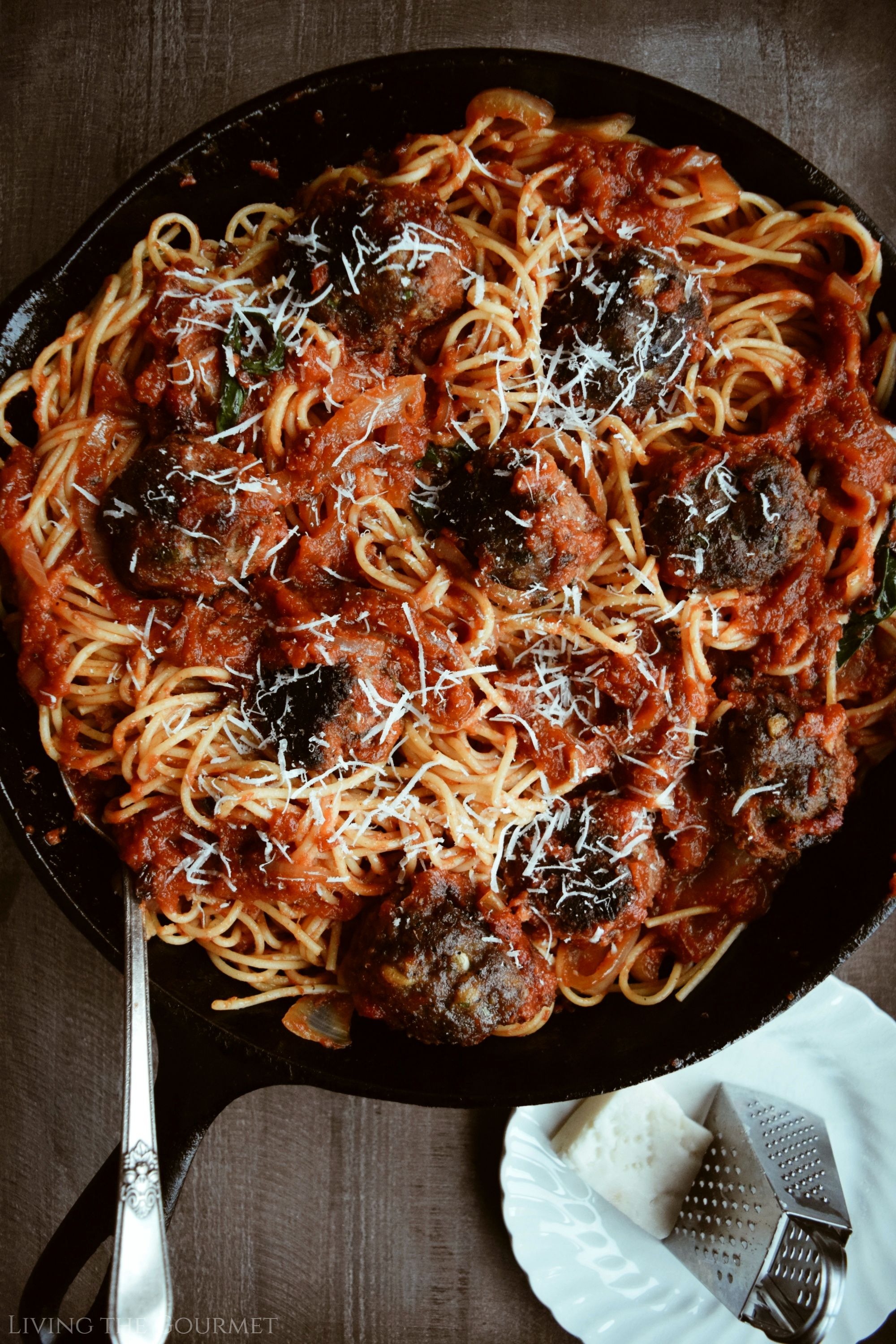 I originally wanted to start this piece off by sharing some family memories of this particular recipe. I wanted to talk about how my mother and aunt used to compete for the title of "Best Meatballs" in the family, and how almost every time I see my cousin Sal he'll joke and ask "Hey, my grandma always made the best meatballs, didn't she?" And she did. We actually called her "Meatball Annie."
However, I admit that my heart sank a little bit as I was doing my research for this piece. Yes, 'researching' spaghetti and meatballs is part of my job description here. I wanted to track down the culinary lineage of this particular Italian-American dish. What I expected to find was a trail of clues, or 'pieces of a puzzle,' that started with the 'immigrant cuisine' of Turn-of-the-Last-Century New York City, and lead me across the Atlantic to the Old World, where I would find the "Missing Link" to unearth the precise origin of this beloved dish.
I thought I would find myself reading about how my Italian immigrant progenitors had adapted their Old World recipes to their New World ingredients, or how they had reshaped their cooking and eating habits to fit their new lives. What I thought I would be reading about was how their new world and new culture had influenced or mixed with their 'recipes of old,' and how that had developed into a uniquely "Italian-American" experience.
Instead…there was no trail to be found.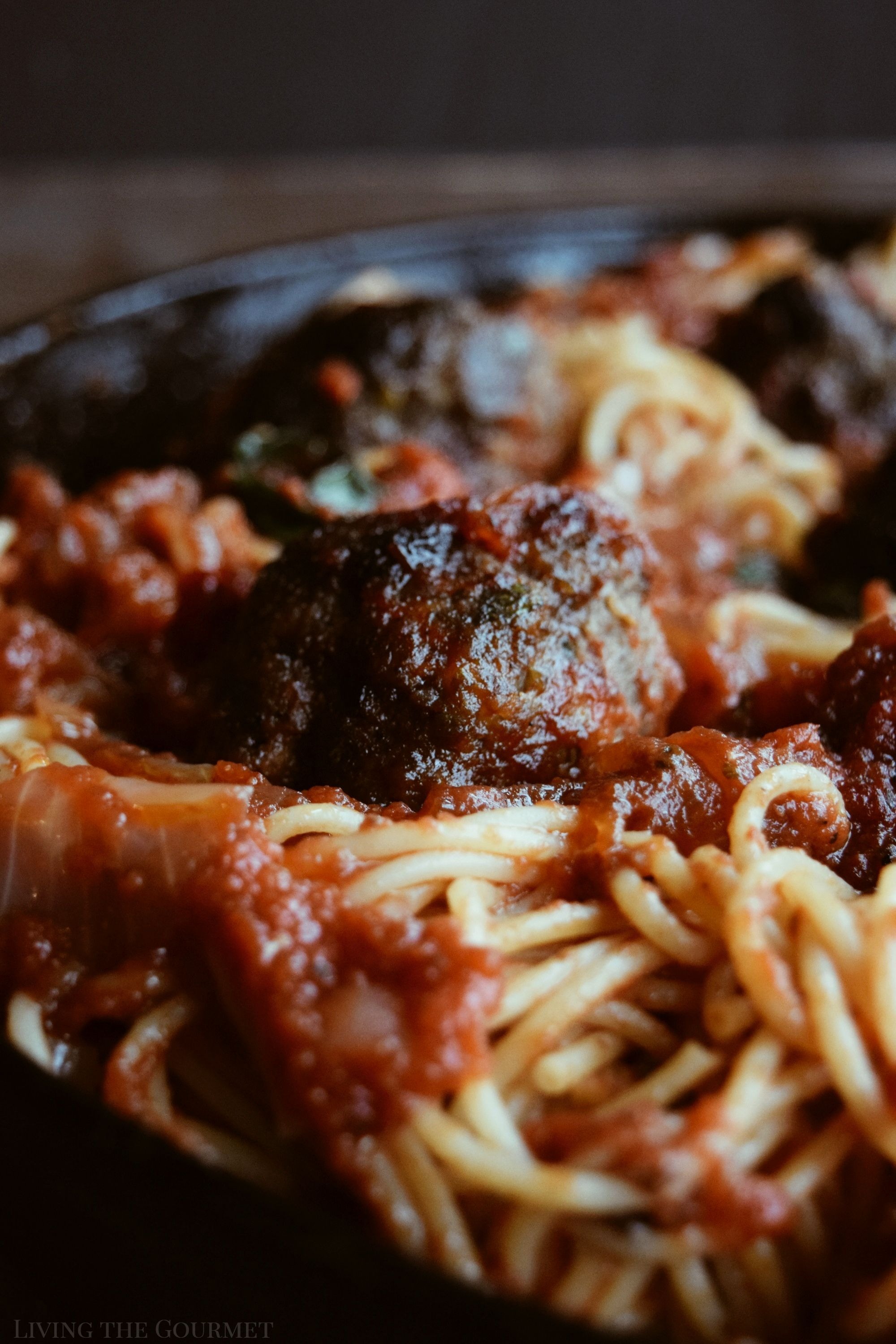 To demonstrate, let me ask you what comes to mind when I say "Italian Food?" In all likelihood, you would think of one of several different recipes, but I'm guessing most of you would immediately think of 'spaghetti and meatballs.' That's what almost anyone would think, that is…unless you are actually 'from' Italy.
You see, the issue here is that spaghetti and meatballs, as it turns out, is 'not' Italian.
Instead, the first known recipe for spaghetti and meatballs was published in English in the 1920s in New York City by the "National Macaroni Manufacturers Association," which is today called the "National Pasta Association." The president of the National Macaroni Manufacturers Association at the time was a man by the name of James T. Williams.
Not only that, but it appears that this popular misrepresentation of the cuisine is actually quite irking to some "Old World Italians," as if we "Colonial Upstarts" have somehow stolen their culinary thunder.
Case in point, Fillipo Piva wrote an article in 2014 for Wired Italian titled Spaghetti and Meatballs and Other False Myths of Italian Cuisine Abroad, which opens "The menus of pseudo-Italian restaurants around the world abound with recipes completely unknown to us." Of spaghetti and meatballs, in particular, he says "They claim that spaghetti and meatballs was brought over by our southern ancestors. Yet, among the most popular dishes in Italian cuisine, there is no space for giant fried meatballs mixed with spaghetti and sauce." The article carries on at length as a fiery condemnation of all things Italian-American, proclaiming Parmigiana di Pollo to be a "grammatical farce," and eviscerating sauce-less white pizza as an "Unseasoned white devil."
Ouch.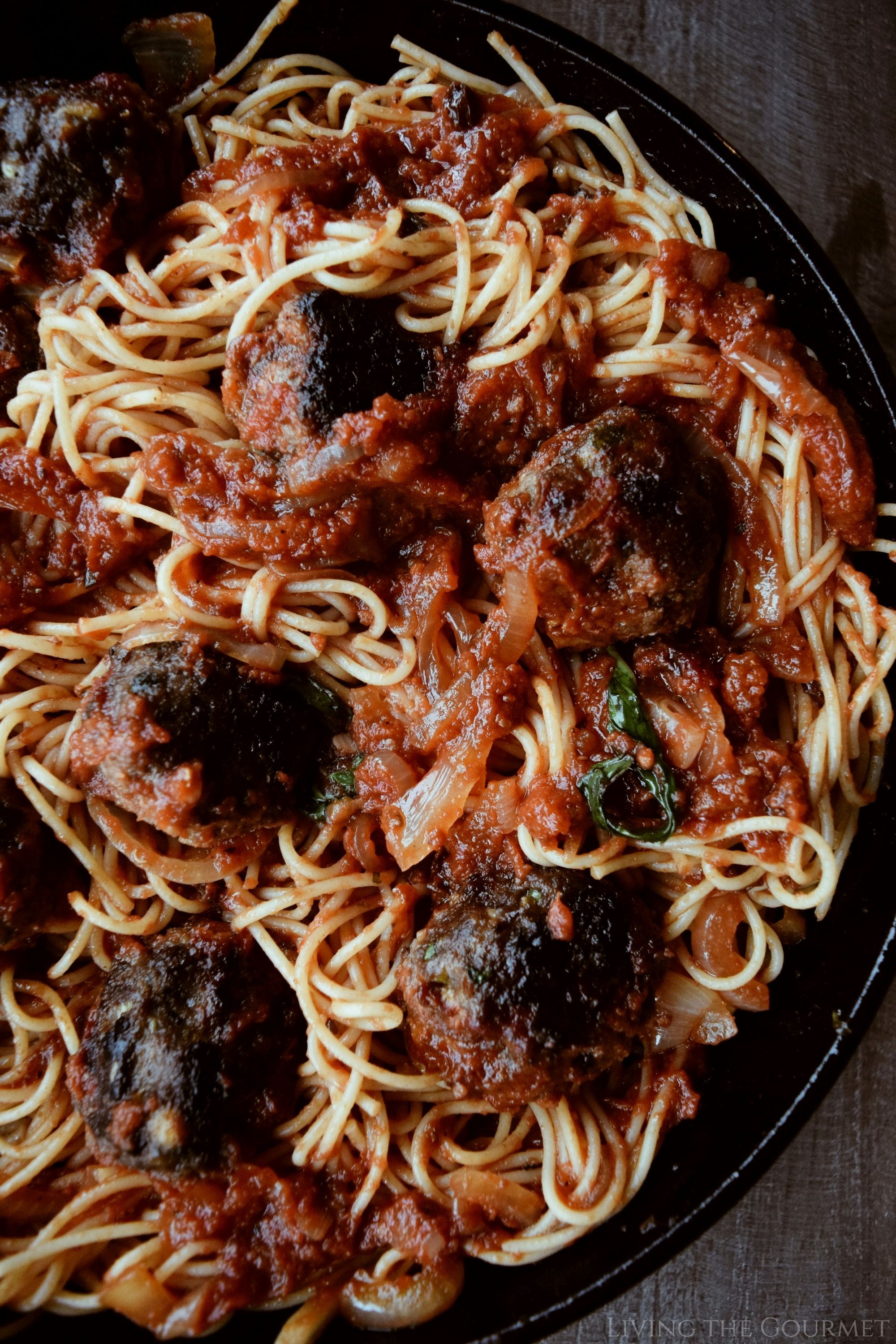 In somewhat less colorful language, Sarah Larson wrote in a 2013 article for Escoffier Online titled, A History of Spaghetti and Meatballs, "If you do find spaghetti and meatballs in Italy, it's largely to satisfy the cravings of the typical American tourist."
Similarly, in his book How Italian Food Conquered the World, John Mariani recites a quote from Sicilian restaurateur Niccolo de Quattrociocchi (circa 1950), who after dining at a certain Italian restaurant commented "I was introduced to two very fine traditional American specialties called 'spaghetti with meatballs' and 'cotoletta parmigiana,' both of which I found to be extremely satisfying, and I think someone in Italy should invent them for Italians over there."
Even the marinara sauce used in spaghetti and meatballs, as it terms out…is Italian-American. Eva Sandoval writing for Fodor's Travels puts is succinctly in an article entitled 10 Foods you Won't Find in Italy, "Pasta alla marinara ('mariner style' pasta) does exist in Italy, but it's usually prepared with shellfish or olives—sometimes both. In the United States, the term 'marinara' refers to the simple tomato-based 'red' sauce that's ubiquitous in Italian-American cooking, slathered on everything from pasta to meat." In a 2014 article for Smithsonianmag.com, Shaylyn Esposito explains how "A variation of this 'sailor sauce' dominated Italian-American cuisine…because canned tomatoes, oil, and pasta were among the only recognizably Italian ingredients available in American groceries at the time."
As it stands, this mini-cultural revelation was painfully eye-opening for me, essentially recoloring much of what I had originally thought were first-generation Italian immigrant incarnations of Italian cuisine, but which I now understand are distinctly, and uniquely, "Italian-American," a "colonial" or "migratory" re-imagining – often by necessity – of their culinary heritage, that bore many of same flavors and ingredients of their previous cuisine, but whose form, heft and appearance are almost wholly distinct.
Now, with all of that in mind, and before I cave to the temptation of adding yet more words to what has become more of an 'editorial' than an introduction, I present to you today – Paprika Meatballs over Spaghetti and Red Sauce.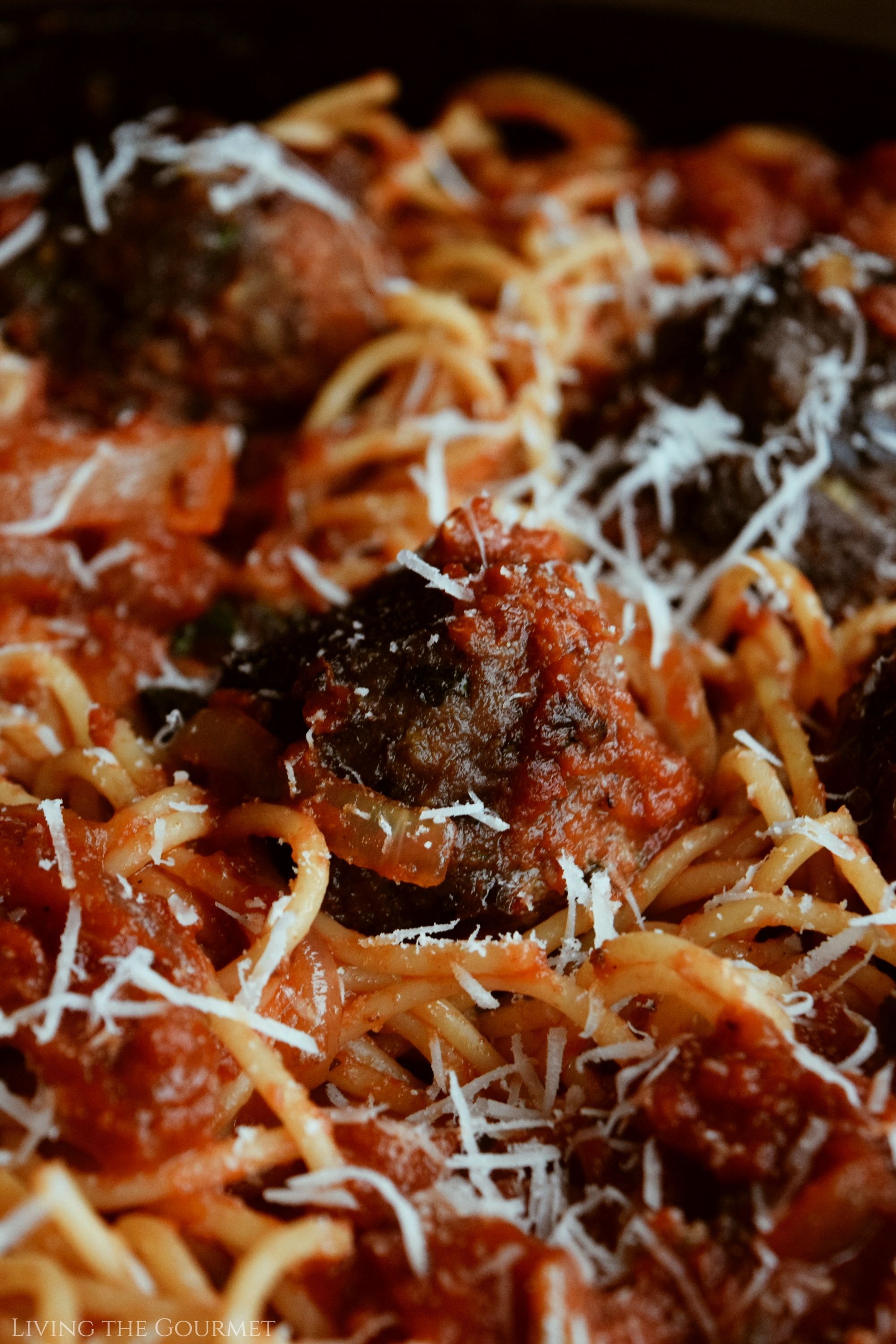 To start things off, begin by combining all of the ingredients for the meatballs listed below in a large bowl, and mix them together. I could try to convince how easy and 'super simple' this is, but I'm going to be honest and tell you're there's no avoiding using your hands for this part. This is messy work.
Once the mixture is thoroughly and evenly combined, begin forming the meatballs. Try to make sure that they are all roughly of the same size to ensure an even and predictable cook time across. Yes, more messy work.
Once that's done, heat a large cast iron frying pan with a drizzle of olive oil. You want the pan to be evenly coated in oil before heating.
Once the pan is quite hot, begin setting the balls into the pan in batches. You know the pan is hot enough when the balls 'sizzle' when placing them in the hot oil.
During cooking, you'll want to turn the balls a few times in order to ensure even cooking, and a uniform 'char' or 'crispness.'
And please, for goodness sake, do not overcrowd the pan.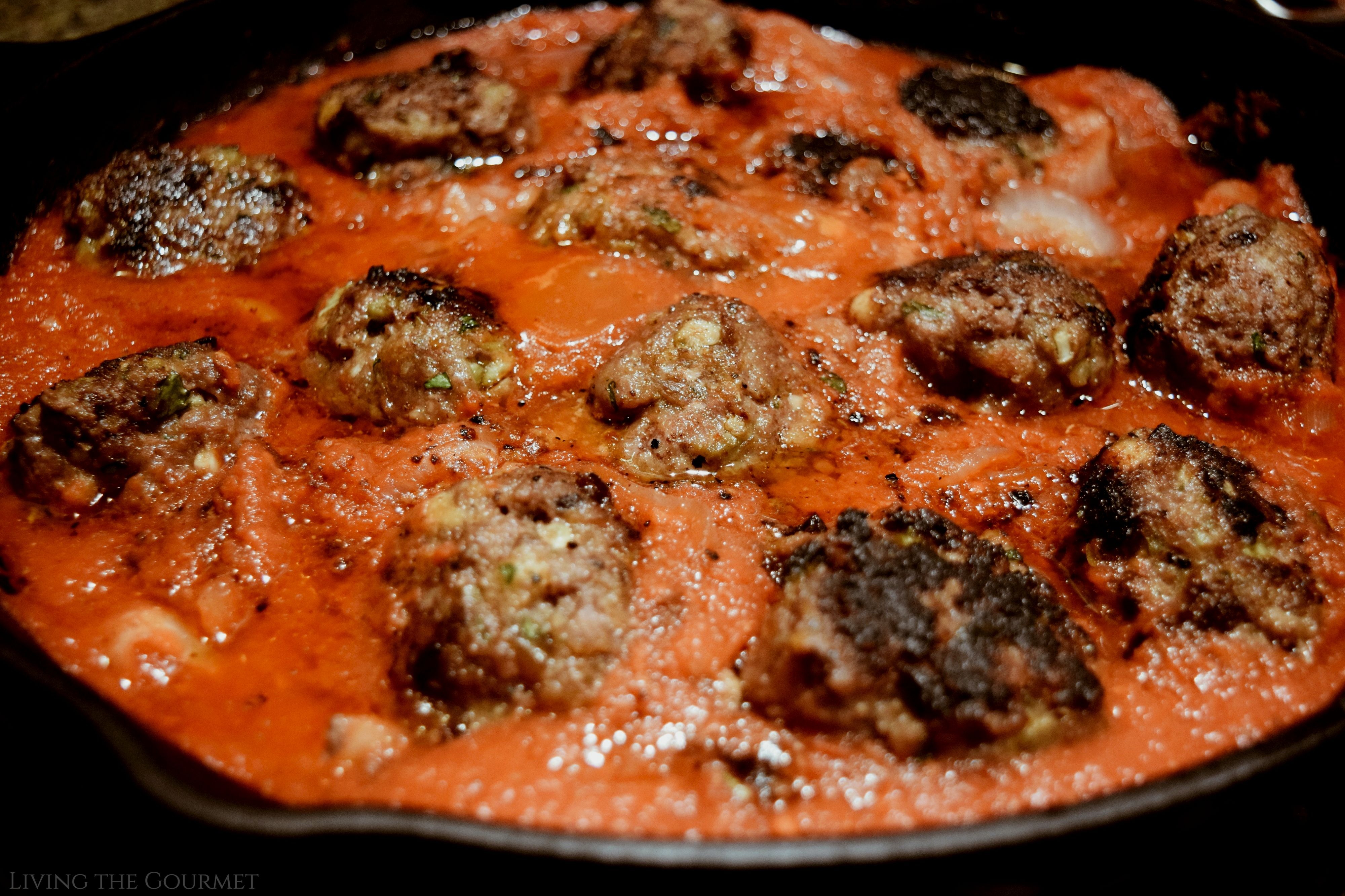 Precisely how long you should cook your meatballs depends on how large or small you molded them. Generally speaking, you want an evening browning, a fair bit of 'char' as pictured below.
Heat a second cast iron frying pan – dry. Add in sliced onions, chopped garlic, and the seasonings listed. After sautéing or a minute or two, then drizzle a bit of olive oil, and continue sautéing until the onions are soft and golden.
Add in the crushed tomatoes.
Once that's done, add the meatballs into the sauce, along with the drippings and scrapings from the pan for added meaty flavor.
Allow the sauce to continue simmering for about an hour.
Finally, prepare the spaghetti as directed, and once the spaghetti is done, combine that with the sauce, and serve with a generous dusting of Romano or Parmesan Cheese.
Living the Gourmet
Yields 15 meatballs
Sweet Paprika Meatballs
20 minPrep Time
30 minCook Time
50 minTotal Time
4.9 based on 24 review(s)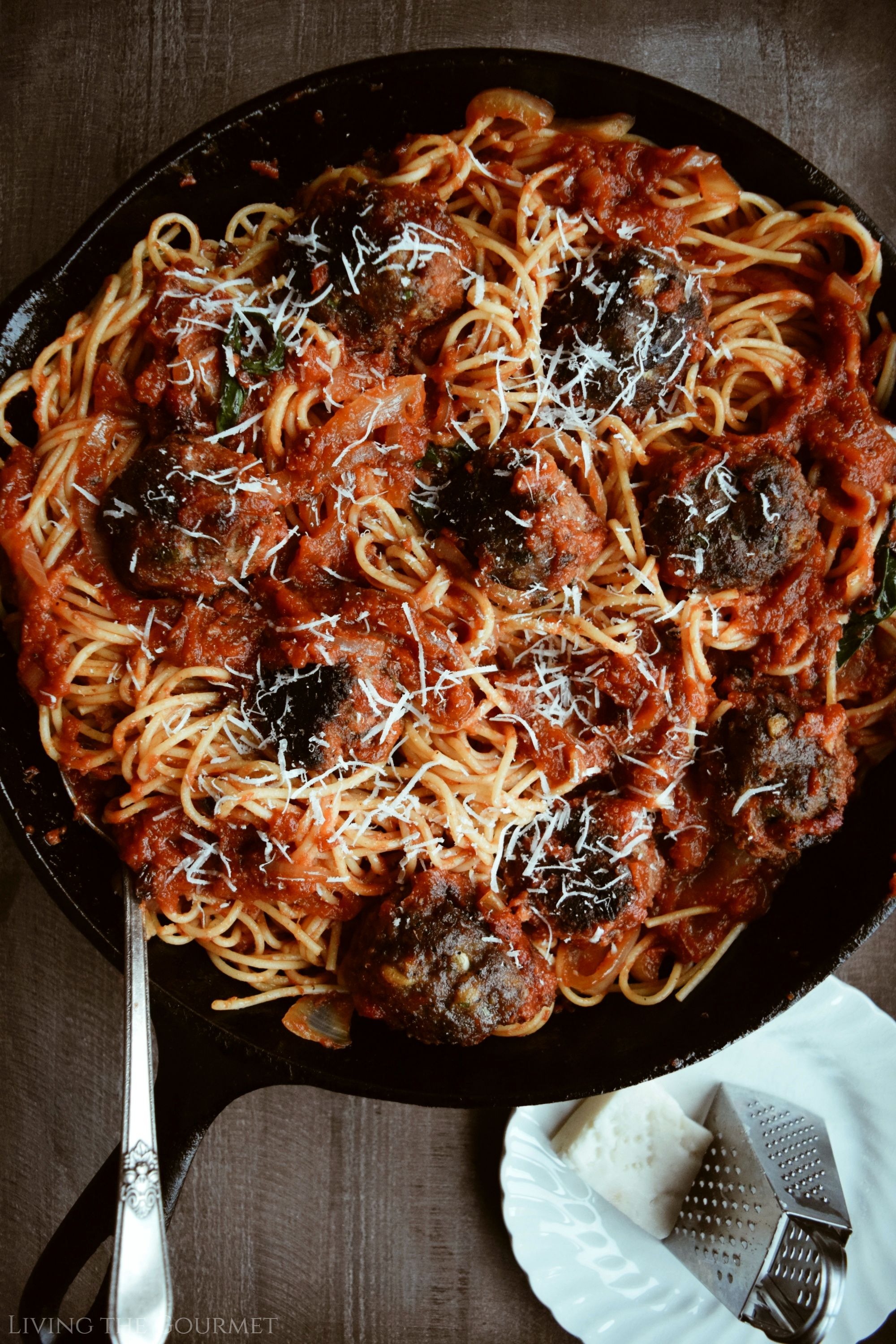 Ingredients
For the Meatballs:

1 ½ lbs. of ground beef
¼ cup raisins – chopped
1 tbs. capers plus caper juice – chopped
1 tbs. peach preserves (if you don't have peach preserves you can use apricot or marmalade)
¼ cup Italian style bread crumbs
2 tbs. fresh cilantro or Italian parsley – stems removed and chopped
1 tsp. salt
1 tsp. black pepper
1 tsp. sweet paprika
3 cloves of garlic – grated
1 stalk of celery – sliced thin
1 slice of white bread – crumbled
1 egg
Olive oil – for drizzling the frying pan

For the Sauce:

2 sweet onions – sliced thin
4 cloves of garlic – chopped fine
2 tbs. raisins – chopped
1 ½ tsp. salt
½ tsp. black pepper
1 tsp. sweet Paprika
1 tsp. sugar
29 oz. can of crushed tomatoes
8 – 10 fresh basil leaves
Olive oil for drizzling
1 lb. of your favorite pasta - spaghetti was used in this recipe
Instructions
For the Meatballs:

Combine all of the ingredients in a medium sized bowl and mix together.
Heat a large cast iron frying pan with a drizzle of olive oil.
Form the meat into medium sized balls and place in the heated frying pan. Do Not Overcrowd the pan.
When the meatballs form a nice golden char, carefully turn over and cook on the other side.
Do Not have the heat too high.

For the Sauce:

Heat a large cast iron frying pan.
Add the sliced onions, chopped garlic and seasonings to the frying pan.
Sauté in the dry pan for a minute or two, then drizzle with olive oil and continue to sauté until the onions are nice and softened.
Add the crushed tomatoes and toss.
Carefully, add the meatballs and the scrapings from the bottom of the pan the meatballs were in, this has all the flavor!
Simmer the sauce at a very gentle heat for at least an hour, the longer it simmers the better.
Take the fresh basil leaves and place in a small pan heated with a drizzle of olive oil and toss with a sprinkle of salt, then add to the sauce.
Prepare the spaghetti as directed and drain.
Remove the meatballs from the sauce and toss the spaghetti with the sauce.
Top with the meatballs.
Serve with fresh grated Romano or Parmesan cheese.
7.8.1.2
835
https://livingthegourmet.com/2019/03/sweet-paprika-meatballs.html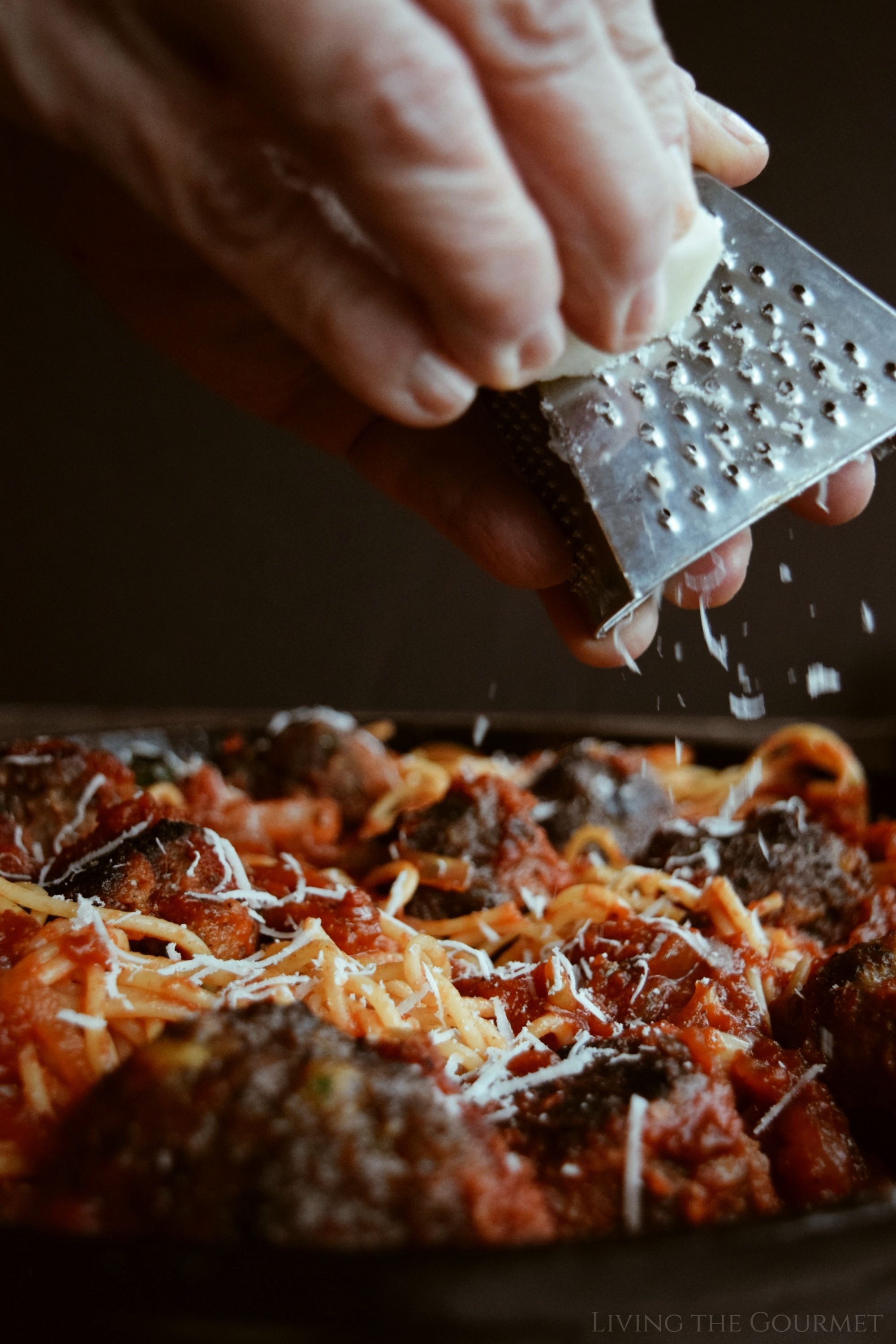 Wine Pairing:
1) Since these meatballs have a bit of a 'sweet' or even slightly 'dried fruit' flavor in background, I'll suggest a decent Zinfandel.
2) Conversely, if you want to play only to the spice, or to the natural acidity of the sauce, Merlot is probably your best bet. See my review here that I did for my friends over at Golan Heights Winery, https://livingthegourmet.com/2017/12/wines-for-hanukkah.html
3) Naturally, the tried-and-true meatballs and spaghetti pairing is a solid Cabernet Sauvignon. See our guest post for a concise cabernet guide. Here a few of my favorites that I've reviewed here on Living the Gourmet, in particular from Yarden Winery and from Herzog Winery.
Enjoy with Love!
0