Soft brioche is thickly sliced then brushed with a creamy pumpkin spiced batter. Grilled to sweet perfection, serve this Pumpkin Spice Toast with a hot cup of coffee and enjoy the tastes of the season!
According to Leonardo da Vinci, simplicity is the utmost sophistication…a mantra apparently lost on those who wrote of his fabled 'code.'
Take, for example, the autumn season itself. "For Halloween, we need to conjure the dead upon our front lawns, for Christmas we have to find ways to 'bring to life' the forced cheer of the season, but autumn…nature takes care of that for us, providing its own décor and spirit – there's nothing forced or feigned, it simply 'is.'" For example, there's a certain, rather pleasant stereotype regarding the autumn season in New York. It's a nostalgic yet thoroughly modern scene, city blocks lined with browning memorial trees blanketed in fog laden air, while the pedestrian crowds begin succumbing the first October chill, fading into their long coats and scarves. Each year, this metropolitan scene plays out as masterfully as if Stevenson himself had composed the plot and set the scene. All of it – completely effortless.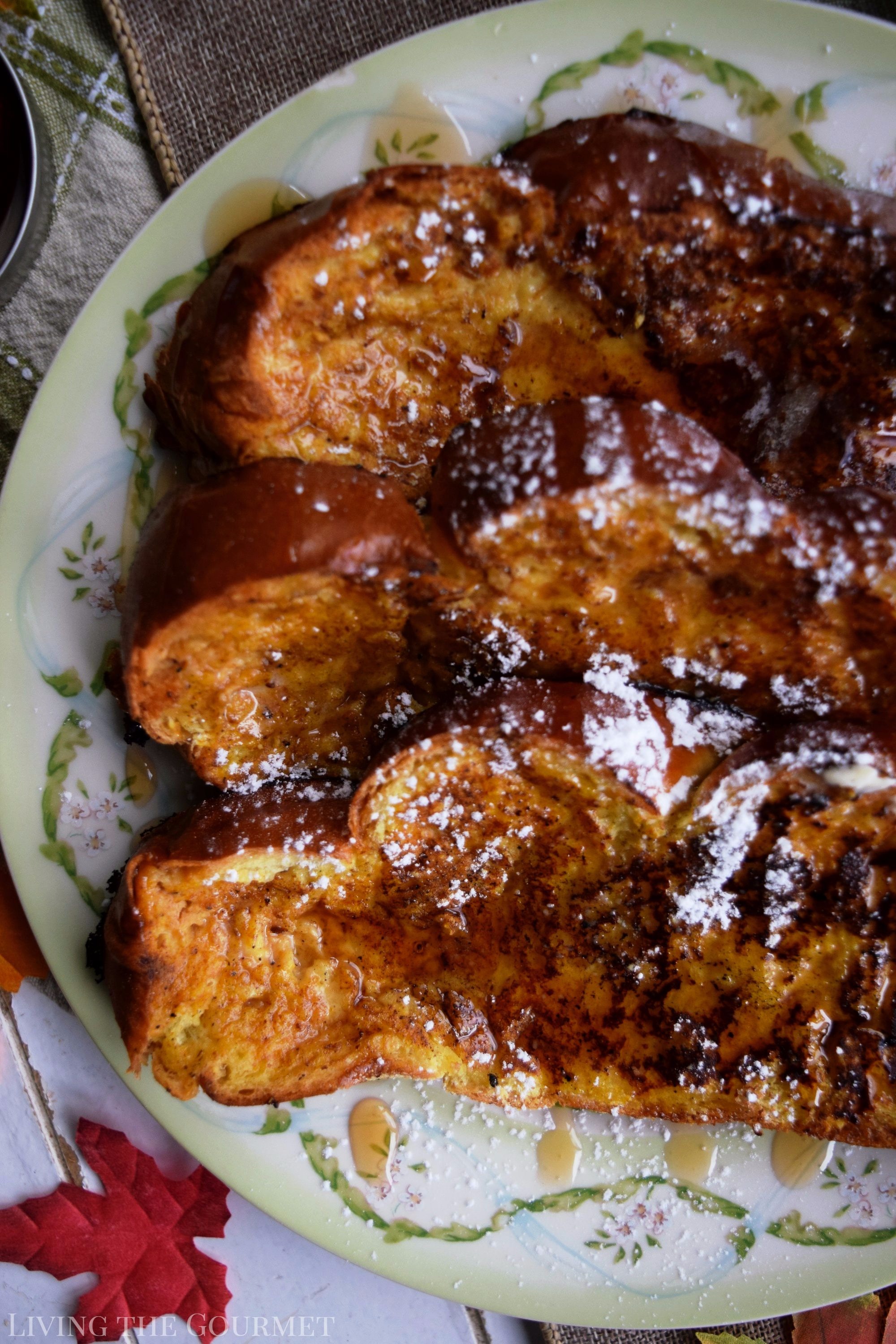 Now, if you're like me, it's not enough to play the part of bystander – at least not completely. To that point, if I may be so self-indulgent as to quote myself, I noted recently that for many the "turning of the leaves are cause for an array of culinary indulgences. Pumpkin spice lattes. Breakfast cinnamon 'rolls' the size of small tires. Pumpkin spice cupcakes. Every manner of 'home and hearth' pie imaginable. Pumpkin spice cookies. Baked apples with caramel sauce. Pumpkin spice infused butter. Skillet 'Crumbles' that are in essence sugary toppings over baked fruit. Pumpkin spice salted caramel bread. Sweet potatoes topped with marshmallows and sugar-based 'crusts.' And did I mention pumpkin spice?"
Now, read that list and read it carefully. What culinary goodie did I leave out? French Toast – Pumpkin Spice French Toast to be precise.
Of course, to fill in that gaping oversight in my tongue-in-cheek list of seasonal pumpkin flavored items, we come to today's recipe.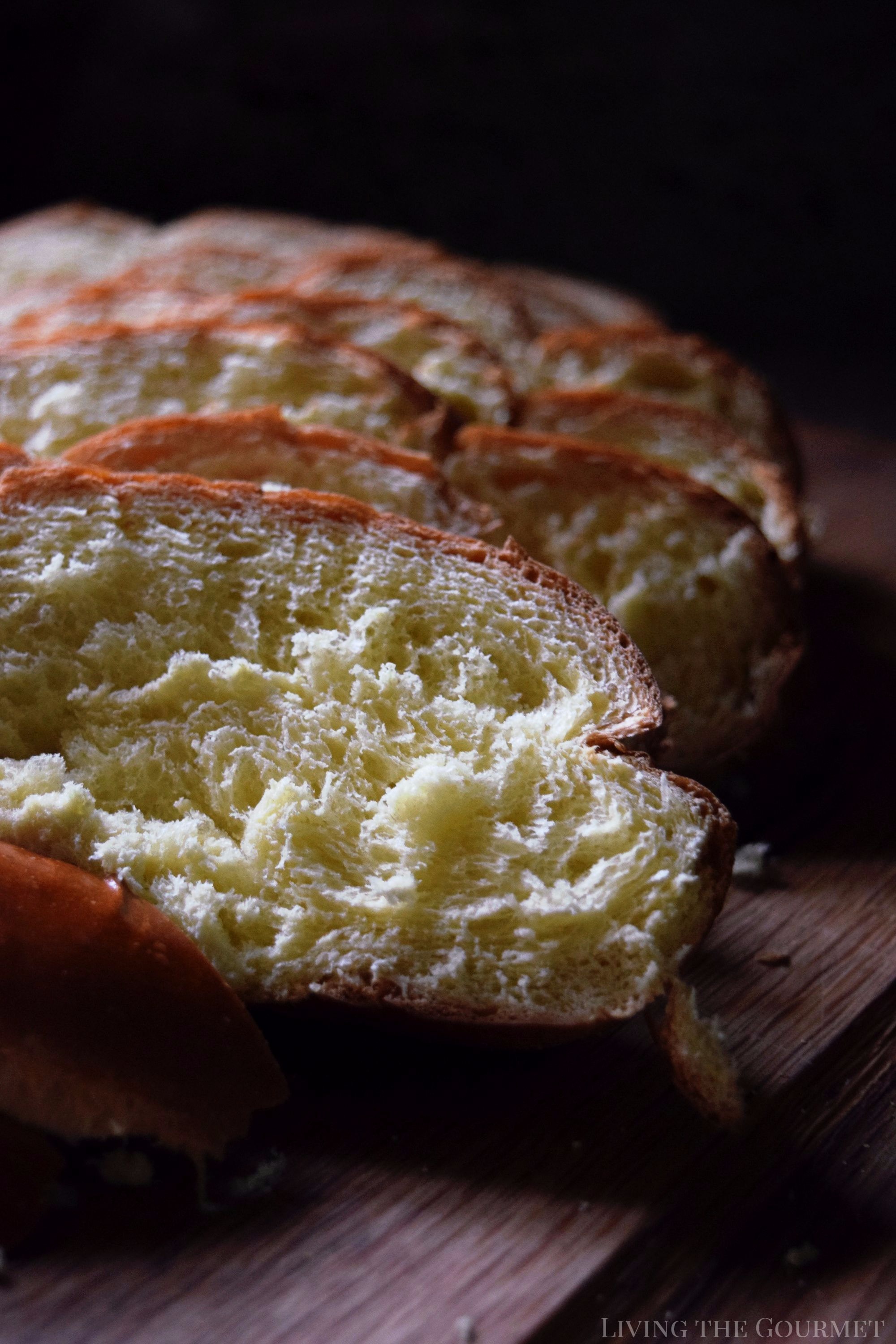 To start things off, we begin by slicing a loaf of brioche into hardy, thick sliced – but not overly thick, about half an inch to three-quarters of an inch, but I wouldn't go thicker for this particular recipe. We then whisk to together eggs, milk, pumpkin puree, vanilla, brown sugar, and and my own mixture of pumpkin spice. Whisk that until it is thoroughly smooth, and then brush the slices of brioche liberally with the pumpkin and spice mixture. Now you don't want to soak the sliced brioche in this particular recipe otherwise the slices will become soggy upon cooking.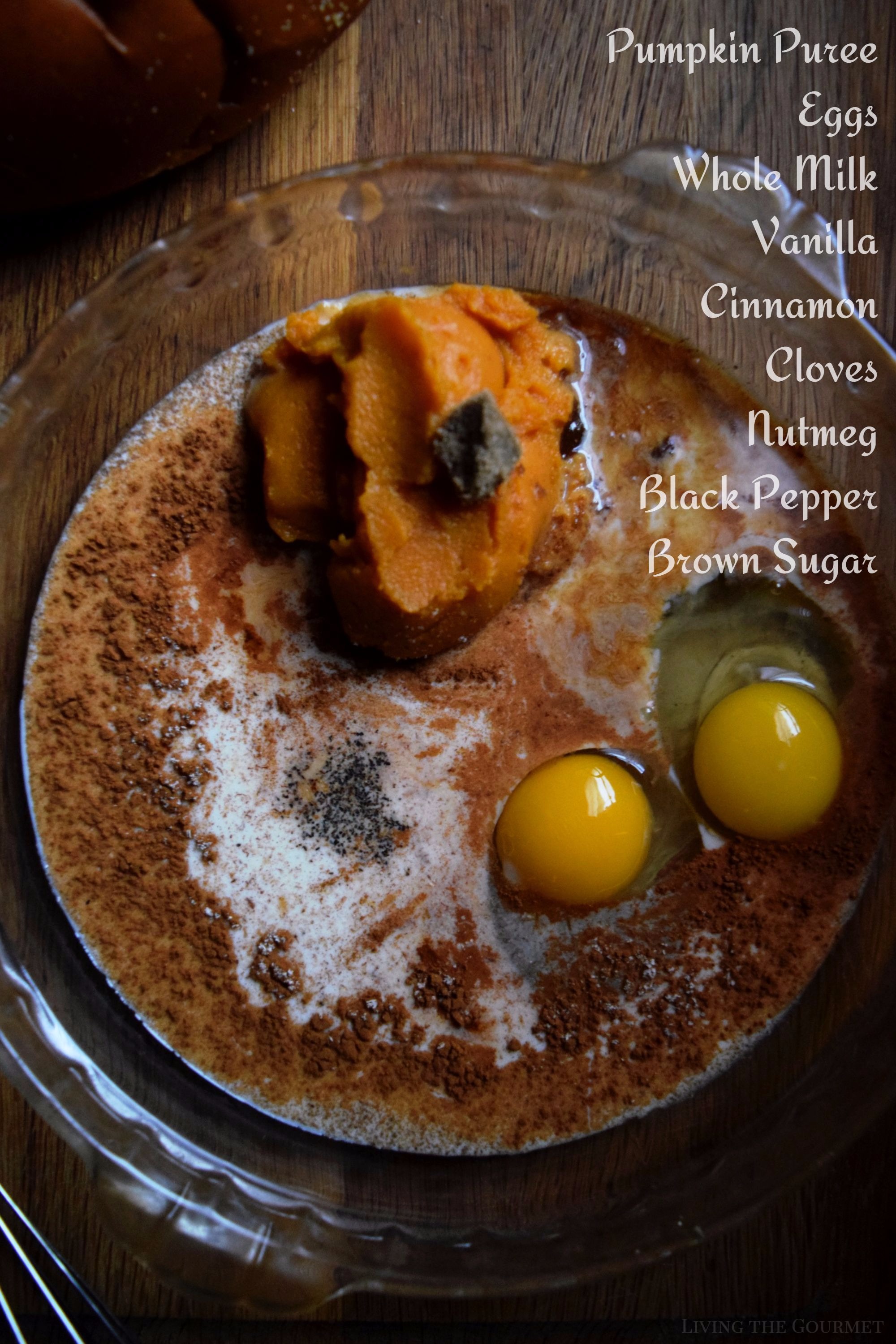 Heat a griddle with butter, and allow the butter to brown – but not burn or evaporate. Doing this will add a nice caramelized flavor to the toast.
Set the brioche on the griddle, being careful not to overcrowd it. Let the slices cook until their edges are nice and golden, flipping them once during the cooking process.
Print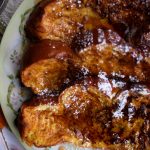 Pumpkin Spice French Toast
---
Author:

Total Time:

20 minutes

Yield:

4

1

x
1

Brioche loaf, sliced

2

eggs

1

cup

whole milk

1/2

cup

pumpkin puree

1 1/2 teaspoons

vanilla

1 tablespoon

brown sugar

1/2 teaspoon

cinnamon

1/4 teaspoon

cloves

1/2 teaspoon

fresh nutmeg

1/4 teaspoons

black pepper
---
Instructions
In a deep dish whisk together eggs, milk, pumpkin, vanilla, brown sugar and spices. Brush the slices Brioche with the pumpkin spice mixture.
Heat a frying pan or griddle with butter and let the butter brown a bit. Carefully transfer the slices onto the heated griddle and cook until the edges are golden. Flip and let the other side toast and golden.
Serve with warmed syrup and a dash of powdered sugar if desired.
Prep Time:

10 minutes

Cook Time:

10 minutes

Category:

Breakfast
Recipe Card powered by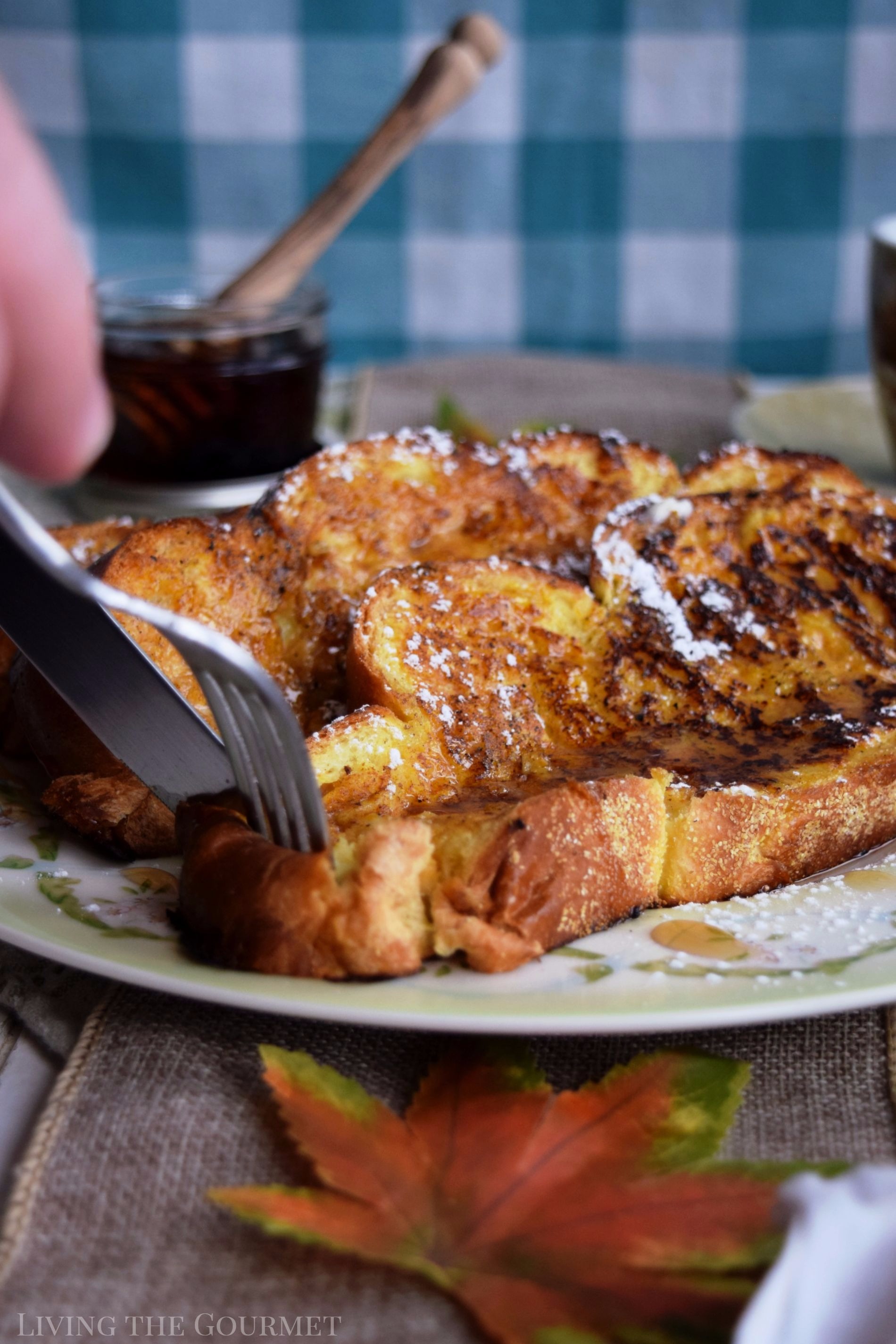 As a finishing touch, I warmed some maple syrup for drizzle and dusted some confectioner's sugar over the top. I think some roasted pecans would have also been nice with this, but nuts are optional.
Serve warm and enjoy with a cup of coffee, and just like that you've got the perfect autumn breakfast.
Enjoy!
0