We're sharing some of our favorite tips for pulling together a festive, elegant holiday tablescape with ease, but no holiday spread is complete without Mulled Apple Cider. Today we're showing you how with our favorite slow cooker recipe!
I held a small dinner party this past Sunday, and my brother and son were talking, and I overheard my son explaining that "I eat when I'm upset, the problem is I also eat when I'm happy…the bigger issue, if I'm really honest is, that I eat when I'm bored, frustrated, and to relax. And yeah, I also happen to work with food…"
Today, as I wrap up my weeklong assembly of our Christmas dessert spread, let's add to that list "We eat to celebrate, and we celebrate while eating."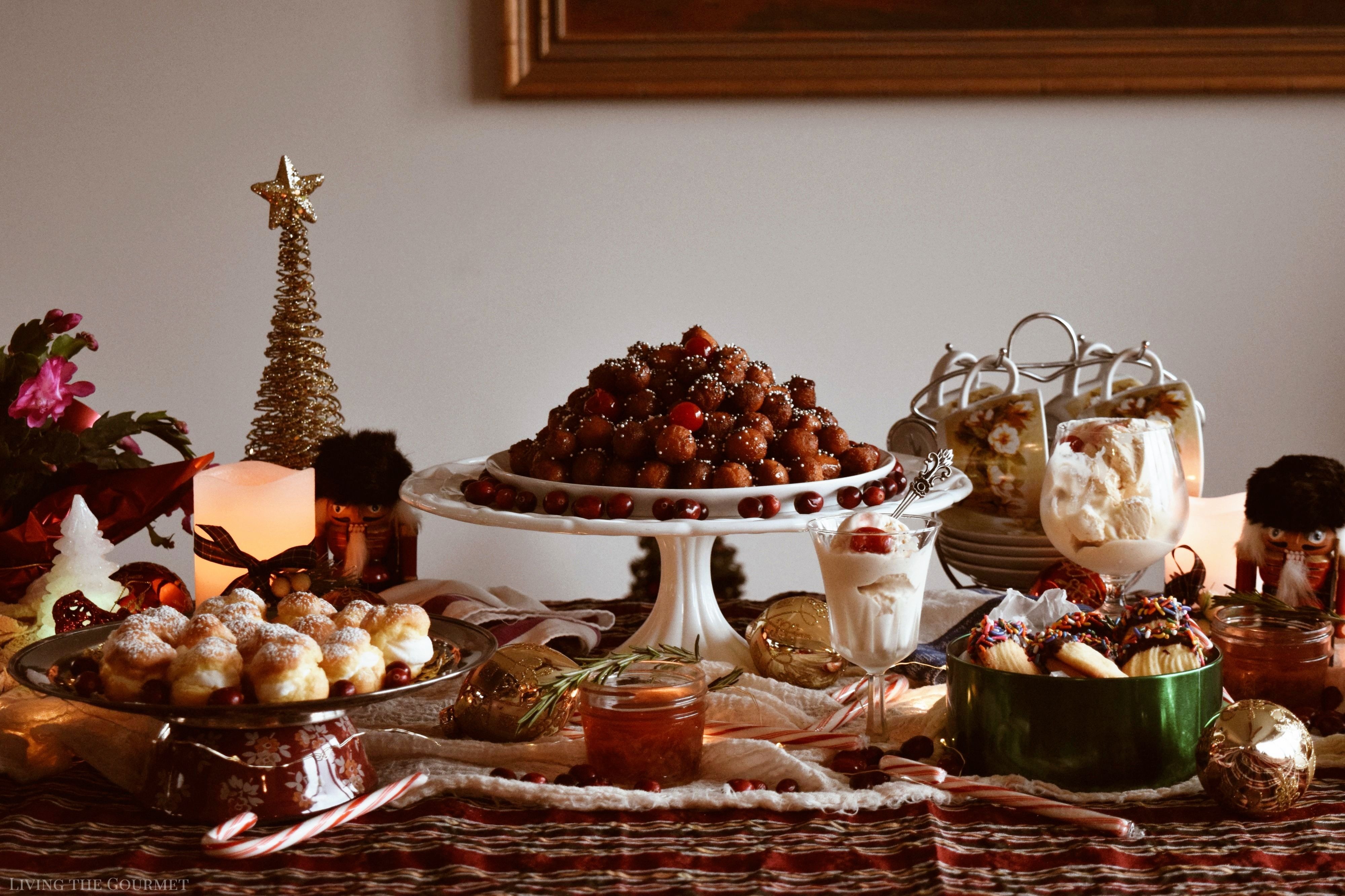 That's precisely what I wanted my guests to feel with today's tablescape. I wanted the 'celebratory' spirit of the season to be the first thing they felt on seeing today's dessert table. From the intentionally festive confections to the forest of Christmas decorations, this table is a real throwback to the sort of festive display that we would put together for crowds of friends and family during the holiday. As you can see from the pictures, the confections are much a part of the decoration and 'feeling' as the actual decorations themselves are, from the arranged butter cookies, to the pyramid of struffoli dusted with sugar and sprinkles, to a carefully arranged tray of cream puffs. Everything here is meant to convey the 'flavor' of the holiday's festivity.
Now, a few pointers.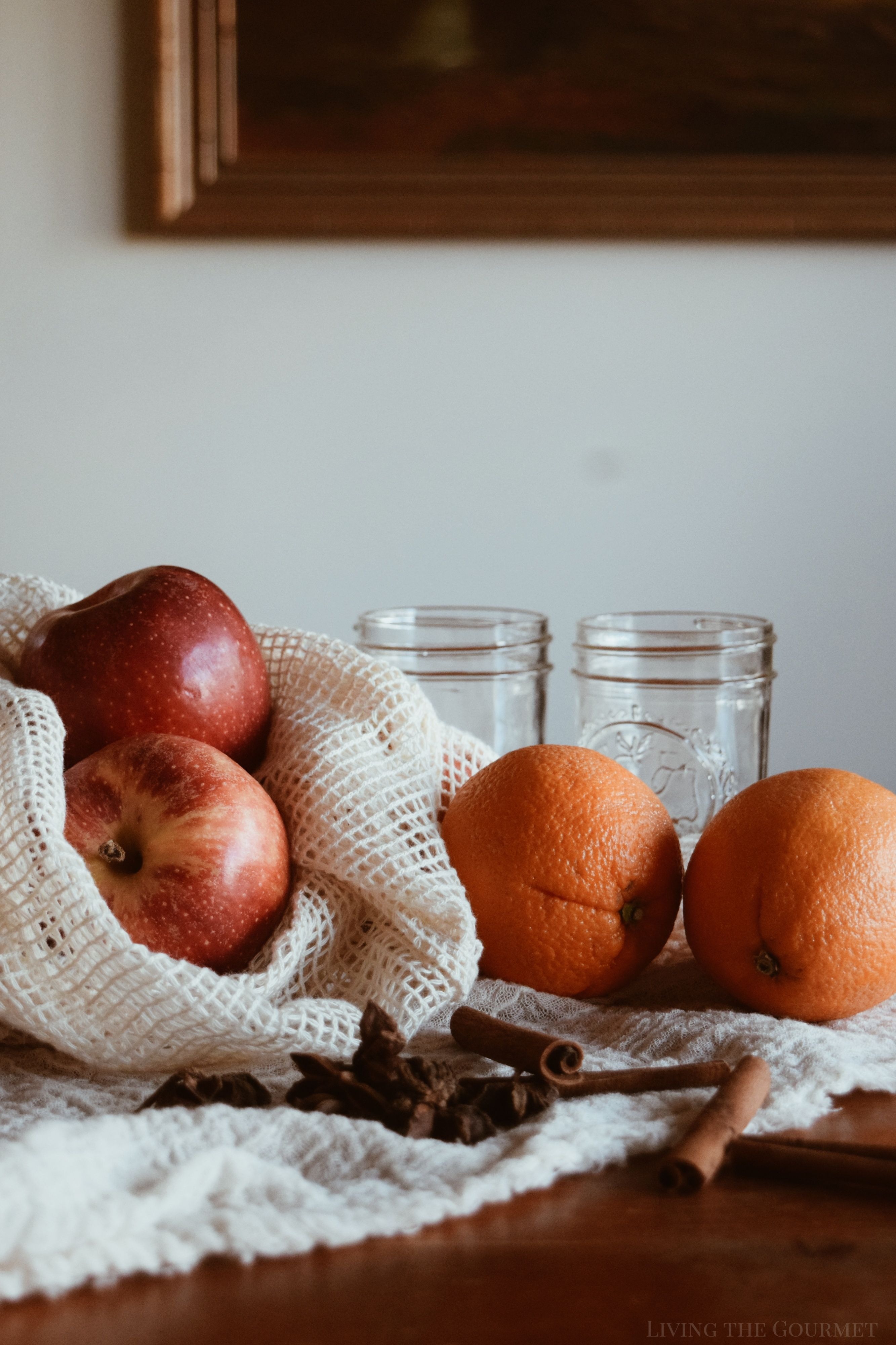 Serving Tips:
1) Spice and Warmth. First and foremost, at least in my home, no Christmas is complete without a homemade cider. To prep the homemade cider, simply HOW DO?
2) Ice in the Winter. I know, this isn't the first thing on people's mind, but honestly, it just melds so well with the other flavors on the table that I simply couldn't resist – Homemade Vanilla Bean Ice Cream. You can use my no churn recipe here, and if you prefer you can leave out the whiskey and vegan caramel. https://livingthegourmet.com/2015/07/caramel-whiskey-ice-cream-no-churn.html
3) Help Yourselves. One of the things I love about tables like these is that they encourage interaction, with everyone gathering around the table for dessert, and creating those picture-perfect, memorable moments together that really define the holidays.
Décor Tips:
1) Tastefully Tactful Tact. Whenever I put together a table like this, I try to keep in mind the idea "overflowing without overpowering." For example, for some added red hues we dusted the table with some fresh loose cranberries and a few obligatory candy canes. The Christmas ornaments themselves tended to be on the muted side, with gold hues predominating, accentuated by surrounding Christmas candles.
2) Let you Confections Fly. You'll notice that I used a pair of raised trays for the cream puffs and struffoli, that allowed me to raise them above the 'haze' of the ornaments, and to decorate more fully and thickly both around and 'under' the confections themselves, further adding to the 'bountiful' feel and density of the tablescape – I simply love the feeling this creates, and I cannot suggest enough that you try.
3) Light is Good – In Moderation. Focus on muted golds and soft whites. Honestly, one thing that ruins an atmosphere the quickest for me is over lighting. Blaring lights are good for operating rooms and warehouses – at dinner, however, there's no need to put the spotlights on your table and guests.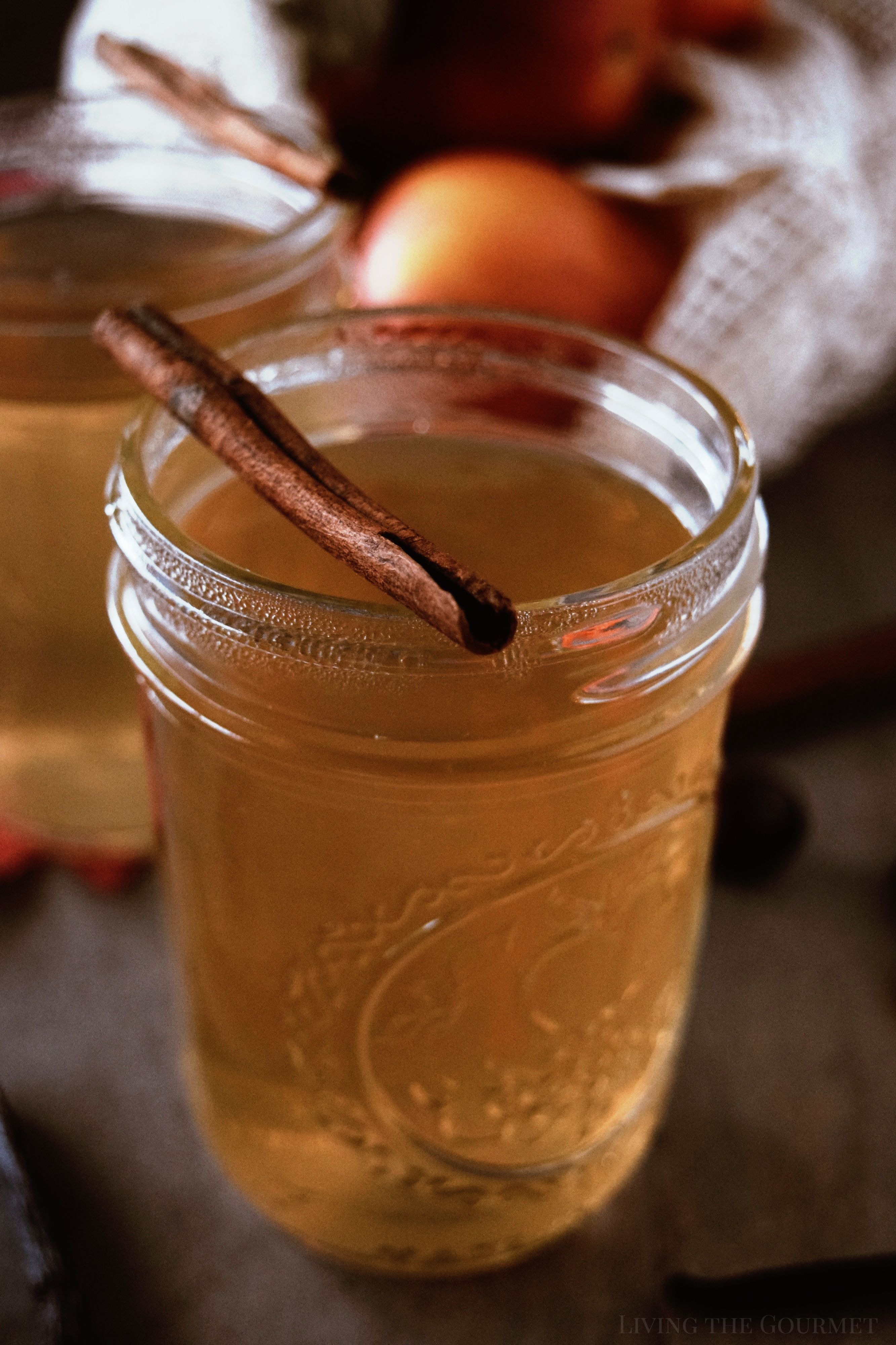 Living the Gourmet
Mulled Apple Cider
5 minPrep Time
6 hrCook Time
6 hr, 5 Total Time
5 based on 15 review(s)
Ingredients
1 gallon water
8 assorted apples (I used Red Delicious to give the cider a deeper color and Honeycrisp for natural added sweetness)
1 orange, peeled and sliced in half
1 cup fresh cranberries, optional
1/2 cup brown sugar
1/2 cup white sugar
1 tablespoon vanilla extract
2 cinnamon sticks
2 star anise
2 teaspoons ginger or 1/2-inch root fresh ginger, grated
2 whole cloves
Instructions
Combine all the ingredients in the base of your slowcooker or crockpot and leave to cook on high for about 5 hours. Once you see the apples splitting, lower it down and leave to cook for an extra hour or two on low.
Serve hot or let cool completely, strain and store in glass jars.
7.8.1.2
805
https://livingthegourmet.com/2018/12/christmas-dessert-tablescape-featuring-mulled-apple-cider.html
If You Enjoyed Today's Recipe…
Be sure to follow us on Instagram to stay up to date with all things Living the Gourmet, and for more great recipes, tips and tricks.
Did you make this recipe?
If so, let me know in the comments down below, or post a picture to Instagram, or to Pinterest, and I'll give you a shoutout on Instagram, or post your pin to one of my Pinterest boards!
Enjoy with Love!
0