Soft, buttery cookies are sandwiched together with raspberry jam then dipped in chocolate and sprinkles for the classic, bakery favorite we all grew up loving! Make a batch of these Italian Butter Cookies for an unforgettable holiday this season.
My first 'commercial' experience with food before Living the Gourmet came in the form of a brief stint at a neighbor's bakery as a child. During my tenure there, I was taught the basics of things like decorating displays, preparing gift baskets, the proper way to fill cannoli shells, and how to bake a variety of basic cookies, all of which I did in between washing windows and sweeping a few miles worth of floors – which was no mean feat in a bakery roughly the size of a quaint suburban kitchen.
The owners, longtime friends of my mother and father, were first-generation Italian immigrants – like my own family. Naturally, that meant a lot of what the bakery specialized in was nothing new to me – if my grandfather wasn't bringing the same items over in huge boxes wrapped in red and white string for the holidays, then my mother was preparing the same, or better, versions of what was typically on offer in our displays.
That said, whether I was preparing or decorating them at the neighbor's bakery, or whether my mother was preparing them from scratch, "Italian Butter Cookies" dipped in chocolate, doused in sprinkles, and then sandwiched over a sweet jam, was a mainstay at almost all of my family's gatherings, especially around the holidays, where our dessert tables were packed to overflowing.
Over the course of this coming week, I'm going to try to reproduce one of the dessert spreads I grew up with, using several of my favorite Christmas-themed goodies. At the end of the week, we'll see how it all pieces together on a single, festive Christmas dessert table, with a few added specialties just for the occasion.
Now, for today's Italian Butter Cookies.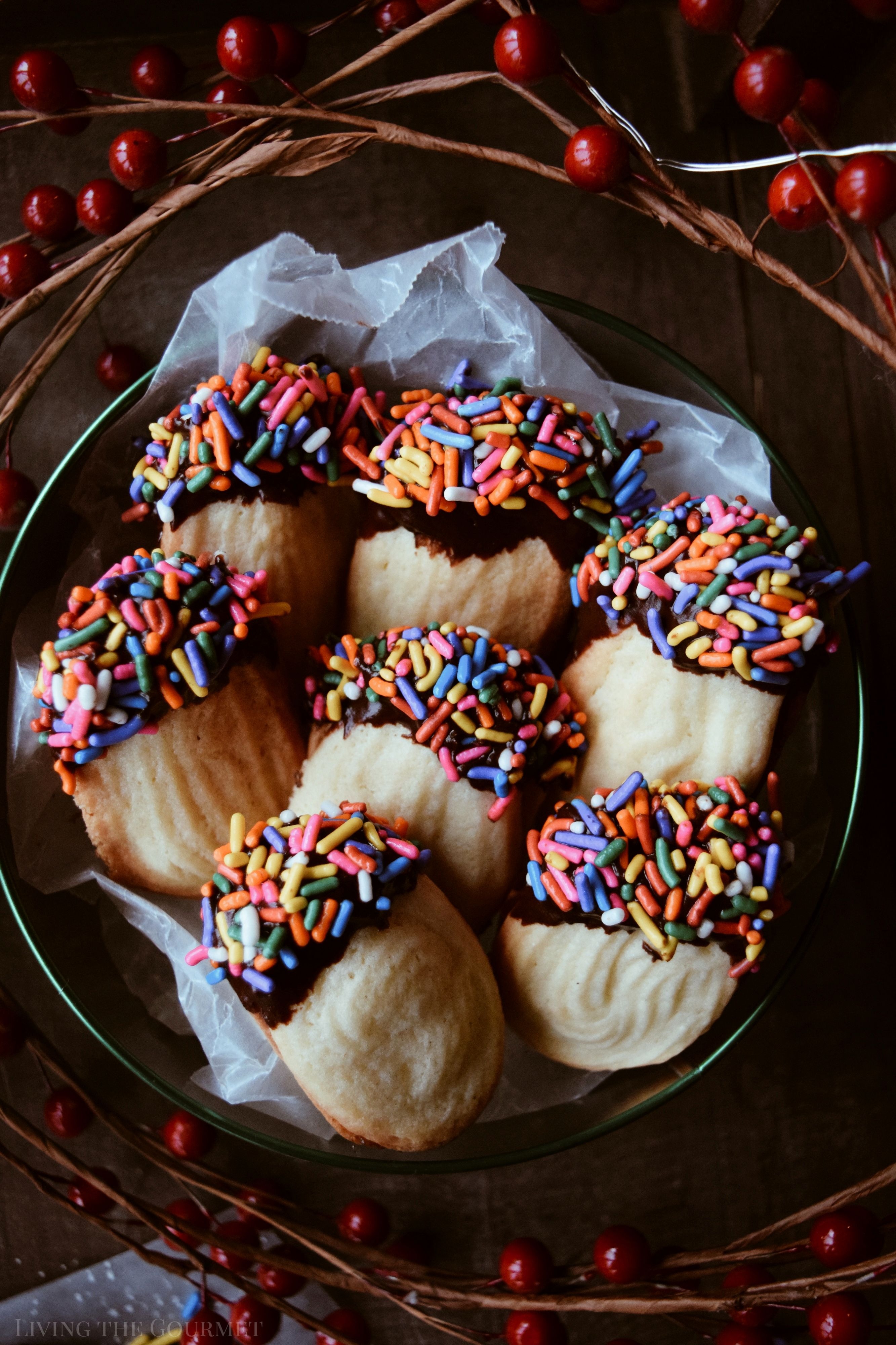 To start things off, we begin by mixing together sugar, shortening, and butter in a large bowl, and we mix that until it's smooth. Then add in the eggs and vanilla extract, and blend in the flour a little at a time along with baking powder and salt.
For this particular recipe, I'm using Nielsen-Massey Madagascar Bourbon Pure Vanilla Extract. Nielsen-Massey is a staple in my kitchen due simply to it being the gold standard for flavor and quality amongst extracts. This year, be sure to give the gift of baking by sending someone you love a Nielsen-Massey Holiday Flavors Bundle.
After that, let the resulting dough chill for at least 20 minutes. Then place the dough in a piping bag attached to a star-shaped nozzle, and pipe out the cookies as shown below onto a baking sheet lined with parchment. Bake until lightly golden as directed below.
Meanwhile, you're going to want to melt down dark chocolate with some heavy cream as directed below. Then, after assembling the cookies with either raspberry or strawberry jam – we're using raspberry today – dip the end of the cookies in the melted dark chocolate, sprinkle with sprinkles, and then set them on a baking sheet to cool.
Once cooled, they're ready to serve.
Alterations
Given that these cookies are a very well known, well loved, and traditional Italian type of bakery good, I don't intend to give any 'radical' alterations here, but I will provide you with a trio of ideas that keep the 'spirit' of the cookies intact, while still allowing for some variety if you so choose.
1) Go Nuts. If you prefer, you can replace the sprinkles with pecans, almonds, or walnuts. Simply chop the nuts up finely, and use those in place of the sprinkles – or in addition to the sprinkles if you're feeling particularly adventurous.
2) Double up on Chocolate. While I wouldn't recommend dousing the entire 'assembled' cookie in chocolate, one particular way of increasing your 'chocolate-to-cookie ratio' is to completely douse or 'encase' one of the two cookie halves in chocolate, and sprinkle with your sprinkles. Now, let those cookies harden, then take a covered cooke and a plain cookie and sandwich those over the jam as normal, dip, and sprinkle.
3) Even More Chocolate. Naturally, you could forgo the jam entirely in favor of a chocolate middle. Simply melt some extra chocolate, and use that as a middle for the cookies.
Serving Tips
1) When serving, keep in mind that these cookies encapsulate the 'Italian view' of dessert. Not overly sweet, not overly indulgent, not overly 'heavy' by any stretch. In other words, they complement rather than overpower the meal you just enjoyed beforehand. Pair these with black coffee alongside a variety of other baked goods, with the cookies simply being part of a larger whole, and you're set.
2) Mt. St. Cookie. Rather 'piling' or simply dumping your cookies onto a platter, take a few moments to 'assemble' a neatly stacked mountain or pyramid of cookies. A neatly stacked 'pyramid' of cookies is simply irresistible, and despite being supremely easy to achieve, will wow your guests who think went to painstaking lengths all for them. When assembling your 'pyramid,' alternate the dipped and undipped sides of the cookies to allow for 'ease of access' when taking the cookies to eat, this will also add variety to the appearance of the stack.
3) Give the Gift of Cookie. While not really a 'serving' tip, these are absolutely delicious holiday gifts. Set them in festive holiday bags tied with a bit of colored string, and what could be better?
4) Variety is Key. Whether using the alterations listed above or not, try to keep the cookies 'irregular.' Alternate the sprinkle colors, do some red, some green, some white, some chocolate, and finally some of them mixed. Then arrange the cookies in alternating patterns either in your 'pyramid' of cookies or lined up on serving trays. Use the variety to your benefit, and keep things looking festive.
Print
Italian Butter Cookies (Bakery Style)
---
Author:

Total Time:

20 minutes

Yield:

24

cookies

1

x
1

recipe for butter cookies (see below)

2 cups

Raspberry Jam (can be substituted with Strawberry Jam)

1 cup

dark chocolate chips melted down with 3 tablespoons heavy cream, for dipping
Rainbow Sprinkles
Powder Sugar for dusting
For the butter cookies:
½ cup

shortening

½ cup

unsalted butter, softened

2 cups

sugar

4

eggs

3 teaspoons

Nielsen-Massey Madagascar Bourbon Pure Vanilla Extract

3 cups

AP flour

2 teaspoons

baking powder

1 teaspoon

salt
---
Instructions
Preheat oven to 350 degrees F. Line 2 baking sheet with parchment paper and set aside.
In the bowl of your stand mixed fixed with paddle attachment, cream shortening, butter and sugar. Add eggs one at a time, mixing well between each addition. Add vanilla and mix well.
Finally, add the dry ingredients and beat until a soft, sticky dough comes together. Let the dough rest in the refrigerator for about 20 minutes.
Prepare a pastry bag fitted with a star-shaped tip and fill with the cookie dough. Pipe your cookies about 2-inches long and 1-inch apart. Bake for 10-12 minutes or until the edges are lightly golden.
Remove and let cool on a wire rack.
Assembly:
Prepare your assembly by lining two baking sheets with wax paper and pour rainbow sprinkles in a shallow dish or bowl. Alternatively if you like you can also dip your cookies in chocolate sprinkles, chopped nuts like pistachios or almonds. I chose to stick to the traditional rainbow sprinkles, reminiscent to those you find at the Italian bakery.
In a double-boiler, melt down dark chocolate chips with 3 tablespoons heavy cream. Stir until the chocolate has melted down completely and is smooth.
Spread desired jam on one cookie (about ½ teaspoon), sandwich with another cookie then dip in the chocolate and then the rainbow sprinkles. You should get about 2 dozen cookies out of this. For the finishing touch, sprinkle with confectioner's sugar.
Serve and enjoy!
Prep Time:

10 minutes

Cook Time:

10 minutes
Recipe Card powered by
Enjoy with love!
Thank you to Nielsen-Massey for sponsoring this post! All opinions expressed are my own.
37