Summer is just around the corner, and what better way to enjoy the warm weather than with a refreshing and flavorful grilled tomato salsa? This salsa is perfect for those hot summer days when you want something light and easy to make, yet bursting with flavor. Whether you're having a backyard barbecue, a picnic at the beach, or just a casual get-together with friends, this grilled tomato salsa is sure to be a hit.
This salsa is not only delicious, but it's also quick and easy to make. With just a few simple ingredients and a little bit of grilling, you can have a flavorful salsa that's perfect either for dipping tortilla chips or topping all of the usual summer favorites such as fruit salad, grilled meats, or homemade wheat tortillas.
One of the best things about this grilled tomato salsa is its versatility. The charred tomatoes, garlic, and jalapeño give this salsa a smoky and spicy flavor, while the sweet onion and fresh herbs add a bright and fresh note. That flavor profile means it pairs well with a range of dishes. From tortilla chips and grilled meats to tacos, sandwiches, and salads, this salsa is true summer-staple. More pairing suggestions below.
So why not try this delicious and easy-to-make grilled tomato salsa for your next summer gathering? Your guests will love the fresh and bold flavors, and you'll love how quick and easy it is to prepare. Keep reading for the full recipe and some tips on how to customize this salsa to your liking. I'll also be providing an ingredient checklist and a few pairing suggestions. Now, let's get cooking.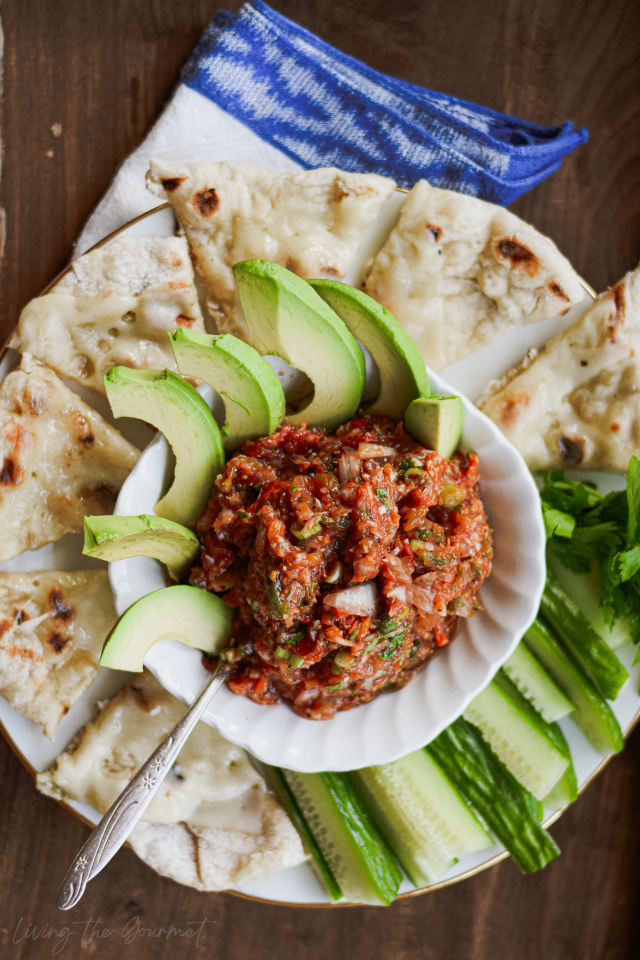 Ingredient Checklist and Substitutions
Cherry tomatoes: Choose ripe, firm cherry tomatoes for the best flavor. Other types of small tomatoes, such as grape or cherry heirloom tomatoes, can also be used.
Garlic: Use fresh garlic for the best flavor. Roasting the garlic in the oven is a good alternative to grilling if you don't have a grill.
Sweet onion: Any variety of sweet onion can be used. Vidalia onions are a popular choice, but Walla Walla or Maui onions also work well.
Jalapeno: Adjust the amount of jalapeno based on your desired level of spiciness. You can substitute other types of chili peppers, such as serrano or poblano, for a different flavor profile.
Parsley and/or cilantro: Use fresh herbs for the best flavor. If you prefer, you can substitute in basil. If you don't like cilantro, use just parsley.
Balsamic Vinegar: No need to use an expensive Balsamic here. Simply use your preferred balsamic vinegar. You can also substitute Fresh Lemon Juice or White Wine Vinegar if you prefer.
Olive oil: As we're consuming this recipe raw, I do suggest using a decent quality extra-virgin olive oil for the best flavor. If you prefer, other types of oil, such as avocado or grapeseed, can be used as a substitute.
Salt: Plain table salt is all you need. However, this is one recipe where you might consider getting fancy with your favorite gourmet salt.
Sugar: To help balance out the acidity of the tomatoes. Plain granulated sugar is all you need.
Black Pepper: Use fresh ground for best results.
Dried oregano: I'm using dried oregano as it is less 'intrusive' than fresh, but feel free to experiment with fresh if desired.
Scallions: For a dash of color and 'oniony flavor' without 'oniony bite.'
Swiss cheese or mozzarella: For the wraps. Use your favorite type of cheese for melting on top of the flatbread. Other types of cheese, such as cheddar or feta, can be used as a substitute.
Avocado: Slices of avocado add creaminess and texture to the dish. If you don't like avocado, you can omit it or substitute with a different type of fruit, such as mango.
Cucumber: Sliced cucumber adds crunch and freshness to the dish. If you don't like cucumber, you can omit it or substitute with a different type of vegetable, such as bell pepper.
Honey: Drizzling honey on top of the flatbread adds a touch of sweetness that contrasts delightfully with the spice of the jalapeno. If you don't like honey, you can omit it or substitute with a different type of sweetener, such as agave nectar.
Your Favorite Condiment: Use your favorite condiment, such as hot sauce or spicy mayo, for added layer of flavor to complete the wrap.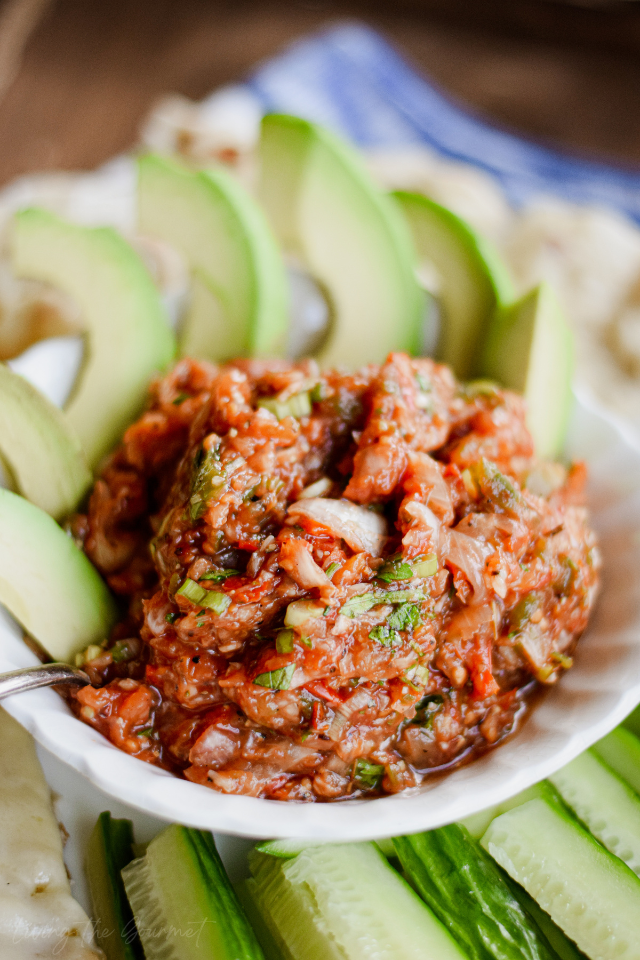 Variations on this Salsa – Having Fun With It
There are several variations that can be made to this grilled tomato salsa recipe to add some variety and suit different tastes. Here are a few ideas:
Grilled Peach Salsa: Instead of using cherry tomatoes, use grilled peaches for a sweet and smoky twist on this recipe. Add in some diced red onion, jalapeno, and cilantro, and season with lime juice, salt, and pepper.
Corn and Black Bean Salsa: Char some corn on the grill and mix it with black beans, diced tomatoes, red onion, and cilantro. Add in some cumin, lime juice, and salt for a Tex-Mex inspired salsa that's perfect for serving with tortilla chips.
Grilled Pineapple Salsa: Grill some pineapple and chop it into small pieces, then mix it with diced tomatoes, red onion, jalapeno, and cilantro. Season with lime juice, salt, and pepper for a sweet and spicy salsa that pairs well with grilled chicken or fish.
Roasted Garlic Salsa: Instead of grilling the garlic, roast it in the oven for a mellower flavor. Mix it with diced tomatoes, red onion, jalapeno, and cilantro, and season with lime juice, salt, and pepper.
Watermelon Salsa: Dice up some watermelon and mix it with cherry tomatoes, red onion, jalapeno, and mint. Season with lime juice, salt, and pepper for a refreshing and unexpected twist on salsa.
These suggestions are merely starting points. Mix and match to find your favorite salsa. Don't be afraid to experiment and have fun with it! Let us know in the comments below how it turned out!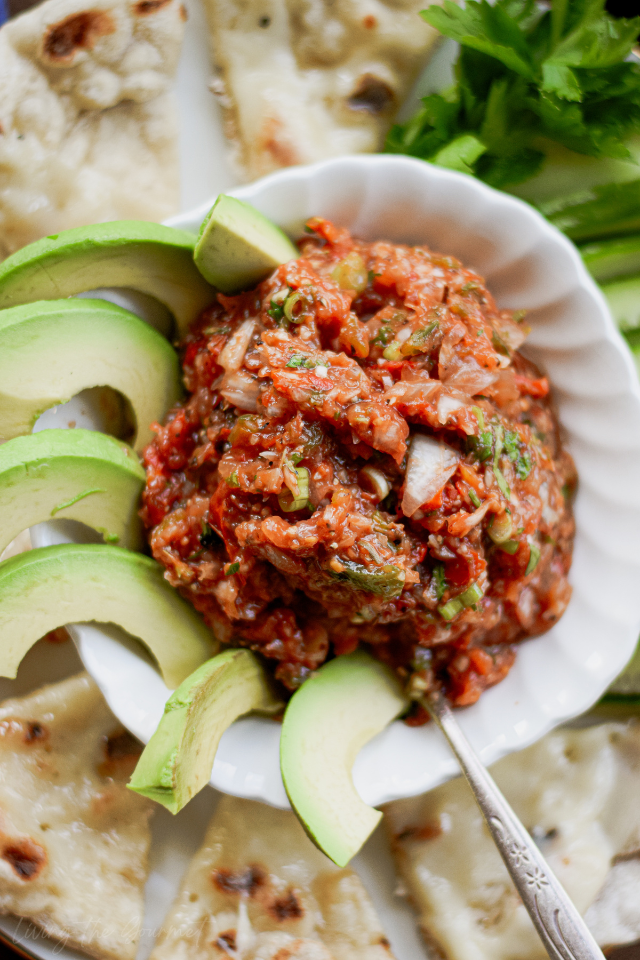 Pairing Today's Salsa
Wine. The smoky and spicy flavors of this grilled tomato salsa would pair well with a crisp and refreshing white wine, such as a Sauvignon Blanc or a Pinot Grigio. The acidity in the wine would help cut through the spiciness of the salsa and complement the sweetness of the grilled tomatoes. If you prefer a red wine, a light-bodied red, such as a Beaujolais or a Pinot Noir, could also work well with this salsa. Look for a red wine with bright fruit flavors and a moderate level of tannins, as these will complement the flavors of the salsa without overpowering them.
On crostini. Top this on a crostini with a slice of romano cheese, and you're good to go. Check out my preferred way to prepare crostini.
On flatbreads. Obviously, today's salsa is at home spread over flatbreads. However, I suggest making your own tortillas or 'flatbreads,' since it's so easy and satisfying to do. Check out my favorite way to make wheat tortillas.
On Steak. Grilled steak with a grilled salsa – it's a match made in barbecue heaven. See my preferred way to prepare a summer steak platter.
Fried Chicken. Crisp fried chicken tenders with a dollop of grilled salsa…honestly need I say more?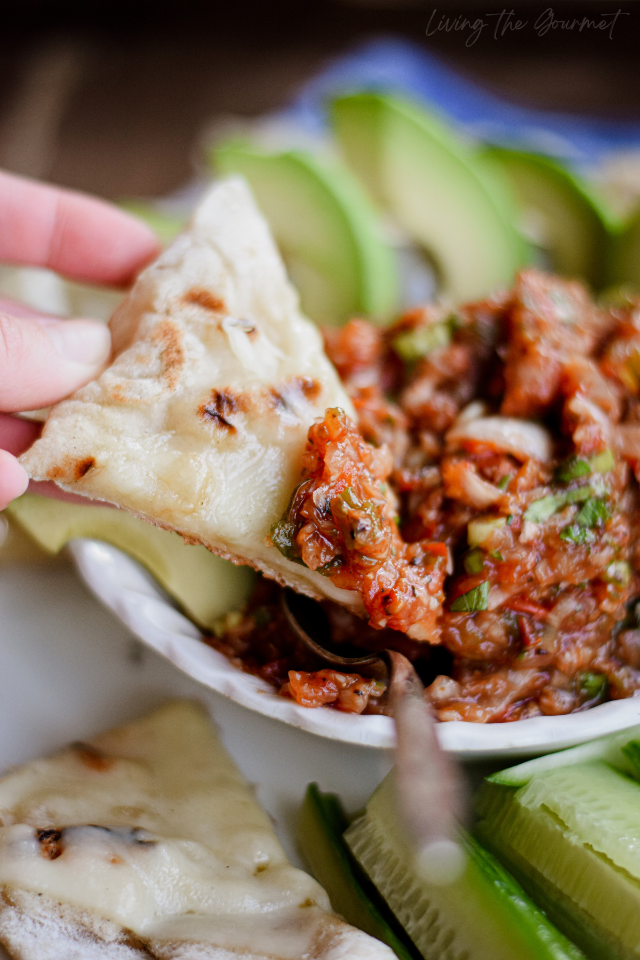 Print
Homemade Salsa
---
Author:

Total Time:

25 minutes

Yield:

4

servings

1

x
1

pint

of cherry tomatoes

4

-

5

garlic cloves - grilled

1

medium sweet onion - grilled

1

medium jalapeno - grilled

3

-

4

tbs. of fresh parsley or cilantro - chopped fine

2

scallions - sliced fine

1 tsp

. balsamic vinegar

1

tbs. olive oil

1/2 tsp

. sugar

1 tsp

. salt

1 tsp

. fresh ground black pepper

1 tsp

. dried oregano
Serving Suggestions:
Slices of Swiss cheese or mozzarella
Avocado
Cucumber
Honey
Favorite Condiment
---
Instructions
Grill the tomatoes in a dry cast iron frying pan until a char forms on the skin, set aside and let cool.
Grill the onion whole in its skin in a dry small cast iron frying pan.  The onion will looked charred on the outside.  Let the onion cool a bit then slice it.
Grill the garlic whole in its skin, along with the jalapeno, in a small, dry, cast iron frying pan, then pop it out of its skin.
Place the onion, jalapeno (with or without its seeds) and garlic in a food processor, along with the olive oil, vinegar and seasonings and give a few good chops.
Add the fresh parsley or cilantro and the chopped scallions and toss.
Taste for seasonings.
Refrigerate until ready to use.
Serving Suggestions:
Melt cheese on a flat bread and top with the salsa, avocado, cucumber and drizzle with your favorite condiment or honey.
Prep Time:

10 minutes

Cook Time:

15 minutes

Category:

Appetizer
Keywords: salsa, dip, healthy
Recipe Card powered by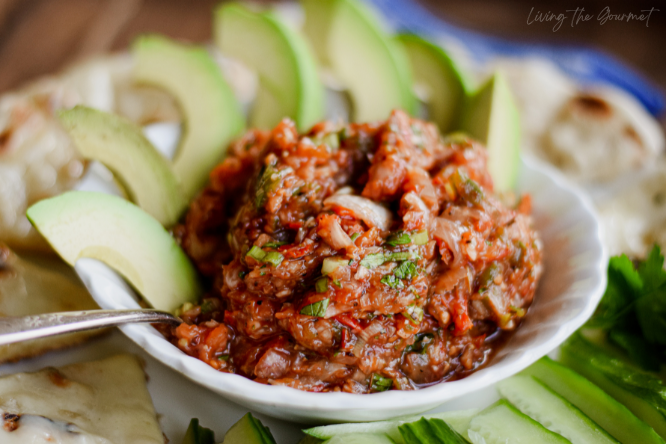 And that's my grilled summer salsa. If you enjoyed today's recipe, be sure to like, share, and subscribe so that you never miss a post.
If you tried today's recipes, or any of the suggested pairings or variations, be sure to let us know how it turned out. We love hearing from you. Happy Cooking!
1