Springtime is here and that means it's time for light, seasonal dishes that will keep you feeling refreshed without taking up too much of your time. This Broccoli and Rice Salad with Balsamic Maple Vinaigrette is the perfect way to celebrate the season – it's easy to make, requires minimal ingredients, and is packed full of flavor and texture. Plus, it's incredibly versatile and pairs perfectly with almost any main dish. Whether you're making a meat, poultry, or vegetarian main course, this salad is sure to be a hit.
This Broccoli and Rice Salad with Balsamic Maple Vinaigrette is the perfect side for any springtime meal. The combination of sweet balsamic vinaigrette and the nutty flavor of the brown rice is a match made in heaven and the crunchy broccoli adds an extra layer of texture. To top it all off, we add in toasted walnuts for a bit of complexity.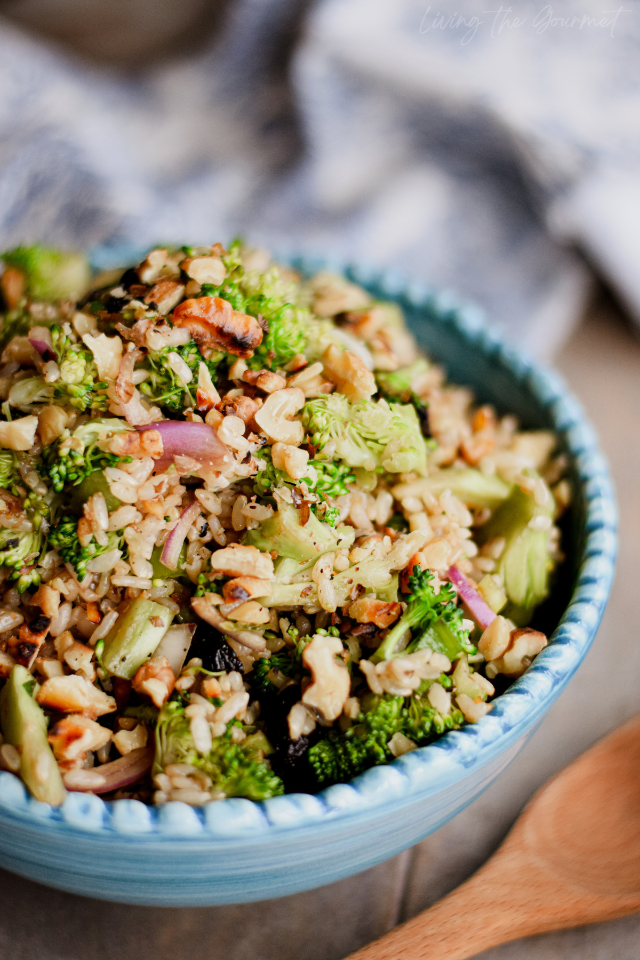 This salad is an incredibly simple and tasty way to celebrate the season. In just minutes you have a light, delicious dish that is sure to be a hit at any gathering. Plus, it pairs perfectly with grilled meat, roasted vegetables, or a fish such herbed white bodied fish, or grilled salmon. Whether you're making a meal for yourself, your family, or your friends, this Broccoli and Rice Salad with Balsamic Maple Vinaigrette is sure to be a hit.
If you're looking for a quick and easy way to enjoy the flavors of spring, this Broccoli and Rice Salad with Balsamic Maple Vinaigrette is the perfect dish. It's light, it's flavorful, and it's incredibly easy to make. Read on for an ingredient checklist, some easy ways to get creative with this recipe, and a variety of my other favorite spring-season salads.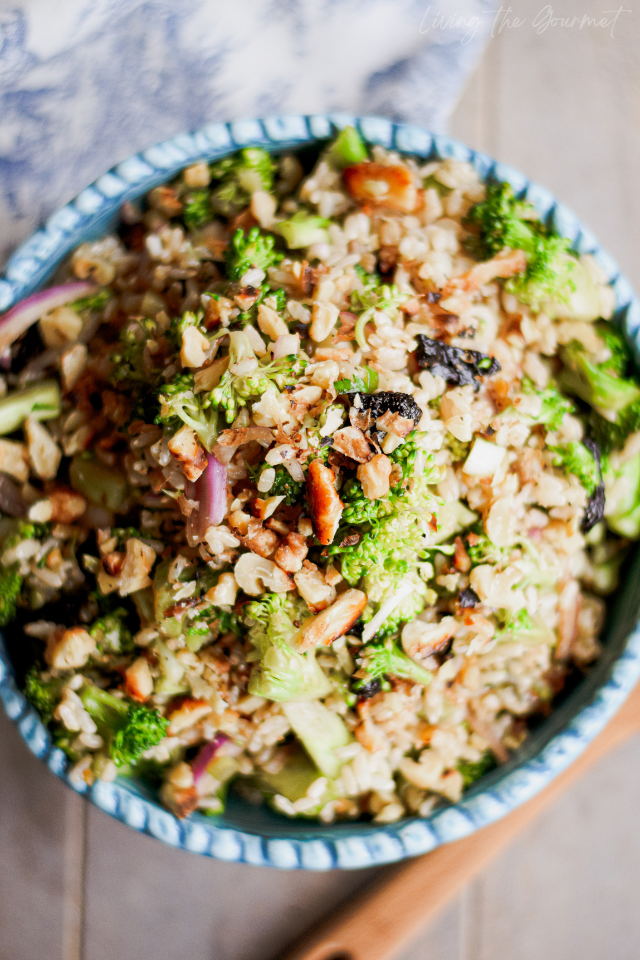 Ingredient Checklist
Brown Rice. I'm using brown rice for added texture, but your preferred white rice, wild rice, or basmati rice would all work just fine.
Broccoli. I'm using broccoli as the veggie of choice for the salad, but feel free to experiment with your preferred veggies.
Red Onion. Sweet onion would also work fine. I'm using red onion not only to add a bit of color, but it also strikes a nice balance between the sweetness of sweet onions and the 'bite' of yellow or white onions.
Walnuts. Pecans would also work deliciously in this salad. I'm toasting them to help bring out a nutty flavor and to give them a slightly more 'buttery' texture.
Dried Cherries. Feel free to use the dried (or fresh!) fruit of your choice. Again, this is purely a matter of preference.
Scallions. For color and 'oniony flavor' without the 'oniony bite.'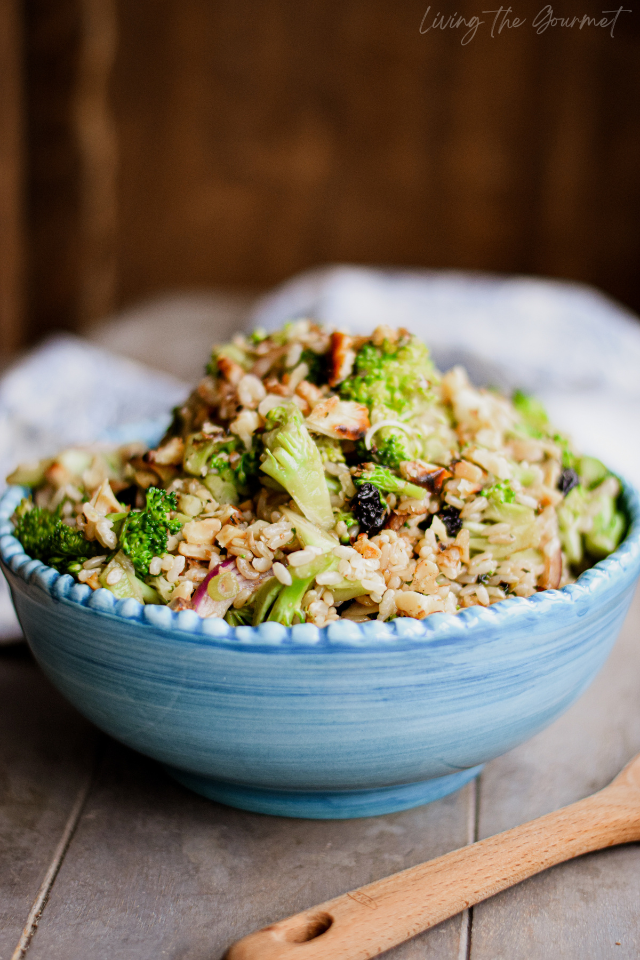 Simple Ways to Get Creative
Use Quinoa. Substitute quinoa for the brown rice for a heartier salad.
Try Different Veggies. Use other seasonal vegetables such as asparagus, bell peppers, or zucchini.
Add in beans. Add some cooked chickpeas or edamame for extra protein.
Fresh Fruit Options. Add some fresh fruit such as apples or pears.
A Creamier Salad. For a creamier salad, swap out the balsamic vinaigrette for a different kind of dressing, such as my Thousand Island Dressing or my Avocado Ranch Dressing.
Bring the Crunch. Add croutons or other crunchy toppings.
Avocados. Add diced avocado for creaminess.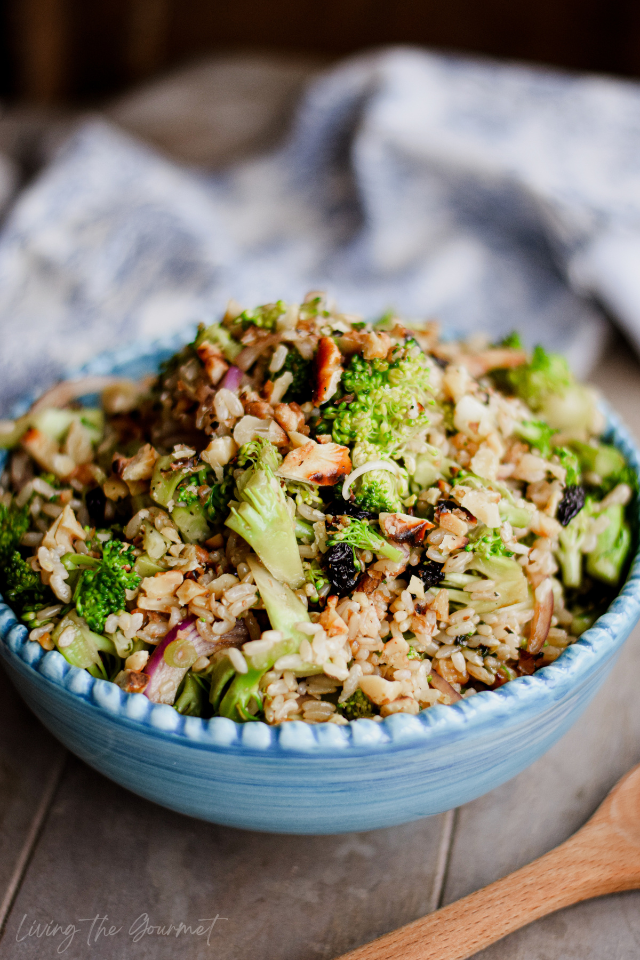 More Seasonal Salad Favorites
Quinoa Bean Salad. Whether you're looking for a light lunch to take to the office, a side dish for a dinner party, or just something tasty and nutritious to enjoy at home, this Quinoa Bean Salad is a great option. It's light yet satisfying, a combination of quinoa, butter beans, and Korean red pepper, and super simple to make.
Summer Cucumber Salad. A super simple summer salad featuring a medley of Mediterranean flavors. Crisp, refreshing, and taking just minutes to prepare, today's salad is perfect for adding a touch of 'simple elegance' to your next summer spread.
Ginger Rice Salad. Combining pickled ginger, roasted garlic, and honey, today's salad is crisp and refreshing, making it a perfect addition to any warm weather meal.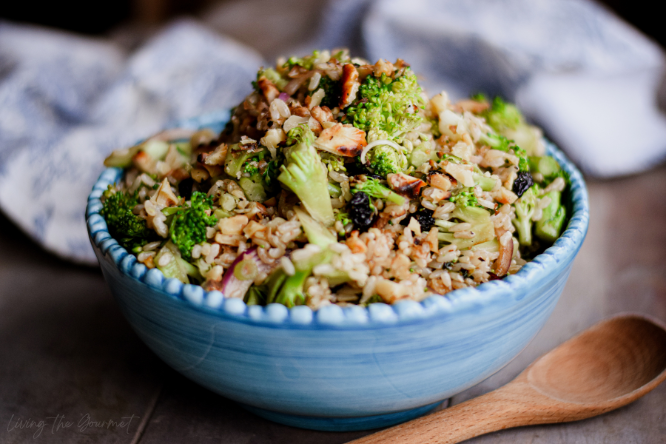 Print
Broccoli & Rice Salad with Balsamic Maple Vinaigrette
Author:
Prep Time:

5 minutes

Cook Time:

15 minutes minutes

Total Time:

20 minutes

Yield:

4

servings

1

x
1

broccoli crown – cut into bite-size pieces

2

cups

uncooked brown rice – cooked as directed

1/2

medium size red onion – sliced thin

1/4

cup

of dried cherries – chopped

1/2

cup

of walnuts – toasted in a pan – chopped

2

scallions – chopped
For the Vinaigrette:
3

–

4

garlic cloves – crushed in a mortar and pestle

3

–

4

tbs. of fresh Italian parsley – crushed in a mortar and pestle

2

tbs. maple syrup

2

tbs. Balsamic glaze or balsamic vinegar

1

tbs. olive oil

1/2 tsp

. black pepper

1/2 tsp

. salt
Instructions
For the Salad:
Place the cut broccoli pieces in a steamer and steam just until it is a beautiful bright green.
Place aside to cool.
Prepare the rice as directed and set aside to cool.
Place the walnuts in a small, dry cast iron pan and heat just until they turn a nice golden color.  Chop the nuts and set aside a few to garnish the top of the salad with.
Toss the chopped walnuts, chopped dried cherries, sliced onion, scallions and cooled broccoli together.  Add the cooled rice and toss.
Top with the vinaigrette and toss.  Garnish with the reserved chopped walnuts.
Refrigerate until ready to use.
For the Vinaigrette:
Crush the garlic and parsley in a mortar and pestle.
Place the crushed garlic and parsley in a small bowl and add the maple syrup and balsamic vinegar or balsamic glaze and the olive oil and stir.
Add to the broccoli salad and toss.
Keywords: salad, rice, broccoli, warm salad
Recipe Card powered by
And that's my broccoli and rice salad! If you enjoyed this recipe, be sure to like, share, and subscribe.
As always, if you have any questions or suggestions, be sure to let us know in the comments below, we always love hearing from you! Happy Cooking!
0