When you think of St. Patrick's Day food and drink, what comes to mind? Emerald green beer? Roasted veggies and shepherd's pie? Or perhaps a plate of hearty corned beef and boiled cabbage? While these familiar dishes are indisputably delicious, why not mix it up this St. Patrick's Day with a batch of Reuben Sliders?
Made with ingredients like corned beef, Swiss cheese, sauerkraut, and Thousand Island dressing, these sliders combine all of our favorite St. Patrick's Day flavors into delightful sandwiches. So, whether you're looking to make a quick-yet-hardy meal for your family, or just want a fun snack to share with friends, these sliders are a perfect recipe for palates of all ages.
Not only are these sliders quick and easy to make, but they're also a great way to use up any leftover corned beef after St. Patrick's Day has passed. Simply heat up the leftover corned beef on the griddle, slice it thin, and then pile it onto toasted buns with cheese, dressing, and sauerkraut.
Below I'll be providing you with an ingredient checklist to make sure you've got everything you need, and tips for making the best Reuben Sliders every time. Also, while I'm using Thousand Island Dressing to make today's sliders, if you happen to prefer yours with Russian Dressing I'll be providing a quick and easy recipe for that below.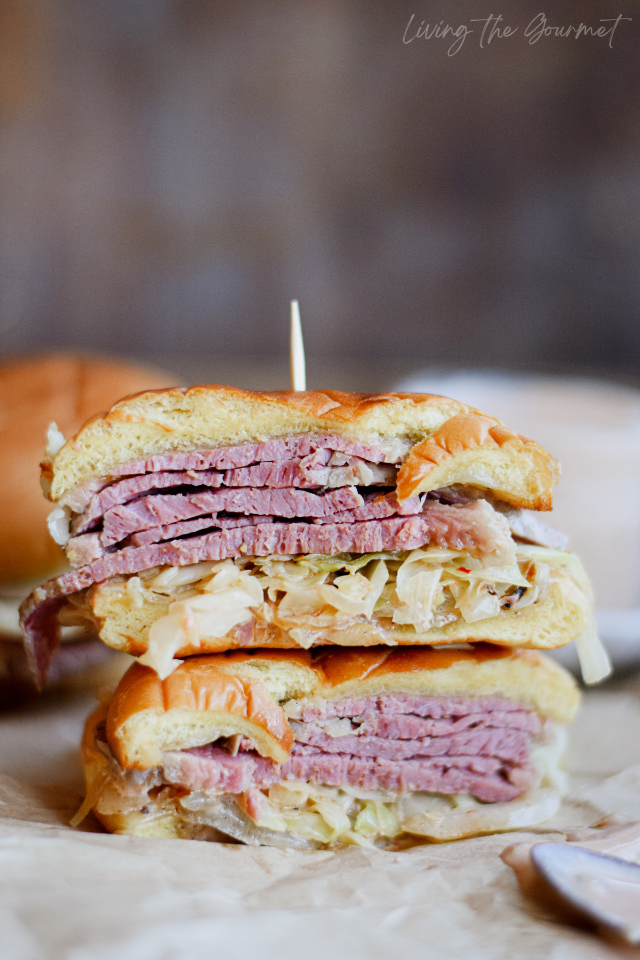 Ingredient Checklist
Corned Beef. Be sure to slice your corned beef as thin as possible 'after' cooking.
Thousand Island Dressing. Reuben sandwiches feature a generous topping of either Thousand Island or Russian Dressing, and today I'm opting for homemade Thousand Island. Yes, bottled will work just fine. See below for a quick and easy Russian Dressing recipe.
Sauerkraut. A key ingredient, the crisp crunch and 'briny' flavor contrast deliciously with the corned beef.
Buns. The bread is important here. We want substantial rolls capable of holding up against the hardy, juicy ingredients we'll be piling on.
Swiss Cheese. The go-to cheese for Reuben Sliders. However, feel free to experiment with cheeses like Jarlsberg, Provolone, or cheddar.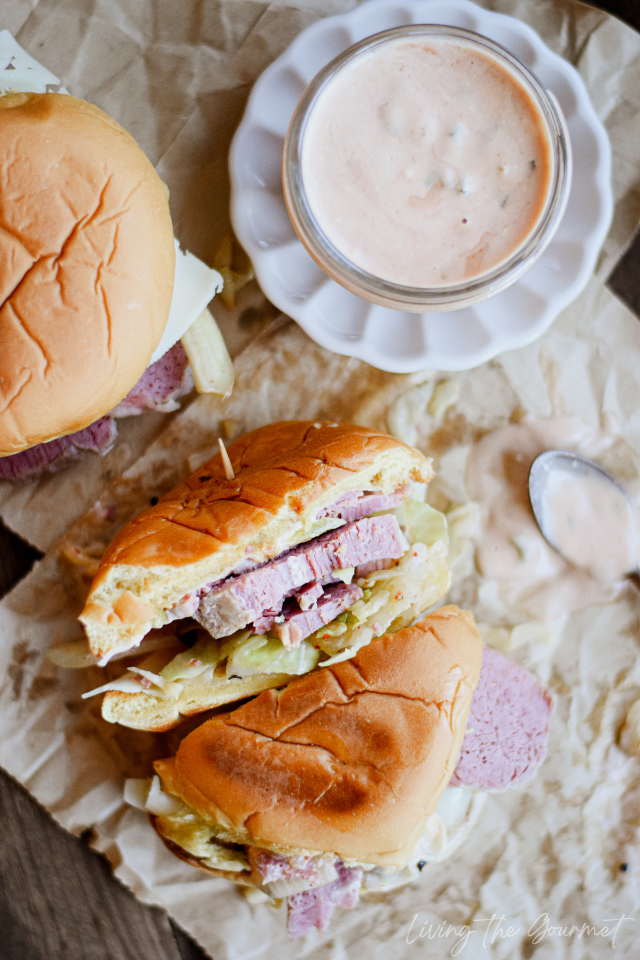 Tips & Tricks for Making the Perfect Reuben Sliders
The Slice Matters. Cutting the corned beef properly matters for this one. The corned beef used in Reuben sliders should be thinly sliced so that it cooks quickly and evenly.
Get Toasty. While this might be preference, I do suggesting toasting the buns before assembling the sandwiches, as this helps prevent the (very) juicy ingredients from soaking through. No one wants soggy sliders, after all.
The Right Stuff. Basically, every sandwich is the sum of its parts. That means use ingredients you actually 'like.' Does the cheese have a nice flavor on its own? If not, that flavor isn't changing when you add it to the sandwich. Do you like the taste of the Russian Dressing or Thousand Island Dressing you're using? In short, the quality of the ingredients used in the Reuben Sliders will have a big impact on the final product – just as with any sandwich.
Don't Skimp on the Dressing. Use a generous amount of Russian or Thousand Island dressing. The dressing is a key component of the Reuben Slider and should be applied generously for maximum flavor.
Get the Cook Time Right. At the risk of stating the obvious, don't overcook the corned beef. The corned beef should be cooked until it is tender, but not so long that it becomes dry and tough.
Get Toasty, Take Two. Some delis toast their sliders 'after' they've been assembled – in addition to pre-toasting them. Personally, I pass on this second round of toasting, but it might be worth trying out. The idea here is that toasting the assembled sliders will help them hold together and will give them a nice 'crunch.'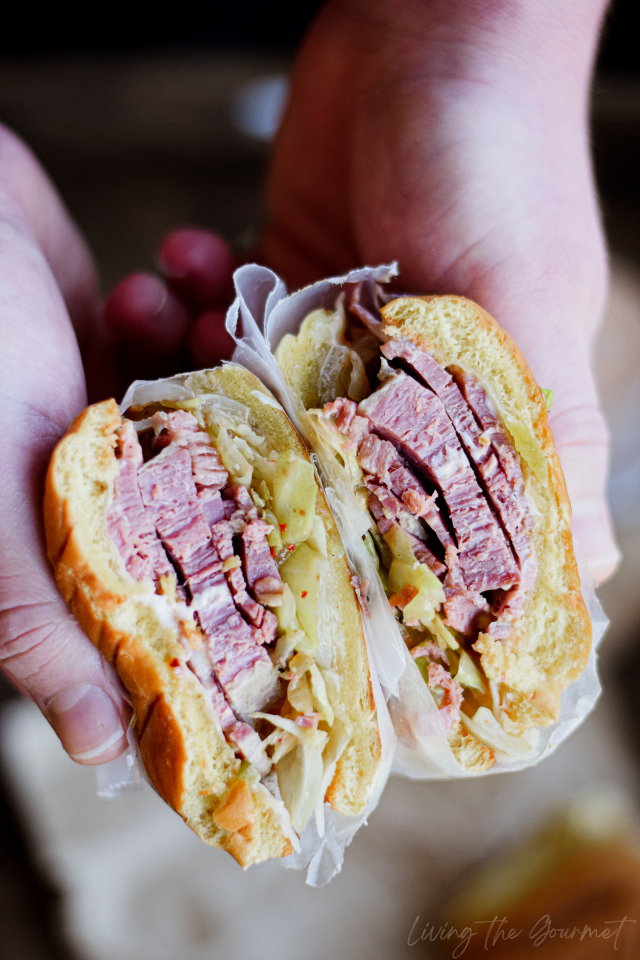 Quick & Easy Russian Dressing
If you prefer Russian Dressing on your sliders, here's a quick and easy recipe to whip up a batch in just minutes, using only the most basic of ingredients, in just five simple steps.
Combine the Main Ingredients. In a small bowl, combine four ounces of mayo, two tablespoons of ketchup, two tablespoons of sweet relish, and one tablespoon of horseradish.
Add the Wet Seasonings. Add in one tablespoon of Worcestershire Sauce, and one teaspoon of fresh lemon juice.
Add Dry Seasonings. Add in about a quarter teaspoon of garlic powder, along with salt and pepper to taste.
The Optional Onion. If you like, add in about two teaspoons of minced onion. I opt for red onion, but sweet onion will work as well.
Whisk. Whisk until the dressing is thoroughly combined.
Do note, that while Russian Dressing and Thousand Island are quite similar, there are a few key differences between the two. First and foremost, Russian Dressing is given a nice kick courtesy of horseradish, and a 'savory' undertone via Worcestershire sauce. It also sometimes features onion. Thousand Island Dressing, by comparison, tends to be a bit sweeter, forgoes the onion, and sometimes features chopped up hard-boiled egg.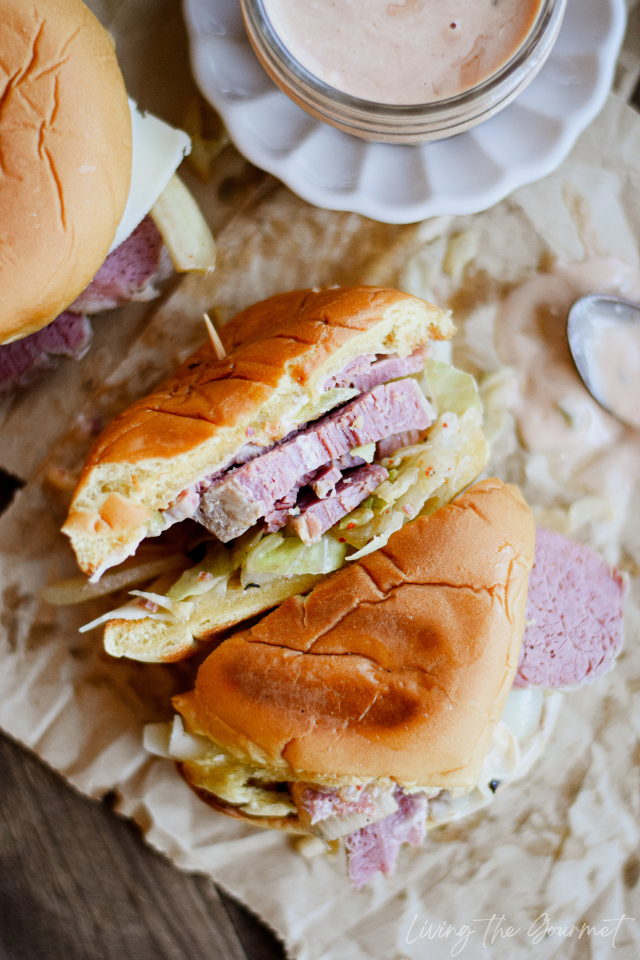 Print
Corned Beef Reuben Sliders
Author:
Prep Time:

15 minutes

Cook Time:

20 minutes

Total Time:

35 minutes

Yield:

4

servings

1

x
1

corned beef – sliced thin
Thousand Island Dressing (recipe below)

1

small head of cabbage, sliced thin

2

tbs. sugar

2

–

3

tsps. salt

1 tsp

. red pepper flakes

1

sweet onion, diced (for the warm cabbage slaw)

2

sweet onions, sliced (for the grilled onions)

1

tbs. cooking oil

2

tsps. sugar

1 tsp

. salt
Swiss cheese slices
Sandwich rolls of your choice
For the Dressing:
1/2

cup

of mayonnaise

1/2

cup

of ketchup

1

tbs. fresh lemon juice

2

tbs. relish
Instructions
Combine all of the ingredients for the dressing in a small bowl and mix. Set aside.
Combine the sliced cabbage, diced onion, and seasonings in a bowl and toss.
Heat a large cast iron frying pan.  Add the mixed cabbage and cook down over a low heat.
When the cabbage has softened remove and place in a bowl.  Taste for seasonings. Set aside.
Heat a large cast iron frying pan and add the sliced onions.
Sprinkle the onions with the sugar and salt. Add the cooking oil and cook until the onions get a nice golden color.
To Build the Sandwich:
Place the rolls in a toaster oven with the cheese slices on each side. Let the cheese melt and remove from the toasted oven.
Place the Thousand Island Dressing on one side of the roll.
Place the grilled onions on one side of the roll, topped with the cabbage and followed by the sliced corned beef. Serve & Enjoy!
Keywords: corned beef, sliders, sandwiches, cabbage, st. patrick's day
Recipe Card powered by
And those are our Quick and Easy Reuben Sliders. If enjoyed today's recipe, let me know in the comments below, I love hearing from you! Also, be sure to like, share, and subscribe so you never miss a post! Happy Cooking!
1