If you're like me, when it comes to salads the dressing is what makes or breaks the dish. So, If you're looking for a rich, creamy dressing that's easy to make and incredibly versatile, you'll love this avocado ranch dressing. Whether you're looking for your next favorite salad dressing, or a rich and creamy dip for your next veggie platter, this avocado ranch dressing is the perfect solution.
Combining creamy avocados, fresh herbs, lemon juice, and just a handful of other equally simple ingredients, this dressing will bring a lush richness and fresh flavor to any salad. The best part of all, however, is just how easy it is to make. Simply combine the ingredients in your food processor, blend until creamy, and you're done. It couldn't be simpler.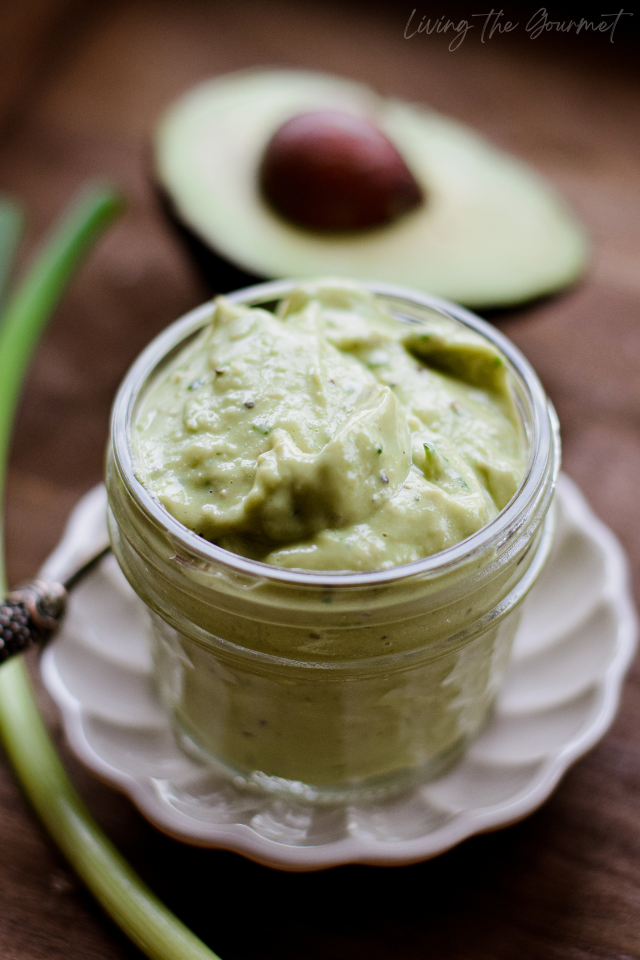 I'm showcasing the dressing over a chopped green salad, one that features a delightfully simple yet layered combination of seaweed, scallions, and chickpeas, over a bed of fresh salad greens. However, you can also use this dressing for any favorite salads, such as Greek salads or mixed pepper salads, or even on wraps, sandwiches, buddha bowls, and more.
So, if you're looking for a tasty dressing that's as versatile as it is delicious, and takes just minutes to prepare, this creamy avocado ranch dressing is the perfect choice. Read on for an ingredient checklist, and tips and tricks for selecting, storing, and ripening avocados.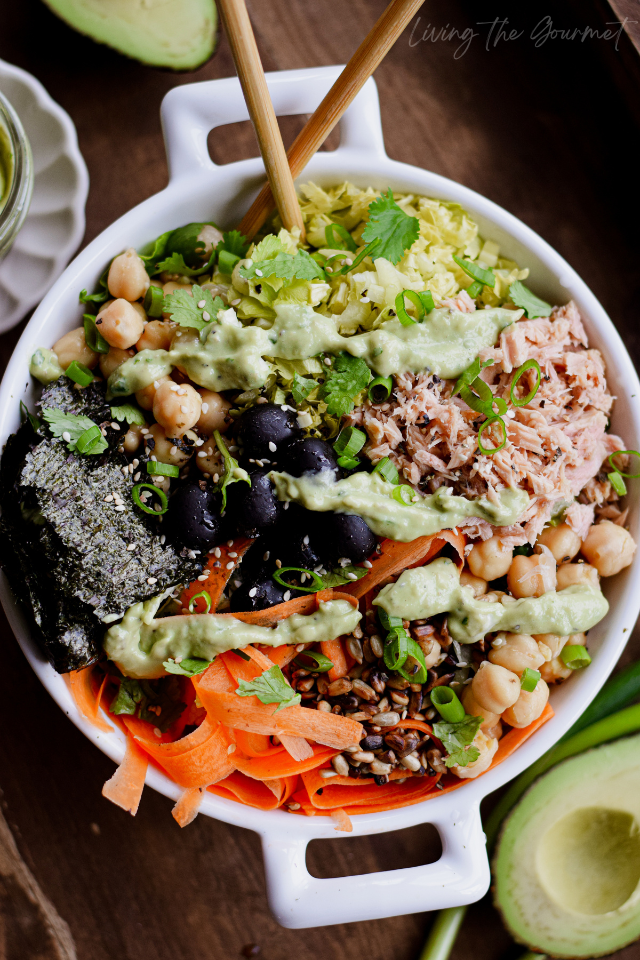 Ingredient Checklist – The Dressing
Avocado. We can't make avocado dressing without avocados. Tips below for selecting and storing your avocados.
Garlic. Grilled in the skin. Grilling the garlic helps mellow the garlic, and gives the dressing a nice earthy-yet-savory undertone.
Mayonnaise. For richness and enhanced texture. I do recommend whole milk/full fat mayo.
Olive Oil. Use a decent quality extra virgin olive oil for today's recipe, as the flavor of the oil will come through.
Honey. I'm using raw honey. If you have a preferred 'gourmet' honey, now's the time to use it.
Lemon Juice. I cannot stress enough how important it is to use fresh lemon juice in raw recipes – and that includes this dressing. Fresh lemon juice is crisper and more full-flavored, and that crispness and flavor comes through quite nicely.
Salt. Plain table salt is all we're looking for. However, as this is a raw recipe, if you have a preferred 'gourmet' salt, such as Pink Himalayan or Black Hawaiian, this one recipe is where it would indeed make a pleasant difference.
Black Pepper. I recommend freshly ground or mortar crushed black pepper for enhanced aromatics.
Fresh Cilantro. Thoroughly rinsed and then destemmed. If you don't like cilantro, basil or Italian parsley are great substitutes.
Milk. I strongly recommend using full-fat milk for this recipe. Tip: If you prefer your dressing slightly 'less thick,' add an additional tablespoon or two of milk to thin it out.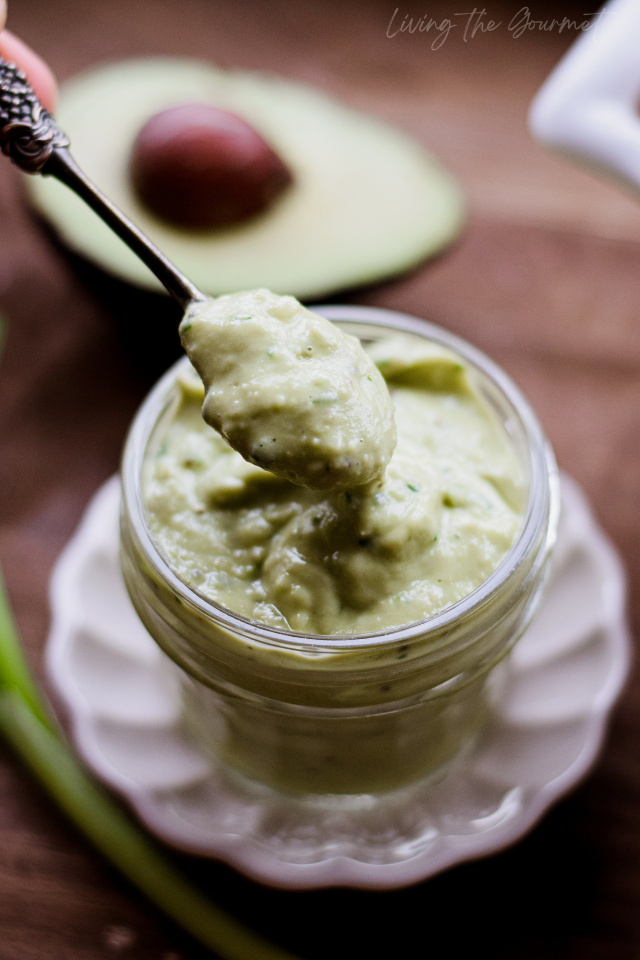 Tips for Selecting Avocados
Check the Feel. Look for firm avocados that give slightly when gently pressed.
Check the Skin. Avoid avocados with discolored or wrinkled skin. Instead, look for avocados that have smooth, even-colored skin.
Check the Surface. Avoid avocados with bruises, dents, indentations, and lacerations. This causes the avocado to ripen unevenly, and 'very' rapidly in the area of the damage.
Buy in Bulk. If you're buying a large amount of avocados, buy them in different stages of ripeness so that you can use them over a period of time.
How to Store Avocados
Room Temperature. Avocados should be stored at room temperature until they're ripe.
Ripe Ones go in the Fridge. Once ripe, avocados can be stored in the refrigerator for up to five days.
For Avocados you aren't using right away. If you're not using the avocado immediately, it's best to store it in a sealed container or plastic bag.
Speeding up the Ripening Process. To speed up the ripening process, place the avocado in a paper bag with a banana or apple.
Slowing the Ripening Process. To slow down the ripening process, store the avocados in the refrigerator.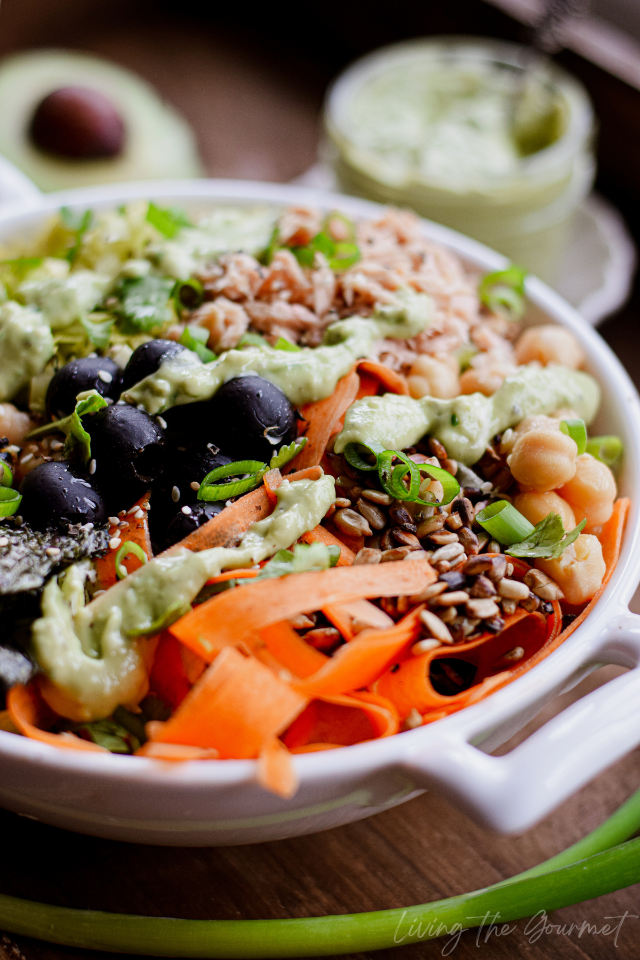 Slicing an Avocado
While this might sound like I'm bragging, I must admit that I never gave the process of slicing an avocado any thought, nor did I think this was a process people struggled with. But, lo and behold, 'avocado hand' is now a recognized 'condition.'
It seems that the slightly 'chubby pear shape,' and the almost perfectly circular oversized pit confounds some to the point of grievous injury.
So, here a few tips for slicing an avocado while keeping your hands nicely intact.
Follow these steps in order:
Slice it Lengthwise. Starting at the top of the thinner portion of the avocado, slice the avocado lengthwise, going deep enough until your knife hits the pit. Do this gently so as not to either dull your knife or injure yourself.
Continue the Slice. Steadying the knife perpendicular to the pit, continue cutting around the circumference of the pit in confident, gentle motions, until you have fully cut the avocado in half upon the axis of its circular pit.
Separate the Halves. It is now time to 'detach' the sliced avocado, such that you have roughly equal sized halves. Scoop out the pit.
The Rest Is Up To You. This part should be roughly self-explanatory, but you now have a properly pitted and halved avocado, that you can either slice onto salads, spread on bread, make guacamole with, or blend into a dressing as we're doing today.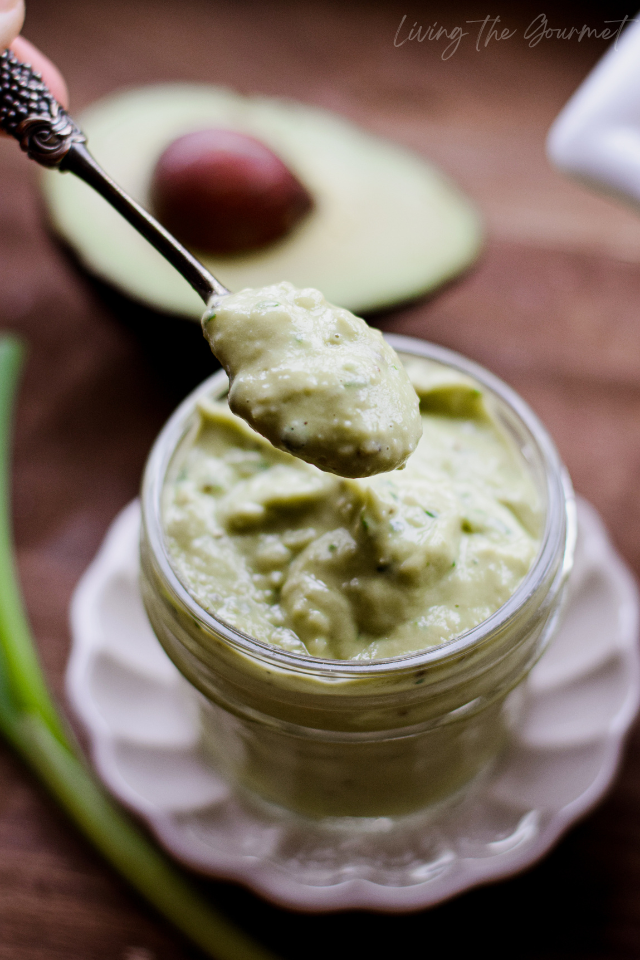 Print
Avocado Ranch Dressing
---
Author:

Total Time:

15 minutes

Yield:

4

servings

1

x
For the Avocado Ranch Dressing:
2

small avocados

4

-

5

cloves of garlic - grilled in skin

1/4

cup

of mayonnaise

2

tbs. olive oil

2

tbs. honey

3

tbs. fresh lemon juice - about

1

small lemon

1 tsp

. salt

1/2 tsp

. black pepper

3

tbs. fresh cilantro

2

tbs. milk
For the Salad:
Your favorite salad greens (I used iceberg lettuce)
Celery heart, chopped

3

-

4

tbs. fresh cilantro, stems removed and chopped

1

sheet of dried seaweed, crumbled

2

scallions, chopped

1

can of chickpeas, drained

1/2

carrot, shredded
Sesame seeds, for garnish
Toasted sunflower seeds, for garnish
Tuna fish, drained
---
Instructions
Combine all of the ingredients for the dressing in a food processor and process until smooth.
Refrigerate until ready to use.

For the salad, place the chopped lettuce in a bowl.

Top the lettuce with the rest of the ingredients and serve with the Avocado Ranch Dressing.
Prep Time:

15 minutes

Category:

Salad
Keywords: salad, dressing, ranch dressing
Recipe Card powered by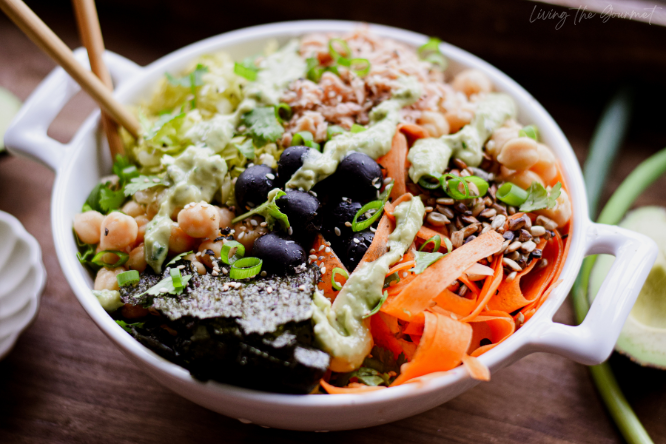 And that's my avocado dressing. If you enjoyed today's recipe, please like, share, and follow. It helps more than you can know.
If you any questions or suggestions, please let me know in the comments below. I love hearing from you! Happy Cooking!
0