If you're looking for a delicious and easy meal to make on a cold winter night, look no further than yam and tomato soup. Warm, comforting and filling, this is the perfect meal to make when you're in the mood for something hearty. The combination of creamy yams and juicy tomatoes creates a dynamic flavor that is sure to please. Plus, the soup comes together quickly, making it an ideal meal for busy weeknights.
Not only does this soup taste great, but it's also incredibly versatile. You can add whatever vegetables you have in your kitchen to make it even heartier. Plus, you can add different herbs and spices to customize the flavor to your liking.
Pair this yam and tomato soup with some crusty bread, a simple green salad, or a warm side of roasted vegetables for a complete and satisfying meal. If you're feeling extra indulgent, you can add a dollop of sour cream or some grated cheese on top for a savory finishing touch.
No matter what accompaniments you choose, you're sure to love this delicious and easy yam and tomato soup. So, try it out and enjoy a comforting meal on a cold winter night.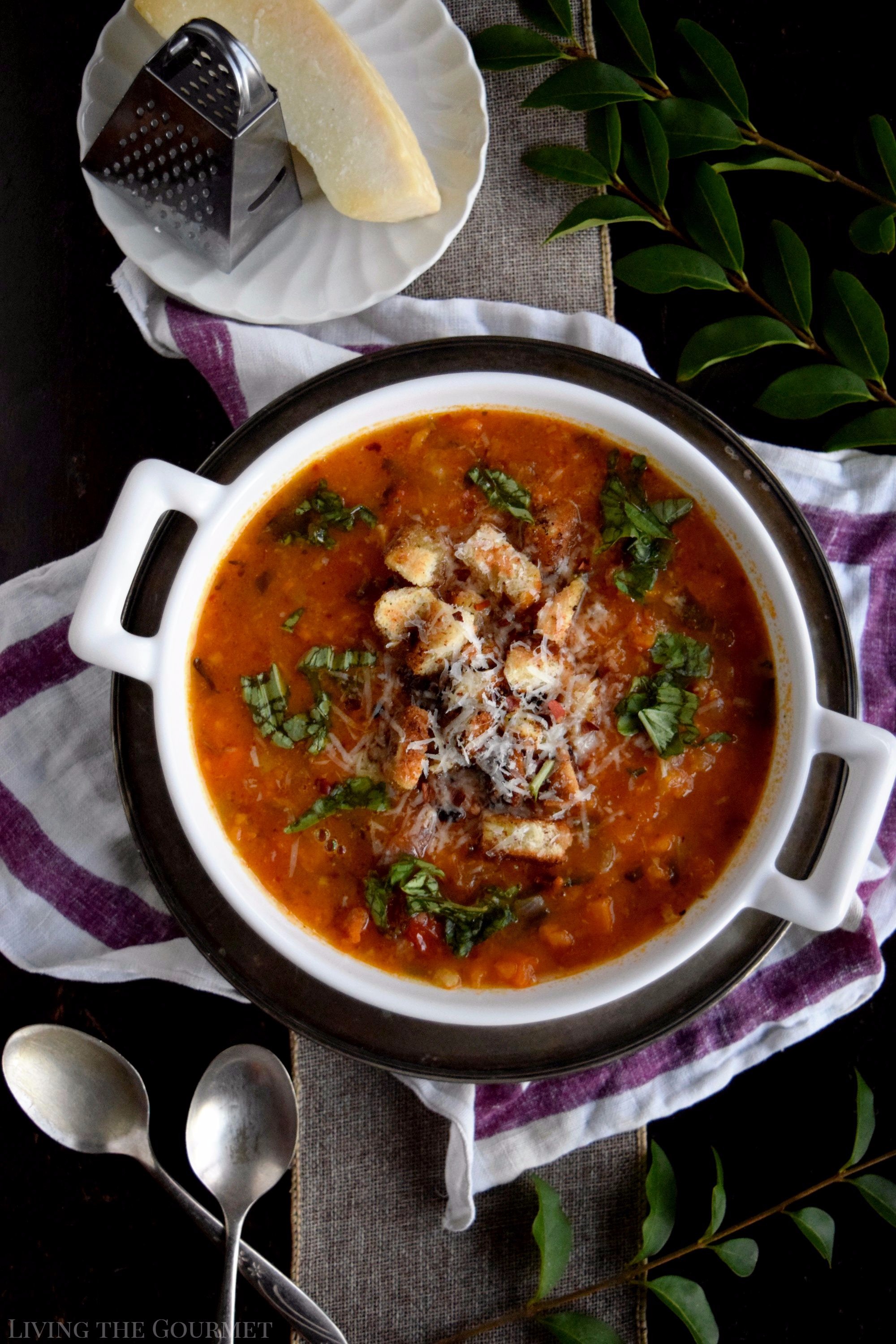 Ingredient Check List
Yams. The base of the soup. These are a sweet root vegetable, that adds thickness and color to the soup.
Grape Tomatoes. While I'm using grape tomatoes, feel free to use the tomato of your choice.
Red Onion. I'm using red onion purely as a matter of preference. Sweet onions or yellow onions would also work just fine.
Celery. This adds crunch and a mildly-sweet flavor.
Garlic. For pungency and aroma.
Italian Parsley. This fragrant herb adds a bright flavor to the soup, as well as a pop of color.
Basil. Fresh basil brings a bright 'anise like' flavor to the soup. While I strongly suggest fresh, dried will work as well.
Dried Oregano. I do 'not' recommend using fresh oregano in this soup, as it will simply overpower the other ingredients.
Black Pepper. Using pre-ground black pepper is fine.
Red Pepper. For a touch of heat and mild smokiness. Substitute in a bit of cayenne if you want to up the heat a little more.
Salt. To help meld the flavors of the soup.
Fennel Seeds. These seeds have a sweet, licorice-like flavor and aroma, and add a unique flavor to the soup.
Vegetable Stock. Good soup starts with a good stock. I'm using Vegeta Real Gourmet Stock.
Olive Oil. Used to sauté the vegetables, while adding flavor and richness to the soup.
Lemon Juice. A bit of acidity, and citrus flavor. I recommend fresh, but this is one case where bottled will likely work just fine.
Honey. For a touch of sweetness and to balance out the acidity.
Grating Cheese. For garnish and added umami notes.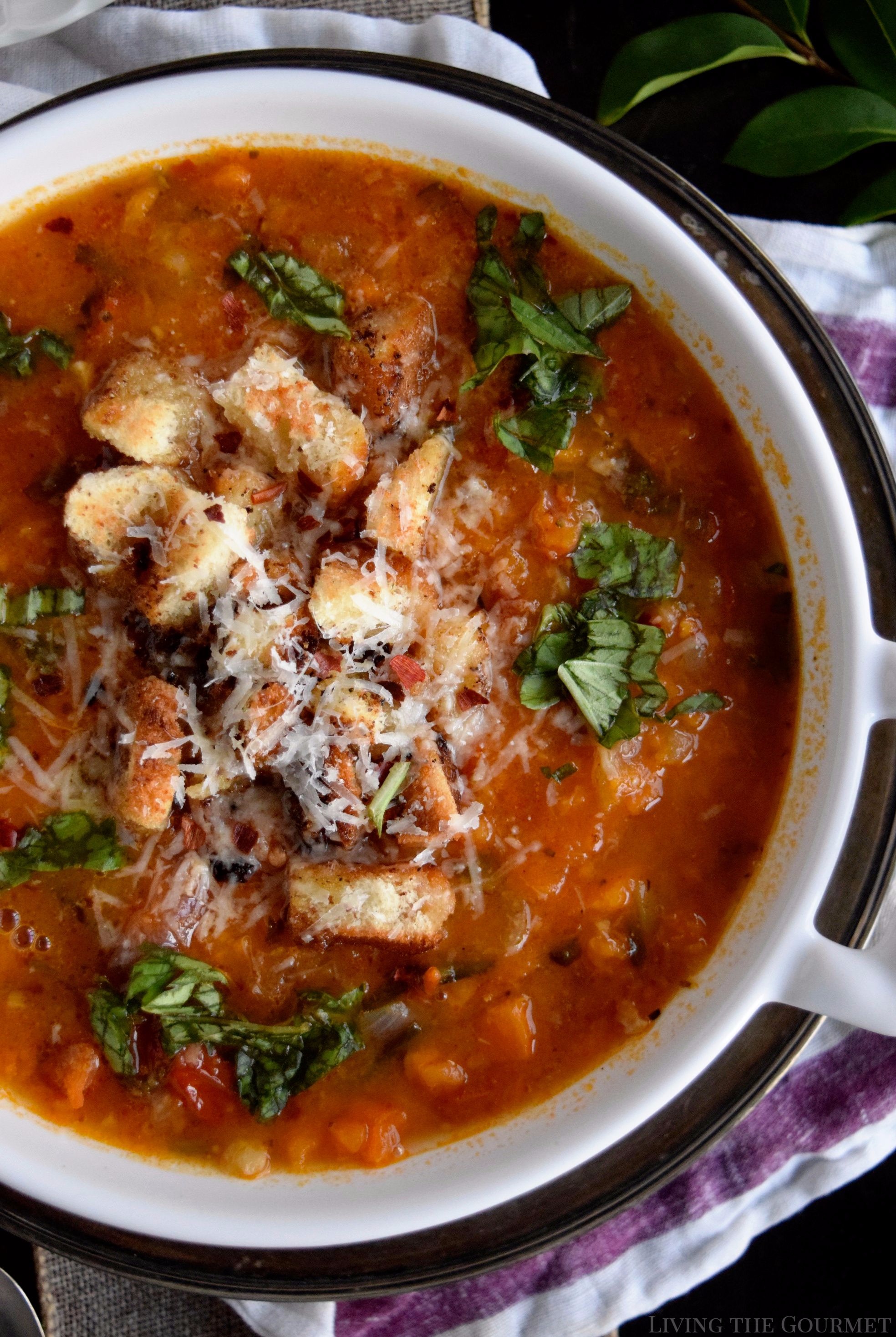 Tips for Upping Your Soup Game
Start with good stock: Good stock is the foundation of a flavorful soup, so use a good quality stock or broth.
Add aromatics: Aromatics such as onions, garlic, celery, and carrots can add a lot of flavor to your soup.
Simmer slowly: Simmering soup slowly allows the flavors to meld together and gives it a better flavor. Rigorously boiling your soup degrades both flavor and aroma. The low simmer is the way to go.
Add some acid: A splash of lemon juice, vinegar, or even wine can add a nice acidity to the soup.
Use fresh herbs: Fresh herbs such as parsley, thyme, and basil can add a nice freshness to the soup.
Finish with a garnish: A garnish such as chopped scallions, croutons, or grated cheese can add a nice finishing touch to your soup.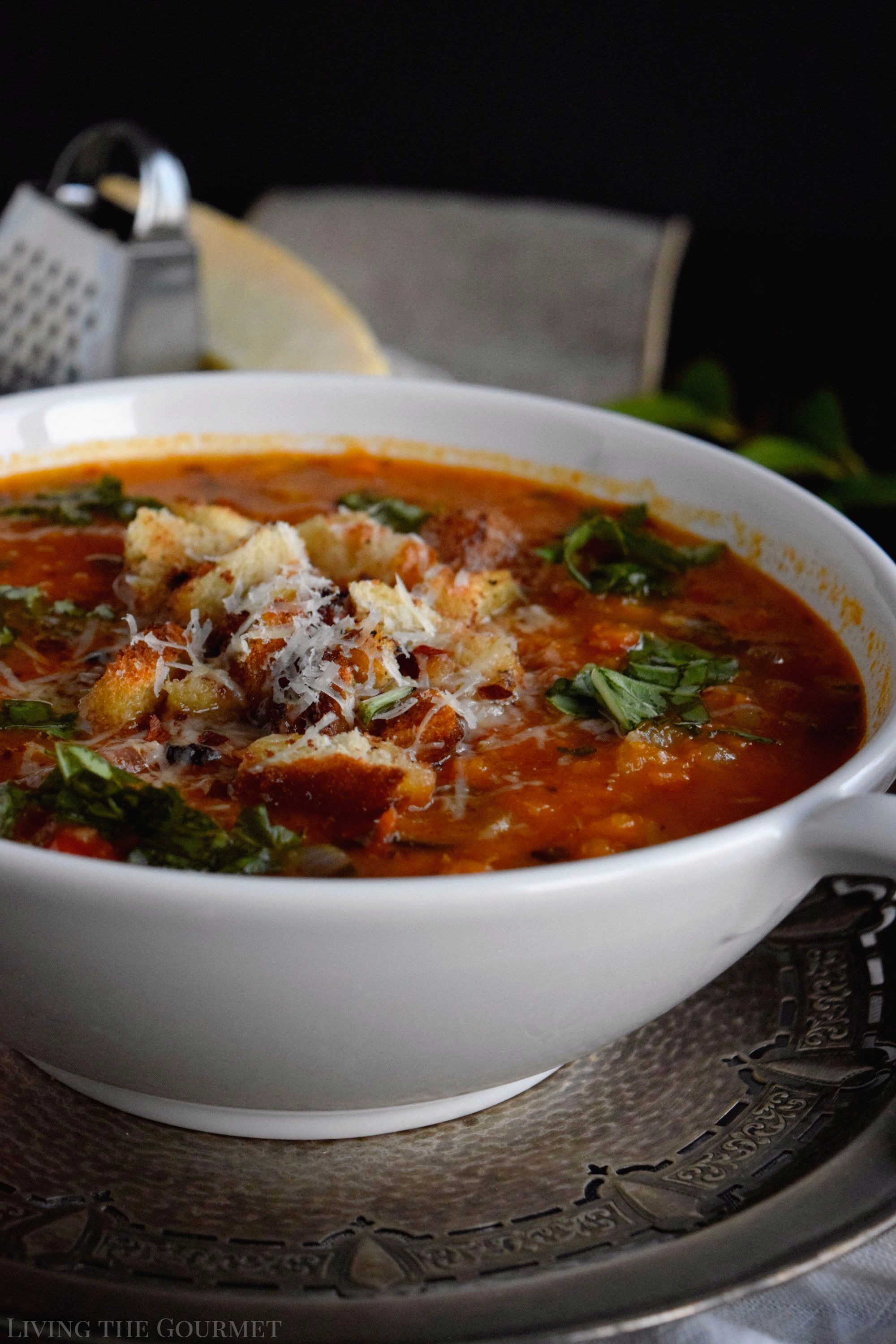 What to do with Homemade Croutons
Salads: Croutons are a great way to add crunch, flavor, and texture to salads.
Soups: As we're doing today, topping soup with croutons adds great texture and flavor.
Stuffing: Croutons can be used in place of bread cubes to make a tasty stuffing.
Garnish: Croutons can be used as a garnish for many dishes and are especially great on top of mac and cheese.
Topping: Croutons can be used to top casseroles or baked dishes for added texture and flavor.
Snack: Best of all, croutons can be eaten as a snack by themselves or with dip.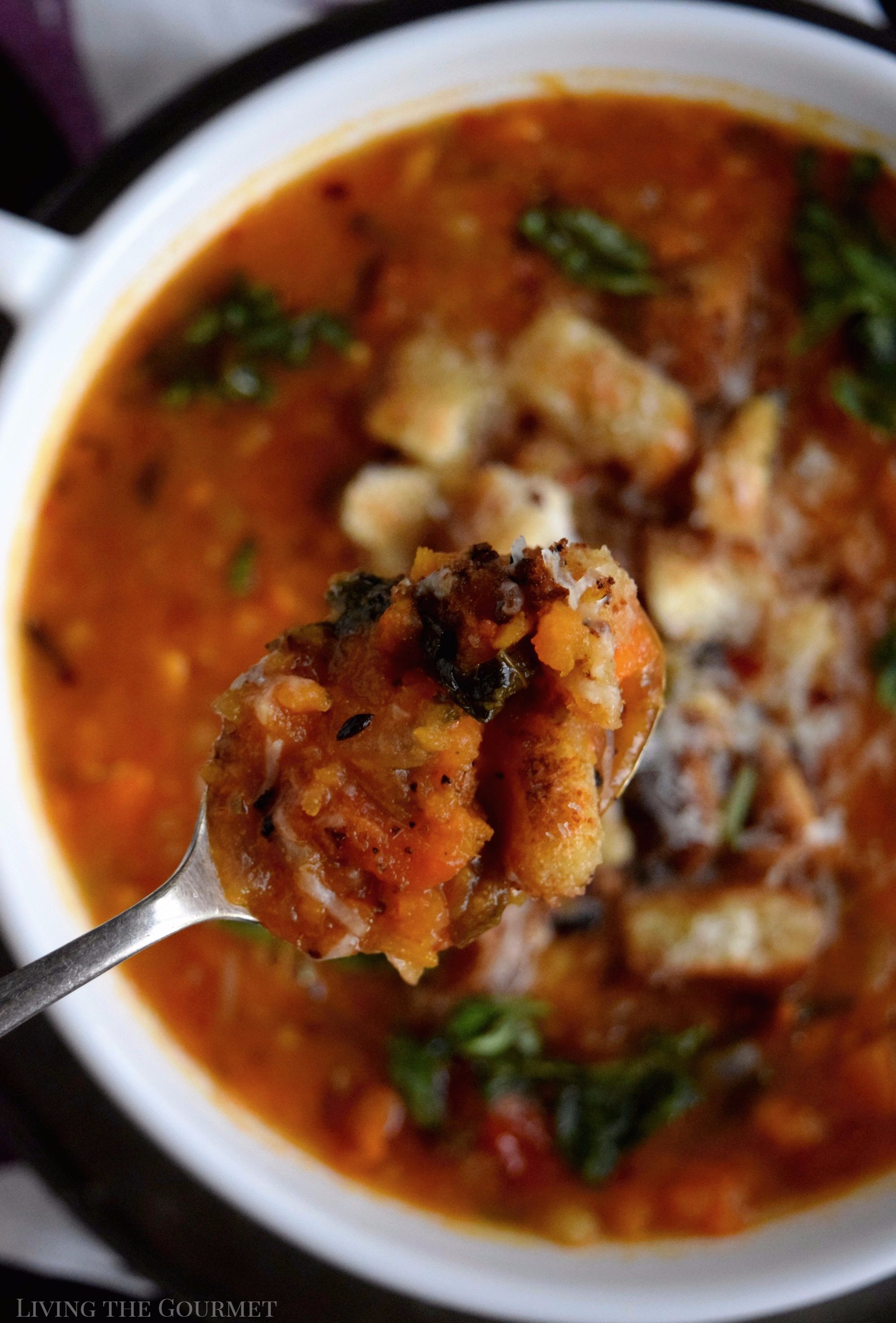 Super Simple Pairings for Yam & Tomato Soup
Wine Pairings: A light-bodied white wine such as a Sauvignon Blanc or a Pinot Grigio would pair nicely with Yam and Tomato Soup. These wines have crisp, fruity flavors that will complement the sweetness of the yam and the acidity of the tomatoes.
Grilled Cheese Sandwich: A classic pairing with tomato soup, a grilled cheese sandwich is a simple but satisfying addition.
Grilled Chicken: Grilled chicken adds a nice contrast of texture and flavor to the soup.
Crusty bread: Crusty bread offers a crunchy contrast to the creamy tomato soup.
Salad: A classic salad made with crisp romaine lettuce, croutons, parmesan cheese, and a creamy Caesar dressing.
Steamed vegetables: Steamed vegetables such as broccoli, cauliflower, and carrots provide a nutritious and colorful addition to the soup.
Rice and beans: Rice and beans offer a filling and flavorful accompaniment to the soup.
Avocado toast: Avocado toast is a great way to add a creamy, healthy component to the soup.
Print
Yam and Tomato Soup
Author:
Prep Time:

10 minutes

Cook Time:

30 minutes

Total Time:

40 minutes

Yield:

4

-6

1

x
Category:

Main Dish
3

yams – cooked then diced

1

red onion – sliced

3

stalks of celery – chopped

1

pint

of grape tomatoes – quartered or about 3 vine ripe tomatoes diced

4

–

5

cloves of garlic – chopped

1/2

cup

of fresh Italian parsley – chopped

1/2

cup

of fresh basil leaves – chopped

1 tsp

. dried oregano

1 tsp

. black pepper

1/2 tsp

. red pepper flakes

1 1/2 tsp

. salt

1/4 tsp

. fennel seed

4

–

5

cups

of vegetable stock – depending on how thick you want your soup (I use Vegeta Real Gourmet Stock)

3

tbs. olive oil
Juice of

1

lemon

3

tbs. honey
Fresh Romano cheese or Parmesan cheese for grating
Easy Homemade Croutons:
4

slices of white bread – toasted to a nice golden color
Salt & Black pepper

3

tbs. Olive oil
Instructions
For the Soup:
Bake the yams or yams until fork tender; remove the skin and dice.
Heat a large sauce pot with the olive oil.
Add the tomatoes, onions and garlic and sauté until fragrant.
Add the diced sweet potatoes, parsley, basil and seasonings and continue to simmer on a low heat.
Add vegetable broth one cup at a time so that you bring the soup to the consistency that you desire.
Simmer on a low heat for approximately 30 minutes or so.
Taste the soup to adjust for seasoning.
Combine the lemon juice and honey and drizzle a little over each bowl of soup.
Serve with croutons, grated Romano or Parmesan cheese and ripped fresh basil leaves.
For the Croutons:
Allow the toast to sit and get hard after it is toasted.
Crumble the toast in a bowl.
Heat a cast iron frying pan with 3 tbs. olive oil and add the crumbled toast.
Dust the toast with salt and black pepper allow the bread to become a beautiful golden color and absorb the olive oil.
Remove from the heat and allow to cool.
Serve over the soup.
Recipe Card powered by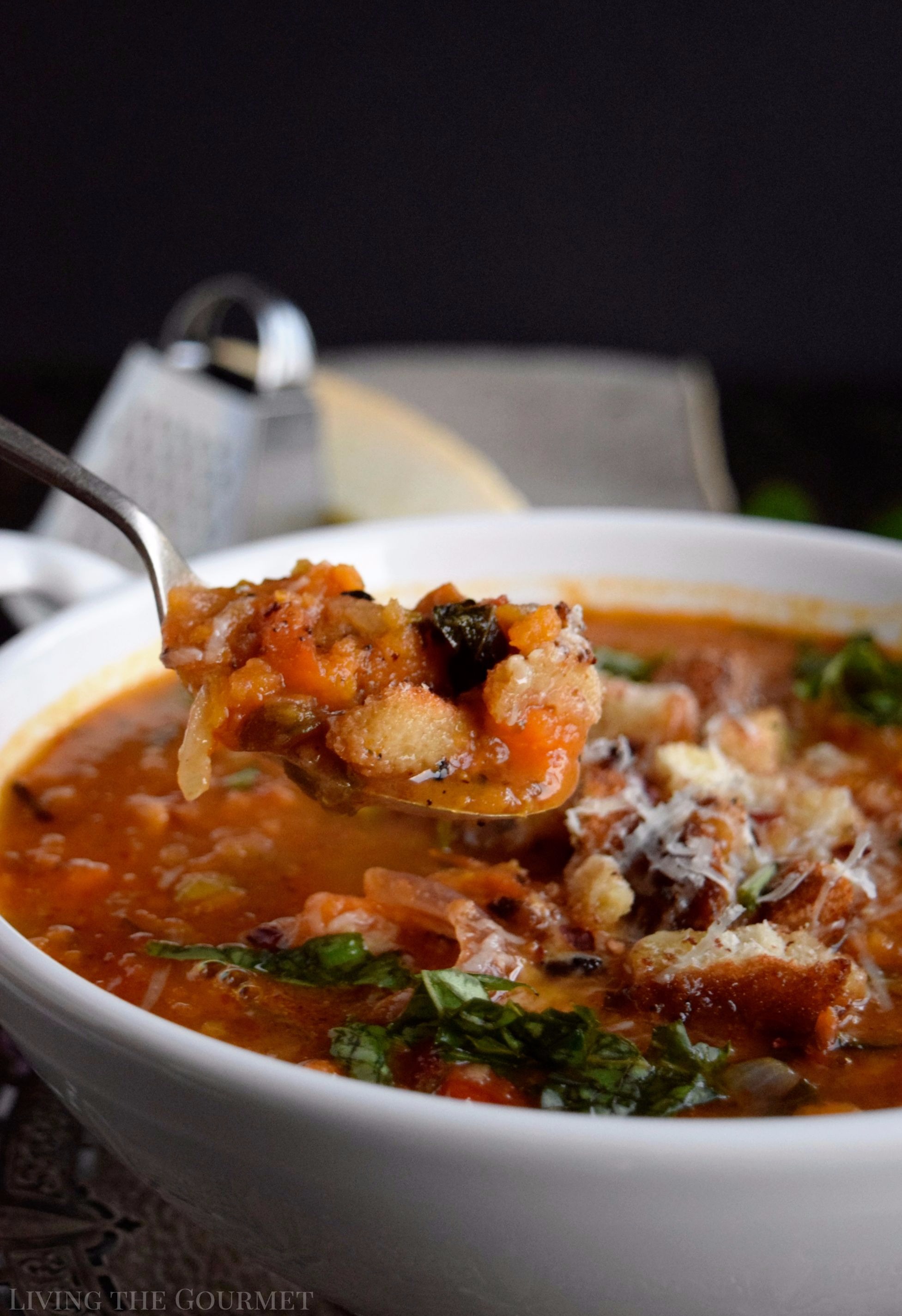 If you read this far, thank you so much! We hope that you enjoyed this recipe as much as we did.
If you have any questions or suggestions, please don't hesitate to reach out in the comments section below. We'd love to hear what you think of this recipe and any variations that you've tried.
Happy cooking!
1