Mashed potatoes are an indispensable holiday favorite.  Whether pairing them alongside a Thanksgiving turkey or a Christmas roast, this is one side that I simply cannot do without.   
However, there are a few requirements that mashed potatoes need to meet before earning a place on my table – regardless of whether it's a holiday feast or a Sunday dinner.
First off, mashed potatoes must absolutely be thick and creamy. Lumpy, dry, or overly wet simply will not do. Second, they must be flavorful – they need to taste of more than cream, salt, and pepper. Bland potatoes need not apply. Finally, they need to be 'interesting,' they need to catch my attention.
Today's batch of mashed potatoes, I believe, fits that criteria perfectly.  To keep things interesting, we're skipping the predictable cream cheese or heavy cream, and instead we're using feta.  The feta delivers a delicious 'brine' flavor. The brine flavor plays excellently with the spinach and Korean red chili powder that we'll be mixing into the potatoes, ensure a medley of flavors are at play in this recipe.  Meanwhile, the sauteed breadcrumb topping adds a bit of texture and color.
These potatoes would pair excellently alongside glazed turkey wings, or a beef roast prepared with a rosemary and peppercorn crust.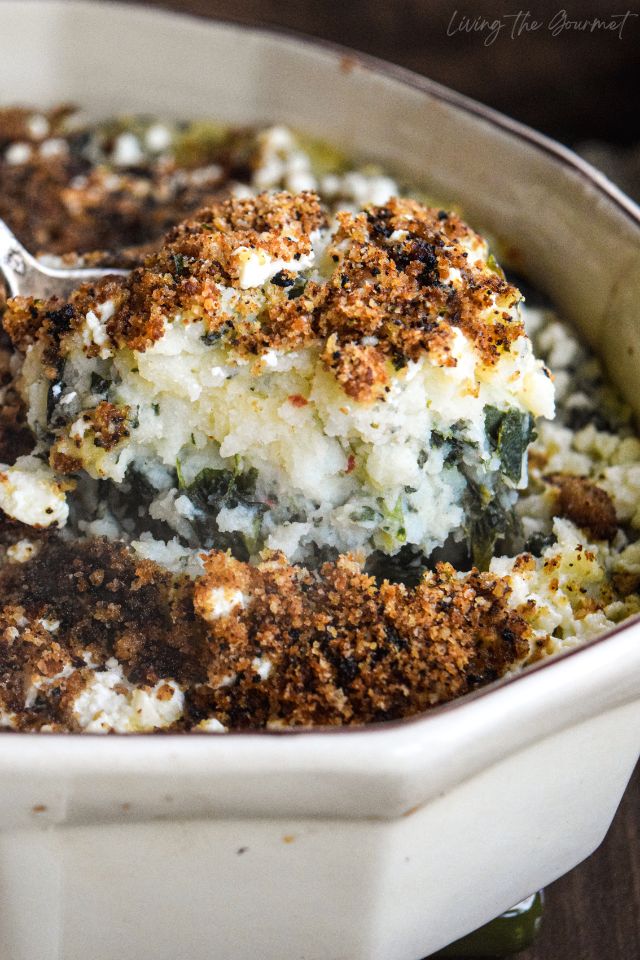 Ingredient Checklist – What You'll Need
Potatoes. The rule of thumb for mashed potatoes is "High Starch."  Personally, I suggest Russets or Yukon Golds.  Russets are high starch with a mealy texture, making them ideal for things like baking, mashing, and frying.  Meanwhile, Yukon Golds are medium starch potatoes, and are generally considered 'all purpose,' with a waxy texture that many find preferable.  Either potato works fine for today's recipe.
Feta Cheese.  Thickness, flavor, and salt.  The feta really is the star of the show here, bringing in not just a 'salt and brine' flavor, but also providing the base for the recipe's texture.
Spinach.  While I'm using frozen, fresh works fine.
Gochugaru.  This is Korean red chili pepper, which has a lovely 'bright' flavor, a bit of spice and earthy, and just a hint of sweetness.  It also has a lovely aroma.
Olive Oil.  We're using the olive oil to sauté the breadcrumbs.  I would recommend 'against' using corn or vegetable oil, since the olive oil flavor is noticeable in this recipe.
Breadcrumbs.  Italian or plain, both work fine for today's recipe.
Salt.  Sea salt is probably ideal, but plain table salt works fine as well.
Milk.  Whole fat milk or cream is what you're looking for here.  Skim, part-skim, or low-fat milk will result in watery potatoes.
Butter.  Plain, unsalted butter is the way to go.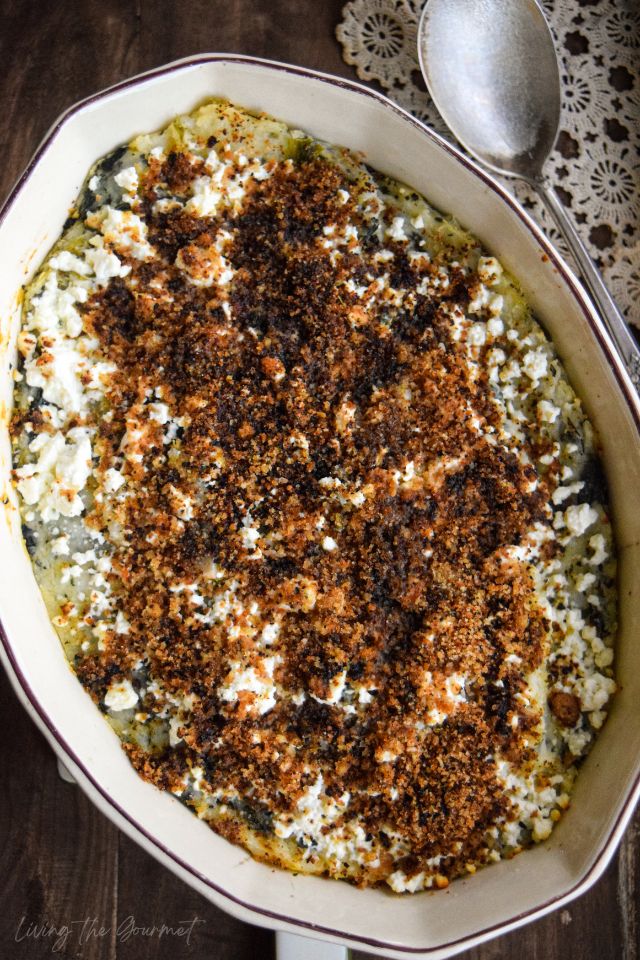 Three Pro-Tips for Mashed Potatoes
A Blend of Potatoes.  If cooking for a crowd, use a blend of potatoes, because preference in mashed potatoes often come down to texture rather than flavor.  And the truth is, that difference in texture comes down to either 'starchy' or 'waxy.'  Russets bring the starch, and Yukon Golds bring the wax.  As such, try making your potatoes a fifty-fifty blend of these two varieties.
Beware the Water.  As soon as you can pierce a dinner knife through the potato, it is done boiling.  At that point, immediately drain the water from the pot.  To further guard against 'waterlogging' your potatoes, you might consider slicing the potatoes into quarters before boiling to ensure not only that the potatoes boil faster, but that they boil evenly – though this step is 'not' a requirement.
Overmixing 'is' a thing.  Mash and mix your potatoes until the ingredients are thoroughly and evenly combined into the potatoes – and then stop.  Overmixing results in 'pasty' rather than 'creamy' potatoes.  Not fun.
Print
Greek Style Mashed Potatoes
---
Author:

Total Time:

40 minutes

Yield:

4

servings

1

x
8 oz

. block of feta cheese - cut in half

7

-

8

russet potatoes

10

oz

. of frozen cut spinach

1/3

cup

milk

1/4

cup

bread crumbs

1

tbs. olive oil

1/2 tsp

gogucharu - Korean chili flakes

1 tsp

. salt

1 tsp

. butter - for preparing the baking dish
---
Instructions
Preheat Oven 350 degrees F.
Thaw and drain the spinach.
Peel the potatoes and boil until fork tender and drain.  Do not rinse, leave the potatoes piping hot to mash.
Crumble 4 oz. of the feta into the hot potatoes.  Add the salt and gogucharu and mash with a masher.
Add the milk and drained spinach and mash.
Rub a baking dish with the tsp. of butter.
Place the mashed potatoes into the prepared baking dish.
Top the dish with the other 4 oz. of crumbled feta.
Heat the bread crumbs in a small cast iron frying pan with a tbs. of olive oil until slightly golden.
Place the toasted bread crumbs over the dish.
Cover the baking dish with tin foil.
Bake for 30 – 35 minutes.
Prep Time:

10 minutes

Cook Time:

30 minutes
Keywords: side dish, mashed potatoes, mediterranean
Recipe Card powered by
As an Amazon Associate I earn a small commission from any purchases made through the affiliate links within this post. For more information on this please see our disclosure policy. Thank you!
1