This post has been sponsored by Andria's. All opinions expressed are my own.
Today we're preparing fall-off-the-bone turkey wings, with a deliciously thick glaze that's equal parts sweet, savory, and spicy.
Deliciously tender and succulently moist.  That's how I'd describe this batch of turkey wings.  If that's not enough, we'll be baking them with a decadently thick glaze, combining duck sauce, sesame oil, and a brush-on steak sauce, courtesy of my friends over at Andria's Steak House.  These wings are a delicious main course, being hardy and satisfying, creating a festive centerpiece that the entire family can enjoy.
As a nice bonus, they're both easier and cheaper to prepare than a whole turkey – and can be enjoyed year-round. To keep things simple, we'll be pairing today's wings with a simple cabbage salad, topped with Andria's House Salad Dressing. I'll also be suggesting some key pairings below to really help bring out the best in today's turkey wings.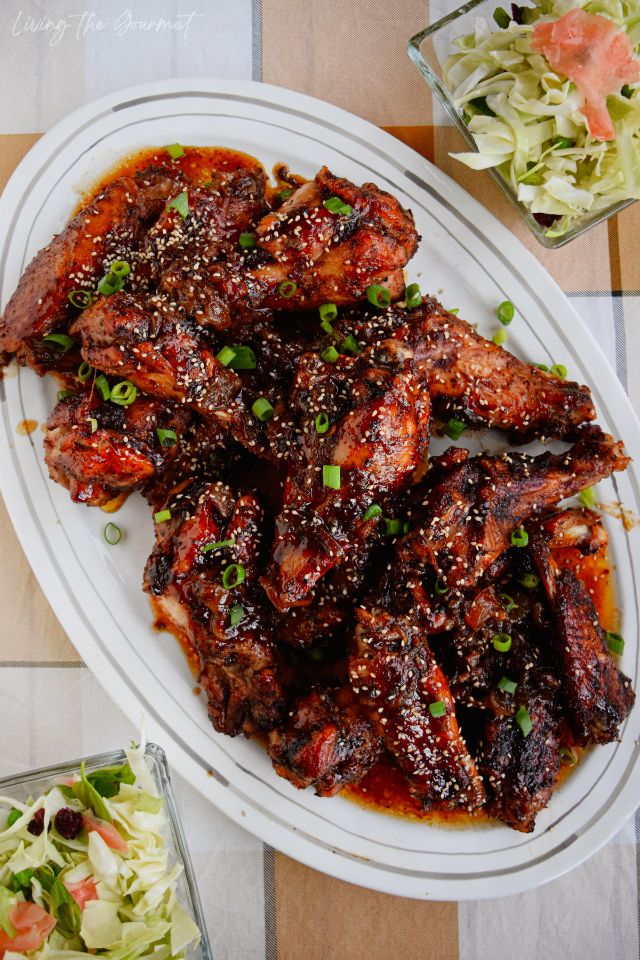 Ingredient Checklist – The Wings
Turkey Wings. The 'meat' of today's recipe. Yes, today's recipe works with other parts of the turkey.
Duck Sauce. Citrusy and sweet, and cooks up thick. This is a key ingredient for the glaze.
Olive Oil. I'd recommend using a decent quality over oil, since we're marinating the turkey wings in it.
Sesame Oil. A key ingredient for getting those 'earthy' and 'nutty' flavors that really brings out the umami notes in the other ingredients.
Sweet Onions. We're using sweet onions so as not to clash with the duck sauce.
Andria's Steak Sauce. This is a pleasantly thick steak sauce, flavored by things like onions and parsnips, along with turnips, carrots, and parsley. These ingredients combine to create sauce that's flavorful, pungent, just a tad sweet,and wonderfully textured. The key word here, in my opinion, is 'balance.' While this sauce is obviously most at home on steak, beef roasts, or pork shoulders, I think it pairs just as well with fatty fish, such as salmon, or shark steaks, or on hardier poultry dishes – such as today's glazed turkey wings, where it really works wonders. I could also see myself pan frying tofu in it, or brushing it on fried chicken.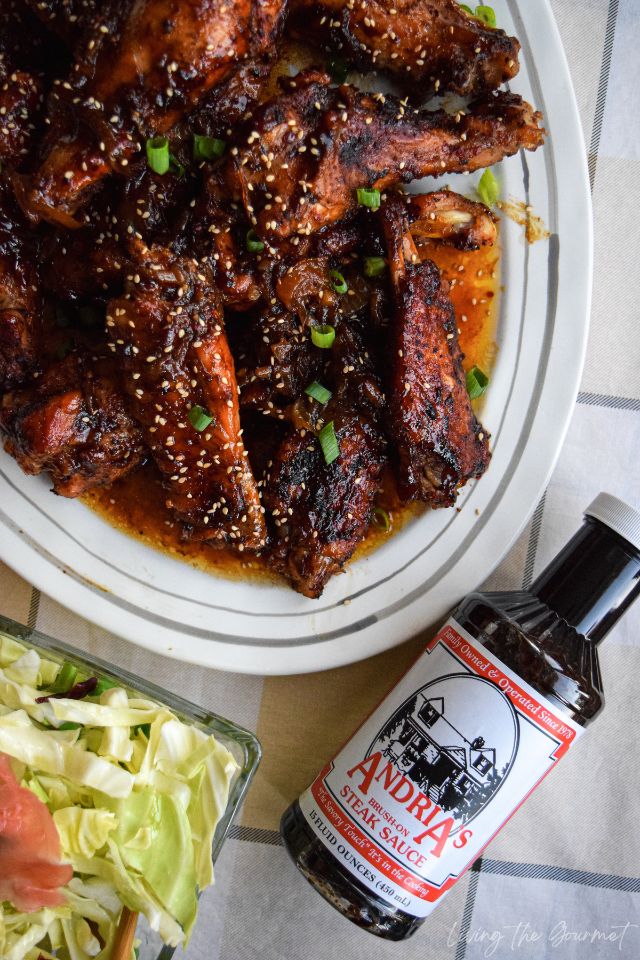 Sesame Seeds. Just for garnish, but they do add a bit of 'nutty' flavor.
Scallions. Again, just for garnish.
Chicken Broth aka All-Purpose Seasoning. Put bluntly, all-purpose seasoning is a "Busy cook's secret weapon", used more or less as a time saver. The key to a good all-purpose seasoning is "Know thyself," simply because 'your' all-purpose seasoning probably won't be 'my' all-purpose seasoning. In other words, know what you like, then match that against what recipes you prepare the most, along with what combination of seasonings you use most in those recipes. 'That' is 'your' best all-purpose seasoning. Or skip all of that find a store-bought all-purpose seasoning that you happen to like. What do I use? Personally, I use a store-bought vegetable seasoning. I use this in soups, sauces, and pretty much anything savory that I'll be putting over heat. The primary ingredients are dried vegetables (carrots, parsnips, onions, potatoes, and parsley), seasoned primarily with black pepper and nutmeg, among other assorted spices. This works wonders in stews, soups, sauces, and on meat.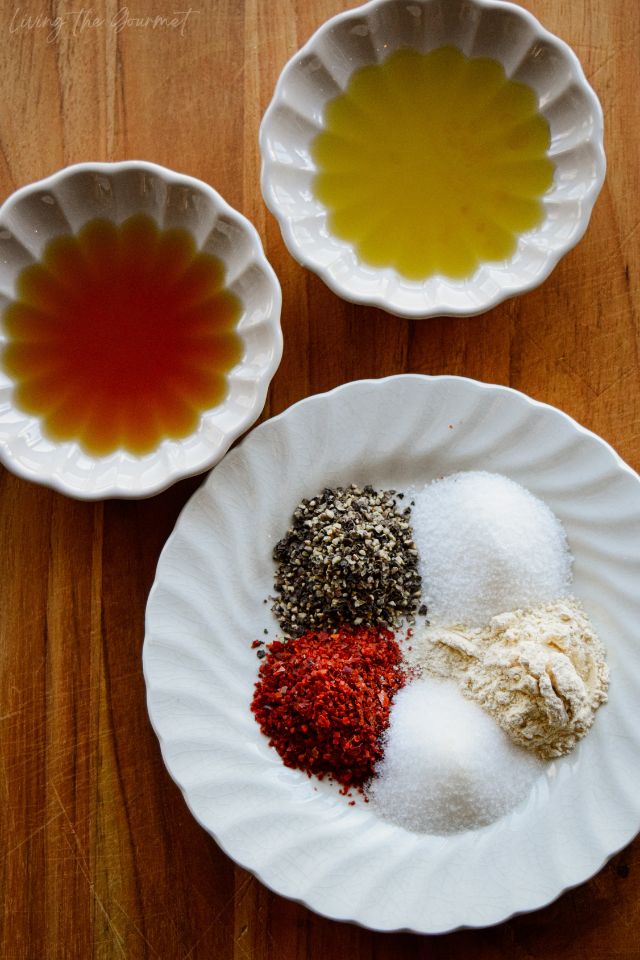 Ingredient Checklist – The Dry Rub
Sugar. Simple granulated sugar is all you're looking for.
Black Pepper. I suggest using either fresh ground or whole peppercorns crushed in a mortar and pestle for best results.
Garlic Powder. For added garlicky flavor in the dry rub.
Gochugaru (Korean Red Chili Flakes). If you don't have gochugaru, there are several suitable substitutes. However, given gochugaru's unique mix of chili flavor, heat, and sweetness, there is no 'precise' or 'perfect substitute. All of these listed substitutes get used at a one-to-one ratio. First up, consider either cayenne or red pepper flakes, if you really care about is heat. Next, consider sweet or mild paprika. Chipotle powder is probably the closest to gochugaru in terms of 'chili flavor.' Gochujang, naturally, is the closest to gochugaru in terms of flavor – since the star ingredient in gochujang is, you guessed it, gochugaru. Though if you've got gochujang on hand, you've probably also got gochugaru.
Salt. Sea salt for best results, but plain table salt works just fine.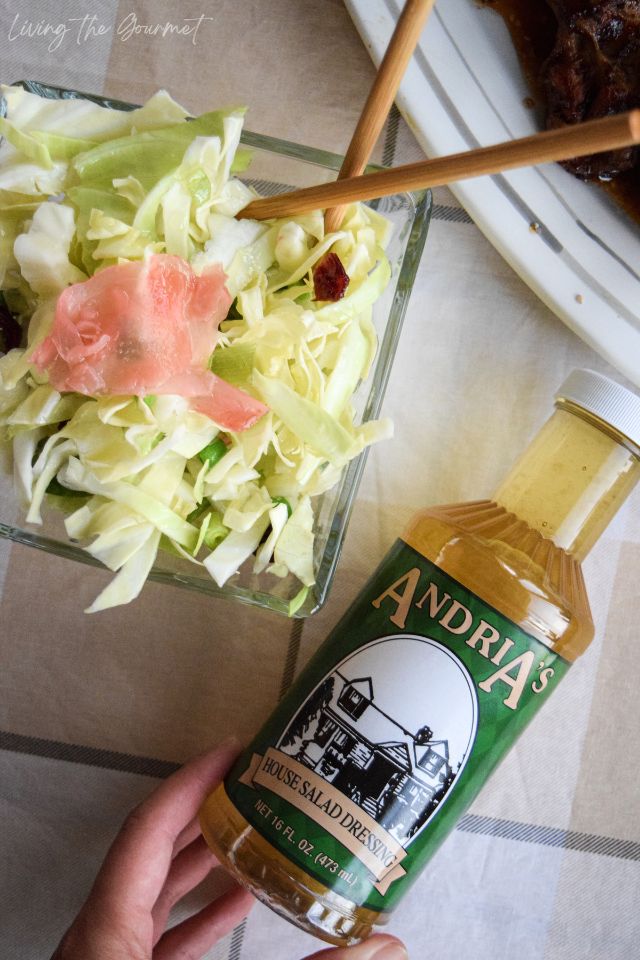 Ingredient Checklist – The Salad
Cabbage. While I'm using cabbage, this salad works just fine with your preferred greens, such as romaine, iceberg, or arugula.
Dried Cranberries. I'm using cranberries simply because I think the tartness constrasts nicely with the cabbage and salad dressing. However, feel free to use the dried fruit of your choice. Chopped dried apricots or cherries would be a delicious stand in.
Suchi Ginger. This brings a delicious mix of sweet and tang that you really can't get from any other ingredient. A key ingredient, in my opinion.
Scallions. Once again, serving more as garnish than an ingredient.
Peas. For a bit of texture and color, but totally optional.
Fresh Basil. Plays deliciously with the ginger and the salad dressing.
Andria's House Salad Dressing. A delicious and versatile rice vinegar-based dressing, featuring molasses, Worcestershire Sauce, garlic and tamarind. This is best described as a light yet flavorful dressing that's neither 'barely there' nor 'overpowering.' Here again, as with the steak sauce, the key is balance. Naturally, this dressing is most at home on your favorite salad, but it would also be delicious over grilled veggies, or as a dressing for potato salad.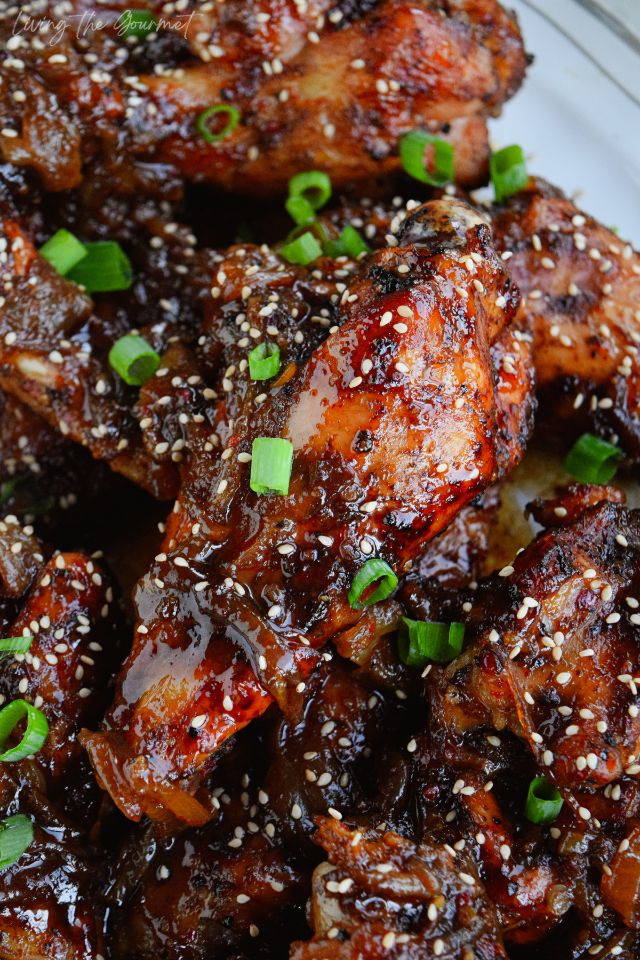 Delicious Sides – Pairing Today's Turkey Wings
Mashed Potatoes. Personally, I'd go for something a little unconventional, such as my Creamy Ricotta Mashed Potatoes. These are a mix of parmesan, ricotta, and garlic, which combine to create a decadently creamy, rich, and flavorful batch of mashed potatoes.
Biscuits. Flaky biscuits and turkey. That really is a match made in culinary heaven.
Warmed Green Bean Salad. An ideal veggie pairing, in my mind, would be string beans sautéed in extra virgin olive oil with cherry tomatoes, sweet onion, and plenty of garlic. Red and black pepper, and a dusting of parmesan, make this a wonderfully flavorful, yet blissfully simple, side dish.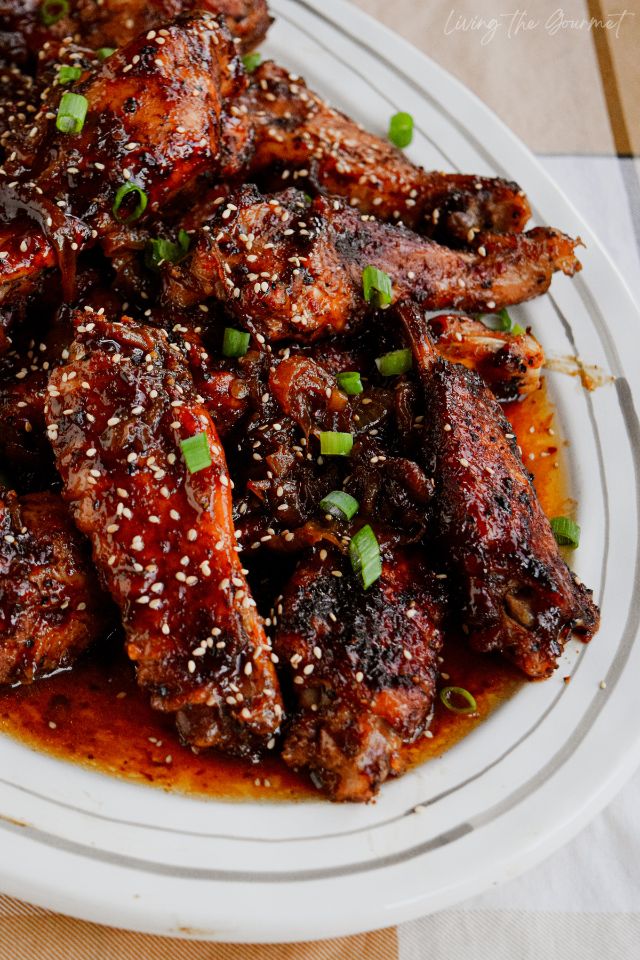 Print
Asian Style Steak House Turkey Wings
---
Author:

Total Time:

2 hours 15 minutes

Yield:

4

-

6

servings

1

x
4

lbs

. of turkey wings - cleaned and pat dry with a paper towel and either left whole or separated where the drumettes meet the wing-tip

1

tbs. of sesame oil

1

tbs. of olive oil

2

sweet onions, sliced thin

1

cup

of chicken broth - divided

1/2

cup

of duck sauce

1/2

cup

of Andria's Steak Sauce
Sesame seeds
Scallions, sliced thin
For the Dry Rub:
2

tsps. salt

2

tsps. black pepper

2

tsps. sugar

2

tsps. garlic powder

2

tsps. gochugaru (Korean Chili Flakes)
Cabbage Salad:
1/4

-

1/2

head of green cabbage, sliced thin

1/2

cup

dried cranberries

1/2

cup

of frozen peas, thawed and drained
Fresh basil leaves, either julienned or left whole

2

-

3

scallions, sliced
Sushi Ginger, to taste
Andria's House Salad Dressing, to taste
---
Instructions
Combine the sesame oil and the olive oil and rub each turkey wing with the olive oil and sesame oil combination.
Combine the dry rub in a small bowl and rub each turkey wing with the dry rub.
Place in a freezer bag and place in the refrigerator for at least 30 minutes or up to over-night.
Preheat Oven 350 degrees F.
Place sliced onions at the bottom of a large cast iron pan.  I used two 12-inch pans.
Place the turkey wings on top of the onions and brush with Andria's Steak Sauce.
Drizzle ½ cup of chicken broth around the edges of each pan, not over the top of the turkey wings.
Cover the pans with tin foil and place in the oven.
Bake for 1½ hours.
Mix the ½ cup of duck sauce with ½ cup of Andria's Steak Sauce and brush the turkey wings with the mixture.
Place back in the oven, uncovered, for 15 – 20 minutes to let a nice golden color be achieved.
Serve with the onion drippings from the pan topped over the wings.
Garnish with sesame seeds and sliced scallions.
Cabbage Salad:
Combine the salad ingredients in a large bowl and toss.
Drizzle the Andria's House Salad Dressing over the individual salad servings.
Prep Time:

15 minutes

Cook Time:

2 hours
Keywords: turkey wings, sweet, spicy, steak house sauce, sauce
Recipe Card powered by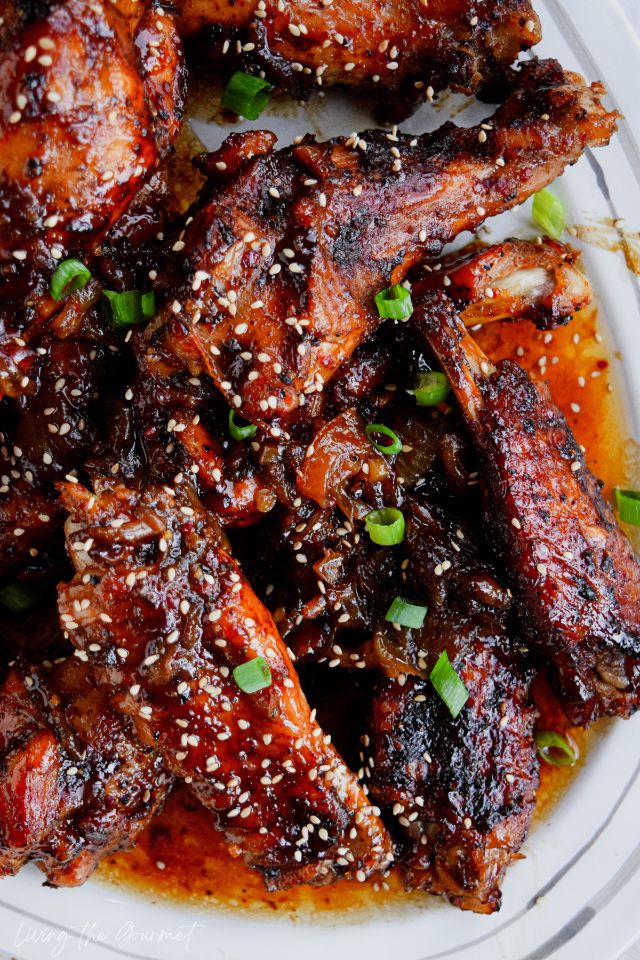 As an Amazon Associate I earn a small commission from any purchases made through the affiliate links within this post. For more information on this please see our disclosure policy. Thank you!
0