This post is sponsored by McCormick® but the content and opinions expressed here are my own.
Few things are more 'classic' than the Holidays, and today we're preparing one of my favorite takes on the celebratory roast bird – Herb Crusted Turkey Breast. We'll be pairing the turkey with latkes topped with sour cream, candied bacon and caviar, and we'll be doing all of this with a little help from my friends over at McCormick®, more on them in just a bit.
We'll be pairing today's turkey with a side of latkes topped with sour cream,caviar, scallions, smoked salmon, and candied bacon – yes, I said 'candied' bacon.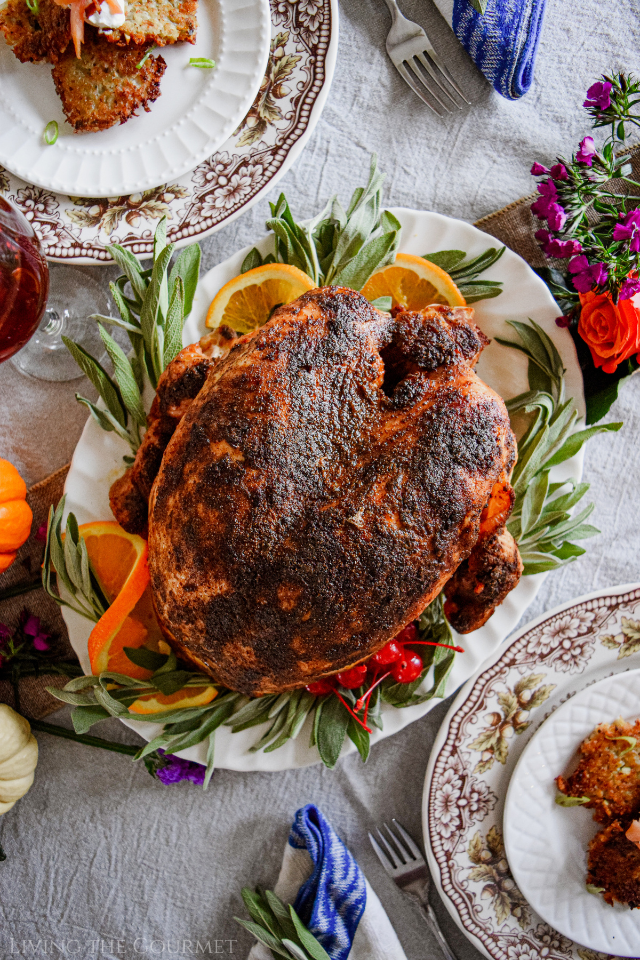 Herb Crusted Turkey Breast
1) But why just the breast? While a whole turkey crusted in herbs is a case study in deliciousness, for a smaller get together, or simply a more refined or lighter meal, a roasted turkey breast will do just fine on its own, since a single decent sized turkey breast can comfortably feed up to about five people. Also, by opting to cook just the breast you're skipping the intricacies of having to juggle fully cooking the dark meat of the legs and thighs without turning the white meat into a veritable desert that both you are your guests will avoid like a…well, like a desert detour on your way to juicy goodness of the dark meat.
2) McCormick® Herbs and Spices. Now, as you might imagine, I go through spices and herbs quickly – and in comparatively large quantities, and so while I love trying new things and experimenting, I want a brand of spices and herbs that I can rely on for quality, availability, and affordability, especially for the most important meals, and those special moments, such as the holidays, where the food I'm cooking is the center of attention. McCormick® fits that bill perfectly, since not only is restocking as simple as a run to my local Stop & Shop, but McCormick® is backed by over a hundred years of proven quality and reliability. For more information, head over to McCormick® Spices, to learn how McCormick® can help you 'make it home' for the holidays this season.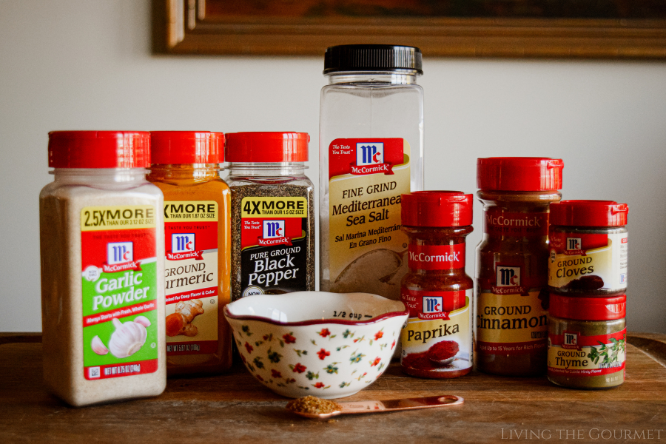 3) The Herb Crust. An herb crust provides more than just an outer shell of flavor that seeps into the meat of the turkey during cooking and slicing. On the contrary, the outer shell of herbs also provides a bit of added 'crunch.' Prepped in a butter paste, the herbs more or less 'fry' in the butter during cooking, crisping not only the herbs but also the skin on which the butter paste was spread. As a result, you have two layers of crunch, paired with a dense 'crust' of flavor.
4) The Herbs and Spices. Today's herb crust is a combination of cloves, cinnamon, Mediterranean Sea Salt, Turmeric, Ground Thyme, Paprika, and Black Pepper. This gives the crust an earthy, slightly 'warming' rather than 'spicy' flavor profile, with the cloves and cinnamon providing familiar 'holiday notes.' However, as in all recipes, the quality of the ingredients is of the utmost importance, which is why I trust and use McCormick®.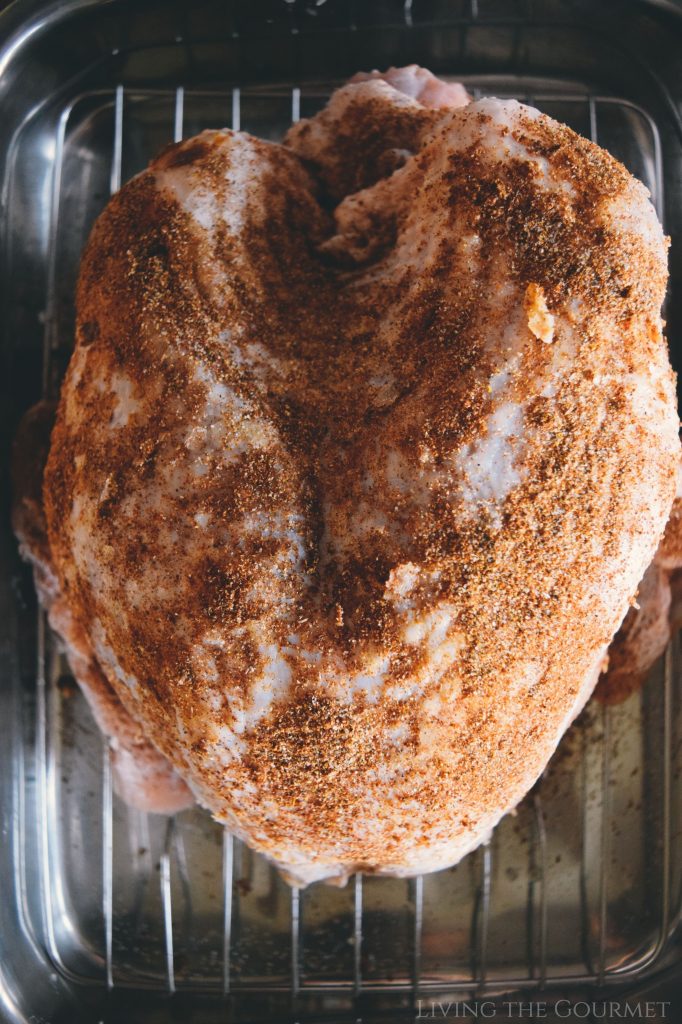 Selecting Your Turkey Breast
1) Timeframe. First things first, know when you plan on cooking the turkey. There is no shortcut for defrosting a frozen turkey, and a whole bird takes a solid couple of days to defrost – at roughly 18-24 hours per pound depending on the total size of the turkey, and roughly the same metrics apply to a turkey breast. If buying a 'fresh' or 'refrigerated' turkey, you are best advised to cook it within thirty-six hours for best results. Yes, fresh/refrigerated turkeys 'can' be set in the freezer for later if something should prevent you from cooking it right away.
2) Is 'Grade A' As Unimportant as Everyone Says? For years now, turkey buying guides have popularized the idea that the USDA Grade system is simply not important when buying a turkey, with the logic being that virtually all turkeys available to consumers are stamped 'USDA Grade A,' and that any defects in a commercially available turkey 'not' dubbed 'Grade A' are entirely superficial. Broadly speaking, the overall point 'is' true, but there are two key exceptions. First and foremost, the designation of 'USDA Grade A' informs you that the turkey you're buying is free of broken bones, pinfeathers, bruises, and other such 'superficial' flaws. However, there are two flaws that could in fact impact your turkey – flesh cuts and skin gashes or skin detachments. Since a turkey can – and likely 'will' – bleed away juices via flesh cuts, this could lead to a noticeably dryer turkey than one marked 'Grade A.' Similarly, skin gashes or skin detachments can affect your ability to stuff herbs or spices beneath the damaged skin, depending on the extent of the damage.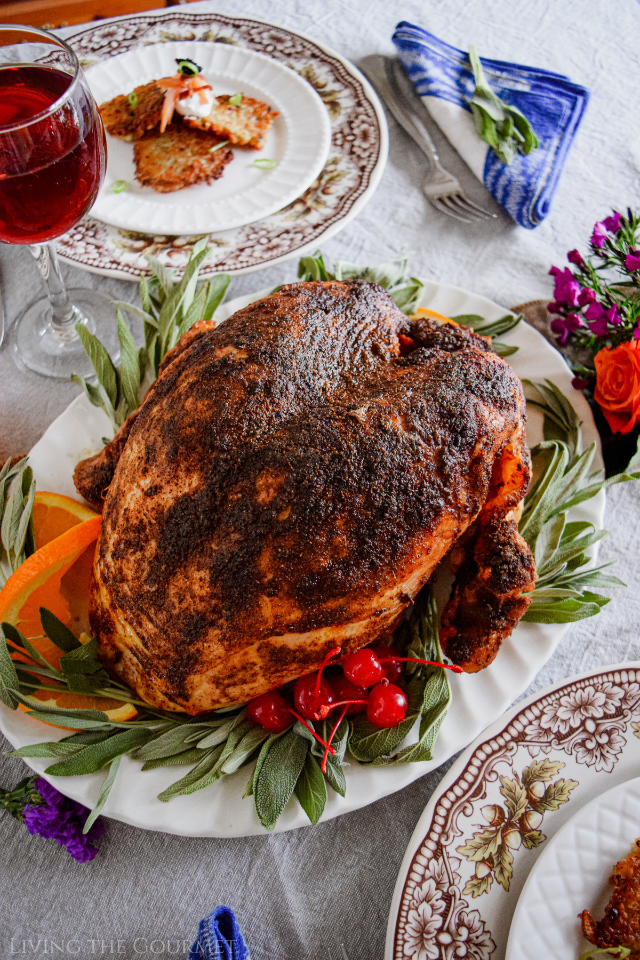 3) Size. As a rule of thumb, as with whole turkeys, plan on at least a pound per person. It's always better to have leftovers than to run short during the party. And let's be honest, leftover turkey is super versatile anyway.
4) Organic, Humane, and Hormone Free Labels. At least in the US, the "No Hormones Added" label is purely a marketing ploy, since hormones are not allowed in the raising of pork and poultry. Similarly, the 'Humane' label is also all about marketing, since there is no regulation, oversight, or guidelines as to what this label actually means. By contrast, a turkey labeled 'Organic' means that not only was the turkey never fed antibiotics, but also that the turkey was fed organic feed, and that the turkey had regular access to the outdoors.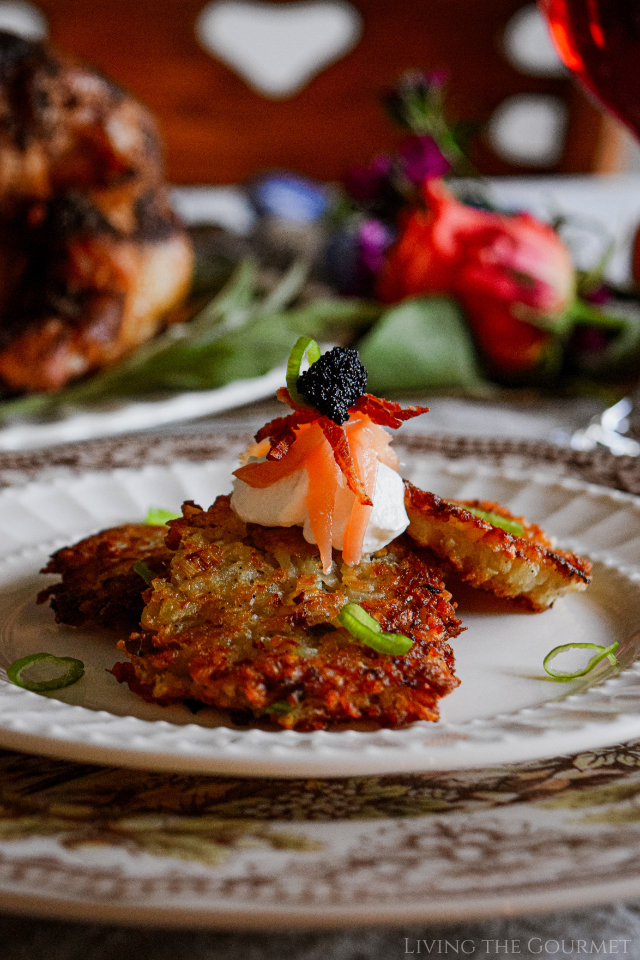 Latkes with Candied Bacon
1) Latke vs Potato Pancake. Is there a difference? Yes and no. In North America, 'potato pancake' and 'latke' have come to be used interchangeably in most – but not all – circumstances. With that in mind, virtually every culture in Europe has some version of the 'potato pancake,' from Italian Fritelle di Patata which are typically thicker than others and crusted in parmesan, to Greek Polpetes which feature green onion, mint, and lemon juice, to German kartoffelpuffer, Irish boxty, Swedish rarakor, Polish placki, etc.. By contrast, latkes typically, though far from always, feature matzo meal as a binding agent, and may also feature yellow onions, chicken schmaltz, shredded rather than mashed potatoes, and are often served alongside sour cream or applesauce. Thus, yes, today's potato pancake is indeed a latke.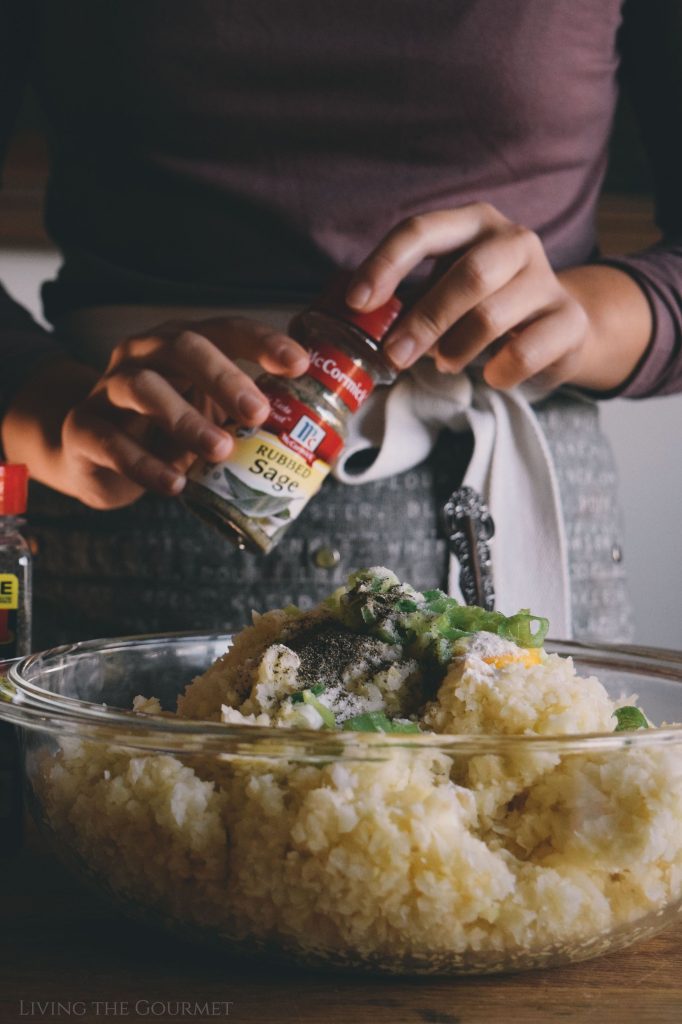 2) Uses for Candied Bacon. As simple as dipping bacon in a mix of syrup, cinnamon, cloves and vanilla, and then baking the bacon in the oven…but what can you actually 'do' with the bacon, aside from eating it on its own? The possibilities are endless. Really, you can add candied bacon to anything where a smoky-sweet flavor and a touch of 'fat' would be desirable. No, seriously. Think vanilla ice cream, dark green salads with fruit, 'bright' sandwiches with things like greens, tomatoes, and 'light' meats such as turkey and chicken.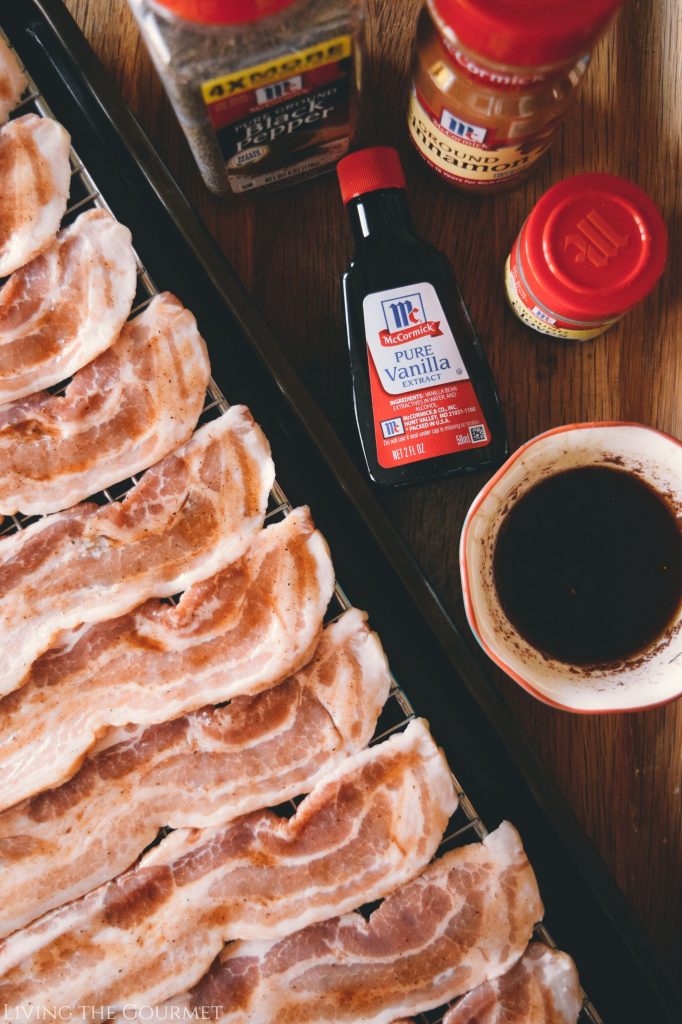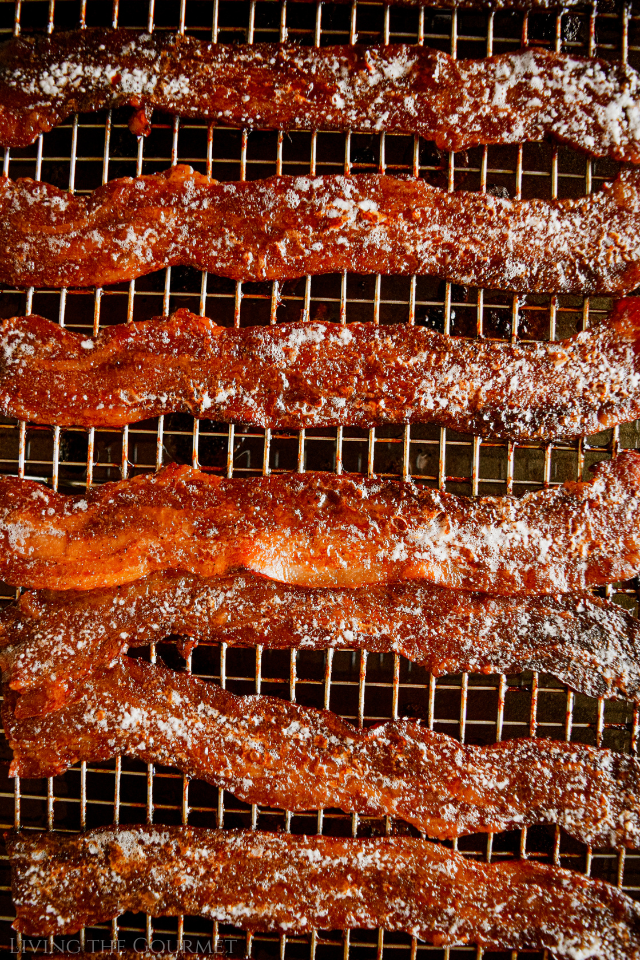 Other Great Holiday Favorites
1) Baked Acorn Squash. A seasonal staple, this is my absolute favorite way to prepare baked acorn squash, and it's super simple.
2) Mushroom and Tomato Stew. A greater starter to today's turkey breast, this stew features all of the flavors of the season combined in a single bowl.
3) Cold Weather Pasta Bake. A one-pan-meal that the entire family will simply love, combining crisped pan baked pasta layered with fresh tomatoes, cheese, and fresh basil.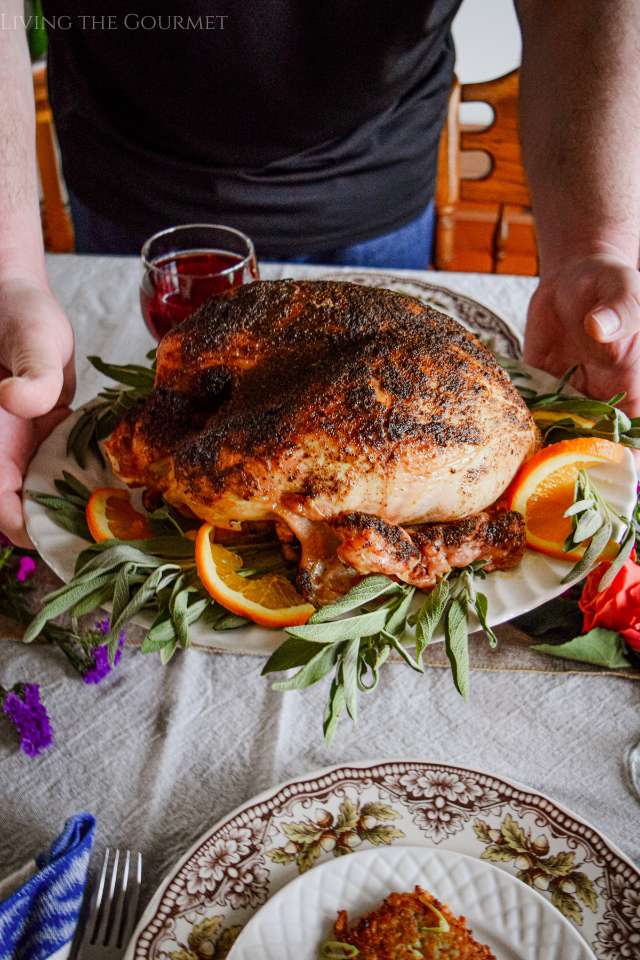 Print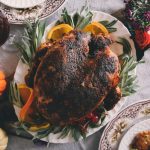 Herb Crusted Turkey Breast & Latkes with Candied Bacon
---
Author:

Total Time:

2 hours 15 minutes

Yield:

4

-6

1

x
For the Latkes:
6

russet potatoes, peeled and cubed

1

medium sweet onion, cut into chunks

2 tablespoons

AP flour

2

eggs, separated

4 tablespoons

scallions - chopped

2 teaspoons

McCormick® Gourmet(TM) Global Selects Mediterranean Herb & Salt Blend

1/2 teaspoon

McCormick® Pure Ground Black Pepper
Corn oil, for frying
Garnish for the Latkes:
Small dollop of sour cream
Chives or scallions - sliced very thin
Smoked Salmon for topping - sliced thin
Candied Bacon (recipe below) for topping
Caviar for topping
For the Candied Bacon:
1

package thick cut bacon

1/4

cup

all-natural maple syrup

1 teaspoon

McCormick® Pure Vanilla Extract

1/4 teaspoon

McCormick® Ground Cloves

1/2 teaspoon

McCormick® Ground Cinnamon
For the Herb Crusted Turkey Breast:
5 3/4

lb

. bone-in turkey breast

4

tbs. unsalted butter softened

1/4 tsp

. McCormick® Ground Cloves

1/2 tsp

. McCormick® Ground Cinnamon

1 tsp

. McCormick® Gourmet(TM) Global Selects Mediterranean Herb & Salt Blend

1 tsp

. McCormick® Garlic Powder

1/2 tsp

. McCormick® Ground Turmeric

1/2 tsp

. McCormick® Ground Thyme

1 tsp

. McCormick® Paprika

1/2 tsp

. McCormick® Pure Ground Black Pepper

1/4 tsp

. McCormick® Ground Cloves
---
Instructions
For the Candied Bacon:
Preheat oven to 350 degrees F.
Place a baking rack on top of a baking sheet and lay out strips of bacon.
In a small bowl, whisk together maple syrup, vanilla, cloves, and vanilla. Brush both sides of the bacon and bake for 20-25 minutes or until deeply browned and crispy.
For the latkes:
In a food processor, shred potatoes and onion until finely chopped. Transfer mixture to a colander lined with a cheese cloth and squeeze out excess liquids.
Transfer the shredded potatoes and onion to a bowl and add flour, egg yolks, scallions, salt and pepper. Mix to combine.
In a separate bowl, beat egg whites until stiff but not dry then fold into the potato mixture.
In a large cast iron pan, heat about 1/3 cup of oil over medium-high heat. Drop 1 heaping tablespoon potato batter per pancake into the hot oil; spread each to 3-inch diameter. Cook the pancakes until bottoms are browned, about 4 minutes on each side. Transfer pancakes to a paper towel lined baking sheet. NOTE: to keep the latkes warm while you are frying, set the oven to the lowest temperature and keep the baking sheet in the oven.
To serve, overlap 3 latkes and garnish with a dollop or sour cream, strips of thinly sliced smoked salmon, chopped candied bacon, and a caviar.
For the Herb Crusted Turkey Breast:
Mix the rub with the softened butter and rub all over the turkey breast.
Preheat Oven 350 degrees F.
Cook turkey breast 20 minutes per pound.
Let the turkey rest for 10 – 15 minutes before carving.
Prep Time:

15 minutes

Cook Time:

2 hours
Recipe Card powered by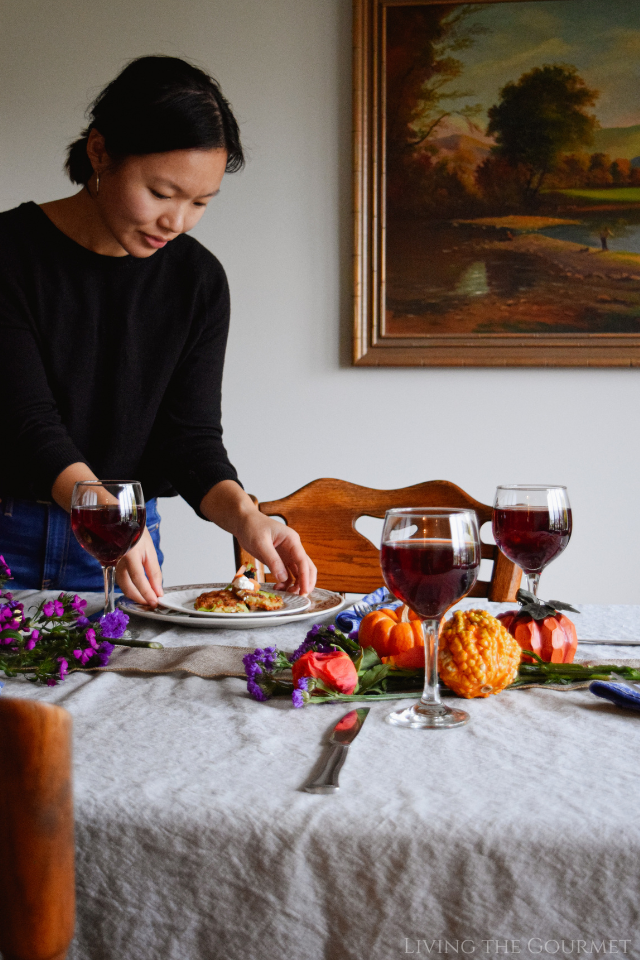 If You Enjoyed Today's Recipe…
Be sure to follow us on Instagram to stay up to date with all things Living the Gourmet, and for more great recipes, tips and tricks.
Did you make this recipe?
If so, let me know in the comments down below, or post a picture to Instagram, or to Pinterest, and I'll give you a shoutout on Instagram, or post your pin to one of my Pinterest boards!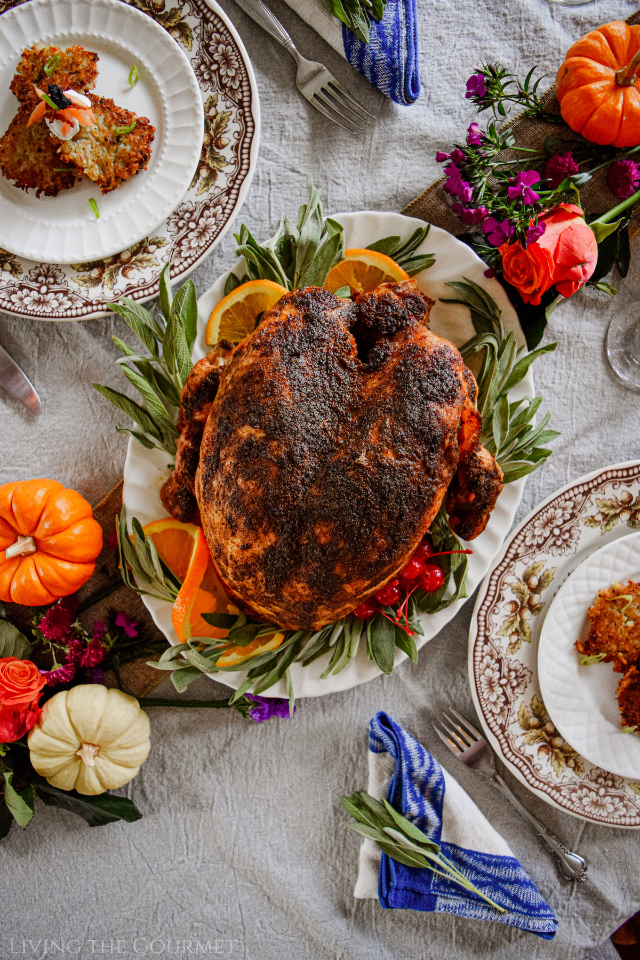 Cheers!
2