Today we're preparing what I consider to be a "Classic Sunday Roast." We're going to start out by preparing a rosemary and coffee-based rub with crushed peppercorns and fresh lemon juice. After letting the beef marinate in the rub overnight, we're going to roast it to crisp perfection.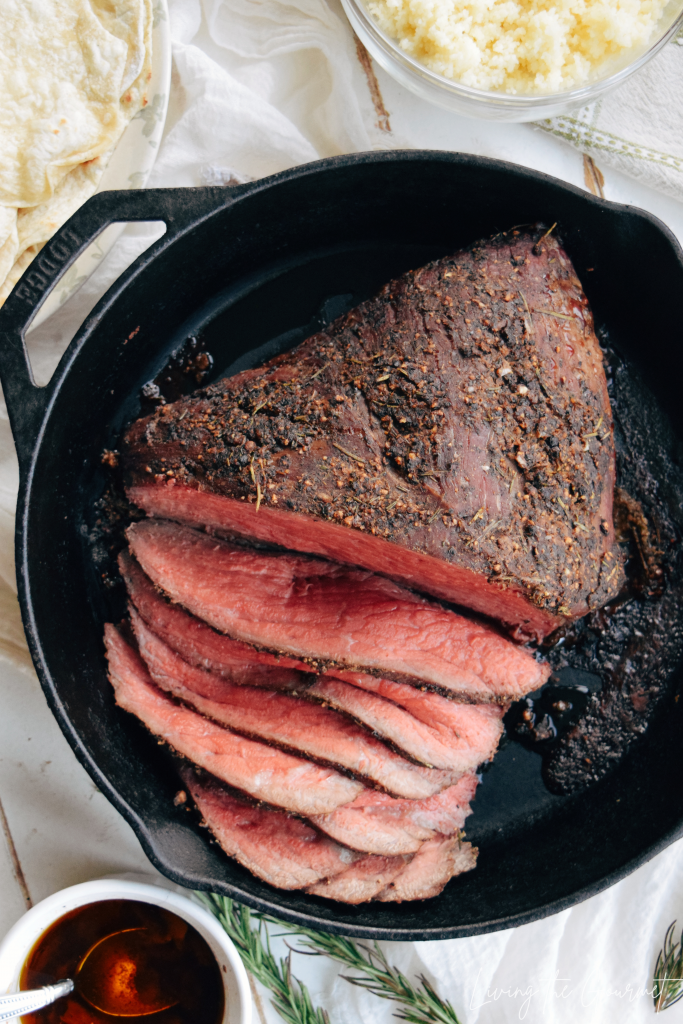 Ingredient Notes and Tips
1) The Coffee – More than Just Flavor, but also lots of flavor. Coffee is acidic, very acidic, actually, clocking in at around 4.85 to 5.1 pH. This acidity enhances your perception of flavor in a similar way to the tannins found in bold red wines – particularly those flavors associated with fat. Think of the delicious pairing between a butter and garlic roasted fillet mignon and a top-quality merlot. More than that, coffee-based rubs also act as a tenderizer, making meat softer while enhancing moisture. Aside from that, 'coffee flavor' and meat simply work wonders together. Yes, any coffee grinds work for this purpose, as does instant – which we're using today.
2) Rosemary. One of the enduring questions I ponder is "Was rosemary made for rich, fatty cuts of meat? Or did we humans only truly begin to enjoy such cuts of meat after learning to cultivate rosemary?" A perennial shrub that grows like a weed throughout the Mediterranean region, rosemary is best described as earthy, astringent, and sharp, qualities that make it ideal for both complementing and breaking through the fattiest of foods, such as lamb, pork, beef, and fatty fishes like shark and salmon. Unlike most other herbs, rosemary maintains virtually all of its aromatics through the drying process, although the flavor profile is, in my opinion, quite muted compared to fresh. I do prefer fresh for this recipe, although dried will work nearly as well.
3) Lemon Juice. Fresher is Better. As in virtually all cases, fresher is better. On top of that, slicing a lemon into squeezable halves or wedges is practically as easy as opening a bottle and measuring it out. Furthermore, bottled lemon juice simply isn't as flavorful, lacking the full 'zest' or 'brightness' of fresh lemon juice, since the juice begins breaking down chemically almost as soon as it leaves the lemon. Beyond that, the juice's flavor is often times further diluted with preservatives. As a result, if you want the full flavor and balance intended in today's recipe, use fresh lemon juice.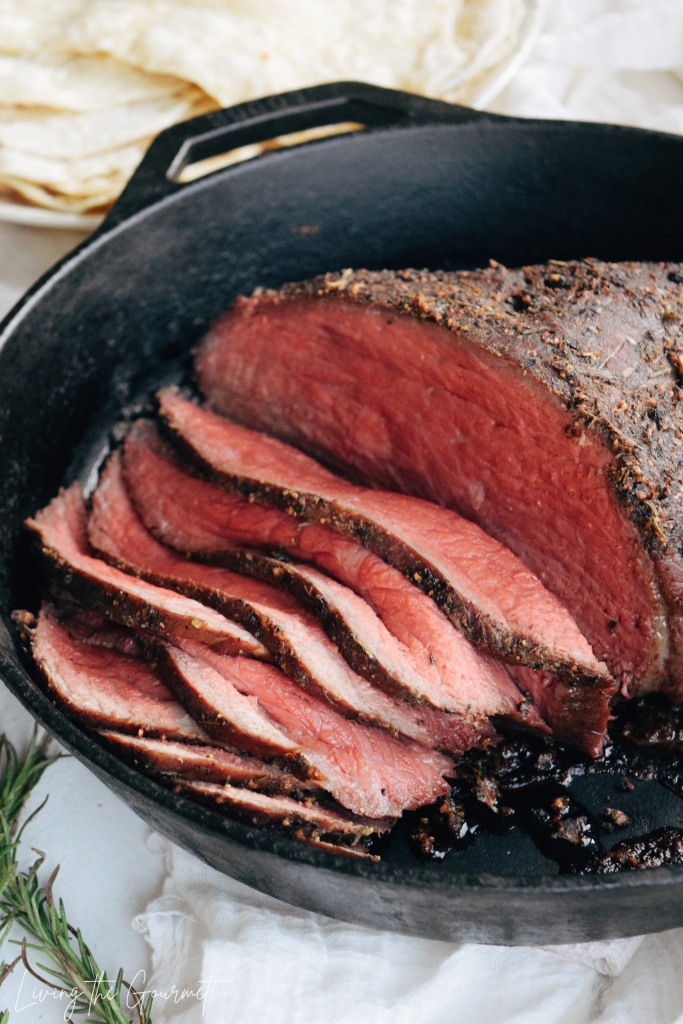 The Bottom Round – Primer, Tips, Do's and Don'ts
1) The Bottom Round Primer. As the name implies, Bottom Round Roast comes from the 'round' of the cow, which is the hind area just above the shanks. This area is divided into a 'top' and 'bottom' cut, with the 'bottom' coming from the inside portion of the cut. 'Top' and 'Bottom' having nothing to do with the cow's anatomy, but rather with how the cut is traditionally positioned on a butcher's chopping block for carving. The 'round' area of the cow is used for movement and support, and thus is under constant 'tension' even when the cow is standing still, as well as receiving exercise whenever the cow moves. Thus, the area tends to contain very, very little fat, while the 'muscle meat' tends to be very well developed. This leads to the 'round' being tough (developed muscles), and being short on flavor (low on fat), in comparison to other areas of the cow. Generally, the 'top' portion of the cut is marginally more tender, but only marginally. These qualities make it great for slow roasting and braising, but very little else. This relatively limited range of uses also has the effect of driving its price down, making one of the more affordable cuts of meat available. Bottom and Top Round roasts are what you are most likely to encounter in roast beef deli sandwiches.
2) Bottom Round Tips. There are a few ways to get around the meat's general toughness and lack of fat. The first and most common method is to rub the roast down – thoroughly – with butter prior to roasting. The has the effect of introducing 'fat' into the roast, which it lacks naturally on its own, whilst also giving the outside of the roast just a hint of crispness. The second method is what we're doing today, which to blend together oil and herbs, and then rub the roast down with that. While this doesn't add quite as much 'fat' back into the roast as butter would, it does make for a much more flavorful roast, in my opinion. Stews, sausages, and sauces are also ideal ways to prepare a top or bottom round roast.
3) Top and Bottom Round Steaks – Do's and Don'ts. While Top and Bottom round is simply delicious when roasted or braised, in my opinion trying to serve it as a steak is a bit like trying to square a circle – although 'round steaks' are indeed commercially available. That said, top or bottom round steaks often feature quite a bit of 'production-side' tenderization before they make it to consumers – you can use your imagination as to what that entails. However, if you do find yourself into possession of top or bottom round steaks (since they are so easy on the budget they are sometimes hard to resist), there are a couple of ways to enhance the experience. The first is to marinate them thoroughly (preferably overnight), and then grill them, either on the barbeque or stovetop on a griddle or cast iron pan. The marinating process will help to further tenderize this otherwise tough cut, while providing an extra layer of flavor. The second way is to coat them (thoroughly) in salt, pepper, and garlic (or whatever rub you prefer), and then grill them rapidly over very high heat, and then cut them as thinly as you can manage against the grain. Conversely, you could of course combine these two prep methods for the 'best' results.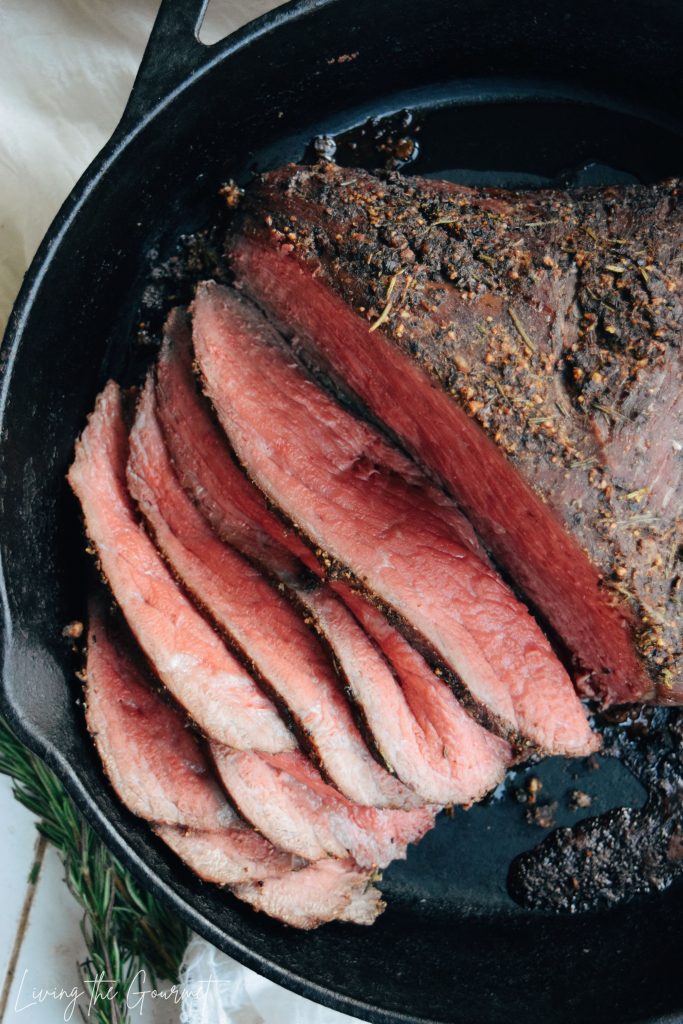 More Beef Favorites from Living the Gourmet
1) Curried Hamburgers. A flavorful twist on a familiar classic, these beef burgers are prepared with a mix of Jamaican curry, paprika, and coriander, and then finished a decadent balsamic glaze. Seriously, give these a try.
2) Classic Roast Beef. If you're in the mood for something familiar and warming, this classic roast beef fit's that bill perfectly. This is a recipe that just exudes 'Sunday Dinner.'
3) Ultimate Steak Platter. Teriyaki and garlic marinated steak, served with a side of warmed mixed greens and grilled potatoes. This is a recipe for a party.
4) Pan Roasted Brisket. A brisket of beef pan roasted in a wine broth with carrots, onions, and capers. Served over noodles, this is a classic one pan meal for cool autumn nights.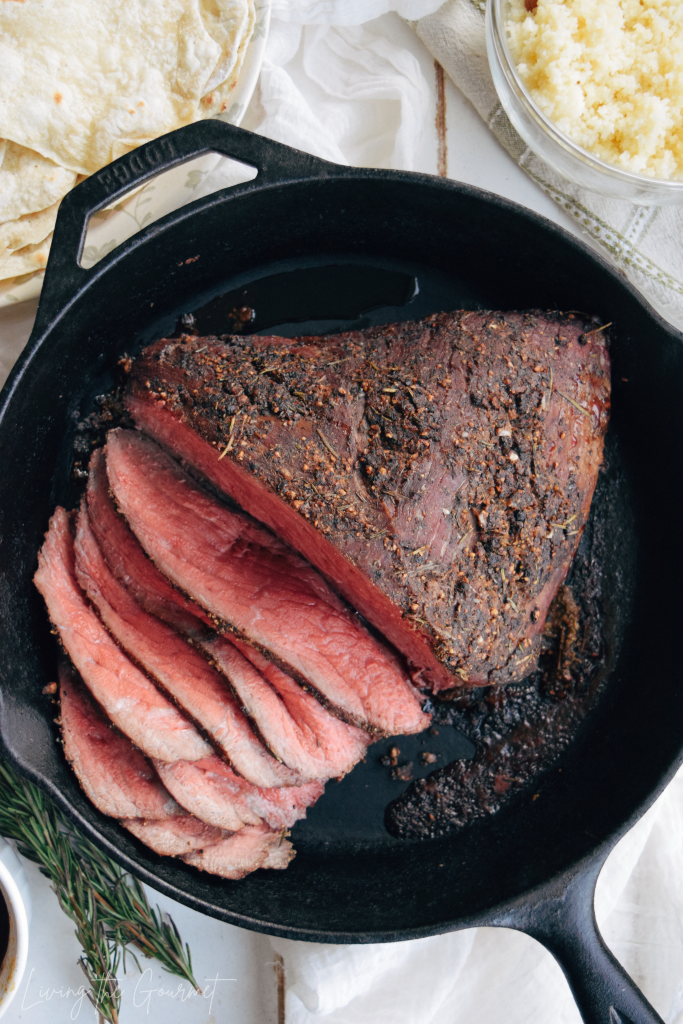 Print
Rosemary and Peppercorn Crusted Roast Beef
Author:
Prep Time:

10 minutes

Cook Time:

1 hour 20 minutes

Total Time:

1 hour 30 minutes

Yield:

4

-6

1

x
4

lb

. boneless bottom round roast beef
For the Rub:
2

tbs. whole peppercorns

2

tbs. olive oil

4

–

5

-inch sprig of fresh rosemary – leaves removed

2

tbs. fresh lemon juice

2 tsp

. instant coffee

1

head of garlic

1 tsp

. salt
Instructions
Place all of the ingredients for the rub in a bullet blender or a food processor and process until well combined.

Massage the meat with the rub and place in a sealed container or a zip lock bag.

Refrigerate for a few hours or up to overnight.

Preheat Oven 325 degrees F.

Place the roast in a large cast iron frying pan.  Do NOT tent the meat, that will steam it.

Roast for about 20 minutes a pound or until thermometer shows an internal temperature of 140°F for medium rare meat, 160°F for medium.

Allow the roast to sit for about 10-15 minutes before slicing.

Slice the meat nice and thin.
Recipe Card powered by
0