This post has been sponsored by Andria's. All opinions expressed are my own.
Today we're preparing a familiar favorite – Salmon in Parchment, or "Salmon en Papillote." This is a nearly foolproof way to ensure your salmon cooks up deliciously moist and lusciously flavorful.
As a nice bonus, this is perhaps one of the simplest ways to prepare salmon.  Not only that, but it also allows you to get creative without breaking a sweat, or making the base recipe all that much more complicated.  Simply pack your seasonings or veggies into the packet, and cook.  It really is that simple.  We'll be preparing today's Salmon Packets with a little help from my new friends over at Andria's Steak House, whose sauce really helped kick today's recipe up a fair few notches – but more on that below.
We'll be pairing today's salmon with Green Beans in Parchment, prepped with Andria's Steakhouse Salad Dressing. The addition of almonds gives the green beans a nice bit of texture. The almonds' mild sweetness contrasts beautifully with the roasted garlic that we'll be cooking the green beans with.
Now, without further delay, let's make some Salmon in Parchment (Salmon en Papillote).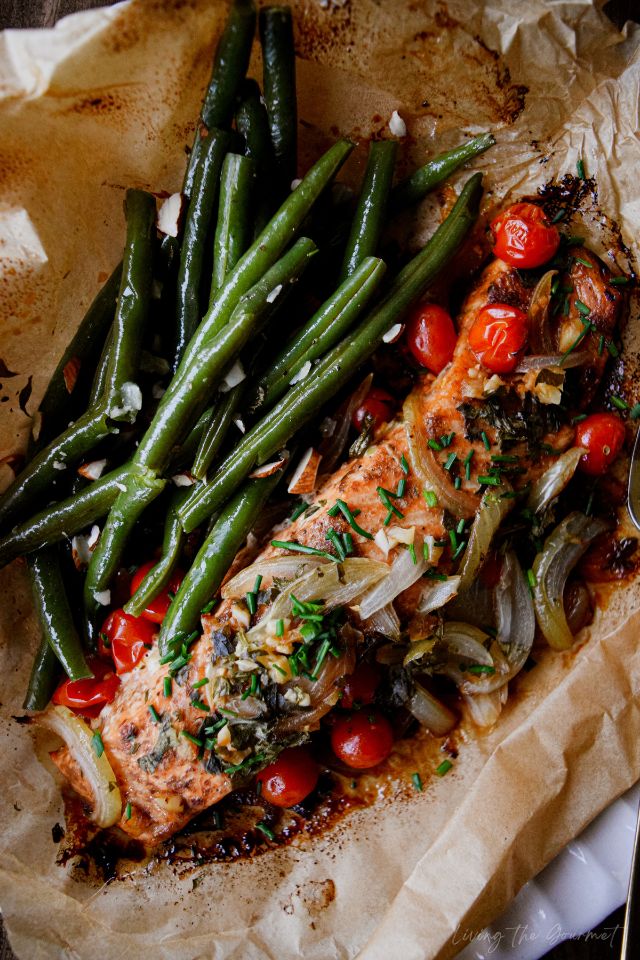 .
Ingredient Checklist and Notes
Salt. I'm using regular table/cooking salt. However, if you want to splurge, feel free to use as the gourmet salt of your choice.
Black Pepper. Pre-ground or cracked pepper is really all you need for today's recipe. However, cracked or fresh ground 'will' make a noticeable difference for the salmon, if you feel like taking things up an extra notch.
Green Beans. Plain string beans, which we're using as the side to the salmon. For a more comprehensive overview, check out my Warm Green Bean Salad.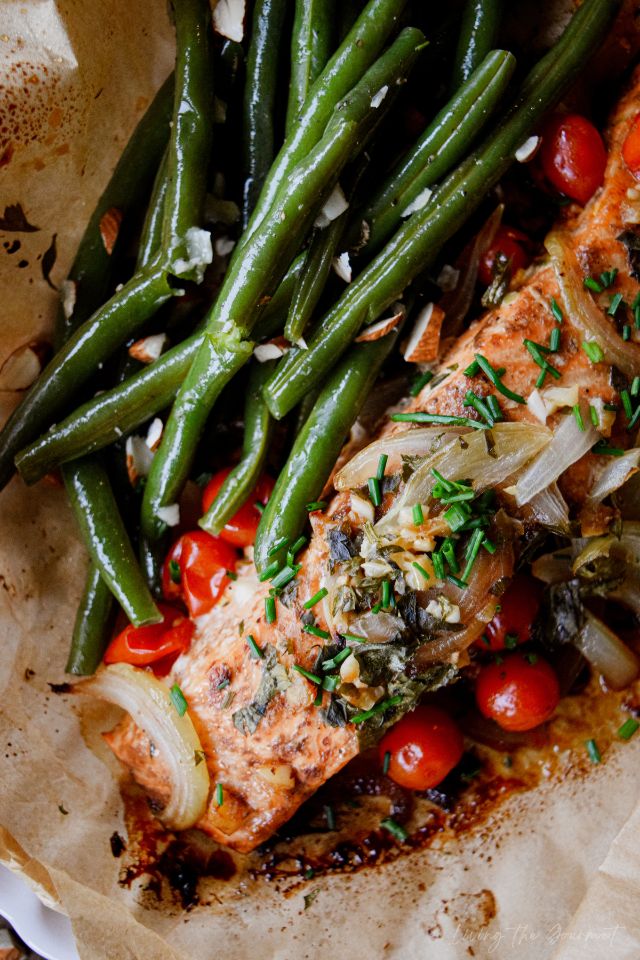 Andria's Brush-On Steak Sauce. Put simply, Andria's promises that their brush-on steak sauce is versatile, and I think today's delicious salmon proves just how versatile it really is. Their sauce features just the right amount of thickness, and is flavored by things like onions and parsnips, along with turnips, carrots, and parsley. The end result is a sauce that's flavorful, pungent and vegetal, and just a touch sweet. The key word here, in my opinion, is 'balance.' While this sauce is obviously most at home on steak, beef roasts, or pork shoulders, I think it pairs just as well on fatty fish, such as salmon, or shark steaks. I could also see pan frying tofu in it, or brushing it on fried chicken.
Andria's Salad Dressing. This is a rice vinegar-based dressing, featuring things like molasses, Worcestershire Sauce, garlic and tamarind. The end result is a light yet flavorful dressing that's neither 'barely there' nor 'overpowering.' Here again, as with the steak sauce, the key is balance. This would pair great over your favorite salad greens, or to add a nice dash of flavor to warmed vegies, as we're doing today. Conversely, it would also pair deliciously over potatoes or potato salad.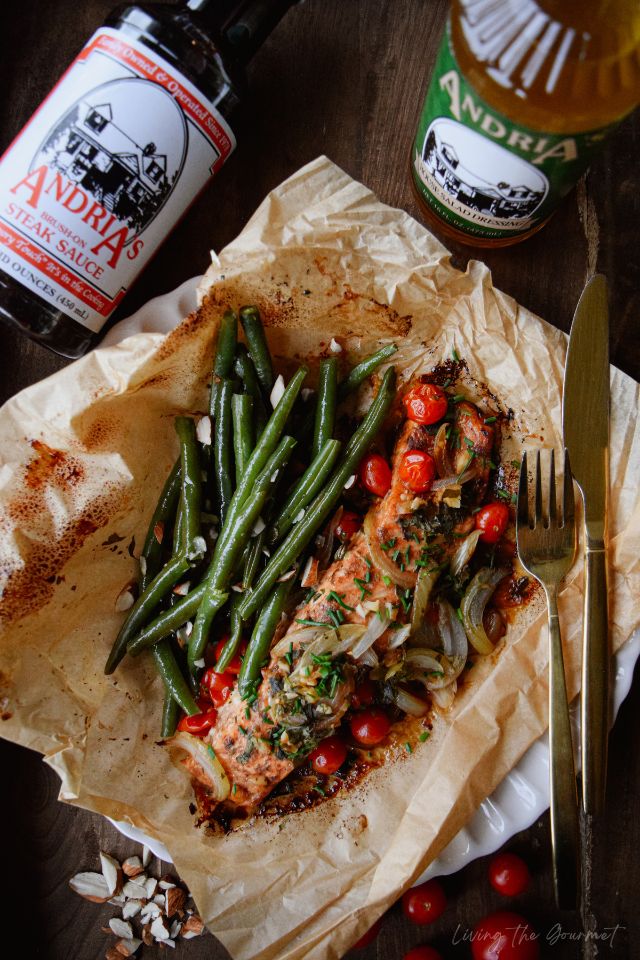 Almonds. Walnuts, almonds, even pecans will work perfectly here. The nuttiness gives a nice balance to the flavors of the dish while adding extra texture to the string beans as well.
Grape Tomatoes. Simply my preference. You can slice up regular tomatoes, and those will work just as well.
Olive Oil. I'm going to recommend you use a decent olive oil for this recipe, simply because we're cooking the fish in it, and as such it will seep into the fish, effecting the flavor.
Chives. These are being used simply as garnish.
Salmon. The 'meat' of today's recipe. I'm using fresh, wild caught salmon, and removed the skin myself. However, feel free to leave the skin on – this is purely a matter of preference. For tips on buying the best salmon possible, see below.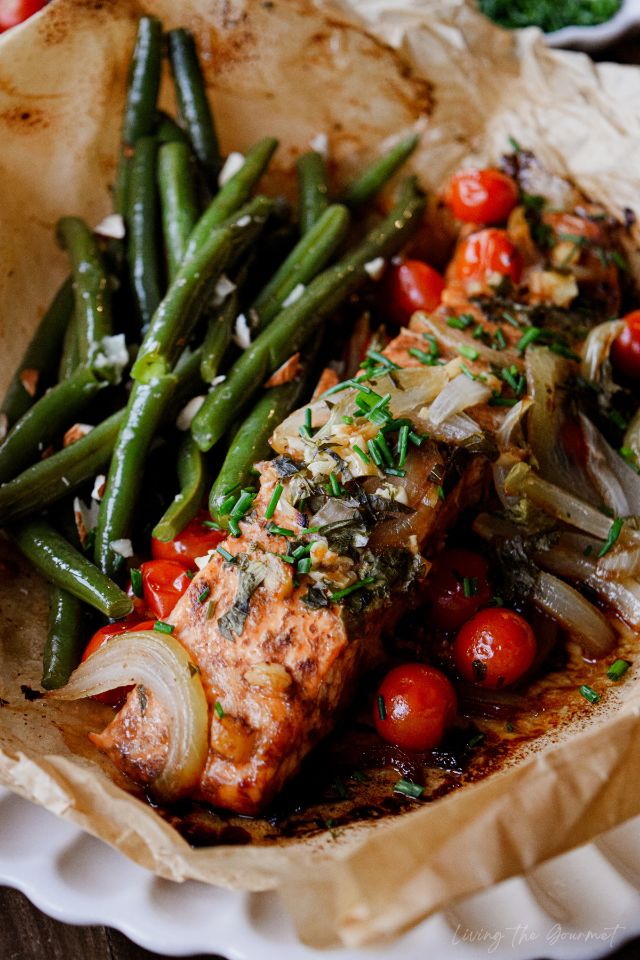 Selecting Quality Salmon – Both Easier, and Harder, Than you Might Expect
Fresh vs Frozen – A Difference Without a Distinction. Unless you're buying your salmon (or any fish) directly – as in directly off the fishing boat or pier – you are buying frozen fish…or at least fish that 'was' frozen before your fishmonger defrosted it for display. According to the National Fisheries Institute, some 85% of all commercially available fish has been frozen at some point on its journey to market. This is a good thing, and the quicker the fish was frozen after being caught, and the longer it remained frozen before finding its way to the display case of your local market the better.
2) Don't question your fishmonger. It's pointless. Asking your fishmonger if the fish on display is 'fresh' is likely pointless. First off, it's all been frozen and defrosted anyway, as the link above shows. Second, if you have an honest fishmonger, he or she won't be displaying low quality fish to begin with. Third, if you have a dishonest, lazy, or inept fishmonger, they'll likely assure you the fish is good even if it isn't. Instead, find a market that you trust to display good fish. If you really must inquire about the quality of the fish, ask for fish that has 'never' been defrosted. Conversely, let's learn how to tell if the fish is 'good' or 'fresh' or 'not' on our own, which brings us to my next point…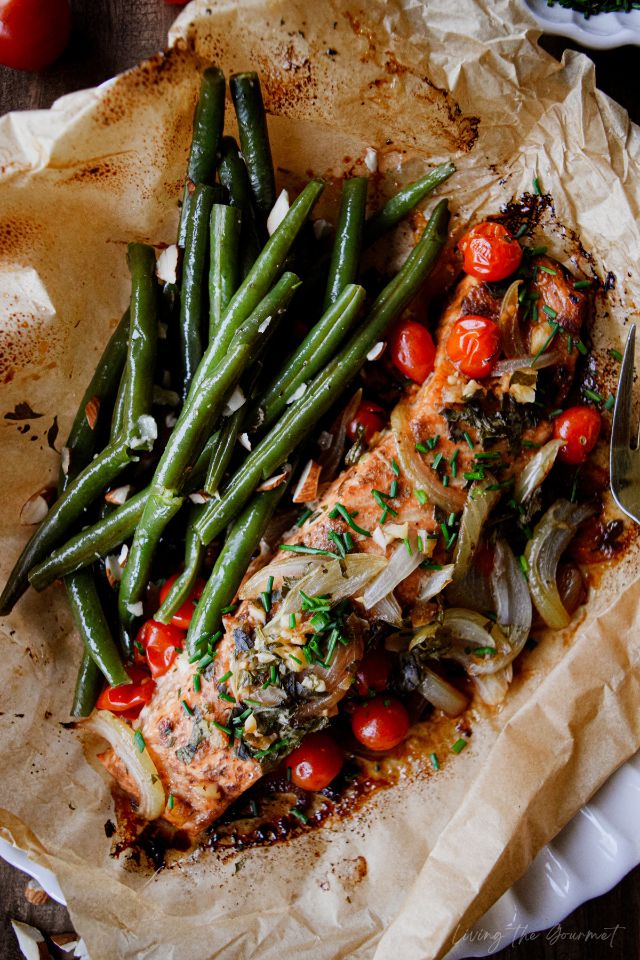 3) Moistness and Plumpness. Fish dries out rapidly as it decays, and this is especially true of fattier fish such as salmon. As such, look for fish that appears plump and moist, rather than dried and deflated. This moistness is also a great indicator of how well the fish was handled, as handling the fish roughly will cause the moisture to leak out, as well as cause indentations or bruising.
4) Vibrancy. Avoid fish that looks grey or dull in color. Colorful fish, such as salmon, should be richly colored. White bodied fish, such as certain species of shark, should be clear, flawless white. Avoid fish with browning edges, or splotches, as this is evidence of decay and/or poor handling.
5) Farmed vs Wild – It Depends. Wild is 'generally' better, let's get that out of the way. However, this is only because it can be 'very' tricky and time-consuming (if not outright impossible) to find out where your local fishmonger or supermarket is sourcing their farmed fish. That said, responsibly farmed fish 'does' exist, and 'can' be a low-cost, sustainable alternative to wild caught fish. So, until there are either tighter regulations around fish farms, or until it becomes easier to find out where your local market is sourcing their fish, we're going to suggest buying wild.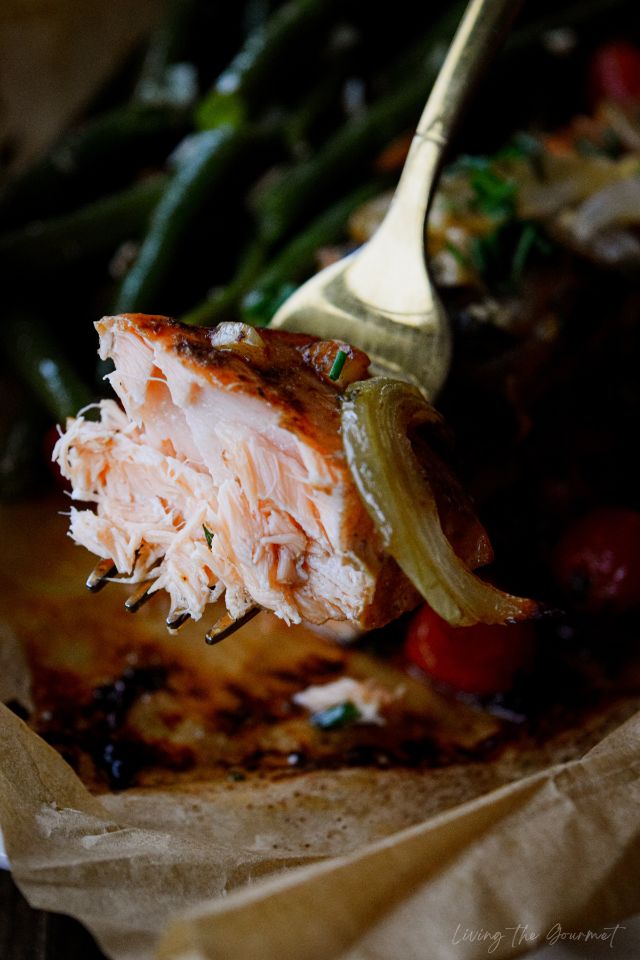 Print
Salmon en Papillote
Author:
Prep Time:

15 minutes

Cook Time:

45 minutes

Total Time:

1 hour

Yield:

4

servings

1

x
Category:

Main Dish
2

lbs

. fresh salmon, skin removed & slices into equal portions
Olive oil, for drizzling
Salt & Pepper to taste
Andria's Steak Sauce, for brushing

1

small sweet onion, thinly sliced

4

cloves garlic, crushed and minced

1/4

cup

fresh parsley, chopped

1/2

cup

grape tomatoes
Chives, chopped for garnish

1

lb

. green beans

1/4

cup

chopped almonds

2 tablespoons

Andria's House Salad Dressing
Instructions
Preheat oven to 375 degrees F.
Drizzle salmon fillets with olive oil and season with salt and pepper.
Take a sheet of parchment paper (12 x 16) and fold in half.
Place the salmon fillet above the folded line.  Brush with Andria's Steakhouse Sauce, then top with onions, garlic, parsley, and tomatoes.
Fold the parchment over and tightly roll them, folding as you go, until you reach the fish.  Then roll and crimp the top and bottom ends.  Place on a baking sheet and bake for 40 minutes.
For the green bean packets, place a serving size of green beans above the folded line. Drizzle with olive oil and sprinkle with salt and pepper.  Top with remaining onion slices and garlic.  Fold the parchment as described above.  Bake for 30 minutes.
Before serving, top the string beans with chopped almonds and Andria's House Dressing.  Place alongside the salmon and enjoy!
Keywords: salmon, salmon packets, seafood, healthy
Recipe Card powered by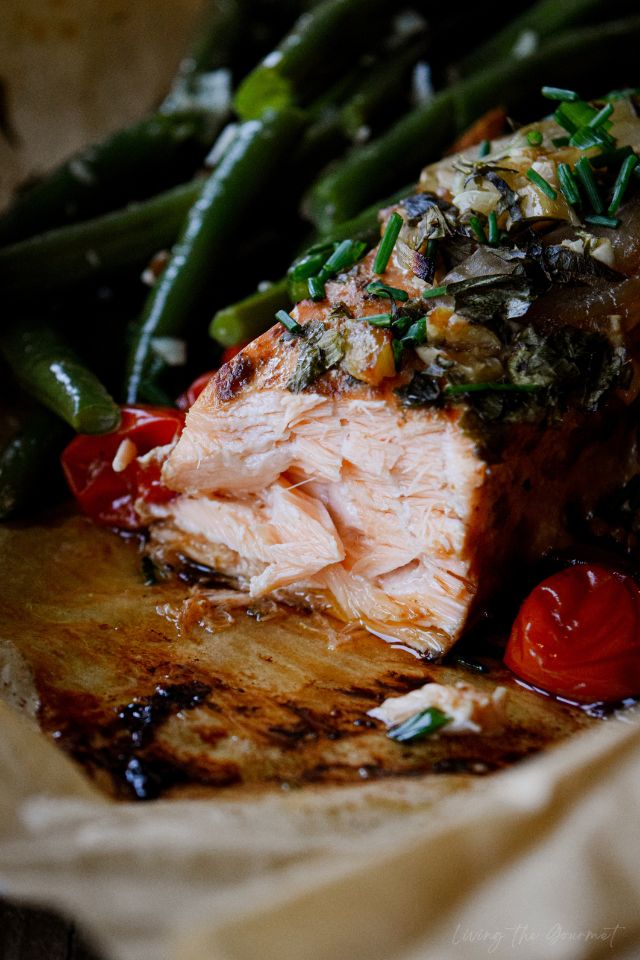 1