Today we're preparing string beans sautéed in extra virgin olive oil with cherry tomatoes, sweet onion, and plenty of garlic. Red and black pepper, and a dusting of parmesan, make this a wonderfully flavorful, yet blissfully simple, side dish to everything from seared steaks to eggplant parmigiana.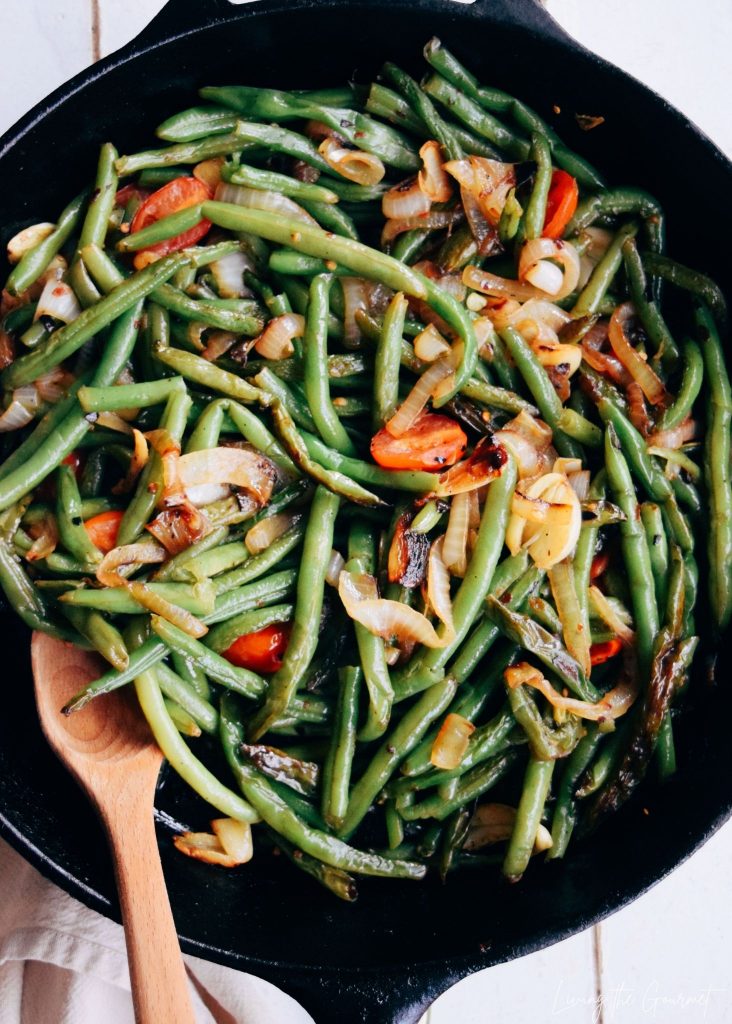 Why You'll Love Today's Recipe
1) Super Simple. Featuring only basic ingredients, and no complicated prep techniques, today's string bean salad is perfect for home cooks of all skill levels.
2) Room to Experiment. Today's recipe leaves plenty of room for experimentation. Slice in spicy peppers to up the heat, or add in a dash of red or white wine, or toss with marinated feta. Today's string bean salad is a great base for adding additional layers of flavors.
3) Easy to Pair. As we will cover below, today's string bean salad is very versatile in that it pairs deliciously with a range of different entrees.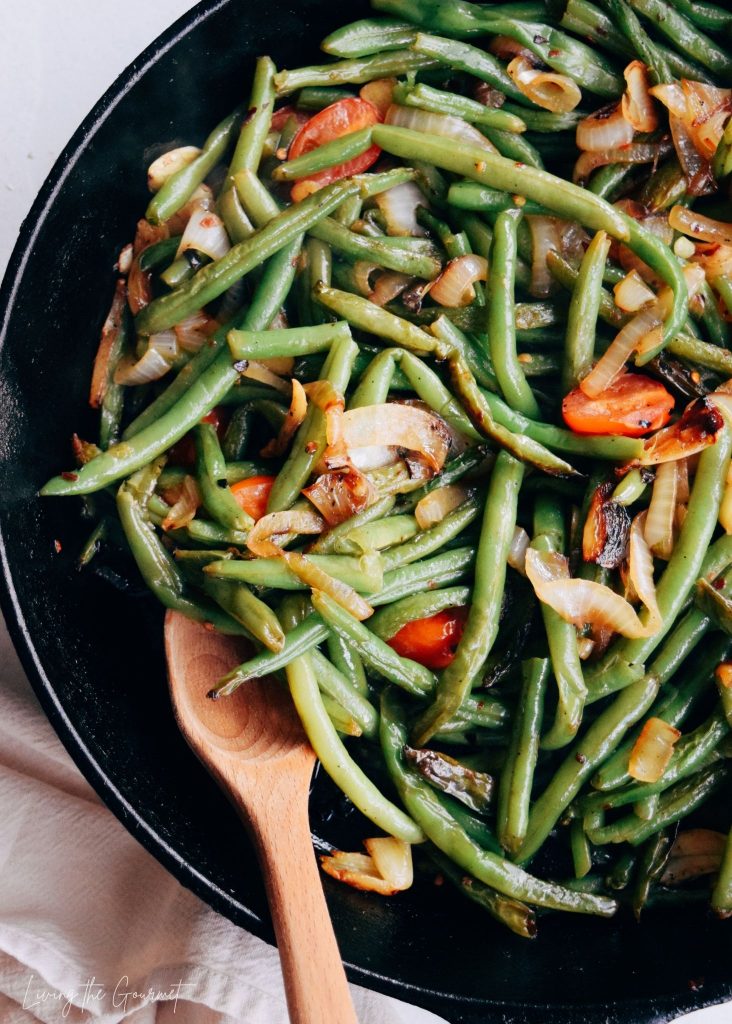 Ingredient Notes, Tips, and Substitutions
1) The Onions. Today we're using Sweet Onions, which completely forgo 'oniony bite' and astringency in favor of fruit-like sweetness. Seriously, I've bitten into these things like an apple. Since these onions are so delicious raw, they feature prominently in things like garden salads, sandwiches, raw salsas, uncooked relishes, and the like. However, this sweetness comes at the price of perishability, meaning Sweet Onions tend to sour a bit more rapidly than their non-sweet counterparts.
Substitution: Yellow onions will do fine in today's recipe, but you might want to consider adding in about a quarter teaspoon of sugar to make up for the sweetness. Conversely, Vidalia Onions would also work beautifully, but are a tad 'sweeter' than sweet onions.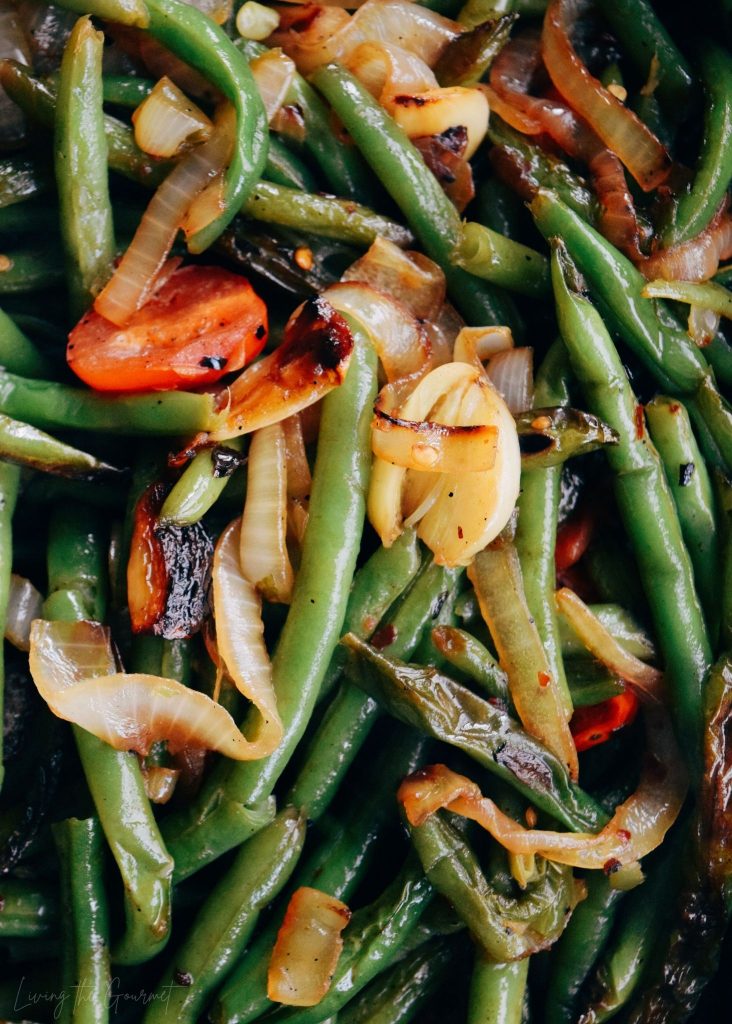 2) Red Pepper Flakes – What 'is' this stuff anyway? Inside 'any' pizza parlor across the USA, as well as 'most' Italian restaurants, and 'many' Spanish restaurants, you've likely noticed that there are 'little round jars' with a shaker top containing 'red pepper flakes.' But 'what' are red pepper flakes? Are they the same as 'chile flakes? And what pepper produces these 'red flakes?' And are these 'red flakes' the seeds or the dried 'flakes' of pepper's flesh? The simple answer to that last question is 'both.' Red pepper flakes are seeds as well as the dried 'flakes' of peppers, peppers from the 'capiscum cannum' family. This particular family of peppers includes such familiar pepper varieties as jalapenos, bell, fresno, Anaheim, and cayenne. Mostly, however, and this is true across all brands of red pepper flakes, most of what's in the bottle is cayenne, with a minority being a mix of the rest – except bell, since those aren't hot. Unlike 'chile flakes,' which are made from a single variety of pepper, and used to add the flavor of that singular pepper to whatever they're being sprinkled on, 'red pepper flakes' are used solely to add heat. And that's about it. Red pepper flakes are primarily dried cayenne peppers, but with a mix of other hot peppers thrown in, taken generally from capsicum cannum family of peppers.
Substitution: An equal amount of your favorite chili flakes, or roughly a quarter as much cayenne powder.
3) String Beans aka Green Beans. I went well over my allotted word count here, and so had to divide this tab into its own section.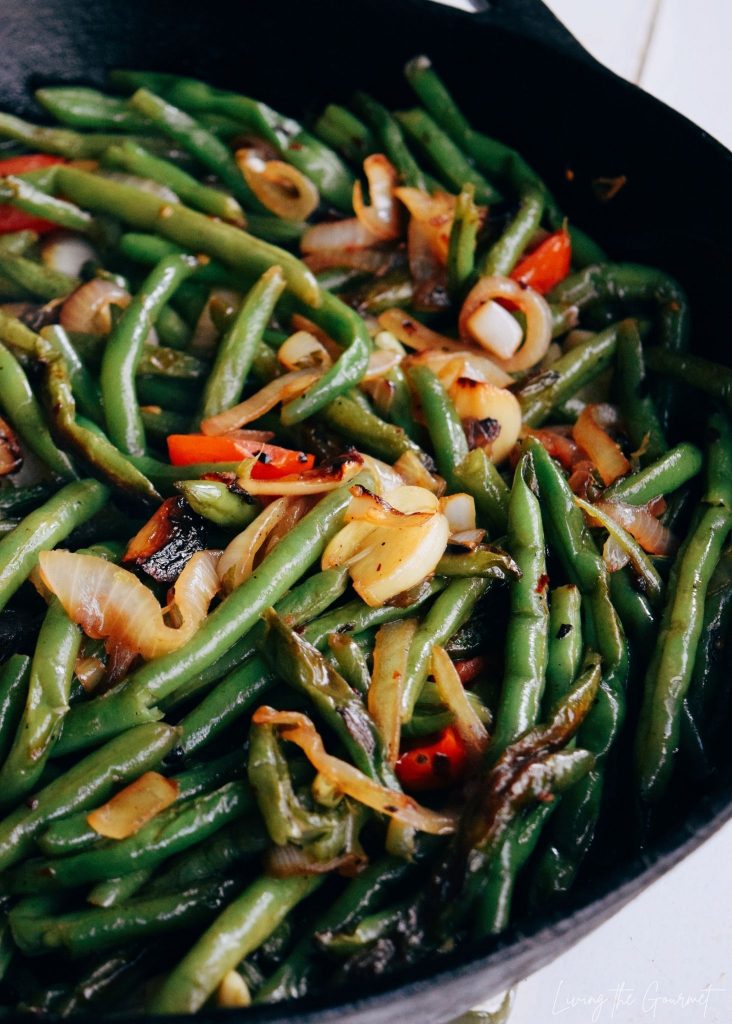 Green Beans and String Beans: A Quick Primer
1) Green Beans or String Beans? Yes, String Beans and Green Beans are the same thing. As with the mislabeling of yams and sweet potatoes, you have the American Supermarket Culture to thank for this labeling (marketing) difference. Once upon time, there 'was' a difference, with 'string beans' taking their name from the fibrous 'strings' that ran down the length of the bean's pod. Courtesy of careful breeding, these strings were eliminated, but the labeling stuck, due mostly to a combination of consumer preference for the name, and many consumers simply not knowing that the two items were the same thing.
2) How to Buy Them. Green Beans degrade 'very' rapidly after they've been cut, and so the closer it is to peak growing season – the summer and early fall – the better. Look for bright, uniformly green beans with minimal to no browning around the top portion of the bean where the pod connected to the plant. It is worth noting that these beans do 'not' keep well. In fact, the moment they're cut they begin leaking moisture and sweetness, a process that cannot be stopped, leading to the beans becoming wrinkled and bland tasting 'very' quickly. Thus, the fresher the beans the better. This means look for loose beans, as opposed to pre-packaged or pre-cut, since the packaging and cutting process is but an extra step on the beans' journey to your store shelf. No, refrigeration does 'not' help to preserve them.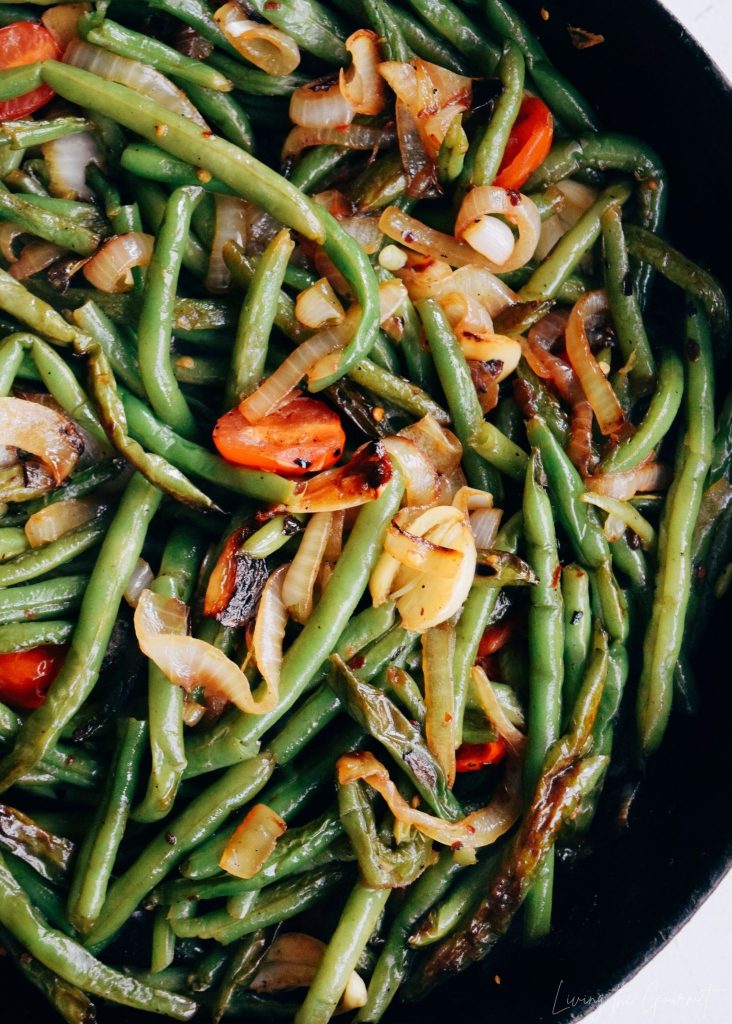 3) Canned vs Fresh vs Frozen. Where green beans are the star of the show, fresh is always preferable. Both frozen and canned are devoid of the characteristic 'crisp' texture that is often described as the most appealing trait of this particular bean. As mentioned above, you'll want to avoid pre-trimmed and pre-packaged. Again, pre-trimmed and pre-packaged have spent more time losing moisture, resulting in a less crisp, less flavorful bean. Fresh all the way.
4) Trimming Them. There is no getting around the need to trim your green beans. However, the only portion of the bean that you need to trim is the top of the bean, where it was once attached to the plant. Trimming the tail of the bean is sometimes done, but this is purely for aesthetics. This is a simple enough process. Sort them so that they are all facing top-upright, line them up, and then simply cut off the tops with a knife, working in batches. Yes, broken or pre-trimmed beans need to be cut as well, as you'll notice that these often have unappetizing brown or withered tops where the break or pre-cut occurred.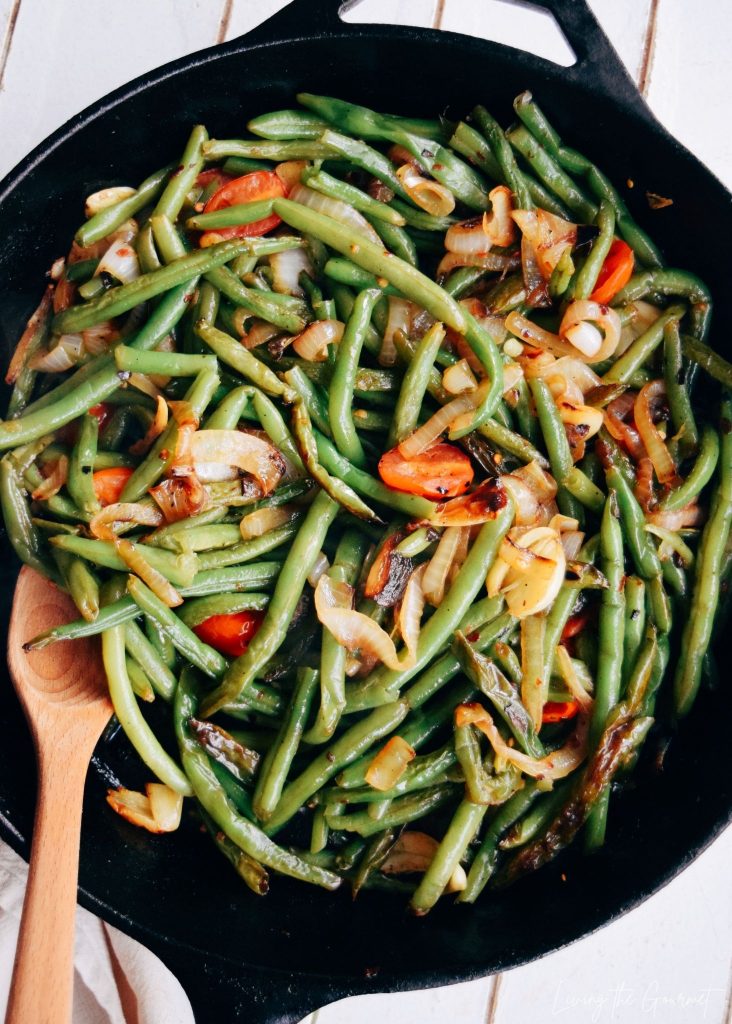 Pairing Today's String Beans
1) Steak. In my opinion, the 'best' entrée pairing for these beans is something rich and meaty. Something like my Teriyaki and Roasted Potato Steak Platter or a Peppercorn Crusted Roast Beef.
2) Veggie Entrees. A homemade Eggplant Parmigiana would serve nicely with these beans as would Sausage and Eggplant Provencal Style.
3) BBQ Chicken. Whether the chicken is fresh off the grill, or simply features a bbq-style glaze, such as the oven roasted thighs, today's green bean salad is a great side.
4) Light Pasta Dishes. These beans would also pair nicely alongside light pasta dishes, such as my Bow-Ties and Garbanzo Bean Toss.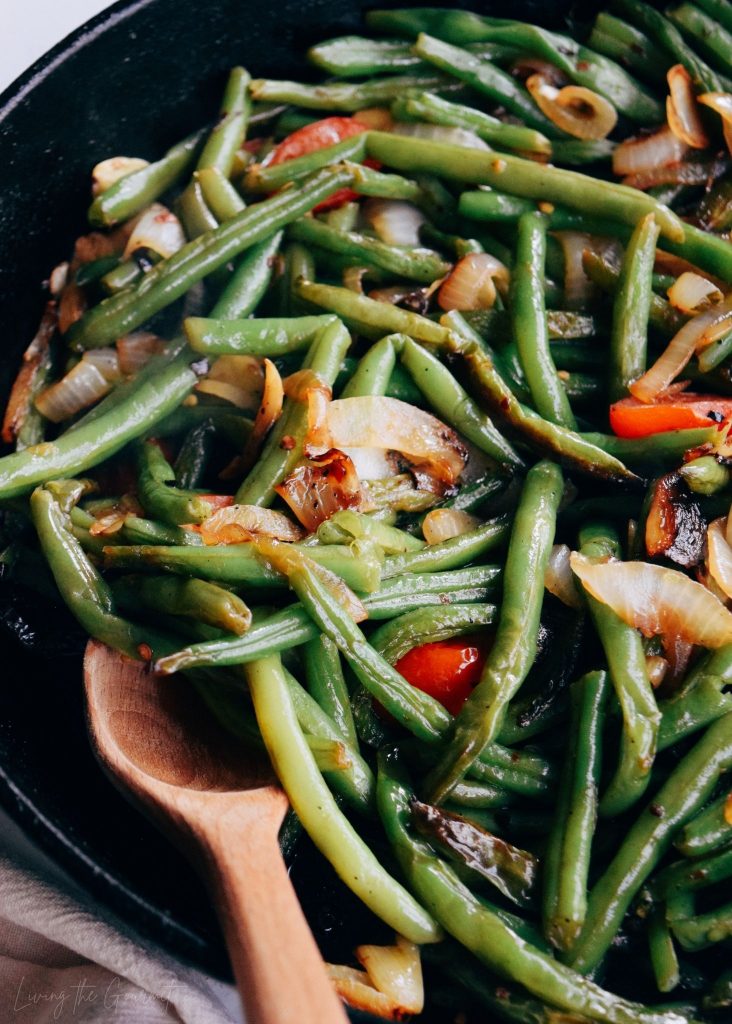 Print
Warm Green Bean Salad
---
Author:

Total Time:

20 minutes

Yield:

4

servings

1

x
2

lbs. of fresh string beans

1

sweet onion - sliced

1 pint

of cherry tomatoes

1

head of garlic - leaving the cloves whole, if you prefer you may chop the cloves

2

-

3

tbs. of olive oil

1/4 tsp

. red pepper flakes

1/2 tsp

. fresh ground black pepper

1 tsp

. salt

Fresh Parmesan or Romano cheese for grating
---
Instructions
Clean the string beans, taking off ends and rinsing.




Steam the string beans until just tender and still a nice bright green.


Note:  If you don't have a steamer, as I do not, use a sauce pot with the water just under the colander.  When the water comes to a boil, add the string beans to the colander and cover.  Toss the string beans using tongs now and then while steaming.  When they reach a tenderness and still maintain a nice color remove and let drain.


Heat a large cast iron frying pan.  Add the onions to the dry pan.  Allow the onions to char, then add the garlic and tomatoes and allow the tomatoes and garlic to get slightly charred as well. 




Sprinkle the onions and tomatoes with the seasonings and a tablespoon of olive oil after they have charred.  Remove the onions and tomatoes and set aside.




Add the steamed string beans to the cast iron pan and let the string beans get a nice char.




Add the onions and tomatoes back to the pan and taste for seasonings. 




Drizzle with olive oil.




Serve with fresh grated Parmesan cheese or Romano cheese.
Prep Time:

5 minutes

Cook Time:

15 minutes

Category:

Side Dish
Keywords: string beans, side dish, warm salads, vegetables
Recipe Card powered by
1