Quiche. It's great for breakfast, lunch, or a light dinner, and serves deliciously both fresh from the oven or chilled from the fridge. As a nice bonus, it keeps for several days.
Today's quiche features a savory mix of bell pepper, lightly crisped bacon, and nutmeg, along with plenty of mozzarella and grating cheese.  However, you can tweak this combination of ingredients to suit your palate – more on that below.
The crust for today's quiche is, in my opinion, one of the stars of the show. It cooks up flaky and buttery, and is delightfully simple to put together. However, you can of course get away with using a store-bought crust to save on time and ingredients. That said, I really do suggest that you try your hand at a homemade crust, since it's just so satisfying when a homemade crust comes out 'just right.'
Today's quiche would pair deliciously alongside something like an Acai Yogurt Bowl. Conversely, if preparing this for dinner, a basket of dinner rolls would be absolutely lovely. Regardless, be sure not to skip the perfectly brewed coffee when preparing today's quiche.
Now, let's get to it and prepare some quiche.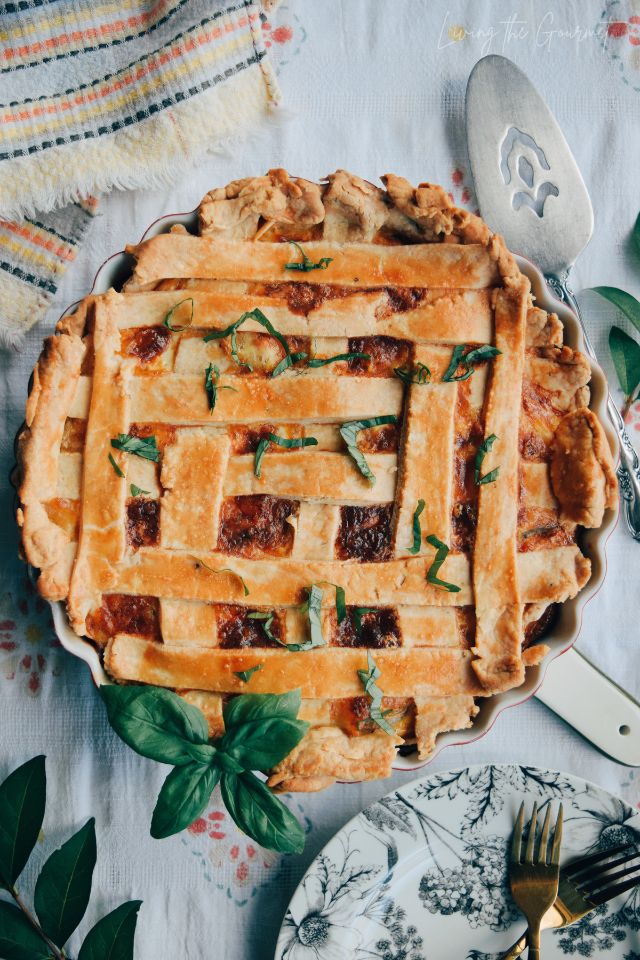 Ingredient Checklist and Notes
Salt. Not a lot to say here. Plain table salt is all you need.
Grating Cheese. Stick with Parmesan or Romano cheese. Freshly grated is always best, but pre-grated is fine too.
Black Pepper. Pre-ground or cracked pepper is really all you need for today's recipe, no need to fuss with grinding.
Nutmeg. The spice that tastes like Christmas. This delightful spice is super versatile, and well worth learning how to use, as it can fancy up everything from roasted vegetables to beef roasts. If you don't have nutmeg on hand, there are some substitutions below.
Water. As a rule of thumb, I only cook or bake with water that I would personally drink and enjoy.
Butter. As usual, I highly recommend using unsalted butter for the purposes of today's recipe.
Bell Pepper. I'm using green bell peppers, but obviously any color will do. Naturally, feel free to spice things up by subbing in your favorite spicy peppers. Suggestions and substitutions below.
Bacon. Plain, standard cut back is really all you need here. Though, of course, feel free to experiment with whatever your favorite variety happens to be. See below for bacon substitutes.
Red onion. Adds a bit of color, and cooks up sweet. That's why I prefer Red Onion. Substitutes below.
Mozzarella. Pre-grated is fine, and I really don't suggest trying to fancy things up with fresh mozzarella. Fresh has 'a lot' more moisture than standard, and that moisture will risk saturating the crust. However, provided you properly strain out your fresh mozzarella, it likely 'would' enhance the flavor quite a bit.
Milk. Whole fat milk is what you want to go with. We want the added fat. Substitutes below.
Eggs. Not a whole lot to say here, other than these help bind it all together and add fat for moisture and flavor.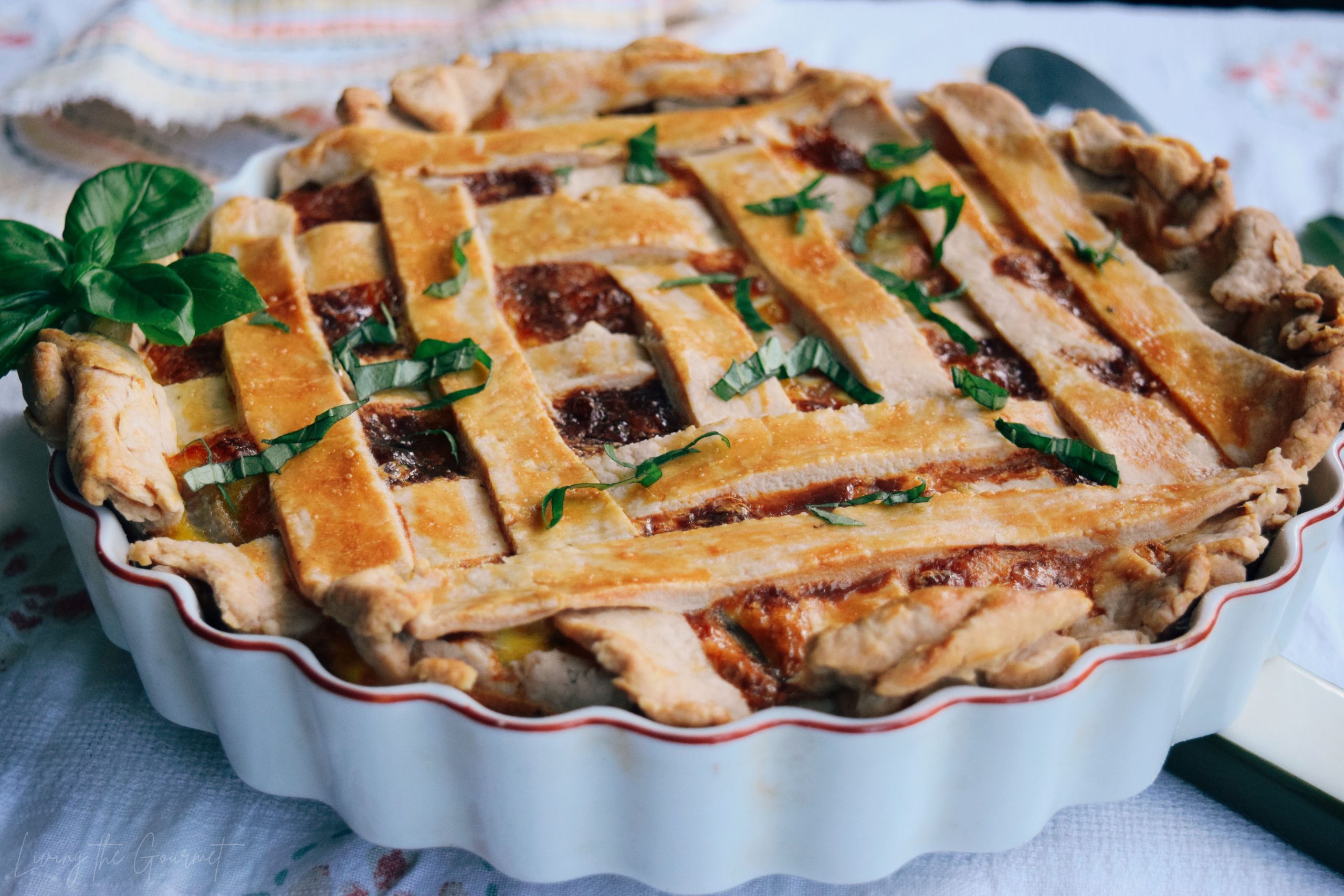 Substitutions
Nutmeg. Mace or cinnamon in roughly equal amounts. However, this recipe 'does' work best with nutmeg, since neither quite captures the warming-yet-sweet essence of nutmeg.
Butter. There are several substitutes. Shortening is probably the best, at a one-to-one ratio. Conversely, you can also use buttermilk, olive oil, or whole fat Greek yogurt. Buttermilk substitutes at a one-to-half ratio, butter to buttermilk. Olive oil substitutes at a one-to-three quarters ratio, butter to olive oil. Greek yogurt substitutes at a one-to-half ratio, butter to yogurt.
Mozzarella. Oaxaca, gouda, Manchego, and Jarlsberg would all work fine in today's recipe.
Bacon. Ham, prosciutto, salami, or mortadella would all work just fine in today's recipe. You could also substitute chopped up sausage – just be sure to cook the sausage before adding it into the quiche mixture. Really, there is no 'rule' on which meat would or wouldn't work in today's quiche.
Red Onion. Sweet onion would be the best substitute, but 'any' type of onion would work. Yes, these are used at a one to one ratio in place of the red onion.
Milk – Lactose Free Substitutes. Any plain, full-fat milk substitute. No sweeteners, no flavors, no reduced fat. I would stick with plain soy or almond milk, as these are the most flavor neutral milk-substitutes. Use them in the same quantity as whole milk.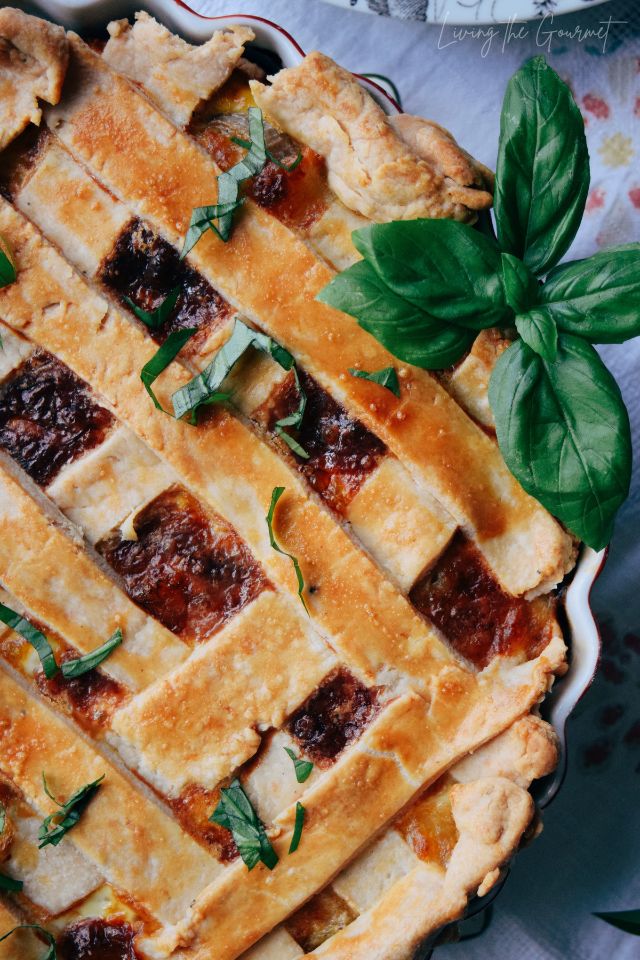 Variations
More Meats. Here again, it's about the combos. Prosciutto, salami, and mortadella would make for a delicious combination. As would bacon, ham, and sausage. Remember to fine tune your cheese selection to your meats!
Spice It Up. Hot peppers. Jalapenos, habaneros, seranos, you get the idea. Mixing and matching is the best way to go here.
Mix up the Cheese. You don't need to stick to just one cheese. Try a combo of mozzarella, gouda, and Manchego. Or, if you're spicing up the quiche with hot peppers, try a mix of Gouda and cheddar.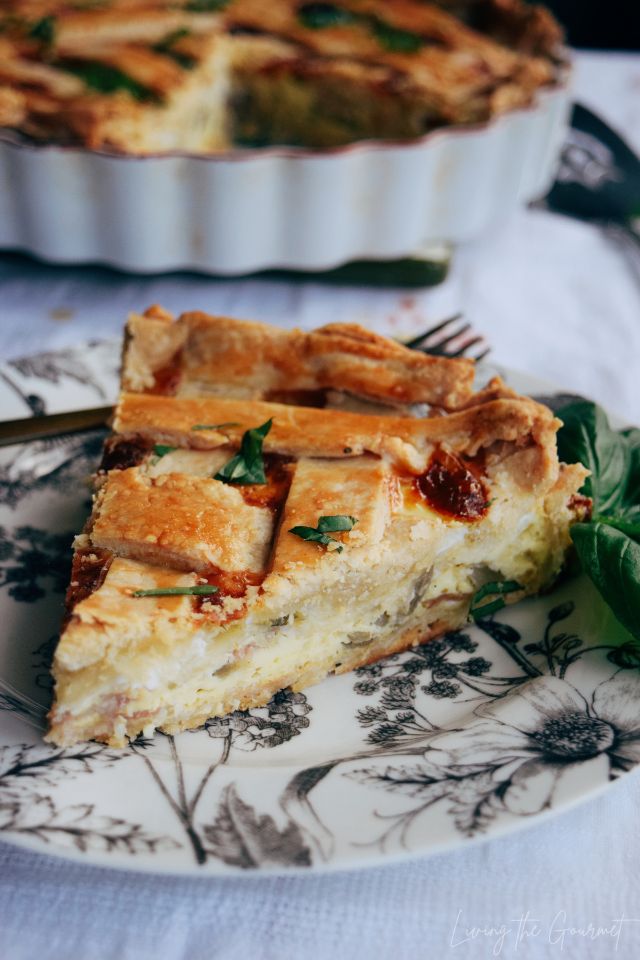 Print
Bacon, Onion, & Cheese Quiche
---
Author:

Total Time:

1 hour

Yield:

8

servings

1

x
For the Crust:
2

cups

of flour

1 tsp

. salt

1/4

cup

Romano or Parmesan Cheese - grated

1/2 tsp

. fresh ground black pepper
Few gratings of fresh nutmeg

4

-

5

tbs. of water

8

tbs. of unsalted butter - cold
For the Filling:
3

-

4

slices of bacon - cut into pieces

1

small green bell pepper - sliced

1

medium size red onion - sliced thin

1/4

cup

fresh grated Romano or Parmesan cheese

1/2

cup

of mozzarella - shredded

4

tbs. milk

6

eggs
---
Instructions
Preheat Oven 350 degrees F.
In a large bowl combine the flour, grated cheese, salt, fresh ground black pepper and toss.
Cut the butter into cubes and add to the flour.  Crumble the butter with your fingers to form a crumbly dough.  Add the water a tablespoon at a time to form and the dough into a disc.
Wrap the dough in cling wrap and refrigerate for at least thirty minutes.
Remove the dough from the refrigerator and cut the disc in half and refrigerate the other half until ready to use.
Place the dough on a lightly floured surface and gently roll the dough out to fit a 10 inch pie dish.
Fit the dough in the pie dish and using a fork poke the bottom with a fork.
Bake the crust for 12 – 15 minutes.  Let the crust cool before placing any filling in it.
For the Filling:
Cut the bacon slices and place in a heated cast iron pan.  Cook the bacon and set aside.  I did not cook my bacon to a crisp, rather I left it slightly soft.
Place the sliced onion, chopped garlic and sliced bell pepper in a heated cast iron pan and drizzle with a tablespoon of olive oil and add the salt and pepper.  Sauté until the onion is translucent and the garlic is fragrant.  Remove from the heat and let cool.
Toss the cooked bacon and the basil with the onion mixture.  Fill the cooked pie crust with the onion and bacon mixture and top with the cheeses.
Beat the eggs with the milk and pour over the cheeses.
Remove the other half of the dough from the refrigerator and on a lightly floured surface roll the dough out to about a quarter of an inch thickness.
Cut into strips and lattice the top of the pie with them.  Brush with an egg wash.
Bake for 45-50 minutes or until the pie is a beautiful golden color.
Let cool for 10 - 12 minutes before cutting.
Prep Time:

10 minutes

Cook Time:

50 minutes

Category:

Breakfast
Keywords: breakfast, quiche, bacon, eggs
Recipe Card powered by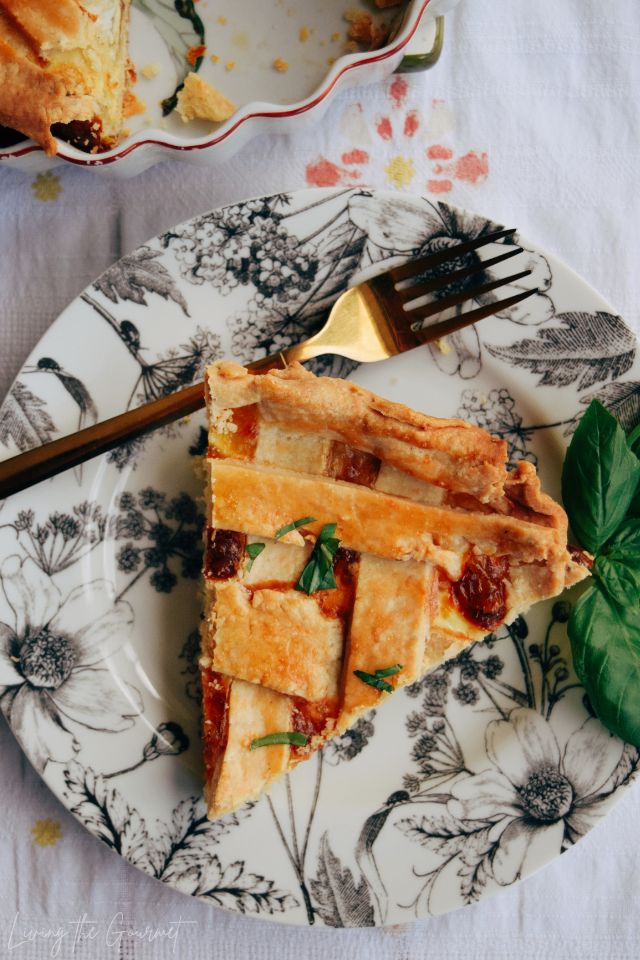 As an Amazon Associate I earn a small commission from any purchases made through the affiliate links within this post. For more information on this please see our disclosure policy. Thank you!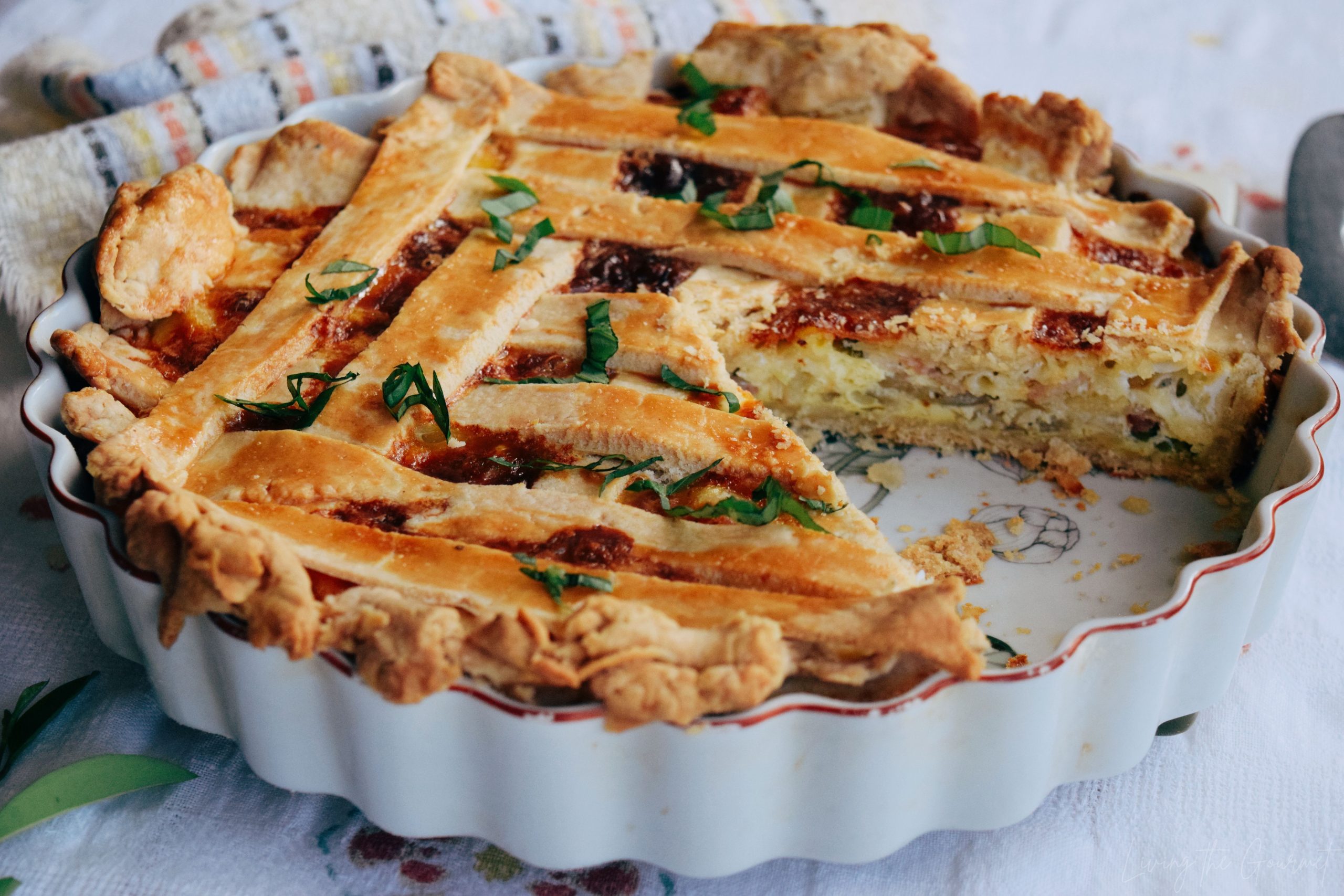 This post has been updated August 2022. The original recipe was published November 20, 2011.
0