Today's post has been sponsored by Acai of America. All opinions expressed are my own.
Nutrient dense, super simple, and packed with a medley of fresh flavors, today's Acai Yogurt Bowl is a perfect solution for hectic mornings, light lunches, or healthy snacking at your desk.
For the Acai, we'll be using Acai of America's Unsweetened Pureed Pulp, and combining that with Greek yogurt and freshly sliced kiwi, then topping it with organic bee pollen, a light dusting of coconut flakes, and chia seeds. Healthy, organic, fresh, and delicious.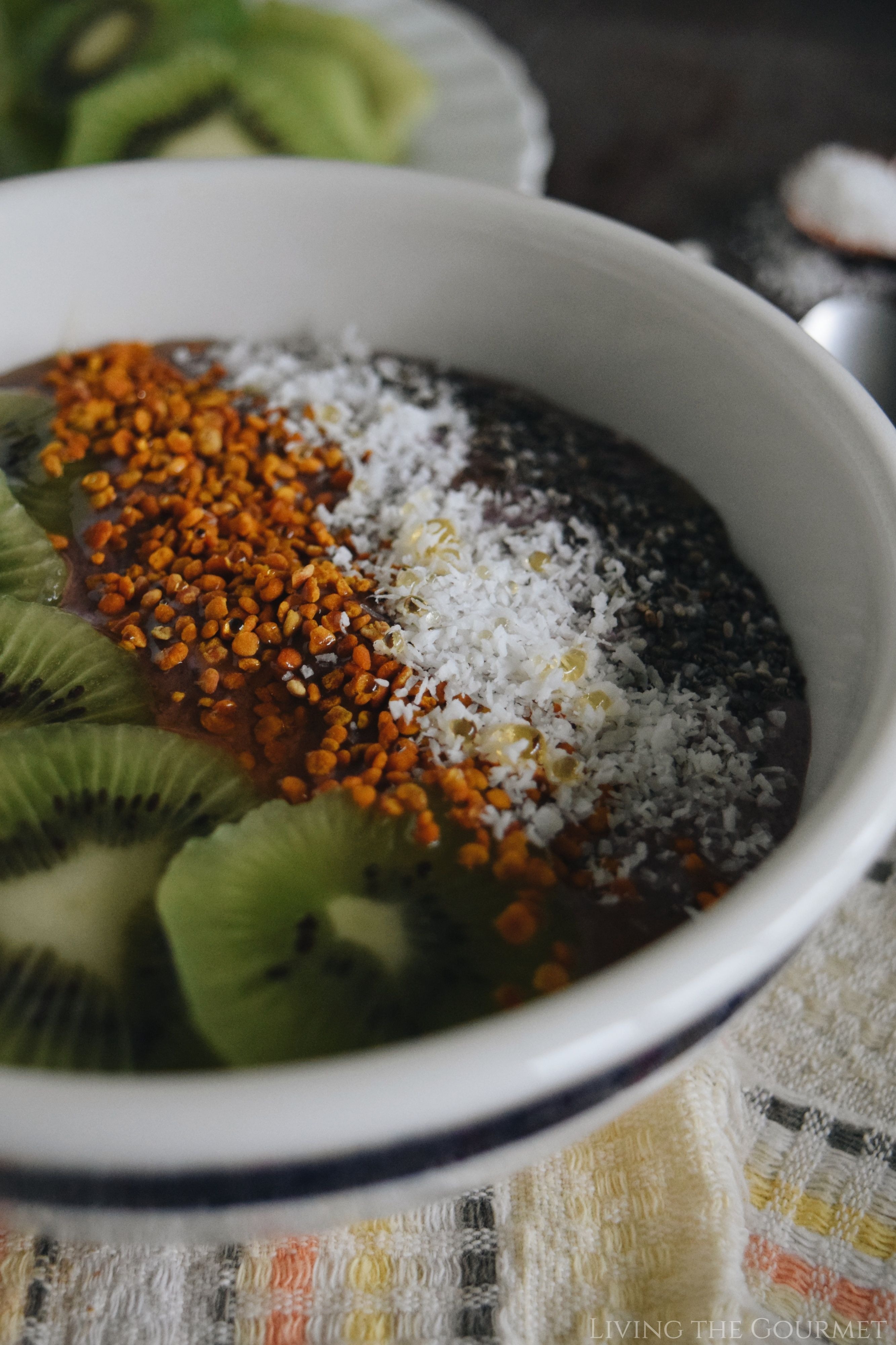 Why You'll Love This Acai Bowl
1) Just Eight Ingredients. That's right, today's recipe features just eight basic ingredients, all of which are super easy to use and find.
2) Supremely Simple. Today's Acai Bowl can be whipped up in less than fifteen minutes total. So whether you're making this as a light midday snack, a simple breakfast, or as a quick 'desk bite' to eat at work, today's recipe is a supremely easy way to pack a delicious and nutrient dense meal into your day.
3) Bright, Fresh, Natural. Combining fresh kiwi, bee pollen, pureed Acai pulp, and Greek yogurt, today's Acai Bowl is a medley of bright colors, natural sweetness, and sustainably sourced nutrients.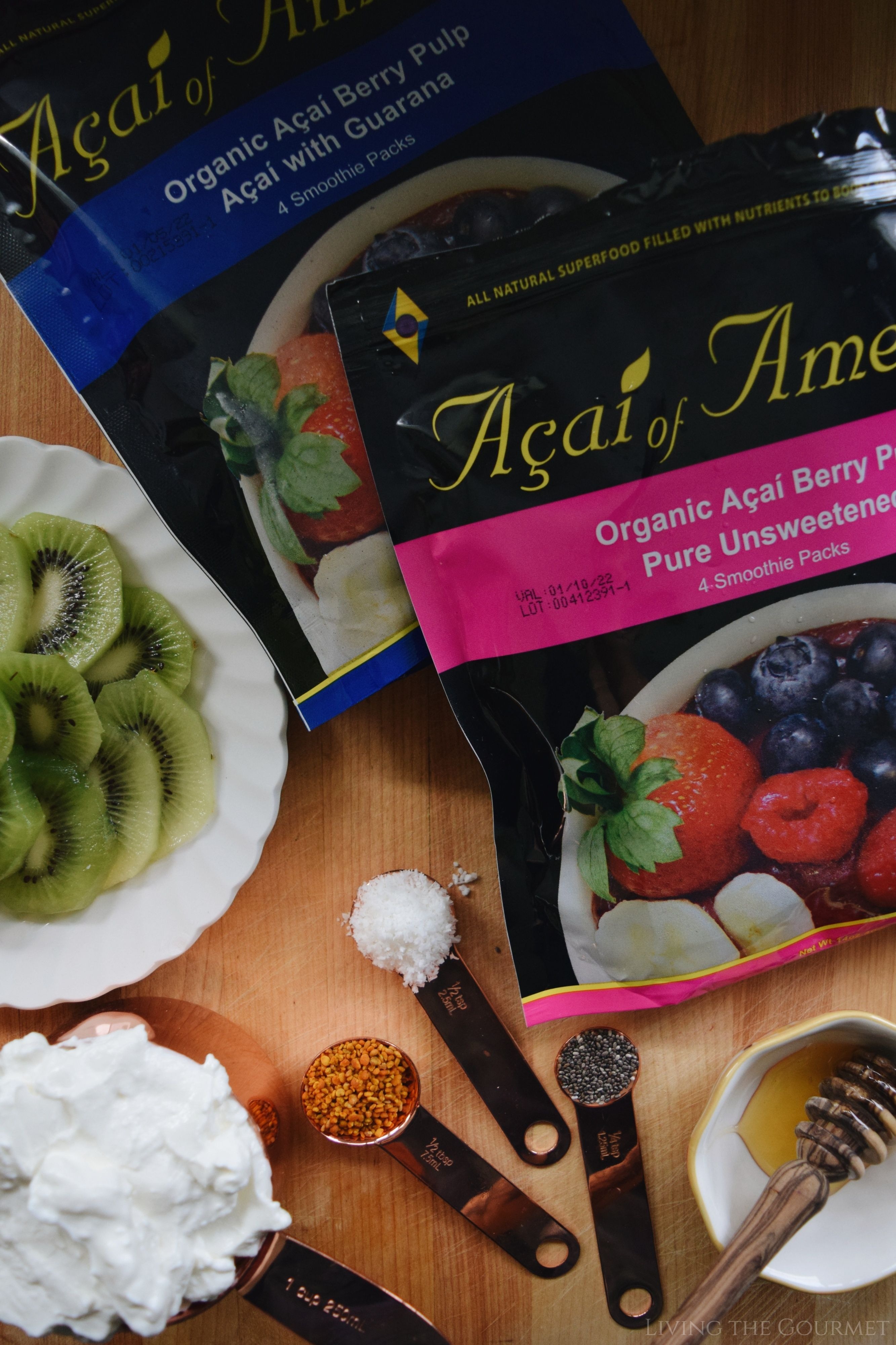 Ingredient Notes and Tips
1) The Acai. While typically regarded as a 'health food' here in the US, Acai is actually a delicious little berry that has a flavor resembling a cross between a blackberry and raspberry, with perhaps just a slight dusting of bitter cocoa. Today, we're using unsweetened pureed Acai pulp, courtesy of Acai of America. Their Unsweetened Acai Pulp is 100% Certified Organic, wild harvested, and sustainably sourced from the Brazilian Amazon Rain Forest. As a result, not only is their Acai a great source of dietary fiber, omega fatty acids, and a nearly complete protein file, but you can have peace of mind that the Acai is both responsibly sourced and wholly organic. We're using their standard unsweetened variety for today's recipe, but it is also available pre-sweetened with Guarana, which is very closely related to Acai in taste.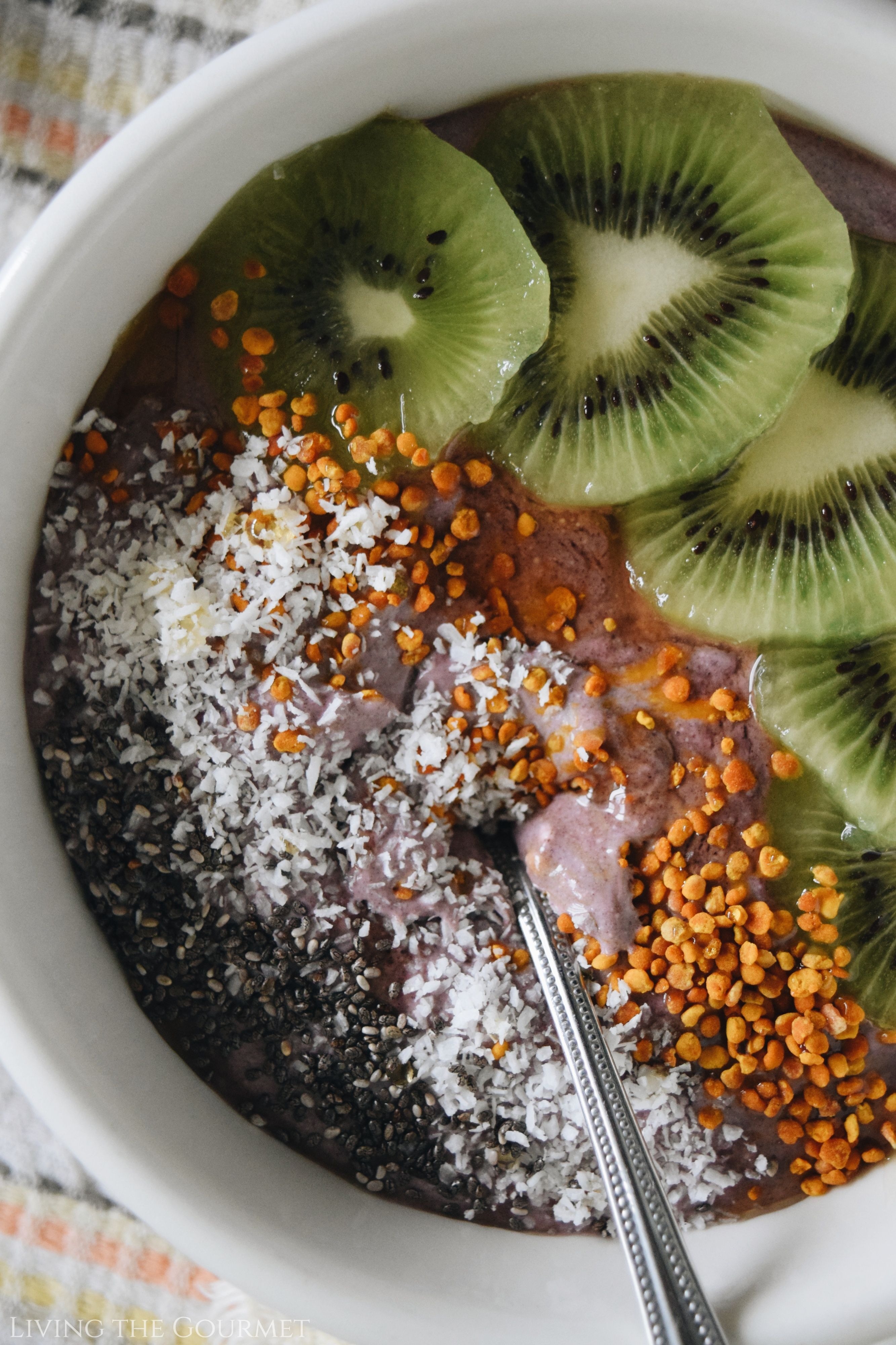 2) Organic Bee Pollen. This is a tough one to describe. Bee pollen, when used in cooking, is basically a garnish that plays a (distant) secondary role as a texturing agent – as in today's Acai bowl where it's playing both roles. It's slightly crunchy, and its taste can vary from 'nonexistent' to semisweet and floral. When buying bee pollen, be sure to buy a high quality, organic variety. How you store bee pollen is also quite important, since it very sensitive to changes in light, temperature, and moisture. Store it in a dark, cool, dry place, and use it as quickly as possible – so it's probably best to buy this is relatively small quantities if you're not using it on a regular basis.
NOTE: If you have a pollen allergy, obviously you'll want to leave this ingredient out.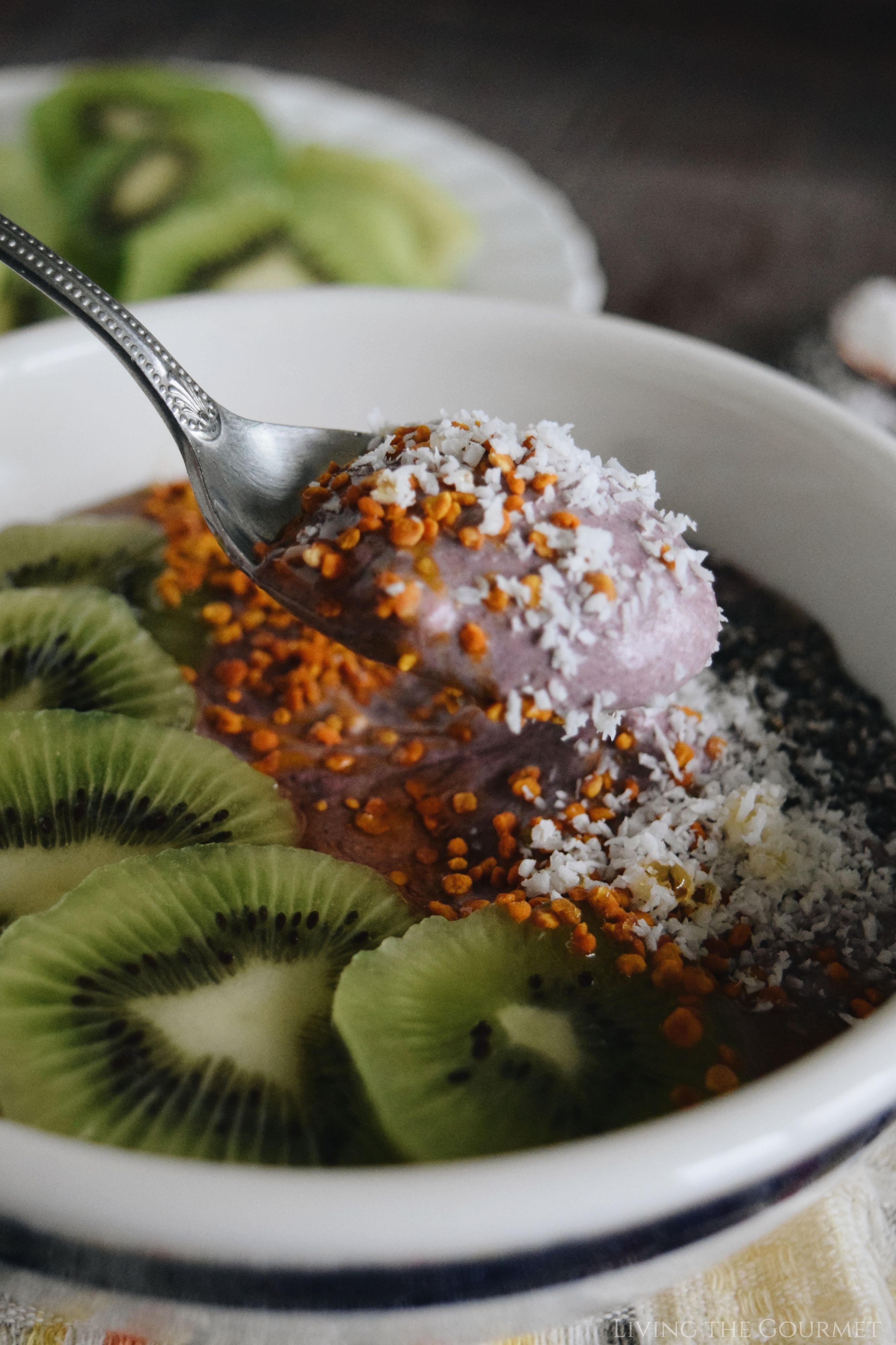 More Yogurt Based Recipes
1) Greek Yogurt Parfaits. Layers of fresh strawberries, Greek yogurt, cacao nibs, raw honey, and goji berries combine to create a healthy, delicious, and nutrient packed parfait that's perfect for any time of year.
2) Classic Crepes with Greek Yogurt, Honey, and Berries. If you're in the mood for something a bit more savory, and just a tad more complex, try out my classic crepe recipe, which features a yogurt, honey, and berry filling.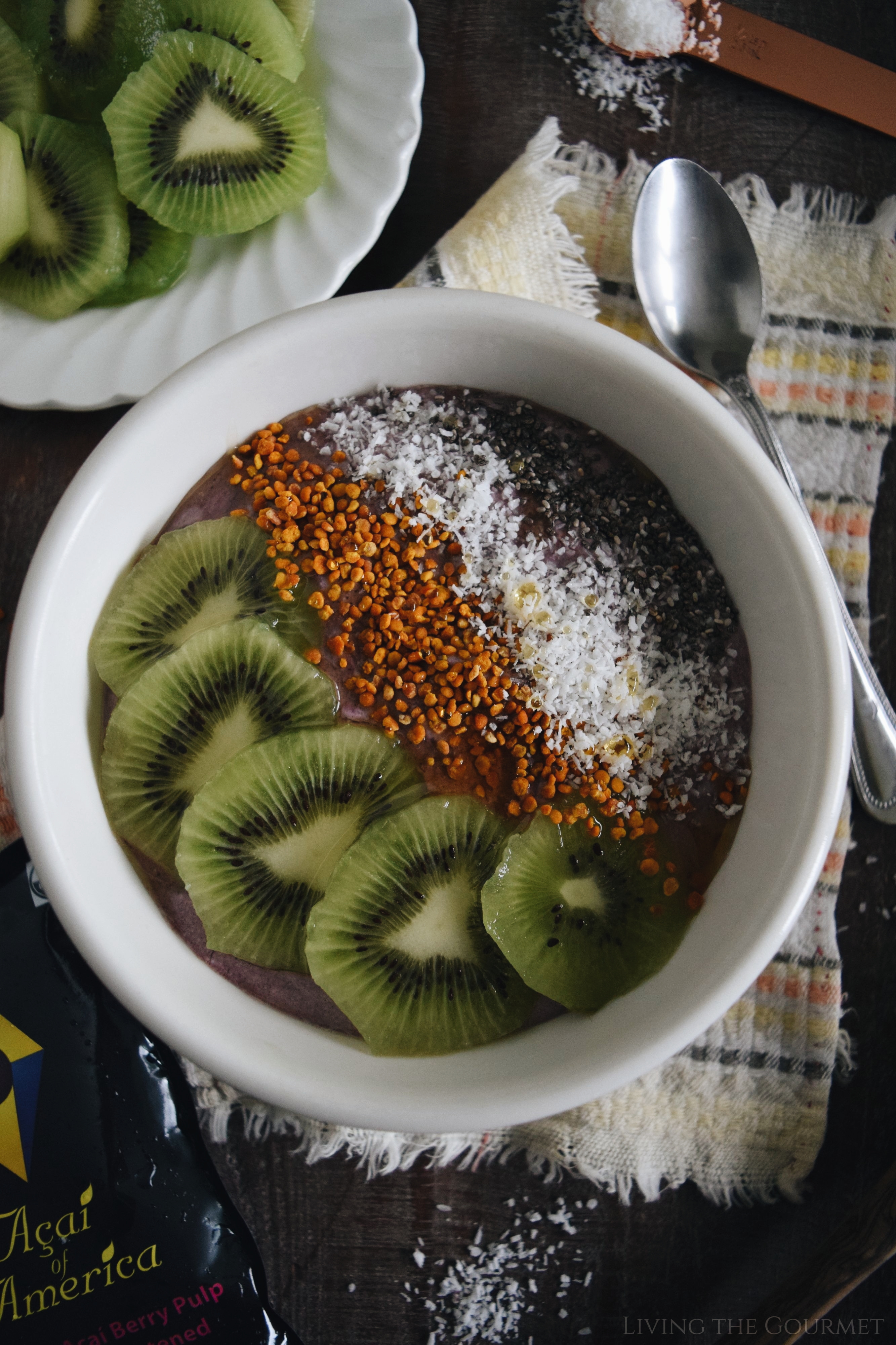 Print
Acai Yogurt Bowl
Author:
Prep Time:

8 minutes

Total Time:

8 minutes

Yield:

1

Acai Yogurt Bowl

1

x
1

cup

plain Greek yogurt

1

packet of Acai of America Unsweetened Pureed Pulp

1 tablespoon

organic raw honey
Kiwis, for topping
Organic Bee pollen, for topping
Chia seeds, for topping
Unsweetened organic coconut flakes, for topping
Instructions
In a small bowl, whisk together Greek yogurt, Acai, and honey until smooth.
Top with desired toppings and enjoy immediately.
Recipe Card powered by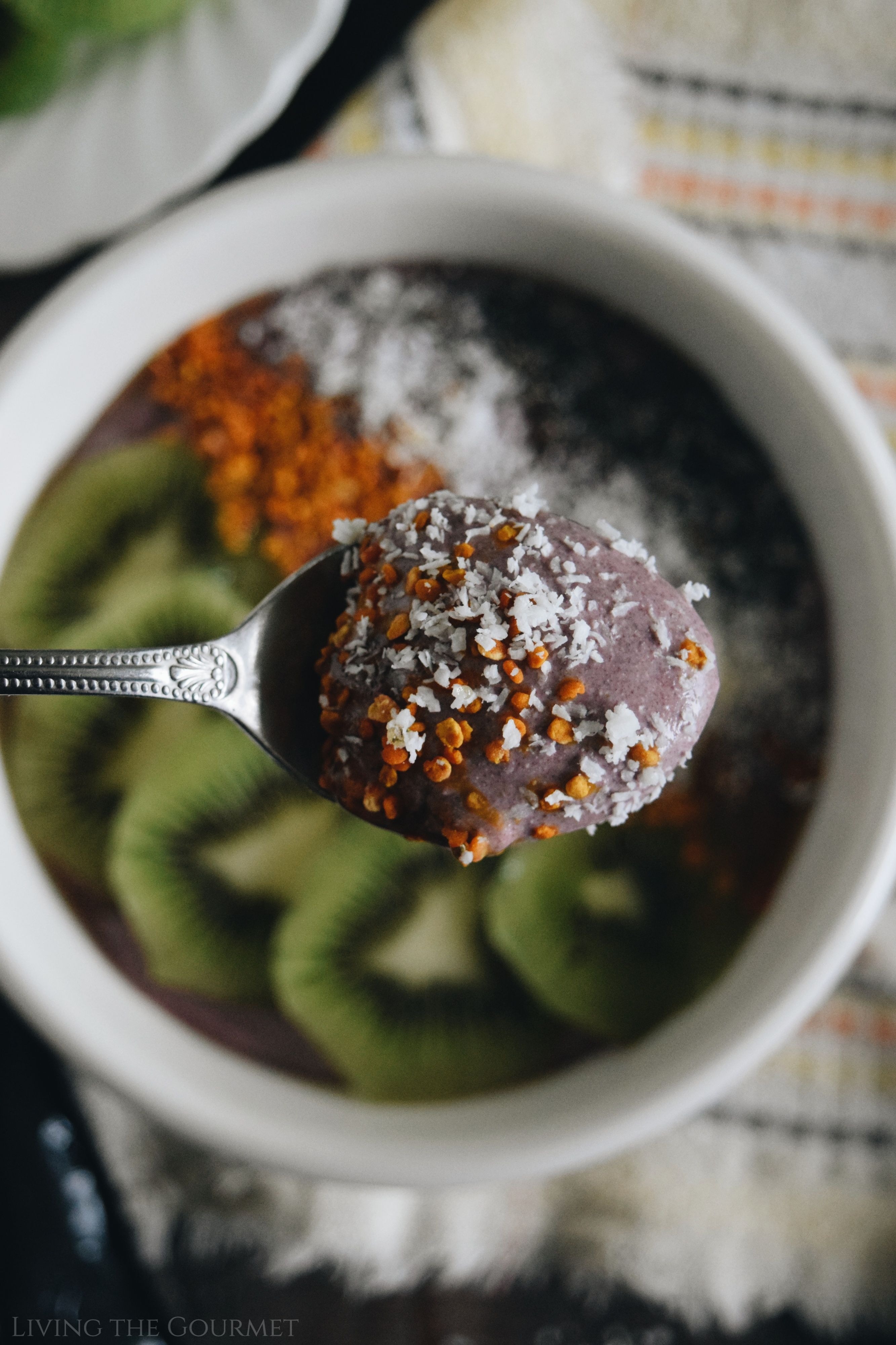 If You Enjoyed Today's Recipe…
Be sure to follow us on Instagram to stay up to date with all things Living the Gourmet, and for more great recipes, tips, and tricks.
Did you make this recipe?
If so, let me know in the comments down below, or post a picture to Instagram or to Pinterest, and I'll give you a shoutout on Instagram, or post your pin to one of my Pinterest boards!
Enjoy with Love!
2