This post has been sponsored by Jarlsberg® Cheese. All opinions expressed are my own.
The bacon, egg, and cheese biscuit is perhaps my single favorite breakfast. Unabashedly comfort food, this recipe combines a fluffy no corners cut biscuit, sandwiching a combination of fried eggs, crisped bacon, caramelized onions, and melted cheese, with layers of buttery goodness at every level.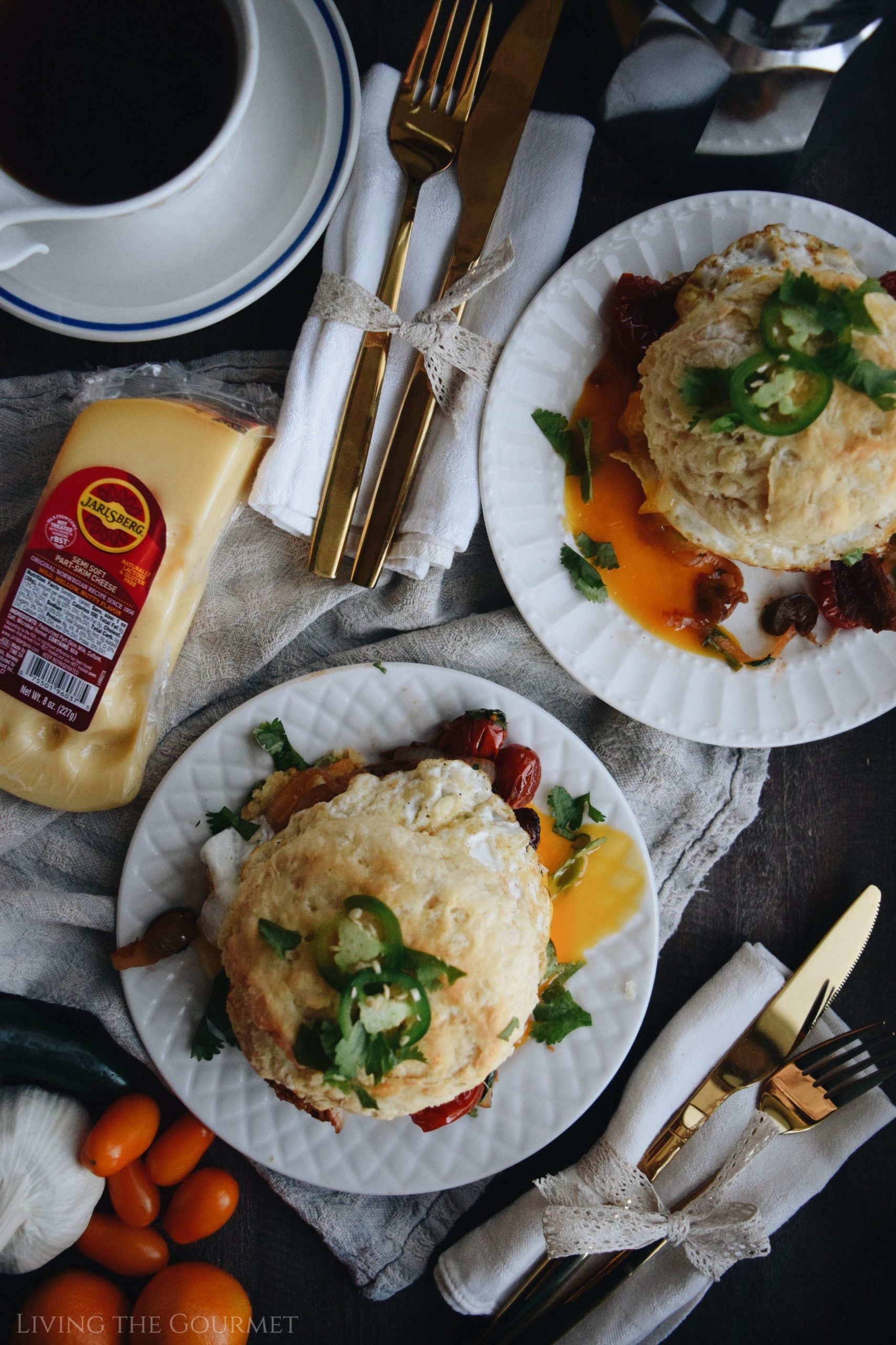 Simple to prepare, and blissfully satisfying, this sandwich can brighten any morning.
Naturally, we're putting together today's recipe with a little help from our dear friends over at Jarlsberg® Cheese, but more on them in just a moment, without further delay, let's get to it.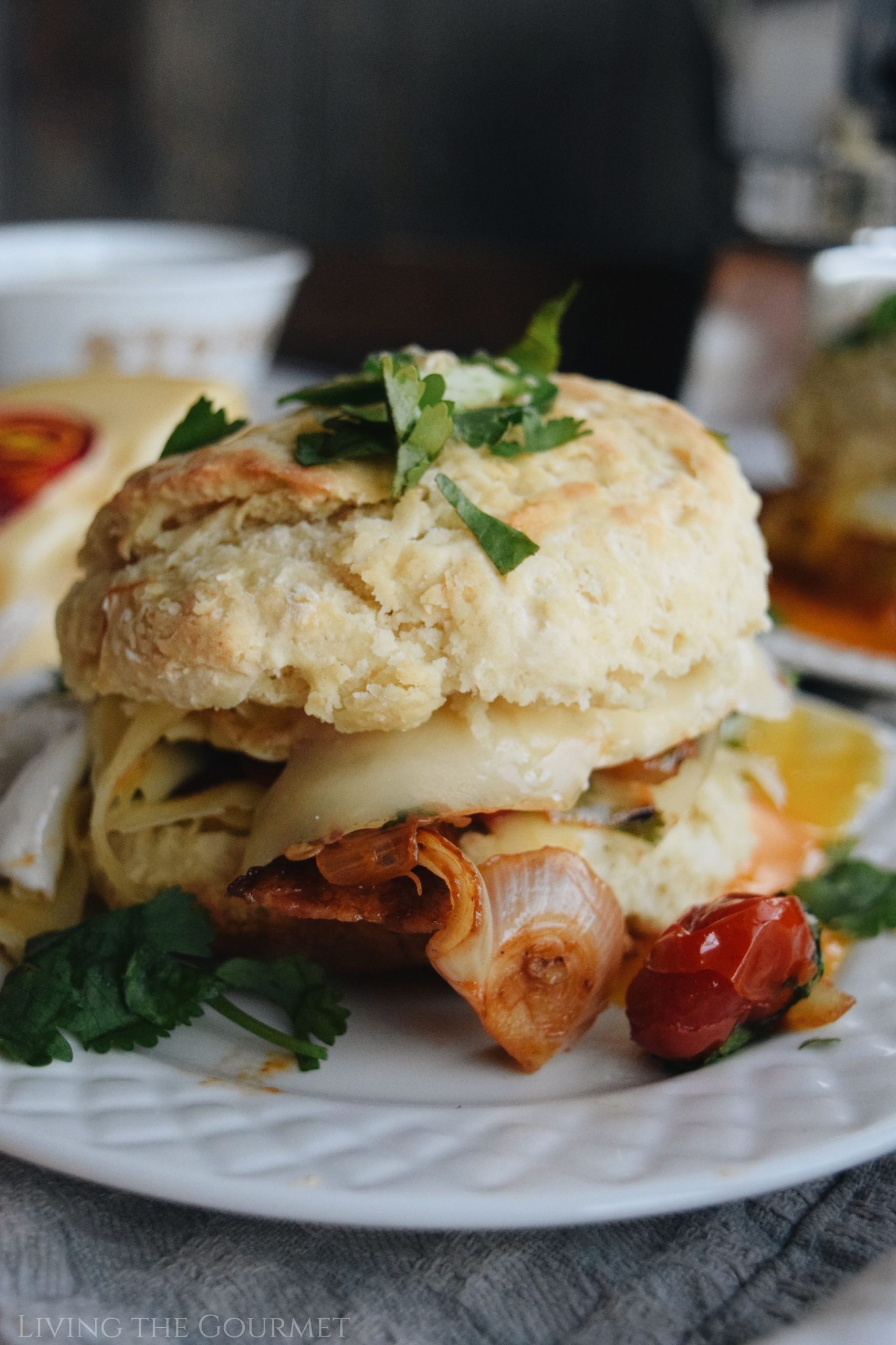 Building a Better Biscuit
1) Grated Frozen Butter. Throw everything you've ever learned about melted or 'malleable' room temperature butter out the window when it comes to biscuits. For truly 'soft' and 'fluffy' biscuits, you want frozen butter, and then you want to grate that butter into the batter. Grating the butter ensures small, evenly sized 'chunks' of butter, which then spread uniformly throughout the dough, which has the nice side-effect of preventing you from having to handle ice cold butter.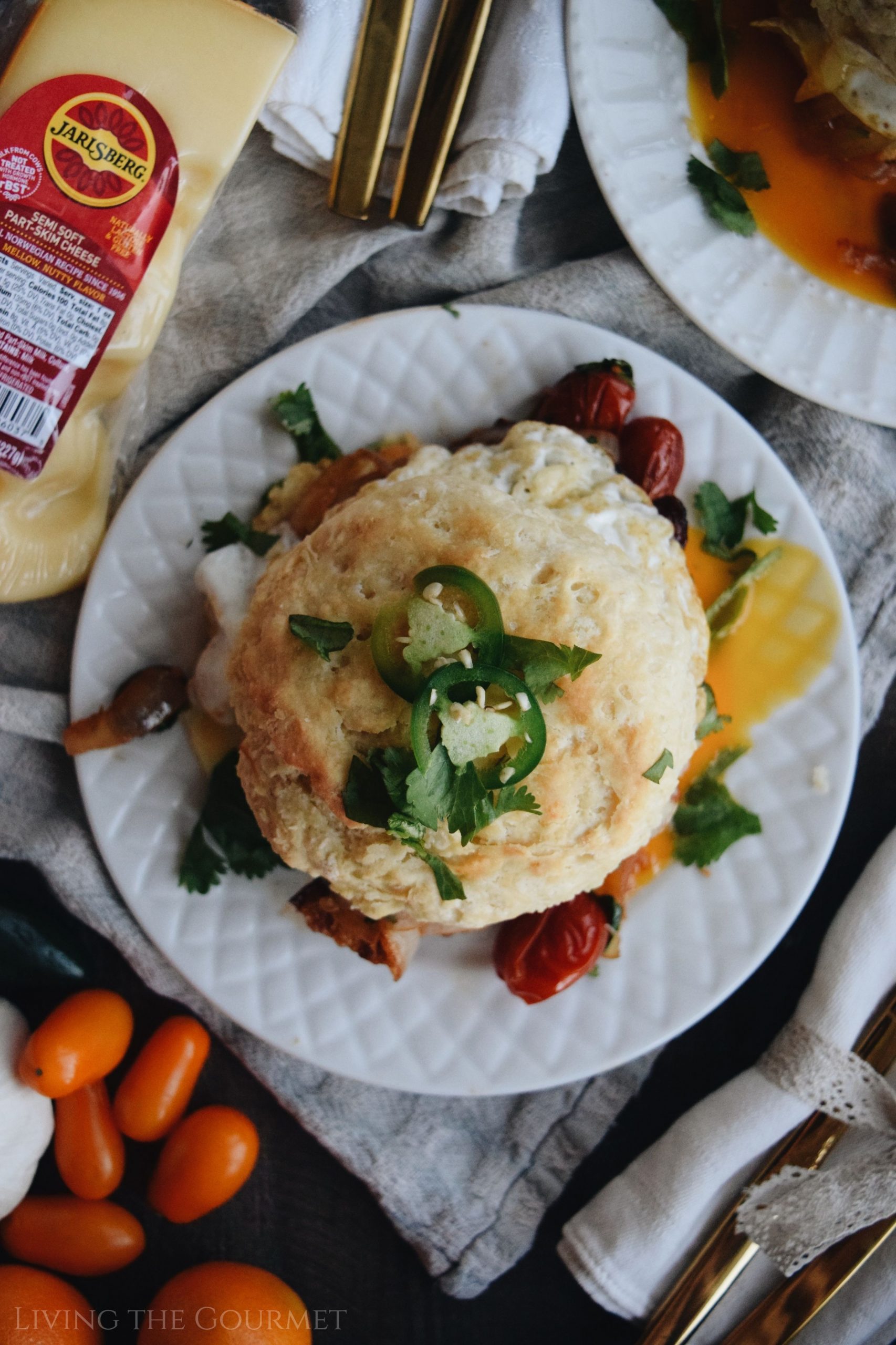 2) Why Not Buttermilk? Buttermilk adds two things to a recipe – acid and 'sourness.' Acid acts as a tenderizer during cooking, which is why buttermilk is such a popular ingredient in things like pancakes, where a moist, spongy interior is very desirable. That said, it should come as no surprise that buttermilk biscuits tend to be very moist and 'spongy' on the inside, which is why they are so beloved as dinner biscuits, or as the base for 'biscuits and gravy.' However, for larger, 'roll like' biscuits, while you still want a 'pull apart' soft biscuit, the acid from buttermilk would actually make these too 'sponge-like,' resulting in a biscuit that would simply fall apart rather than holding the filling.
3) Don't Overwork It. This goes without saying, but please do not overwork your dough. This will 'press' all of the air out of the dough, which will result in hard or even 'rubbery' biscuits. Work the dough just enough to form a ball to cut into biscuits, and then leave it alone.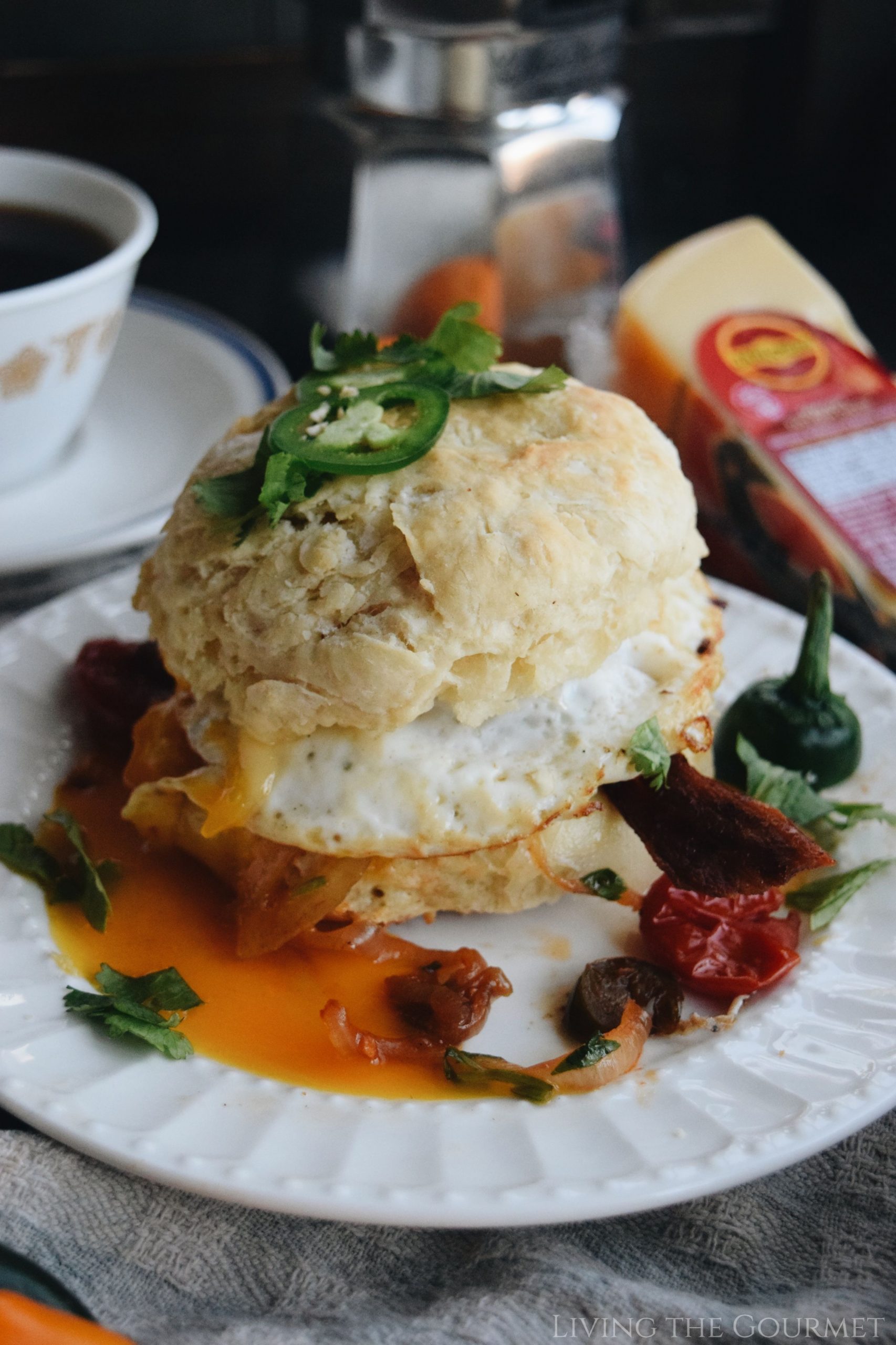 Filling a Better Biscuit
1) Cilantro, not Parsley. Cilantro is for heavy recipes, while parsley is for lighter, 'fresher' dishes and for garnish. Today's recipe features a trio of 'fatty' or 'heavy' ingredients, particularly crisped bacon, fried eggs, and melted cheese, in addition to spicy jalapeno. Parsley would simply be 'overwhelmed' by this combination, and fade into the background such that it would add nothing to the recipe. Thus, we use cilantro. In addition, cilantro is more 'herbal' and 'earthy' than its lighter counterpart, which in my opinion melds with the overall composition of the recipe much more nicely.
2) Grape Tomatoes are a Must. Ounce for ounce, grape tomatoes contain less water than cherry or 'standard' size tomatoes. As such, an equal amount of cherry or standard tomatoes would add more water to the recipe, and risk turning the biscuit into a soggy mess. Furthermore, cherry tomatoes tend to be sweeter, and so would change the flavor profile ever so slightly. Thus, if you don't have grape tomatoes on hand, reduce the total amount of tomato you use by about a fifth to avoid an overly watery sandwich.
3) The Cheese. For today's recipe, you want a mild cheese, a cheese that will allow the caramelized onions and bacon to really shine through. However, you also want a cheese will that melt hard in order to help bind the sandwich together, rather than oozing all over the place. To fill this bill, I'm using Jarlsberg, which is a mild flavored, semi-soft cheese. This makes it absolutely ideal for sandwiches, both warm and cold. It's also simply a great 'all purpose' cheese to keep on hand, since it goes great on cheese boards, and can be used in more 'complex' recipes such as pasta bakes and burgers. For more info, or to order some cheese for yourself, check out Jarlsberg over at www.jarlsberg.com.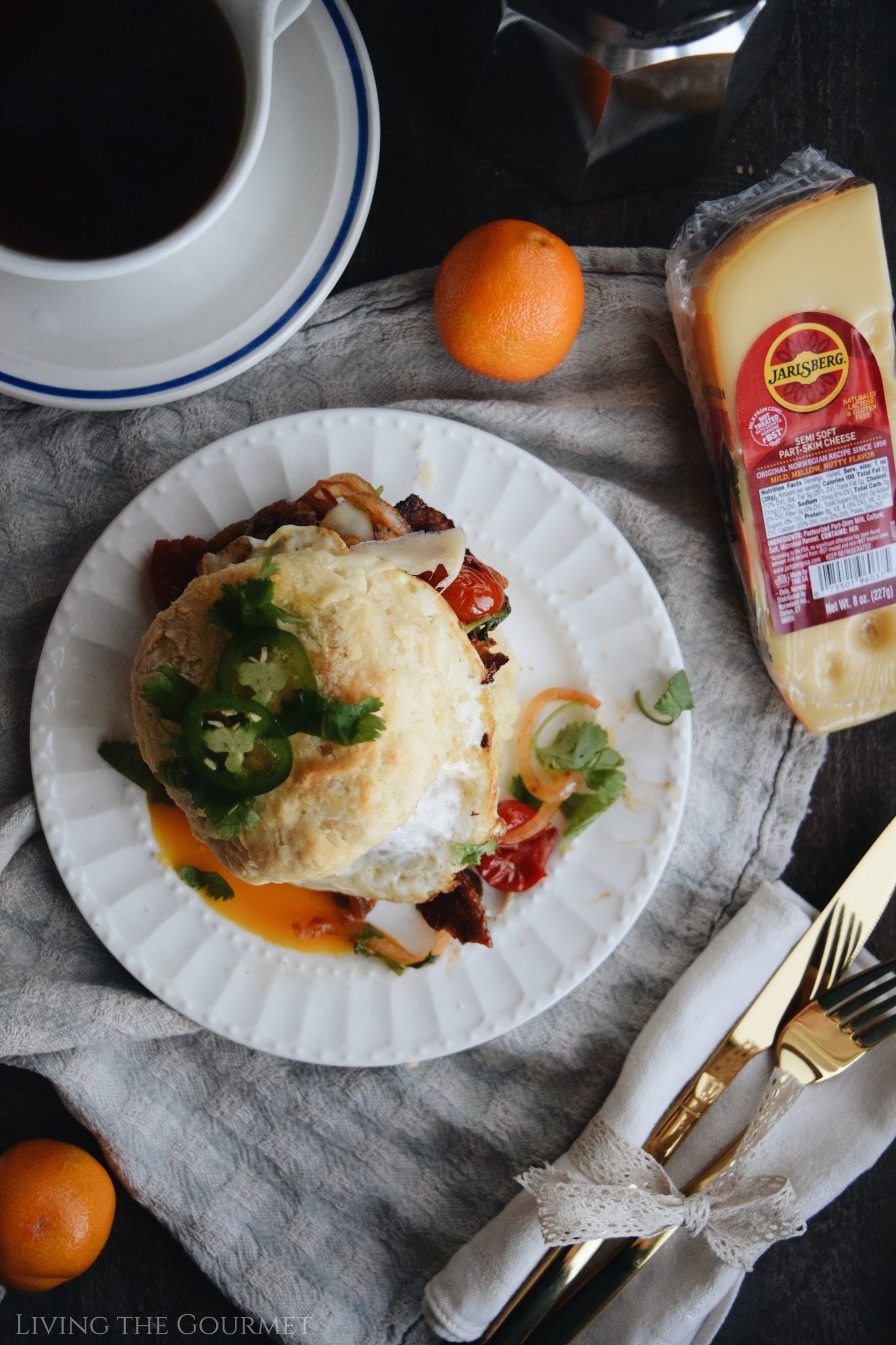 More from my Collaboration with Jarslberg
1) Marinated Cheeseboard. This is a great antipasto spread for the holiday season, combining marinated cheese, roasted almonds, assorted olives, and shrimp prepared with fresh lemon juice, capers, red pepper, and olive oil.
2) Bacon and Onion Burger. Honestly, this is probably my favorite burger recipe ever, combining bacon, caramelized onions, and lots of melted cheese. Seriously, you need to try this.
3) Lasagna Rollups. A delightful pasta recipe the entire family will adore. This recipe features hardy lasagna noodles wrapped around a ricotta filling with a tomato and mushroom sauce, topped with melted Jarlsberg.
Print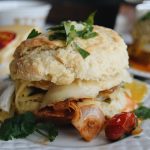 Breakfast Egg Biscuit featuring Jarlsberg
---
Author:

Total Time:

30 minutes

Yield:

8

biscuits

1

x
Fresh Eggs, cooked to your preference
Bacon, cook the bacon to a nice crisp and set aside.
Jarlsberg Cheese, sliced thin
Fresh Salsa:
1

pint

of grape tomatoes

1

large sweet onion - sliced

2

-

3

cloves of garlic - chopped fine

1/2

cup

of fresh cilantro - stems removed and chopped

1

jalapeno - sliced thin with seeds

1 tsp

. salt

1 tsp

. fresh ground black pepper

1/2 tsp

. red pepper flakes

2

tbs. olive oil
Homemade Butter Biscuits:
3

cups

flour - plus more for dusting surface

4 tsp

. baking powder

1 tsp

. salt

1/2

cup

of frozen butter - grated

1 1/2

-

3/4

cups

milk
---
Instructions
Fresh Salsa:
Heat a large cast iron frying pan and place the tomatoes in the dry pan to gently roast and soften.
When this is achieved; add the sliced onion, garlic, sliced jalapeno and olive oil and continue to cook allowing the onion to get a golden color. Add the seasonings.
When the onion is golden add the cilantro and toss. Turn the heat off.
Homemade Butter Biscuits:
Preheat Oven 425 degrees F.
Grate the frozen butter.
Place the flour, salt and baking powder in a bowl and mix.
Add the butter and stir with a spoon.
Add one cup of milk and mix and gradually add the ½ cup of milk to the bowl and incorporate. If the last bit of milk is needed add it to form the dough.
Do not knead or overwork the dough. Just bring it together and form a ball.
Place on a floured surface and gently roll out to about a ¾ inch piece of dough.
Using a 1 cup measuring cup; press out the biscuits.
Place in an ungreased large cast-iron frying pan.
Bake 12 to 15 minutes, or until the biscuits are well-risen. The biscuits should be a gentle golden color on top and a deeper golden on the bottoms.
Assembly:
Cook the eggs to your preference. (I cooked mine fried in a tablespoon of olive oil.)
Place the Jarlsberg cheese on each side of the hot biscuit followed by the egg, another slice of cheese, followed by the bacon and finally the warm tomato and onion salsa and close with the other half of biscuit.
Notes
Prep time does not include inactive prep time
Prep Time:

15 minutes

Cook Time:

15 minutes
Recipe Card powered by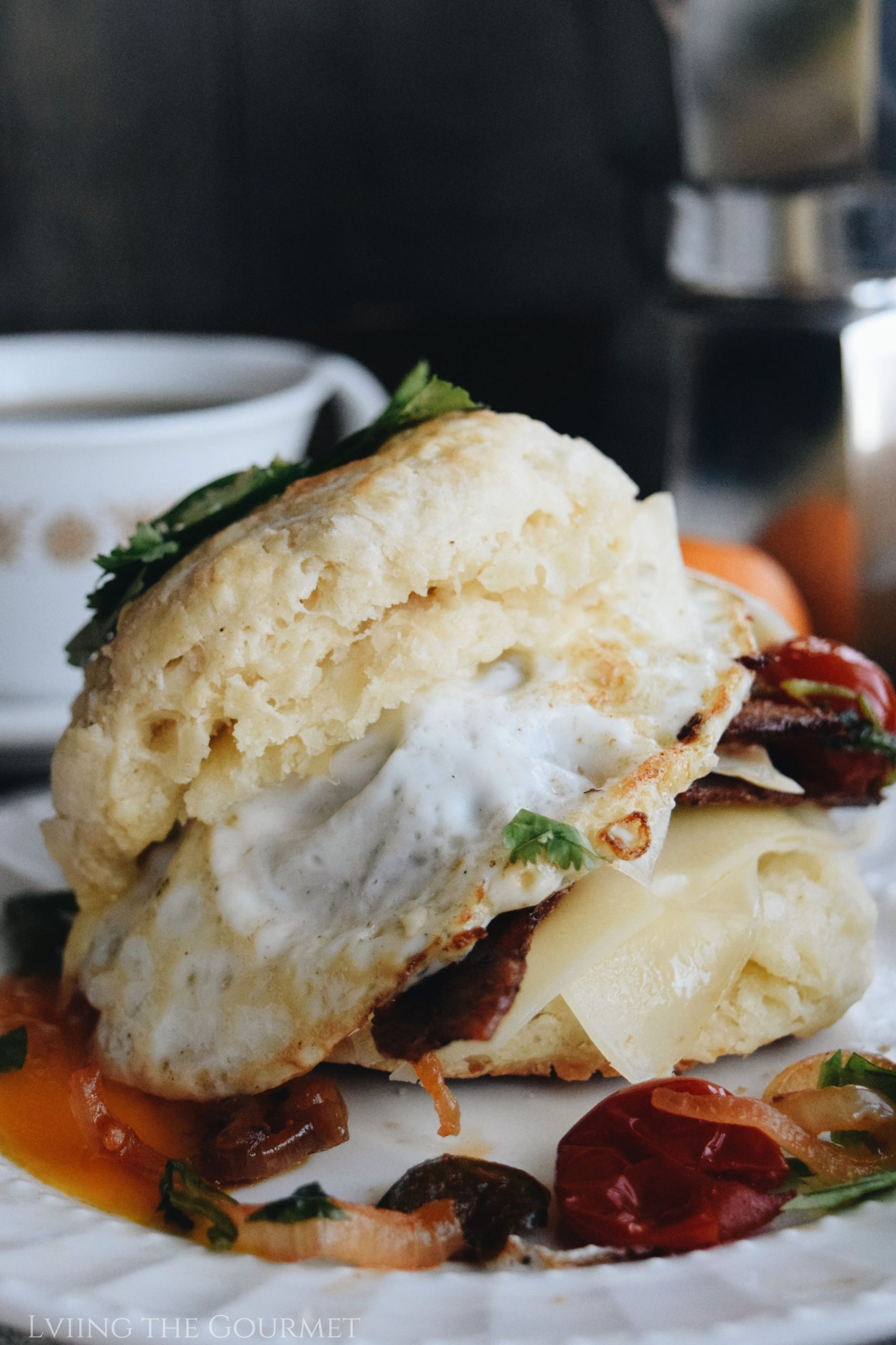 If You Enjoyed Today's Recipe…
Be sure to follow us on Instagram to stay up to date with all things Living the Gourmet, and for more great recipes, tips and tricks.
Did you make this recipe?
If so, let me know in the comments down below, or post a picture to Instagram, or to Pinterest, and I'll give you a shoutout on Instagram, or post your pin to one of my Pinterest boards!
0