This post has been sponsored by Eggland's Best. All opinions expressed are my own.
Today we're preparing a batch of cayenne-fried ribs, which we'll be topping with a sweet-and-spicy chili relish, and then sandwiching them into buttermilk biscuits. The end result is a Memorial Day treat like few others.
We'll be doing all of this with a little help from my friends over at Eggland's Best. Compared to ordinary eggs, Eggland's Best stays fresher longer, and have more than double the omega 3's, but more on them below. Now, without further delay, let's fry some ribs.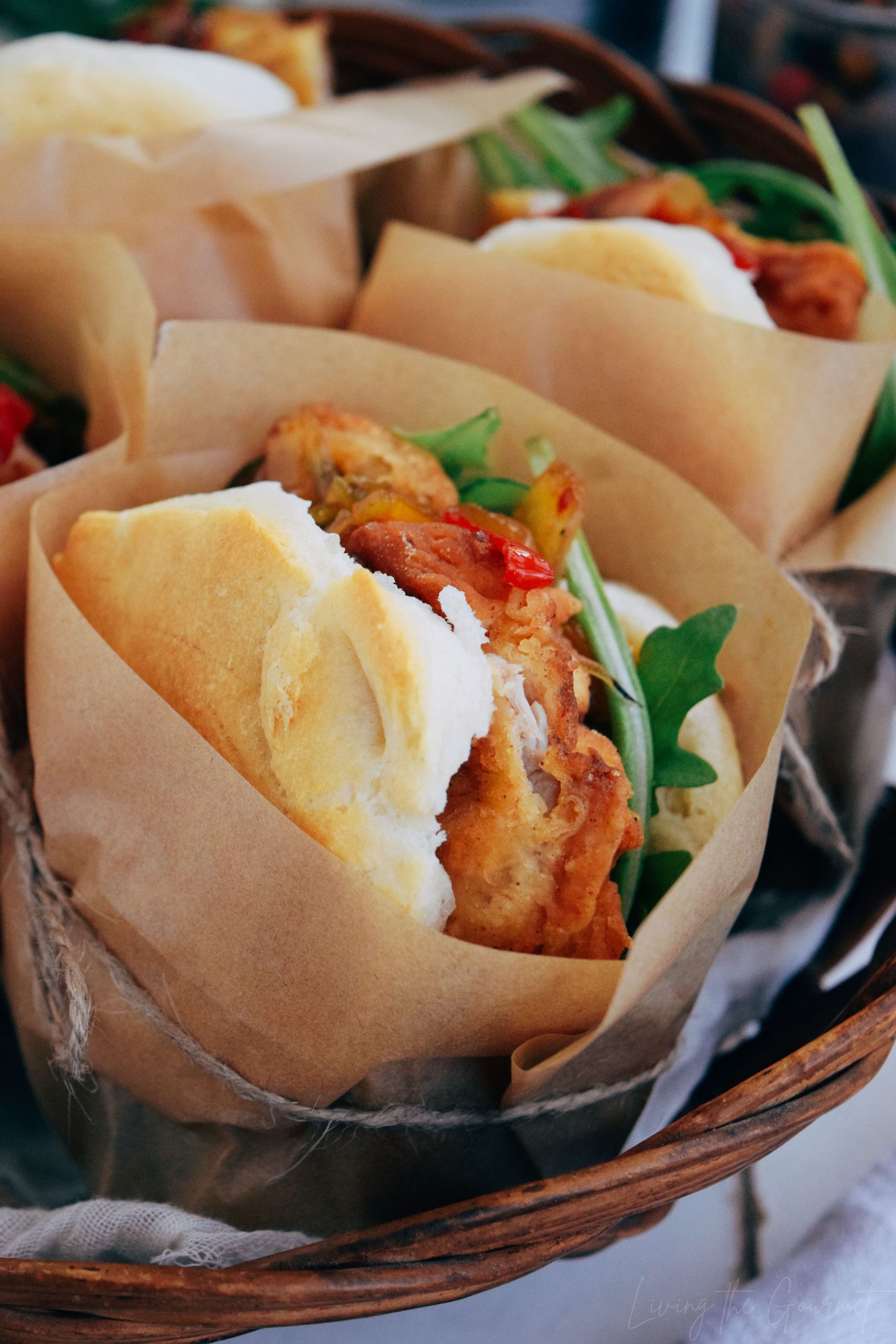 Why You'll Love Today's Fried Rib Biscuits
1) The Chili Relish. While the ribs are undoubtedly the star of today's show, the chili relish comes in a 'very' close second. It's just 'that' delicious, and I can easily imagine slathering this on everything from burgers to steaks to grilled chicken, or simply wrapping it up in a flat bread. As a nice bonus, it keeps decently in the fridge for up to a week.
2) Crowd Pleasing. Fried delights are a hit at any backyard gathering or barbecue, as are ribs. Combine the two together, and you've got a match made in fried-food heaven.
3) A Nice Twist. I love barbecued ribs, I loved oven baked ribs, I love stewed ribs, ribs in soup, and pan-grilled ribs. As evidence I've made plenty of variations of ribs here on Living the Gourmet. However, this Memorial Day I wanted to do something just a little different – but I still wanted my ribs. Naturally, fried ribs were the way to the go, paired with some hardy biscuits and a sweet-and-spicy chili relish.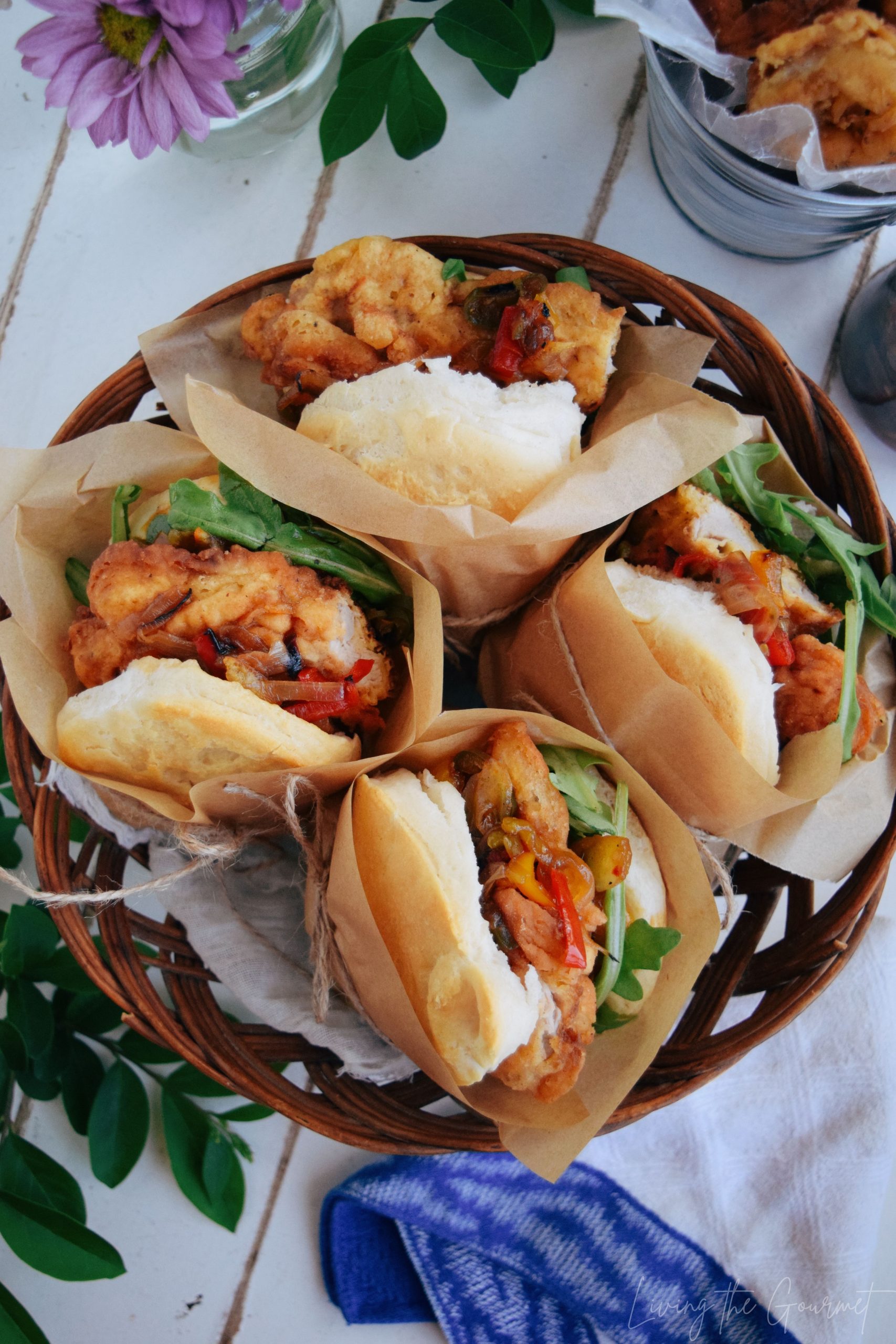 Ingredient Notes, Tips, and Substitutions
1) Chili Paste – A Shameless Love Letter. This is an ingredient that is so versatile I truly don't know how a kitchen functions without it. Chili paste works wonders as a base for everything from marinades to homemade hot sauces, or for adding some spice to red sauces or salsas, or even serving as a condiment on its own for meat, eggs, and fish, where it brings pungency, spice, and bright 'chili flavor.' That said, I don't personally use a fancy or 'hard to find' chili paste – and honestly, you shouldn't either. On the contrary, I use an Indonesian Sambal chili paste that sells for a couple of dollars per jar. It's a super basic mix of chilis, salt, and vinegar. It's hot, not overly thick, and allows the pungency and spice of the chilis to really shine through.
Should you make your own? No, no not really. I know there are a lot of recipes online for how to make chili paste, and honestly it's just not worth the trouble. Yes, it's (relatively) easy and (very) inexpensive, but at the end of the day, store bought chili paste 'does' taste just as good as similarly structured at-home recipes – and is already really inexpensive on its own. Sure, if you want to 'fancy up' a particular chili paste recipe, go for it, but for super-basic chili pastes for use in things like today's recipe, store bought works just fine.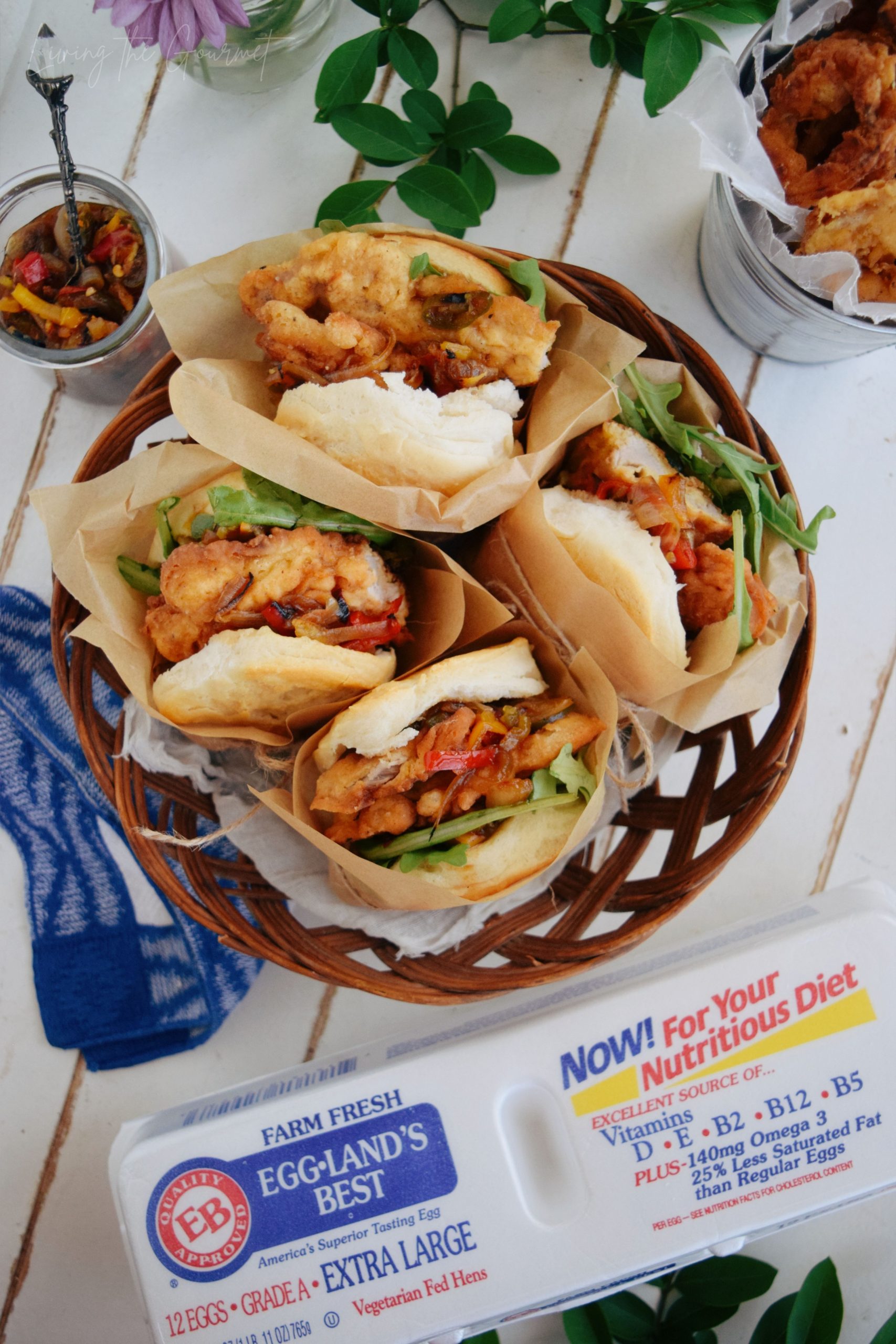 Substitution: An equal amount of 'plain' Sriracha works 'almost' as well – but Sriracha brings a lot of extra flavors with it (due to being a lot more than just chilis, salt, and vinegar), and surprisingly Sriracha is much less spicy. By contrast, regular chili paste brings a far bit more kick, and quite a bit more 'chili flavor.' Thus, while not 'ideal,' Sriracha is an 'okay' substitute.
2) Eggland's Best Eggs. Don't overlook this ingredient, since these are what 'make' today's ribs by binding the batter together. Quality eggs makes for a quality batter, and that's why I'm going with Eggland's Best for today's recipe. Not only do Eggland's Best stay fresher longer, but also contain 25% less saturated fat when compared to ordinary eggs, in addition to a whopping six-times more Vitamin D and more than double the Vitamin B12 compared to ordinary eggs. These traits, when combined with reliable quality and great taste, are why I use Eggland's Best for everything from baking cakes, to simple fried eggs for breakfast. As a nice bonus, their red, white and blue packaging is great for Memorial Day. Seriously, do yourself a favor and see the difference that quality eggs can make,
3) Cayenne. A 'must have' ingredient for today's ribs. We're using this at a couple of different intervals of today's recipe, and there really isn't a proper substitute – although there are two that 'might' work, and we'll cover those below. Cayenne Pepper is a moderately hot chili pepper, clocking in at about 25,000 to 50,000 on the Scoville Scale. For reference, jalapenos clock in at 2,500 to 10,000. Dried Cayenne powder, however, is often dramatically 'cooler,' as chili seeds are at their hottest when their fresh, and rapidly bleed away heat after being cooked. What Cayenne powder lacks in heat, it makes up for with 'earthy warmness' and 'rustic spice,' which has the effect of concentrating the pepper's bouquet of aromatics and flavors, which are often veiled behind its heat when cooking with fresh cayenne peppers.
Substitution: Use about four drops of your favorite 'standard' red hot sauce per one-eighth teaspoon of cayenne pepper. You might also consider an equivalent amount of 'Hungarian' Paprika.
The Ribs – The Star of the Show
In truth, you can certainly use your choice of ribs for today's recipe, but there 'are' a few key points to keep in mind. Also, while I purchased mine boneless, nothing says you can't buy yours bone-in, and then simply debone them yourself.
With that in mind, let's cover some rib basics:
1) Tenderness is Key. This one should be pretty self-explanatory, since we're sandwiching them into a biscuit, and we don't want the whole thing falling apart on us.
2) Boneless. No one wants bones, or grizzle, in their sandwich. As such, I suggest buying boneless just to make sure all of the bones, grizzle, and bone-shards are removed. However, deboning the ribs on your own is certainly a possibility. Nevertheless, I suggest saving yourself the hassle.
3) Selecting Quality Short Ribs. The key to selecting good short ribs comes to down remembering that they come from an area of the cow that's constantly 'working' – meaning this is a naturally 'tough' cut of meat. As such, you want short ribs that have a high ratio of fat, with dense and uniform marbling. In addition to providing tenderer meat, this fat reduces during cooking, further flavoring the meat.
4) Spareribs. These perennial favorites come from the belly of the pig, and tend to be large and very meaty, though they're often less tender than other varieties of ribs. When picking spareribs, look for dense, even marbling, as this not only plays to their flavor, but also helps tenderize the meat as the fat reduces during cooking. Yes, these work excellently in today's recipe.
5) Loin Back and Baby Back. These come from the same area of the pig that chops do, and tend to be smaller than most other ribs. While they are less meaty and less fatty, they're much more tender than either spareribs or short ribs. Their small size and tenderness make them ideal for today's purposes.
6) St. Louis Style Spareribs. These are simply whole, untrimmed slabs of spareribs. Personally, I only ever buy ribs like this if I'm planning on cooking them whole, typically barbecuing them.
7) What to look for in ribs of all kinds. First and foremost is 'meat coverage.' Look for ribs where the meat covers the entirety of the bone. To this point, avoid slabs where the meat has been cut close to the bone, as the exposed bone can fall out during cooking – not an issue in today's recipe where we're cooking them boneless – but cutting that close to the bone can also risk 'bone shards.' Not fun. Avoid ribs that feature 'browning' or 'purpling,' really avoid any discoloration at all, as well as ribs whose edges look 'dried out.' As mentioned above. Look for even marbling, and avoid ribs where the marbling is 'bunched up' or 'loose' looking.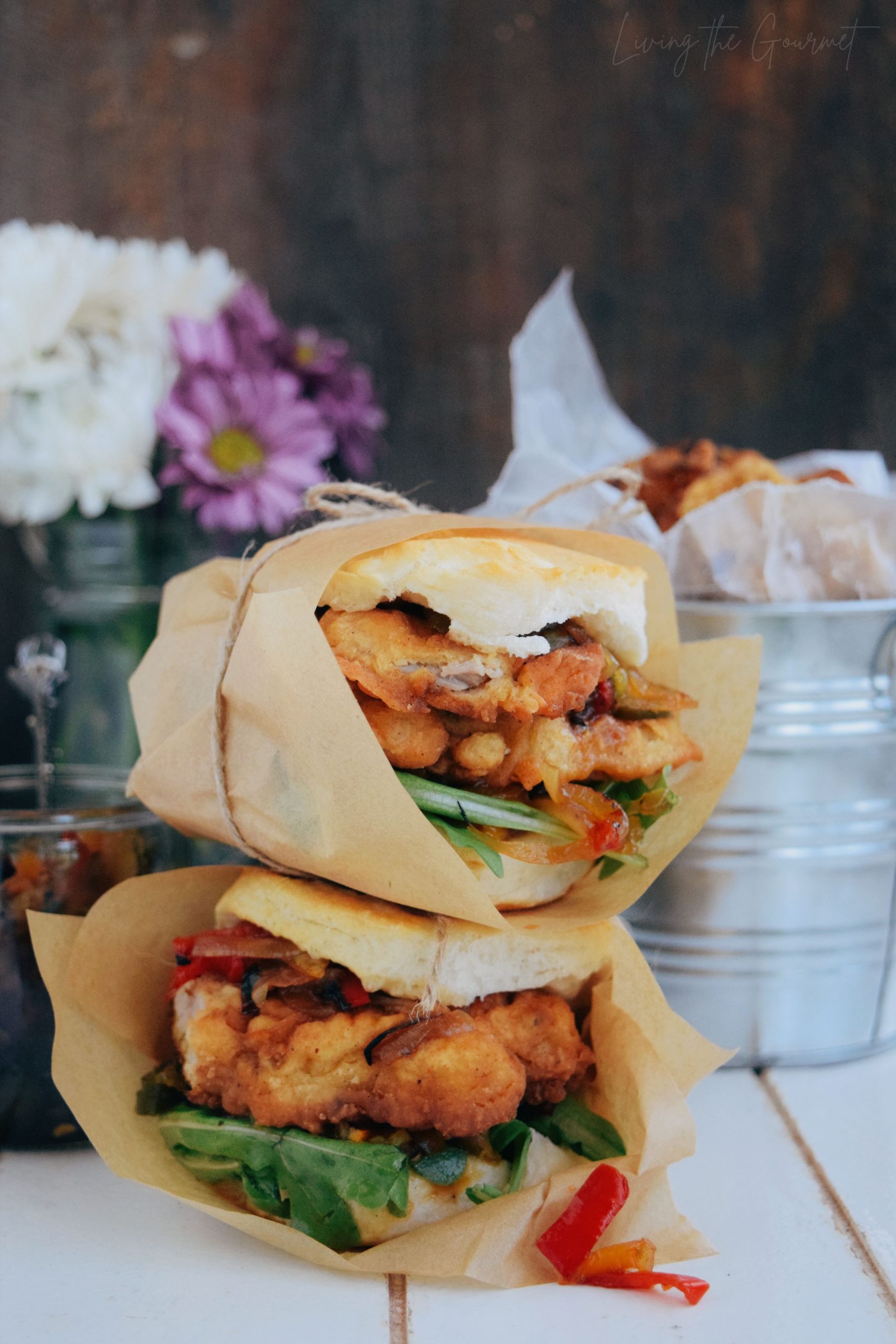 Print
Chicken Fried Pork Rib Biscuits
---
Author:

Total Time:

50 minutes

Yield:

6

sandwiches

1

x
Sweet and Spicy Relish:
3

tbs. orange marmalade

2

tbs. apple cider vinegar

1

large yellow onion - sliced thin

2

jalapenos - sliced thin - with or without seeds (the seeds add heat)

1

yellow pepper - sliced thin and diced

1

green pepper - sliced thin and diced

1 tsp

. salt

2

tsps. sugar

2 tsp

. chili paste

1/4

cup

sweet pickle relish
Fried Pork Rib Sandwiches:
Pork Loin Boneless Rib End, sliced into thin strips
Homestyle Butter Biscuits, store bought or homemade
Salad greens (I used Arugula)
For the Batter:
1 teaspoon

salt

1 teaspoon

black pepper

1/2 teaspoon

cayenne

1 teaspoon

paprika

1 teaspoon

garlic powder

2

cups

AP flour

1 tablespoon

baking powder

5

large eggs

1

cup

whole milk or buttermilk
For the Coating:
1 teaspoon

salt

1 teaspoon

black pepper

1/2 teaspoon

cayenne

1 teaspoon

paprika

1 teaspoon

garlic powder

2

cups

AP flour
---
Instructions
Sweet and Spicy Relish:
Heat a large cast iron frying pan, dry.
Place the sliced onion in the dry heated pan.
Sprinkle the sliced onion with one teaspoon of sugar.
Add the sliced peppers and sprinkle the second teaspoon of sugar and the salt on the peppers and onion.
Allow the onion to get a nice char and the peppers to soften.
In a small bowl mix the apple cider vinegar and orange marmalade together and stir into the onion and pepper mixture and toss.
Turn the heat off and allow the mixture to cool a bit.
Place the mixture in a medium sized bowl and add the chili paste and stir.
Add the sweet pickle relish.
Refrigerate until ready to use.
Fried Pork Rib Sandwiches:
In a large bowl, beat milk and eggs together for the batter. Add baking soda and spices. Set aside and let stand for about 10 minutes while preparing the coating.
In a shallow dish, whisk together all ingredients for the coating.
Dip the pork strips first in the batter, letting any excess drip back into the bowl, then roll in the breading, coating well on both sides. Transfer to a tray, and continue until all the pieces are coated.
Heat a large frypan (I suggest using a cast iron pan if you have one) with 1-inch of oil over medium heat until the oil is hot but not smoking. Gently add breaded pork to the hot oil, being careful not to overcrowd the pan.
Cook until golden and cooked all the way through, about 3-4 minutes per side. Transfer to a paper towel-lined tray to absorb any access oil.Assembly:
Place salad greens over the bottom half of the biscuit then a spoonful of the chili relish. Place 2-3 slices of the breaded pork on top, then finish off again with a little extra relish. Close the biscuit and serve immediately while still hot. Enjoy!
Prep Time:

15 minutes

Cook Time:

30 minutes

Category:

Main Dish

Cuisine:

American
Nutrition
Serving Size:

1 sandwich

Calories:

513

Sugar:

15.3 g

Sodium:

1437.5 mg

Fat:

9.9 g

Saturated Fat:

4.2 g

Carbohydrates:

88.5 g

Fiber:

4.4 g

Protein:

18 g

Cholesterol:

169 mg
Keywords: sandwiches, chicken fried, fried, pork, boneless ribs, biscuits
Recipe Card powered by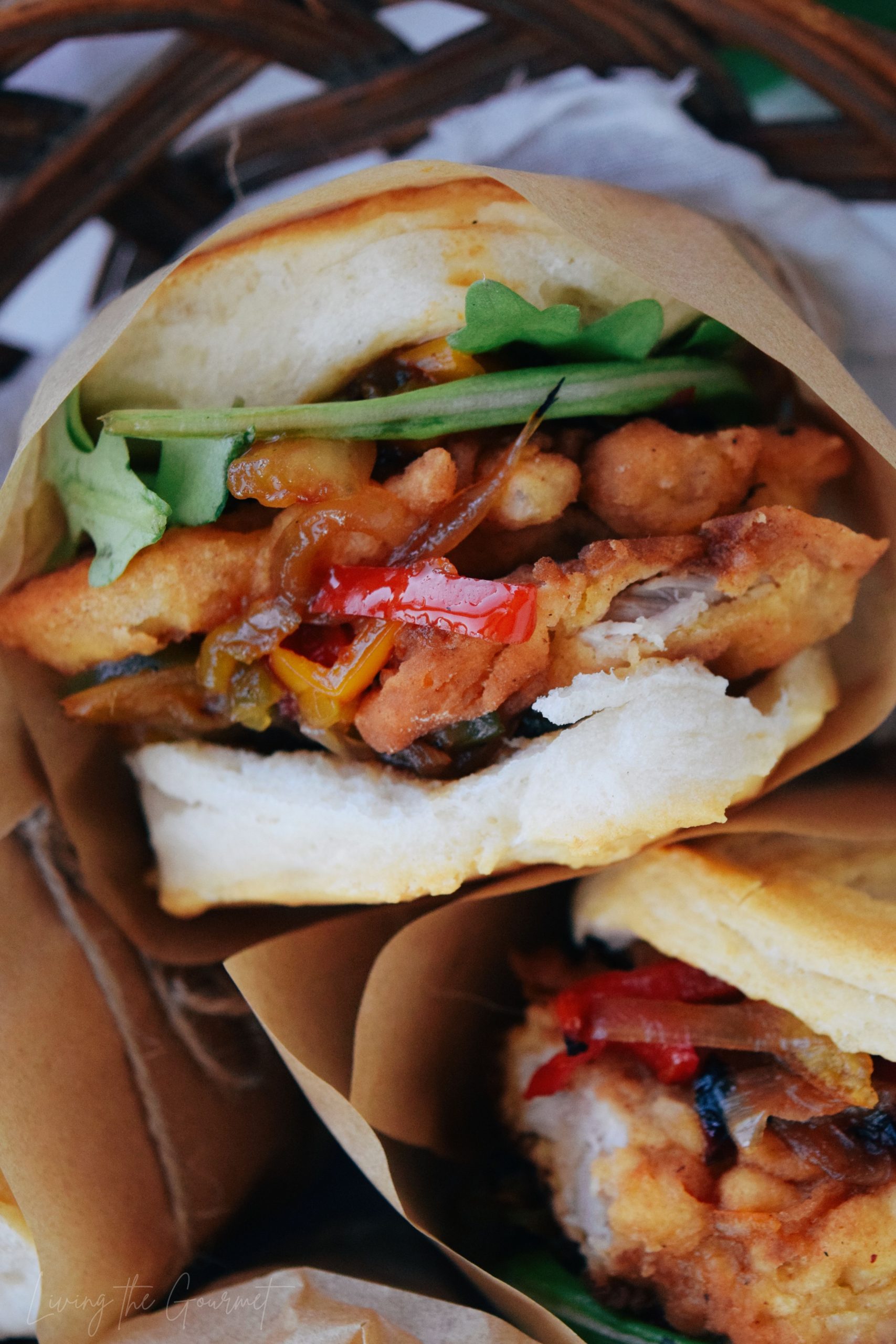 0