Today we're preparing grilled eggplant wraps with a delicious combo of both feta and grated Parmesan or Romano cheese, along with olives, fresh tomatoes, and plenty of lettuce, all swathed in homemade wheat tortillas. The end result is a delightfully fresh, crisp, and satisfying summer season wrap.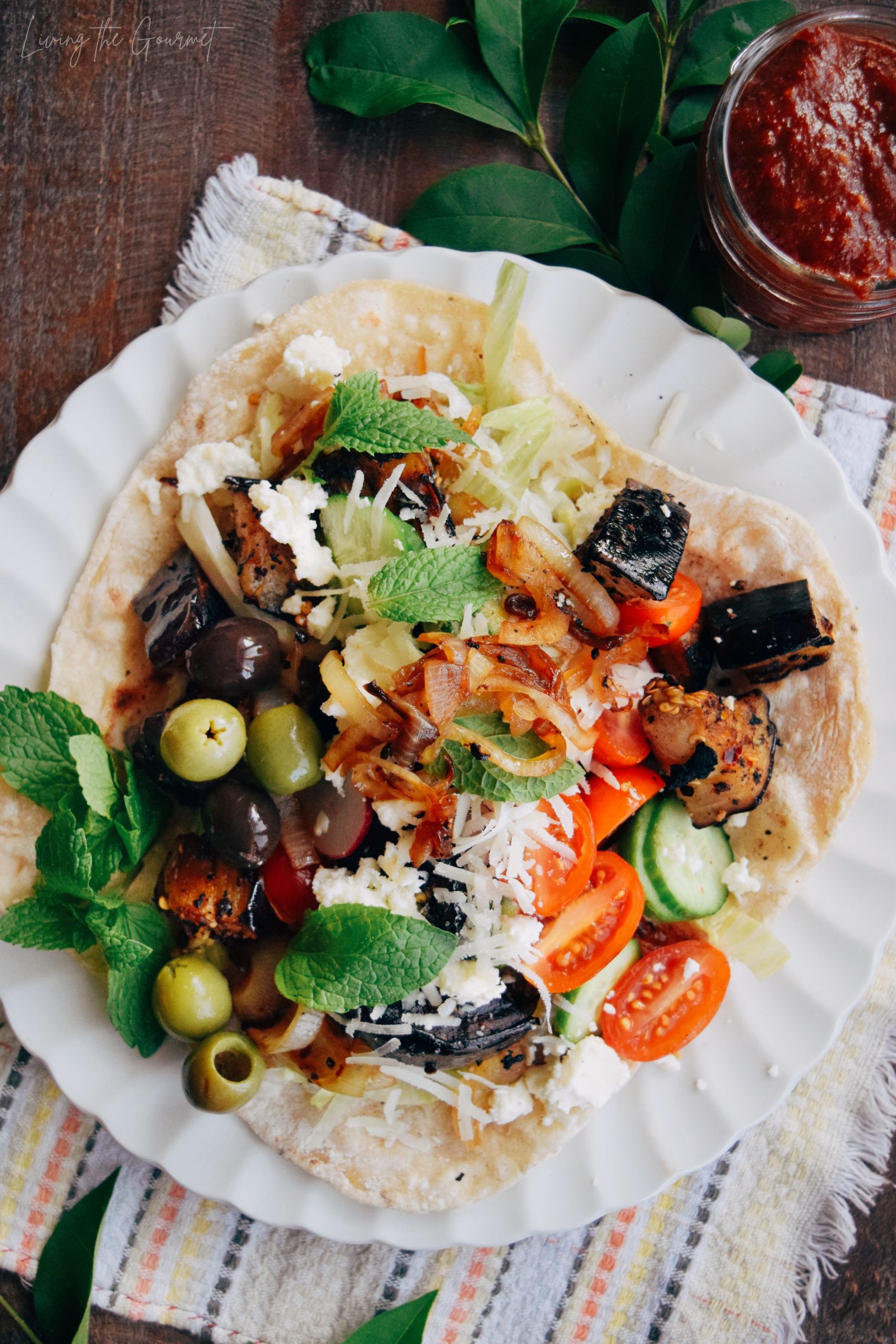 Why You'll Love Today's Wraps
1) Super seasonal. Today's wrap just screams "Summer weather!" to me. Light and refreshing, yet satisfying and flavorful, today's eggplant wraps hit all the right notes. Today's wrap is something I would enjoy either out on the deck or under the sun.
2) Room to Experiment. Sliced grilled sausages, strips of prosciutto, crisped bacon, sliced provolone, or grilled marinated peppers, would all go deliciously on today's wraps. Experiment to your heart's content, and let me know in the comments below how it turned out!
3) Cold or Hot. While I'm serving today's wrap hot, all of the ingredients would combine together beautifully straight from the fridge. Grill the eggplant ahead of time, and let it sit in the fridge in the marinade, and they'll only become 'more' flavorful.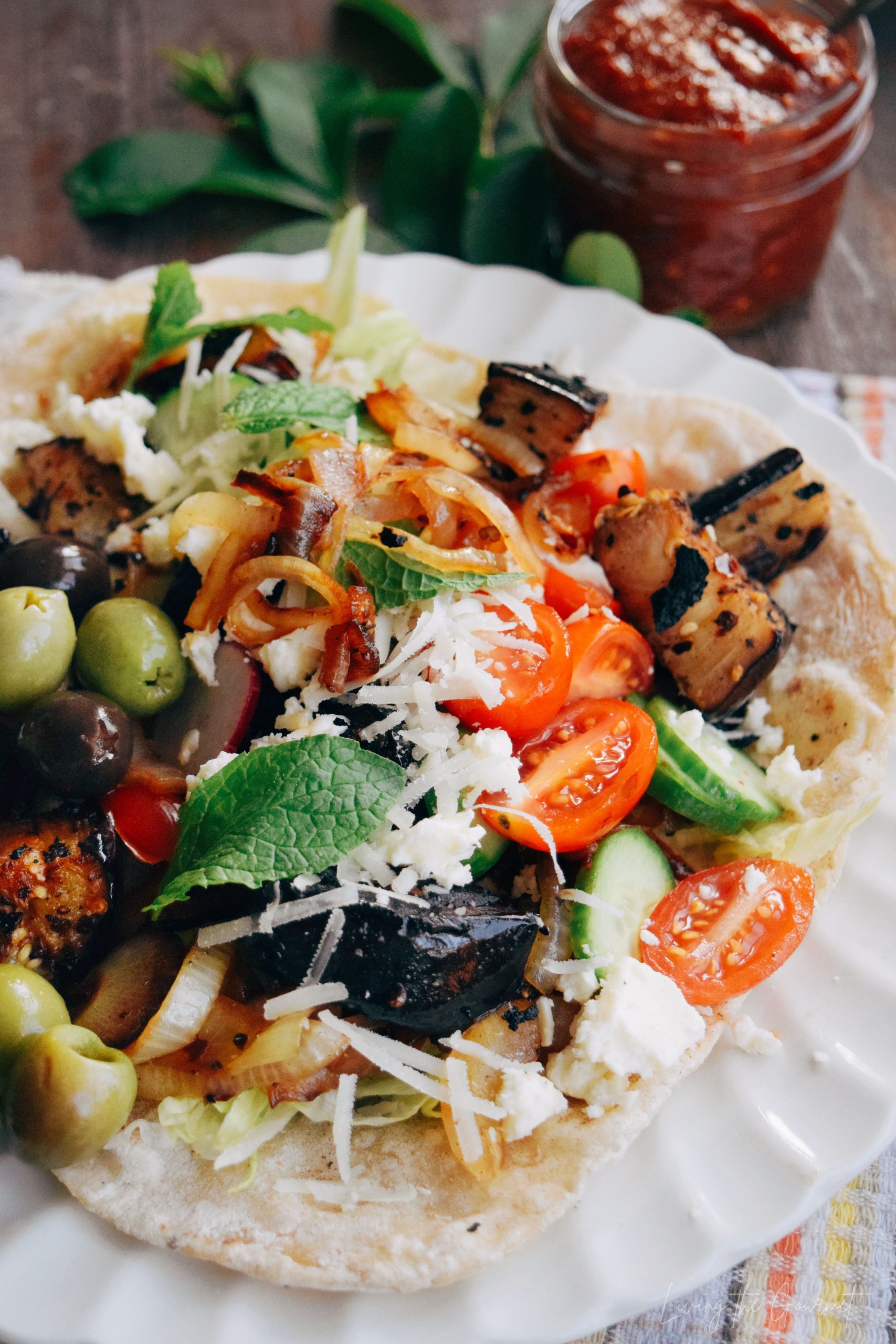 Ingredient Notes, Tips, and Substitutions
1) Selecting Quality Eggplant – Super Easy. First things first, we 'Test with the Eyes.' In terms of visuals, you want an eggplant with the shiniest skin possible. You also want the skin to be dark – but 'not' night black, and you want the skin to be of uniform of color. Next we 'Test with the Hands.' You want an eggplant that is perfectly smooth to the touch. You want the eggplant to be 'moderately' firm, but 'not' hard. The eggplant should feel like it's ready to 'give way' in your hand, but it should resist doing so. Avoid eggplants that are wrinkled, blotchy, overly soft, overly firm, that are unsmooth, and that aren't shiny.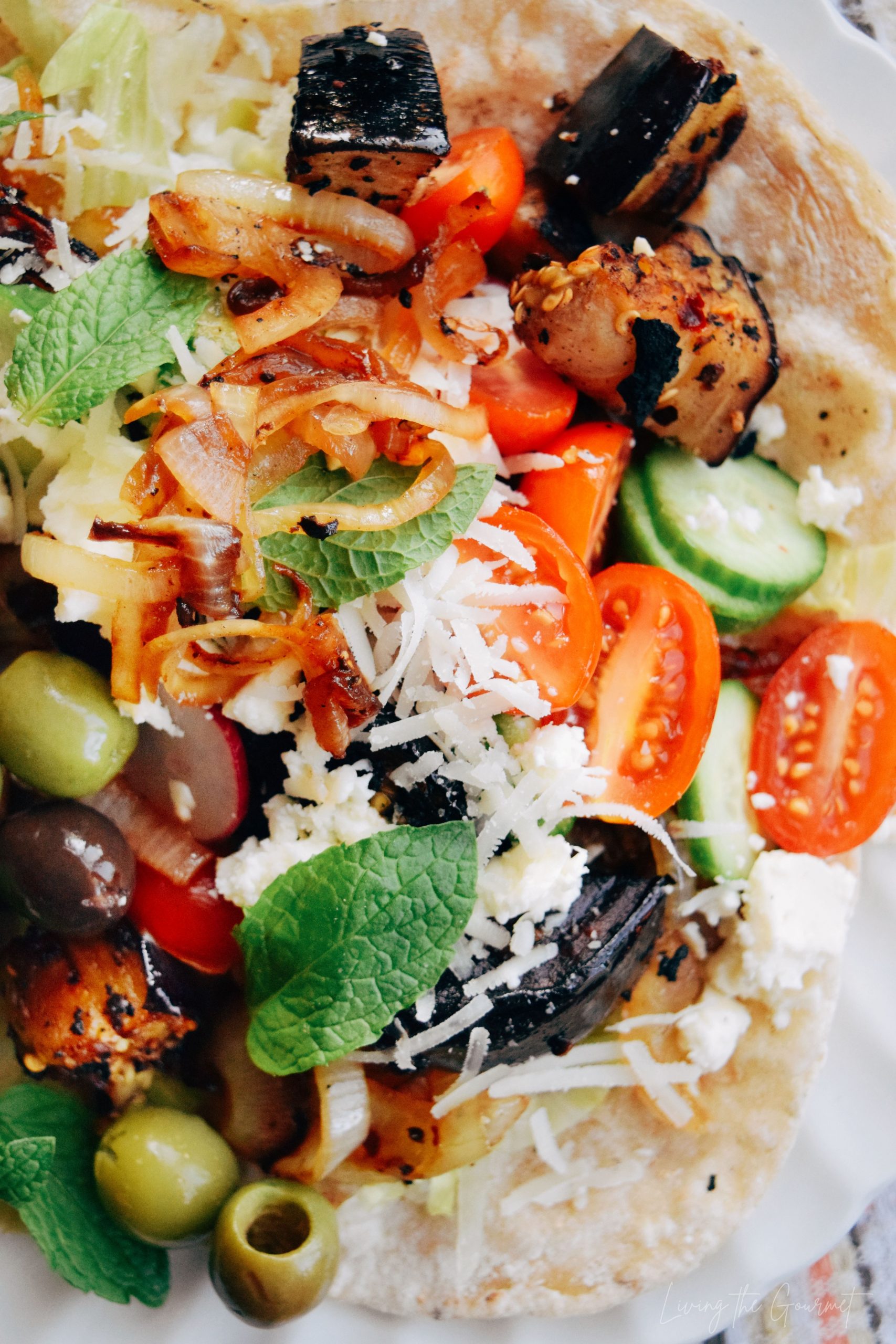 2) Red Pepper Flakes – What 'is' this stuff anyway? Take a look inside 'any' pizza parlor across the USA, as well as 'most' Italian restaurants, and 'many' Spanish restaurants, and you're likely to notice that there are 'little round jars' with a shaker top containing 'red pepper flakes.' But 'what' are red pepper flakes? Are they the same as 'chili flakes? And what peppers are used to produce these 'red pepper flakes?' And are these 'red pepper flakes' the seeds or the dried 'flakes' of the peppers' flesh? The simple answer to that last question is 'both.' Red pepper flakes are seeds as well as the dried 'flakes' of the peppers. 'Red pepper flakes' are produced from a variety of peppers from the 'capiscum cannum' family. This particular family of peppers includes such familiar pepper varieties as jalapenos, bell, fresno, Anaheim, and cayenne. Mostly, however, and this is true across all brands of red pepper flakes, most of what's in the bottle is cayenne, with a minority being a mix of the rest – except bell, since those aren't hot. Unlike 'chili flakes,' which are made from a single variety of pepper, and are used to add the flavor of that singular pepper to whatever they're being sprinkled on, 'red pepper flakes' are used solely to add heat. And that's about it.
In Short: Red pepper flakes are primarily dried cayenne peppers, but with a mix of other hot peppers thrown in, taken generally from capsicum cannum family of peppers.
Substitution: An equal amount of your favorite chili flakes, or roughly a quarter as much cayenne powder.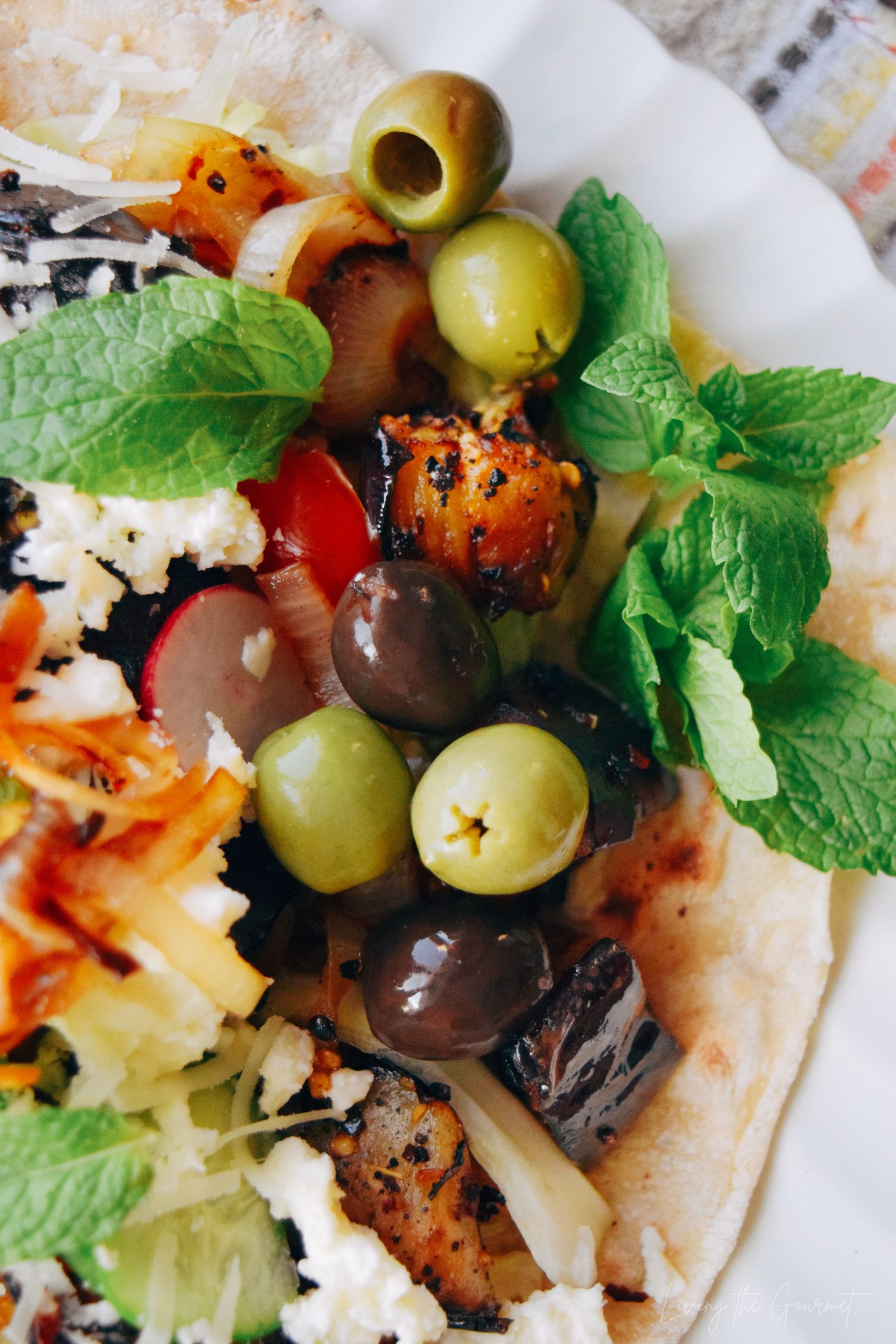 3) Lemon Juice. Fresher is Better. As in virtually all cases, fresher is better. On top of that, slicing a lemon into squeezable halves or wedges is practically as easy as opening a bottle and measuring it out. Furthermore, bottled lemon juice simply isn't as flavorful, lacking the full 'zest' or 'brightness' of fresh lemon juice, since the juice begins breaking down chemically almost as soon as it leaves the lemon. Beyond that, the juice's flavor is often times further diluted with preservatives. As a result, if you want the full flavor and balance intended in today's recipe, use fresh lemon juice.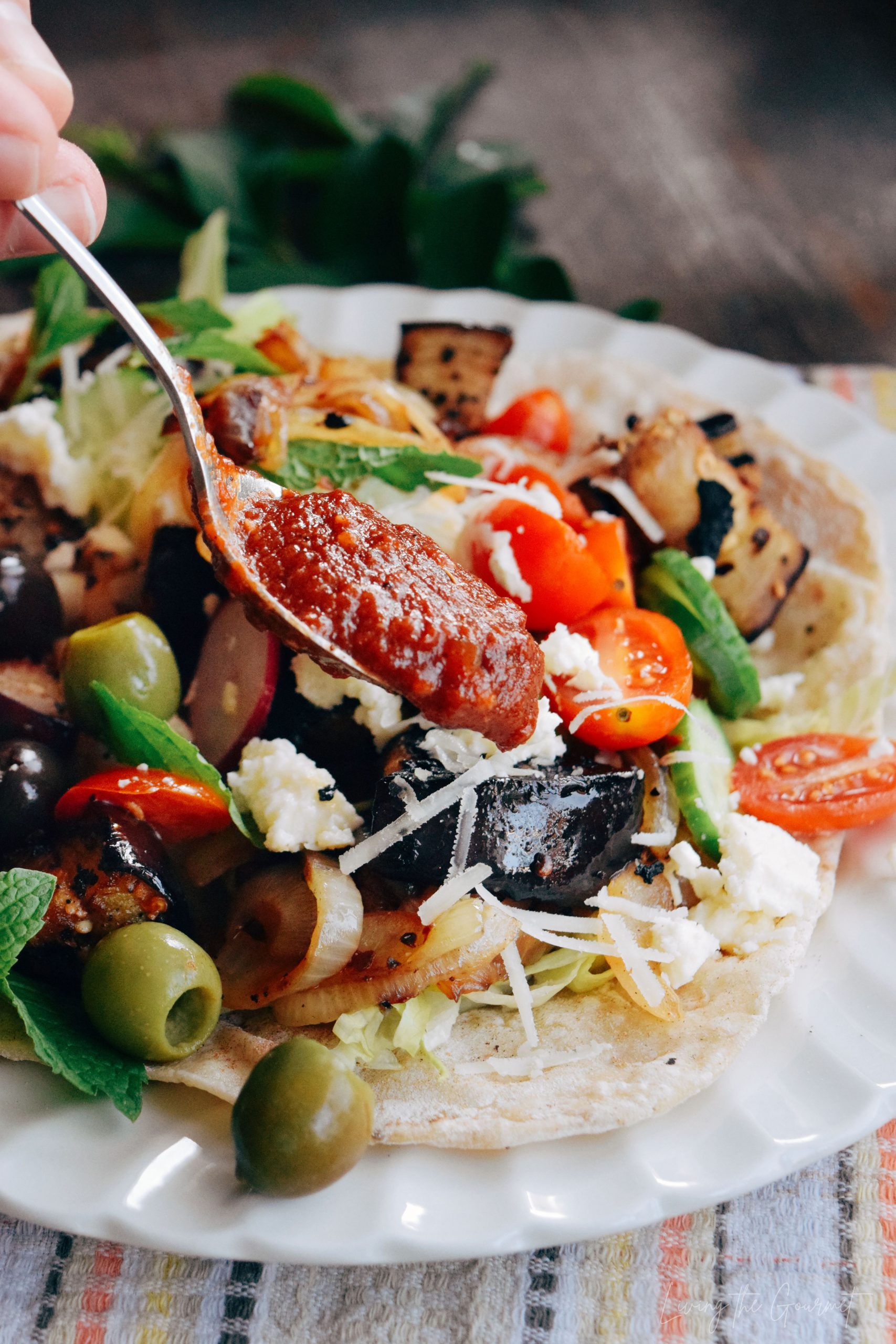 More Eggplant Goodness from Living the Gourmet
1) Eggplant Parmigiana. A perennial favorite, and one that this list wouldn't be complete without. Featuring lots of grated mozzarella, a garlicy red sauce, punctuated by layers of crisped oven fried eggplant, today's parmigiana is a crowd pleaser like few others.
2) Oat Crusted Eggplant Salad. Eggplant sliced thing, and then breaded with oats, which we fry to crisped perfection, before layering feta, fresh mint, roasted garlic, jalapeno, and a basil vinaigrette.
3) Layered Eggplant Salad. Breaded eggplant, combined with fresh basil, fresh tomatoes, and grated romaine, combine to create a delicious take on baked eggplant that's sure to be a hit with your friends and family.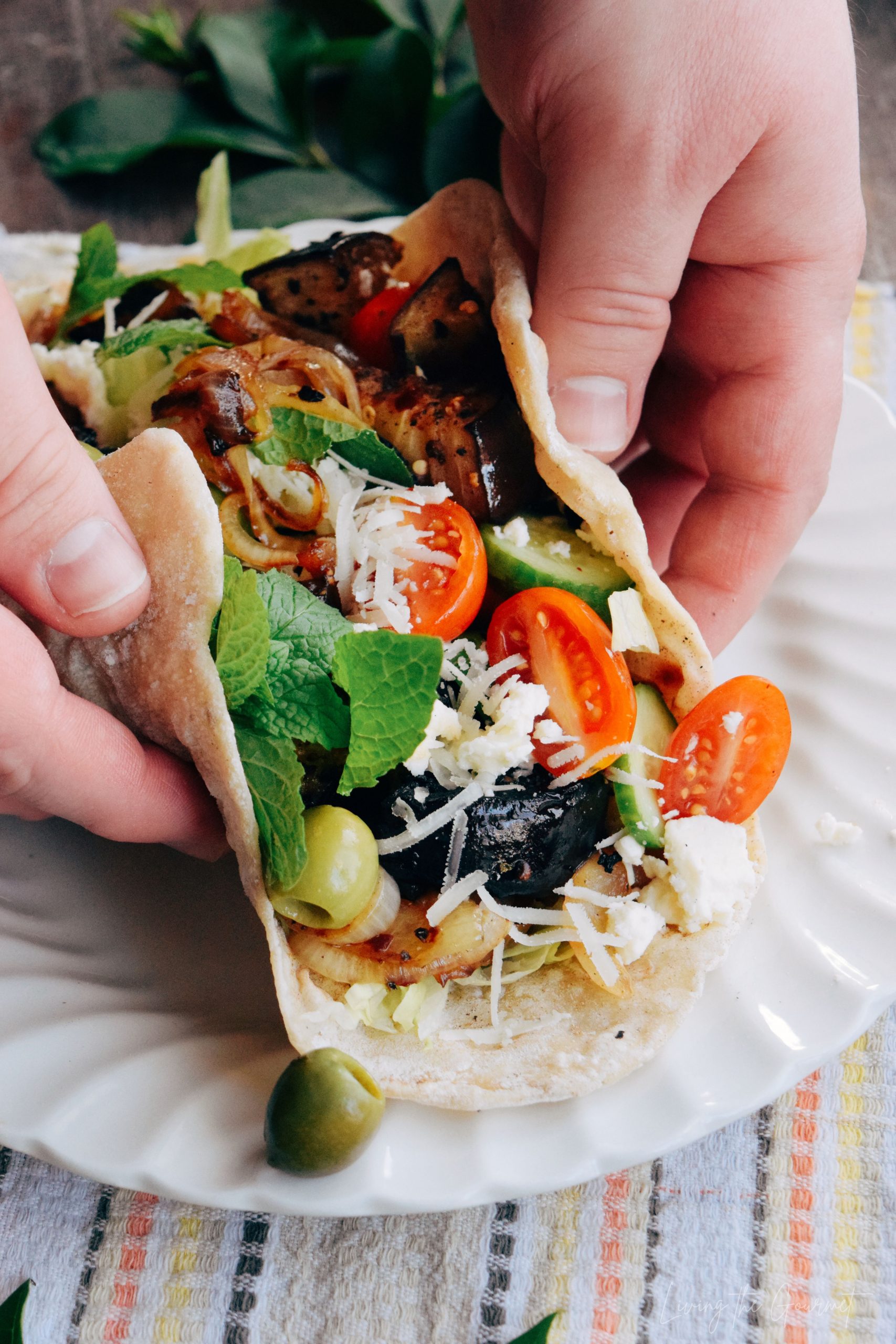 Print
Grilled Eggplant Summer Salad
Author:
Prep Time:

10 minutes

Cook Time:

15 minutes

Total Time:

25 minutes

Yield:

4

servings

1

x
Category:

Vegetarian

Cuisine:

Mediterranean
1

eggplant - cut into chunks or slices - with or without skin

2

large sweet onions - sliced thin

1 tsp

. sugar

Vegetable oil for frying

Fresh grape tomatoes - halved

Fresh mint leaves
Fresh cucumber slices

Grated Parmesan or Romano cheese
For the Marinade:
1 tbs. apple cider vinegar

4 tbs. - fresh grated Parmesan or Romano cheese
Instructions
Cut the eggplant into chunks and prepare the marinade.




Place the cubed eggplant in a bowl and toss with the marinade. 




Place in the refrigerator for at least one hour or up to overnight.




Heat a large cast iron frying pan with a drizzle of vegetable oil and carefully place a few eggplant cubes at a time in the hot oil. 




Allow the eggplant to get a nice char on each side and the meat to soften.  If you leave the skin on it will take a bit longer for the skin to soften a bit.  Also, if you slice the eggplant, depending the on thickness of the slices, the eggplant will cook faster. 




Place on a platter prepared with a paper towel.

Place the onion slices in the pan and sprinkle with sugar.  Allow the onion to turn a beautiful golden color and become translucent; then set aside.
Assembly:
Place the shredded lettuce, grilled eggplant, grilled onions, fresh tomatoes, fresh mint leaves, feta, cucumber slices,  olives and grated Parmesan or Romano cheese on the fresh taco; wrap and enjoy!
Keywords: vegetarian, wraps, eggplant
Recipe Card powered by
2