Today we're preparing an oat-breaded eggplant salad. The oats bake up crisp, giving the eggplant slices a delicious, substantial 'texturing.' We'll be layering the eggplant slices with feta, and a fresh mint and basil vinaigrette prepared with lemon, roasted garlic, and jalapeno.
With the introduction out of the way, let's make some eggplant.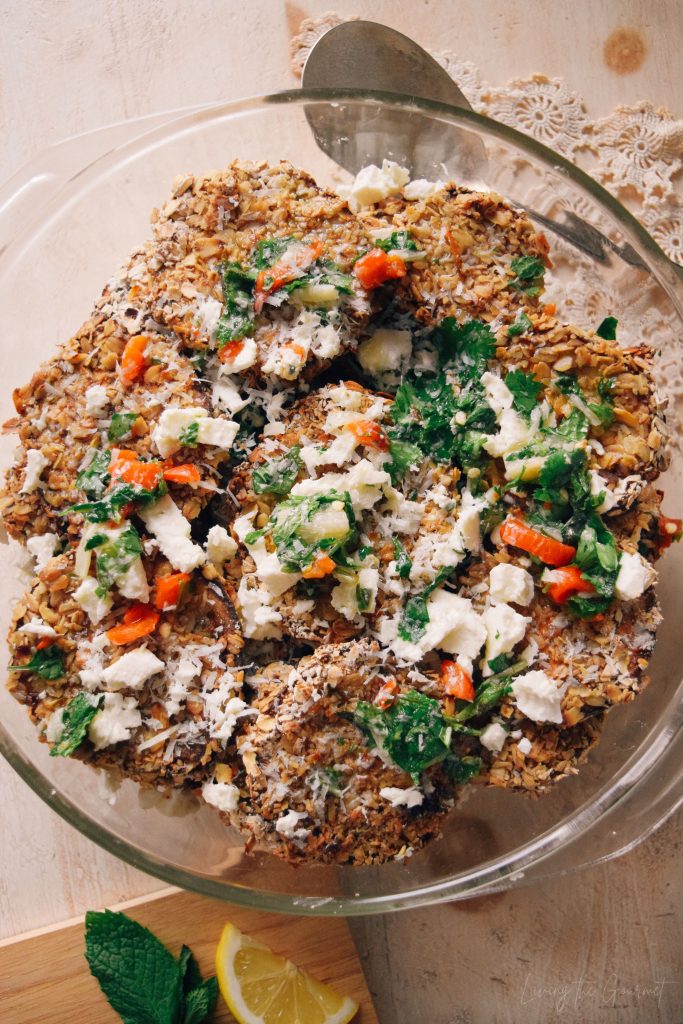 Serving Suggestions
1) As a Side to an Entrée. Today's eggplant goes great alongside things like souvlaki, breaded chicken, marinated steak, or pork chops. It pairs particularly well with Mediterranean themed flavors.
2) Hot or Cold. While today's eggplant is great fresh from the oven, it serves particularly well as a 'salad,' either chilled from the fridge or room temperature.
3) As a Light Lunch. Paired with a fresh, leafy green salad, today's eggplant serves up great as a light lunch.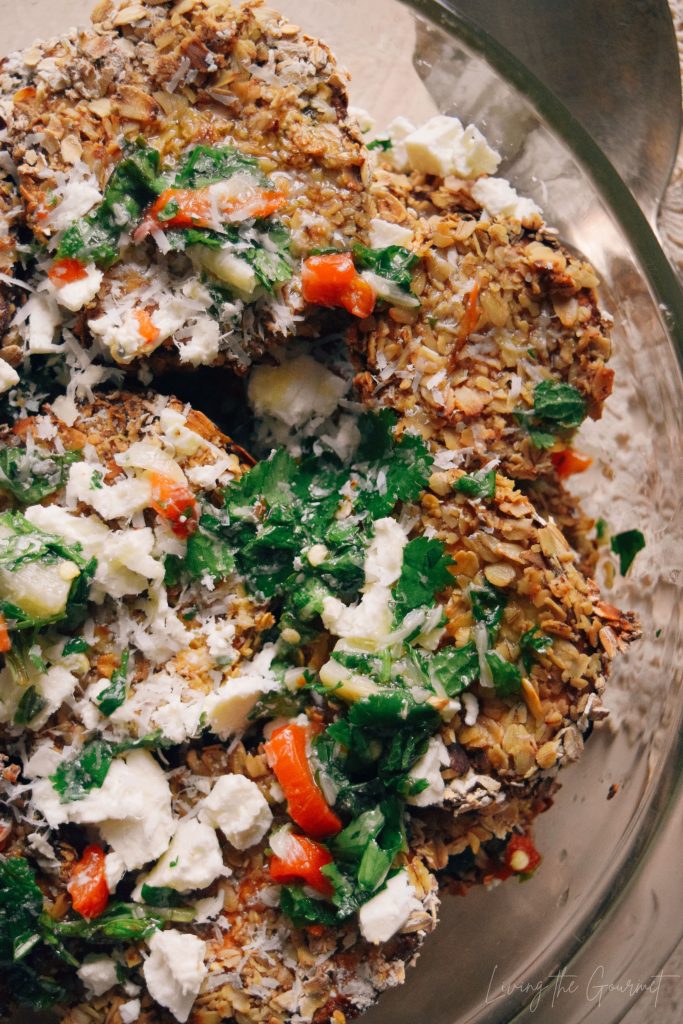 Ingredient Notes, Tips, and Substitutions
1) Oats vs Breadcrumbs. Though you could definitely substitute in breadcrumbs, we're using oats to give the eggplant slices some extra bite and body, which I think pairs deliciously with the rest of the ingredient list. They also absorb the vinaigrette beautifully, which is a nice plus.
2) Selecting Quality Eggplant – Super Easy. First things first, we 'Test with the Eyes.' In terms of visuals, you want an eggplant with the shiniest skin possible. You also want the skin to be dark – but 'not' night black, and you want the skin to be of uniform of color. Next, we 'Test with the Hands.' You want an eggplant that is perfectly smooth to the touch. You want the eggplant to be 'moderately' firm, but 'not' hard. The eggplant should feel like it's ready to 'give way' in your hand, but it should resist doing so. In short, avoid eggplants that are wrinkled, blotchy, overly soft, overly firm, that are unsmooth, and that aren't shiny.
3) Fresh Basil vs Dried – and possible substitutions. As with most herbs, fresh basil and its dried counterpart are 'usually' but not always safe substitutions for one another. I'm using fresh basil today to achieve a 'bright licorice' or 'anise-like' flavor – but both of these flavors are entirely absent in dried basil, where a slightly 'mintier' flavor dominates. Furthermore, fresh basil has powerful aromatics that are reminiscent of a bright summer garden in full bloom, whereas dried basil boasts an earthier, vaguely 'darker' herbal aromatic profile.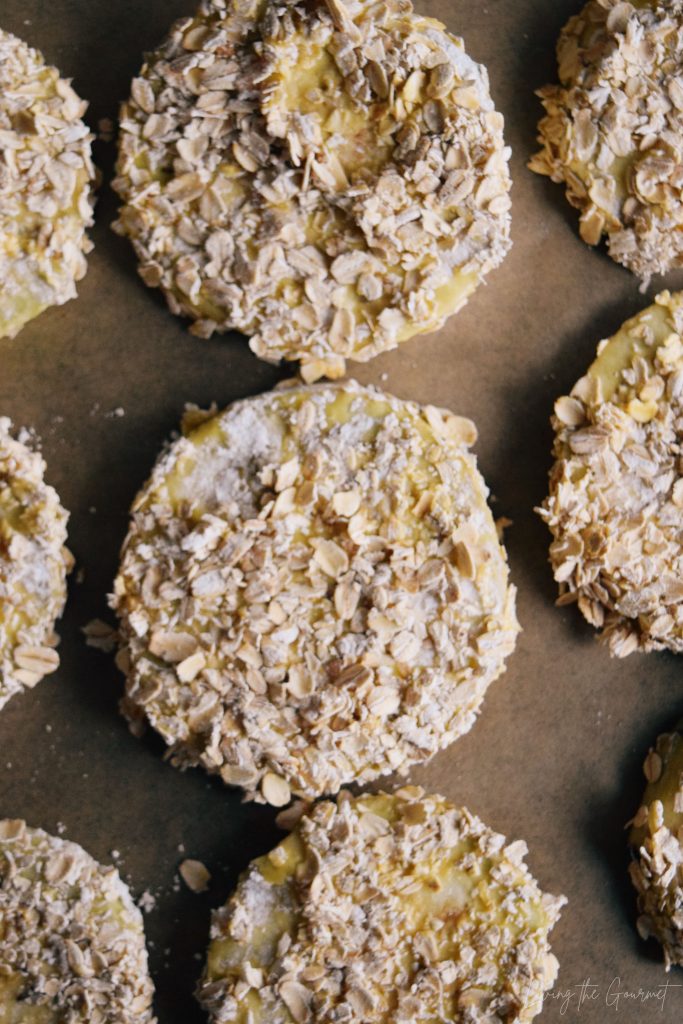 Substitutions: Fresh oregano. However, this is not an exact substitution, as oregano has a flavor that's markedly less 'bright,' as well as somewhat more 'herbal,' whereas basil is simply 'fresher' on the palate.
4) Fresh Mint vs Dried – and possible substitutions. Often called 'the friendliest and most forgiving herb,' fresh mint definitely has that reputation for a reason. Mint is easy to grow, and it's even easier to incorporate into your cooking, while still leaving plenty of room for 'getting fancy.' From complex reductions for use on roasted lambs, to simply stirring a few chopped leaves into yogurt or ice cream, mint is a joy for home cooks and expert chefs alike. With that said, we don't want to go 'too heavy' on the mint in today's dressing, otherwise it will be the only thing you taste.
Substitution: Dried mint or marjoram. Dried mint has a lot of the same qualities that its fresh counterpart has – albeit with the usual 'earthy' or 'dark herbal' notes that pervade almost all dry herbs. For today's recipe, about one to one and half teaspoons will suffice, just make sure its thoroughly stirred into the sauce. Fresh marjoram is also a nice substitute for fresh mint, but I would use about three-quarters of the amount of marjoram as mint in this case.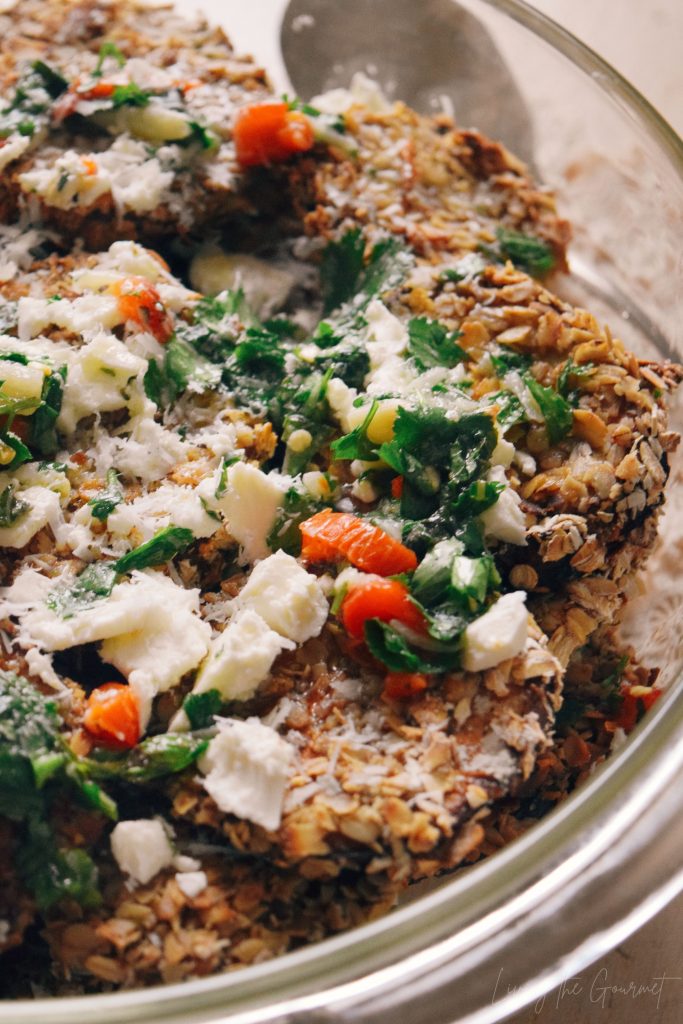 More Salads and Sides from Living the Gourmet
1) Moroccan Tomato Salad. A surprise hit with my family, this Moroccan tomato salad is so simple, and yet so delicious, that it instantly won a place in my heart.
2) Crisp Cucumber Salad. Crisp, refreshing, and taking just minutes to prepare while featuring a medley of Mediterranean flavors, this salad is perfect for adding a touch of 'simple elegance' to any meal.
3) Layered Eggplant Salad. Breaded eggplant, combined with fresh basil, fresh tomatoes, and grated romaine, combine to create a delicious take on baked eggplant that's sure to be a hit with your friends and family.
4) Breadsticks. Paired with some olive oil for dipping, or even some herbed butter or black coffee, these are super versatile and keep great. As a nice bonus, they never fail to impress the guests.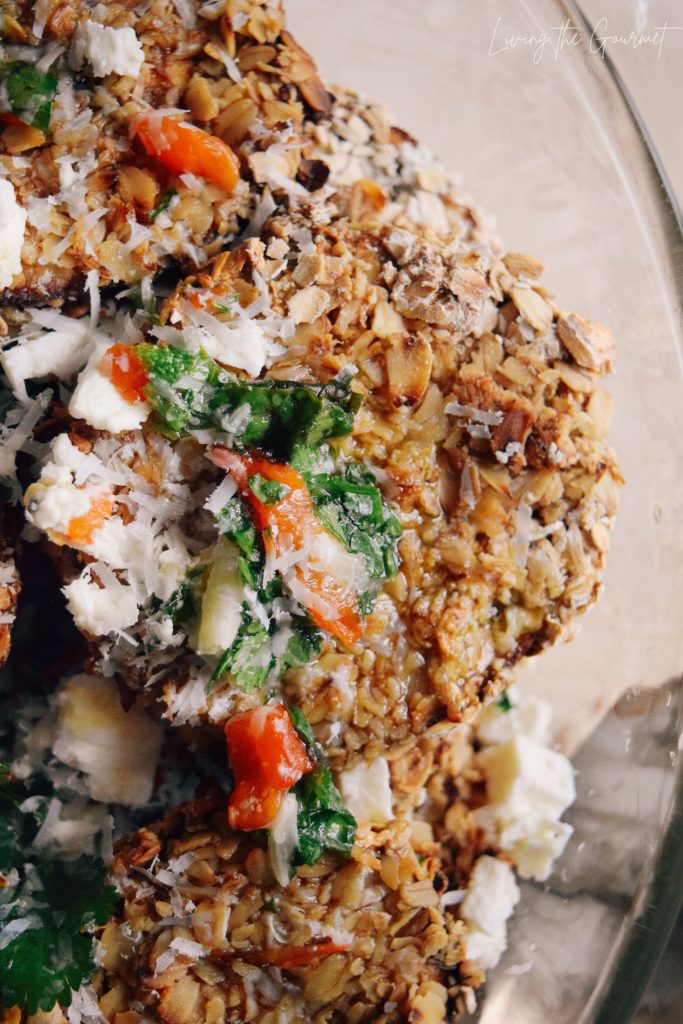 Print
Oat Crusted Eggplant Salad
Author:
Prep Time:

10 minutes

Cook Time:

25 minutes

Total Time:

35 minutes

Yield:

4

-

6

servings

1

x
Category:

Salad
2

medium sized eggplants - peeled and sliced to 1/4 inch thickness

3

-

4

cups of oats - pulsed in food processor

1 1/2 cups

of flour

5

-

6

eggs - for egg wash

Olive oil for drizzle

Parchment paper to line baking sheets

8

-

12

oz. of fresh feta cheese - crumbled

Fresh Parmesan or Romano cheese for grating
Dressing:
Juice of

1

fresh lemon

4 tbs. olive oil

1 tsp

. salt

1/2 tsp

. fresh ground black pepper

1

grilled jalapeno - and chopped with or without the seeds

1

head of garlic - grilled in skin

1/2 cup

of fresh cilantro - stems removed and chopped

4

-

5

fresh mint leaves - chopped

3

-

4

fresh basil leaves - chopped
Instructions
Remove the loose skins on the head of garlic.  Place the garlic in a small cast iron frying pan and place in the oven with the eggplant slices that are baking along with the jalapeno.

Cook the garlic 10 – 15 minutes until the skin turns golden and the garlic is softened.

Remove from the oven and let the garlic cool.

Pop the garlic from its skin and place in a small bowl and mash with the back of a fork.

In a medium sized bowl place, the mashed garlic, chopped jalapeno, lemon juice, chopped cilantro, basil and mint, salt, pepper and olive oil and stir.  You may want to double this dressing for more to drizzle on the eggplant when it is served.

Preheat Oven 375 degrees F.

Place the oats one cup at a time in the food processor to process to make a breadcrumb like crumb.

Set up a station of three shallow dishes to prepare the eggplant.

One with the flour, one with the egg wash and finally one with the processed oats.

Dredge the eggplant first in the flour, then in the egg wash and finally in the oats.

Line a baking sheet with parchment paper and place the prepared eggplant on the parchment.

Drizzle with olive oil and place in the oven.

Bake about 15 minutes then turn over and bake another 10 – 12 minutes.

Set the slices aside while preparing the dressing.
Drizzle olive oil at the bottom of a serving bowl.

Layer the egg plant slices at the bottom of the bowl and crumble the feta over the slices followed by the grated Parmesan or Romano cheese and finally spoon a bit of the dressing on each slice.

Repeat this process until the eggplant is used up.

Cover with tin foil and refrigerate until ready to use.

I do suggest making extra dressing to serve with the eggplant.
Keywords: salad, side dish, eggplant,
Recipe Card powered by
0