Today we're preparing a perennial favorite – eggplant parmigiana. Featuring lots of grated mozzarella, a garlicy red sauce, punctuated by layers of crisped oven fried eggplant, today's parmigiana is a crowd pleaser like few others.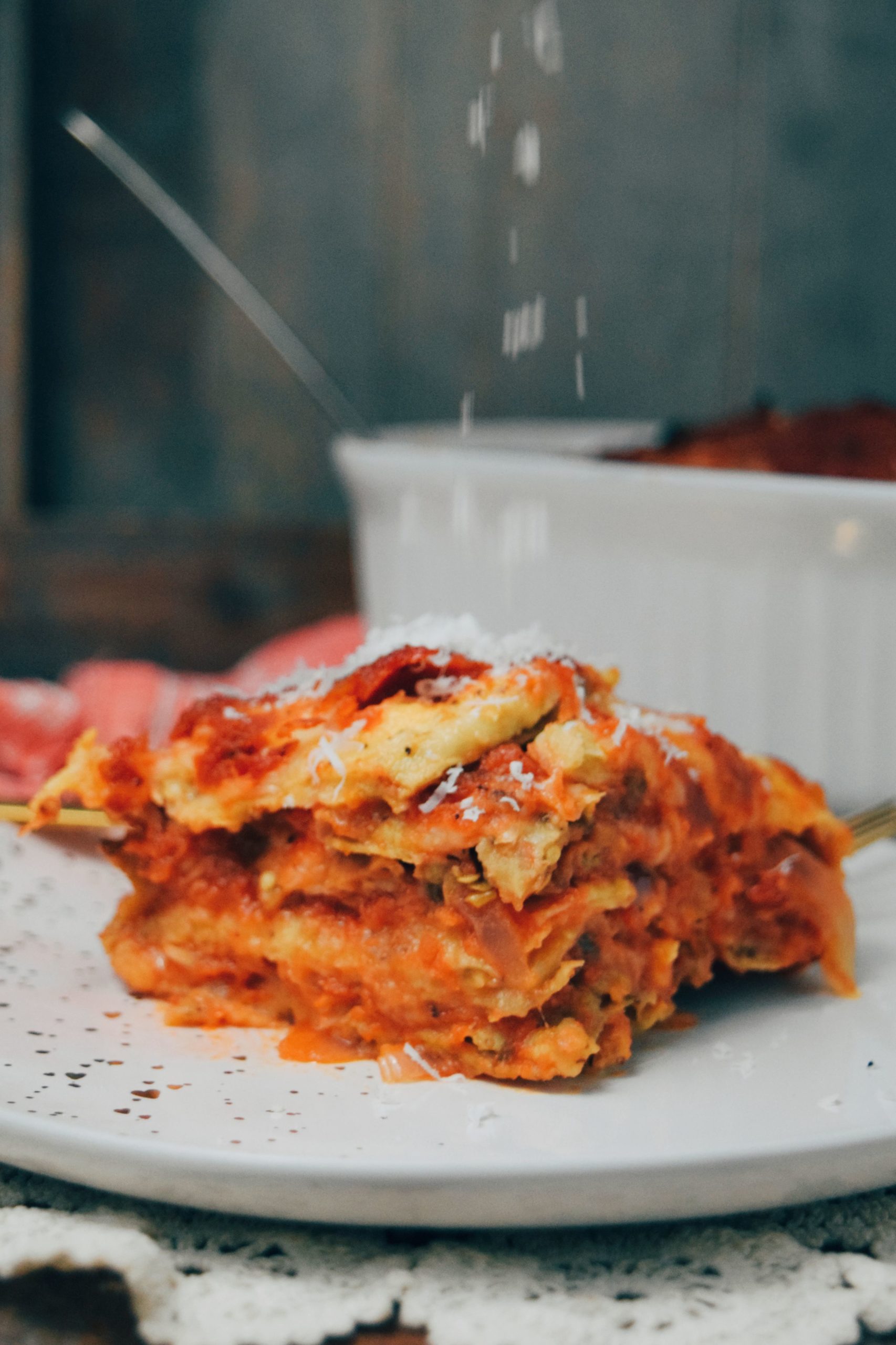 Ingredients Notes, Tips, and Substitutions
1) Mozzarella. Fresh vs Packaged for Today's Recipe. I could be a 'food snob' here and decry the 'vices' of packaged, non-fresh mozzarella, but the difference is a bit more nuanced. To start, yes, fresher is always better – and mozzarella is no different. Fresh mozzarella is undeniably moister, with a fluffy or even silky texture, with something of a milky quality to it, and above all it simply tastes 'fresher' – imagine that. Thus, opt for fresh whenever you can. However – and this is a big 'however' – fresh mozzarella is far from always being a 'must.' Recipes that call for fresh mozzarella involve those where the 'milky' taste and 'fluffy' texture won't either be overpowered by the other ingredients, or destroyed by a harsh cooking process. That said, if the mozzarella is going to be drowned out by a medley of powerful ingredients, or baked down, then you can save yourself a few dollars and buy packaged. After all, there's really no point in paying for fresh mozzarella when all of the qualities that make 'fresh' desirable are being lost. Today's recipe is one such case.
2) Selecting Quality Eggplant – Super Easy. First things first, we 'Test with the Eyes.' In terms of visuals, you want an eggplant with the shiniest skin possible. You also want the skin to be dark – but 'not' night black, and you want the skin to be of uniform of color. Next we 'Test with the Hands.' You want an eggplant that is perfectly smooth to the touch. You want the eggplant to be 'moderately' firm, but 'not' hard. The eggplant should feel like its ready to 'give way' in your hand, but it should resist doing so. Avoid eggplants that are wrinkled, blotchy, overly soft, overly firm, that are unsmooth, and that aren't shiny.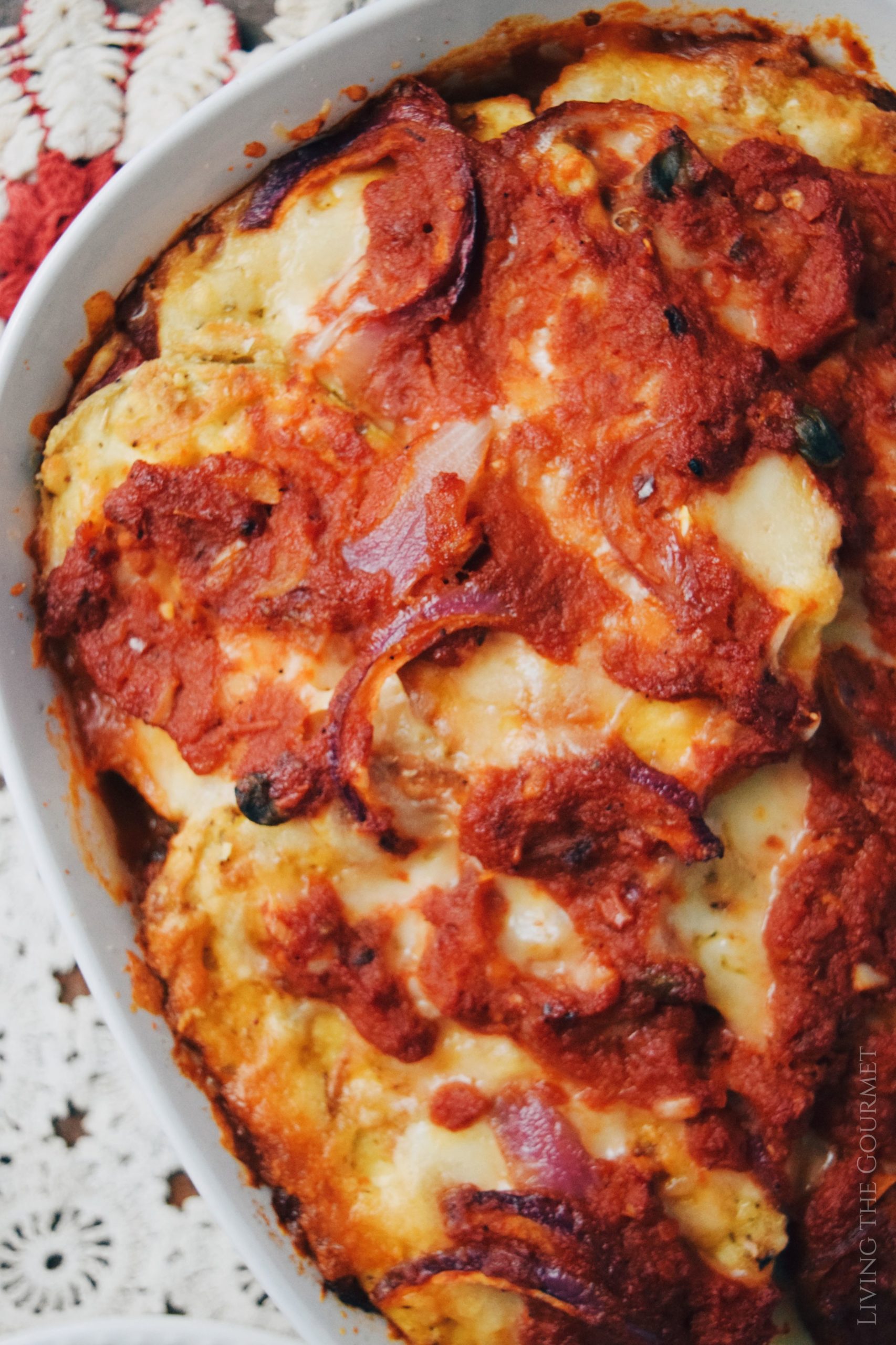 3) Capers – What are these things anyway? They are the flower buds of the Finders Rose or 'Caper Bush.' Oddly, they area wildly unpalatable if eaten fresh or dried – being mouth-parchingly bitter. However, when pickled, brined, or preserved in salt, the bitterness fades away to a 'pleasant tanginess,' a flavor that's variously described as 'lemony,' 'anchovy-like,' 'salty,' and 'olive-like,' or some combination thereof. They are 'not' often described as 'bitter,' which might lead to the very understandable conclusion that their flavor doesn't actually come from the flower-bud itself, but rather from the packaging. Ouch. Thus, capers may in fact merely be the 'vessel' for 'brine flavor.' Regardless of the truth behind their flavor, these little pickled flowers-that-weren't are staple of Mediterranean Cuisine, being especially prominent in Italian, Spanish, Greek, Cypriot, and Moroccan cuisine, while also making an appearance in regional Argentine cuisine. Caper leaves, which feature a somewhat more 'pungent' or simply more 'intense' flavor than olive leaves, are a unique fixture of certain Hellenic recipes.
4) Fresh Oregano vs Dried – and Possible Substitutions. In an unusual twist, dried oregano is generally preferred in the kitchen over its fresh counterpart – although there are exceptions. The one word you'll likely always come across when reading about fresh oregano is 'pungent,' and occasionally 'intrusive.' Fresh oregano has a tendency to steal the limelight. For this reason, it's at home in recipes with 'powerful' ingredients, or where other fresh ingredients are present. Things like Greek salads, whole roasted fish, grilled lamb, heavy sauces, or in herbal mixes for use in stuffing scored pork shoulders. In other words, recipes that aren't 'gentle' or light. For virtually all other uses, dried oregano is preferable, since the drying process mellows it dramatically – which is almost the polar opposite of what happens with other dried herbs, where the drying process has a tendency to 'concentrate' rather than mellow the herbs' most prominent qualities.
Substitution: Dried basil or dried thyme at a 1-to-1 ratio.
The Eggplant: Slicing Guide, and Frying versus Baking
1) Thickness. If you slice the eggplant too thick, the interior of the eggplant slices won't cook properly, and you will end up either with eggplant that's undercooked on the inside, or overcooked on the outside. If you slice the eggplant too thin, than the slices will become saturated during the baking process, and the parmigiana will turn to mush. You want roughly one-quarter to one-third of an inch slices. That's the sweetspot on thickness.
2) Frying versus Baking the Slices. Pan-frying the slices achieves the crispiest, most even 'crust' for the eggplant slices, but is much more tedious and time-consuming. Oven baking is easier, saves time, and 'can' achieve a perfectly fine 'crisp' for your eggplant. Choosing one over the other is purely a matter of how much time and effort you can invest into the recipe. Personally, I find that oven baking the eggplant slices achieves a fine crisp for the eggplant slices, and so I oven bake mine.
3) The Skin. Please, please, please do 'not' listen to guides out there that suggest eggplant skin does not need to be peeled in recipes where you are cooking eggplant. The skin does 'not' become softer or more palatable during cooking. Instead, it remains tough and adds nothing to the flavor. Peel your eggplant!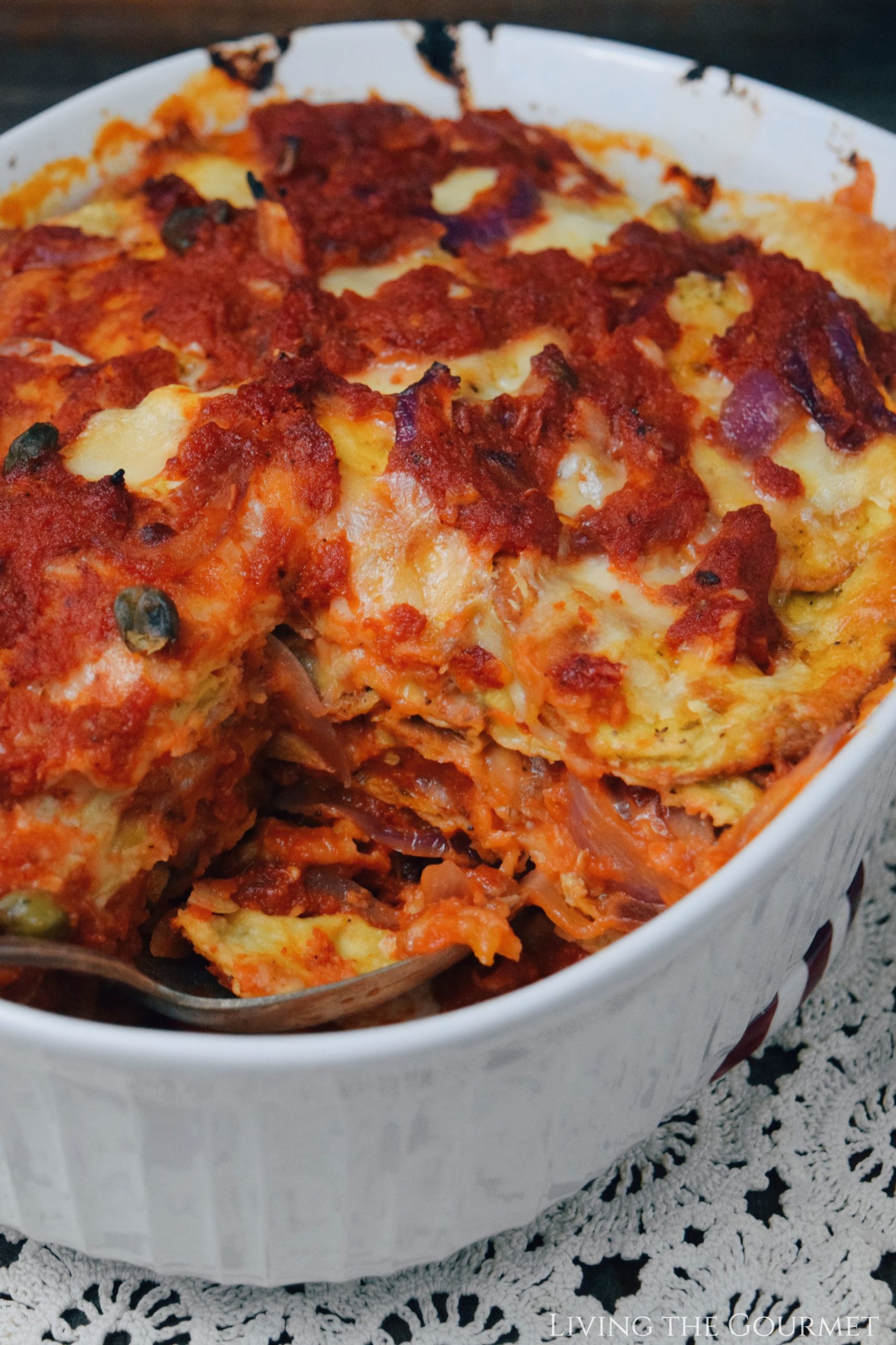 If You Loved Today's Eggplant, Be Sure to Try
1) Sweet Mediterranean Lasagna. This lasagna is a bit more colorful by design as compared to the traditional layers of noodles, red sauce, and mozzarella, featuring fresh baby spinach, a touch of sweetness from raisins and cinnamon, and 'Mediterranean' flavors such as capers, oregano, and lots of fresh garlic.
2) Ravioli. My favorite twist on a beloved classic, these homemade ravioli are blissfully simple to prepare, but the real draw here is the delicious mix of asiago, ricotta, mozzarella, and romano, coupled with a fresh red sauce, plenty of garlic, and fresh spinach.
3) Breadsticks. At the risk of being old fashioned, I'm going to suggest breadsticks to pair with today's eggplant, and these are much easier to prepare than you might think. Paired with some olive oil for dipping, or even some herbed butter or black coffee, these are super versatile and keep great. As a nice bonus, they never fail to impress the guests.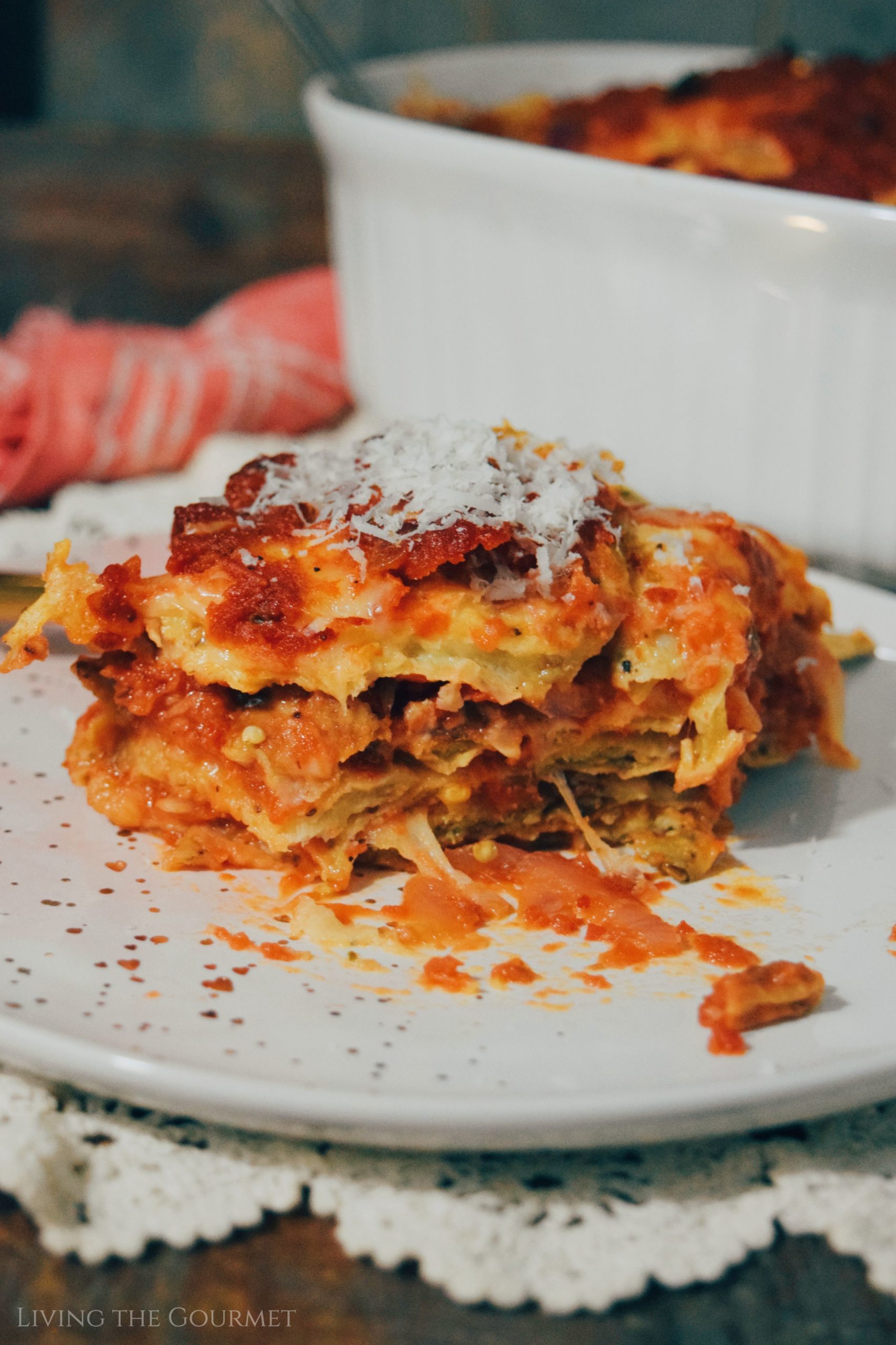 Print
Eggplant Parmigiana
---
Author:

Prep Time:

15 minutes

Cook Time:

1 hour

Total Time:

1 hour 15 minutes

Yield:

4

-

6

1

x
2

medium to large eggplants – peeled and sliced to about

¼

inch thickness

2 cups

(or more if needed) of flour – seasoned with salt, black pepper and dried oregano

4

eggs beaten
Cooking oil for drizzling

16 oz

. of mozzarella – shredded

¾ cup

of grated parmesan or Romano cheese
Tomato sauce
Olive oil
For the Sauce:
28 oz

. can of crushed tomatoes

5

–

6

cloves of garlic – the more the better – finely chopped

2

tbs. capers

2

medium sized onions – sliced thin

1 tsp

. red pepper flakes

1 ½ tsp

. dried oregano

½ tsp

. black pepper

1 ½ tsp

. salt

½ tsp

. sugar

2

tbs. olive oil
---
Instructions
For the Eggplant:
Preheat Oven 350 degrees F.
Divide the flour into two separate shallow dishes.
Set up three shallow dishes: one with flour, one with the egg wash and one with flour.
Dredge the eggplant slices first in the flour, then the egg wash and finally in the flour.
Place the prepared eggplant on a baking sheet lined with parchment.
Drizzle with cooking oil.
Place in the oven and bake for about 10 minutes on one side, until a nice golden color is achieved, then carefully turn over and bake on the other side, again, until a nice golden color is achieved.
Place on a platter while finishing cooking all of the eggplant.
For the Sauce:
Heat a large cast iron frying pan.
Add the sliced onions, garlic and seasonings.
Cook until the onions are softened and the garlic is fragrant.
Add the capers and the crushed tomatoes and simmer for 10 – 12 minutes.
Taste for seasonings.
Assembly:
Preheat Oven 350 degrees F.
Place a tablespoon or two of sauce at the bottom of a casserole dish.
Line the bottom of the dish with eggplant.
Top the eggplant with sauce, followed by the mixture of cheeses.
Repeat this process ending with cheese and the sauce.
Drizzle the top with olive oil and extra grated Parmesan cheese.
Bake for 25 – 30 minutes.
Let the eggplant parmesan rest for 10 – 12 minutes before cutting into.
Serve with a beautiful side salad, extra grating cheese.
Recipe Card powered by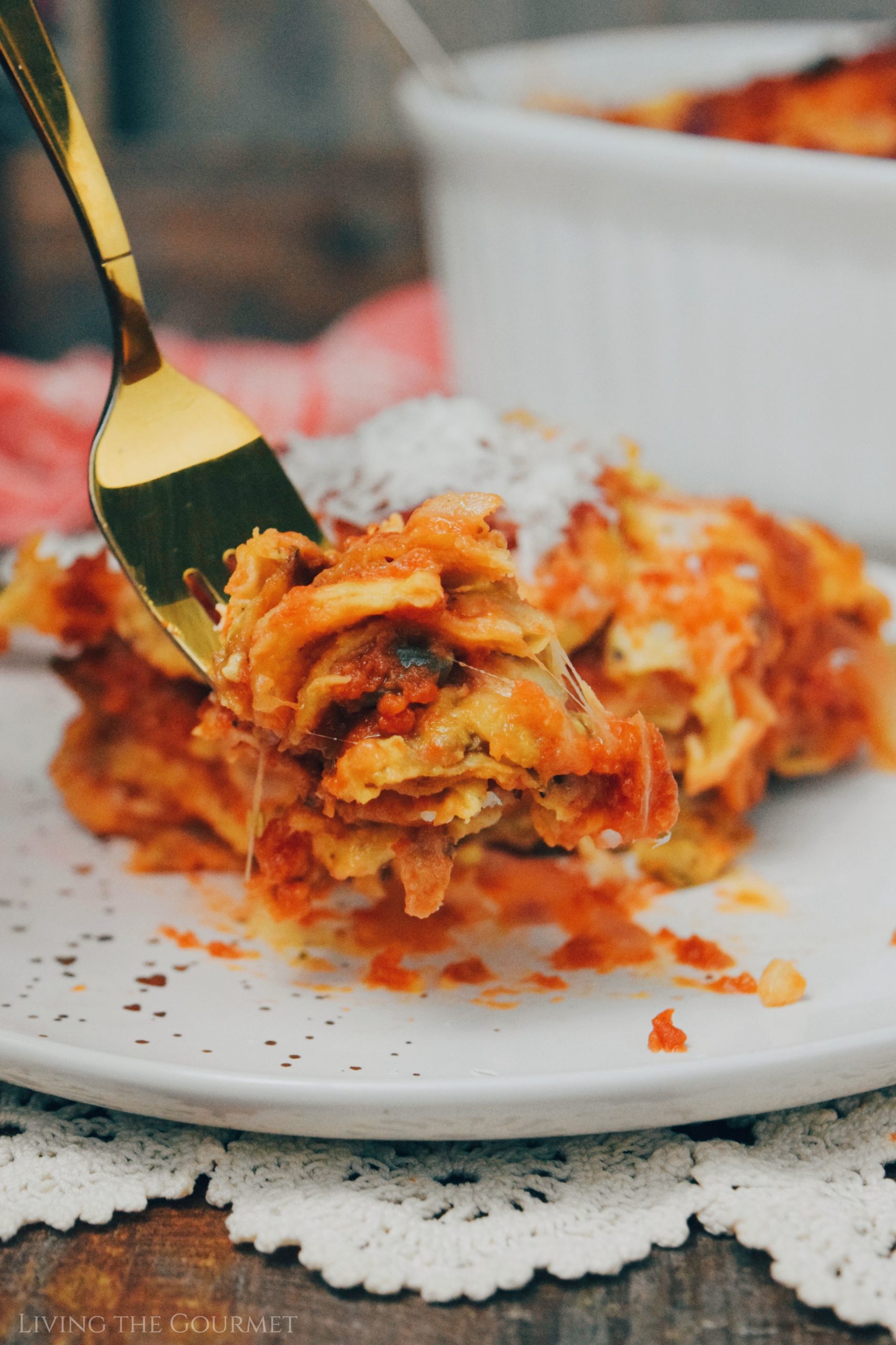 If You Enjoyed Today's Recipe…
Be sure to follow us on Instagram to stay up to date with all things Living the Gourmet, and for more great recipes, tips and tricks.
Did you make this recipe?
If so, let me know in the comments down below, or post a picture to Instagram, or to Pinterest, and I'll give you a shoutout on Instagram, or post your pin to one of my Pinterest boards!
0