Today we're preparing shrimp and grilled veggie rice bowls, with a sesame-teriyaki dressing. These rice bowls are light and refreshing, pair deliciously with favorites like sushi or seaweed salad, and super simple to put together.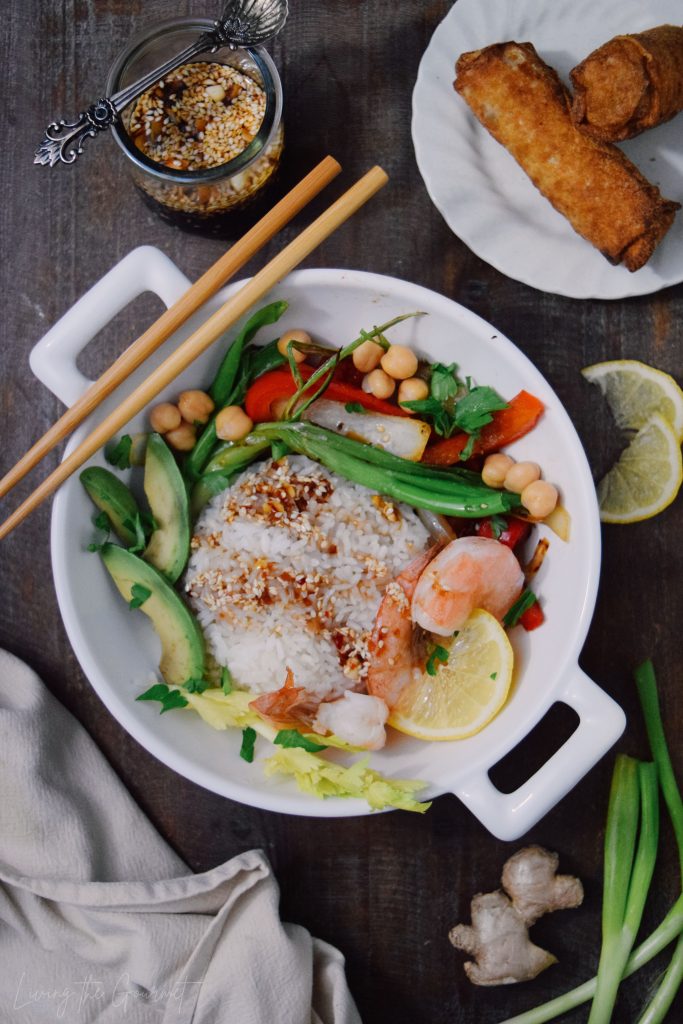 Why You'll Love Today's Salad Bowls
1) Light and Refreshing. Light, crisp, and fresh, today's salad is quintessential spring season food, at home alongside a variety of different seasonal favorites such as sushi, seaweed salads, and spring rolls.
2) Only Simple Ingredients. Featuring no exotic ingredients, today's salad is the very definition of 'pantry friendly.'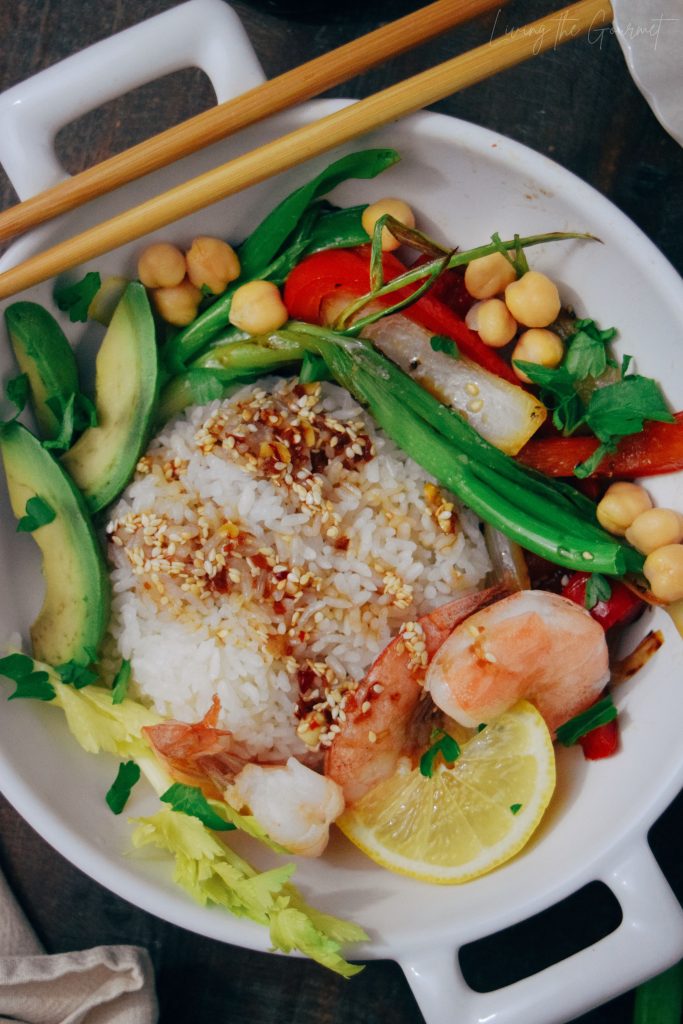 Ingredient Notes, Tips, and Substitutions
1) Red Pepper Flakes. This is one kitchen staple I simply cannot be without. Red pepper flakes are probably easiest way of adding a 'touch of heat' to any recipe, but without adding in any additional flavors. Generally speaking, bottled red pepper flakes are simply dried and crushed cayenne peppers, seeds 'and' flesh, mixed with assorted other peppers, all from the 'capiscum cannum' family.
Substitution: Feel free to leave this ingredient out if you want to skip on the heat. Alternatively, you can substitute in an equal amount of your favorite chili flakes, or roughly a quarter as much cayenne powder.
2) Lemon Juice. Fresh is Best for Today's Recipe. Here's Why. We're eating the lemon juice raw, and that means we want all of the crisp nuances that typify fresh lemon juice, which bottled lemon juice simply lacks. Lemon juice begins breaking down chemically almost as soon as it leaves the lemon, and the juice is often times further diluted with preservatives. Now, in cooked recipes, bottled lemon juice is often fine, since the cooking process destroys a lot of what makes fresh preferable.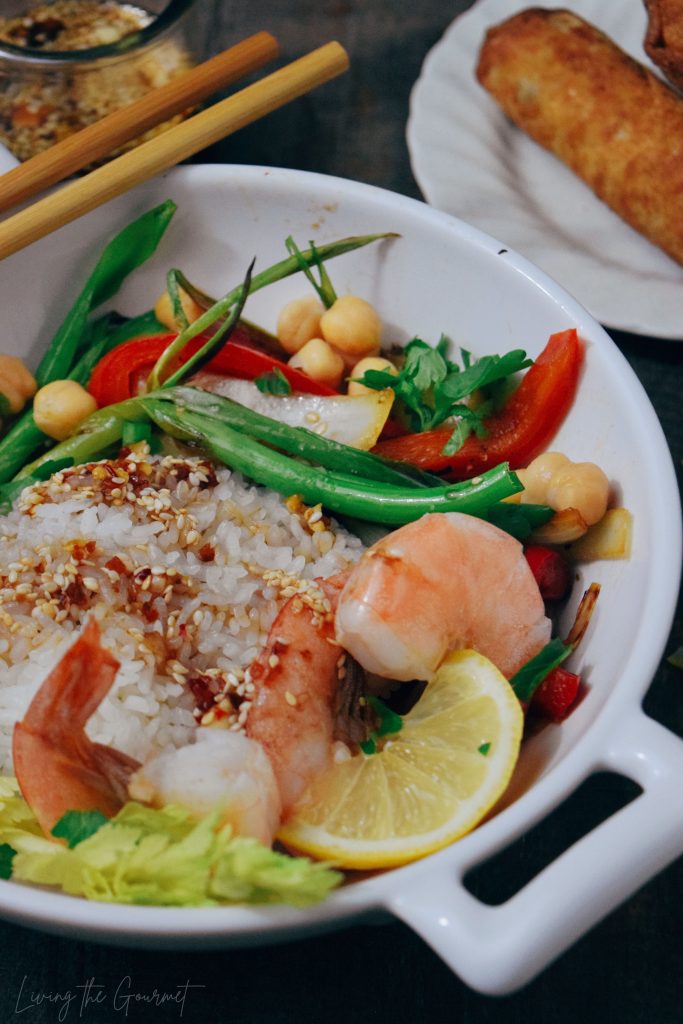 3) Scallions, Notes and Substitution. First off, scallions are 'not' shallots. Yes, some American supermarkets mislabel the two items, but US supermarkets are notorious for their labeling mishaps, with one prominent example being they're labeling of orange fleshed sweet potatoes as 'yams,' despite 'real' yams being more akin to yucca in taste and texture. And yes, it is also true that 'some' parts of the English-speaking world don't differentiate shallots from scallions linguistically – but linguistics often fall short of 'reality.' Instead, what matters is that they 'are' different things. Scallions are long, thin, green and white, with a flavor reminiscent of 'crisp sweet onion,' with a hint of 'vegetable moisture.' By contrast, shallots look like elongated red onions, and taste like 'sweet onions and garlic.' However, one area where they 'do' overlap is that they are both best enjoyed raw either mixed into salads or as edible garnish – as we're doing today.
Substitution. In recipes that call for raw, or only lightly cooked scallions – such as today's – chives are the best substitute. For today's recipe, use the chives in the same way as we're using the scallions. Lightly pan roasted, and then assembled on the side of the bowl, at a one for one ratio.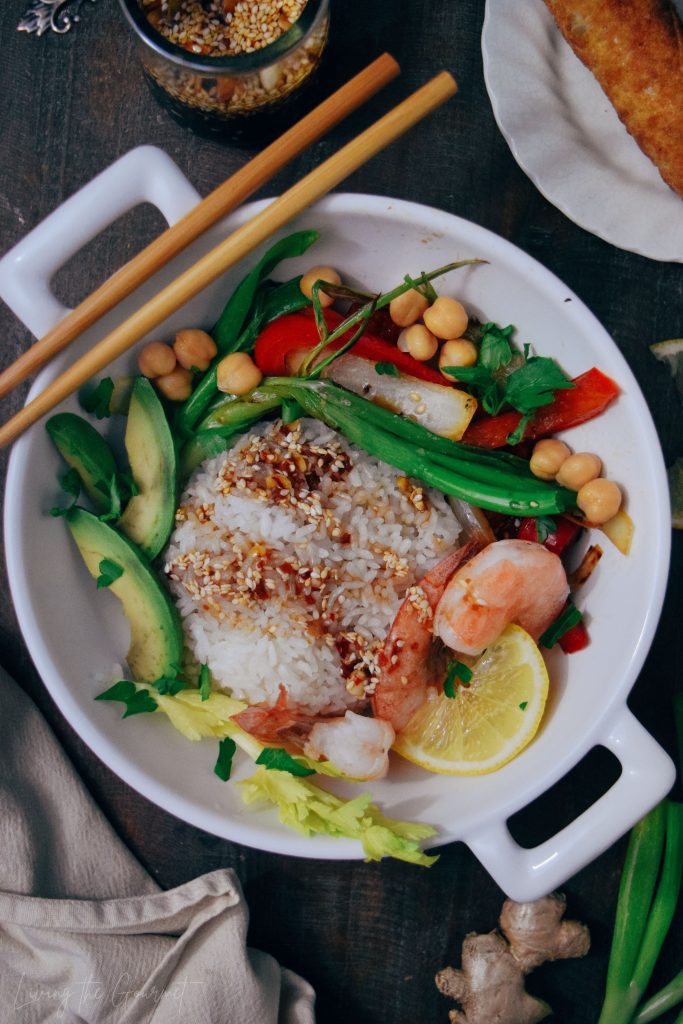 Selecting Quality Shrimp – A Few Tips
1) Fresh or Frozen? It doesn't matter, since according to the National Fisheries Institute, some 85% of all commercially available fish has been frozen at some point on its journey to market. The quicker the fish was frozen after being caught, and the longer it remained frozen before finding its way to the display case of your local market the better. The same applies to shrimp.
2) Buy Shell-On Shrimp. Freezing or storing shrimp after it has been shelled and deveined causes a loss of flavor, since this causes the shrimp to drain away juices that impart flavor. This is true even when flash freezing the shrimp immediately after shelling and deveining. This doesn't mean that the 'quality' of shelled or deveined shrimp is inferior, merely that you're getting a 'less flavorful' shrimp…which is a quality in and of itself.
3) Inspect the Shell. While this might be hard to do through freezer bags, it's worth mentioning that the shell of the shrimp holds important clues as to the quality of the shrimp itself. Black spots or patches of deep brown indicate that the shrimp are decaying.
NOTE: Some species of shrimp, such as Black Tiger shrimp, or Gulf Pink shrimp, naturally have streaks of black or dark green on their shells.
5) Smell. Shrimp should smell of saltwater or 'brine.' Any other smell is a sure sign that the shrimp have begun to turn.
6) Texture. Once fully thawed, shrimp should be firm to the touch. If they are soft, rubbery, or mushy, do not eat them.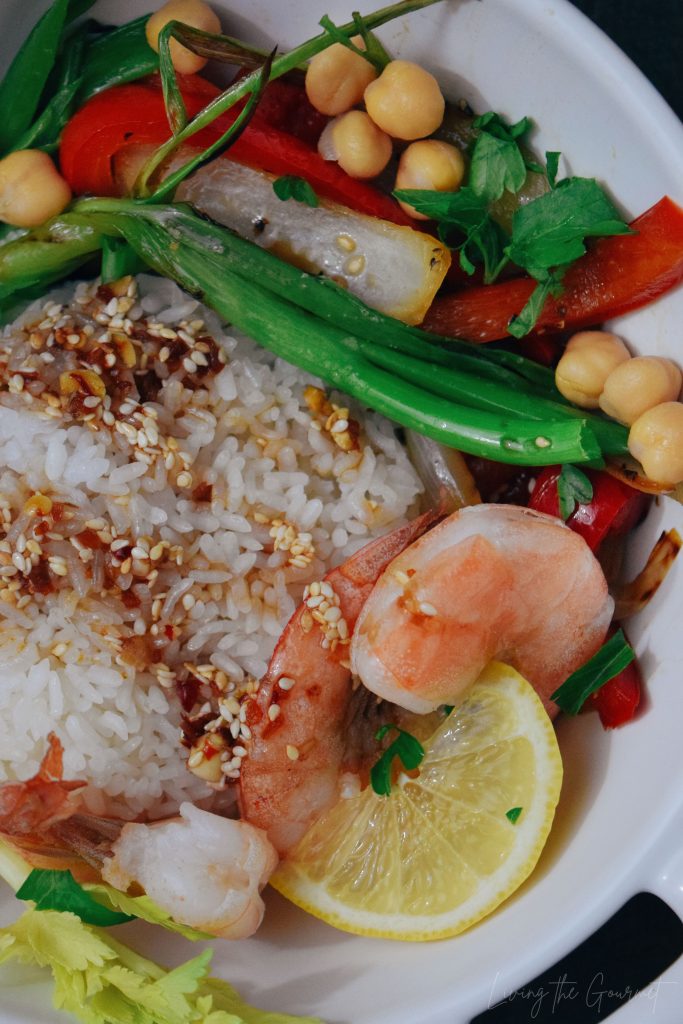 Other Great Salads from Living the Gourmet
1) Oat-Breaded Eggplant Salad. Sliced eggplant breaded in oats, layered with feta, and a fresh mint and basil vinaigrette prepared with lemon, roasted garlic, and jalapeno.
2) Moroccan Tomato Salad. A surprise hit with my family, this Moroccan tomato salad is so simple, and yet so delicious, that it instantly won a place in my heart. Also, it pairs delicious with all manner of summer food, from BBQ to souvlaki to fish.
3) Mediterranean Orange Salad. A super simple orange salad, which combines sliced oranges tossed with cilantro, grilled jalapenos and honey, capers and scallions, creating a medley of savory umami notes set against a sweet and spicy backdrop.
Print
Shrimp & Rice Bowls
---
Author:

Total Time:

30 minutes

Yield:

4

servings

1

x
1

large sweet onion - sliced

1

red bell pepper - sliced

4

-

5

large cloves of garlic

1

inch piece of fresh ginger - sliced very thin

32

raw shrimp - steamed

2

cups

of medium grain white rice (sticky rice)

1

avocado - sliced

1

fresh lemon - sliced
Fresh ground sea salt
Fresh ground black pepper

1/4

-

1/2

tsp. red pepper flakes

1

tbs. olive oil

15.5 oz

. can of chick peas - drained and rinsed

1

bunch of scallions
Fresh cilantro - stems removed and chopped - for garnish
For the Sesame Sauce:
2

tbs. teriyaki sauce

2

tbs. soy sauce

1

tbs. sesame oil

3

-

4

fresh garlic cloves - chopped fine

1

- inch piece of fresh ginger - sliced and chopped very fine

1

tbs. chili paste

1

tbs. fresh lemon juice

1

tbs. honey

1

tbs. sesame seeds
---
Instructions
Prepare the rice in a rice cooker or as directed. I always rinse the rice before placing it in the rice cooker.
Heat a pot of water and bring to a low simmer. Place a mesh colander the fits in the rim of the pot to use as a steam basket to place the shrimp in. The water should not be touching the colander, but just under it.
Place the shrimp in the colander with a slice or two of fresh lemon and steam until the shrimp turn opaque and pink. This should take about four to six minutes. Remove the shrimp and place in the refrigerator until ready to use.
Heat a large cast iron frying pan and place the sliced peppers, onions and garlic in a dry pan. Allow the peppers and onions to get a slight char.
Remove from the pan and set aside. Add the sliced ginger while the veggies are still hot and drizzle with olive oil and season with salt, red pepper flakes and fresh ground black pepper.
Place the scallions in the heated cast iron frying pan and allow the scallions to reach a nice char. Drizzle with a bit of olive oil and season with fresh ground sea salt and fresh ground black pepper.
For the Sesame Sauce:
In a medium bowl combine the teriyaki sauce, soy sauce, sesame oil, fresh sliced ginger, chili paste, lemon juice, finely chopped garlic, honey and sesame seeds and combine.  Set aside.
Building the Bowl:
Take a cup and using a paper towel wipe the inside with olive oil.
Fill the cup with the cooked rice and press down so that the rice is firmly in the cup. Turn the cup upside down into the bowl that you wish to use.
Around the rice place the peppers and onions, shrimp, sliced avocado, lemon wedge and chickpeas and drizzle the bowl with the prepared sesame sauce.
Garnish with the chopped fresh cilantro.
Prep Time:

10 minutes

Cook Time:

20 minutes

Category:

Main Dish

Cuisine:

Asian
Keywords: shrimp, rice, rice bowl, seafood, healthy
Recipe Card powered by
0