Today's gremolata features just four basic ingredients, in addition to salt and pepper. Bright, fresh, blissfully aromatic, and crisp on the palate, gremolata pairs great with everything from homemade pizza to steak, pork, and fried chicken. This is one recipe you 'really' need to have in your repertoire.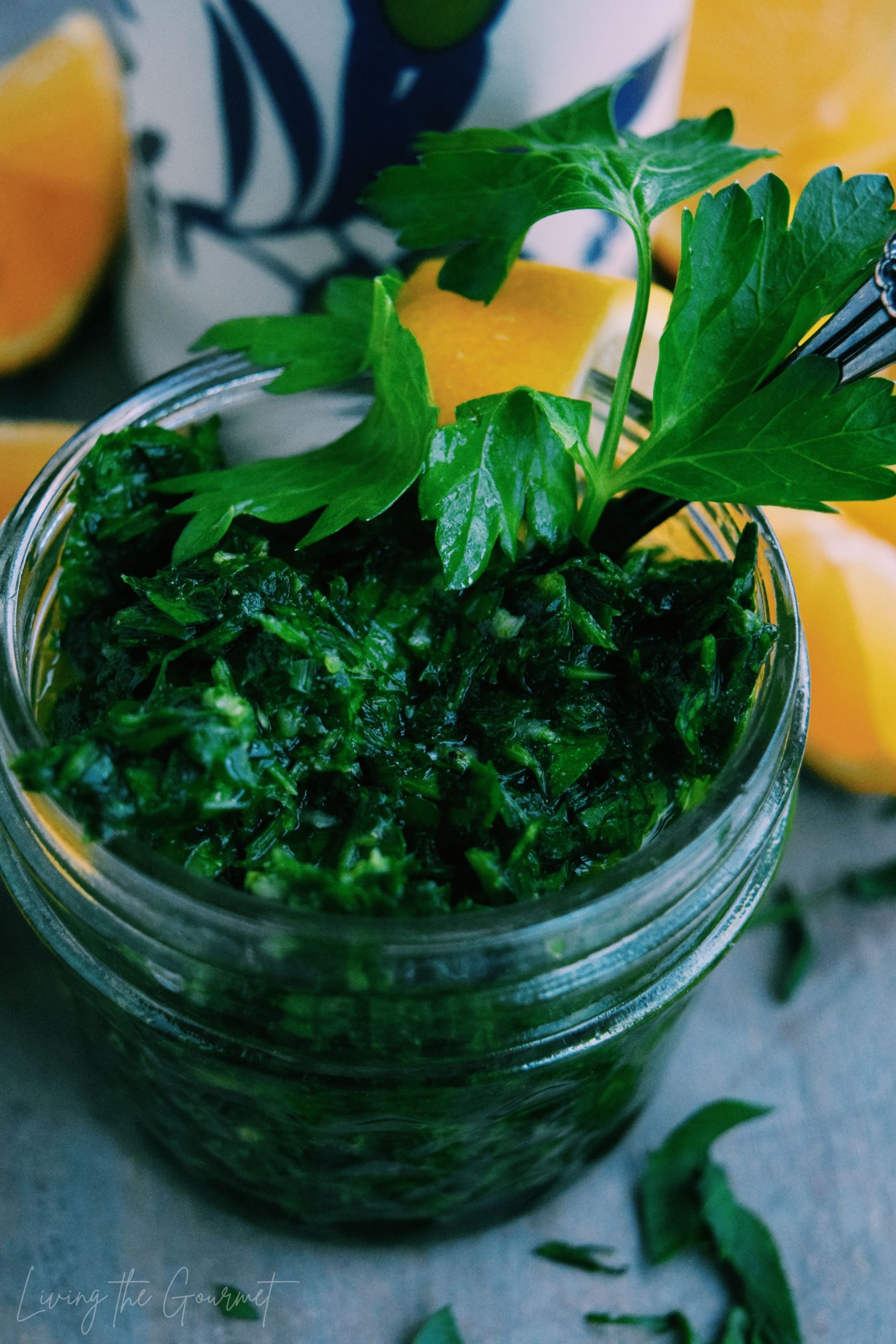 Why You'll Love Today's Gremolata
1) Couldn't be simpler. If you can chop up some parsley, squeeze a lemon, and turn on your food processor, you can make today's recipe.
2) Just four basic ingredients. Parsley, olive oil, lemon juice, and garlic, along with salt and pepper, is all that's in today's gremolata. How much easier could this get?
3) Pairs great with…pretty much everything. Eggs, homemade pizza, veggies, on crusty Italian bread, on steaks, lamb, or pork chops, or even as a salad dressing, gremolata pairs with pretty much anything savory. One reason I love this recipe so much is because of how versatile this simple little dip is.
4) It keeps. I've kept my gremolata in the fridge for up to a week, and it's kept just fine.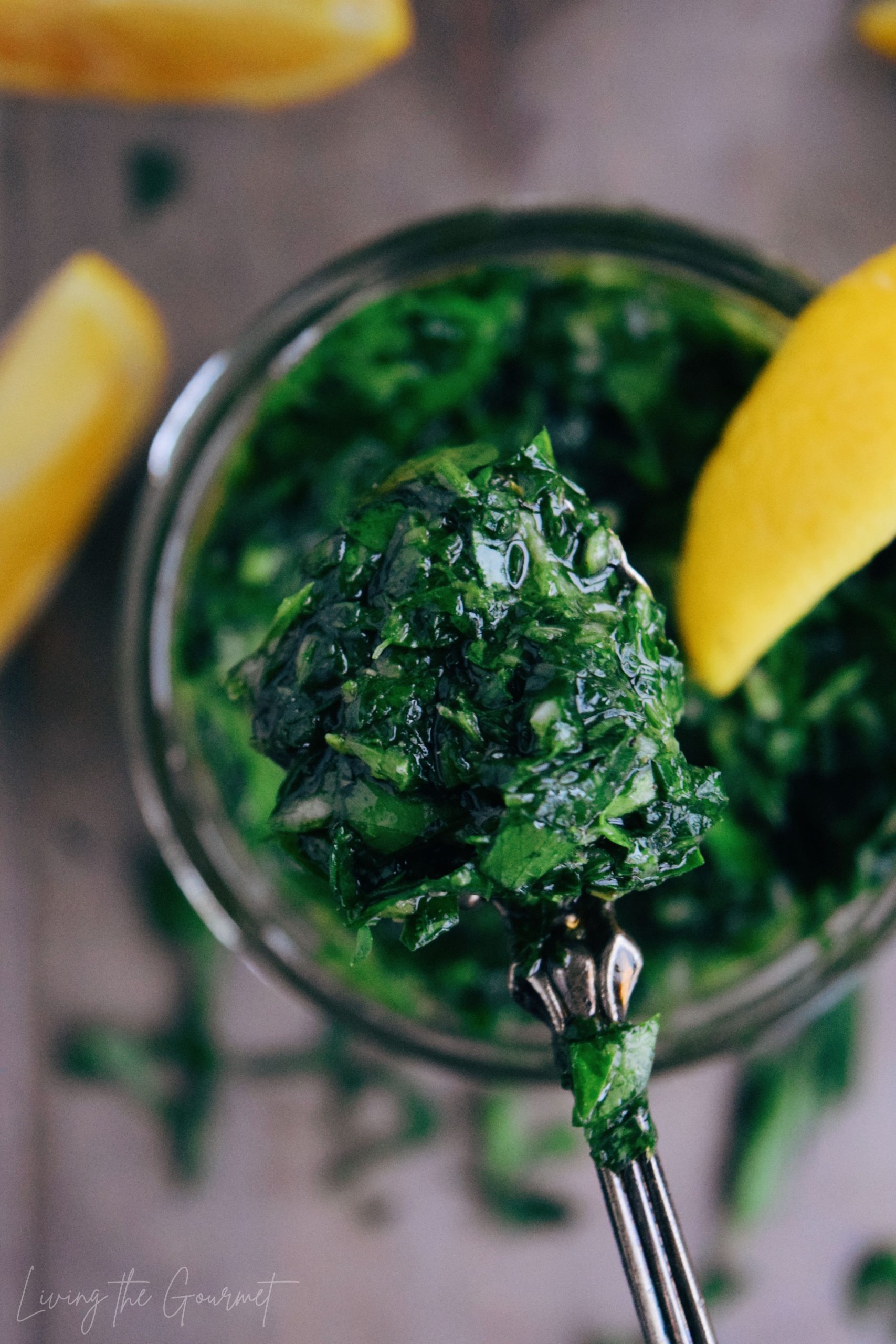 Ingredient Notes and Tips
1) Parsley – Or 'most' of today's recipe. The parsley is the star of today's show, providing the body, texture, and most of the flavor in today's gremolata. This means not only do you want fresh, quality parsley, but also the 'right' type of parsley, and that means Italian flat leaf only. Why is this? Because curly parsley tastes like…more or less 'nothing', or – at most – like grass, and has almost no aroma. However, what elevates curly parsley into the culinary realm, thereby saving it from merely being a weed, is the simple fact that "Oh my goodness is it pretty." By contrast, Italian flat leaf parsley is about as 'pretty' as cilantro…which is to say it's just green leaves on thin steams. Since we're chopping up today's parsley as the 'meat' of our dip, Italian flat leaf is the way to go.
2) Lemon Juice – Fresh is a must. While you can 'probably' get away with bottled lemon juice if that's all you have on hand, fresh lemon juice really would shine in today's recipe. Bottled lemon juice simply isn't as flavorful, lacking the full 'zest' or 'brightness' of fresh lemon juice, since the juice begins breaking down chemically almost as soon as it leaves the lemon. Beyond that, the juice's flavor is often times further diluted with preservatives. As a result, if you want the full flavor and balance intended in today's recipe, use fresh lemon juice.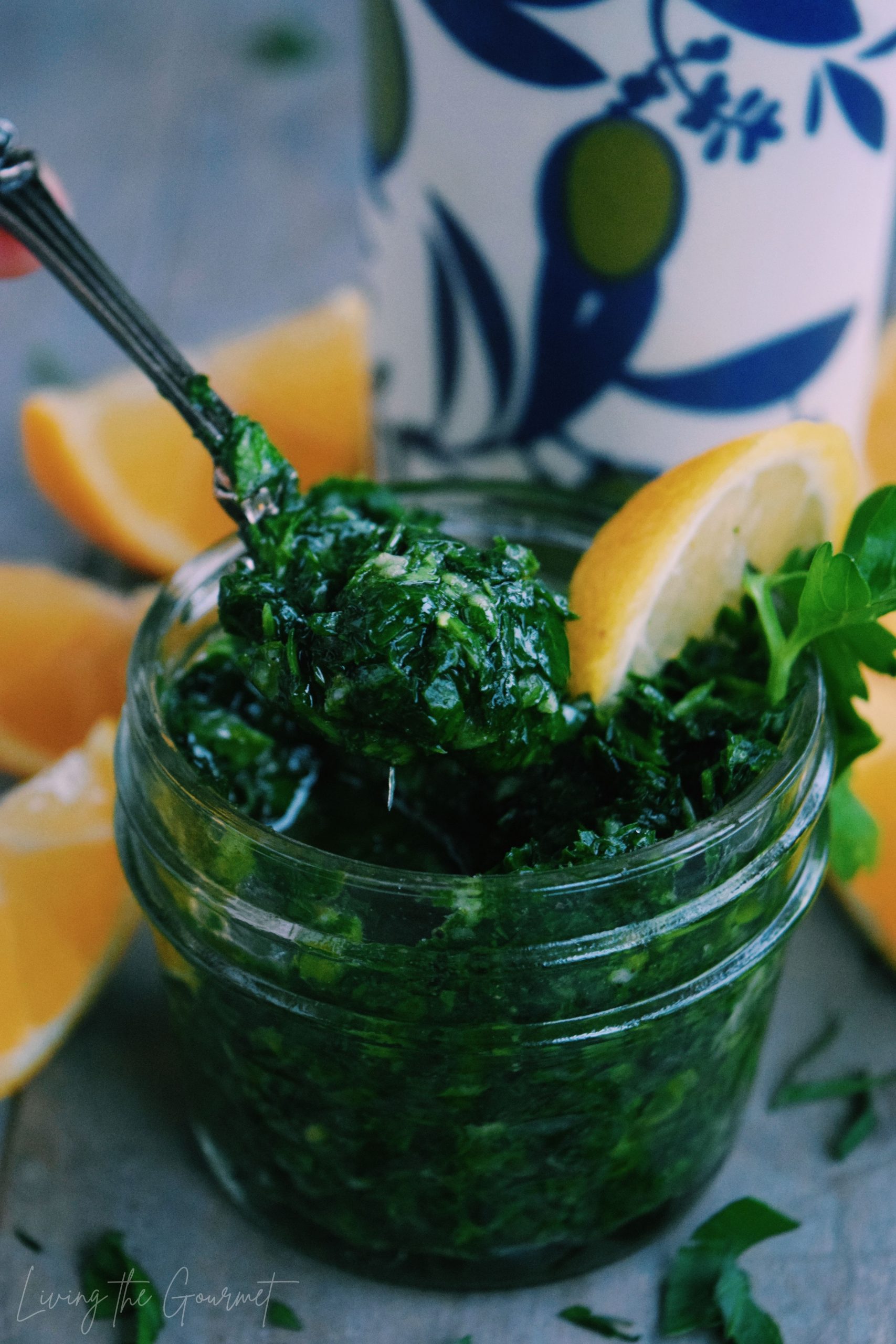 What to do with Gremolata
1) Lamb. Gremolata is the condiment served alongside the Milanese dish ossobuco alla Milanese, which is composed of braised veal shanks and vegetables. That said, gremolata also works alongside breaded and grilled veal as well. However, gremolata would also work just fine on lamb shanks or as a spread over roasted leg of lamb.
2) Steak. Argentine cowherds (gauchos) are credited with popularizing (or even inventing) chimichurri, which they would use to season the beef that formed the staple of their diets. Chimchurri is 'almost' identical to gremolata, but with just a few additional ingredients – such as vinegar and red pepper, and 'sometimes' cilantro. See my Steak Platter for a lengthier explanation. Thus, it should come as no surprise that gremolata also pairs excellently with beef – especially if you aren't one for the added acidity and spice of chimichurri.
3) Fried Chicken. I've probably used today's recipe (and similar recipes) more on chicken than I have either on lamb or beef. Pair today's gremolata with some breaded chicken cutlets, and I promise you won't be disappointed.
4) Salad. Drizzle this over your favorite garden salad for a light and crisp homemade dressing, and you've got a nice alternative to the usual olive oil and vinegar combo.
5) Pizza. I'm talking mostly about homemade pizza, such as what I prepared Spicy Artichoke Pizza, or even a homemade NY Style Pizza. A Cuban-Style Pizza would also likely pair deliciously with this. Regardless, drizzle a bit of this over a homemade pizza, and again I really don't think you'll be disappointed.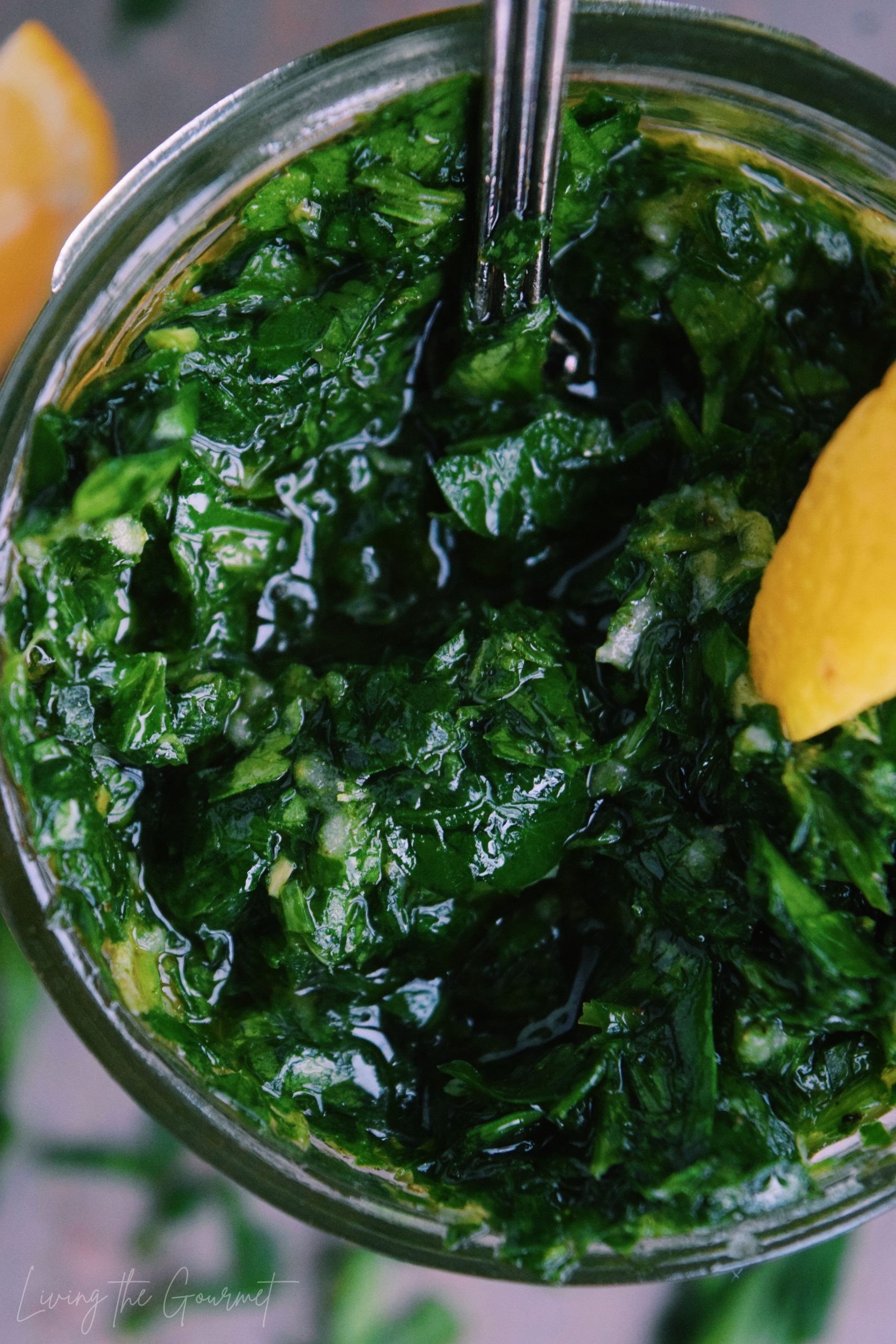 Print
Parsley Gremolata
---
Author:

Prep Time:

10 minutes

Total Time:

10 minutes
1 ½

bunches of fresh Italian parsley – stems removed and chopped fine

2

garlic cloves – grated
Juice of

1

lemon plus a bit of lemon zest

3

–

4

tbs. olive oil

¼ tsp

. salt

¼ tsp

. fresh ground black pepper
---
Instructions
Rinse and pat dry the parsley.

Remove the stems and chop fine.  I suggest that you chop the parsley.   If you choose to use a food processor do not over process and turn into a paste.

Grate the garlic and zest a bit of the lemon into the chopped parsley.

Add the salt and fresh ground black pepper and the olive oil and stir.

Taste a bit for seasonings and season to taste.

Enjoy with your favorite breads, crackers and grilled meats.
Recipe Card powered by
1