Combining grilled jalapenos, fresh cilantro, and honey, today we're preparing a sweet-and-spicy grilled salsa. Today's salsa is perfect on everything from flatbreads to grilled steaks, or even folded into cheddar omelets or spread on crostini. This is one salsa you should definitely try this summer.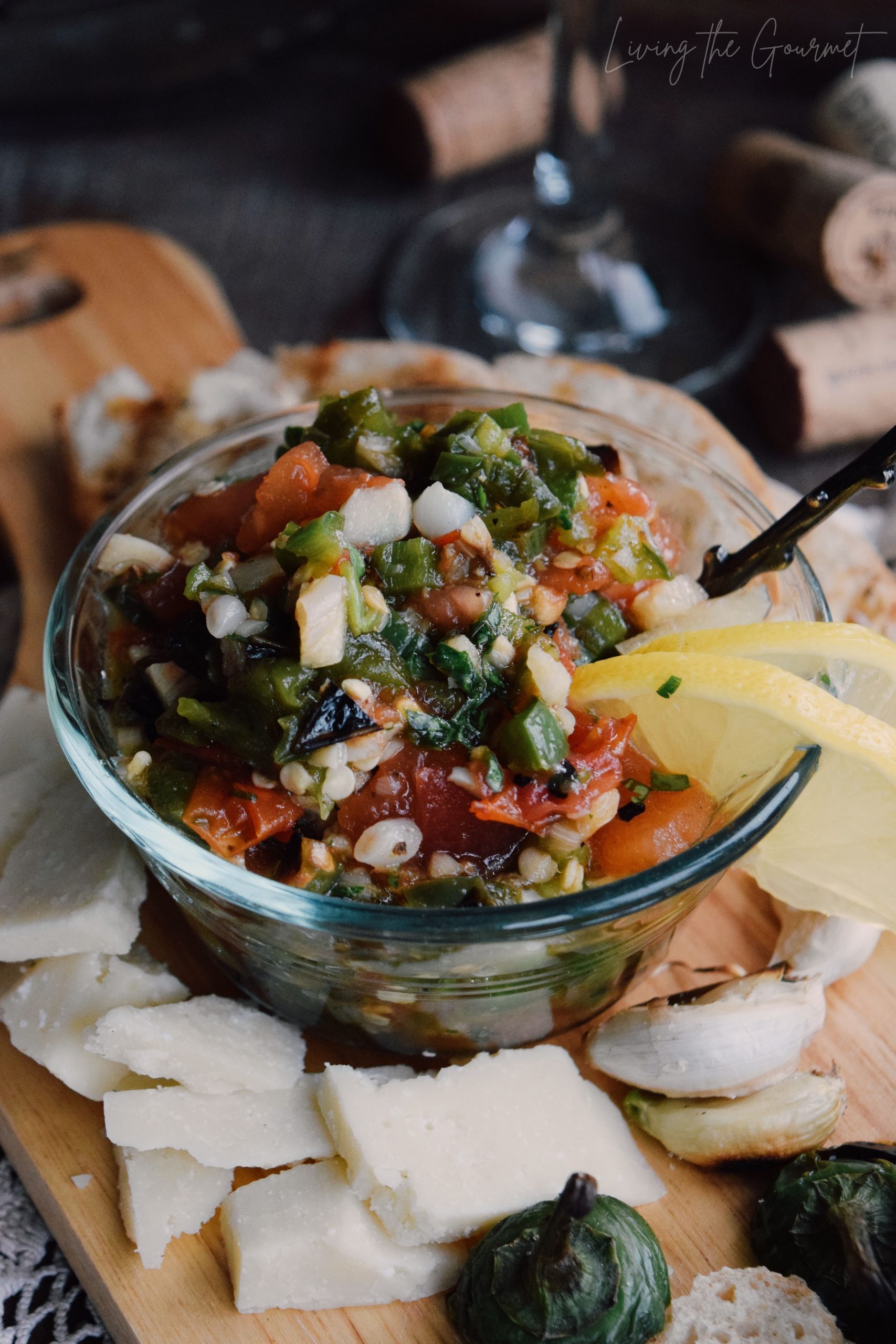 Why Try Today's Salsa
1) Super Simple. If you can grill a few heads of garlic and some jalapenos, and then chop those together with some cilantro, you can prepare today's salsa. It really is just that simple.
2) It keeps. This keeps in the fridge nicely for about a week, meaning you can make this recipe days ahead of time if you're planning a barbecue with friends and family.
3) Versatile. I'll touch on this more below, but today's salsa really does pair excellently with a variety of our favorite summer recipes, such as grilled steak and wheat tortillas.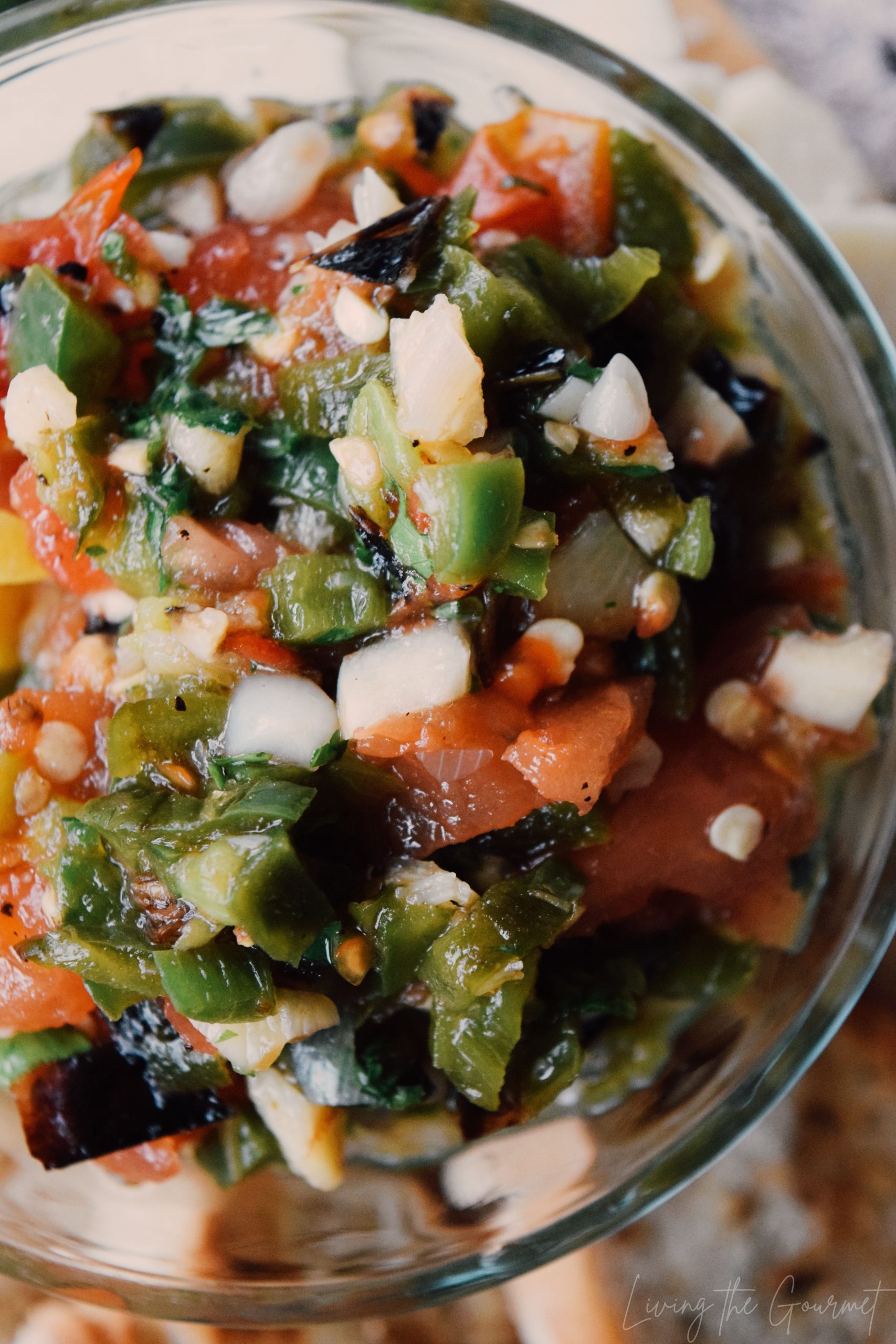 Ingredient Notes, Tips, and Substitutions
1) The Honey. I'm of the opinion that store brand honey is perfectly fine for 'most' kitchen applications, and in virtually all 'cooked' applications. I say this because the qualities that separate gourmet or quality raw honey from 'standard' store brand are very nuanced, often coming down to delicate texture differences which are wholly destroyed during the cooking process, while any minor flavor differences will almost certainly be masked or overpowered by other ingredients. However, in things like salad dressings, dips, and delicate baked goods is where raw and gourmet honey can really be given a chance to shine. Will an expensive honey make a difference in today's salsa? It wouldn't hurt, since we're leaving the honey raw, but if all you've got is store brand clover honey, that's perfectly fine.
3) Jalapenos. We're using a whopping five jalapenos in today's salsa. No, that that doesn't mean today's salsa is searing hot. On the contrary, jalapenos clock in at a middling 2,500 to 10,000 units on the Scoville heat scale, and as such jalapenos are best described as 'somewhat spicy.' By contrast, cayenne rates between 25,000 and 50,000 on that same heat scale. However, the jalapenos in today's salsa are providing more than just their mild spice, they're providing 'body' for the salsa. Indeed, the 'bulk' of today's salsa is a mix of jalapeno, cilantro, and tomato.
For the Heat Sensitive: If you absolutely cannot bear 'any' amount of heat, you can easily substitute in one or two green bell peppers in place of today's jalapenos. Just be sure to grill them, otherwise today's salsa goes from 'smoky' and 'earth' to bright and sweet – not that that's a bad thing.
3) Cilantro. Since we're grilling the ingredients in today's salsa, I'm opting for cilantro rather than parsley. Typically, as a rule of thumb, parsley, being 'brighter' and 'fresher' tasting is best used in light recipes where the 'freshness' of the parsley can really shine through. This also means that parsley is typically the herb of choice when the recipe is being eaten 'raw,' such as in salads or light dips. To that point, since today's salsa features grilled flavors and a fair amount of heat, cilantro is the way to go.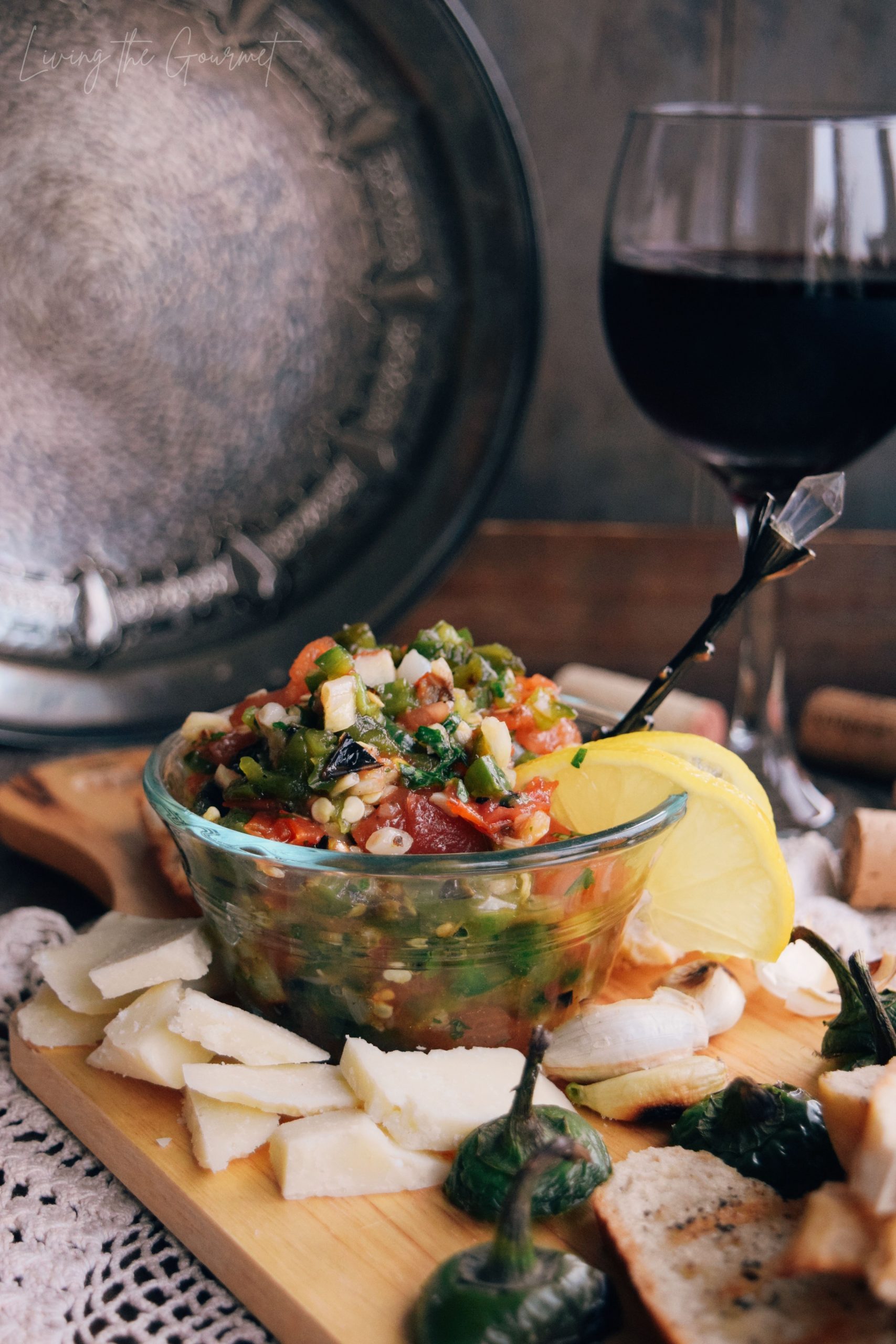 Prep Notes – Grilling the Garlic
1) Don't Over-Grill Them. If you grill the garlic too long, it will become 'soft' and overly sweet. We want to grill the garlic 'just' until the outer skin begins to blacken, and that's it. This will allow the garlic to remain crisp and to retain its 'bite.'
2) Let the garlic cool. This might sound like I'm stating the obvious, but after watching my son redden his fingers de-skinning freshly grilled garlic, I guess this bears saying – let it cool! There's no need to de-skin the garlic the instant it's off the pan. Let it cool. You'll be serving the salsa cold anyway.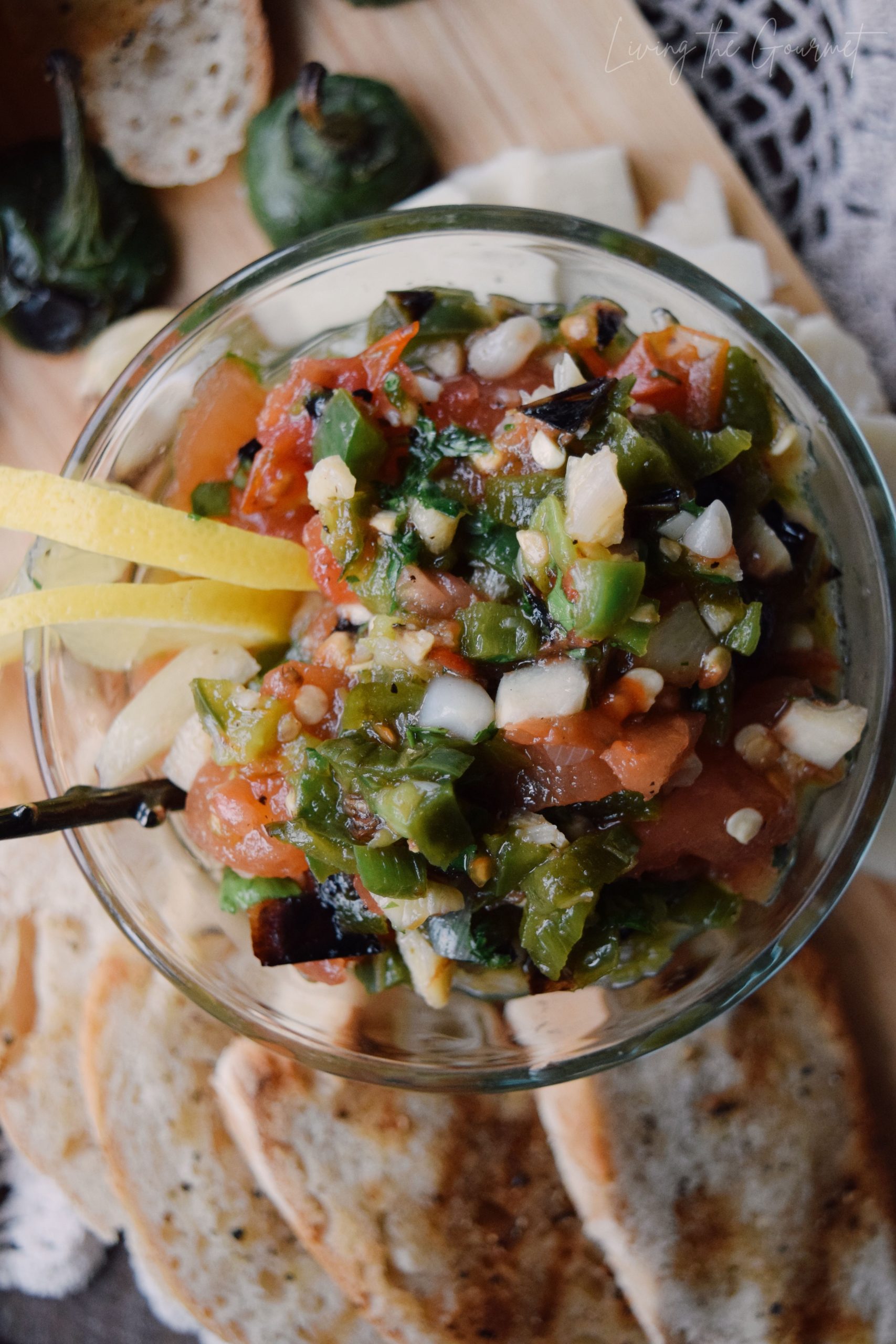 Prep Notes – Grilling the Jalapenos
1) The Seeds. These are where 'most' of a jalapeno's heat resides. If you want your salsa to be a bit spicier, add the seeds in. Otherwise, they can be discarded.
2) Grilling. As with the garlic, if you leave the jalapenos to blacken for too long, the 'flesh' of the jalapenos more or less withers away. We want to grill the jalapenos just long enough to give them a nice char across their outer surface, and no more.
3) Skinning the Jalapenos. Feel free to scrape off any excess char, but you don't need to be overzealous about this. Leaving a bit of the char adds to the 'smoky' and 'earthy' qualities of the salsa. Too much, however, and it will be overpowering. The right balance depends on your personal preference.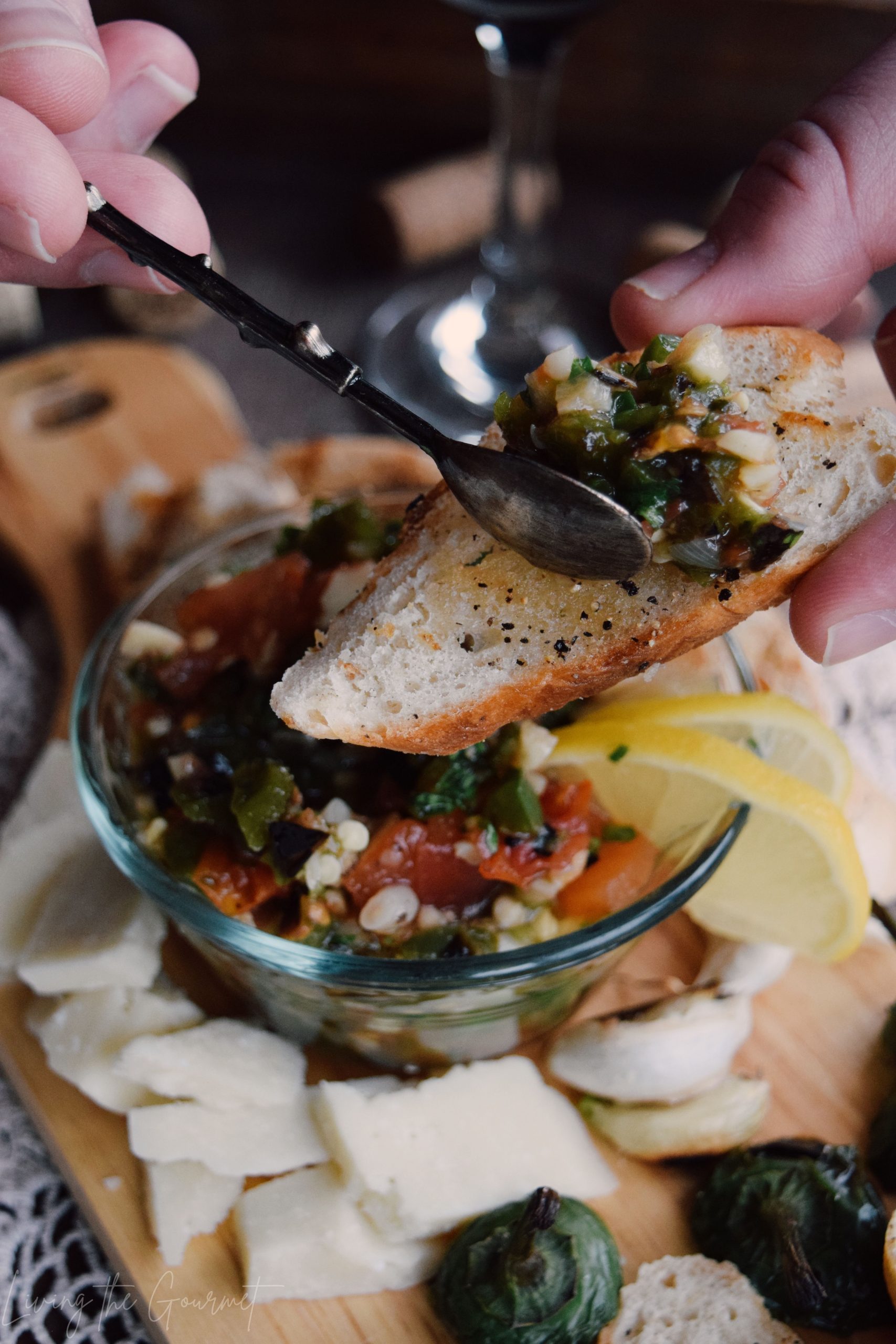 What to do with Today's Salsa
1) On crostini. Top this on a crostini with a slice of romano cheese, and you're good to go.
2) On flatbreads. Obviously, today's salsa is at home spread over flatbreads. However, I suggest making your own tortillas or 'flatbreads,' since it's so easy and satisfying to do.
3) On Steak. Grilled steak with a grilled salsa – it's a match made in barbecue heaven. For my preferred method, check out my summer steak platter!
4) Fried Chicken. Crisp fried chicken tenders with a dollop of grilled salsa…honestly need I say more?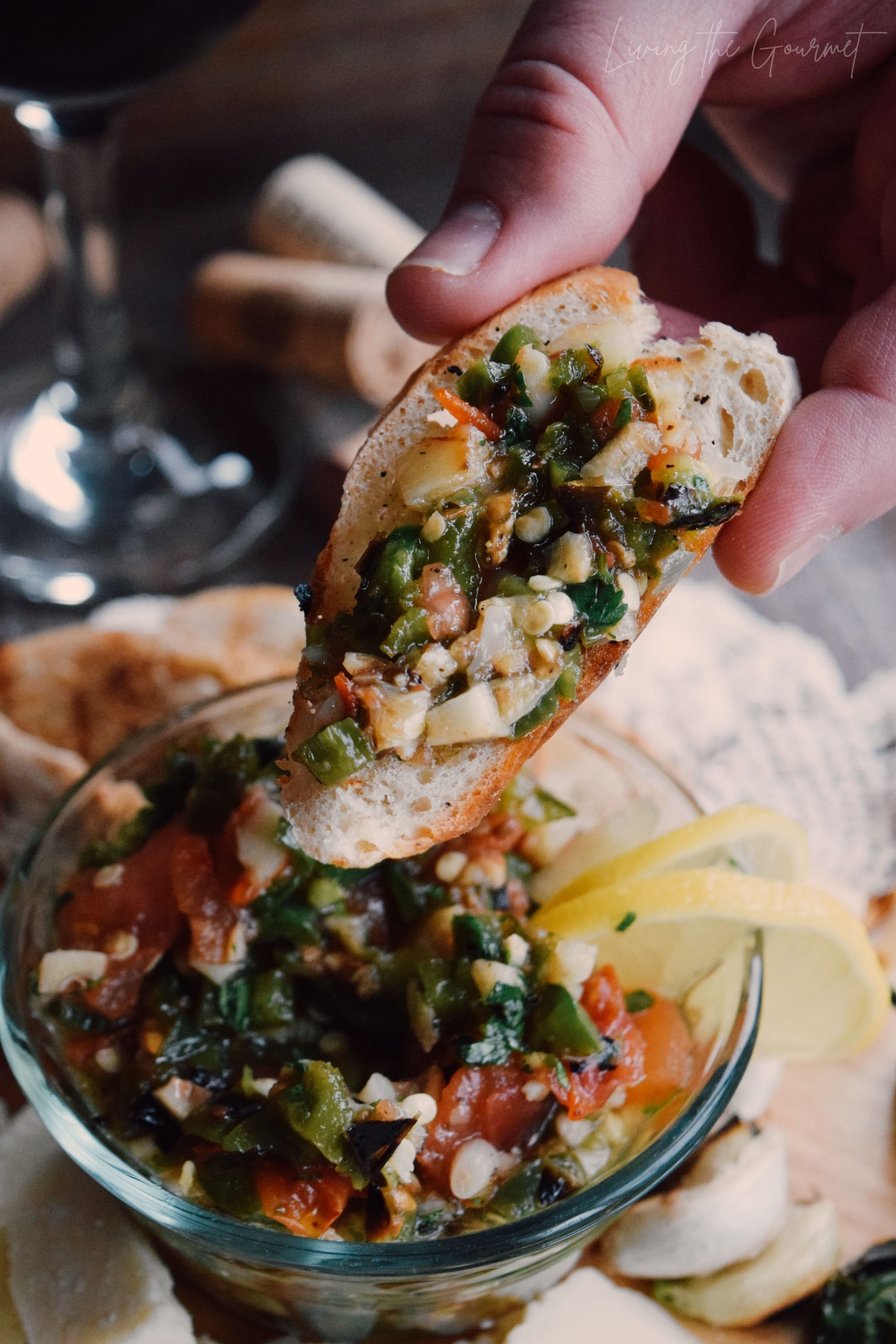 Print
Grilled Salsa Crostini
Author:
Prep Time:

10 minutes

Cook Time:

15 minutes

Total Time:

25 minutes
5

jalapenos – grilled

1

tomato – grilled

2

heads of garlic – grilled

1/4

–

1/2

cup of fresh cilantro – stems removed and chopped
Juice of

1

lemon

2

tsps. honey

3

–

4

tbs. olive oil

1 1/4 tsp

. salt

Lots of fresh ground black pepper
Instructions
Heat a cast iron frying pan and grill the peppers to achieve a nice char.

Heat a cast iron frying pan and grill the tomato to achieve a nice char.

Heat a cast iron frying pan and grill the cloves of garlic in their skin to achieve a nice char.

Remove the garlic from its skin and chop.

Dice the peppers, cilantro and tomato and toss with the garlic.

Add the lemon juice, salt and lots of fresh ground black pepper.

Add the olive oil and honey and toss.

Serve with your favorite crostini, crackers or crusty Italian bread.
Notes
*Do not chop the ingredients in a food processor as your salsa will come out more like a paste.
Recipe Card powered by
0