This post has been sponsored by Carbonaut. All opinions expressed are my own.
The combination of crisped bacon, fresh lettuce, sliced tomatoes, and a slathering of mayonnaise is one that simply refuses to go out of fashion – and for good reason, it's simply delicious.
Today, we'll be putting together a super-simple Bacon, Lettuce and Tomato, and we'll be doing so with some help from our new friends over at Carbonaut (I just love that name for some reason), whose line of low-carb bread is not only great tasting and excellently textured, but also pleasantly satisfying – just the way high-quality bread should be. As a nice bonus, each slice also features a whopping six to seven grams of protein, meaning this is bread you can feel good about eating.
Now, without introduction, let's dive right in and make some low-carb BLTs.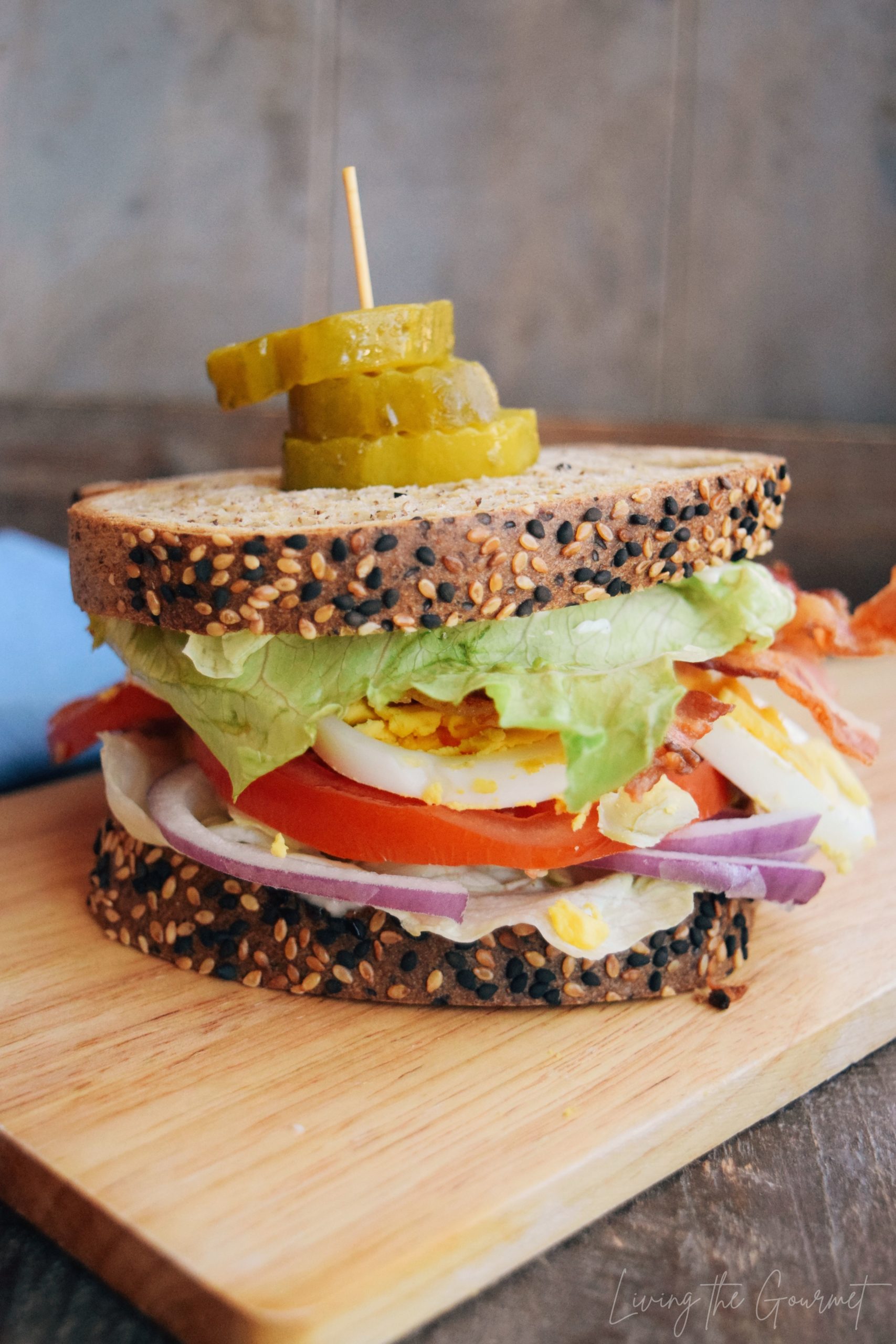 Starting at the Beginning
1) BLTs have 'kind of' always been a thing. The Ancient Romans loved their lettuce, so much so that salad greens were actually a subject worthy of such poets as Martial and Horace, while ancient recipes using salad greens (such as lettuce), have survived from Apicius and Columella. Not to be outdone, Athenaeus provides us with a recipe for an Ancient Roman salad dressing. Lettuce aside, bacon has been a thing since humans domesticated pigs, and bread is perhaps the oldest 'prepared' food – apart from cooked meat – that we humans consume. However, even though Europe wouldn't have access to the tomato until the sixteenth century, it isn't much of a stretch to imagine bacon, lettuce, and some sort of ancient Roman cheese or butter finding their way together between slices of bread to form something of a sort 'proto-BLT,' with perhaps grilled eggplant or fruit taking the place of the tomato.
2) And then they 'were' always a thing. Tea sandwiches featuring lettuce, tomato, and bacon were known in Victorian times. However, the BLT is classed as a 'club sandwich,' a commercially available sandwich served at sit down eateries, and those didn't start appearing until around the turn of the twentieth century in the US. No surviving record as to 'who' or 'where' club sandwiches first became a commercial mainstays exist, but most accepted theories point to the Saratoga Club in Saratoga, NY. Regardless, the first reference as to what we would recognize as a BLT today first appeared in the 1903 edition of the "Good Housekeeping Everyday Cook Book," by Dr. Evan Mee. The doctor's sandwich featured lettuce, tomato, bacon, and sliced turkey. However, neither tomatoes nor lettuce were universally easy to come by throughout the US year-round until the advent of the supermarket, and so the availability of sandwiches featuring seasonal produce were restricted based on the time of year – and this included the BLT. As such, it wasn't until after WWII that this sandwich started gaining in real popularity. By 1951, however, the sandwich was a mainstay. For example, a short story in a 1951 print of the Saturday Evening Post, titled "Lightning Joe, the GI's General," remarks "On the tray, invariably, are a bowl of soup, a toasted sandwich of bacon, lettuce and tomato, and a chocolate milk shake." A 1954 issue of Modern Hospital contains a meal suggestion which includes "Bean soup, toasted bacon, lettuce and tomato, pickles, jellied banana salad." Four years later, Hellman's would advertise its mayonnaise as being 'traditional' on bacon, lettuce, and tomato sandwiches. Thus, it's safe to assume that this combination of ingredients was common and well within the national consciousness by the late 1950s, in order to warrant such advertising.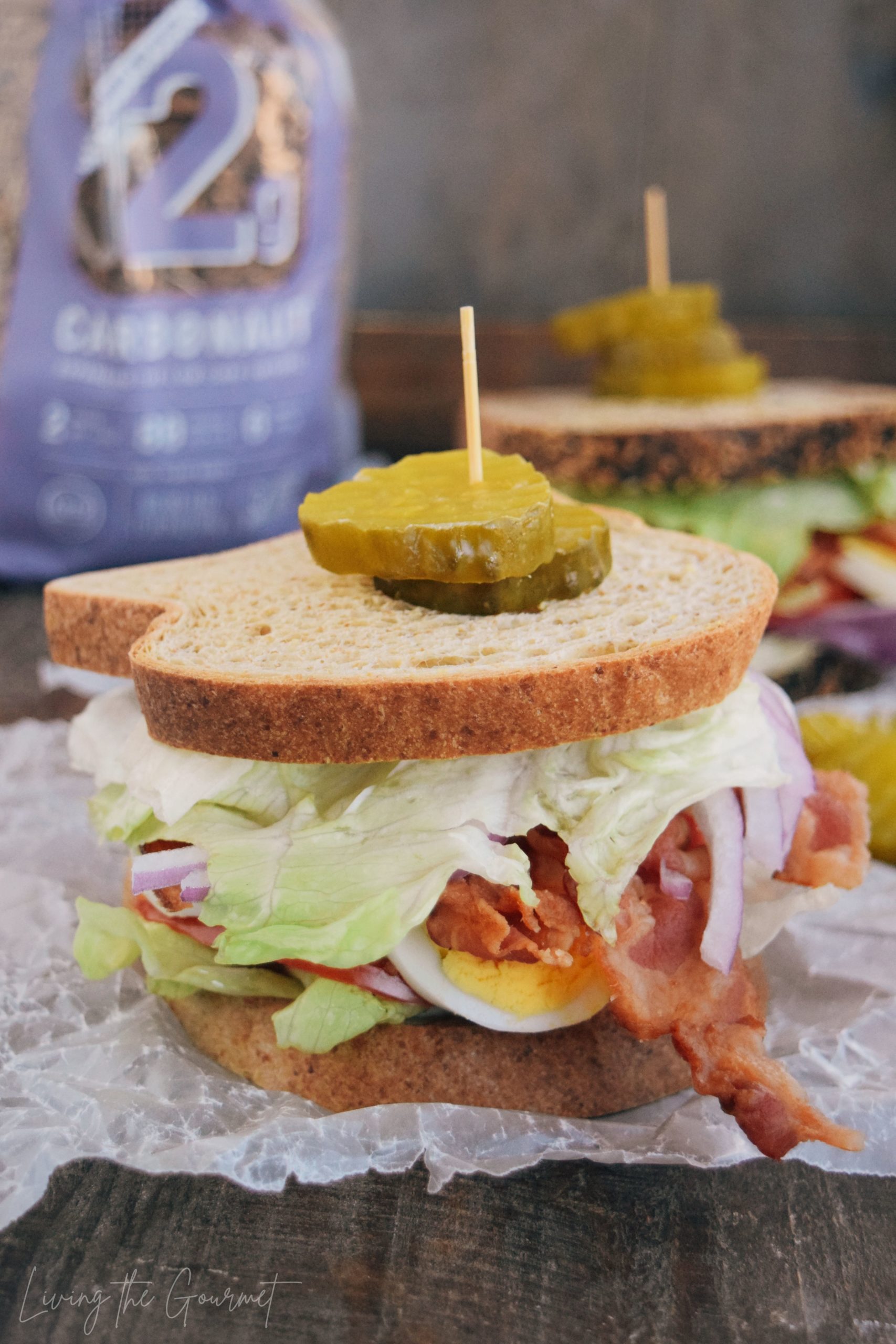 Ingredient Notes and Tips
1) The Star of the Show – Bacon. Today we're using 'standard' American bacon. American bacon is cured in salt and then cold-smoked. The curing process is straightforward enough, but it's the smoking process where things really come together for American bacon. The smoking process is typically done with aromatic wood, such as maple or apple, and this infuses the bacon with the 'smoky flavor' that people most often associate with American bacon – and often think is 'inherent' in the bacon itself. It's not. It's the smoke from the wood chips. The smoking process is done 'cold' meaning the bacon is neither heated nor cooked during the smoking process, leaving the bacon 'raw.' While aged American bacon 'is' available, these are specialty bacons, and virtually all bacon available in supermarkets are unaged.
How to cook it? I prefer my bacon on the crisp side, but not so crisp that it has no moisture left. I like the bacon juices to be able to seep through the sandwich, while still allowing for some bacony 'crunch.'
2) The Bread. The bread is 'most' of a BLT – and this is true of 'most' sandwiches. As such, the more pleasant the bread, the more pleasant the sandwich. If the bread is health-conscious as well, all the better. Carbonaut bread fits both those criteria – being intensely pleasant 'and' health conscious. Delicious, hardy, and having the 'mouthfeel' of hardy 'standard' bread, it's almost unfathomable that this is low-carb, high-protein bread, and that clocks in at just eighty calories a slice, while also being KETO Certified, as well as Non-GMO Certified. In other words, Carbonaut has all the 'good stuff' that you expect from a slice of bread, while also being something that you can feel good about eating.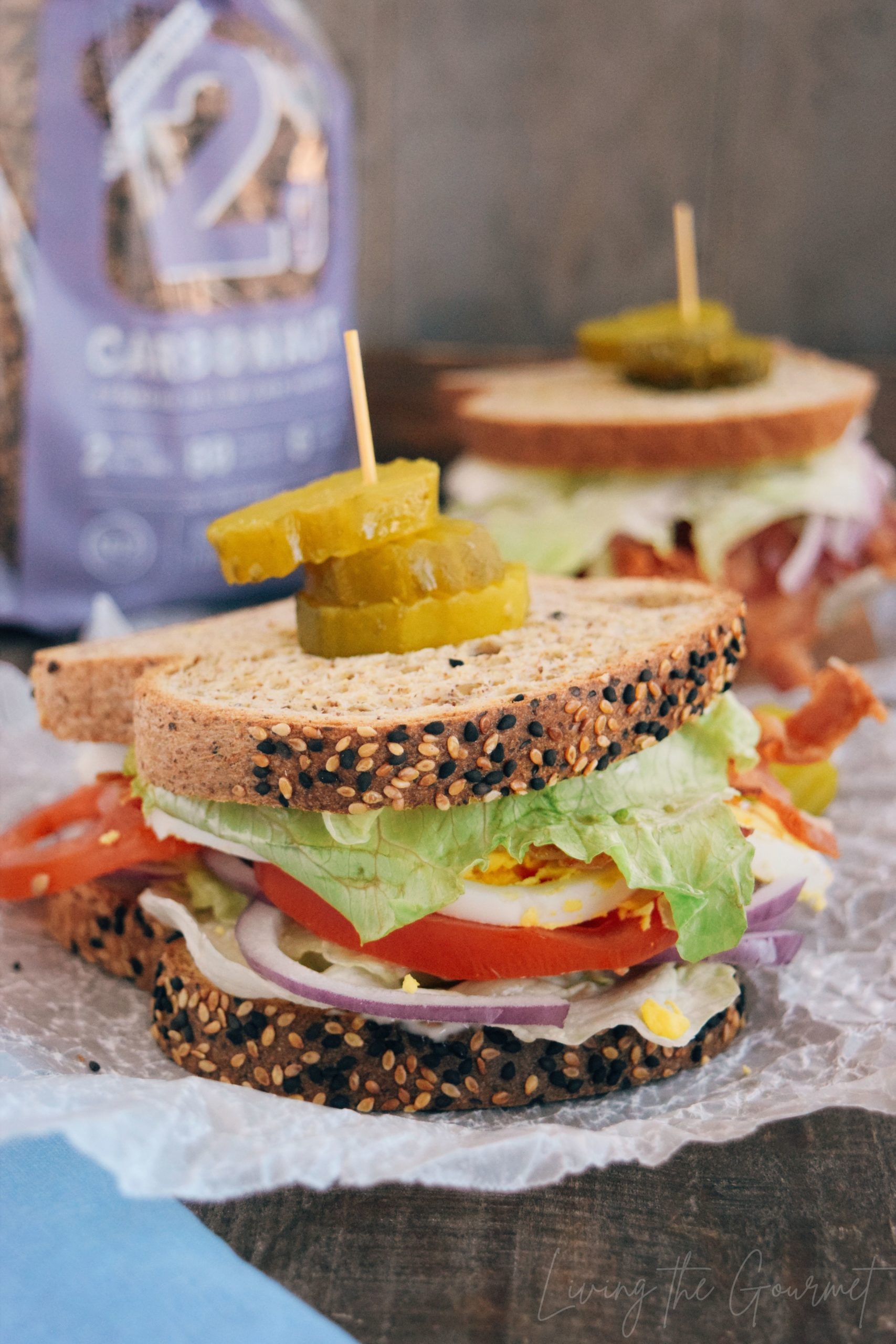 Fancy It Up
1) The Mayo. My son prefers his BLT with a 'spicy mayo,' which he prepares with two teaspoons of plain mayo, basic cayenne hot sauce, a quarter teaspoon chili powder, and a small dash of Scorpion Pepper chili sauce (you can substitute a bit of plain chili sauce). A less fiery mayo concoction might be a squeeze of lime juice, a few basil leaves, and a clove of garlic. Combine that in the food processors with salt and pepper to taste, and then blend until smooth.
2) Experimenting with the Bacon. Crisped prosciutto or pancetta also work great as a BLT. Although you might want to pile on a few fresh basil leaves and some fresh mozzarella.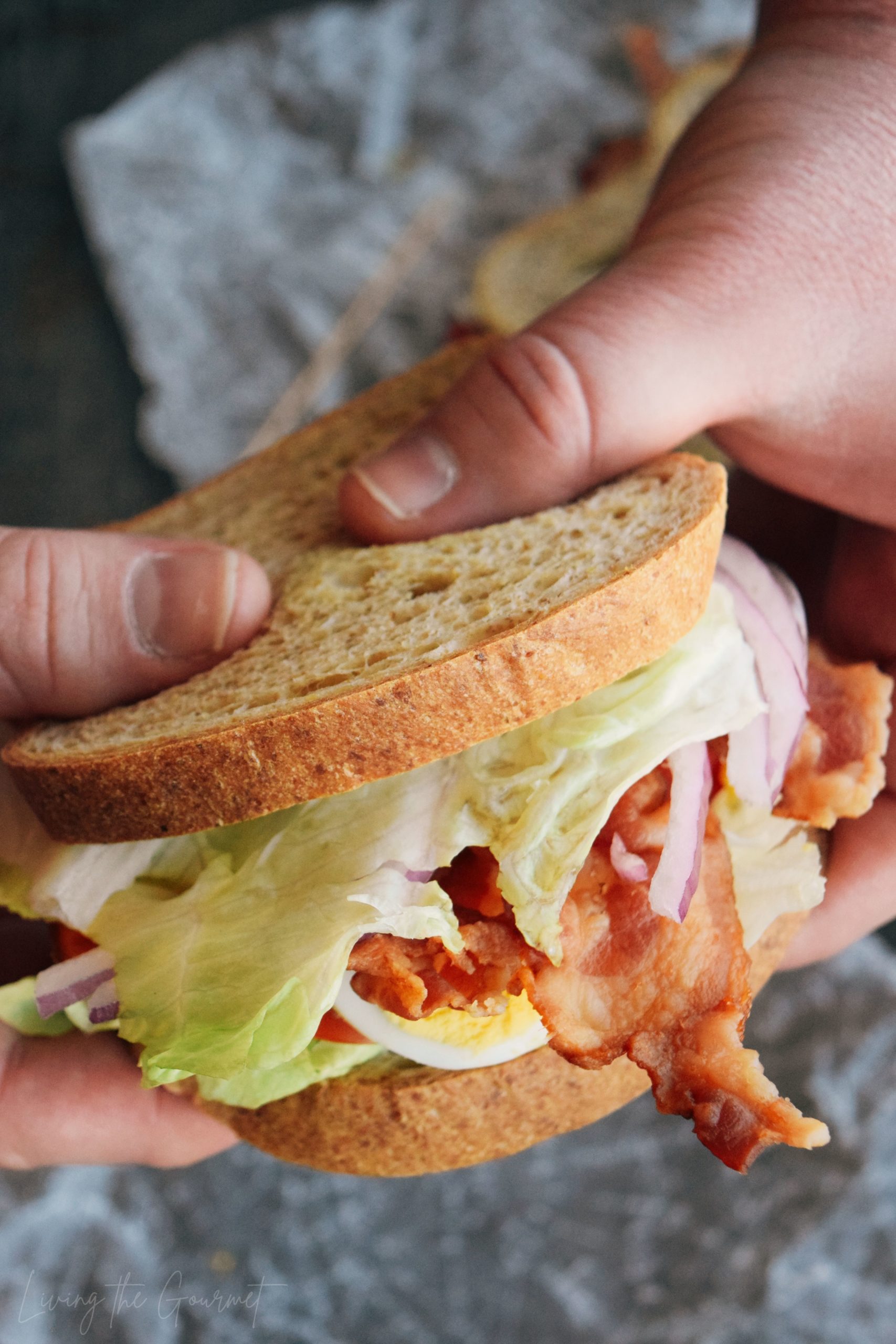 More Great Sandwiches from Living the Gourmet
1) Beef Au Jus. These are hearty sandwiches featuring roasted beef with layers of melted Jarlsberg cheese, and then topped with a giardiniera (vegetable relish), an au jus sauce – a beef gravy prepared with the drippings of the beef. These are great weeknight meals, or game day treats, or hardy lunches.
2) Peperoncini Subs. One of my son's favorites. This crazy simple sub is just pepperoncini with breaded chicken cutlets, melted mozzarella, and fresh tomatoes.
3) Pulled Pork Sandwiches. This is one of my favorite takes on pulled pork. After brining the pork, we assemble it on toasted rolls with a sweet and spicy barbecue sauce, and then piled it high with homemade coleslaw. This is my definition of comfort food.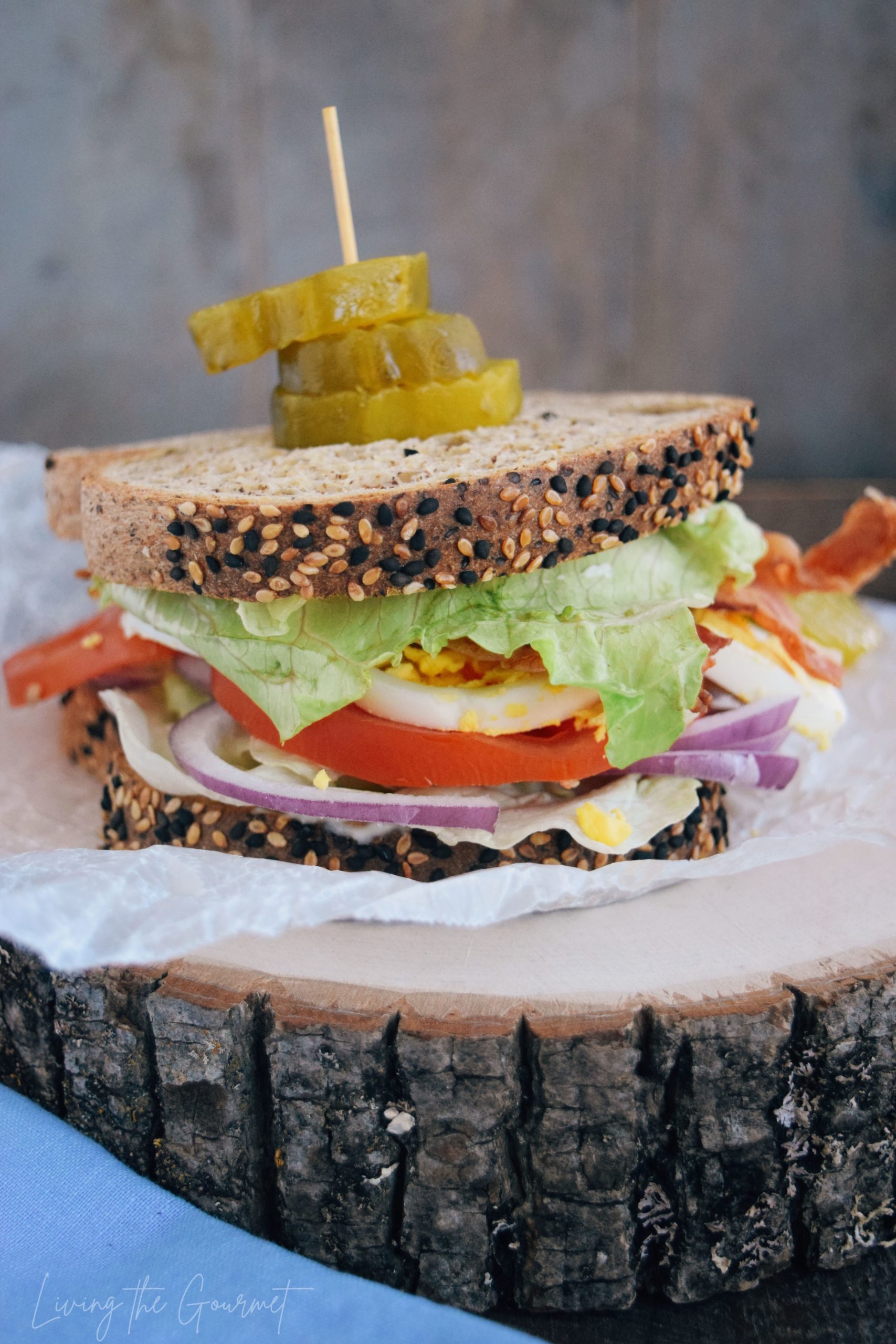 Print
BLT & Hard Boiled Egg Sandwich
---
Author:

Total Time:

30 minutes
Carbonaut Bread - slightly toasted

Crisp bacon slices

Red onion - sliced thin

Fresh tomato slices

Fresh lettuce

Hard boiled eggs - sliced

Mayonnaise
---
Instructions
Preheat oven to 375 degrees F.  Place bacon on nonstick baking sheets and bake the bacon for 15-20 minutes depending on how crisp you want it.  Transfer the bacon to a paper towel- lined plate to absorb any excess grease.
In a small pot of water, brings egg to a boil and leave to boil for 10 minutes.  Transfer the eggs to a bowl with cool water and let sit for about 5 minutes before peeling.
To build your sandwich, spread mayo on each slice of the toasted bread followed by the fresh lettuce leaves, bacon slices, sliced onion, tomato, and eggs. Serve and Enjoy!
Prep Time:

10 minutes

Cook Time:

20 minutes
Keywords: sandwich, blt, low carb, protein
Recipe Card powered by
1