This shop has been compensated by Collective Bias, Inc. and its advertiser. All opinions are mine alone. #BeReadyPlayBook #CollectiveBias
It would hardly be the start of Autumn without a series of life-altering moments for the young adults in our lives. Whether it's once again facing the tragedy of summer's end, or realizing that they have finally made the transformation from 'College Bound' to 'College Arrived,' Fall is quite often the season for youthful milestones.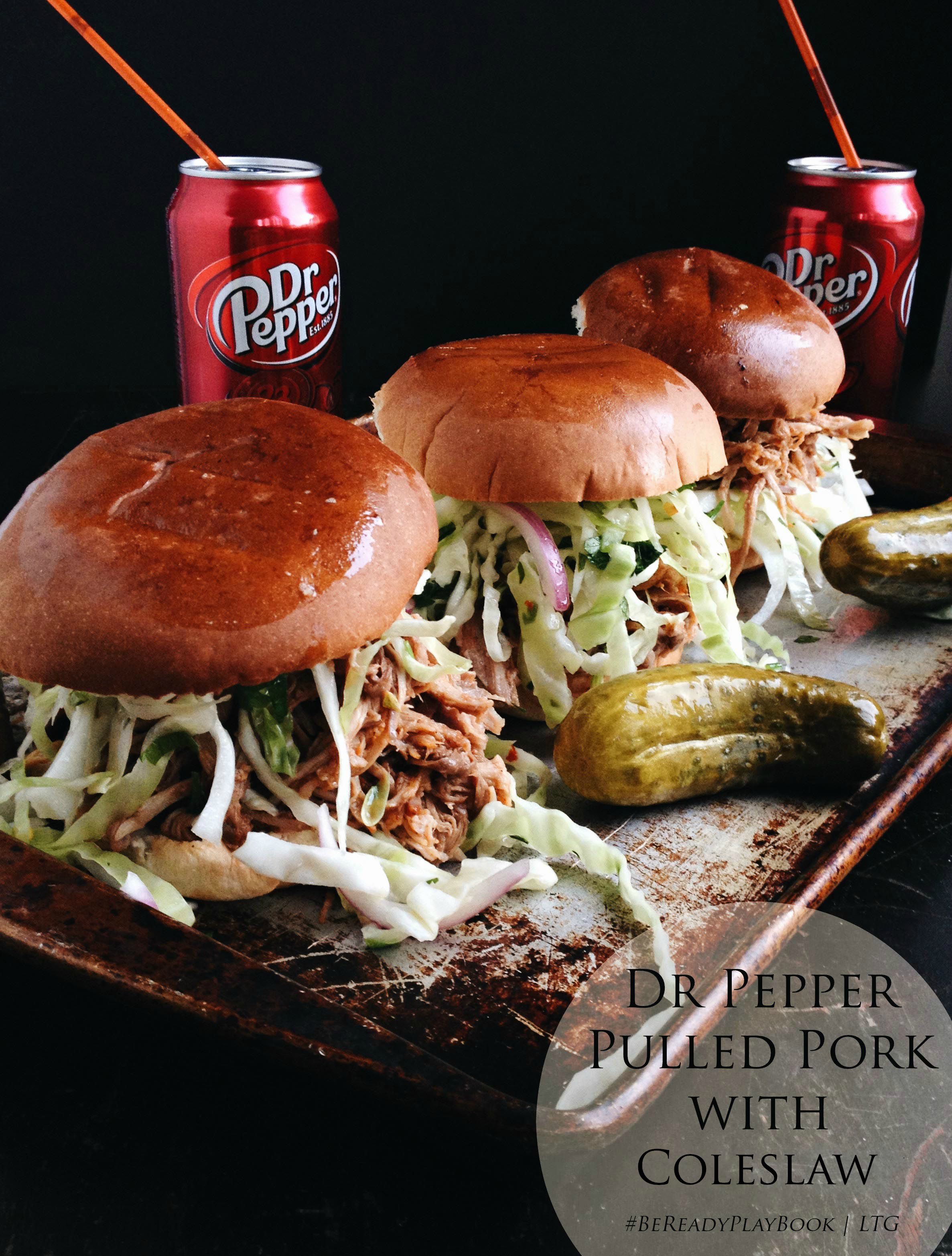 However, facing a yet to be determined future emboldened with youth-fueled optimism goes hand in hand with what is undoubtedly the season's ritual of choice at my house – college football. This has hardly ever been truer given that my daughter's friend is freshly 'College Arrived,' and is positively wide-eyed about everything related to her university in a way that only a yet-to-be-inducted Freshman can be, and this is especially true for the school's football team. Needless to say, this has breathed an entirely new round of life into the family's already devoted spirit for the game.
I myself am a 'Confirmed Sports-Agnostic' in much the same way that Henry Higgins was a Confirmed-Bachelor from Pygmalion, which is to say that I prefer to host and foster rather than indulge…which in turn is itself to say that being the professional food-blogger in the family means that my home is the go-to gathering point for any and all game-related get-togethers. However, while I enjoy the family's enthusiasm, I also enjoy any opportunity to test out my latest seasonal themes, or to test-run my tips and tricks for successful entertaining before posting them, and what better opportunity?
As you may have derived from my previous posts, Dr Pepper is one beverage I almost always have on hand for these events. Not only is it a crowd favorite with my family, but it's also an essential item in one of my favorite barbecue sauce recipes. Not only that but Dr Pepper is an official sponsor of the College Football Playoff, as well as a presenter of the National Championship Trophy, which ties in nicely with the overall theme.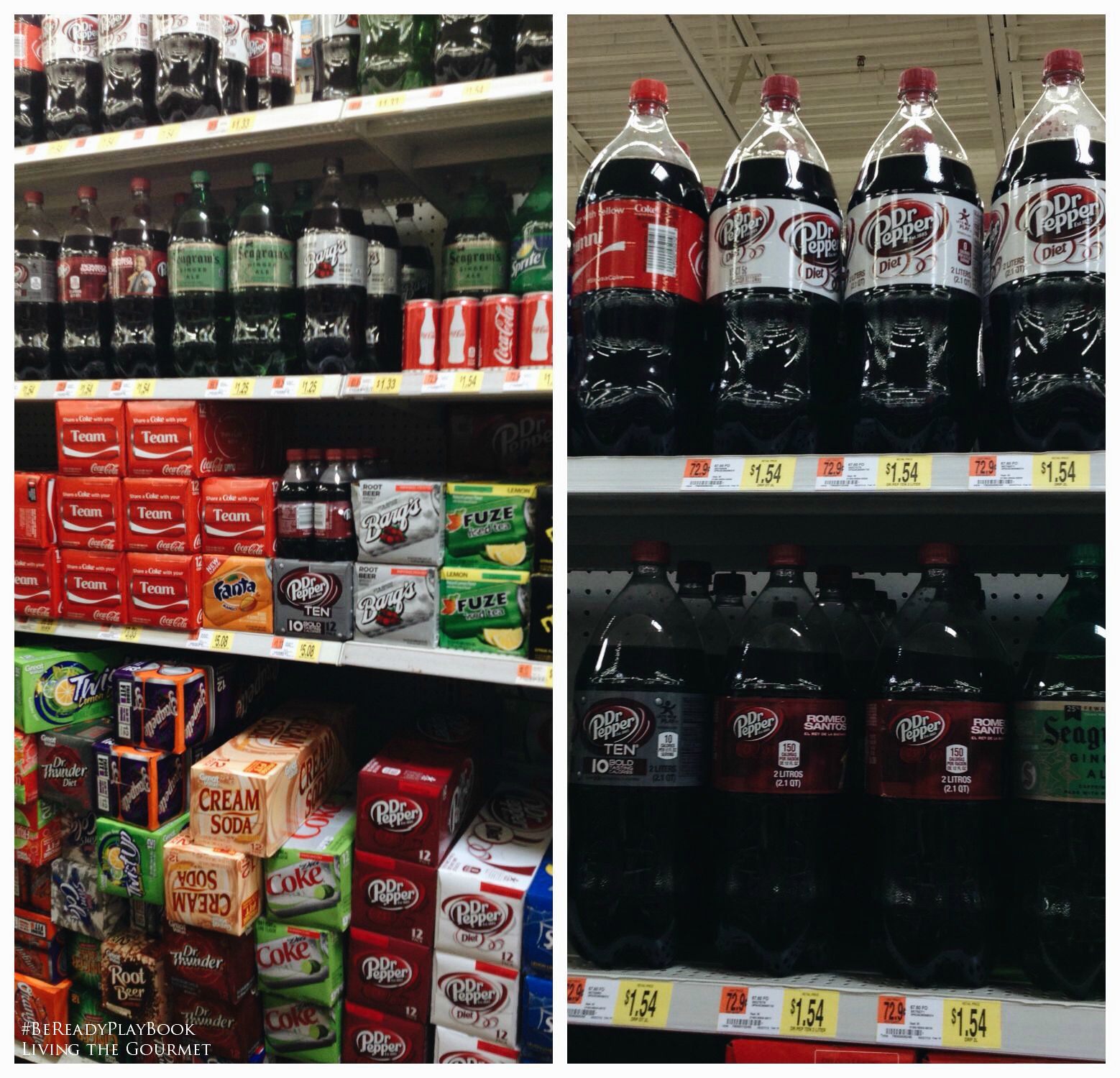 I was still planning out the menu during a recent supply run to my local Walmart, and it was there that I decided to put a bit of slant on the typical rounds of game-food that I've been serving up, and to use the aforementioned barbecue sauce to put a slant of my ever-popular barbecued pulled-pork sandwiches.
For this recipe, we start things off with a brine, using eight cups of water and half a cup of apple juice as the base. To this we add salt and sugar, with cloves, bay leaf, cinnamon, and peppercorns imbuing the pork with long rustic notes for balance. I like to let this brine for around one to four hours.
For the rub, I like to put together a primarily savory profile to add a bit of undertone to what will be a sweet barbecue sauce, which also has the effect of adding a layer of complexity. To do this, I use basic mix of salt and pepper as the base, with garlic powder, paprika, and sugar.
Now, here is where this pork is truly made – the sauce. To start things off, we use a cup of ketchup for the base, and then stir in a quarter cup of vinegar and sugar. Once that's done, this is where a 12oz can of Dr Pepper makes the entire meal by tying the pork's flavor profile together.
The end result is a pork that bears a decided sweetness underpinned by hints of savory barbecue notes, while still allowing a full range of earthy spice elements.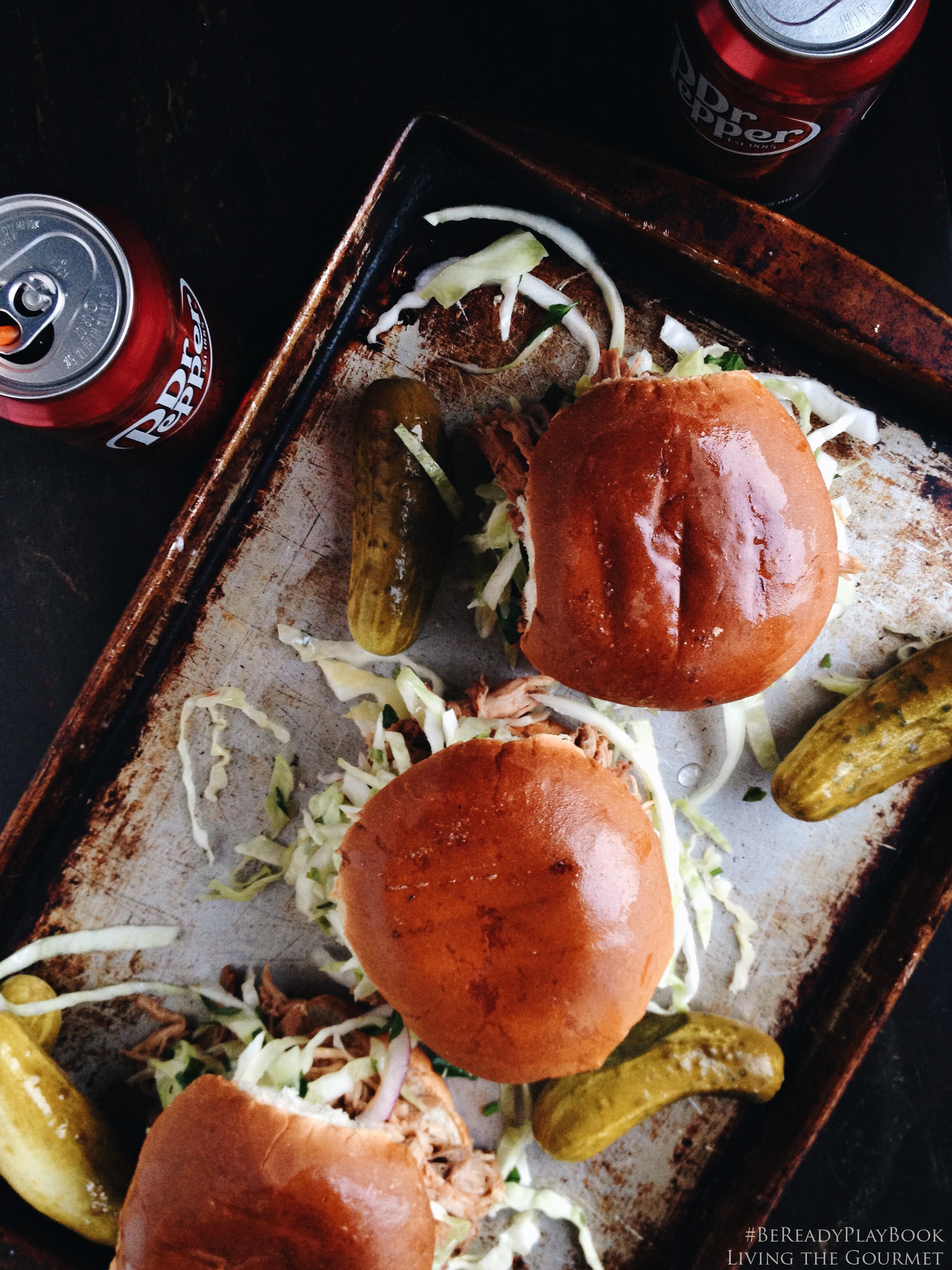 I like to serve this with a deceivingly simple coleslaw arrangement, a classic mix of cabbage, onion, lemon, lime, and olive oil. After the coleslaw is assembled, it's time to begin putting the sandwiches together. Believe me when I say these couldn't possibly be easier to assemble, making them perfect for serving in batches on big trays either to the ravenous crowds gathered around the television, or in the game's aftermath while the finer points of the match are still being debated with highlights.
Hardy, delicious, and supremely satisfying, these pulled pork sandwiches are instantly quintessential game-food, tied together by a single unlikely ingredient, Dr Pepper…always one of a kind.
Print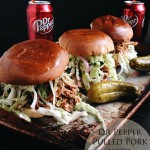 Dr Pepper Pulled Pork Sandwiches Dr. Pepper Pretzel Brownie Cupcakes
---
Author:

Total Time:

6 hours 20 minutes
6

–

8

lb. pork shoulder – bone in

2

large onions – sliced
Your favorite rolls
Your favorite pickles
For the Brine:
8

c. water

1/2

c. apple juice

1/2

c. salt

1/2

c. sugar
Bay leaves
Pepper Corns

1

tbs. cinnamon

1 tsp

. cloves
Spice Rub:
1

tbs. salt

1

tbs. black pepper

1 1/2

tbs. garlic powder

1

tbs. paprika

1

tbs. sugar
For the Barbecue Sauce:
12 oz

. of Dr Pepper

1 cup

ketchup

1/4 cup

vinegar

1/4 cup

sugar

1

tbs. salt

1

tbs. black pepper

2

tbs. garlic powder
Combine all of the ingredients for the barbecue sauce and mix.
Cole Slaw:
1

small head of cabbage – sliced thin

1

red onion – sliced thin

1

bunch of parsley – chopped

3

tbs. salt
Place all of the above in a large bowl with cold water and let the cabbage soak for at least one hour; then drain.
Dressing for Coleslaw:
Juice of

1

lemon
Juice of

1

lime

1 tsp

. salt

1

tbs. sugar

1/2 tsp

. red pepper flakes

4

–

5

tbs. olive oil

6 oz

. Dr Pepper

1/2 cup

of crushed pretzels

1

box of brownie mix

1/4 cup

dark chocolate chips
---
Instructions
For the Pulled Pork:
In a large pot, combine all ingredients for the brine.
Place the pork in the brine; cover and let sit in the refrigerator one to four hours.
Once the pork has been brined, place sliced onions on the bottom of a heavy duty baking pan.
Remove the pork from the brine and place in the baking pan. Message the pork on all sides with the rub.
Cover the pan with aluminum foil, and place on a prepared barbecue grill. Close the cover and cook for about 3 1/2 hours.
After the pork has been grilling on the barbecue for place 3 1/2 hours, place 1/2 of the barbecue sauce over the pork and cover once again. Continue to barbecue for about another 3 hours.
When the pork has finished cooking remove any fat and place the pork in a large bowl.
With two forks shred the pork. Place the rest of the barbecue sauce in with the shredded pork and toss.
Serve on your favorite roll with coleslaw and pickles.
Preheat Oven 350 degrees F.
Place the brownie mix in a bowl; add the Dr. Pepper and mix.
Place crushed pretzels at the bottom of the cupcake holder. Pour the brownie batter into the cupcake holder.
Top each cupcake with more crushed pretzels.
Bake 15 – 17minutes or until the batter sets.
Prep Time:

5 minutes

Cook Time:

6 hours 15 minutes
Recipe Card powered by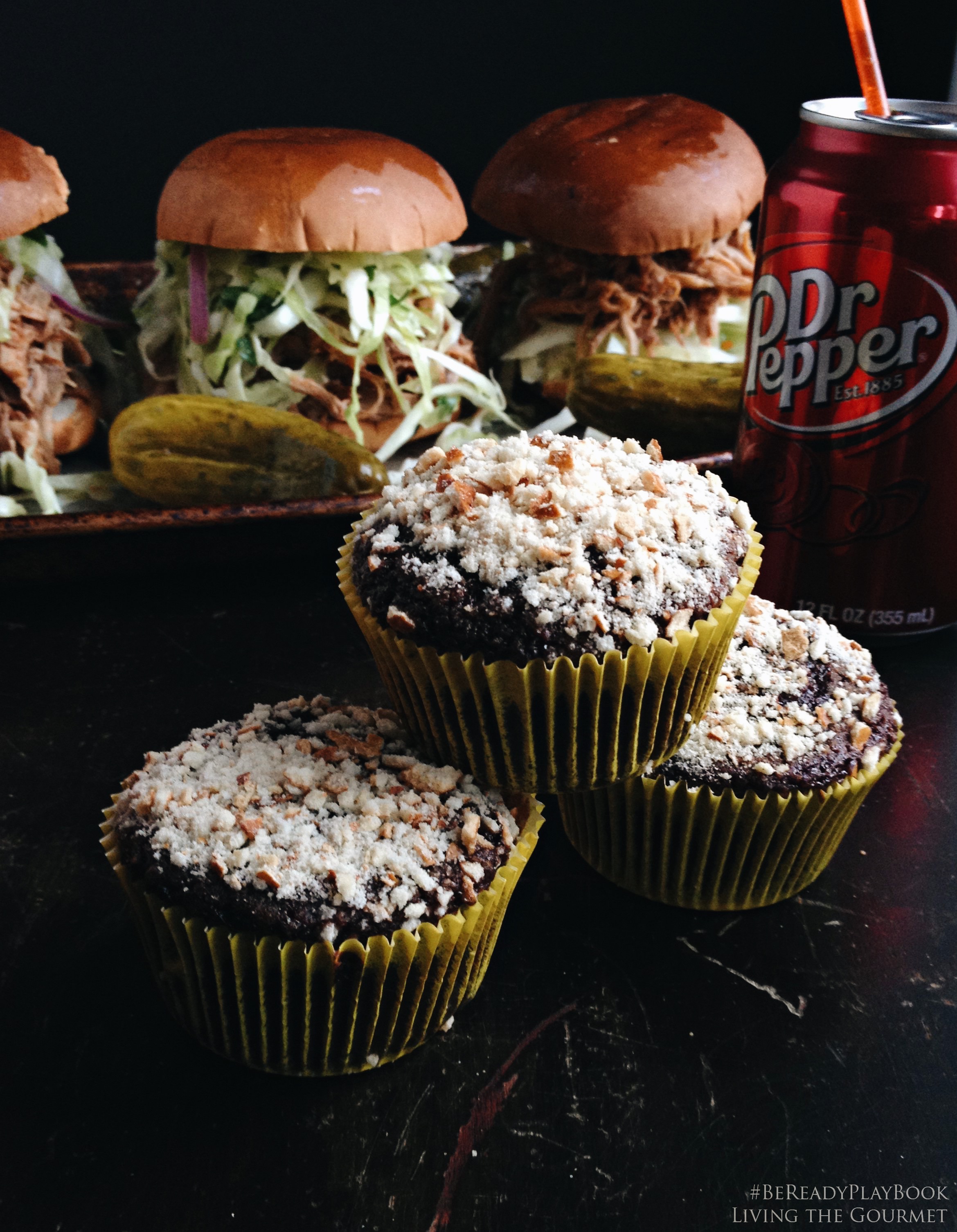 That's a bit of insight into how we spend our game days, and why. What are some of your game themed recipes? Do you do anything special for the sports season?
On a pertinent side note, Dr Pepper is giving visitors who play a digital football toss game a chance to #WinTuition, $20,000 dollars which can also be used towards student loans. Dr Pepper will also be giving away free prizes, as well as an additional $5,000 dollars to a lucky winner in each market area.
To learn more about #WinTuition and Game Day inspiration be sure to visit the Dr Pepper Social Hub!
Enjoy with Love,
Catherine
xo
0