This post has been sponsored by Professional Series. All opinions expressed are my own.
Today we're preparing a batch of air-fried teriyaki wontons, which we'll be stuffing with a mix of pork sausage, fresh ginger and chili paste. Delicious on their own with a bit of homemade duck sauce or chili-honey sauce, these are also great tossed with noodles or dropped into soup.
We'll be preparing today's wontons with our new Professional Series Collection 4-in-1 Air Fryer, but more on that below.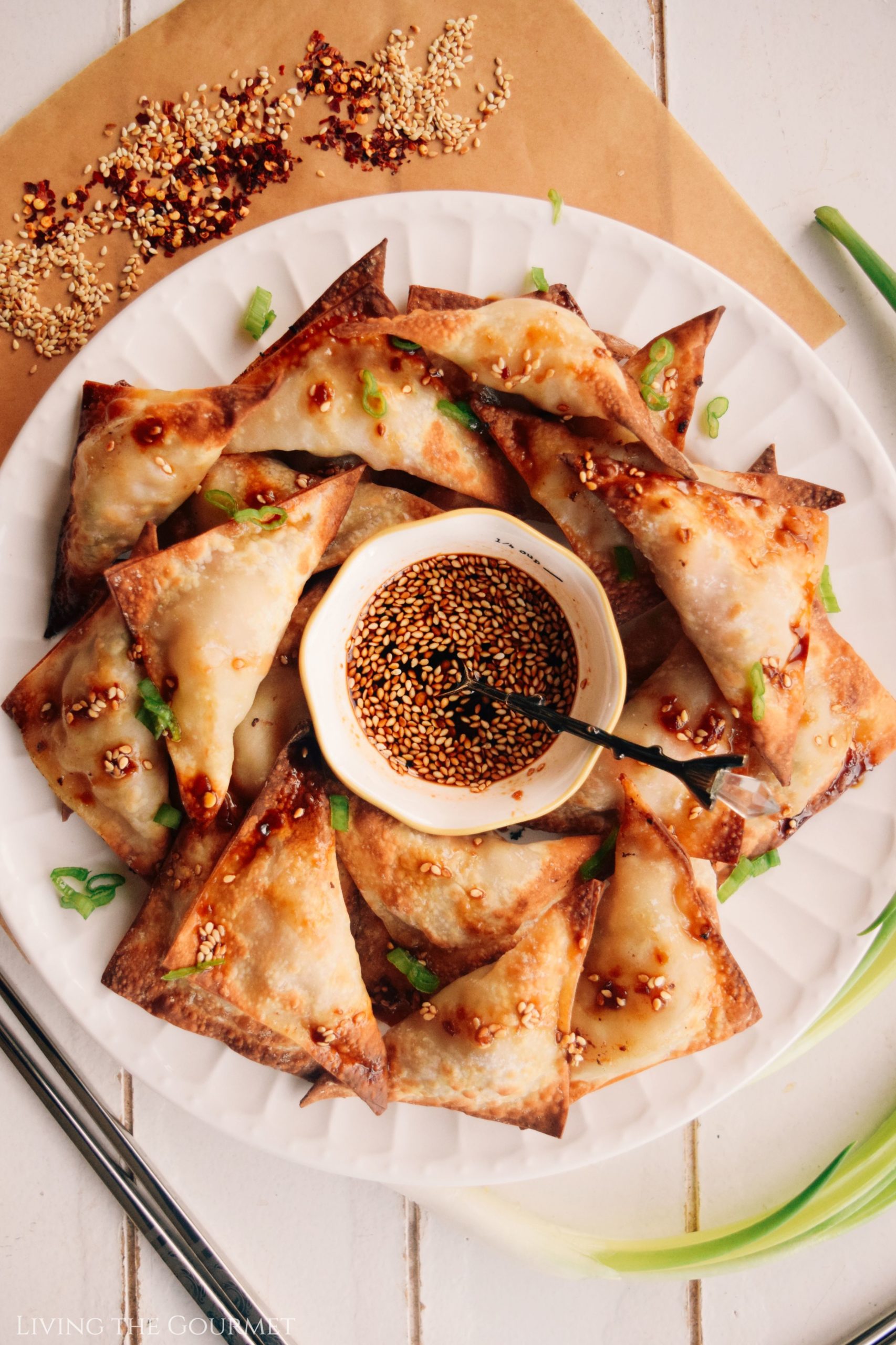 Ingredient Notes and Tips
1) Supermarket vs Butcher Shop Sausage – Not A 'Clear' Cut. I am biased towards butcher shops. I grew up the daughter of a New York butcher who had a Manhattan butcher shop on 62nd and First, and a Yonkers butchery on McClain Avenue. Having spent the first half of his childhood in Italy, my father spoke fluent Italian, and picked up a smattering of German and French to better serve his New York clientele at the time. I can remember my father making sausage by hand using a muscle powered crank, and what I learned from him regarding meat and the meat business have proven invaluable all these years later. Back then, to get truly good quality meat, you needed a quality butcher. That's less true today, since supermarket meat 'has' gotten markedly better, and this is especially true in metropolitan areas. However, up until recently it was a truism that local butcheries were going the way of the gourmet deli – they were simply disappearing. However, with Americans eating more meat than ever (surprise!), local butcher shops are experiencing something of a minor renaissance. But if supermarket meat is 'also' experiencing a renaissance of quality, one would be forgiven for asking "What gives? How can both of these things be true at the same time? How can 'both' of these competing businesses be flourishing?" The answer is that your local butcher is better for things like prime cuts, fresh meat, rare or 'odd' cuts, and premium or 'specialty' brands that the local supermarket simply doesn't have the clientele for. In other words, if you 'know' that your local butcher shop stocks daily, or that they stock a particularly premium brand of meat, or if you want a rare cut of meat that supermarkets could be forgiven for not stocking, then finding a good local butcher shop is the way to go. Sausage, sadly, is very hit and miss when it comes to 'both' supermarkets and butcher shops – so my advice is simply to sample what's available in your area, and be the judge yourself.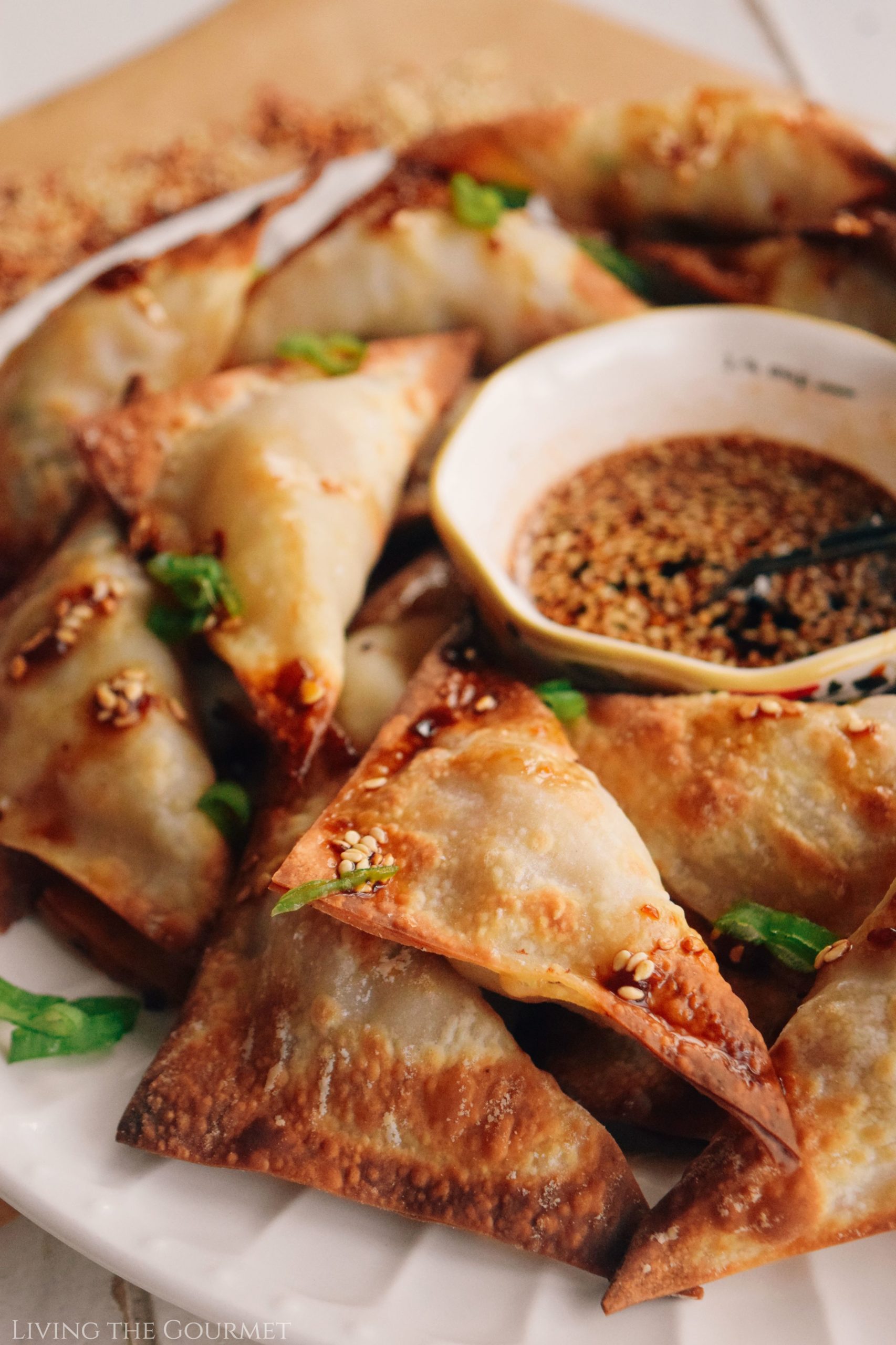 2) Chili Paste – A Shameless Love Letter. This is an ingredient that is so versatile I truly don't know how a kitchen functions without it. Chili paste works wonders as a base for everything from marinades to homemade hot sauces, or for adding some spice to red sauces or salsas, or even serving as a condiment on its own for meat, eggs, and fish, where it brings pungency, spice, and bright 'chili flavor.' That said, I don't personally use a fancy or 'hard to find' chili paste – and honestly, you shouldn't either. On the contrary, I use an Indonesian Sambal chili paste that sells for a couple of dollars per jar. It's a super basic mix of red chilis, salt, and vinegar – and that's it. It's hot, not overly thick, and the simple recipe allows the pungency and spice of the chilis to really shine through.
Should you make your own? No, no not really. I know there are a lot of recipes online for how to make chili paste, and honestly it's just not worth the trouble. Yes, it's (relatively) easy and (very) inexpensive to make, but at the end of the day store bought chili paste 'does' taste just as good as similarly structured home recipes – and is already really inexpensive on its own. Sure, if you want to 'fancy up' a particular chili paste recipe, go for it, but in reality store-bought chili pastes work just fine.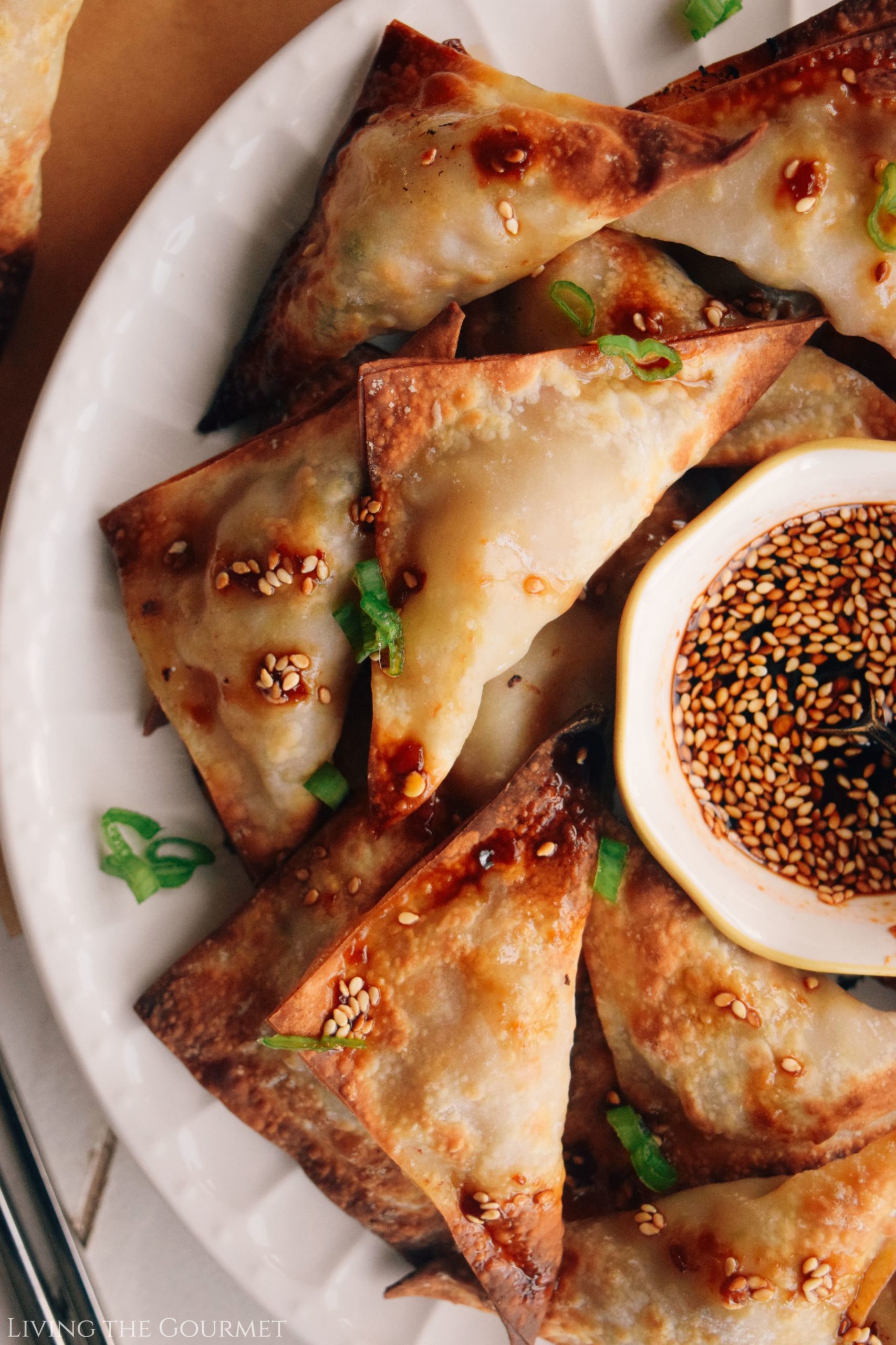 Kitchen Gadgets
The Air Fryer. The only kitchen gadget needed for today's recipe – aside from knives, bowls, and boards – is an air fryer. I'm using the Professional Series Collection 4-in-1 Air Fryer, which features temperature and time control, as well as pre-programmed settings for things like fired chicken and French fries. Best of all, it can bake, grill, 'and' roast in addition to frying. Sleek and compact, it boasts a stylish design while going easy on counterspace, despite its hefty 3.2-liter capacity. Seriously, if you're in the market for an air-fryer, this is a good place to start your search. Check them out here!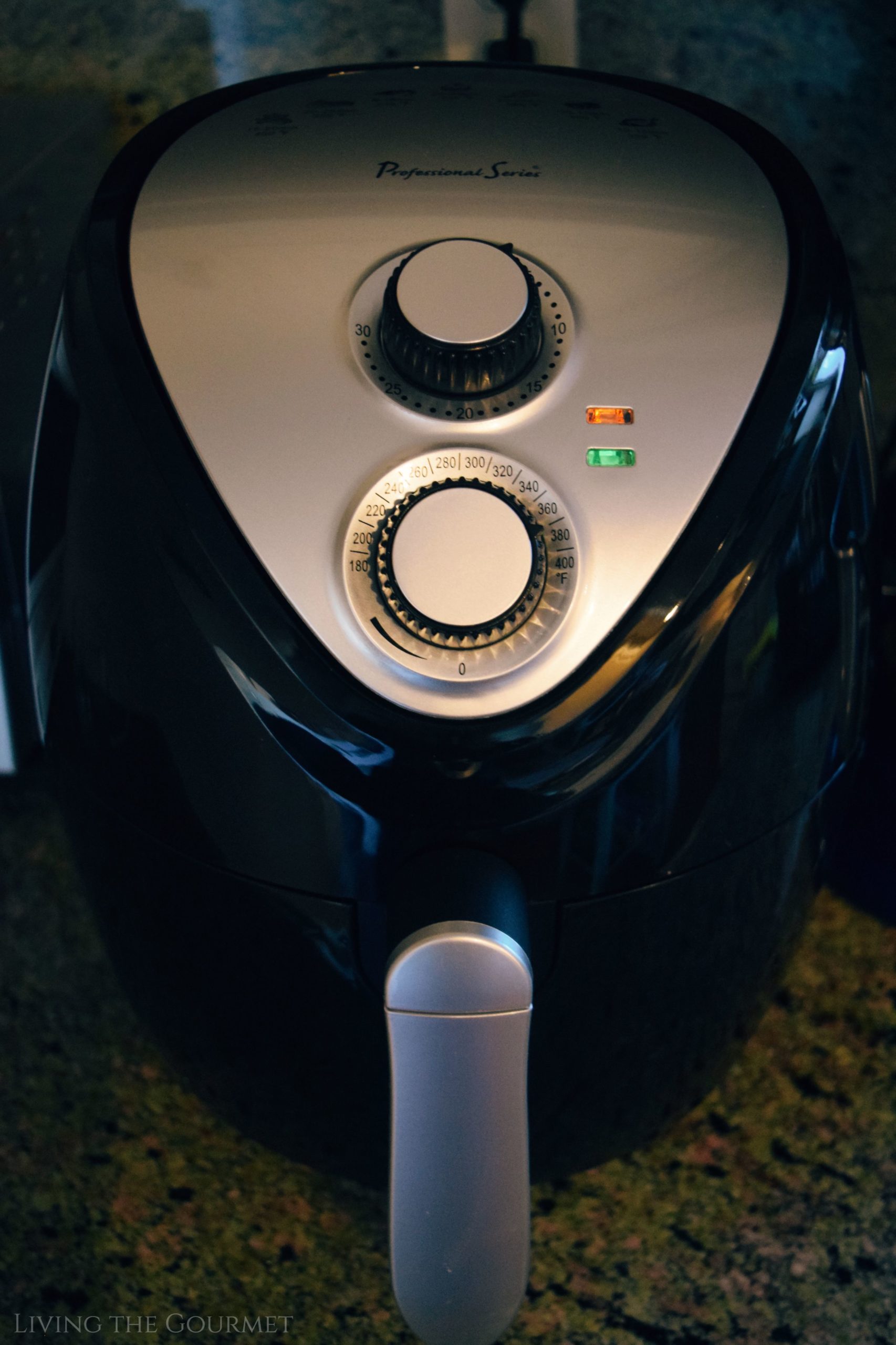 Deep-Frying versus Air-Frying – What's the difference, really?
Cooking with oil versus cooking with air. That's it. Though I gather you likely want a 'slightly' more in depth answer.
Let's start with deep-frying, and we'll do so by way of comparison.
You've likely heard of 'low and slow' as a gentle cooking method to achieve food that's super moist and decadently tender. Low and slow on the grill, low and slow in the oven, low and slow on the stove. This is reliable, gentle cooking method. Well, the first thing to understand about deep-frying is that it's essentially 'high, fast, and harsh,' but achieves 'almost' the same thing – a moist and tender interior, but with the addition of a reliably crisped exterior.
But 'how?' To answer that, we need to understand a tiny bit of the 'science' that's happening when you drop food into boiling oil.
Be it in a pan or in a deep fryer, when you place food in boiling oil, there are two conflicting series of 'micro explosions' that occur at the moment of impact. The first and most notable is the expulsion of steam from the surface of the boiling oil itself. This one is visible to the naked eye. The second series of 'micro explosions' occur directly on the surface of the food itself, largely in the form of surface water vapor, juices, or anything else that might 'evaporate.' This in turn creates a 'steam barrier' around the food.
And that's when the magic starts happening.
Trapped between the boiling oil and the food, the steam barrier persists around the food like a halo, repelling the boiling oil, while simultaneously allowing the heat from the oil to cook the food. However, the heat lessens as it transfers through the steam barrier, creating something of a 'coronal effect,' where you have a blistering exterior and a 'mildly less blistering' interior. In essence, there is a 'heat exchange' between the steam barrier, the oil, and the food, with heat being lost at each interval. Thus, the exterior and interior cook at two different temperatures.
The end result is a crisp exterior (read thoroughly and harshly cooked), and a moist interior (read less harshly cooked). This is the luscious combo that makes things like fried chicken so delicious. Pan-frying is also what makes things like fried meatballs possible, where you have crisped the exterior of the meatball, while leaving the interior deliciously moist and flavorful. https://livingthegourmet.com/2019/08/meatballs-with-pignoli-nuts-raisins.html
Now, the defining factor here isn't merely the boiling oil, but also the total (or near total) immersion of the food in the heat source.
An air-fryer – as the name implies – fries via air rather than oil. All air fryers that I'm aware of use 'rapid air technology' to 'swath' food in circulated currents of uniformly heated air. By contrast, when baking food in an oven, you have 'stagnant' air that's heated unevenly from the element. This changes somewhat in convection ovens, but the point still remains. You have a transfer of heat from the element to the air to the food. While this remains true in an air fryer, the rapid motion of the air ensures that the food is cooked as evenly as possible.
Now, while an air fryer 'does' achieve a 'fry-like' crisp due to the rapidity with which it cooks, and the high temperature of the air, and while it does so evenly due to uniformly enveloping the food, it does 'not' achieve the 'coronal effect' mentioned above due to the lack of a steam barrier. No micro-explosions, no steam barrier. On the contrary, any moisture that evaporates after coming into contact with the heated air simply escapes into that same air. Thus, the inside of the food is cooked at the same high temperature as the exterior of the food. This often results in deep-fried or pan-fried food having a moister interior, even if the crisped exterior can be sufficiently replicated via proper use of an air-fryer.
Now, while it might sound like deep-frying is the breakaway star of the show in regards to taste and texture, air frying does have quite a few big pluses over conventional pan or deep-frying.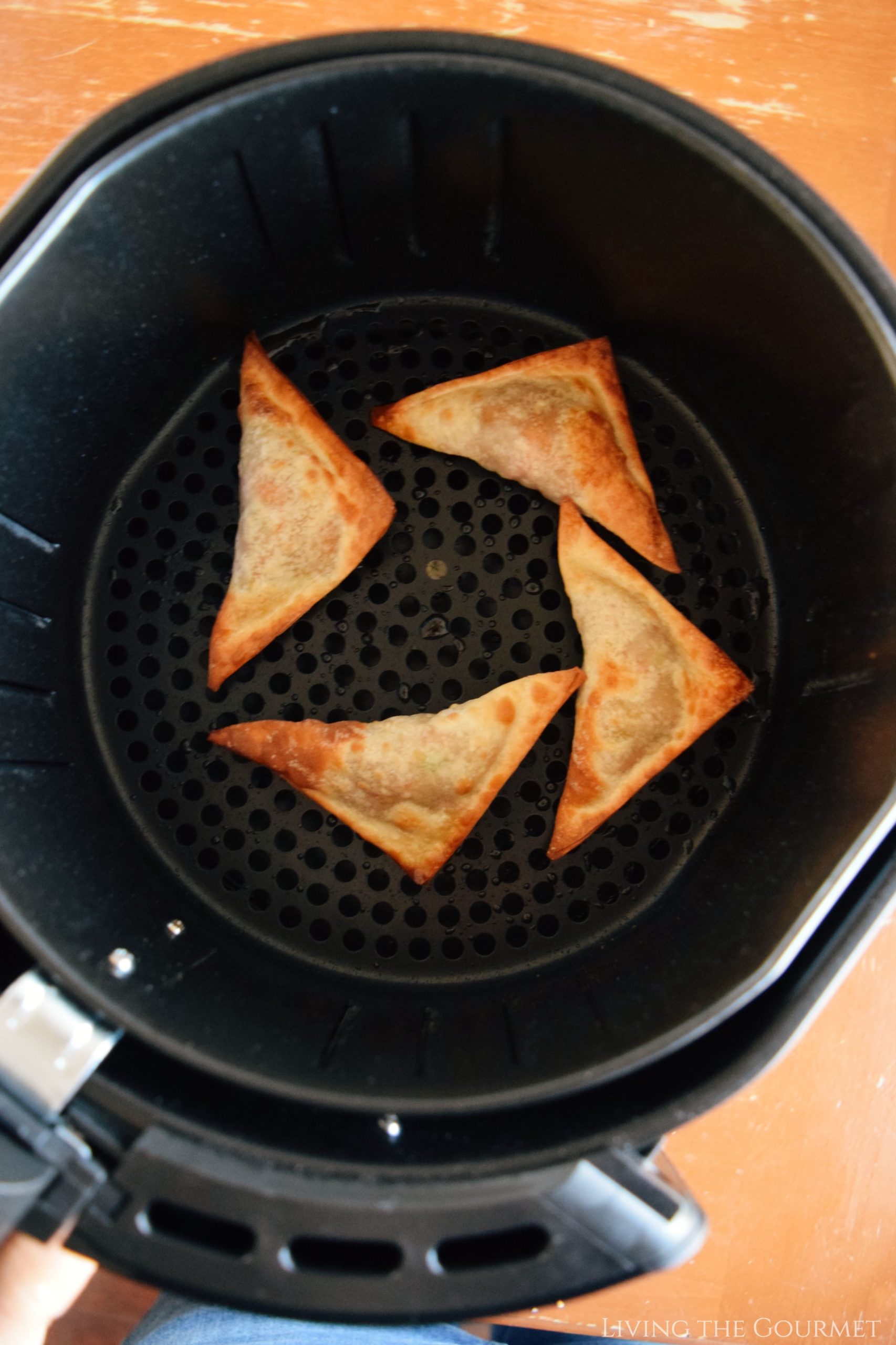 Advantages of Air-Frying
1) Healthfulness. One of the big pluses of air fryers is that food is typically much healthier, since there is no transfer of oil (and therefore fat and cholesterol) into the food. Air, thankfully, is fat, calorie, and cholesterol free sustenance.
2) Cleanup. For me, this is the 'really' big one. No oil means very little cleanup. Pop the food in the basket, let the air-fryer do its thing, and then simply wipe out the basket. Seriously, if you're using your air-fryer right, they aren't that much more difficult to clean than a microwave or toaster oven.
3) Ease of Use. Another big, big plus in my opinion is that air-fryers are simply more 'user friendly' than deep fryers or pan frying. Pop the food in the basket, set the timer, and you're done. Deep frying and pan-frying require watching and waiting to judge when the food has been cooked – ideally to crisped perfection. Thus, air-frying leaves less room for human error.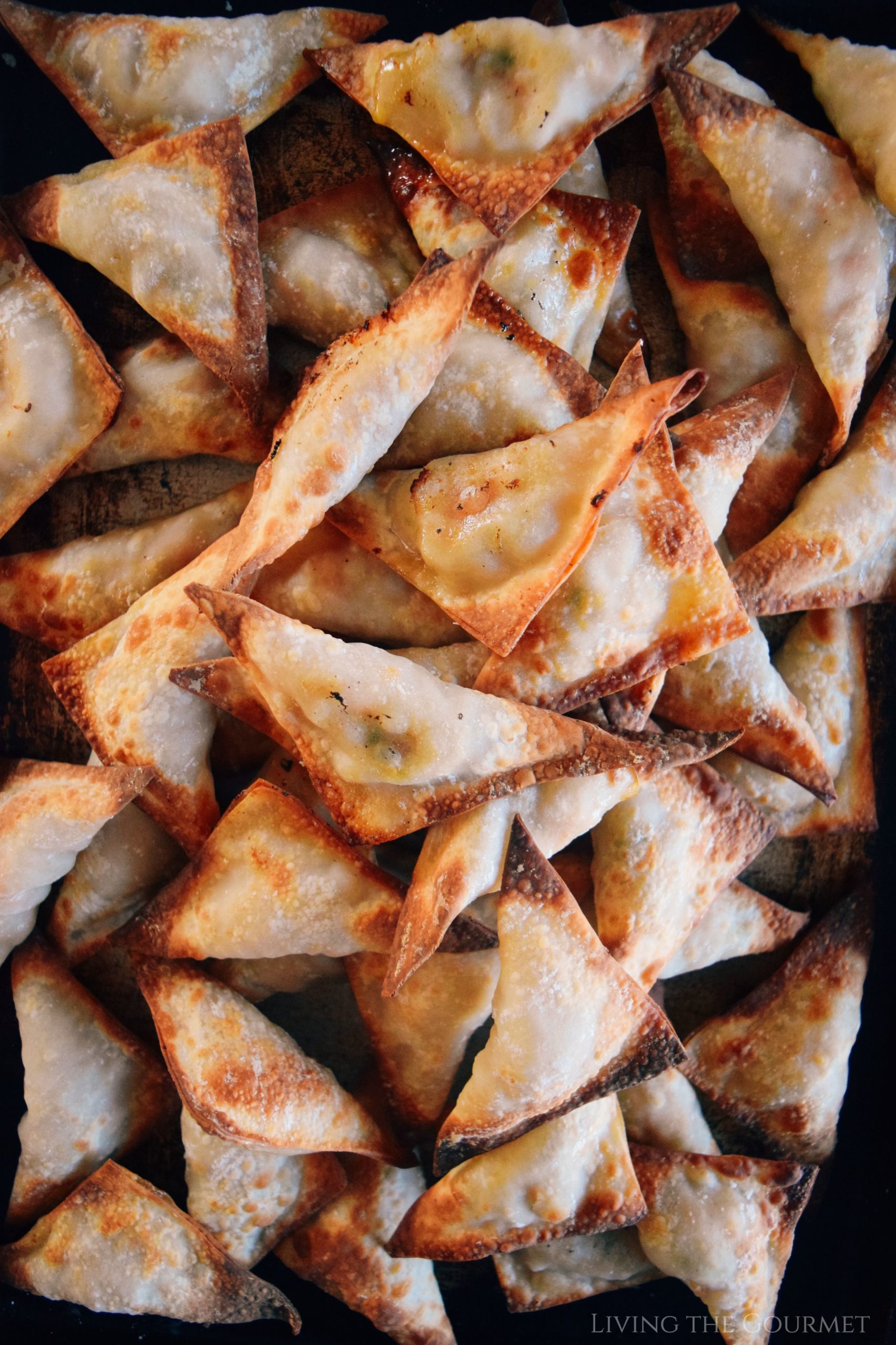 Other Great Fry-Fests From Living the Gourmet
1) Onion Rings. These are one of my favorite 'fried goodies.' I prepare mine with just a hint of spice, and a thick, dense batter that crisps up beautifully during frying. You can grab my recipe here.
2) Spicy Fried Chicken. My favorite take on this perennial classic. We use corn starch to give the chicken coating a nice crisp, and add in cayenne and hot sauce to the batter to give the ultra-crispy coating a nice kick.
3) Oven Baked Chicken. I know I promised a fry-fest, but this chicken recipe is the oven-baked version of my spicy fried chicken. I love both, so take your pick of the two and let me know down below which you like the best!
4) Fried Cauliflower Balls. My favorite way to prepare cauliflower is as bite-sized fried delights. Drizzled with some fresh lemon, and served with a homemade tzatziki, and you've got a real treat that's great as either as a starter or a side.
5) Italian-Style Fried Shrimp Balls. These are as delicious as they sound. Prepared with fresh basil, fresh lemon, Romano cheese, and Italian parsley, these a delightful addition to any starter spread.
Print
Air Fried Pork Wontons
Author:
Prep Time:

15 minutes

Cook Time:

15 minutes

Total Time:

30 minutes

Yield:

40

-

50

wontons

1

x
40

–

50

wonton wrappers
vegetable oil, for brushing
Filling:
16

ounces

ground pork sausage

3

green scallions, diced

1

carrot, shredded

1 1/2 teaspoon

fresh chili paste

2 teaspoons

soy sauce

2 teaspoons

teriyaki sauce

2 teaspoons

fresh ginger, grated
Dipping Sauce:
3 tablespoons

soy sauce

1 tablespoon

teriyaki sauce

1 teaspoon

fresh ginger, grated

1 teaspoon

fresh chili paste

2 teaspoons

toasted sesame seeds
Instructions
In a large bowl, mix together all ingredients for the filling.
Drop about 1-1½ teaspoons of filling in the center of each wrapper, then brush the edges with water and fold the wonton over to create a triangle. Press and seal the edges. Transfer to baking sheet and brush each wonton with oil.
Lay out a single layer of wontons in the basket of the air fryer (be sure not to overfill or stack the wontons). Cook 2-5 minutes at 375 degrees F. until the wontons are golden and crisp.
Recipe Card powered by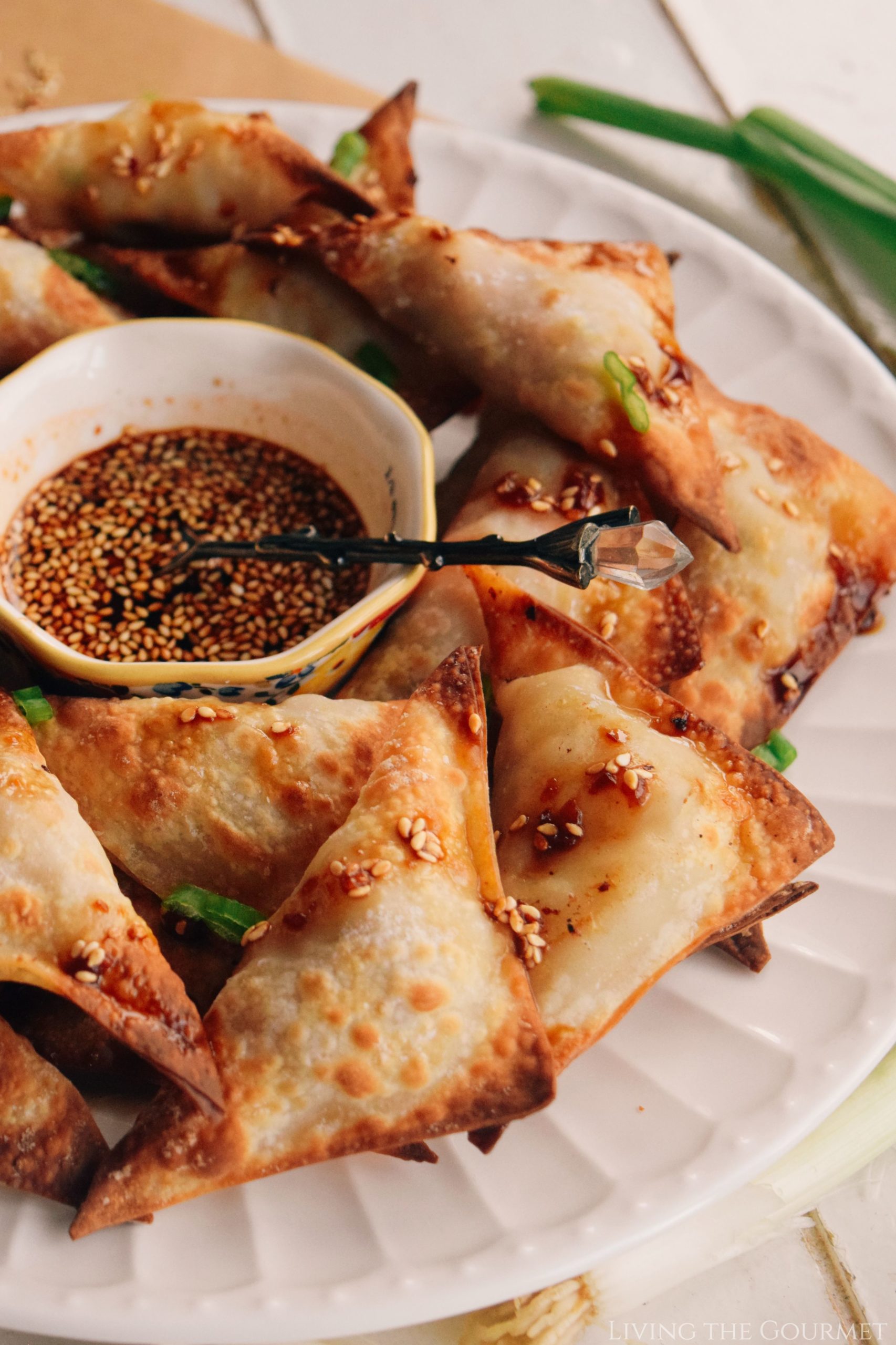 1