This post has been sponsored by Dragon Glassware. All opinions expressed are my own.
If you're anything like me, the holiday season left you with quite a bit more leftover eggnog than you could possibly drink – or care to drink. If that sounds like you, then today's no churn eggnog ice cream is the recipe you're looking for. Decadently rich, and packed with luscious eggnog flavor, today's ice cream is a seasonal treat like few others. To top off the ice cream, we'll be drizzling it with a homemade whiskey sauce, to ratchet up the decadency just a few more points.
Now, without further introduction, let's dive right in…if only we could do so literally, but I wasn't left with 'quite' that much eggnog.
Why You'll Love Today's Eggnog Ice Cream
1) Super Simple. Today's ice cream couldn't be simpler to prepare as far as homemade desserts go. The process essentially boils down to whipping some heavy cream, combing that cream with a few basic ingredients, and then popping it in the freezer for a few hours. Meanwhile, the whisky sauce is simply heating some more heavy cream, and then adding in a few ingredients while whisking. Couldn't be simpler.
2) Unabashedly Decadent. Let's be real here, we're combing eggnog with heavy cream to make ice cream, and then combining heated heavy cream with whisky to make a sauce. There are no corners being cut here – and that's just fine this time of year. Today's recipe is abashedly decadent, and I love it.
3) Only Basic Ingredients. Using just cream, whiskey, condensed milk, sugar, a dash of nutmeg, and some cornstarch, today's dessert couldn't possibly be more pantry friendly.
4) The Whiskey Sauce. The whiskey sauce really makes today's ice cream – in my opinion. It's sweet, rich, and full of 'whiskey flavor.' This makes it absolutely perfect for things like custard, vanilla pudding, and pound cake, in addition to today's ice cream.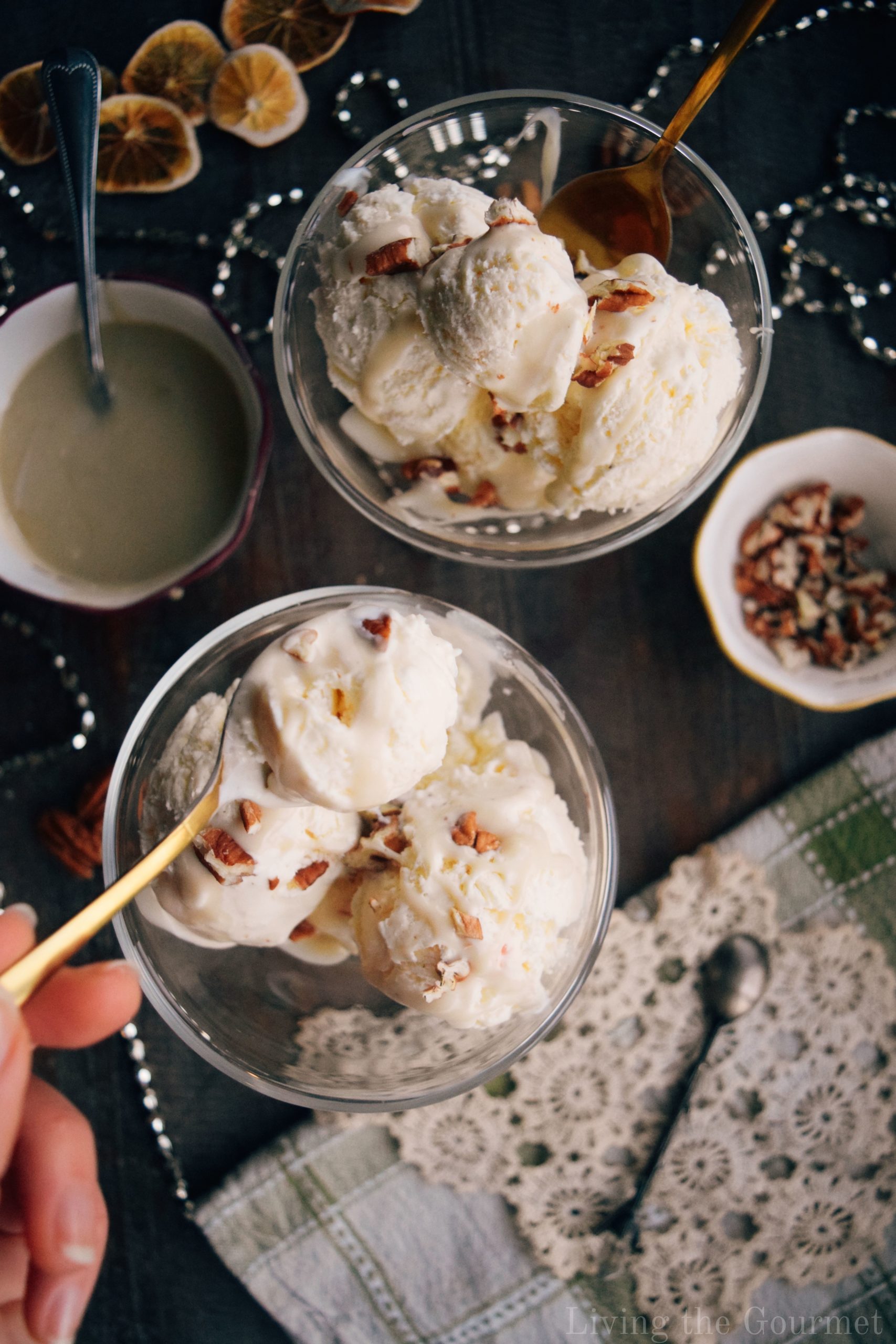 Preparation Notes and Tips
1) No Churn Ice Cream vs Churned. Let's start by saying that 'ice cream' in the absence of 'air' is simply cream that has been turned to 'ice.' Not fun. Not palatable. Introduce 'air' into the recipe, and your 'cream that has turned to ice' becomes creamy, or even 'airy.' More air equates – on a level of diminishing returns – to a creamier ice cream. Too much air, however, gives you something resembling iced butter – also not fun. Ideally, when using a churn, you want your ice cream to have roughly the consistency of soft serve before popping it in the freeze – since ice cream actually becomes 'ice cream' in the freezer as opposed to the churn. Regardless, that means that creating ice cream without a churn requires a way to get 'air' into the mixture – and a lot of it. In no churn ice cream, you are essentially whipping air into the 'cream' part of the equation first, then folding in the secondary ingredients to properly combine them without deflating the cream before then rushing the mixture to the freezer. Thus, the difference between no churn and churned ice cream is simply the manner in which you introduce 'air' into the recipe.
2) Fold Gently. Folding is the processing of 'gently combing' ingredients, ingredients where the 'tenderness' or 'aeration' of one or more of the ingredients is a desired trait – traits that would be destroyed or severely damaged by the more vigorous action of stirring or mixing. Folding is generally performed with large spoons or spatulas as opposed to whisks. As explained above, 'air' is an important ingredient in ice cream, and the more you 'mix' or 'stir' the whipped cream, the more air you remove from the ice cream. Thus, fold gently.
3) Fold Sparingly. No matter how gently you fold the ice cream's ingredients, you are still 'mixing,' and thus you are still removing air from the cream. Thus, fold only until the ingredients are combined and not a moment longer.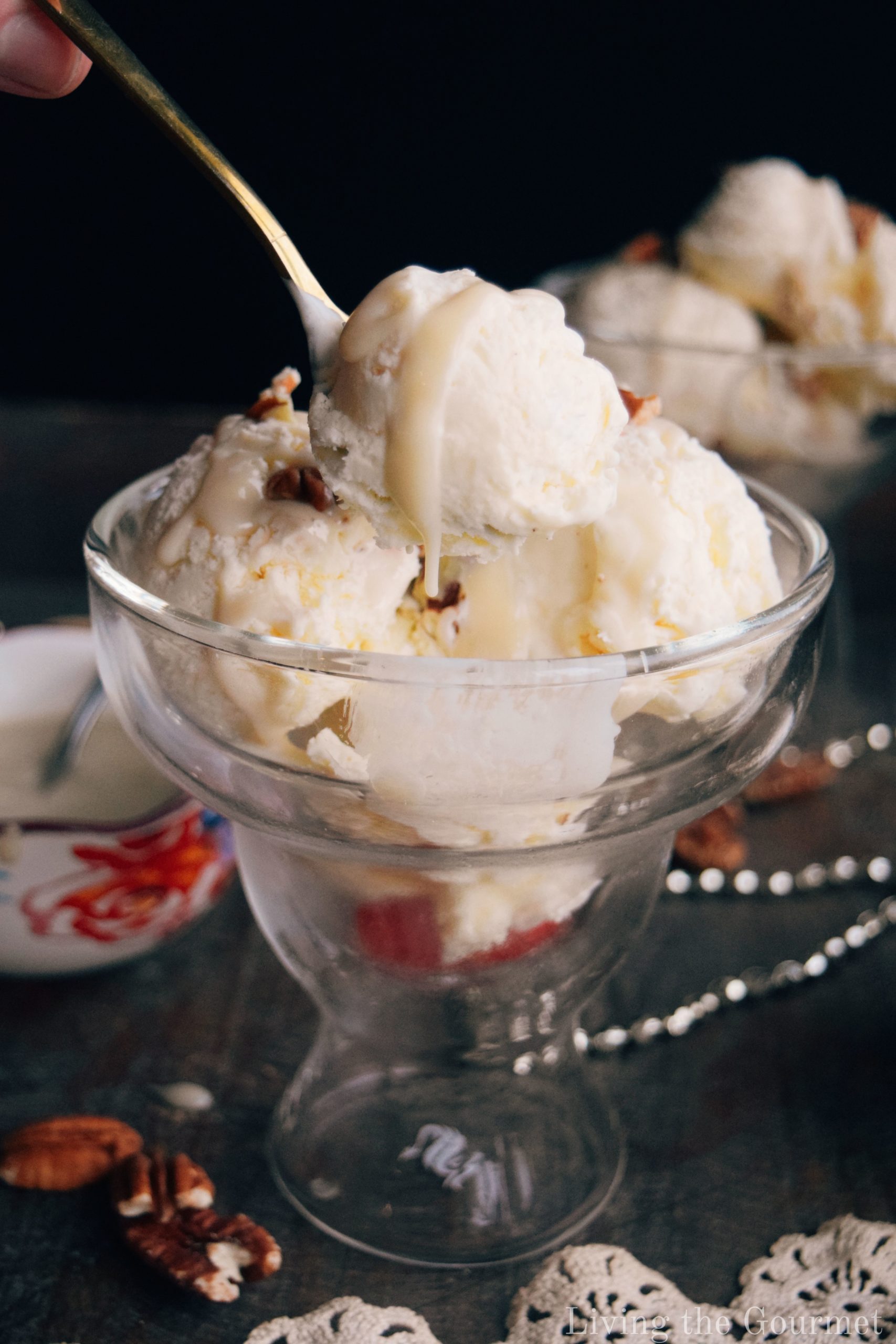 More Decadent Desserts from Living the Gourmet
1) Custard with Rum Sauce. My favorite custard recipe, this dessert is simple enough to be prepared on busy weeknights, while being satisfying and rich enough to serve as a weekend treat or as part of a holiday dessert spread. The rum sauce is absolutely delicious, and will pair absolutely beautifully with things like today's ice cream or over bread pudding, or even in coffee.
2) Homemade Hot Chocolate. Homemade hot chocolate is a pleasantly thick, lusciously rich chocolate beverage that's absolutely delicious – and shockingly easy to prepare – and it isn't just a holiday treat. It's perfect throughout the fall and winter seasons.
3) Apple Cider Old Fashioned. The classic 'Old Fashioned' is a given wintery makeover with apple cider and cinnamon.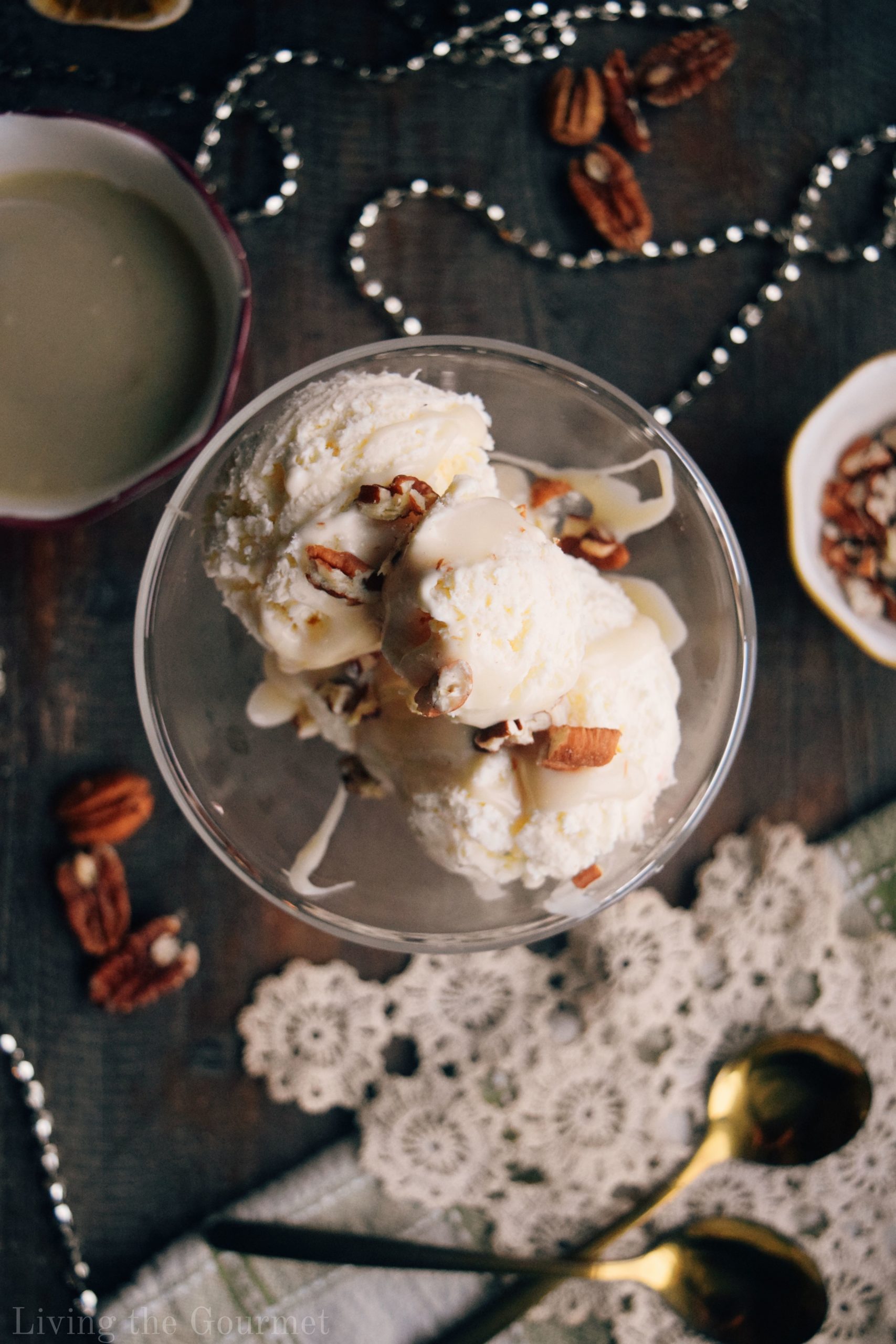 Print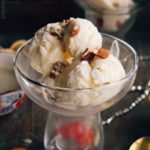 No Churn Eggnog Ice Cream with a Sweet Whiskey Sauce
---
Author:

Prep Time:

10 minutes

Cook Time:

10 minutes

Total Time:

20 minutes

Yield:

4

-

6

1

x
For the Eggnog Ice Cream:
2 cups

heavy cream

14 oz

. can sweetened condensed milk

1 cup

eggnog

1 teaspoon

fresh nutmeg, grated
Pinch of salt
For the Sweet Whiskey Sauce:
3/4 cups

heavy cream

2 teaspoons

cornstarch

1 tablespoon

cold water

2

tbs. sugar

2

tbs. cup bourbon or whiskey
---
Instructions
For the Eggnog Ice Cream:
Whip heavy cream until stiff peaks form. Set aside.
In a large bowl, whisk together condensed milk, eggnog, nutmeg, and salt.
Fold in the whipped cream until well combined. Transfer to a freezer container and chill for several hours until the ice cream has set.
For the Sweet Whiskey Sauce:
In a small saucepan bring the cream to a gentle simmer.
Stir the water and cornstarch together and add to the cream, whisking all the while.
Bring to another slow simmer and continue to whisking.
Remove the pot from the heat and stir in the sugar and whiskey.
Stir until the sugar is completely dissolved.
Let cool and use over ice cream or pudding.
Notes
*Prep Time does NOT include Inactive Prep Time!
Recipe Card powered by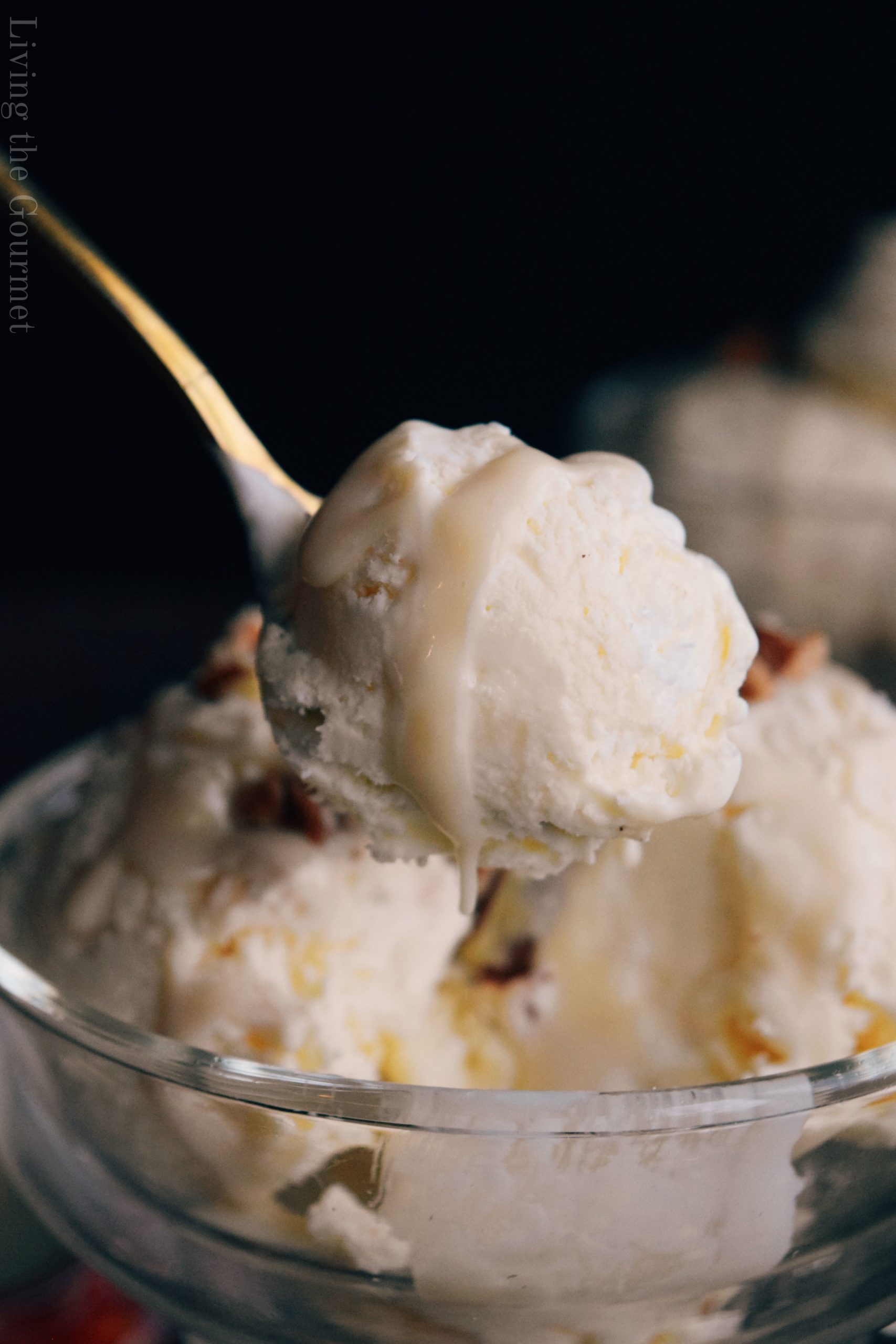 0