Today we're preparing a red bell pepper and jalapeno spread, with grilled garlic and artichoke hearts. This spread is a perfect accompaniment to homemade flatbreads, or as the centerpiece of a lush antipasto or charcuterie board. Earthy, rustic, and just hint a spicy, this spread embodies 'Old World Flare' like few others.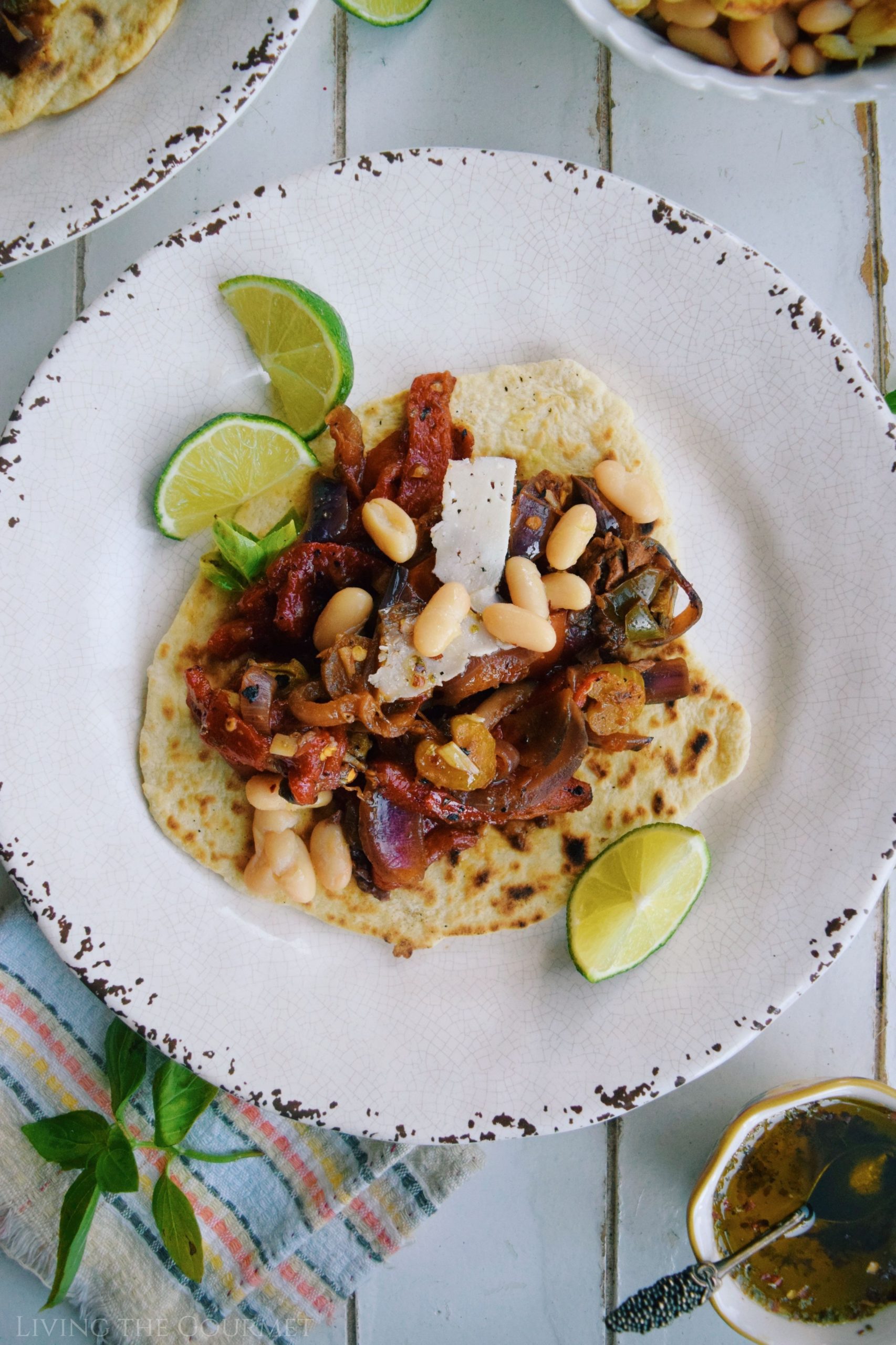 Ingredient Notes, Tips, and Substitutions
1) The Olives. I'm using Kalamata for today's spread, but really you could substitute in anything you have on hand – including basic canned black olives. You might also consider Gaeta olives, which are probably the closest relative to Kalamata in terms of taste and texture. Ligurian olives, also called Taggiasca olives, are also a great substitute. Sicilian olives, also, would serve just fine in today's spread.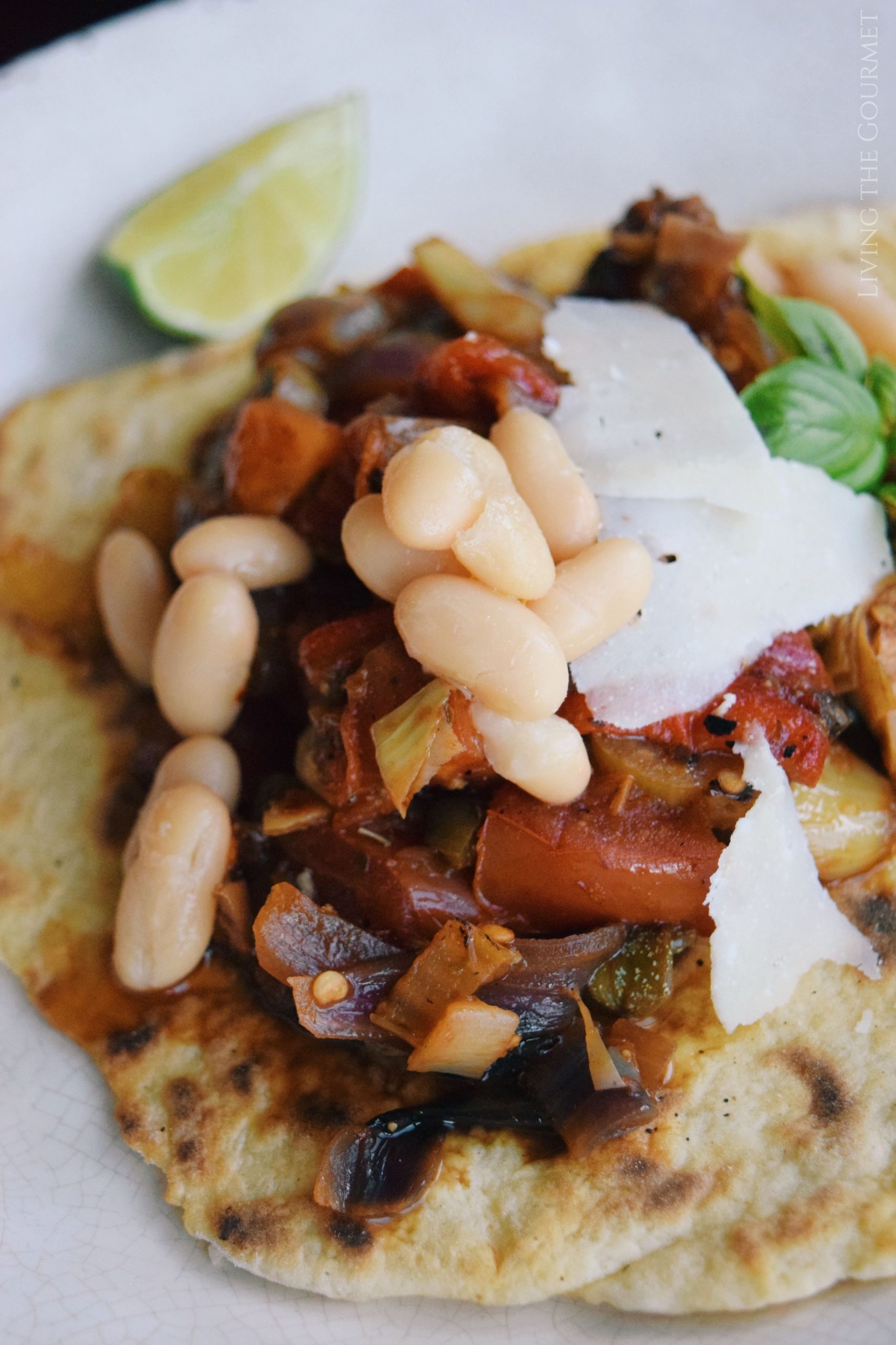 2) Marinated Artichoke Hearts. These are one of my favorite things in the world. They can add a touch of 'Mediterranean flare' to pretty much anything. Artichoke hearts make an appearance in almost every Mediterranean cuisine, from Morocco to Sicily, to Greece, Turkey, and Spain. And for good reason – there's almost nothing you 'cannot' do with them. I've used these as toppings for flatbreads and homemade pizza, I've cut them up into eggs, I've served them whole as part of my antipasto spreads, and I've used them in a variety of pasta dishes. Seriously these are beyond versatile, and learning how and where to use them will instantly kick up your kitchen game.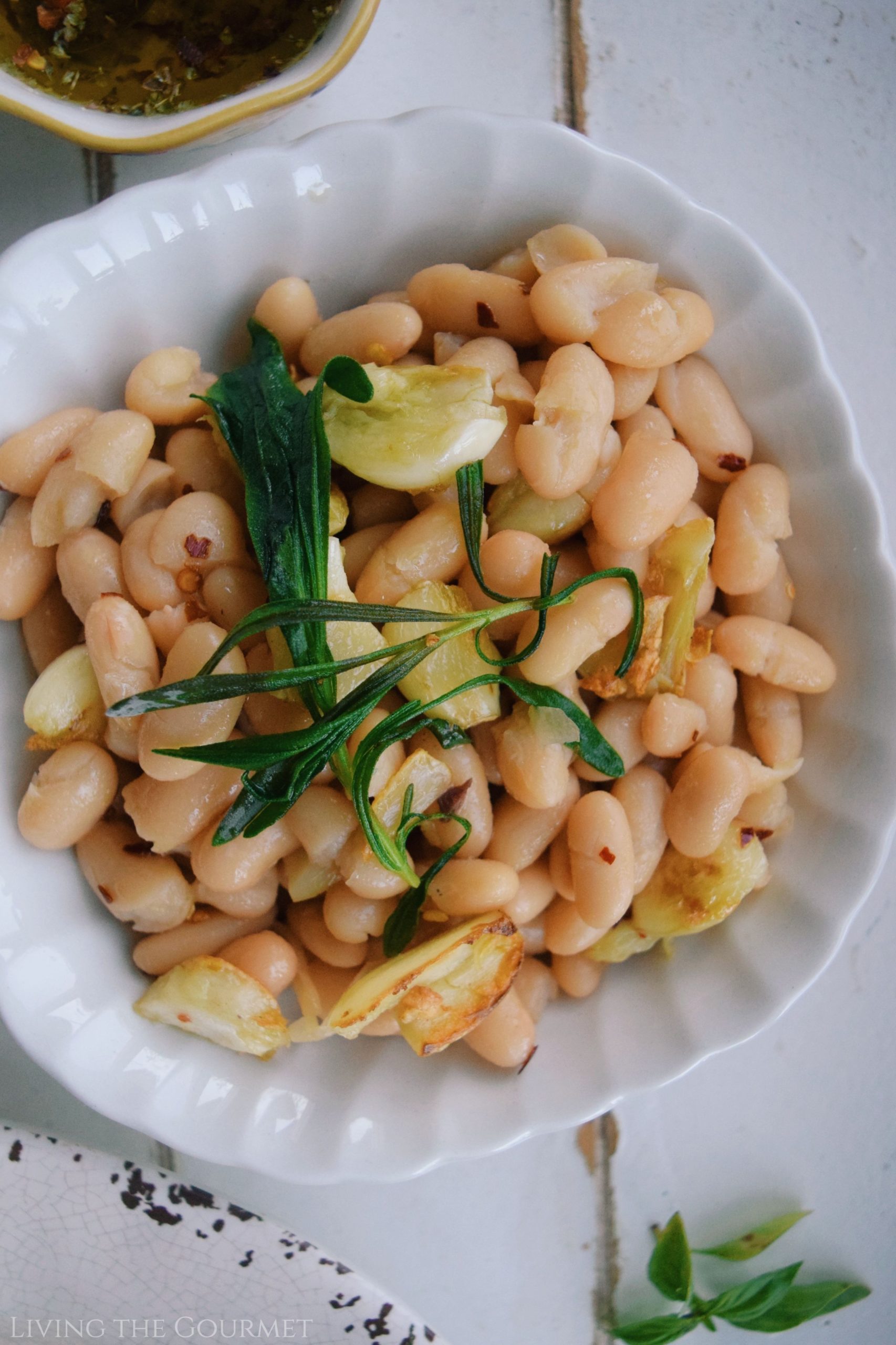 3) Cannellini Beans vs Navy Beans vs Butter Beans. The truth is these three beans are often used interchangeably. However, there are subtle differences that make one or the other better suited to certain recipes than its counterparts. Today we're using Cannellini beans since they are the largest and 'meatiest' of the 'white bean' group – and since we're eating the beans 'whole and on their own' as part of today's spread, we want a 'substantial' bean. Cannellini beans have a nutty, earthy flavor, and very tender flesh, this makes them ideal for things chili, minestrone, and – you guessed it – dips and spreads. By contrast, Butter Beans are much starchier and somewhat smaller, and are popular in soups in stews. These qualities, however, makes them less desirable when you prefer a 'hardier' texture, or when you want the beans to stand on their own – as in today's spread. Finally. Navy Beans are small and pea-like, and have a low cooking point – meaning that they become softer faster during cooking – and are typically used as a thickening agent for soups and stews. They are also relatively flavor neutral. Naturally, these qualities make them ideal for cooking, but less so for processing into a dip or spread or eating on their own.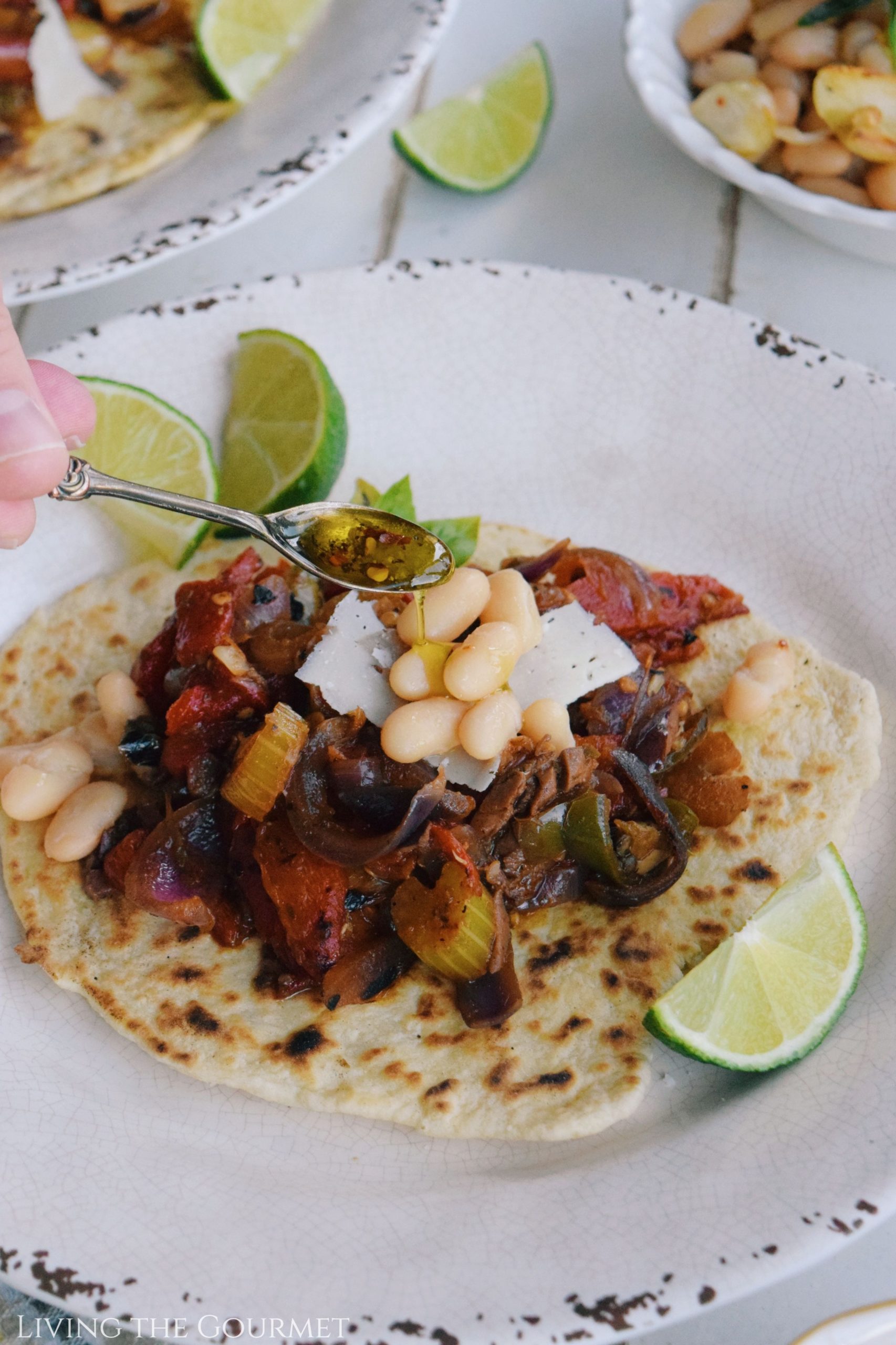 Uses for Today's Chutney
1) Flatbreads. My personal favorite pairing for today's spread, and for dips with comparable flavors, such as my dips, such as my Cilantro and Cannelini Bean Dip. Flatbreads are relatively easy and quick to make, and never fail to impress at dinner parties. That said, they are also super intuitive to 'dress up' with things like today's spread, or with a bit infused olive oil, or the various 'items' typical of antipasto boards such as cheeses, fish, olives, and cured meats.
2) On Crostini. Topped with today's spread, some cured meat, and fresh mozzarella, crostini are a great way to get creative with today's spread. Easy to make, and providing endless possibilities for experimentation, learning how to prepare crostini will make you the hit of your next dinner party.
3) Charcuterie Board. Today's spread is well at home in a variety of 'classic' antipastos or as the centerpiece of a well-crafted charcuterie boards You might consider a board featuring dried fruits, crostini, panini sandwiches, and cured meat, such as the one I prepared here. Alternatively, you might also consider a board featuring grilled fruit, grapes, olives, artisanal toast, and roasted peppers, such as my charcuterie board.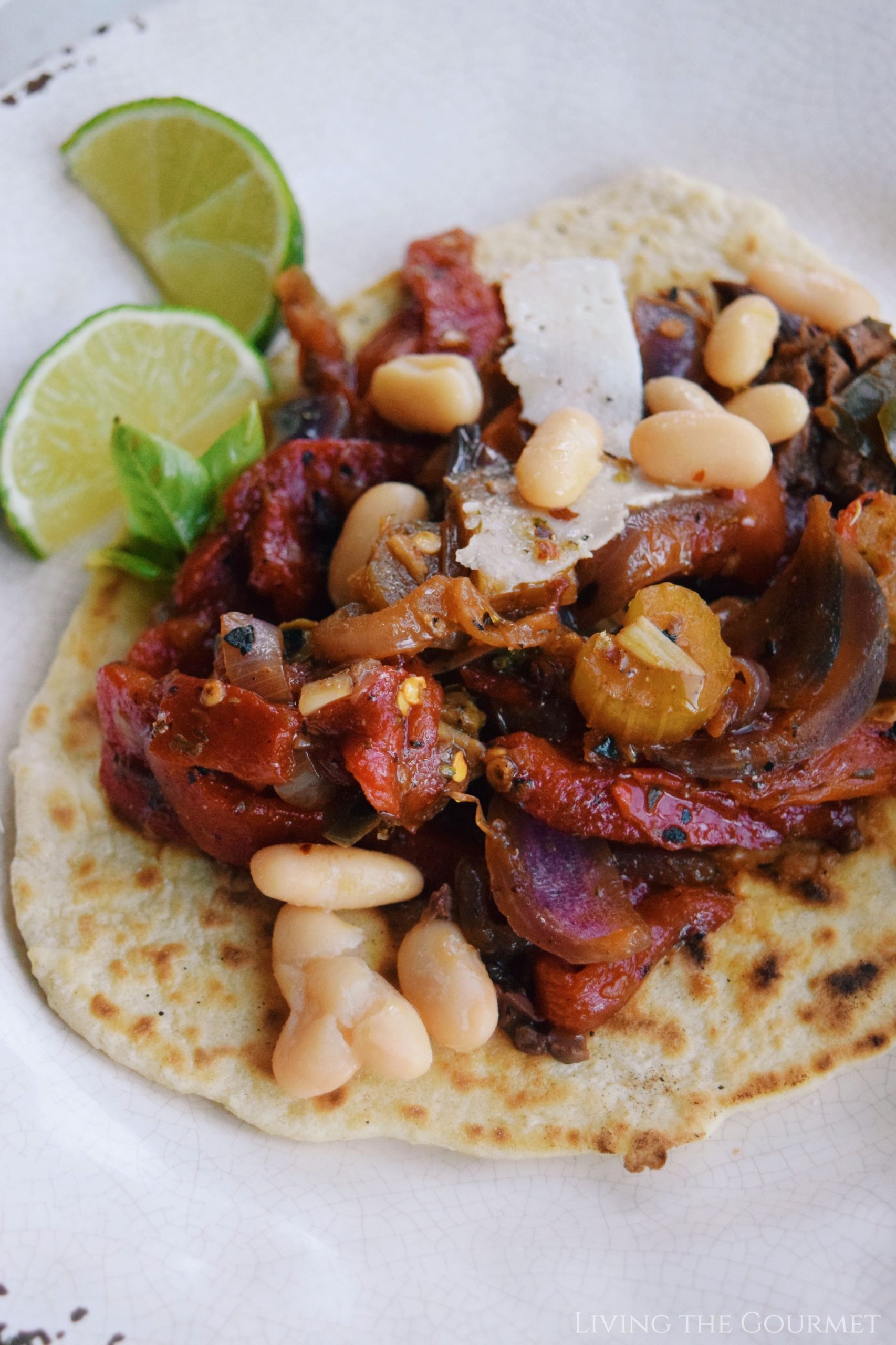 Print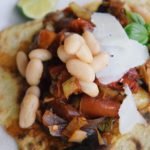 Red Pepper and Jalapeno Chutney
---
Author:

Total Time:

25 minutes

Yield:

4

-6

1

x
4

red bell peppers - charred

1 1/2

heads of garlic - charred

2

tomatoes - diced

2

stalks celery - chopped

2

tbs. capers

2

jalapenos - charred

2

red onions - grilled

6

-

8

marinated artichoke hearts - sliced

1/4

cup

Kalamata olives - chopped

2 tsp

. salt

1 tsp

. sugar

1 tsp

. black pepper

2 tsp

. dried oregano

1 tsp

. red pepper flakes
Parmesan or Romano cheese - shaved

2

-

3

tbs. olive oil
For the Seasoned Cannellini Beans:
1

29

oz

. can of cannellini beans - rinsed and drained
Small head of garlic - grilled
Fresh rosemary sprigs

1/2 tsp

. sea salt
Dashes of red pepper flakes

2

-

3

tbs. olive oil
---
Instructions
Carefully, grill the red bell peppers on the open flame or in the dry cast iron frying pan to a nice char.
Allow the peppers to cool down and then scrape the char off and slice.
Place the garlic cloves in a dry cast iron frying pan with the jalapenos to get a nice golden color.
Heat a large cast iron frying pan. Place the sliced onions, charred garlic, sliced jalapenos (with seeds) and sprinkle with a tsp. of salt and tsp. of sugar, and allow the onions to get a nice golden color.
Add the sliced celery, sliced red bell peppers and continue to get the nice golden color.
Add the diced tomatoes, seasonings, capers, chopped kalamata olives and artichoke hearts and continue to simmer.
Turn the heat down and drizzle with the olive oil. Taste for seasonings.
Allow to reach room temperature before serving. Serve with the Parmesan or Romano cheese shaving.
For the Seasoned Cannellini Beans:
Heat a small cast iron frying pan dry with the garlic cloves.
Allow the garlic cloves to get a nice golden color. Turn the heat off and add the sprigs of rosemary and a tbs. of olive oil.
Place the beans in a large bowl and top with the garlic, olive oil, rosemary and sea salt.
Serve with the red bell pepper chutney, fresh flat breads if desired, and seasoned olive oil.
Prep Time:

10 minutes

Cook Time:

15 minutes
Recipe Card powered by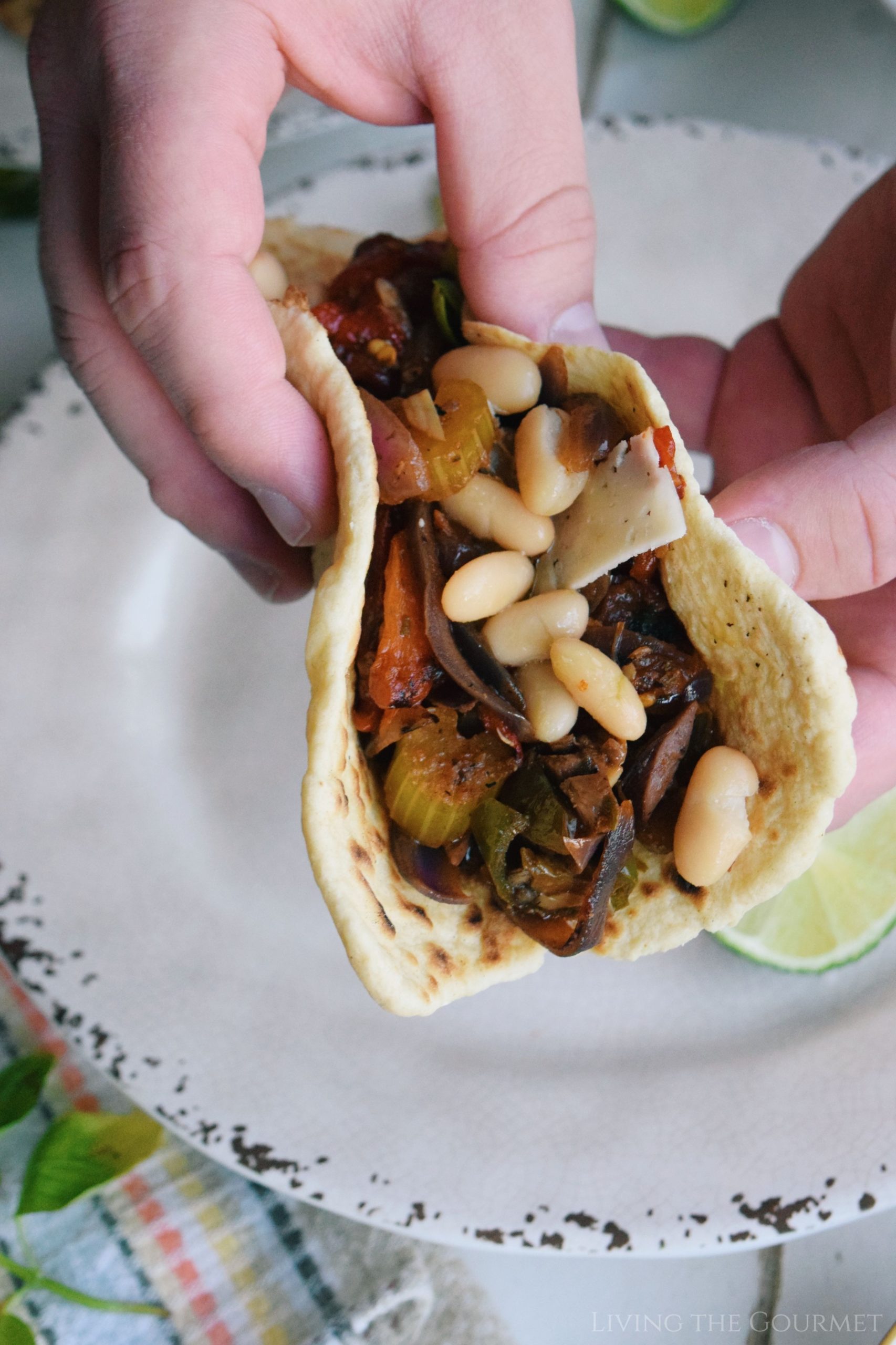 If You Enjoyed Today's Recipe…
Be sure to follow us on Instagram to stay up to date with all things Living the Gourmet, and for more great recipes, tips and tricks.
Did you make this recipe?
If so, let me know in the comments down below, or post a picture to Instagram, or to Pinterest, and I'll give you a shoutout on Instagram, or post your pin to one of my Pinterest boards!
0