Today's frittata is a quintessential 'one pan meal.' It's satisfying, easy to put together, and heats up beautifully as leftovers, making it perfect for busy weeknights. Combining grilled jalapenos, red onions, and plenty of garlic, along with fresh tomatoes, mozzarella, and red pepper, today's frittata is 'pleasantly spicy' and 'nicely warming' for the autumn and winter weather.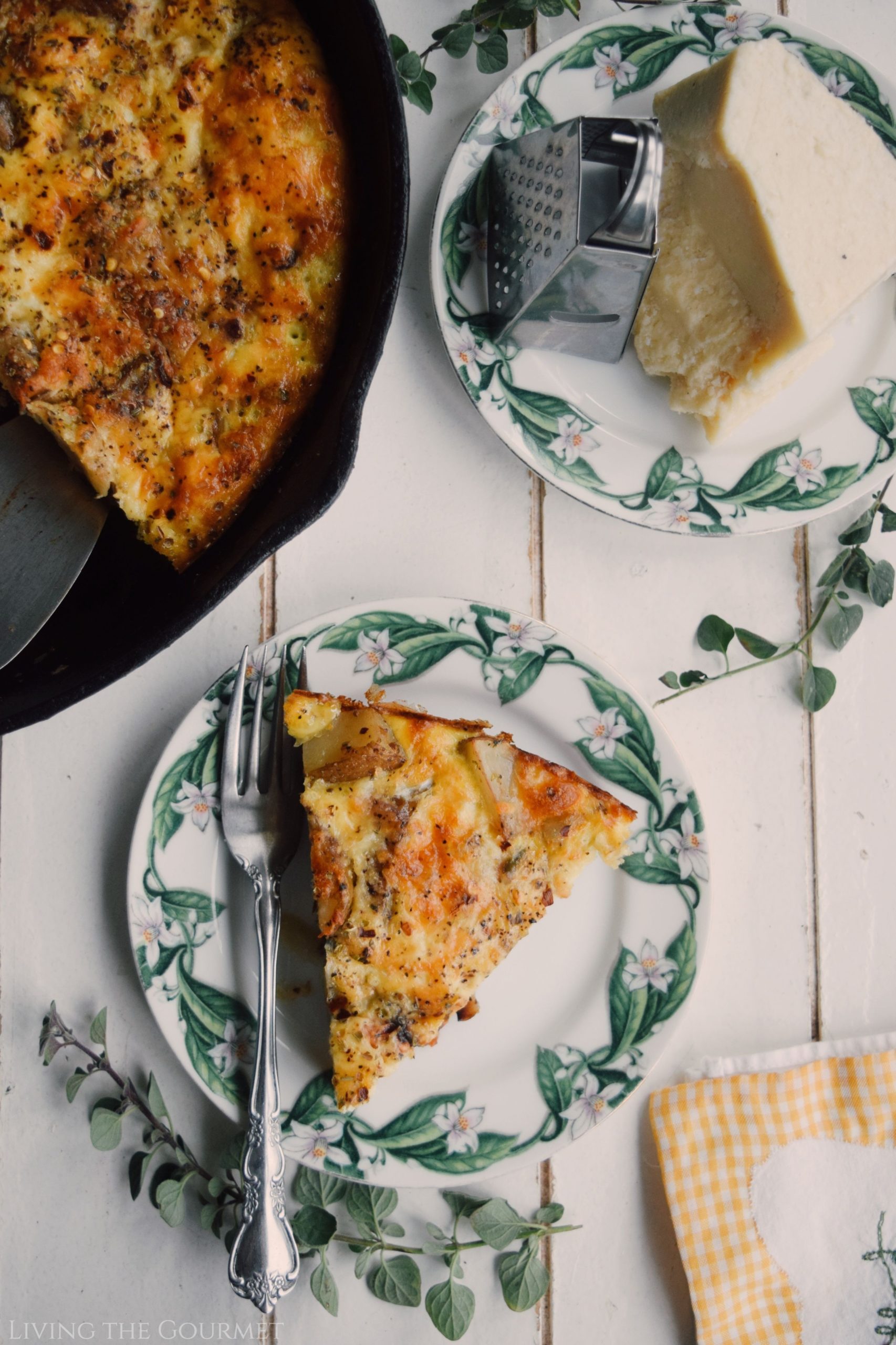 Frittata Vs Omelet. Difference without a distinction? Or Something More?
Growing up, I had always called recipes like today's 'omelets' or 'dinner omelets,' and I did so because that's what my Italian speaking parents called them. However, as I've now learned, these types of pan-fried egg dishes are in fact 'frittatas,' which is Italian for 'fried.' This name is self-explanatory reference to the eggs being pan fried. However, the eggs are pan fried with various ingredients or 'fillings' being submerged within the eggs themselves, as opposed to being 'folded' into the eggs as with an 'omelet.'
Another difference is that frittatas are almost always meant to serve more than one person, while an omelet is intended to serve just one. In addition, frittatas are rarely eaten for breakfast, instead being served for brunch, lunch, or as a light dinner – which is to say 'not breakfast.'
Frittatas that are intended to serve more than one are cut into slices, while an omelet is served whole. To that point, frittatas can be served at room temperature or hot, whereas a 'room temperature omelet' wouldn't exactly be considered palatable. Finally, frittatas can also be made into sandwiches, as I'll touch on in just a bit, whereas an omelet is intended to be eaten 'as is.'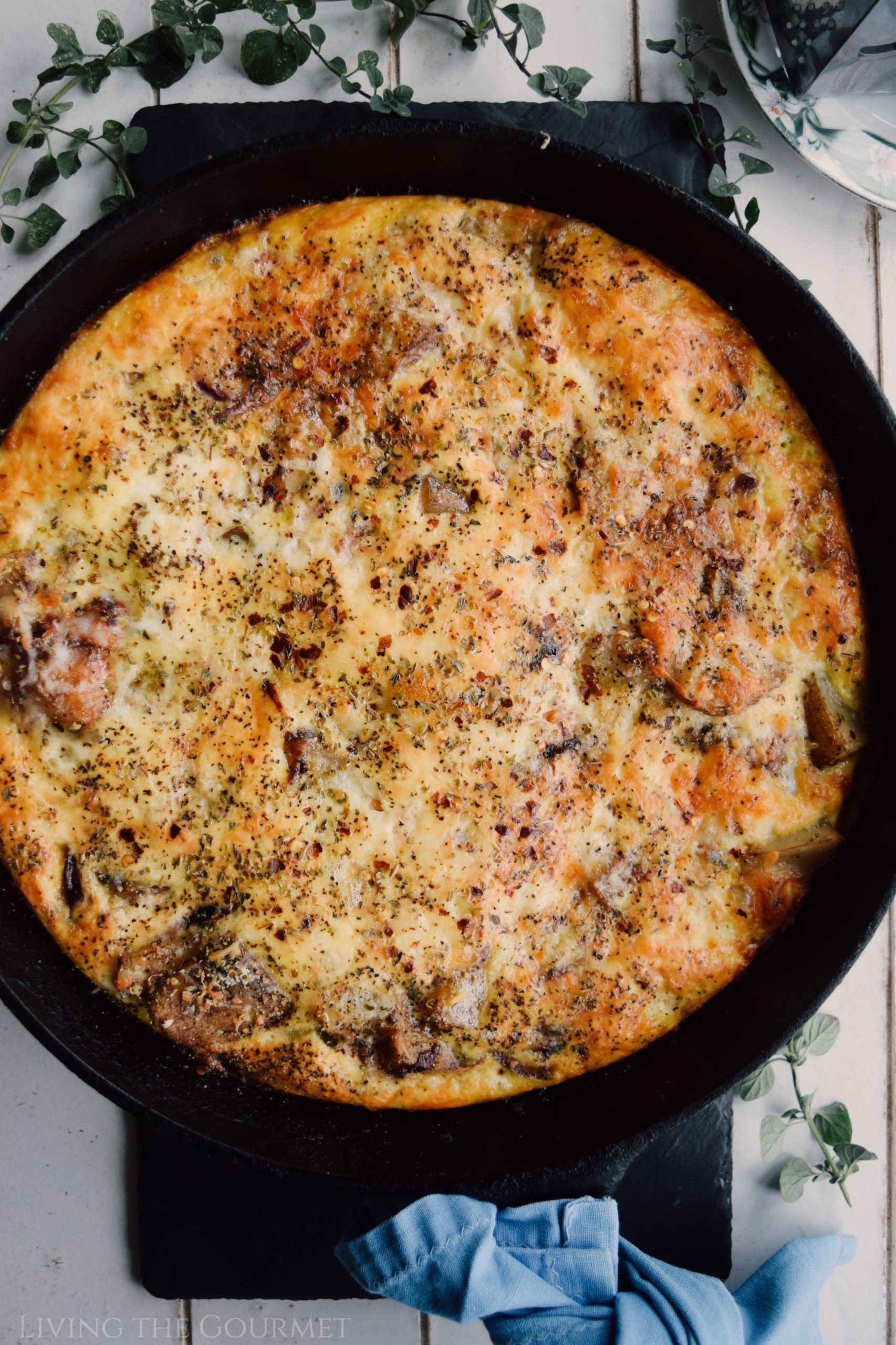 Why You'll Love Today's Frittata
1) Sandwiches. I probably shouldn't be starting with this point, but I am. Frittatas are at their best the next day, warm or cold, on rye toast with some butter, extra cheese, and maybe a dash or two of hot sauce as a sandwich. Oh. My. God. That's my favorite lunch in the world right now.
Tips For Sandwiches: My son warmed up a piece of this in a cast iron pan, and then mixed together mayo with a cayenne and scorpion pepper hot sauce, spread the spicy mayo on some rye bread, and then cut up the reheated frittata into roughly one inch chunks and that was his sandwich. It's that simple. Conversely, you could also get more creative, turning this into the base of a panini, or topping it with fresh salsa.
2) Leftovers. This cuts to the above point, but today's frittata heats up shockingly well, either in a pan on the stove or in the oven on low heat.
3) Make Ahead. Once again, since this frittata serves so well over the next day or two or three, it's a great for 'make ahead' dinners, lunches, or breakfasts.
4) One Pan Meal. With a side of toast, or not, this frittata really does make a great one-pan-one-meal dinner or lunch option.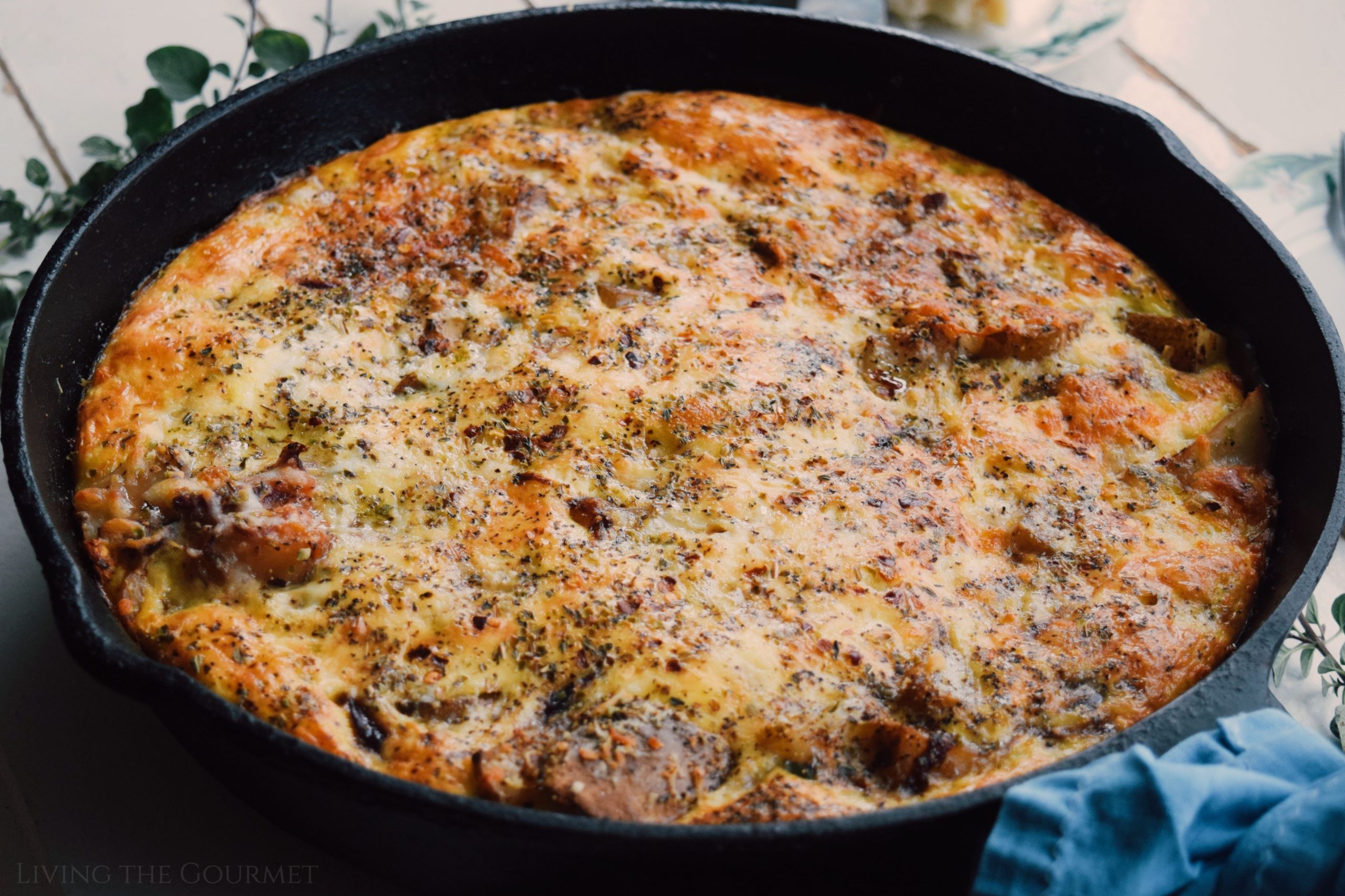 Ingredient Notes, Tips, and Substitutions
1) Eggs. Labels Galore! But what do they mean? You've seen all the labels pop up on egg cartons in recent years, and like most you probably want to be a 'good person' and 'health conscious' and 'buy the carton with all the labels,' but what do the really mean? And which actually assure you 'quality' eggs? Here are some tips I've learned over the years. First off, 'Cage Free' doesn't mean what you think it does. While the chickens aren't kept in cages, they are almost always still packed tight in barns, often wing-to-wing – cage free does 'not' mean the chickens are free to roam. 'Farm-Fresh.' Literally meaningless. It's not regulated by your state, local, or federal government, nor do industry associations attach any meaning to it. It's a junk label. 'Hormone-Free.' Redundant. If you live in the US, hormones are already outlawed from all animal products that make it to your table, so this label is merely an advertising ploy. 'Organic' and 'USDA Certified Organic.' Finally, terms that carry some weight. To be labeled 'Organic,' the farms themselves must be certified organic, use only organic feed for their hens, and that feed must use only non-GMO ingredients. In addition, the hens must also be cage free, and have access to the outdoors. Oddly, that means 'Organic' is a better 'Cage Free' label than 'Cage Free.'
2) Fresh Oregano vs Dried – and Possible Substitutions. In an unusual twist, dried oregano is generally preferred in the kitchen over its fresh counterpart – although there are exceptions. The one word you'll likely always come across when reading about fresh oregano is 'pungent,' and occasionally 'intrusive.' Fresh oregano has a tendency to steal the limelight. For this reason, it's at home in recipes with 'powerful' ingredients, or where other fresh ingredients are present. Things like Greek salads, whole roasted fish, grilled lamb, heavy sauces, or in herbal mixes for use in stuffing scored pork shoulders. In other words, recipes that aren't 'gentle' or light. For virtually all other uses, dried oregano is preferable, since the drying process mellows it dramatically – which is almost the polar opposite of what happens with other dried herbs, where the drying process has a tendency to 'concentrate' rather than mellow the herbs' most prominent qualities.
Substitution: Dried basil or thyme at a 1-to-1 ratio.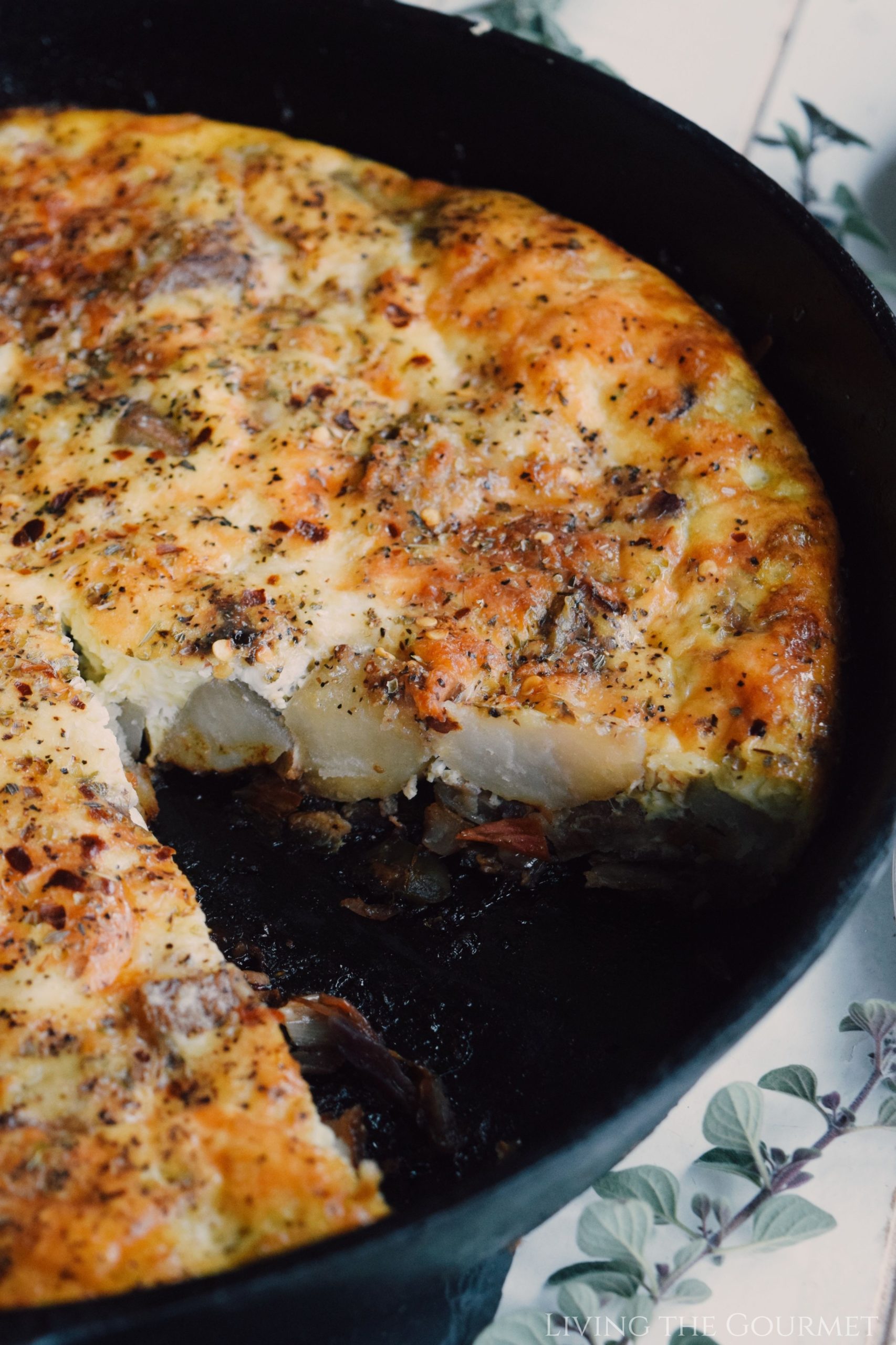 3) The Cheese. You want a cheese that melts down nicely. Swiss, Jarlsberg, or Mozzarella all work fine. Jarlsberg is slightly more 'flavor neutral' than the others, and melts a bit more 'firmly.' It does, however, have a pleasant, if faint, 'nutty' flavor.
4) The Potatoes. First, peeling is optional, but for today's frittata I prefer my potatoes unpeeled, but this is purely a matter a preference. The skin 'will' add a slight bit of 'texture' to the frittata, and a slight bit of 'earthiness,' which I find melds quite nice with the flavor and texture profile of today's recipe. Now, what kind of potato do you want for this recipe? Any type of potato that holds its form well through cooking/roasting/boiling is what you want. These types of include small reds, New Potatoes are the go-to, due to how well they hold their shape through all forms of cooking. Waxy Potatoes, often confused for 'Yukon Golds,' are also ideal here – as would be Yukon Golds. White Potatoes would also work, but are less than ideal.
5) Red Onion vs White Onion vs Yellow Onion vs Sweet Onion. Yellow onions are basically the 'workhorse' of the 'onion family.' They are perfectly palatable raw, and cook up quite nicely, they also lack the 'pungency' of other onions, featuring a balanced astringency. This makes them ideal for almost any cooked recipe that call for onions, especially sauces and soups, since they become sweeter the longer they cook. Spanish Onions are a type of yellow onion, but are somewhat sweeter, and pack less of a 'bite.' By contrast, Red Onions are the go-to onion for 'uncooked' recipes, being sweet, crisp, just a touch pungent, and a beautiful shade of 'vegetable red.' This is why they often feature prominently in things like Greek and Sicilian salads, fresh salsas, and the like. Also, if we're being honest, they really do 'not' cook well, since their beautiful red color simply washes out under heat, while their taste becomes almost identical to that of yellow onions, taking on something of a 'muted' sweetness. Then we have Sweet Onions, which completely forgo 'oniony bite' and astringency in favor of 'actual' sweetness. Seriously, I've bitten into these things like an apple. Since these onions are so delicious raw, they feature prominently in things like garden salads, sandwiches, raw salsas, uncooked relishes, and the like. However, this sweetness comes at the price of perishability, meaning Sweet Onions tend to sour a bit more rapidly than their non-sweet counterparts. I'm using Red Onions for today's recipe since I don't want quite the amount of sweetness that Sweet Onions bring, instead I want to balance the recipe with a bit of astringent pungency, and thus I'm opting for Reds.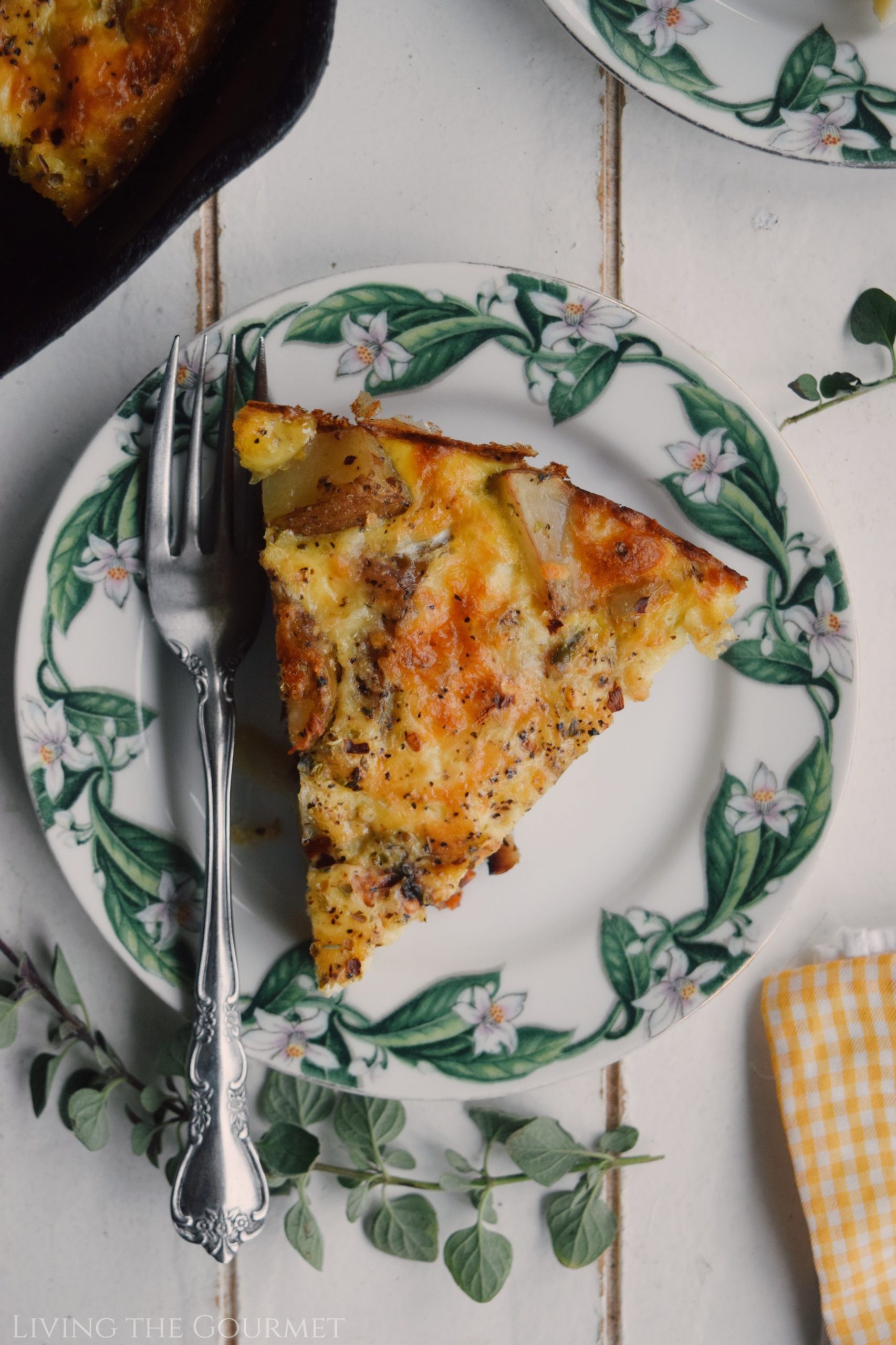 More Eggy Goodness
1) Deviled Eggs. A classic egg recipe from previous generations that never 'quite' went away. Homey and easy to make, and just a hint spicy, but mostly 'dilly' and 'relish-y.' Trays of these almost always find their way on the tables of my family gatherings, either prepared by my daughter or my sister-in-law…or both.
2) Soft Boiled. My favorite way to have eggs growing up, I still remember cracking into these on busy school mornings, and gingerly dipping the ends of my toast into the dense golden liquid that dwelt just beneath the shell and lightly cooked layer of white.
3) Sunnyside With Fried Green Tomatoes. I'm not sure why, but I absolutely adore fried green tomatoes, and I love them the most with 'breakfast.' If you're feeling creative, this is a satisfying 'something different' for a morning when you've got the time to indulge in breakfast.
Print
Potato and Onion Frittata
Author:
Prep Time:

10 minutes

Cook Time:

20 minutes

Total Time:

30 minutes

Yield:

4

-6

1

x
9

–

10

large eggs – beaten with a splash of milk

3

–

4

– russet potatoes – boiled until fork tender then roughly diced

1

large tomato – diced

1 1/2

red onions – sliced thin

4

–

5

large cloves of garlic – chopped

1

jalapeno – chopped with seeds

2

–

3

tbs. olive oil

1/2

cup

of shredded mozzarella
Fresh Romano or Parmesan cheese – for grating

1 tsp

. salt – plus more for dusting

1/2 tsp

. black pepper – plus more for dusting

1 tsp

. dried oregano – plus more for dusting

1/2 tsp

. red pepper flakes – plus more for dusting
Olive oil for drizzling
Instructions
Heat a large cast iron frying pan with a drizzle of olive oil.
Add the sliced onions, garlic, jalapeno and sauté until the onion is slightly golden and the garlic fragrant.
Add the potatoes and the seasonings and continue to cook until the potatoes also get a bit of a beautiful golden color.
Add the diced tomato and cook until the tomato is softened.
Beat the eggs is a large bowl with a splash of milk.
Pour the eggs over the potatoes and veggies.
Generously, grate Romano or Parmesan cheese over the omelet and sprinkle with the grated mozzarella.
Re-season the omelet with a dash of salt, dried oregano, black pepper and red pepper flakes.
Preheat Oven 350 degrees F.
Drizzle a teaspoon or two of olive oil over the omelet.
Cook on the stovetop until the omelet is almost set, then finish cooking in the oven until the omelet is fully set and bubbling.
Let the omelet rest for 5 – 10 minutes before slicing into it.
Recipe Card powered by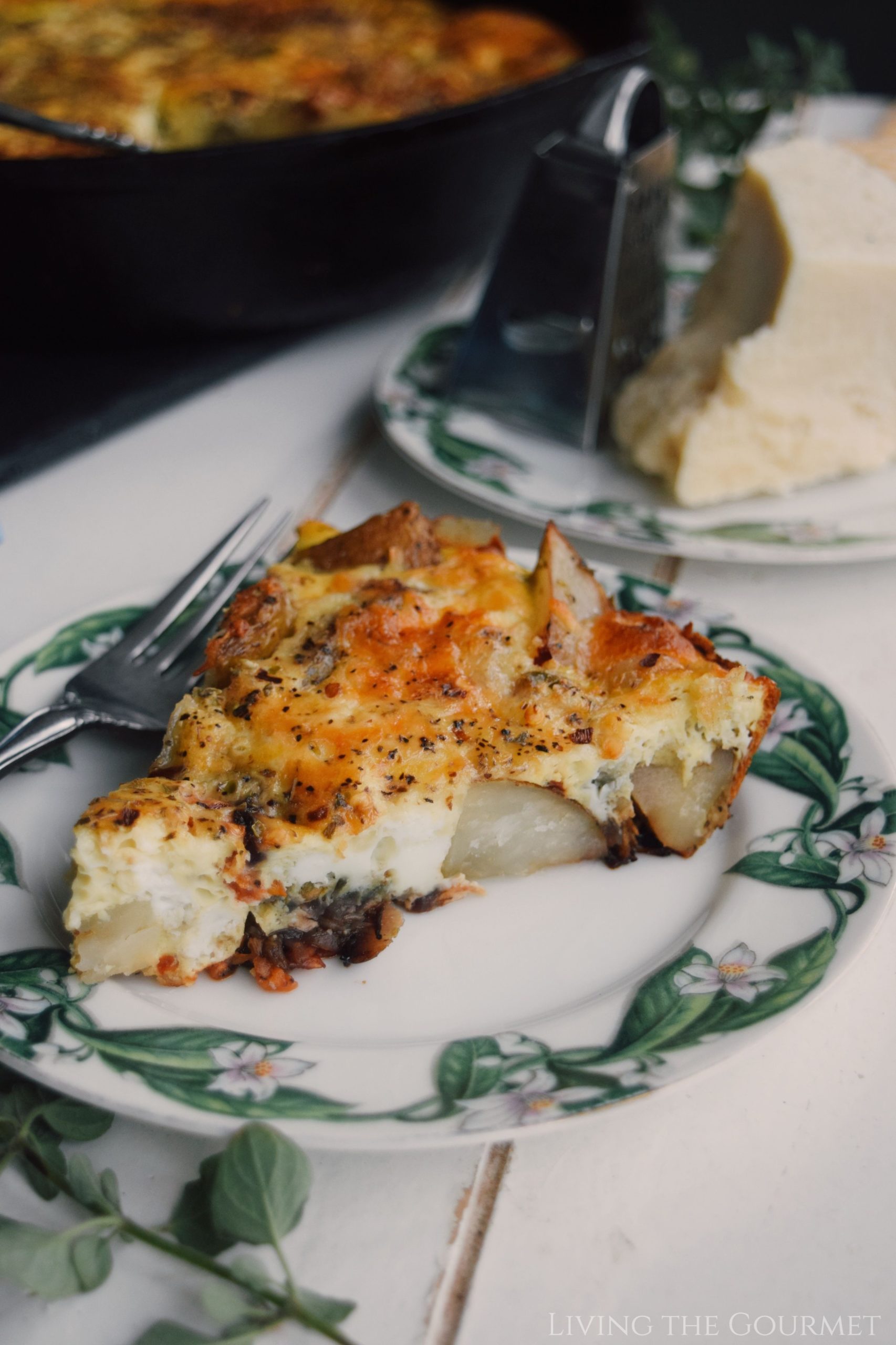 1