This post has been sponsored by Silver Hills. All opinions expressed are my own.
The arrival of fall prompts us to revisit some of our seasonal favorites like this Apple Spice French Toast. Dipped in a spiced custard base, pan-fried, then topped with sweet apples, warm maple syrup, and a generous dusting of powdered sugar, it is the perfect dish for an autumn brunch.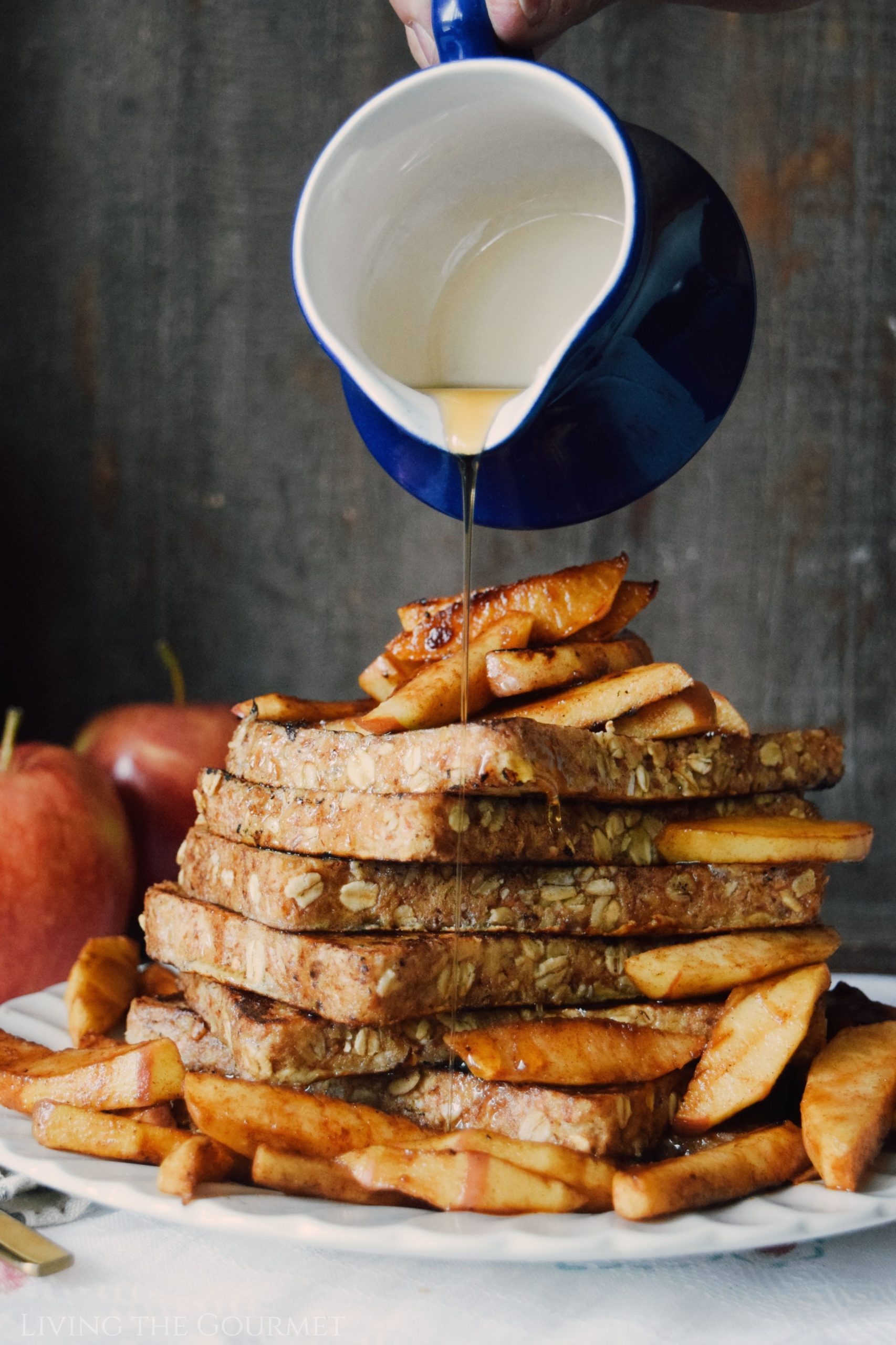 There is something undeniably lovely about fall, but aside from the blazing October sunsets and cozy cool mornings, my favorite part is the cold weather comfort food. I've missed the big pots of soup simmering on the stovetop and fresh baked goods. I've missed it more than I even realized.
As much as I love summer, waking up feeling to too hot to enjoy anything other than cold yogurt or a 'refreshing' bowl of cereal gets somewhat exhausting. I'm completely ok with warm porridge, homemade morning muffins, and on weekends a tall stack of pancakes or French toast, which brings us to today's recipe...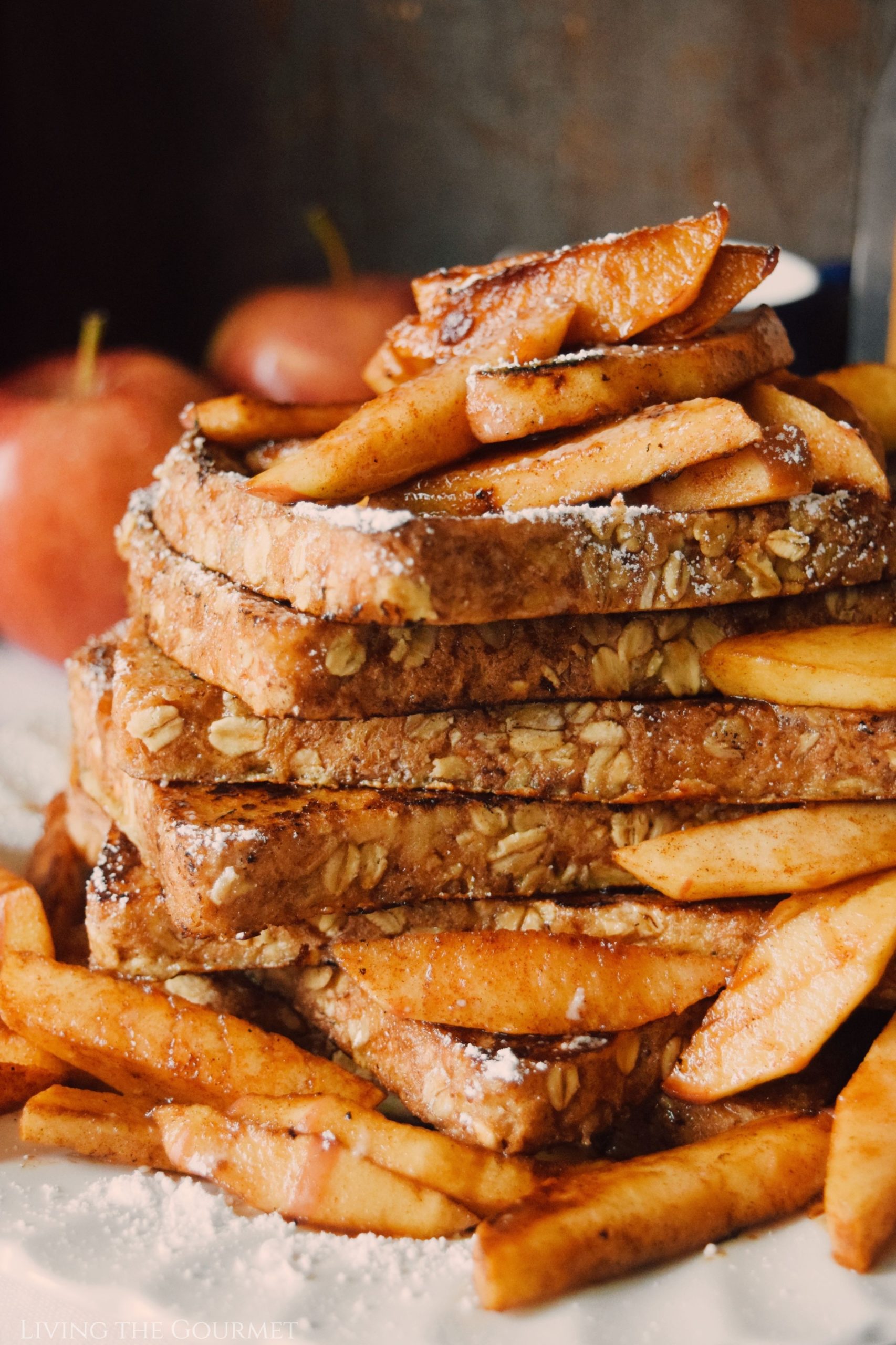 Pancakes. Waffles. French Toast.
It's not easy to pick a side here, and I'm not asking you too. I love them all and crave them equally at various times. However there is one perk to French Toast its breakfast companions lack- simplicity. All you need is a hearty loaf of bread (day old bread works well too).
Contrary to popular belief, you can really use any style of bread to make French Toast. Brioche and Challah are the most popular due to their sturdier texture that holds up well when you soak it in the custard. However, if you have plain sandwich bread it will work all the same, just don't let it soak in the custard too long, but more on that in a bit.
For today's recipe, I am pleased to be partnering with Silver Hills Bakery who are dedicated to making plant-powered foods from organic sprouted whole grains and a simple list of ingredients. Their Full Seed Ahead loaf holds up well in today's recipe, adding a bit of texture from the sesame, sunflower, pumpkin, and flaxseeds that are baked into each slice. What's more is all of Silver Hills' products are Non-GMO and certified Glyphosate Residue Free, so you can feel good and safe knowing that not only are their products all-natural, they are grown and harvested under the safest conditions.
While French Toast in theory is easy to make (pan-fried bread), more often than not, it does not always come out like the beloved diner-style when we try at home. The culprit lies within our prep (or lack thereof) and the custard base that isn't whisked well enough. So, as I mentioned above, while you can technically use any style of bread, make sure it's dry to ensure that it really absorbs the custard without getting soggy and falling apart. So use day-old if you can, if you're bread is fresh, simply leave it to dry out. If you want breakfast-in-bed leave it out the night before, if you're planning a brunch, a few hours will do.
The next conundrum is eggy toast. Be sure you are using the freshest eggs and beat the custard well. I've found a light whisk isn't enough, you need to break the eggs down well. I also use a combination of whole milk and cream for added richness so it's more of a custard.
If you're using thinner sliced sandwich bread, simply dip the bread into the custard. If you're using a thicker, sturdier loaf you can leave it to soak for about 20 seconds. NOTE: if you are using a baguette or country loaf with a crust, leave it to soak until the exterior has softened a bit.
Another helpful tip I recommend is preheating the oven to keep the toast warm while you finish the rest of the batter. Not only will this ensure your breakfast stays warm, but it allows the toast to keep cooking so that the inside is creamy but not soggy when you serve.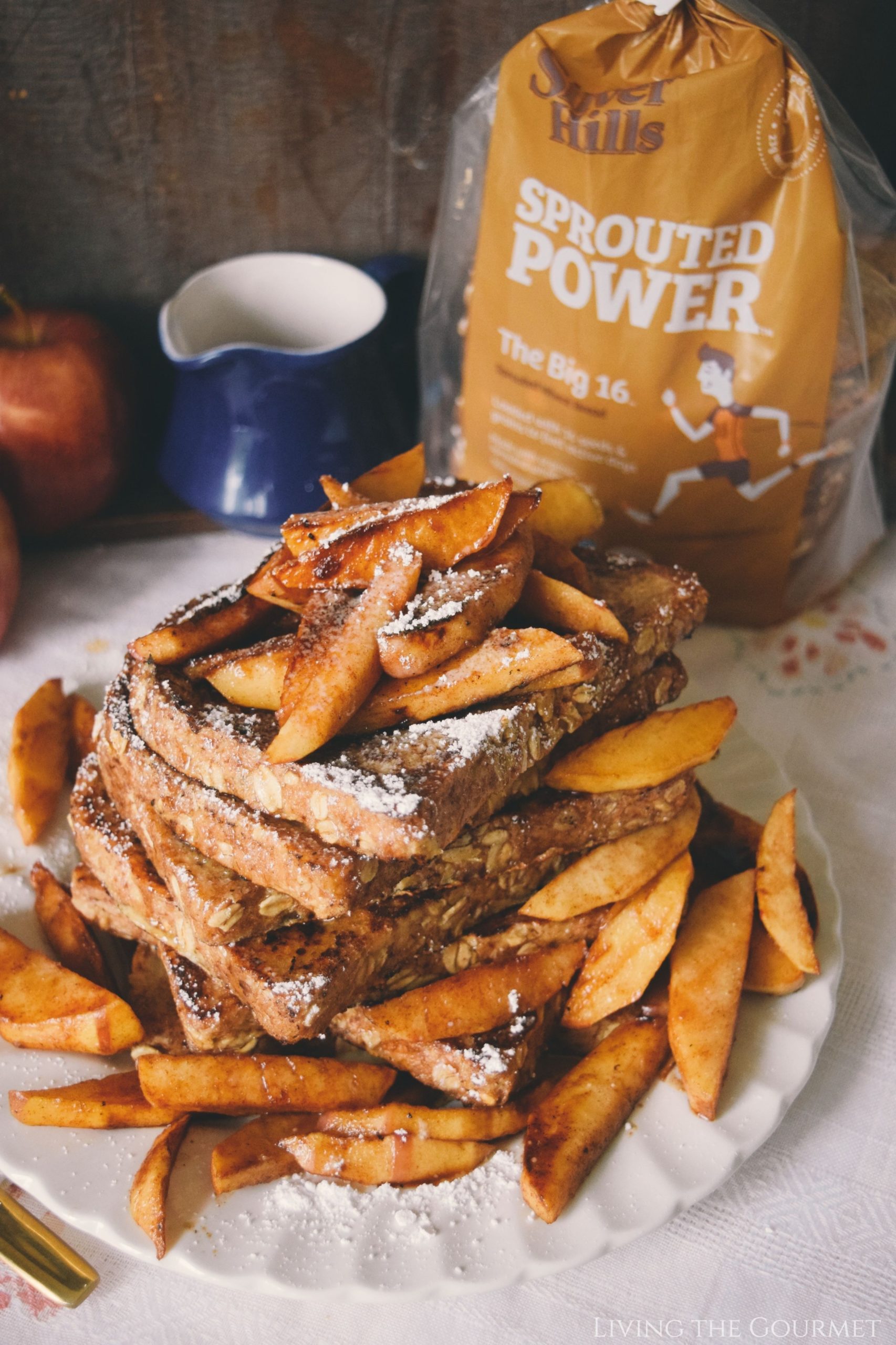 Now let's talk toppings, my favorite part.
I have previously shared Pumpkin Spice French Toast on the blog, so this time I wanted to create something different but still seasonal. I quickly fried apple slices that I tossed in a spice mixture and served them over the toast. Paired with a drizzle of warm maple syrup (or honey if you fancy).
You can easily swap the fried apples with a berry or fruit compote. Add a little whipped cream too if you so desire.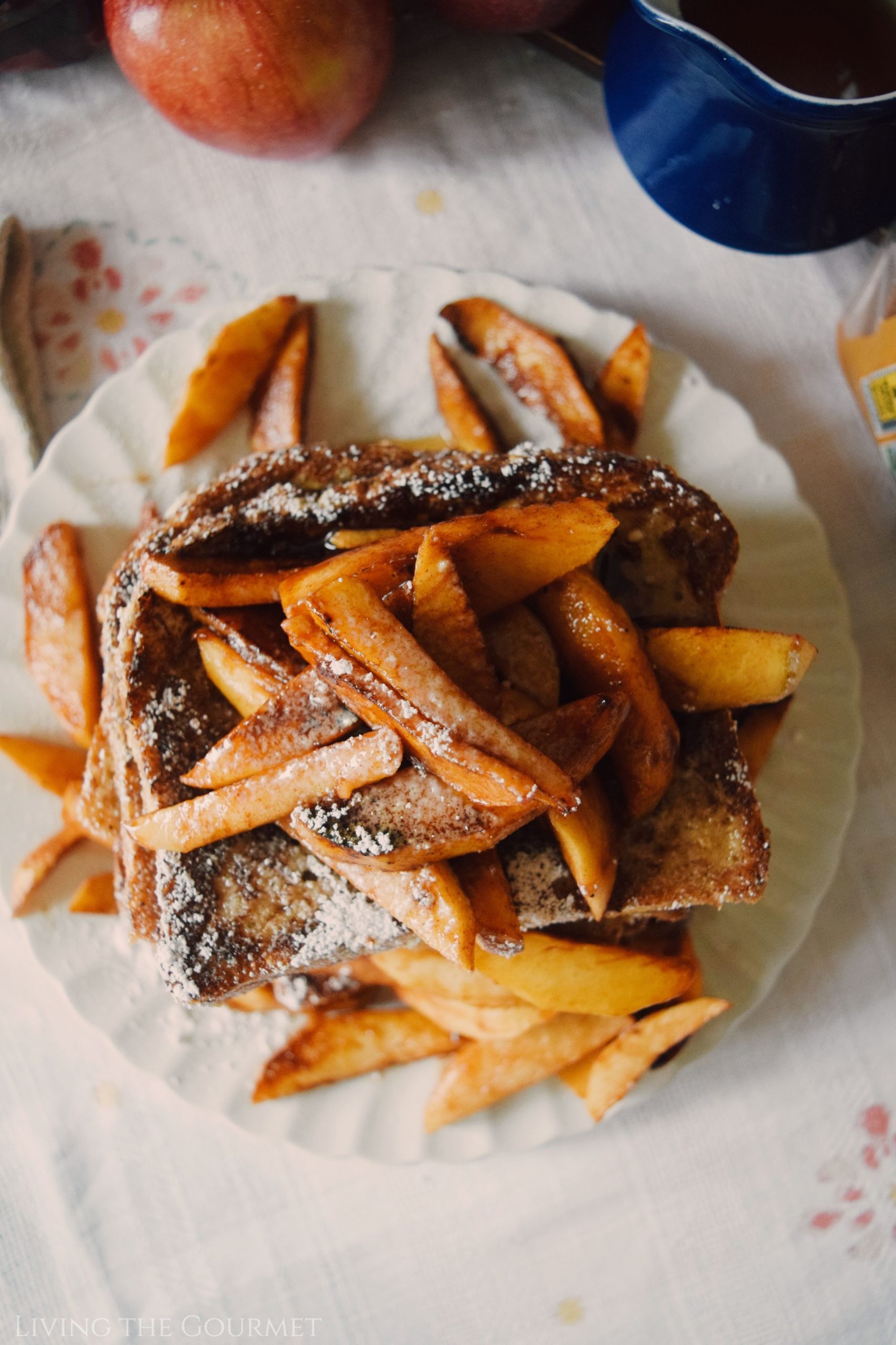 More Breakfast Recipes to Love this Season
Diner Style Pancakes with Pumpkin Spice Maple Syrup - We're recreating those beloved diner-style pancakes with one secret ingredient that will get you that incredible fluffy texture every time. For a seasonal twist, we're serving ours with warmed Pumpkin Spice maple syrup.
Pumpkin Spice Muffins - Plump raisins and sweet pecans make these Pumpkin Spice Muffins a quintessential autumn treat that can be enjoyed any time of day.
Date & Walnut Banana Bread - The basic formula for banana bread is something like this; savory but not quite so savory that you want it with dinner, but never quite sweet enough to be passed off as a dessert. That's more or less what we've put together today.
Pumpkin Spice French Toast - Soft brioche is thickly sliced then brushed with a creamy pumpkin spiced batter. Grilled to sweet perfection, serve this Pumpkin Spice Toast with a hot cup of coffee and enjoy the tastes of the season!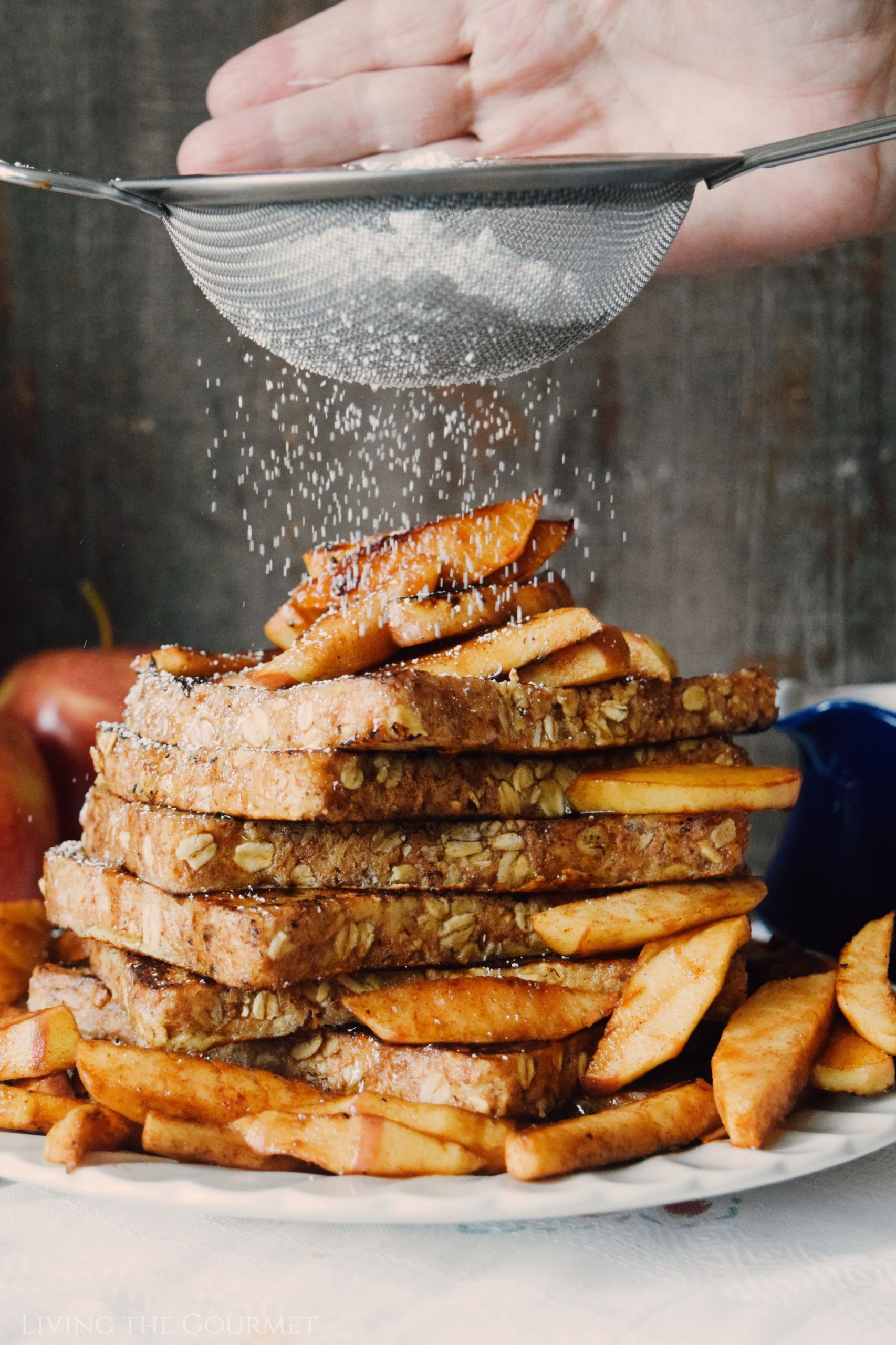 Print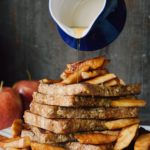 Apple Spice French Toast
---
Author:

Total Time:

30 minutes

Yield:

3

-4

1

x
For the Fried Apples:
2

medium apples (I like honey crisp or pink lady), sliced

1 tablespoon

lemon juice

2 teaspoons

vanilla extract

1/2 teaspoon

cinnamon

2 tablespoons

plain sugar
Butter for frying
For the French Toast:
6

-

8

slices of Silver Hills Full Seed Ahead or any bread you have on hand

3

eggs

1

cup

whole milk

1/2

heavy cream

3 tablespoons

plain sugar
Pinch of salt

1/2 teaspoon

cinnamon

1 teaspoon

vanilla extract
Butter for frying
---
Instructions
In a medium bowl, toss apples together with vanilla, lemon juice, cinnamon, and sugar. *Reserve the juice of the apples to add to the custard.
In fry pan or skillet over medium-high heat, melt a pat of butter and fry the apples until golden. Remove and transfer to a plate. Set aside.
Preheat oven to 250 degrees.
In a shallow dish, beat eggs, milk, cream, sugar, vanilla, cinnamon, salt, and reserved juice from apples.
Dip your bread slices into the custard batter, turning to coat both sides. Cook the bread on a lightly greased skillet or griddle over medium heat until browned on both sides. Transfer to a baking sheet and keep warm in the oven.
Serve the French Toast with the fried apples and warm maple syrup.
Prep Time:

10 minutes

Cook Time:

20 minutes
Recipe Card powered by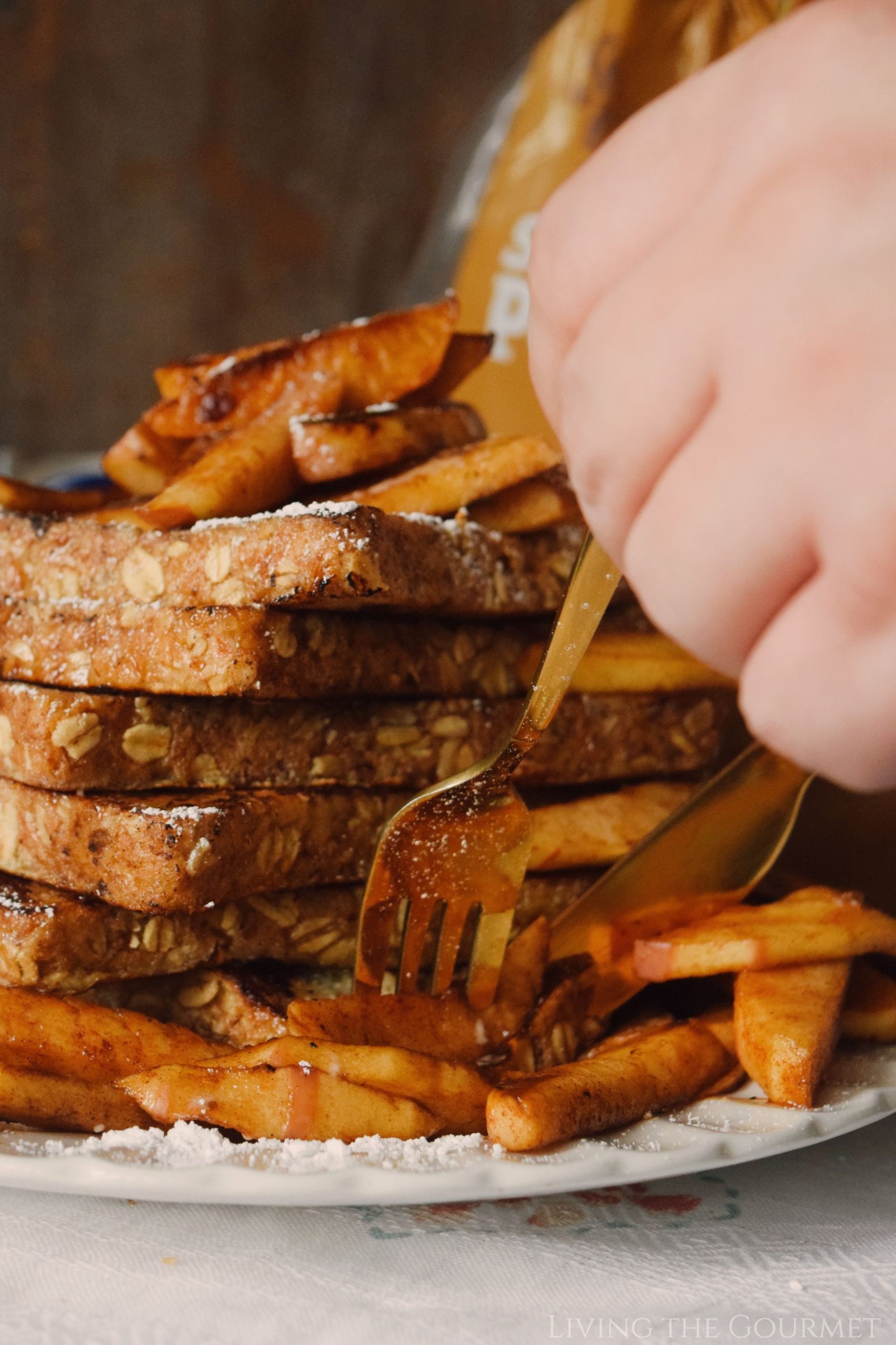 If You Enjoyed Today's Recipe…
Be sure to follow us on Instagram to stay up to date with all things Living the Gourmet, and for more great recipes, tips and tricks.
Did you make this recipe?
If so, let me know in the comments down below, or post a picture to Instagram, or to Pinterest, and I'll give you a shoutout on Instagram, or post your pin to one of my Pinterest boards!
1