We're recreating those beloved diner-style pancakes with one secret ingredient that will get you that incredible fluffy texture every time. For a seasonal twist, we're serving ours with warmed Pumpkin Spice maple syrup.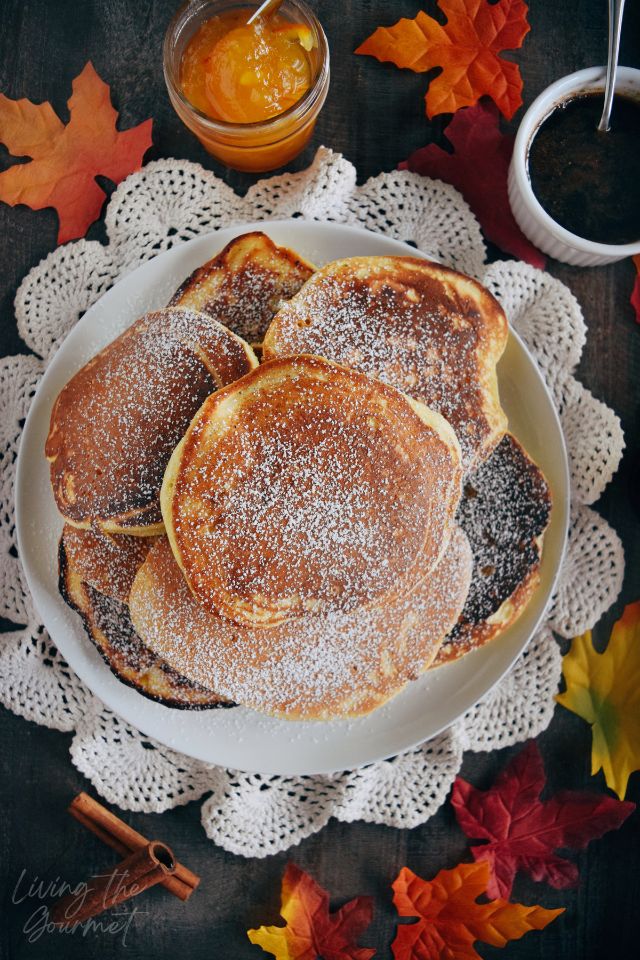 Pancakes, French toast, and waffles are the pinnacle of breakfast indulgence. Pancakes are perhaps the most iconic of the three. From their warm cakey base, to the layers of butter, sugar, and syrup that we lather on top of each of them, there are precious few indulgences that are more decadent.
Today, we're putting an autumn spin on the breakfast favorite, by adding warmed homemade Pumpkin Spice syrup to the mix – more on that later. Now, let's get to it.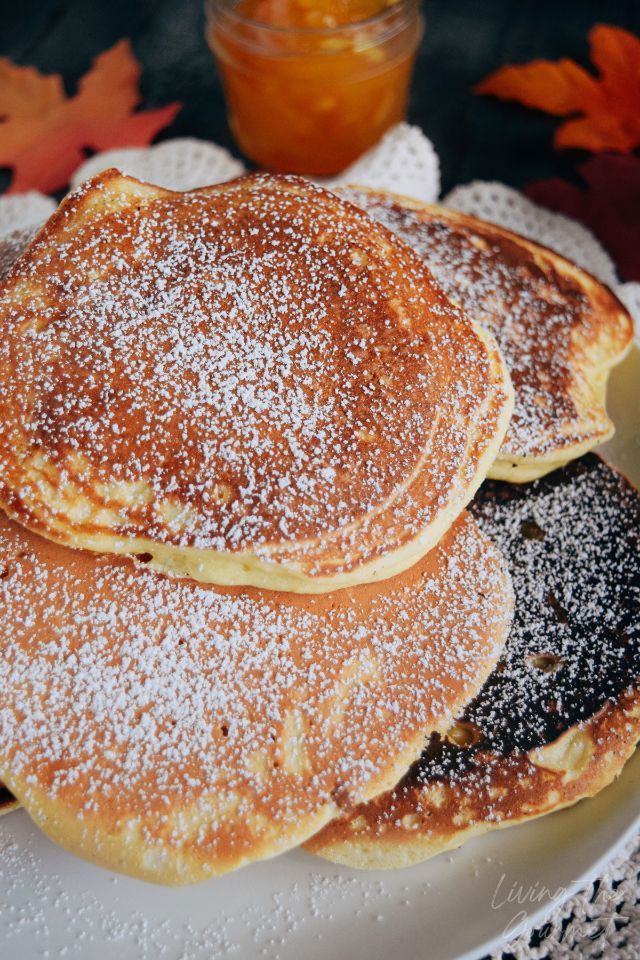 Pancake Making Tips
Fluffy Pancakes – The Virtue of Underworking. Very simply, having fluffy pancakes is as easy as 'underworking' your batter after you have combined the wet and dry ingredients. First and foremost, you want to begin by mixing your wet and dry ingredients separately, and then combine them afterwards. However, after combining, you want to mix them as little as possible, just enough to ensure that the flour has been moistened. Lumps will dissolve naturally during cooking.
Cake Mix - I don't use pancake mix, since that's really just a premade mix of the flour and leavening portion of this recipe. Instead, I use yellow cake mix. This adds a touch of sweetness, and gives the pancakes a moist, tender, almost 'spongy' texture – a bit like a cake.
Where's the Buttermilk? The reason you add buttermilk to pancakes is purely for the acid, which tenderizes the pancakes chemically during cooking. However, if you can achieve tender, fluffy pancakes sans buttermilk, that will allow for a better flavor balance in the pancakes by not needing to account for the buttermilk's natural acidity. That said, we're essentially achieving "buttermilk results" with cake mix – which, as stated above, gives us sweet, tender, fluffy pancakes.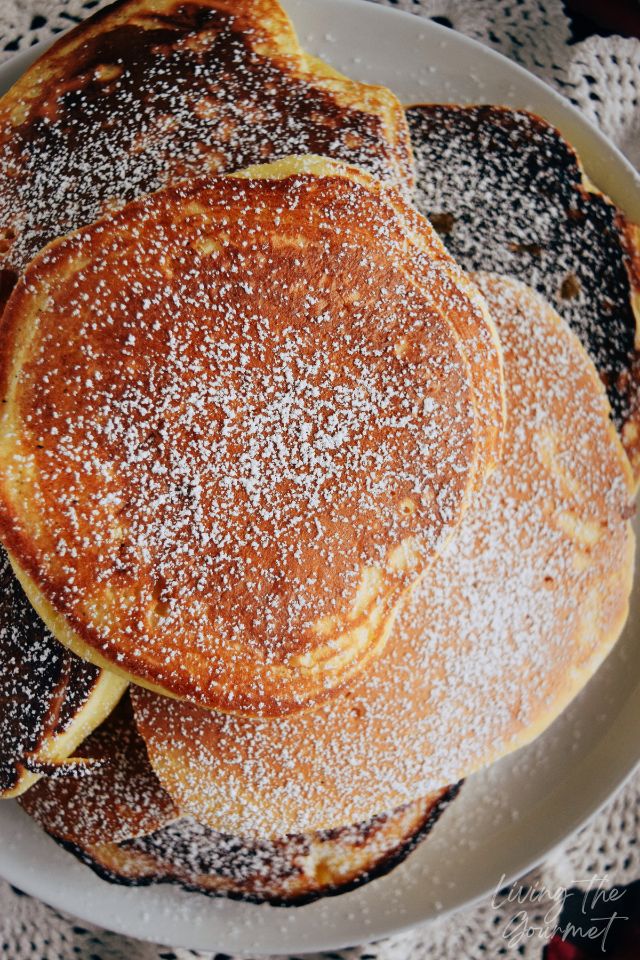 Add Ins - There are two schools of thought when it comes to adding things like fruit, chocolate, or other flavors (such as Pumpkin Spice) to pancakes. The first school of thought is to bake those items right into the pancakes. The result here is that the fruit will be 'reduced' while cooking, resulting in a more 'savory' fruit flavor and texture, while the flavor additives will be thoroughly spread through each pancake. The second school of thought is that it is better to simply add these things on top after the pancakes have been cooked. The idea here is to juxtapose the tender and fluffy pancakes with crisp fresh fruit or crunchy chocolate chips by simply spreading them on top with your syrup or honey. Similarly, if you want a less intense, less evenly distributed flavor additive (such as Pumpkin Spice), consider simply sprinkling that on top after plating the pancakes. That said, this is all purely a matter of preference, and you should experiment to see which fits you best.
Go the Non-Stick Way - Ingredients are just part of the equation. As mentioned above, batter consistency is important and so is how you cook your pancakes. You know I love my cast iron pans, but I am willing to admit there are exceptions to the rule and sometimes, you just need a good non-stick pan. Using a non-stick fry pan when making pancakes is not only easier, but also ensures an evenly cooked pancake with a beautiful golden color throughout. (Today, I am using Concentrix 2-piece fry pan set from Tuxton Home).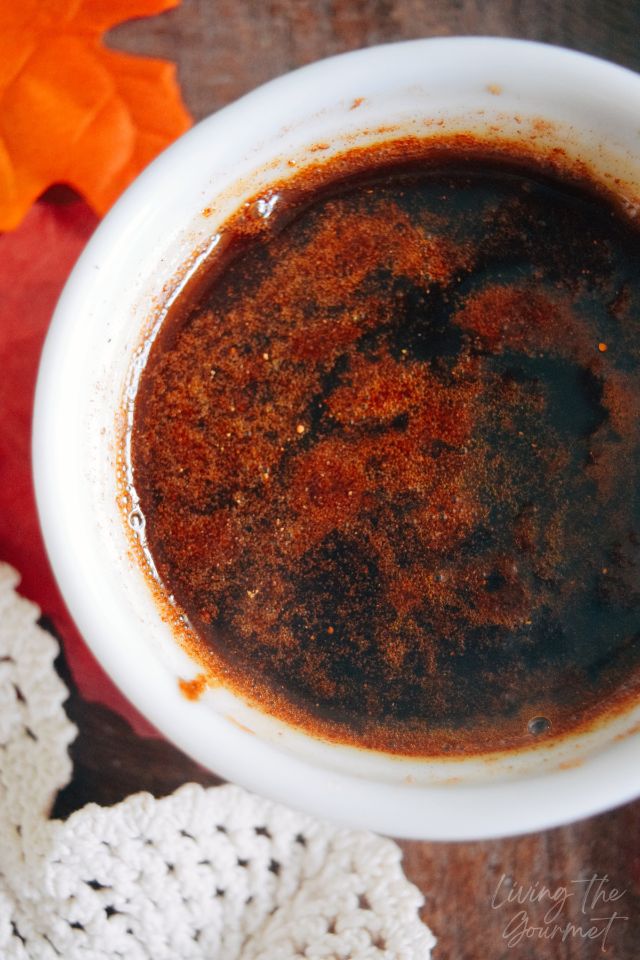 Pumpkin Spice Maple Syrup
Arguably the main attraction of today's recipe is the homemade Pumpkin Spice Maple Syrup. Preparing this is as simple as taking a teaspoon of Pumpkin Pie Spice, add it to a half a cup of maple syrup, and then heat that in a small saucepan just until it begins to simmer.
Note that you can scale this recipe up to suit your needs, and keep in mind that it goes great on waffles, French toast, or even cheesecake as well as today's pancakes.
It's really just that easy. Also, for best results, you'll want to use 100% real, natural maple syrup.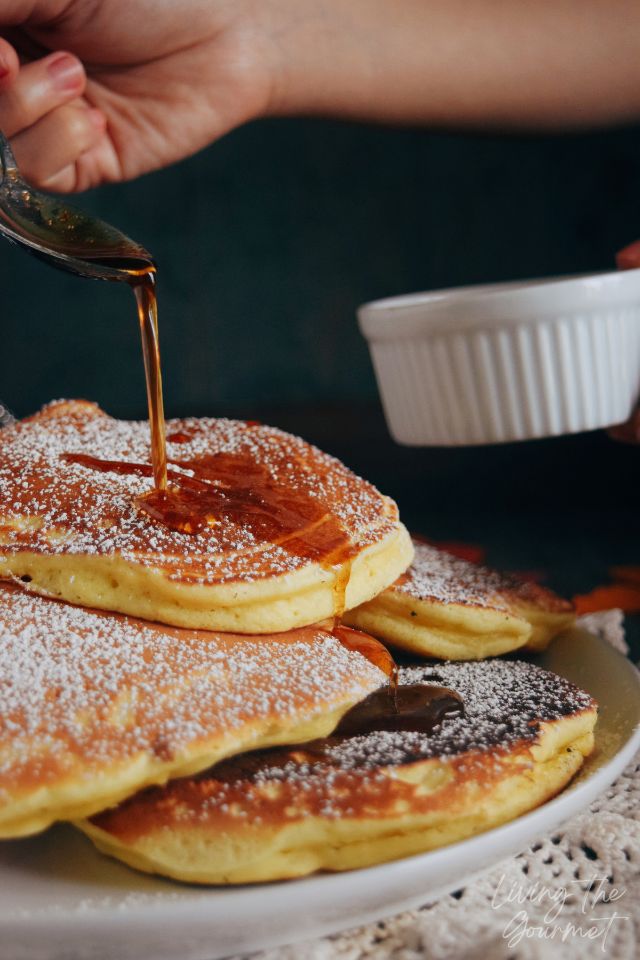 Print
Diner Style Pancakes with Pumpkin Spice Maple Syrup
---
Author:

Total Time:

15 minutes

Yield:

10

pancakes

1

x
1

cup

AP flour

1

cup

yellow cake mix
Generous pinch of salt

2 teaspoons

baking powder

2

eggs

3 tablespoons

butter, melted

1 teaspoon

vanilla extract

1

cup

whole milk, plus 1/4 cup
For the Pumpkin Spice Syrup:
1/2

cup

Maple syrup

1 teaspoon

pumpkin pie spice
---
Instructions
Preheat oven to 170 degrees F. (or your lowest temperature setting).
Whisk together, flour, cake mix, salt , and baking powder until well combined.
Add eggs, melted butter, vanilla and 1 cup of milk. Whisk until a thick batter comes together. If the batter is too thick, gradually add an additional 1/4 cup whole milk. The batter shouldn't be too thin however, but not as thick as a regular cake batter either. Do not over-mix, there should be clumps in the batter still.
Heat your frying pan with a pat of butter over medium heat and pour 1/3 cup of batter into the pan. You'll know when to flip the pancakes it begins to bubble. Flip and cook until golden around the edges. Repeat this process, buttering the pan when necessary.
Keep the cooked pancakes in the preheated oven to keep warm until ready to serve.
For the Pumpkin Spice Syrup:
Whisk together maple syrup and pumpkin pie spice in a small saucepan (or heat proof bowl if microwaving) over medium-low heat just until it begins to simmer. Remove and serve warmed syrup over the pancakes. Serve and enjoy!
Prep Time:

5 minutes

Cook Time:

10 minutes
Recipe Card powered by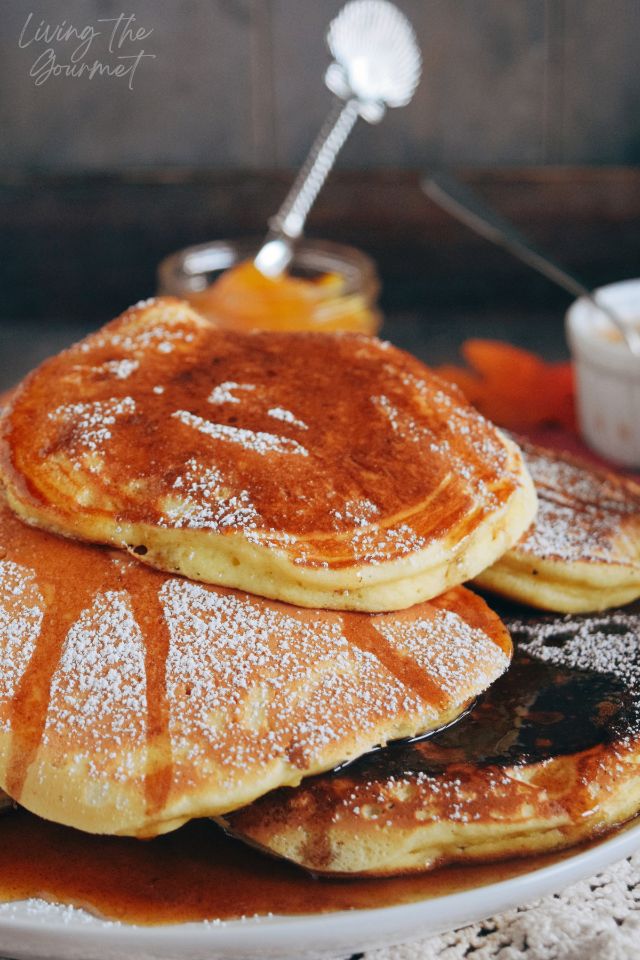 As an Amazon Associate I earn a small commission from any purchases made through the affiliate links within this post. For more information on this please see our disclosure policy. Thank you!
0