Today we're preparing a delightful summer seasonal pasta salad, which pairs excellently with things like Mediterranean-style marinated steaks grilled on the BBQ, artisanal burgers, or with something like my Greek Tuna Pita Pockets.
This pasta salad skips the predictable mix of mayo and dill, and instead opts for crisp fried pasta noodles coated with a mix of fresh lemon juice, red pepper and onion, along with just a hint of background sweetness courtesy of fresh mint, creating a delightful twist on a beloved summer favorite.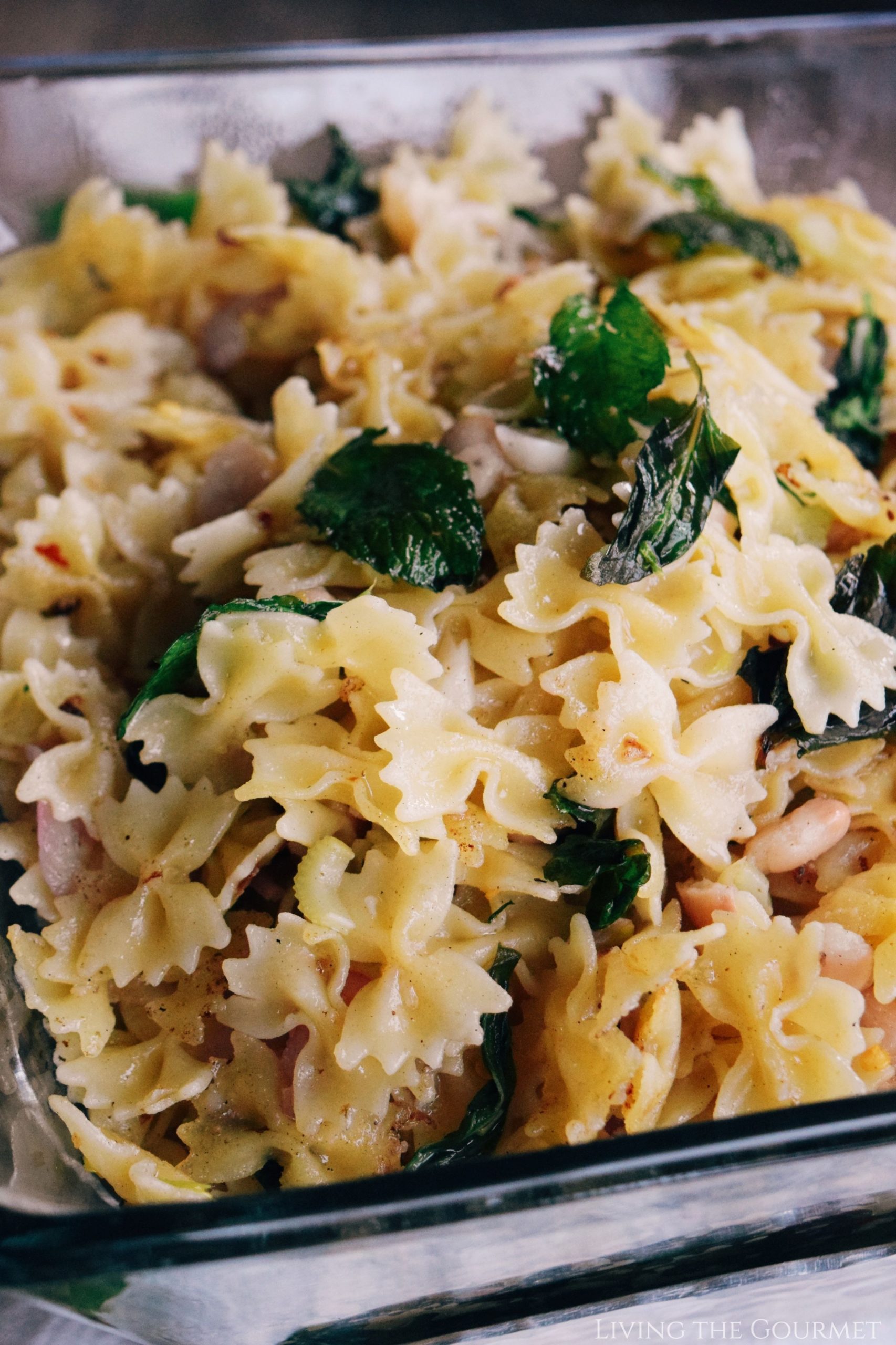 Ingredient Notes and Tips
1) Fresh Mint. Often called 'the friendliest and most forgiving herb' out there, it definitely has that reputation for a reason. Mint is easy to grow (seriously, my mint has survived Long Island droughts and Long Island flooding, and comes back like clockwork), and it is even easier to incorporate into your cooking – but still leaves room for 'getting fancy.' From complex reductions for use on roasted lambs, to simply stirring a few chopped leaves into yogurt or ice cream, mint is a joy for home cooks and expert chefs alike. With that said, we don't want to go 'too heavy' on the mint in today's salad, otherwise it will be almost literally the only thing you taste.
Substitution: Dried mint. Dried mint packs a lot of the same characteristic qualities that its fresh counterpart does – albeit with the same lingering 'earthy' or 'dark herbal' notes that pervade all dry herbs. For today's recipe, about two to three teaspoons will suffice, just make sure its thoroughly spread throughout the salad. Fresh marjoram is also a nice substitute for fresh mint, but I would use about three-quarters of the amount of marjoram as mint in this case.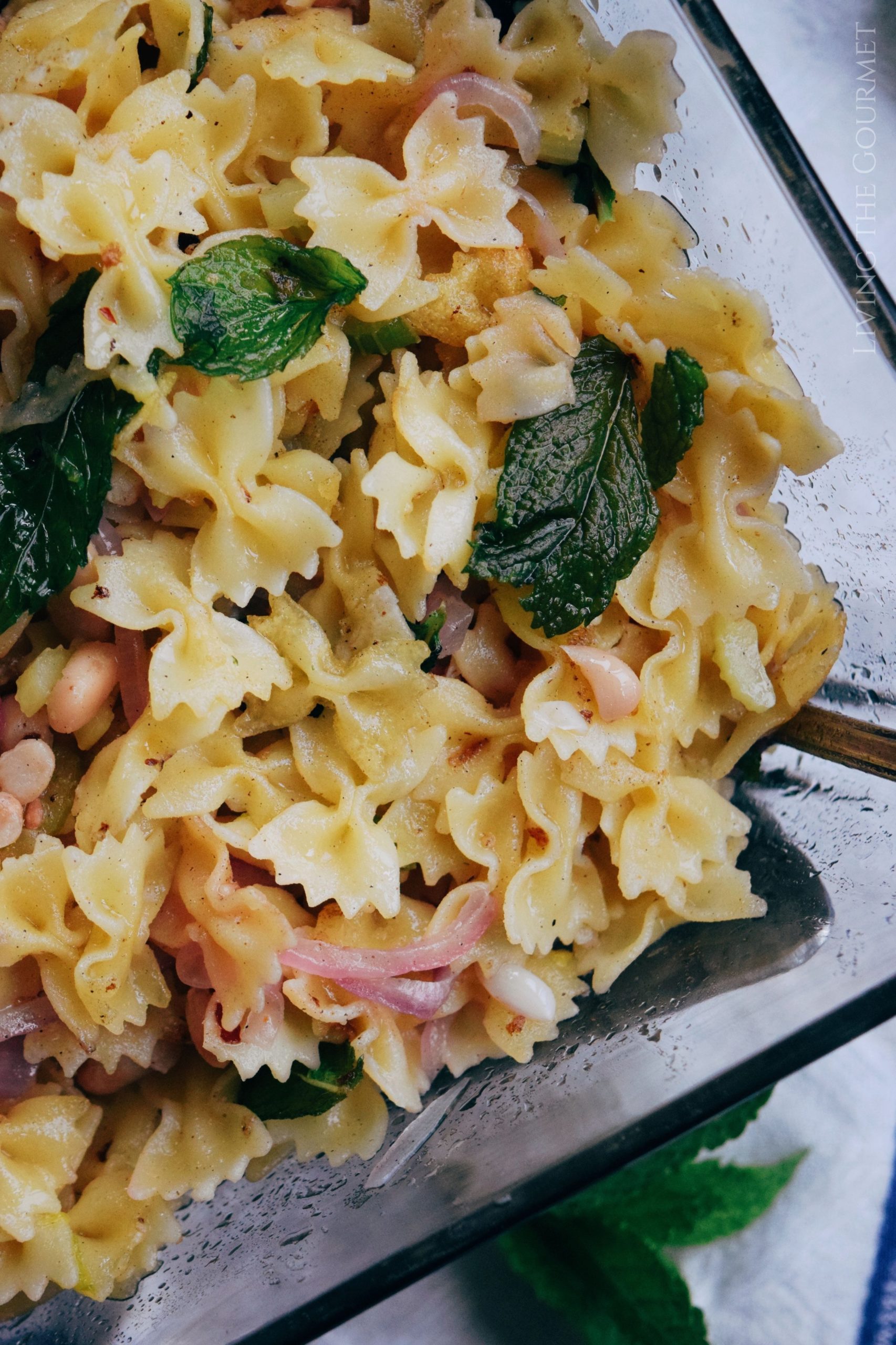 2) Red Onion vs White Onion vs. Yellow Onion vs Sweet Onion. Yellow onions are basically the 'workhorse' of the 'onion family.' They are perfectly palatable raw, and cook up quite nicely, they also lack the 'pungency' of other onions, featuring a balanced astringency. This makes them ideal for almost any cooked recipe that calls for onions, especially sauces and soups, since they become sweeter the longer they cook. Spanish Onions are a type of yellow onion, but are somewhat sweeter, and pack less of a 'bite.' By contrast, Red Onions are the go-to onion for 'uncooked' recipes, being sweet, crisp, just a touch pungent, and a beautiful shade of 'vegetable red.' This is why they often feature prominently in things like Greek and Sicilian salads, fresh salsas, and the like. Also, if we're being honest, they really do 'not' cook well, since their beautiful red color simply washes out under heat, while their taste becomes almost identical to that of yellow onions, taking on something of a 'muted' sweetness. Then we have Sweet Onions, which completely forgo an'oniony bite' and astringency in favor of 'actual' sweetness. Seriously, I've bitten into these things like an apple. Since these onions are so delicious raw, they feature prominently in things like garden salads, sandwiches, raw salsas, uncooked relishes, and the like. However, this sweetness comes at the price of perishability, meaning Sweet Onions tend to sour a bit more rapidly than their non-sweet counterparts. I'm using Red Onions for today's recipe purely for the nice red color, and since I don't want the added sweetness of Sweet Onions. Instead, we want to balance the recipe with a bit of astringent pungency to blend with the fried macaroni, and thus I'm opting for Reds.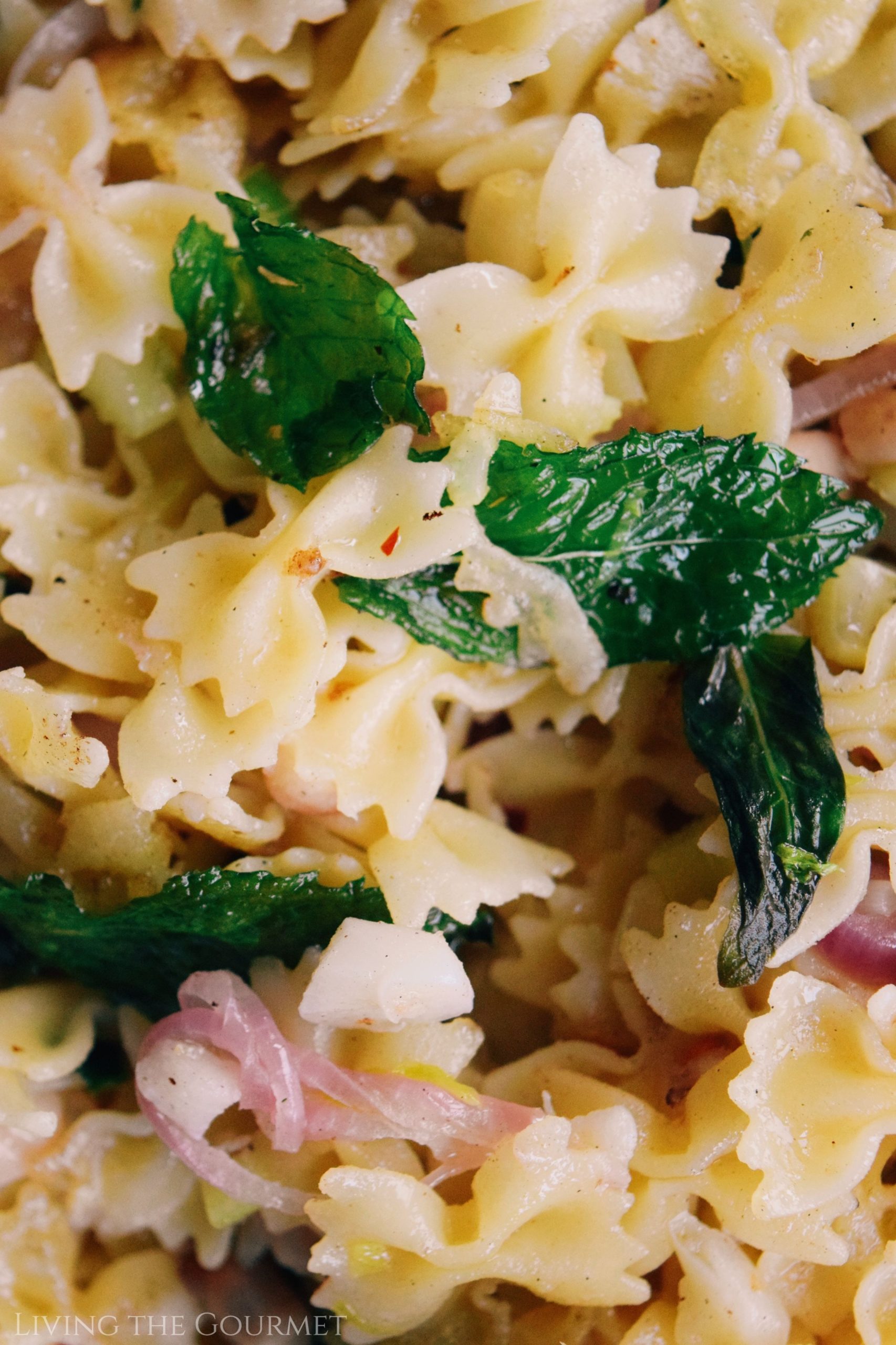 4) Lemon Juice. Fresher is Better. As in virtually all cases, fresher is better. On top of that, slicing a lemon into squeezable halves or wedges is practically as easy as opening a bottle and measuring it out. Furthermore, bottled lemon juice simply isn't as flavorful, lacking the full 'zest' or 'brightness' of fresh lemon juice, since the juice begins breaking down chemically almost as soon as it leaves the lemon. Beyond that, the juice's flavor is oftentimes further diluted with preservatives. As a result, if you want the full flavor and balance intended in today's recipe, use fresh lemon juice.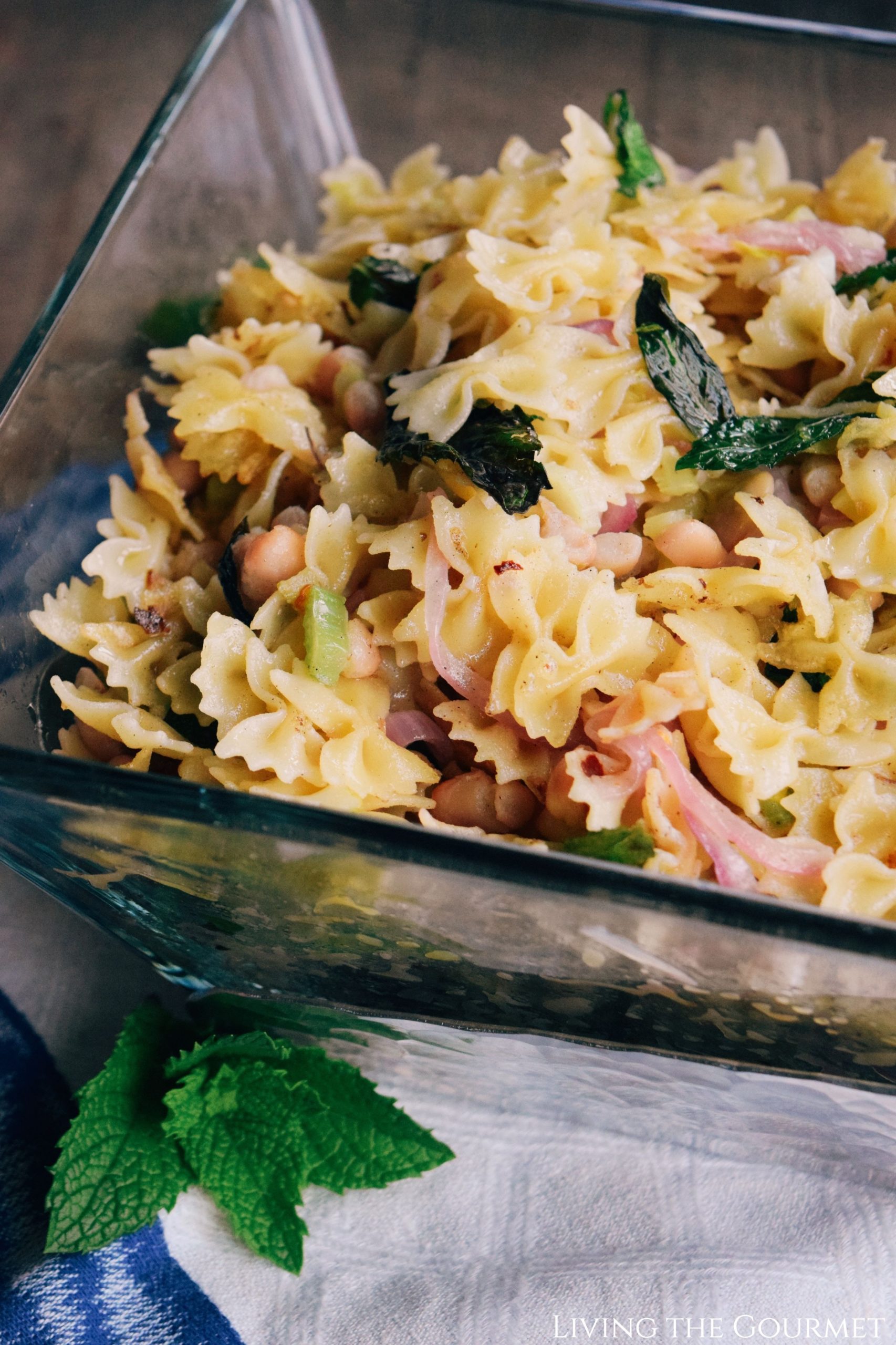 Prep Tips
1) Why are we cooking the bow ties twice? As the name of today's recipe suggests, the bow-ties being 'fried' is the star of today's show. This gives the salad a nice 'crunchy' texture. However, to do that, we need to first boil the bow ties as normal, but then to crisp the bow-ties we need to give them a brief frying in a cast iron pan.
2) Al Dente or Nothing. Please, please, please, keep in mind that you want to 'undercook' the bow-ties during their first round of cooking. The reason for this is quite simple – if you take fully cooked macaroni from the boiling water, and then try to fry that macaroni in a cast iron pan, you are going to end up either with macaroni that has a crisp exterior and an unpleasantly mushy interior, or macaroni that simply 'melts' into mush rather than frying. In other words, the macaroni will finish cooking during the frying process.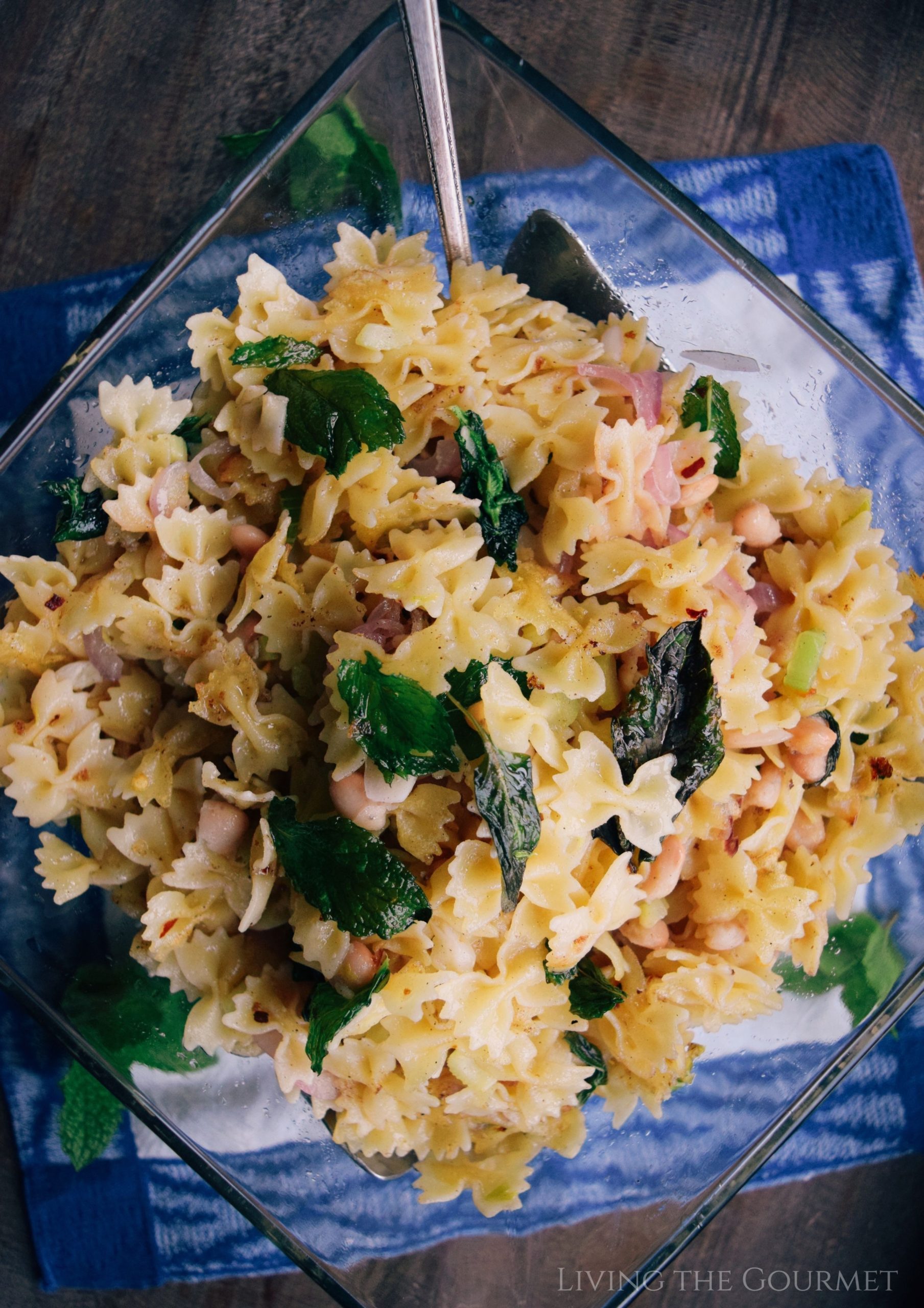 Other Great Summer Salad Favorites
1) Pickled Sweet Potato Salad - Sweet, spicy, and deliciously crisp and refreshing, this is one of my absolute favorite salads, and it's simply perfect for the Summer season.
2) Summer Eggplant Salad - Breaded eggplant, combined with fresh basil, fresh tomatoes, and grated romaine, combine to create a delicious take on baked eggplant that's sure to be the star of your next summer get together.
3) Coleslaw - My preferred recipe for coleslaw combines the obligatory mayo-coating with a citrusy dressing, and I slice in jalapenos with the cabbage to create a nice sweet-and-spicy combination, with just a hint of crisp citrus.
4) Spicy Jalapeno and Orange Salad - A simple fruit salad prepared with oranges, mint, jalapeno, fresh basil, and nutmeg. This salad packs a nice kick, while remaining crisp and refreshing. As a nice bonus, it's blissfully simple to put together. This is a summer salad that you should definitely have in your seasonal repertoire.
Print
Fried Pasta Salad
Author:
Prep Time:

10 minutes

Cook Time:

20 minutes

Total Time:

30 minutes

Yield:

4

1

x
6

-

8

cloves of garlic - chopped fine

8

-

10

fresh mint leaves

4

stalks celery - sliced thin with leaves

1

small red onion - sliced thin

15.5. oz

. can of cannellini beans - rinsed and drained

3/4 tsp

. salt

1/2 tsp

. red pepper flakes
Juice of

1

lemon

1

lb

. of bow-tie - macaroni

2

tbs. olive oil
Vegetable oil - for frying
Instructions
Prepare the bow – tie macaroni as directed; and drain.
Combine the sliced celery, chopped garlic and sliced onion.
Heat a large cast iron frying pan with the olive oil and add the chopped vegetables.
Sauté until the celery turns a bright green and the onion is softened and the garlic fragrant.
Remove from the pan and place in a bowl.
Season with the salt and red pepper flakes.
Heat a large cast iron frying pan and place 1- 2 tbs. of vegetable oil in the pan and place enough of the cooked bow-ties to cover the bottom of the pan. Allow the bow-ties to become slightly golden and remove and place in the bowl with the sautéed veggies.
Add the beans to the celery mixture and toss.
Continue this process until all of the bow-ties are fried.
Add 1 – 2 tbs. of veggie oil to the pan and place the mint leaves in the pan to slightly fry.
Add to the dish and toss.
Add the juice of the lemon; toss and taste for seasoning.
Recipe Card powered by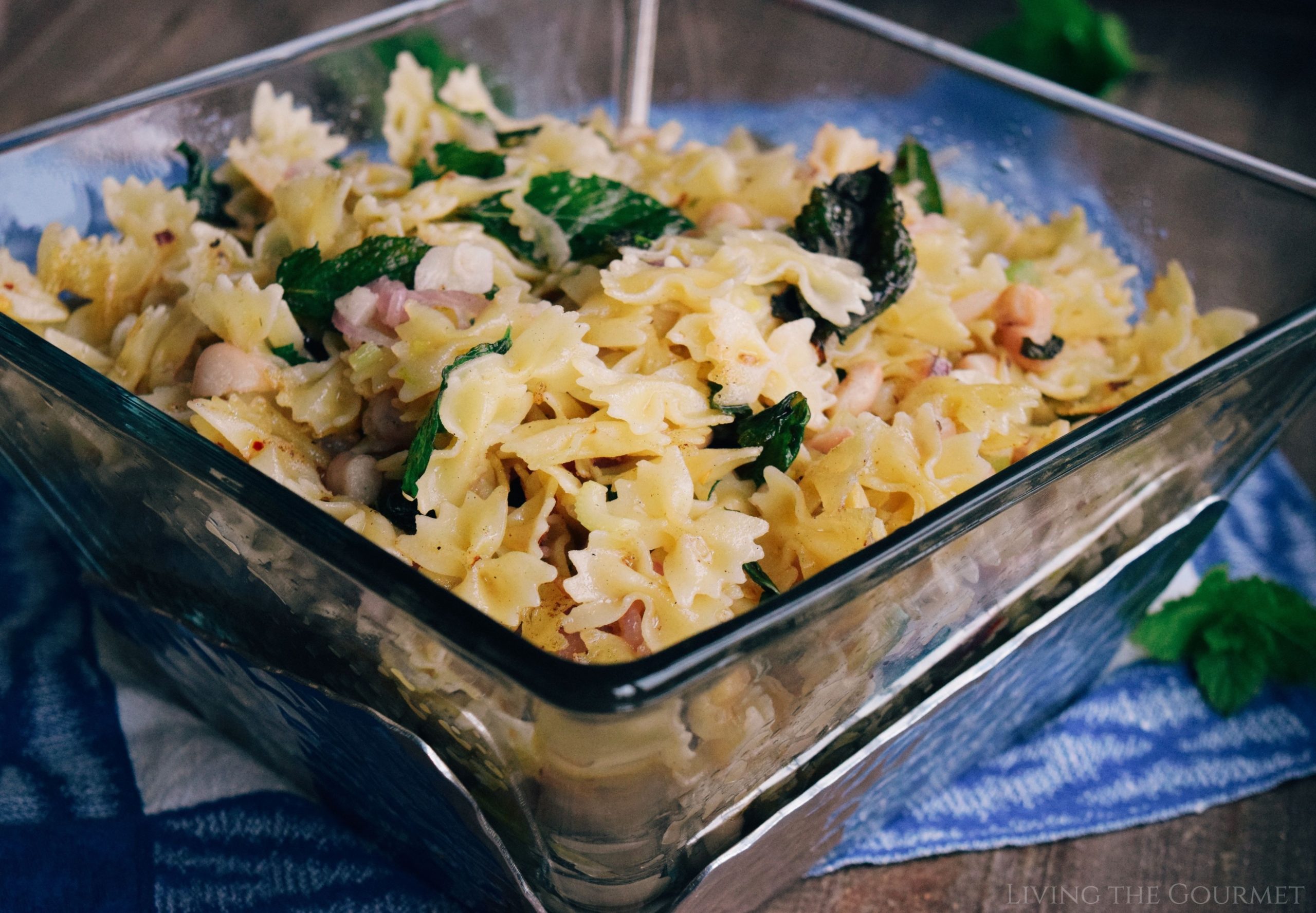 If You Enjoyed Today's Recipe…
Be sure to follow us on Instagram to stay up to date with all things Living the Gourmet, and for more great recipes, tips and tricks.
Did you make this recipe?
If so, let me know in the comments down below, or post a picture to Instagram, or to Pinterest, and I'll give you a shoutout on Instagram, or post your pin to one of my Pinterest boards!
1