Hot weather or warm weather, on rice or tacos, or layered onto buns as Sloppy Joes or swathed in homemade tortillas, few things are as satisfying as a good chili.
Today we're preparing a 'basic' chili, but with a few key twists. To start, we'll be creating multiple layers of heats with copious amounts of fresh jalapenos and cayenne pepper, and we'll be anchoring that heat in earthy notes from Jamaican Curry, paprika, and ground coriander. Then, to give the chili a nice background sweetness to contrast with the layered heat and earthy notes, we'll be stirring in balsamic vinegar and honey. The end result is a thick, spicy chili with just a hint of sweetness that's both simple to put together and deliciously satisfying, making it perfect for tacos, tortillas, Sloppy Joes, or plain over rice.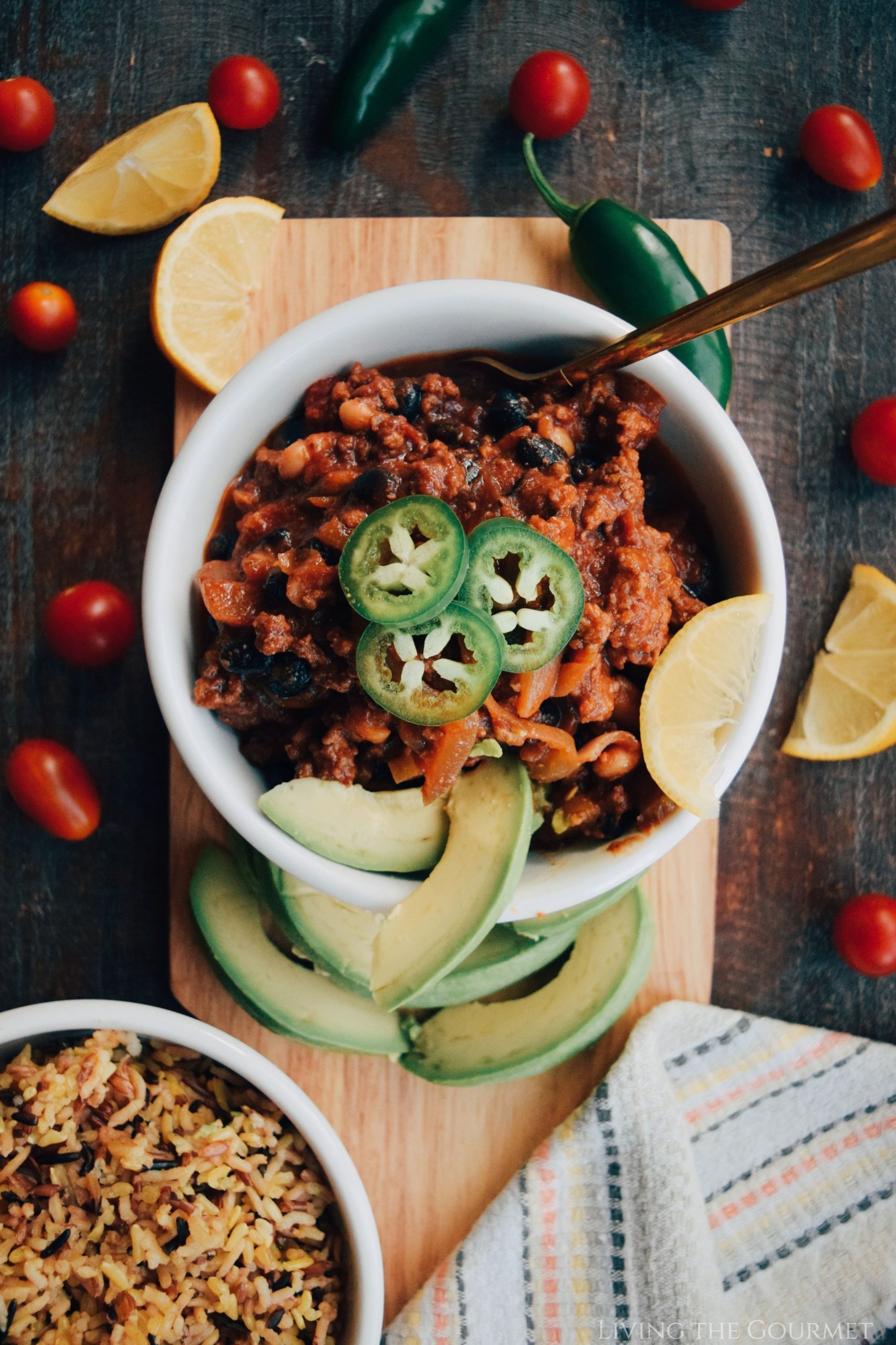 Ingredient Notes and Substitutions
1) Cumin – A Brief Overview. Unlike cayenne, turmeric, black or red pepper, or really any 'common' spice one might think of, cumin is rarely if ever used on its own or as the 'primary' flavor in a recipe. Being somewhat bitter, earthy, and nutty all at once, cumin isn't immediately inviting or even terribly 'palatable' by itself. However, it makes a great 'grounding' flavor or 'background' for spice blends, such as rubs, curries, and marinades, pairing particularly well with meaty dishes, shining in things like curry, chili, and dry rubs for steaks, chops, and roasts.
Substitute: Given its uniqueness, there's really not a 'great' substitute for cumin. Ground coriander and chili powder are the two most 'obvious' substitutes for Cumin. However, we're already using ground coriander, and I deliberately left out chili powder (more on that below). If you don't have cumin on hand, or simply don't like it, you can probably leave it out with no problem, or just increase the amount of ground coriander by half in today's chili.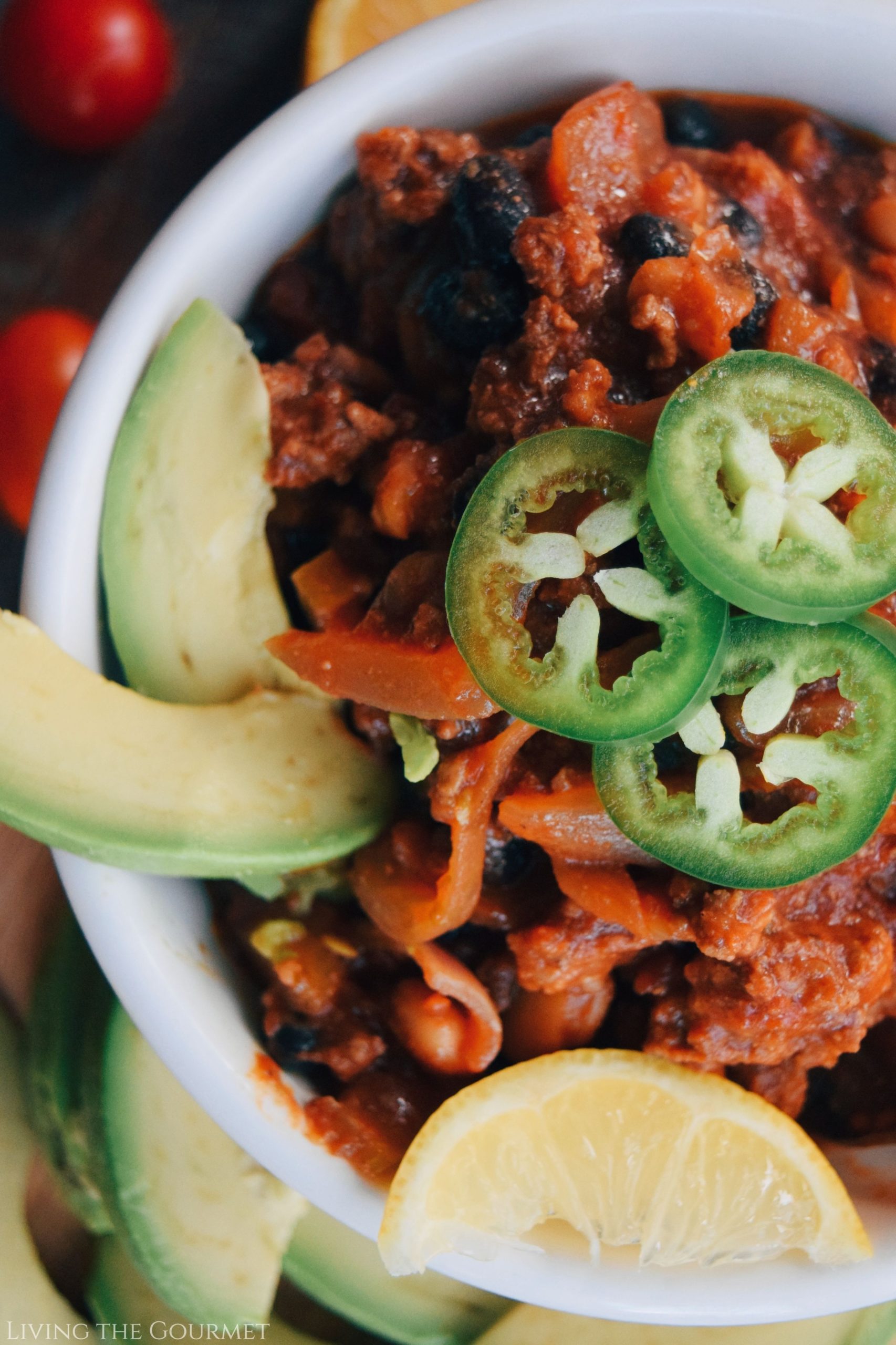 2) Jamaican Curry. Jamaican curry 'loves' protein-heavy dishes. It melds beautifully into meaty dishes, such as chili, and it loves being roasted on chicken – it's the star ingredient of 'Jerk Chicken.' It loves low and slow roasting, and also loves the raging fires of roaring barbecues and fire pits. This should come as no surprise since the primary flavor in Jamaican curry is allspice (a favorite ingredient in countless steak rubs), alongside a decent amount of thyme. That said, don't let the name fool you, since Jamaican Curry has almost nothing in common with Indian or Thai curries, since neither allspice nor thyme feature in Indian cuisine, while Thai curries range from tangy to searing hot, whereas Jamaican curry is more 'warming' and 'earthy,' being similar in that regard to chili powder.
Substitutes: There are several good substitutes for Jamaican Curry. First and foremost is to simply make your own, which you can do by combining dried thyme, allspice, turmeric, whole or ground anise seeds, ground mustard seed, and ground cumin. Use these in roughly equal amounts, with a slight bit more allspice and thyme than the other ingredients, but just a hint more allspice than thyme. Be creative and experiment, as no two Jamaican curry powders are exactly the same. The next best substitute is 'standard' curry powder. Finally, a balancing act of chili powder, cayenne, thyme, and allspice is your next best bet. Again, experimentation is key, as is tasting the spice mixture as you go in order to find your own preference.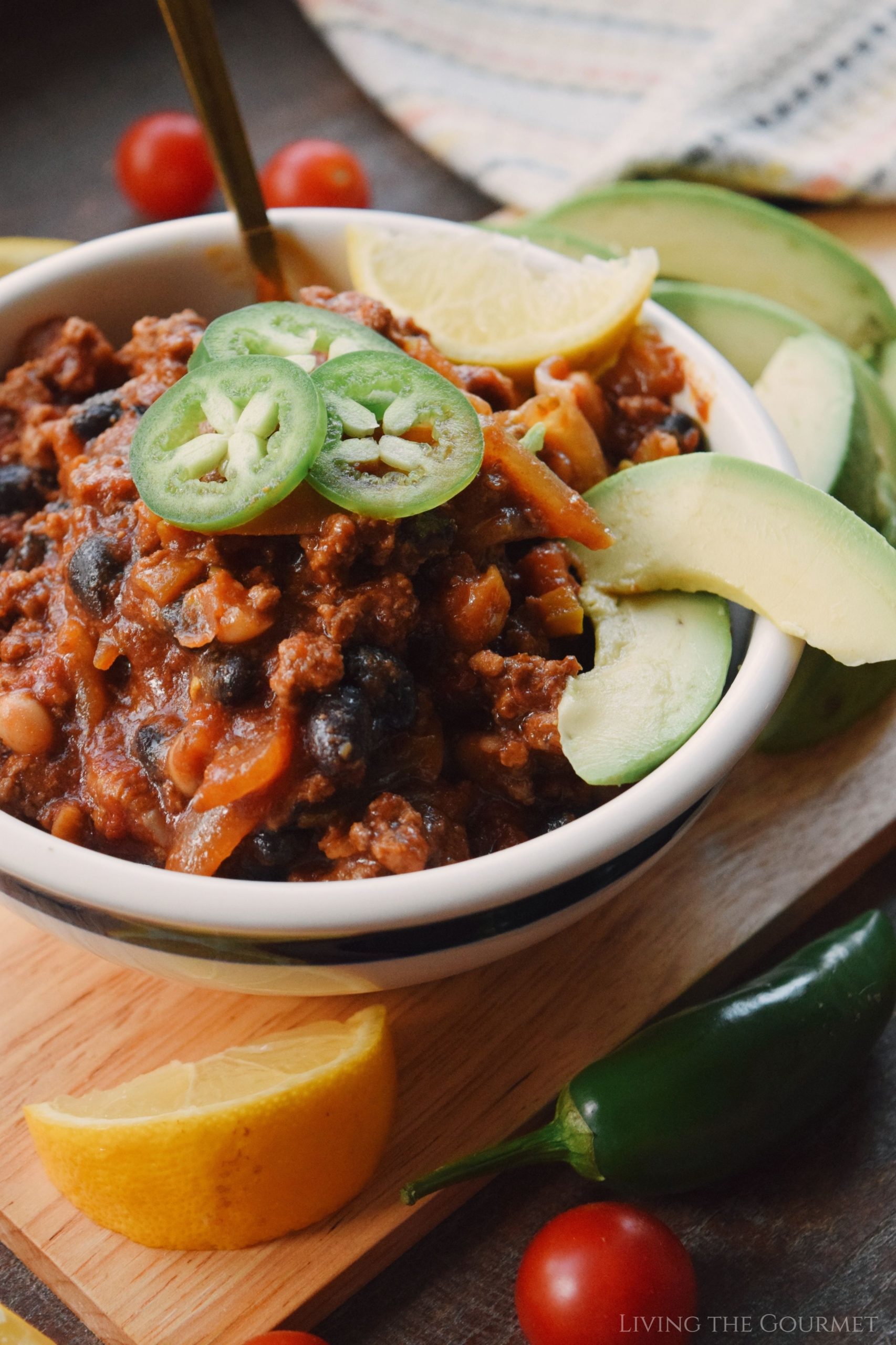 Prep Tips
1) Some Like It Hotter. Today's chili, while spicy, is far from what I would personally consider to be 'hot' – although some might disagree, given the dueling presence of cayenne 'and' jalapenos. However, ratcheting up the heat is as simple as dicing in an extra hot pepper or two. My personal suggestion would be to add in a serrano pepper or twp. They are a tad hotter than most jalapenos – many noticeably so but this differs from grower to grower – and they are widely available at most supermarkets. However, if you want to really heat things up, dice in a habanero or two.
For Reference: Jalapenos rank between 2500 to 8000 units on the Scoville heat scale. Cayenne pepper (fresh not powered) ranks at about 30000 to 50000, while Serranos clock in at around 10000 to 23000. Habaneros pull a punishing 100000 to 350000 units.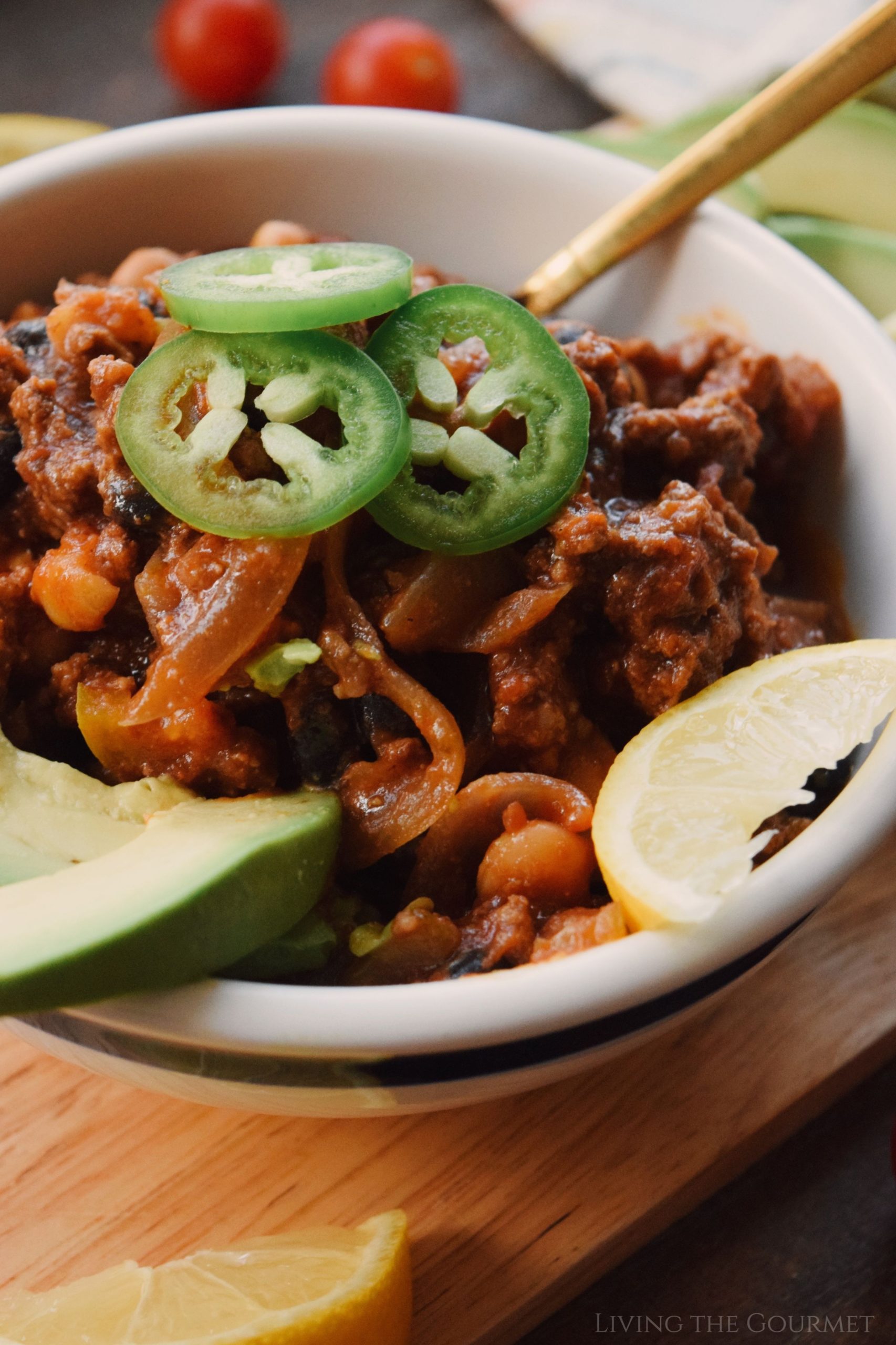 2) Why No Chili Powder? We're using Jamaican Curry instead to bring a bit more 'complexity' to the recipe. With that in mind, it may come as a surprise but 'chili powder' is 'not' a universal ingredient in 'chili.' Not here in the states, not in Mexico (whose chefs 'indignantly deny' any historical association with the dish), not anywhere. Chili powder is a common ingredient in chili, yes, but is by no means 'necessary.' Shocking, I know. The first reason is that there is no 'one' type of chili powder. Chili powder is composed of pulverized dried 'chilis,' which can be almost 'anything' – from anchos to piri-piris to jalapenos to Indian red chilis to chile de arbol peppers; if it's in the genus capsicum it's likely found its way into a chili powder blend. Notice that last word 'blend.' Yes, virtually all chili powders available on the market are 'blends' of not only multiple chilis, but also various spices. This means that the taste of chili powders can vary dramatically from maker to maker, and especially from region to region, since chili powder is a touchstone ingredient of different cuisines from around the world. That said, while some chili powders do pack a 'little' heat, chili powder is 'not' used to bring spice to a recipe – and chili is no different. Instead, chili powder is used to bring earthy and rustic flavors, with a 'warming' background notes – and it doesn't take a lot of chili powder to achieve this. Similar to cayenne pepper, a small amount tends to go a long way.
When to Use Chili Powder: Given the above, you add in chili powder when you want to 'darken' the flavor profile of a recipe, or to 'anchor' or 'ground' a recipe in backdrop of earthy notes. Since I want today's chili to be a bit more 'lively' than that, we're instead opting for a mix of paprika and Jamaican Curry.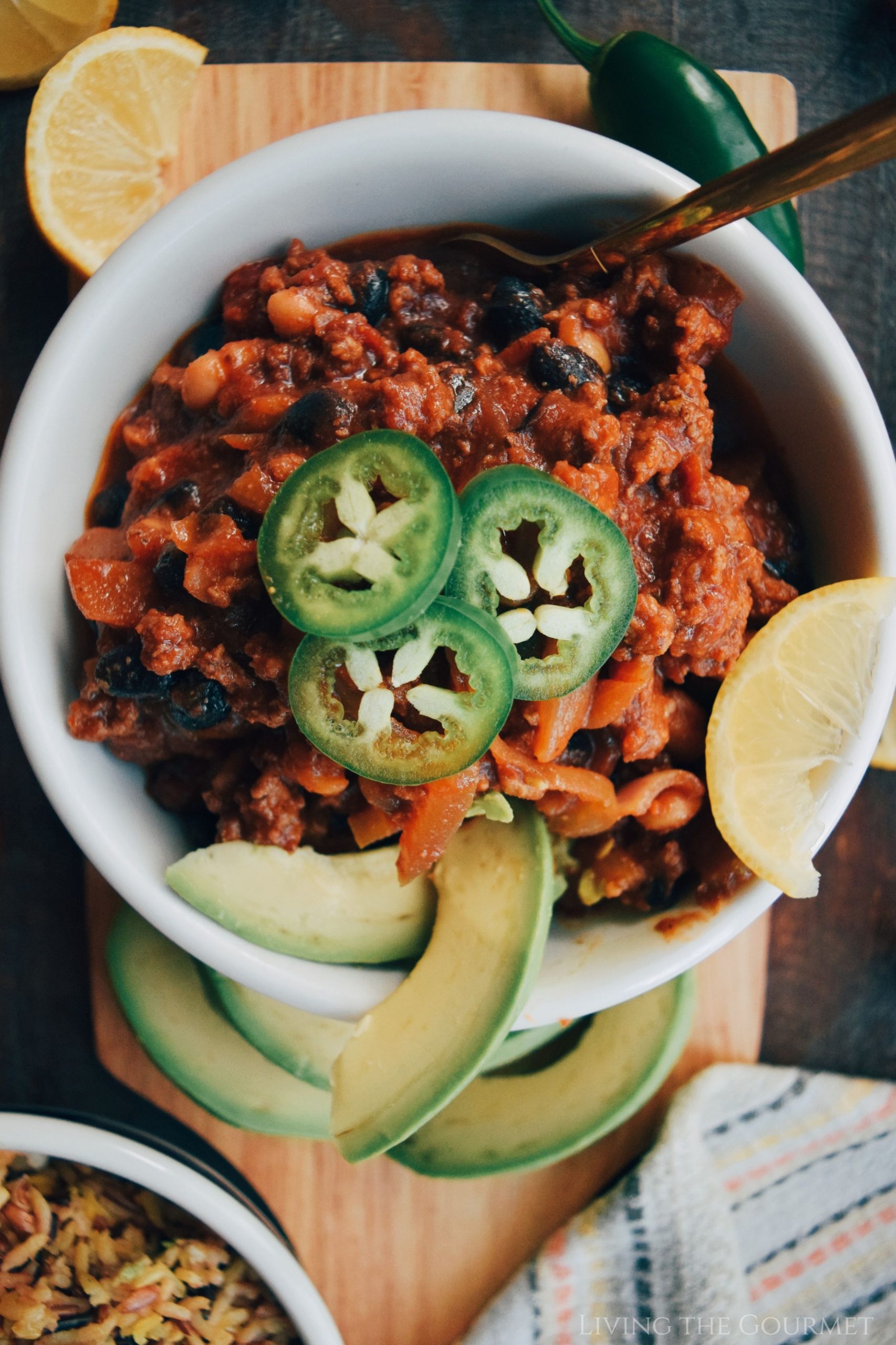 Serving Suggestions For Today's Chili
1) In Tacos – Soft or Crisp. The obvious go-to for any chili is to layer it into a taco, maybe with some rice, some greens, some avocado, plenty of cheese, maybe a dash of hot sauce, and then to eat it just like that. Today's chili is no exception.
2) Tortillas – But Make Your Own. Wrap today's chili in a homemade tortilla shell, with a nice dollop of sour cream, a thick layer of cheese, some habanero or scorpion pepper based hot sauce, and you've got yourself a real treat. However, I suggest making your own tortillas or 'flatbreads,' it's so easy and satisfying to do. For my favorite way to make wheat tortillas see my recipe for 5 Ingredient Flatbreads.
3) Over Rice. The default way to serve chili, in my opinion, is over rice, then topped with cheese and a dash of hot sauce.
4) As a Sloppy Joe. Served on a hearty bun with a thick layer of cheese (mozzarella, cheddar, plain American, or manchego would all serve deliciously), alongside a nice mountain of Homemade Onion Rings, and you've got a match made in heaven.
5) Stuffed in Peppers. Here's where you can really kick up the creativity a few notches – by stuffing the chili into peppers, either grilled (for a bit of char flavor) or fresh (for crisp freshness). You can also dampen or increase the heat with this method. Stuffing the chili into something like a sweet bell pepper will add sweetness and therefore reduce the heat, while stuffing things like oversized jalapenos would seriously increase the heat.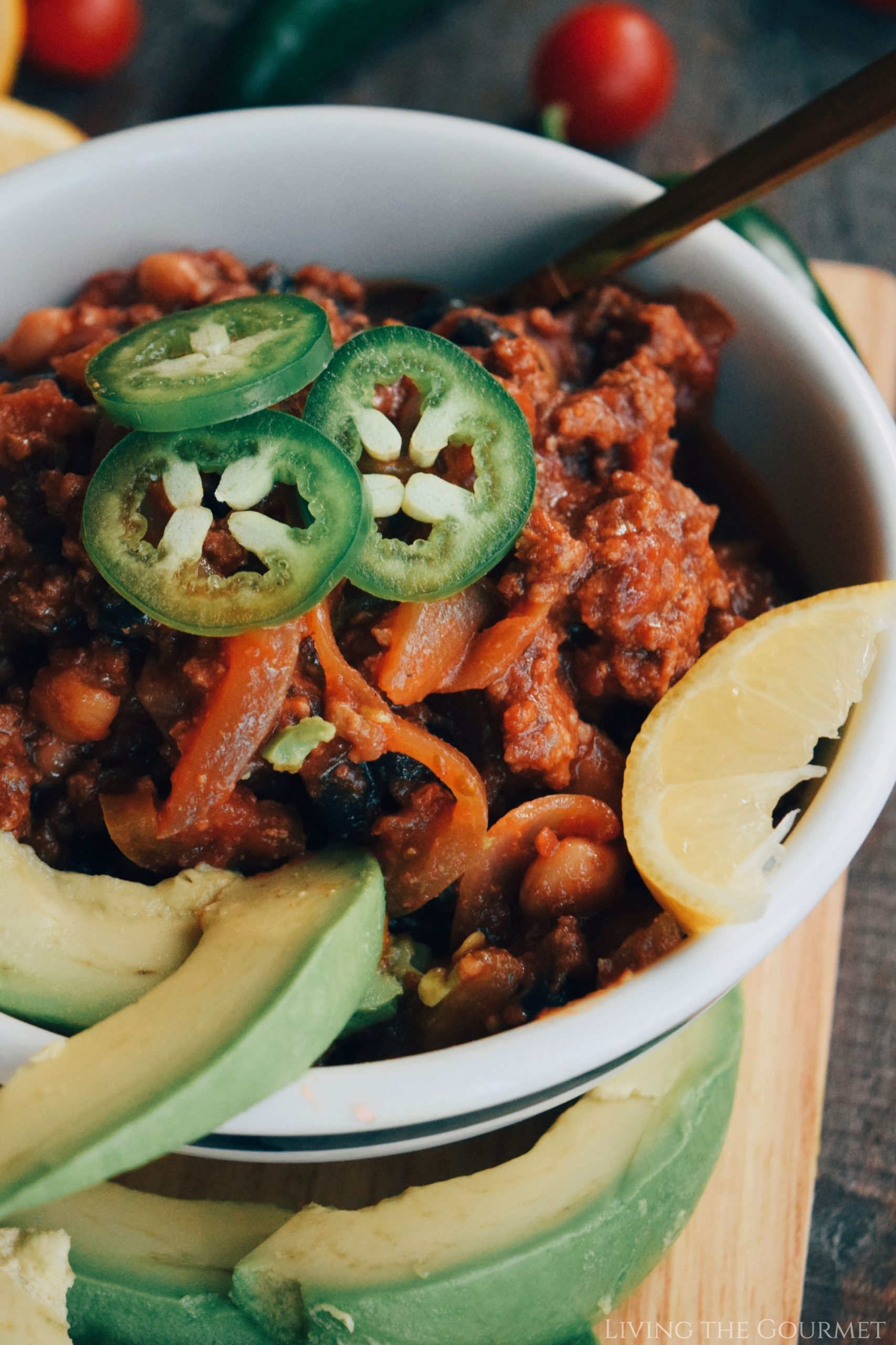 Living the Gourmet
Easy Classic Chili
15 minPrep Time
30 minCook Time
45 minTotal Time
5 based on 13 review(s)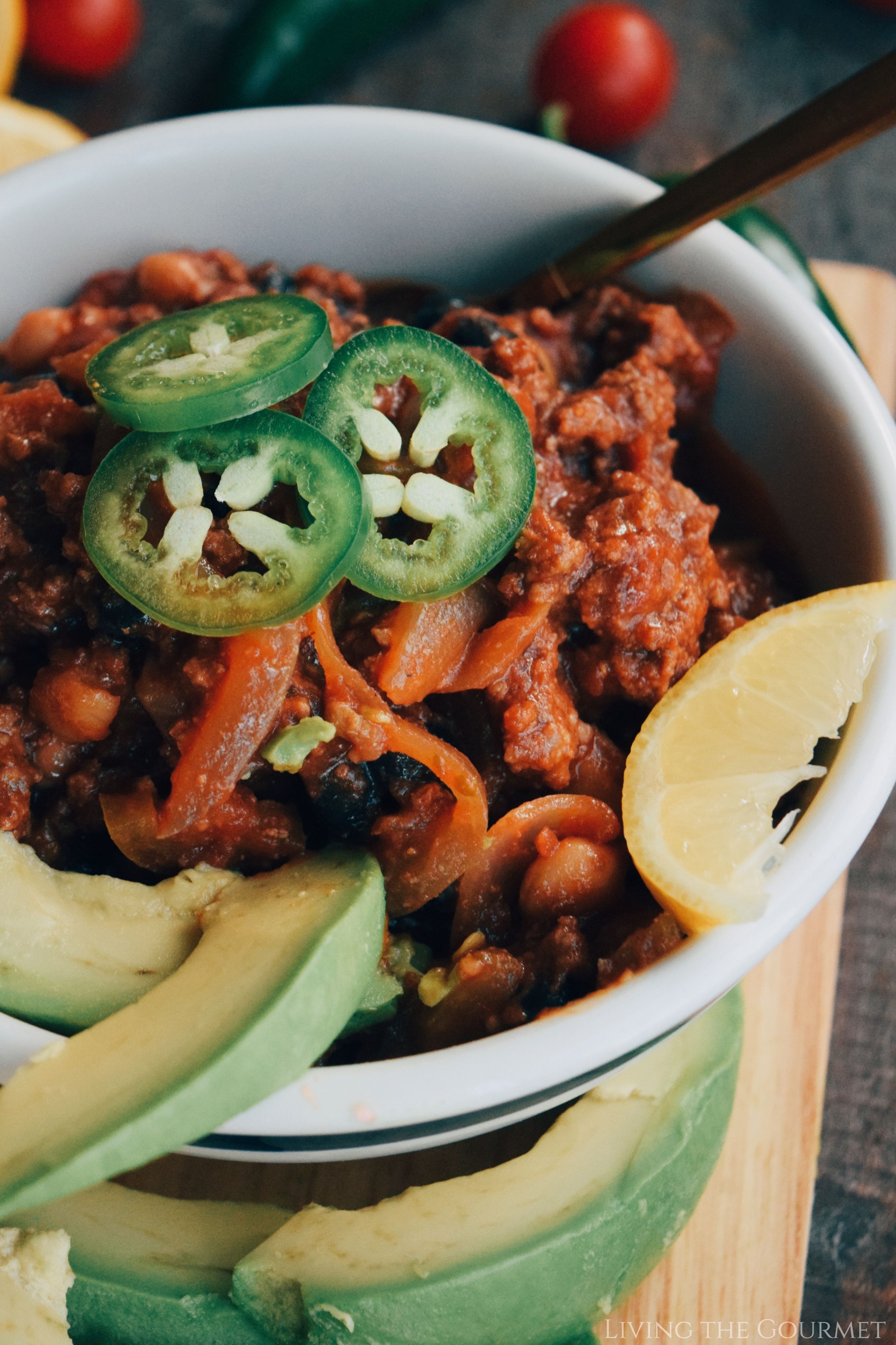 Ingredients
15.5.oz. can of Great Northern Beans or Cannellini Beans – rinsed and drained
15.5 oz. can of black beans – rinsed and drained
28 oz. can of crushed tomatoes
1 ½ lbs. of ground beef
2 Jalapeno's – diced with seeds or without for less heat
1 red onion – sliced thin
1 yellow onion – sliced thin
3 – 4 stalks of celery – sliced thin
6 – 8 cloves of garlic – chopped
2 tbs. olive oil
3 tbs. balsamic vinegar
3 tbs. honey
1 cup white rice
1 cup wild rice

Seasonings:

3 tsp. ground cumin
2 tsp. salt
2 tsp. sugar
2 tsp. Jamaican Curry
2 tsp. garlic powder
2 tsp. ground coriander
2 tsp. paprika
1 tsp. cayenne
Instructions
Heat a large cast iron frying pan and place the sliced onions, chopped garlic, diced jalapeno and sliced celery in the dry heated pan.
Allow the onions to get a nice golden char on them and the garlic fragrant then add the olive oil and toss. Place the heat on a medium – low heat.
Add the crushed tomatoes and the rinsed and dried beans and toss.
Combine the seasonings in a small bowl and mix and then add them to the pan.
Heat another cast iron pan and place the ground beef in the dry pan to cook.
When the meat is cooked lift out of the pan with a slotted spoon and into the chili that is cooking on a low gentle heat.
Loosely cover the chili. You may use another pan on top of the chili pan to cover it.
Combine the white rice and the wild rice together and place in a rice cooker. Add a teaspoon of Jamaican Curry to the water for more flavor.
Combine the balsamic vinegar and the honey together and stir. Add this mixture to the chili and stir.
Notes
Serving suggestions: Sliced avocado, sliced red onion, thin sliced jalapeno and cherry tomatoes.
7.8.1.2
1460
https://livingthegourmet.com/2020/08/easy-classic-chili.html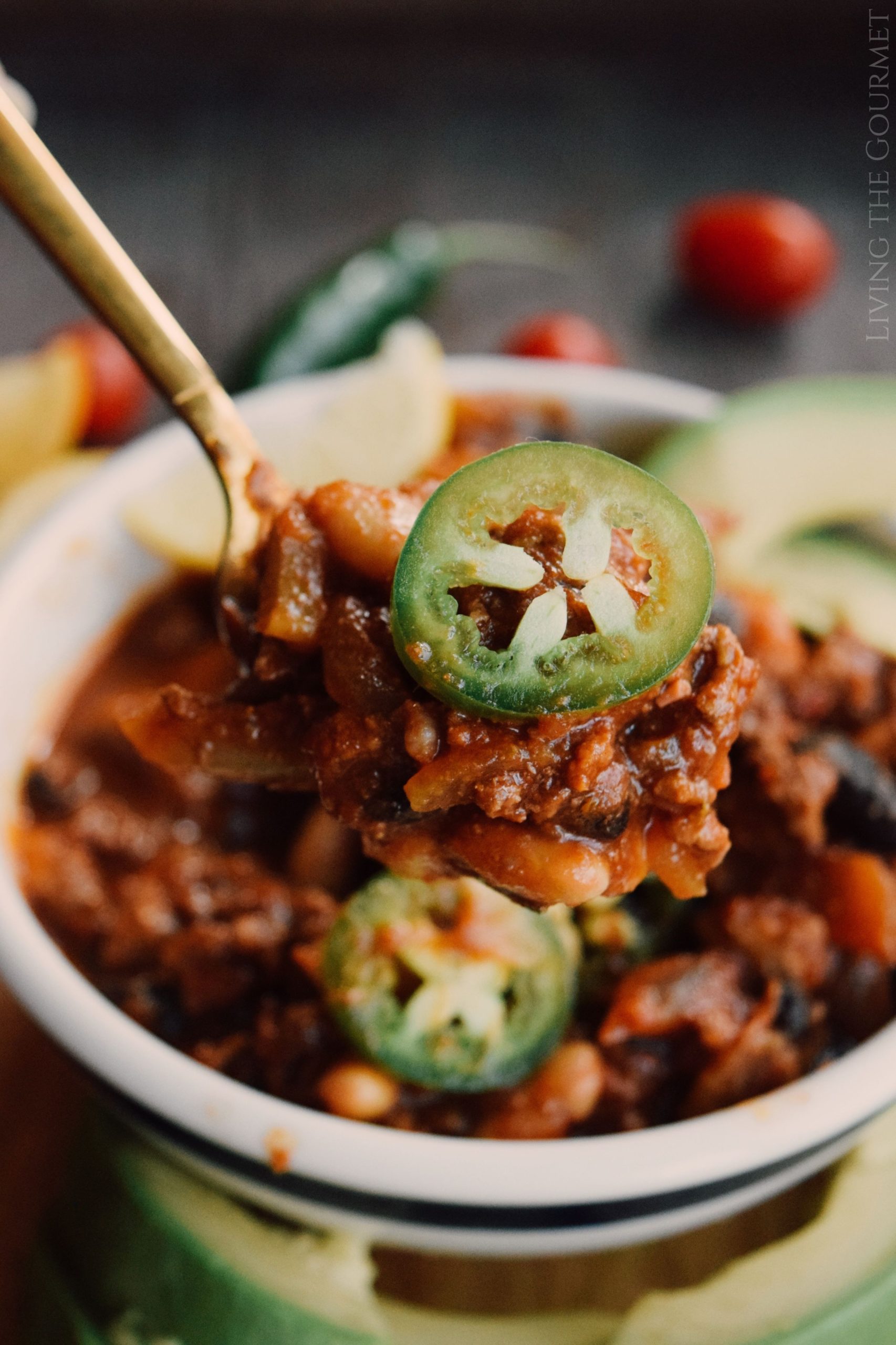 If You Enjoyed Today's Recipe…
Be sure to follow us on Instagram to stay up to date with all things Living the Gourmet, and for more great recipes, tips and tricks.
Did you make this recipe?
If so, let me know in the comments down below, or post a picture to Instagram, or to Pinterest, and I'll give you a shoutout on Instagram, or post your pin to one of my Pinterest boards!
1