Today I'm offering my take the classic Sloppy Joe – 'Sloppy Joe Italian Style.'
Sloppy Joe's are meant to be just what the name implies – a hardy or 'sloppy' sandwich that can appeal to any palate. Thus, the 'classic' is simply a chop meat 'mix,' typically some combination of things like ketchup, brown sugar, Worcestershire, a non-spicy mustard, salt, lots of butter, cayenne, and black pepper. Onions, peppers, and fresh garlic 'sometimes' make an appearance, but at that point I feel you've made more of a 'chili' than a 'Sloppy Joe.' This chop meat mixture is then piled high on a roll, usually with melted American cheese, and you're done.
Today, I wanted to keep that same 'simplicity,' but I wanted to add in a few extra flavors to give it some 'Italian Immigrant Flare.'
Now, without further introduction, let's dive in.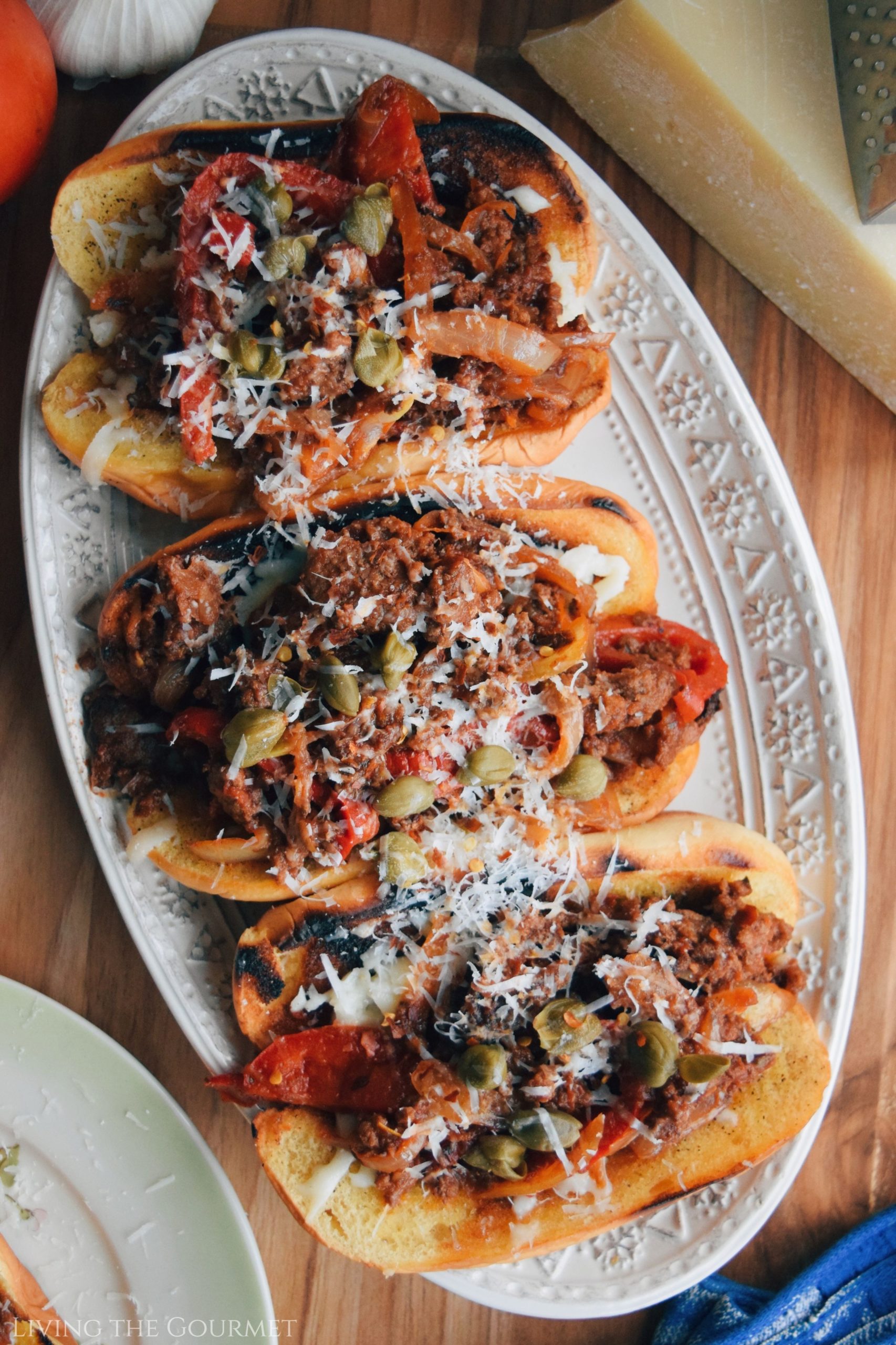 Why You'll Love Today's Sloppy Joes
1) A twist on a familiar favorite. We've all had a 'Sloppy Joe' at some point, and we all know exactly what it's 'supposed' to be and taste like. That said, we're putting just a few key twists on the original, infusing it with some recognizable 'Italian' ingredients and flavors, but we're keeping it accessible and simple in the process.
2) Super Easy. While this isn't what I would call a 'five minute meal,' and while this does take some patience for preparation, it is still an impressively easy dinner (or lunch, or breakfast…seriously, crack a fried egg over this with some melted cheese, delicious) that you can definitely whip up on a busy weeknight if you're in the mood for something satisfying.
3) Satisfying and Hardy. A Sloppy Joe, regardless of 'style,' simply wouldn't be a 'Sloppy Joe' if it wasn't hardy and satisfying, and that's exactly what today's recipe is, since we're skimping on precisely nothing, and are instead piling on the cheese, meat, and sauce in deliciously copious quantities.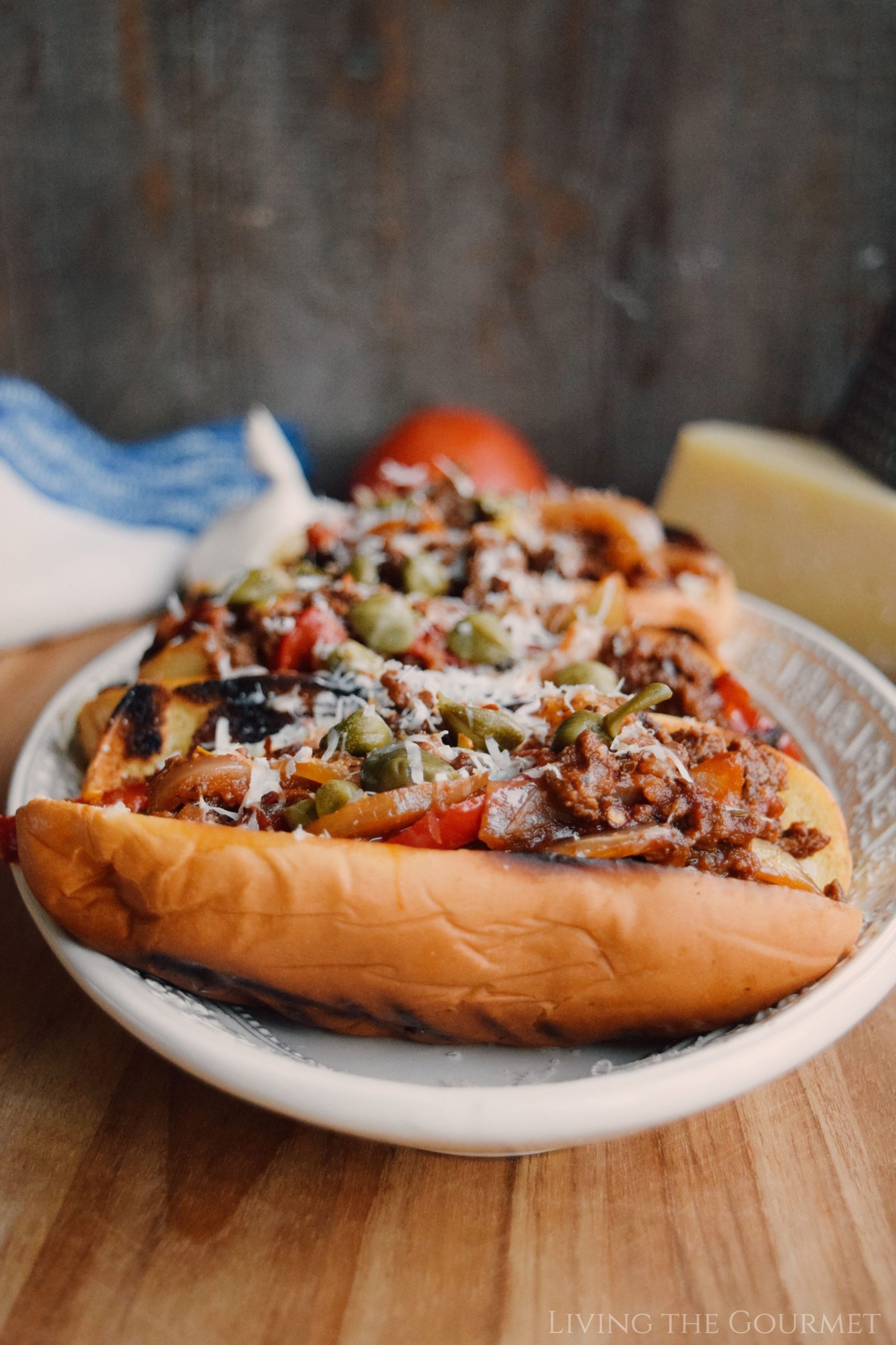 Ingredient Notes and Tips
1) The Grating Cheese. I always buy my grating cheese in blocks, as opposed to pre-grated, as I find the quality and appearance of pre-grated to be subpar, and this shouldn't be surprising since the highest quality grating cheeses are always sold whole – even if they're coming from the same producer. Also, the cheese simply 'holds' its flavor better whole. That said, either sheep's milk or cow's milk grating cheese is fine, meaning Parmesan, Reggiano, or Pecorino Romano.
2) The Powdered Garlic On The Rolls. Today, I'm using powdered garlic purely as a matter of convenience. However, if you want to ratchet up the 'garlicy' flavor, and add an extra bit of 'punch' to the rolls, you can opt to either crush fresh garlic and then rub that over the rolls before oiling them, and then grate the remaining garlic onto the rolls.
3) The Mozzarella. Fresh or Packaged? For today's recipe, packaged will do just fine, but fresh will add undeniably to both the taste and texture. Fresh mozzarella is quite a bit moister than packaged, and this gives the cheese a fluffier or even 'silky' texture – and this is what most people love about fresh mozzarella. This moisture also gives fresh mozzarella its signature 'milky' taste. Now, adding these two qualities onto today's sandwich will simply heighten the experience on the palate. With that said, don't fret if you only have packaged on hand or don't feel like spending the extra money for fresh, since packaged will do just fine for today's sandwich.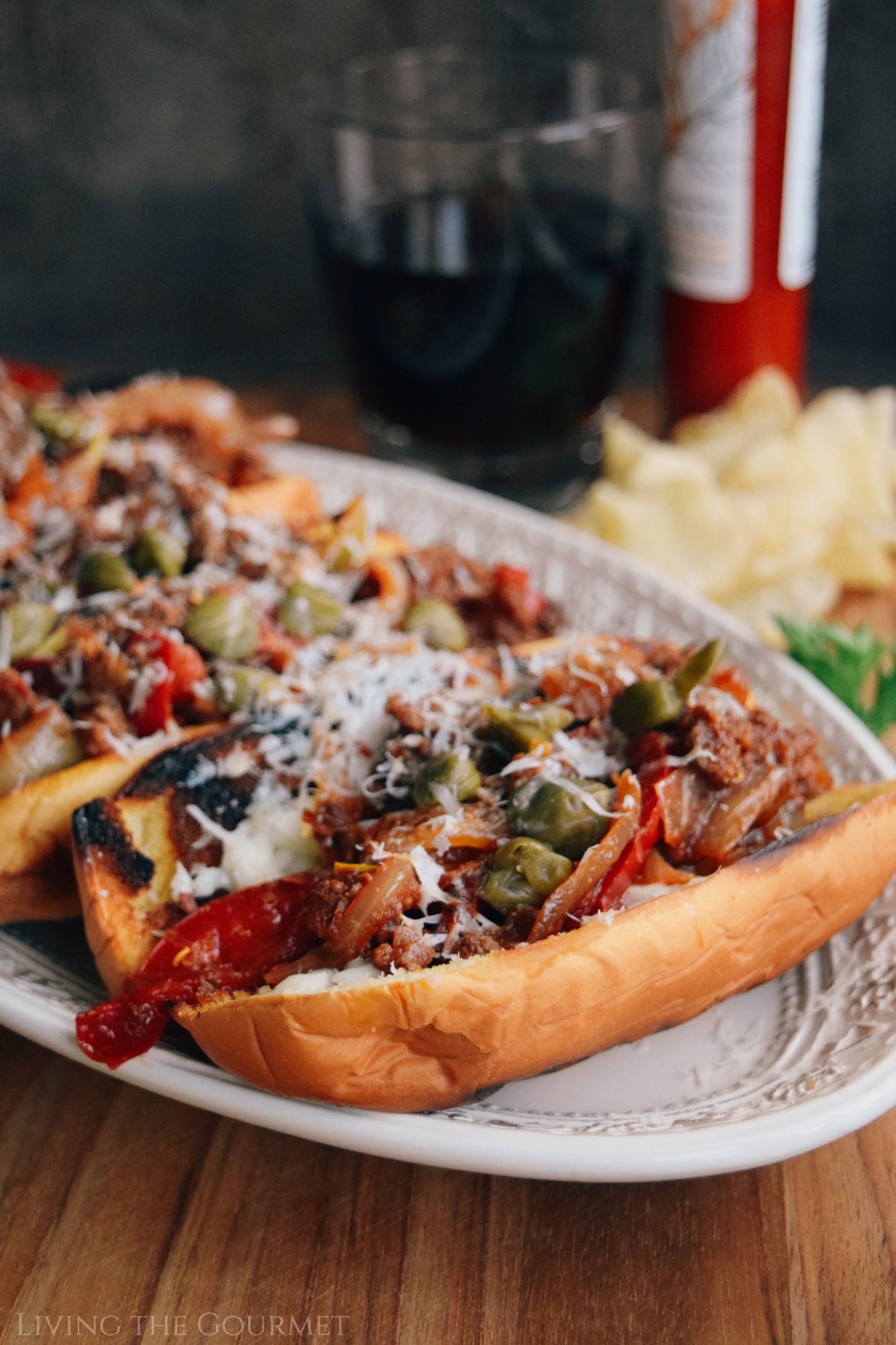 Selecting Quality Chop Meat – A Primer
The chop meat, by weight, is the 'bulk' of today's recipe, and so if you don't select not only 'quality' chop meat, but also the 'right' chop meat, you're not going to have a good 'Italian Style Sloppy Joe,' and it's as simple as that.
With that in mind, here are a few key tips to selecting not only quality chop meat, but also the 'right' chop meat.
1) Fat Is Flavor. This may come as a shock, but muscle tissue has 'almost zero' in the way of flavor-giving compounds. Instead, virtually everything we humans perceive as 'flavorful' in meat, be it fish, pork, beef, or poultry, comes directly from 'fat.' As a result, the more 'fat' a piece of meat has, the more 'flavor' we perceive. Muscle tissue also cooks up dry, and is naturally tough. By contrast, fat is soft and reduces to a thick 'grease' during cooking, and so the more 'fat' a piece of meat cooks in, or has laced through it as 'marbling,' the more tender and moist that piece of meat will be. Yes, I know I'm offending someone somewhere with this, but I'm just giving you the truth.
Thus, it should come as no surprise that despite ground sirloin being the most expensive chop meat out there, it is also the leanest, driest, and 'least' flavorful, containing somewhere in the vicinity of 8-14% fat by volume. Ground round is in the same boat, but typically contains somewhere between 10-13% fat. Both of these types of chop-meat are often labeled 'Extra-Lean Ground Beef.' Ground chuck is widely considered the 'best' ground beef for burgers, meatballs, and meat sauces, and contains somewhere in the realm of 20% fat by volume.
However, so-called 'Regular' ground beef, which can contain in excess of 30% fat is sometimes 'filled' or 'laced' into ground chuck simply to give the chop meat even more flavor. The reason 'Regular' ground beef is rarely used on its own is because so much of it 'melts away' during cooking, that it actually becomes a hassle to use. There's also the matter of 'price bias.' Since 'Regular' ground beef is far and away the cheapest, it's also assumed to be the lowest quality. The opposite is true of ground sirloin.
2) Color – Your Only Guiding Light. In truth, the only 'guidance' that can be offered when buying pre-ground beef is to look at the coloring. Grey or brown ground beef has begun decaying. Instead, you want the meat to be a bright pink color, and to be 'moist' looking. Also, take note of the cling wrap, which should appear pristine and free of 'droplets.'
3) Never Buy In Bulk. Never, ever buy those massive opaque containers of 'Ground Beef' that have been popping up in the refrigerator aisles of your local grocery-carrying big-box stores. There is a reason those tubs are derided in culinary circles as 'chub rolls.' While I'm all for affordable food, those bulk containers of ground beef should be avoided like the plague.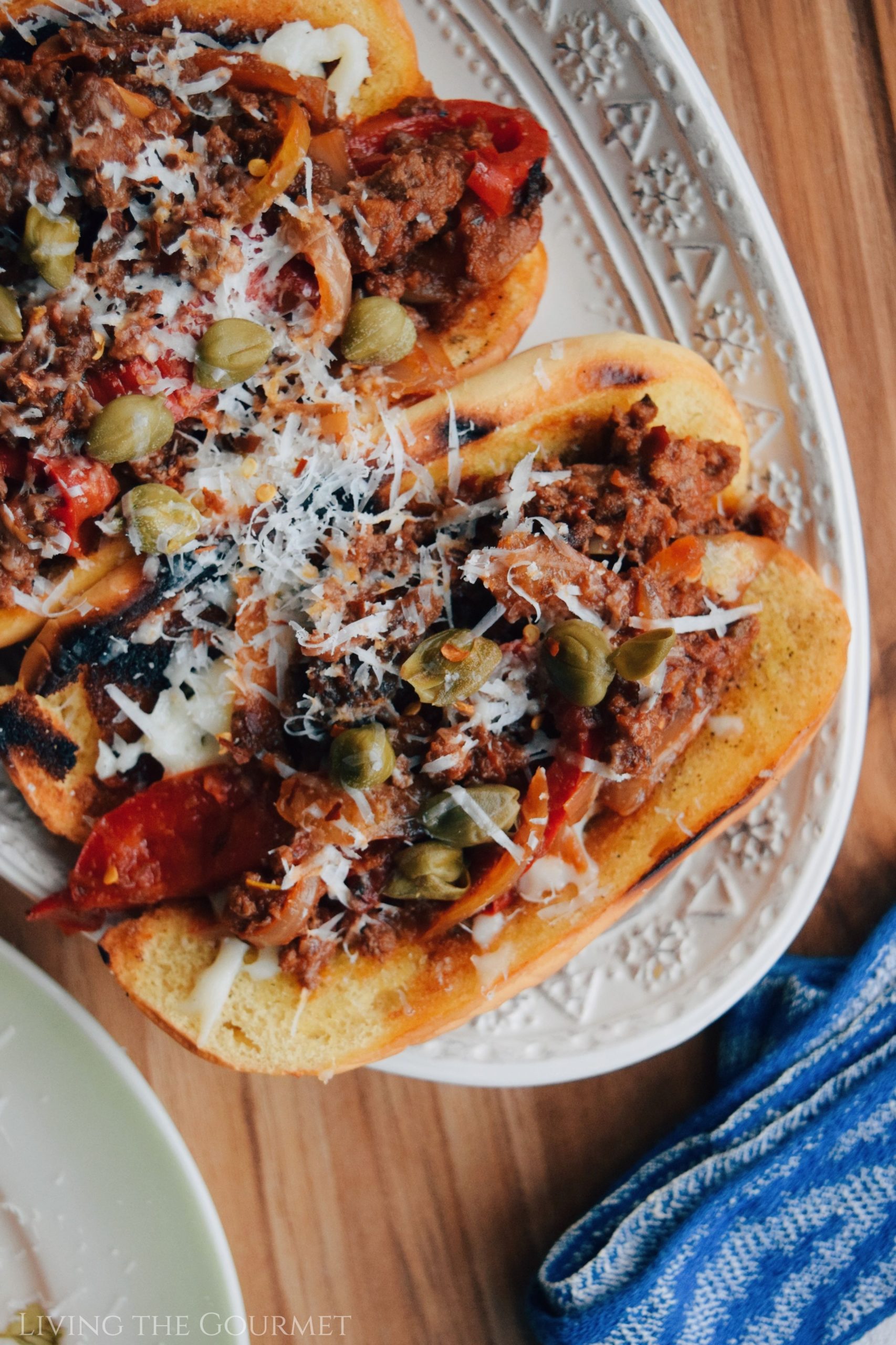 Pairs Great With Sloppy Joes
1) Onion Rings (No deep fryer needed!). Obviously, one of the best sides to today's Sloppy Joe's is a batch of crispy, hardy homemade onion rings. I prepare mine with just a hint of spice, and a thick, dense batter that crisps up beautifully during frying. You can grab my recipe here.
2) A Cold Drink. The classic combo of Sloppy Joe, onion rings, and a tall beer works just fine here. However, if you want to flavor things up a bit and play 'bartender' to yourself or your guests, our friends over at DrinkWorks have got you covered. Think of it as the "Keurig of Home Bars," simply pop a pod into the machine, and out comes a delicious, chilled 'adult beverage' (no ice required) that tastes like it was mixed by a master mixologist. With dozens upon dozens of drink pod flavors to choose from, including Margarita, Cosmopolitan, Mojito, Moscow Mule, Whiskey Sour, White Russian, and Old Fashioned, among many others, there's something for everyone. So, serve up your summer cocktail in one of these beautifully crafted Dragon Glassware and impress your guests today!
3) Coleslaw. A burger (or patty melt), paired with a crisp, flavorful coleslaw is one of my favorite things in the world. My preferred recipe for coleslaw combines the obligatory mayo-coating with a citrusy dressing, and I slice in jalapenos with the cabbage to create a sweet-and-spicy salad, with just a hint of crisp citrus.
4) Crisp Cucumber Salad. A 'bite of fresh' alongside today's Sloppy Joe's isa delightful pairing, especially with just a hint of acidity and spicy ginger to compliment the 'Italian flare' of today's sandwiches. Featuring artichoke hearts, thinly sliced red onions, and Kalamata olives, this cucumber salad is blissfully easy to put together.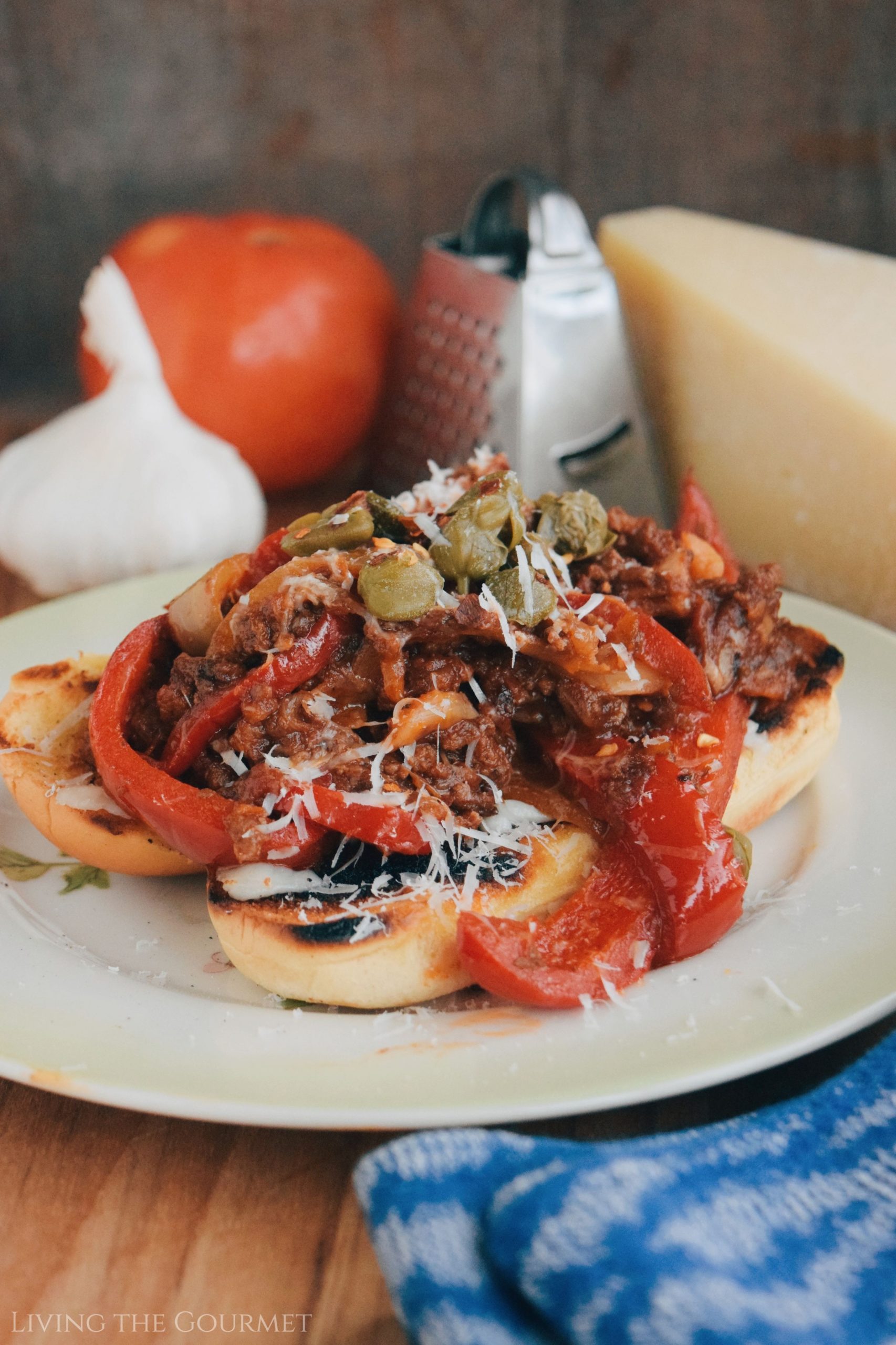 Print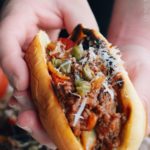 Italian Style Sloppy Joes
---
Author:

Total Time:

30 minutes

Yield:

4

-6

1

x
1 1/2

-

2

lbs. of ground beef

1

large sweet onion - sliced

1

head of garlic - cloves left whole or halved

1

red bell pepper - sliced

1

cup

of tomato sauce

2

tbs. balsamic vinegar

1

tbs. sugar

1 tsp

. salt

1 tsp

. red pepper flakes

2

-

3

tbs. olive oil
Mozzarella - shredded for the buns
Garlic powder - for dusting the buns with
Dried Oregano - for dusting the buns
Parmesan or Romano cheese - for grating
Red pepper flakes - for garnish
Capers for garnish
Your favorite rolls
---
Instructions
Heat a large cast iron frying and place the ground beef in the pan to cook.
Remove from the pan and set aside.
Heat the same cast iron frying pan and place the sliced red bell pepper, garlic and onion slices in the pan.
Sprinkle these veggies with the sugar and seasonings and allow a bit of a char to form on the veggies.
When this is achieved drizzle the veggies with olive oil.
Add the cup of sauce to the veggies and toss.
Let the mixture simmer on a gentle heat while preparing the rolls.
Add the cooked ground beef to the peppers and onions and toss.
Add the balsamic vinegar to the sauce and toss. Taste for seasonings.
To Prepare the Rolls:
Brush each roll with olive oil.
Sprinkle each side of the roll with garlic powder, black pepper and dried oregano.
Grill the rolls.
Place shredded mozzarella on each side of the roll and fill with the ground beef mixture.
Finish the sandwich off with grated Parmesan or Romano cheese, dash of red pepper flakes, and capers.
Prep Time:

10 minutes

Cook Time:

20 minutes
Recipe Card powered by
If You Enjoyed Today's Recipe…
Be sure to follow us on Instagram to stay up to date with all things Living the Gourmet, and for more great recipes, tips and tricks.
Did you make this recipe?
If so, let me know in the comments down below, or post a picture to Instagram, or to Pinterest, and I'll give you a shoutout on Instagram, or post your pin to one of my Pinterest boards!
3