Today's stuffed fried pork chops combine a deliciously crisp exterior with a decadently moist interior, courtesy of a cream cheese-based stuffing featuring sage, honey, sundried tomatoes, and red pepper.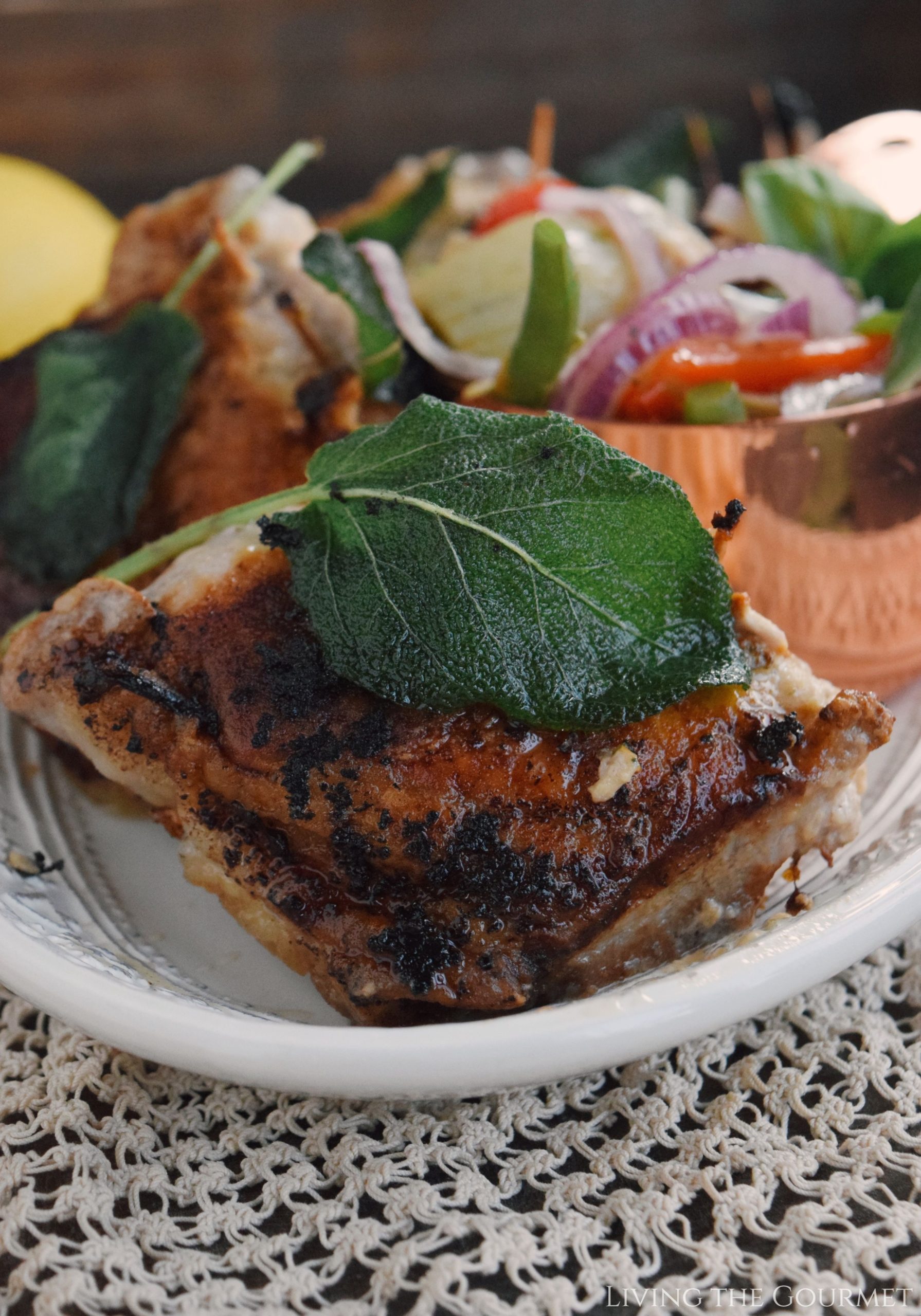 Ingredients: Notes, Tips, and Substitutions
1) Sage. I've heard sage described as "Uniquely, fresh sage tastes like it's been dried. There's really nothing else quite like it." I'm not sure I agree with this, but given the herb's earthy, somewhat peppery flavor, I can certainly understand the sentiment. That said, these earthy, peppery qualities are why sage is widely regarded as 'the' herb for meats, being the star ingredient in 'traditional' Thanksgiving turkey recipes, 'homestyle' roast chicken, and various 'old time' beef recipes such as stroganoff, while often making an appearance alongside rosemary and/or thyme on grilled steaks and pork chops.
Substitutes. Given sage's flavor profile, and with its most common use being as an herb for meat, it should come as no surprise that 'poultry seasoning' is regarded as the best alternative to dried sage. However, since we're using fresh, I would suggest the fresh incarnation of either marjoram, rosemary, or thyme.
2) Sundried Tomatoes - Be wary of 'where' they are produced. Buy sundried tomatoes that are imported either from Italy or North Africa. The reason is that there are a lot of articles and PSAs floating around calling out North and South American producers of sundried tomatoes for not actually drying them in the sun. Sadly, this plague of 'sunless-dried tomatoes' sprang up due to sundried tomatoes more or less being the 'avocados on toast' of the 1990s – except sundried tomatoes weren't just put on toast, they were added to everything from bagels to pizza, appeared as a flavor for chips and crackers, were mixed into dips, fried into eggs, blended into smoothies (no, I'm not making that up), layered onto deli sandwiches (something I still do), infused into oil (this is actually a traditional use), turned into hummus, and baked into bread. They were absolutely everywhere.
Originally, the majority of sundried tomatoes were produced in the Mediterranean basin, particularly Southern Italy and Morocco, until the mid to late 1990s. However, as the 1990s drew to a close, tomato growers across the New World decided to begin cashing in on the vogue ingredient in a big way, but unlike their Italian and North African counterparts, New World producers of sundried tomatoes (looking at you California and Mexico) rarely went through the trouble of drying the tomatoes in the sun, instead opting for machine or oven drying methods. Of course, there were a handful of exceptions to New World sundried tomatoes being of lower quality. In particular, certain American producers proudly advertised the fact that their sundried tomatoes were, in fact, dried in the sun, while Argentine sundried tomatoes were, and remain, of decent quality – due both to local cuisine and a large Italian-immigrant population. Nevertheless, these exemplars of quality were a sad exception to an otherwise low-quality rule – and before long the market was flooded with low-quality, New World-sourced sundried tomatoes. As such, no sooner had the new millennium dawned than it became vogue to buck the sundried tomato trend, and American palates moved on to avocados. That said, I still love this particular ingredient, but I 'do' remain cautious as to the brands I buy.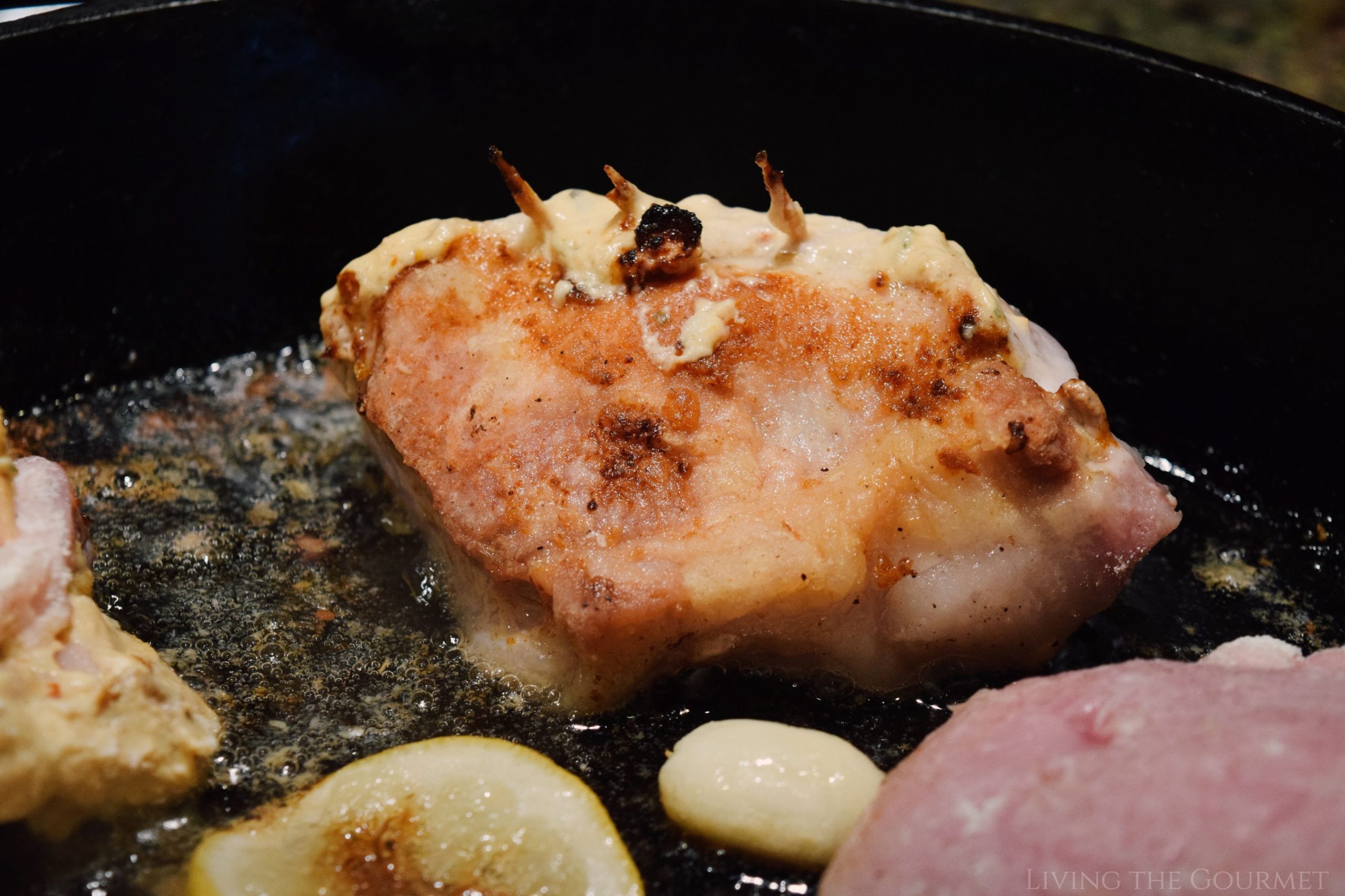 3) The Cream Cheese – Full Fat Or Nothing. You can imagine my delight when the Atlantic declared "The Vindication of Cheese, Butter, and Full-Fat Milk," in July of 2018. However, aside from no longer having to convince myself that I enjoyed the dry, tasteless substitute for the real thing, there are three other very important reasons I suggest you use full-fat cream cheese for today's recipe. First and foremost, the cream cheese is the 'base' of the stuffing, and so the texture of the cream cheese you use will largely be the texture of the stuffing itself, and we want the texture to be as creamy as possible. Secondly, the less milk-fat the cream cheese has, the more it will simply 'melt away' or evaporate during cooking, as opposed to softening and becoming creamy. Finally, as I wrote in my guide for selecting quality chop meat, there is no escaping our evolutionary programming that dictates 'Fat is Flavor' – fat is where things like meat, fish, beans, and avocados derive their taste and texture, and that rule applies here as well. In short, we want the interior of the pork chops to be moist, thick, creamy, and flavorful. Go full fat.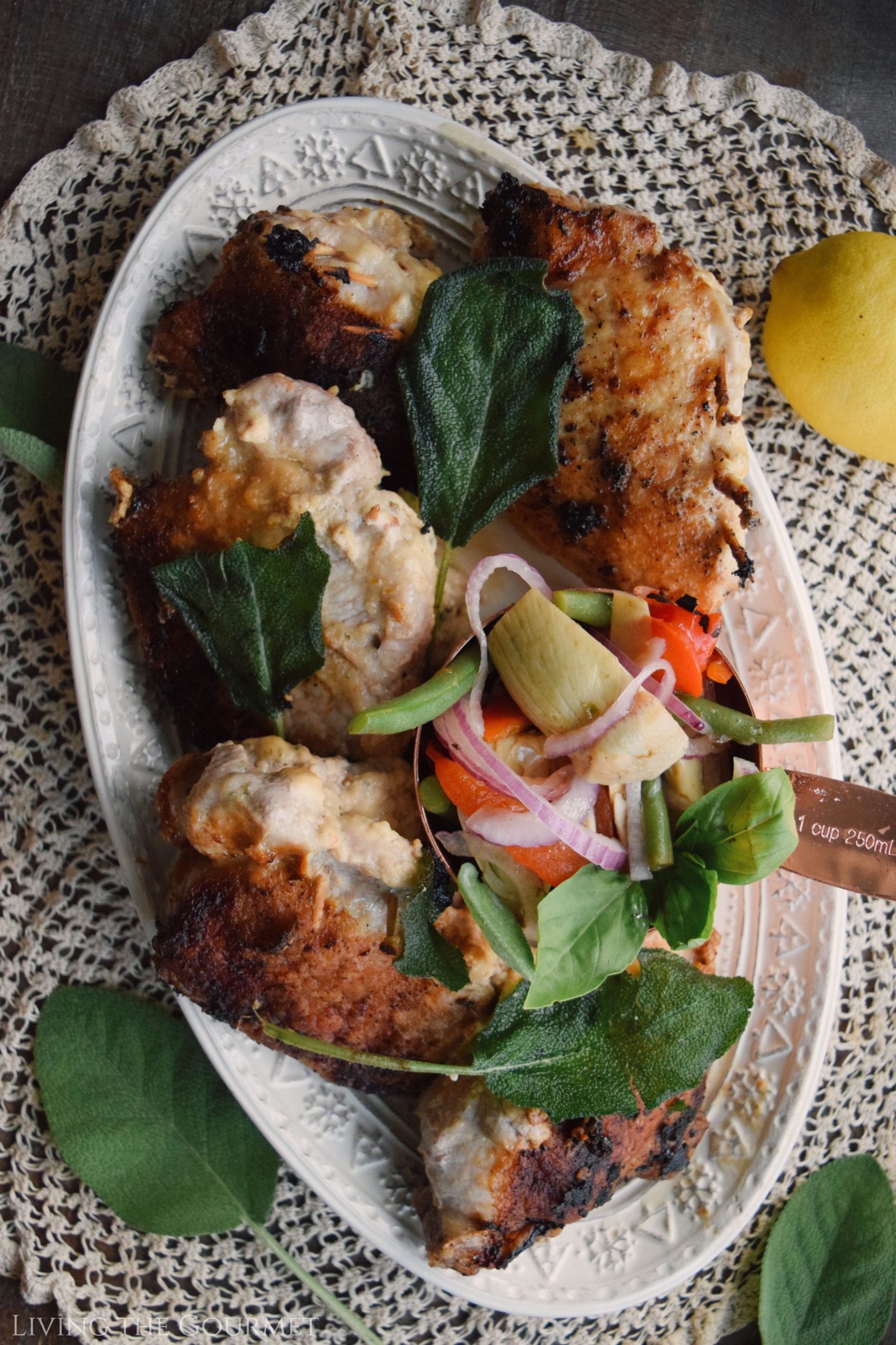 Stuffing the Pork Chops – Brief Pointers
1) The Cut. To begin, lay the pork down flat on your cutting board, and with your sharpest knife, make an incision along the side of the pork chop opposite the rind of fat. You want the incision to leave about an inch of room between itself and either end of the pork chop, as pictured. You also want to be careful not to go all the way through the pork chop, and instead leave no less than half an inch of space between the deepest point of the incision and the opposite end of the pork chop.
2) The Hold. Holding the pork chop properly while making the incision is important for minimizing your risk of injury. To do this, lay the pork chop flat on your cutting board, as mentioned above, and hold the pork chop firmly in place with your free hand on the top of the chop – but not so firmly that you squeeze out the juices. Then insert your knife at the bottommost point of the chop, and begin cutting in even, smooth, and decisive strokes, making sure that you keep the knife as level as possible with each stroke so as not to 'zig zag' or tear the chop during this process.
3) Stuffing and Sealing. Stuff the pork chop thoroughly, but do so gently. My pork chops held about a teaspoon and a half per chop, but this obviously varies with size. To seal them, I closed mine with three toothpicks across the incision. If you do not seal them tightly, the stuffing will ooze out as the cream cheese softens during frying.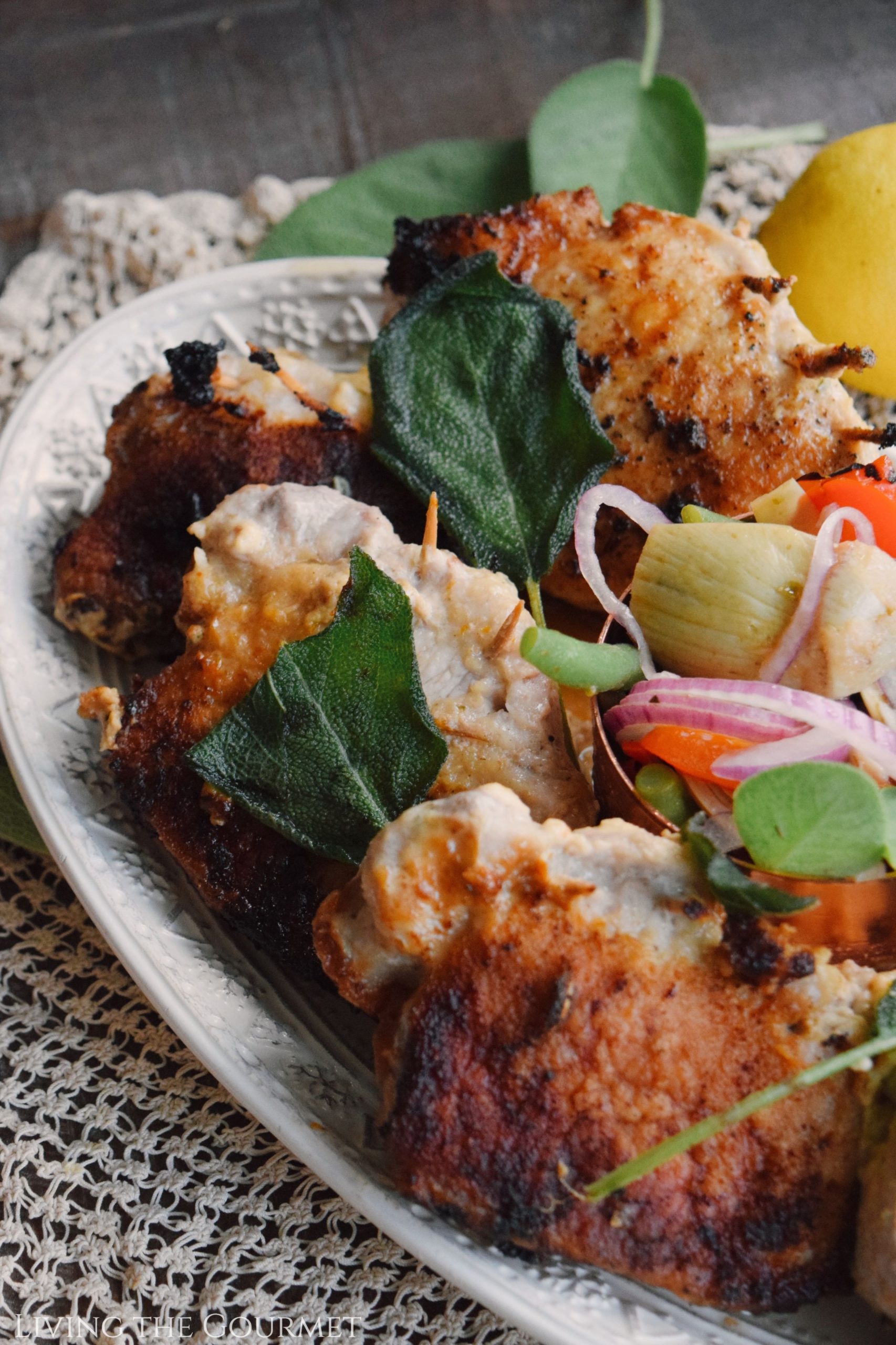 Pairs Great With
1) Spicy Orange Salad. A little behind the scenes, I actually had this salad with today's pork chops, since I had prepared both recipes on the same day, and while you might not think "stuffed pork chops and orange salad," the pairing actually worked really nicely. Somehow, the spice of the jalapenos, and the juicy 'freshness' of the sliced oranges simply melded beautifully with the pork chops. As a nice bonus, this salad is blissfully easily to put together. https://livingthegourmet.com/2020/07/spicy-orange-salad.html
2) A Cold Drink. During the warm weather, what 'really' sounds better than a cold drink? A cold drink prepared by an expert mixologist, that's what – and that's exactly what Drinkworks is; your own personal 'mixologist.' Think of Drinkworks as the "Keurig of Home Bars," simply pop one of their drink pods into the machine, and out comes a delicious chilled 'adult beverage' (no ice required) that tastes like it was mixed by a master. With dozens upon dozens of drink pod flavors to choose from, including Margarita, Cosmopolitan, Mojito, Moscow Mule, Whiskey Sour, White Russian, and Old Fashioned, among many others, there's something for everyone, every palate, and every food pairing.
3) Summer Shrimp Salad. If you're up for some Surf-N-Turf, my aptly named Summer Shrimp Salad is the way to go. Combining quartered grape tomatoes, sliced red onions, fresh lemon juice, and fresh basil, amidst a medley of herbs and spices, this shrimp salad is both refreshing and light, and delightfully flavorful, making a great pairing for today's pork chops.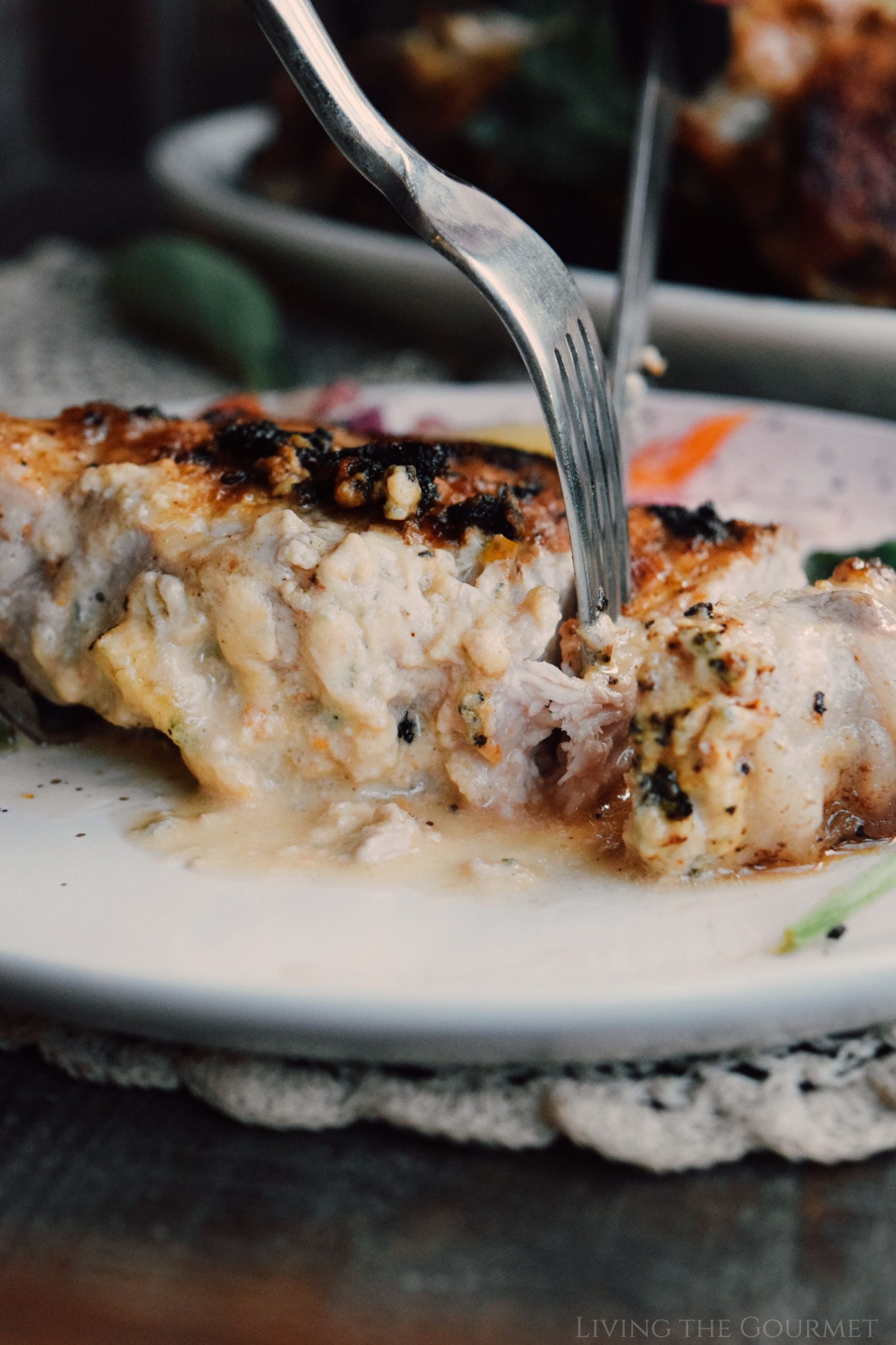 Other Great Fried Favorites
1) Crispy Fried Chicken. My absolute favorite take on this perennial classic. We use corn starch to give the chicken coating a nice crisp, while adding cayenne and hot sauce to the batter to give the ultra-crispy coating a nice kick.
2) Fried Onion Rings. I'm of the opinion that onion rings pair well with just about everything, and I wouldn't hesitate to make a batch to serve alongside to today's stuffed pork chops. I prepare mine with just a hint of spice, and a thick, dense batter that crisps up beautifully during frying. You can grab my recipe here.
3) Fried Cauliflower Balls. My favorite way to prepare cauliflower is as bite-sized fried delights. Paired with a homemade tzatziki, these are real treat that work perfectly either as a starter or a side.
4) Italian-Style Fried Shrimp Balls. These are as delicious as they sound. Prepared with fresh basil, fresh lemon, Romano cheese, and Italian parsley, these are a delightful addition to any starter spread.
5) Oven Baking vs Frying. To round out this list, here's my rundown on the differences between oven baking and frying, and which is best for which recipe, as well as the general pros and cons of both.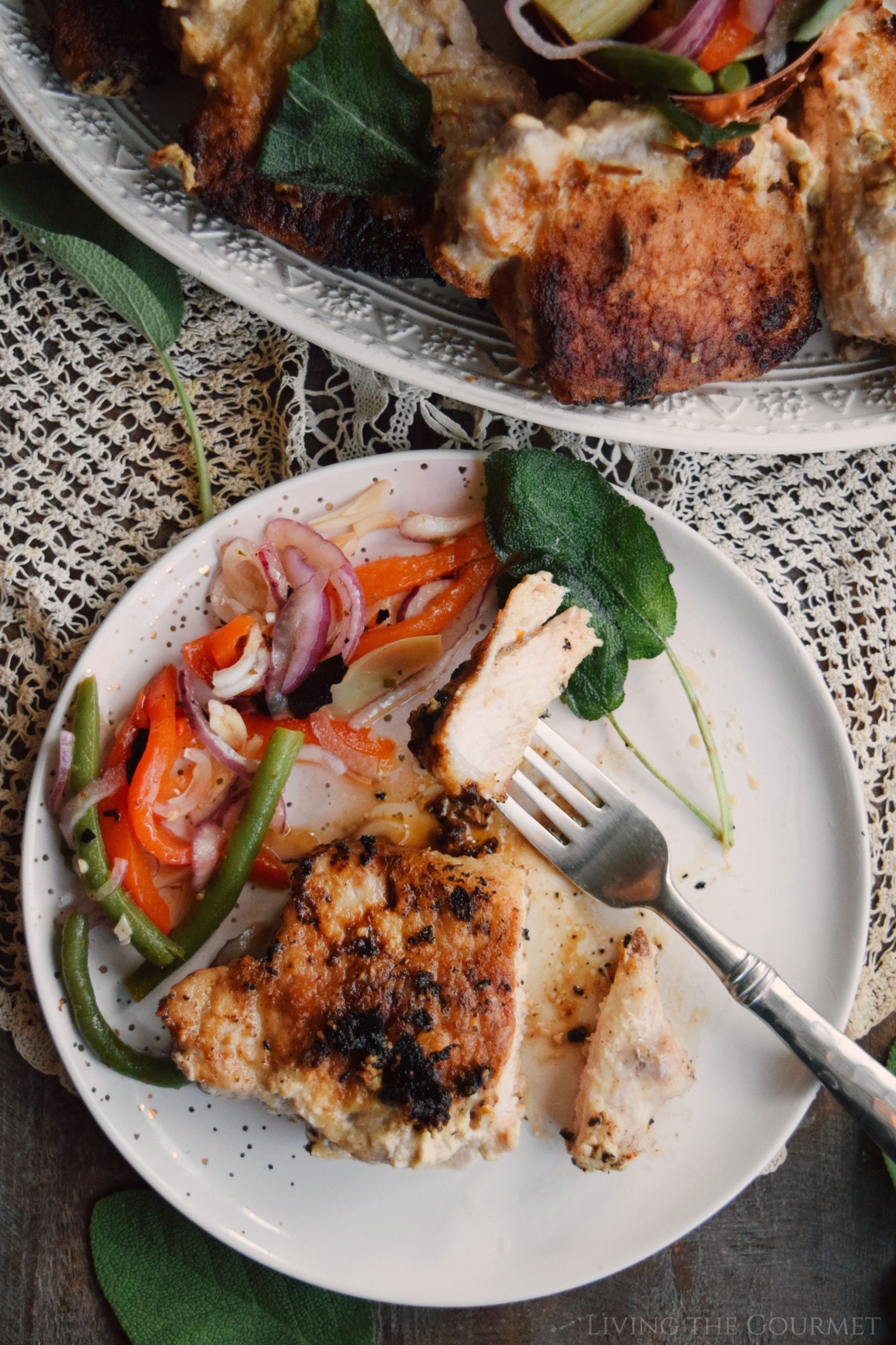 Print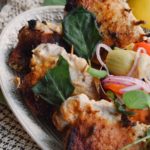 Fried Stuffed Pork Chops with Sage & Sundried Tomatoes
---
Author:

Total Time:

35 minutes

Yield:

4

-6

1

x
5

-

6

boneless pork chops (about

1

inch thick) - with a pocket cut into the chop

1 1/2

cups

flour - seasoned with salt and black pepper
Toothpicks for sealing
Canola oil or vegetable oil for frying
Extra sage leaves
Lemon slices for garnish
For the Stuffing:
3

cloves of garlic

2

-

3

sage leaves

8

oz

. cream cheese

1/2

cup

Romano or Parmesan cheese - grated

1/2 tsp

. red pepper flakes

3

sun dried tomatoes

1

tbs. lemon juice

2

tbs. honey
---
Instructions
Take each pork chop and carefully make a pocket with a sharp knife. Almost slicing the pork chop in two but not slicing all the way through. Set aside.
Combine all of the ingredients for the stuffing in a food processor. Process until smooth.
Place a shallow bowl with the flour seasoned with salt and black pepper.
Dredge the pork chop in the flour and then using a small teaspoon fill the pocket with the stuffing mixture.
Seal with two to three toothpicks.
Heat a large cast iron frying pan with about ½ inch of vegetable oil. Place the pork chop in the heated oil.
Cook the pork chop about 8 - 10 minutes on each side, until a nice golden color is achieved and the pork chop is cooked through and the juices run clear.
Take the extra sage leaves and quickly fry them after the pork chops are finished cooking and use for garnish.
You may place a lemon wedge in the oil while the pork chops are cooking.
Prep Time:

15 minutes

Cook Time:

20 minutes
Recipe Card powered by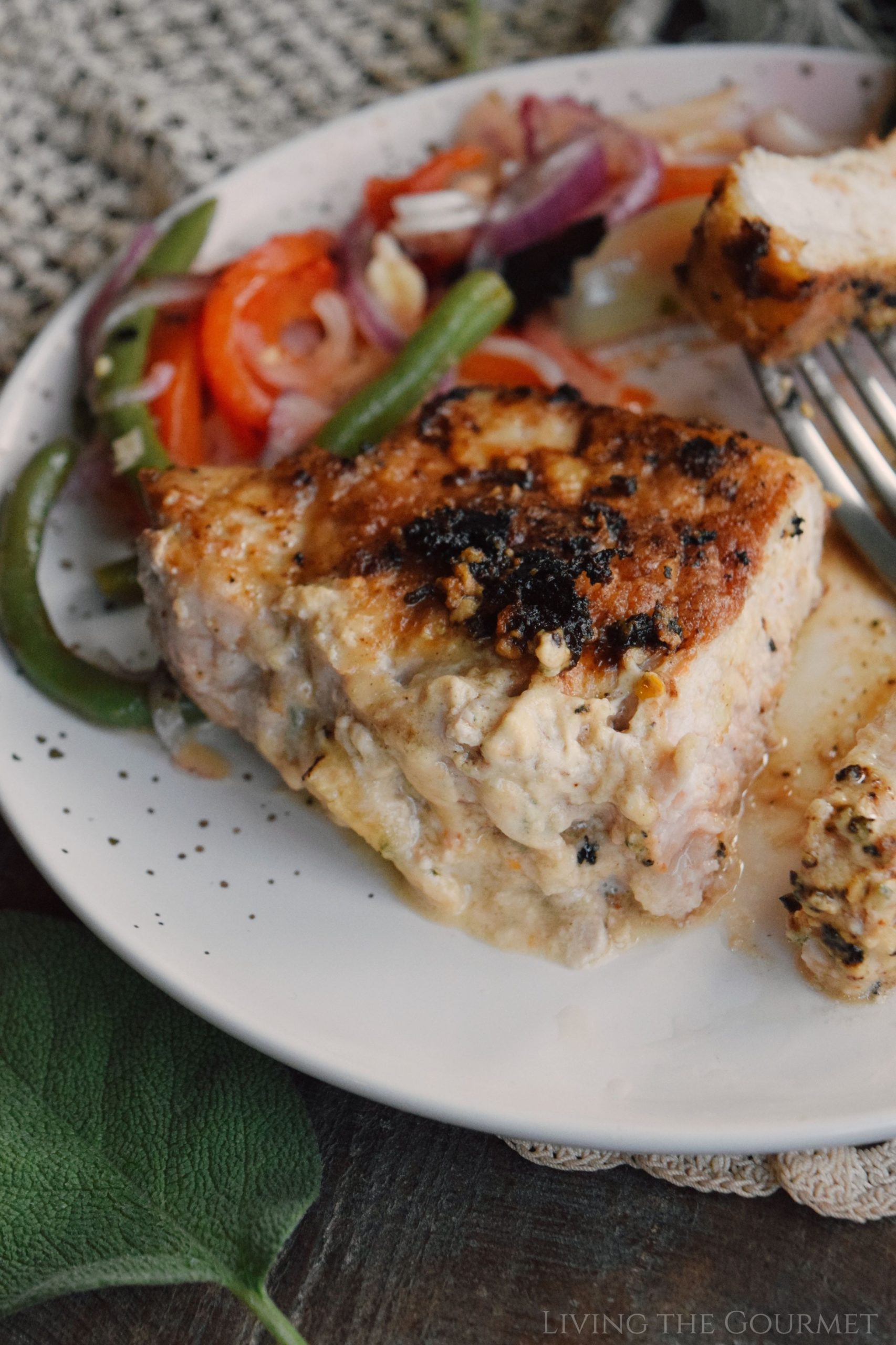 If You Enjoyed Today's Recipe…
Be sure to follow us on Instagram to stay up to date with all things Living the Gourmet, and for more great recipes, tips and tricks.
Did you make this recipe?
If so, let me know in the comments down below, or post a picture to Instagram, or to Pinterest, and I'll give you a shoutout on Instagram, or post your pin to one of my Pinterest boards!
0