Fresh stone fruit and ripe cherries come together for a lightly sweet seasonal dessert that is baked into a flaky crust and topped with fresh whipped cream.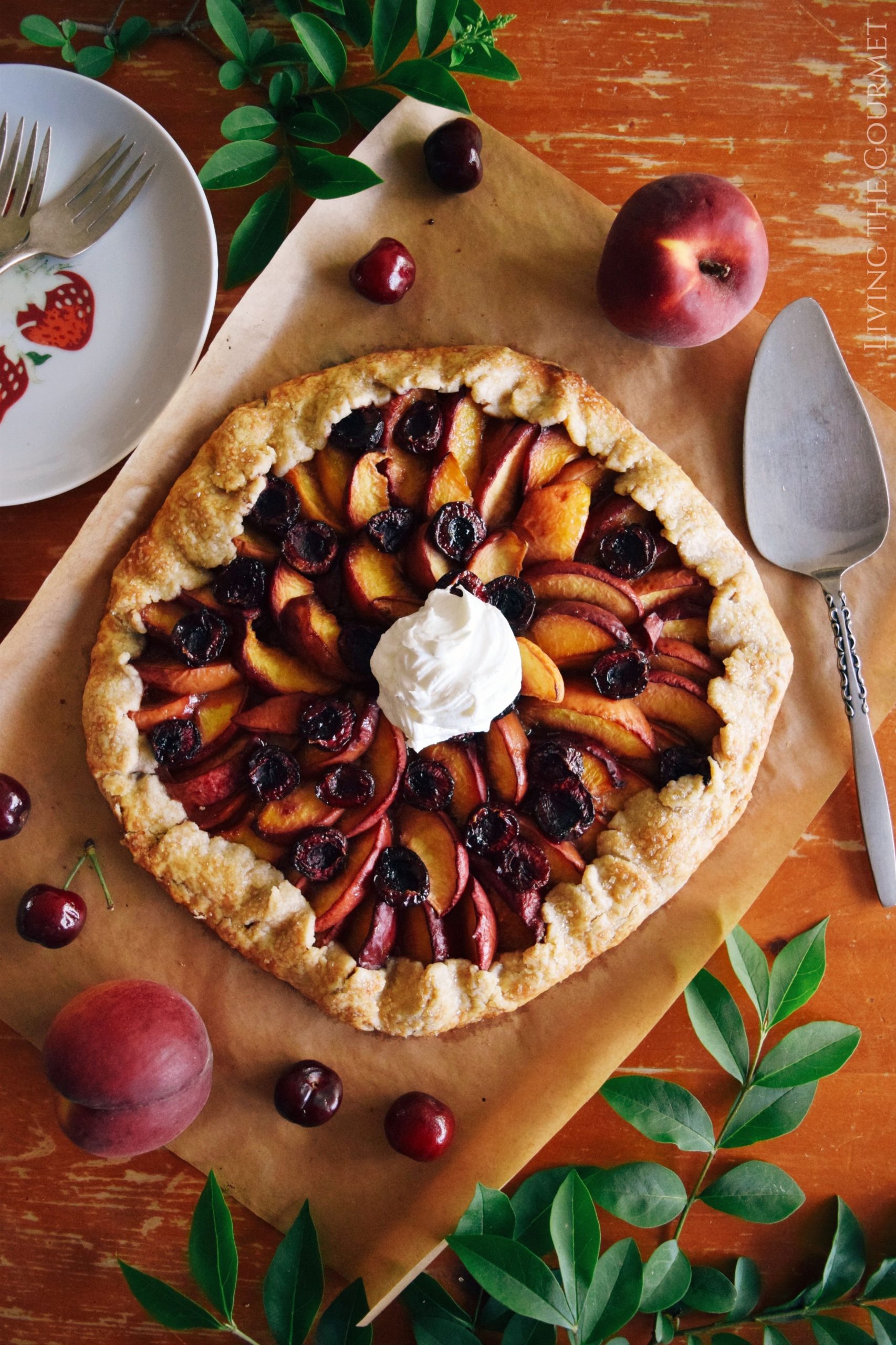 There is something undeniably comforting about pie in all it's shapes and forms. Now usually, when one thinks of 'comfort food' they think of something hearty, but since we're nearly into summer now, one may not necessarily crave something heavy. Yet, with all the rules in life, there is always that one exception…
It's acceptable to bake a pie throughout the seasons and I've often wondered why that is. I've come to the conclusion that there are two reasons for this- versatility and uniformity. Pies can easily be modified to the seasons unlike many other desserts- think fillings like apple, berry, rhubarab, stone fruit, dried fruit, pears, custard, cream, chocolate, etc. The possibilities are endless. Secondly, it's light yet satisfying without the 'heaviness' of most other comfort foods. There is the richness you crave in the dessert from the crust, and the all sweetness you need from the fruit.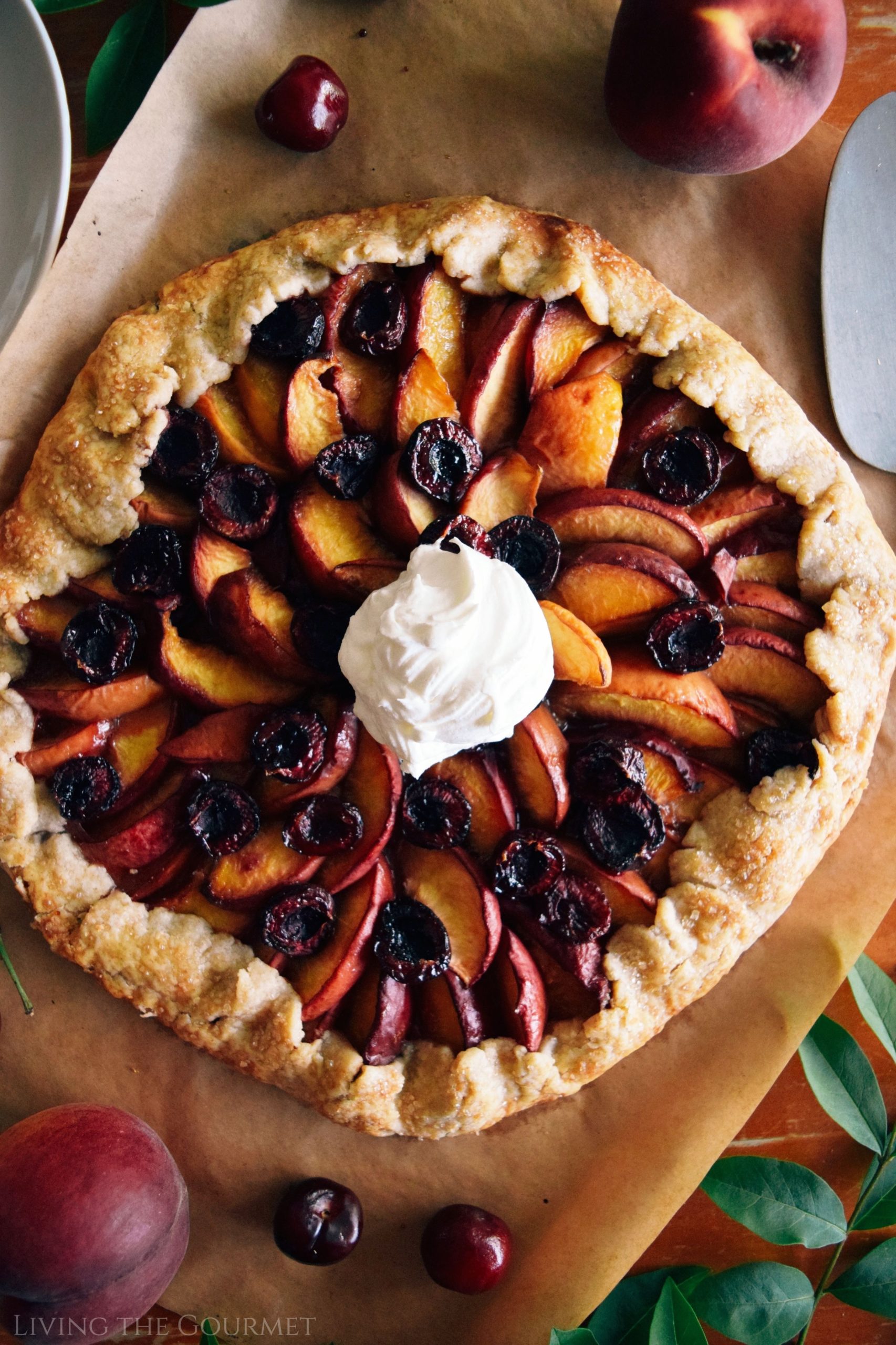 Today's recipe is an ode to the season featuring succulent peaches and wild cherries baked over a sweet pastry crust with raw sugar sprinkled on top. It is then finished off with a dollop of fresh whipped cream and may be served warm or cool.
Now before we jump right into the recipe, let's talk about pies and galettes because you may be wondering, other than the obvious, what really differentiates the two?
I'd like to think of galettes as sort of a nouvelle cuisine type of dish. I'd categorize it under pie, but it is in itself a modern take on the classic pie-baked-in-a-dish we grew up loving. In simpler terms, the galette is also much easier to make when you're craving something a little decadent, minus the fuss. With that said, galettes do not need to be pre-baked, the filling usually doesn't need to be cooked down beforehand like some other pie fillings, and of course, presentation is a breeze. While it's fun to get creative with decorative pies, the galette it's rather simple in theory- pour fruit in the middle, fold the sides over, bake and voila! You have a dessert for the seasons.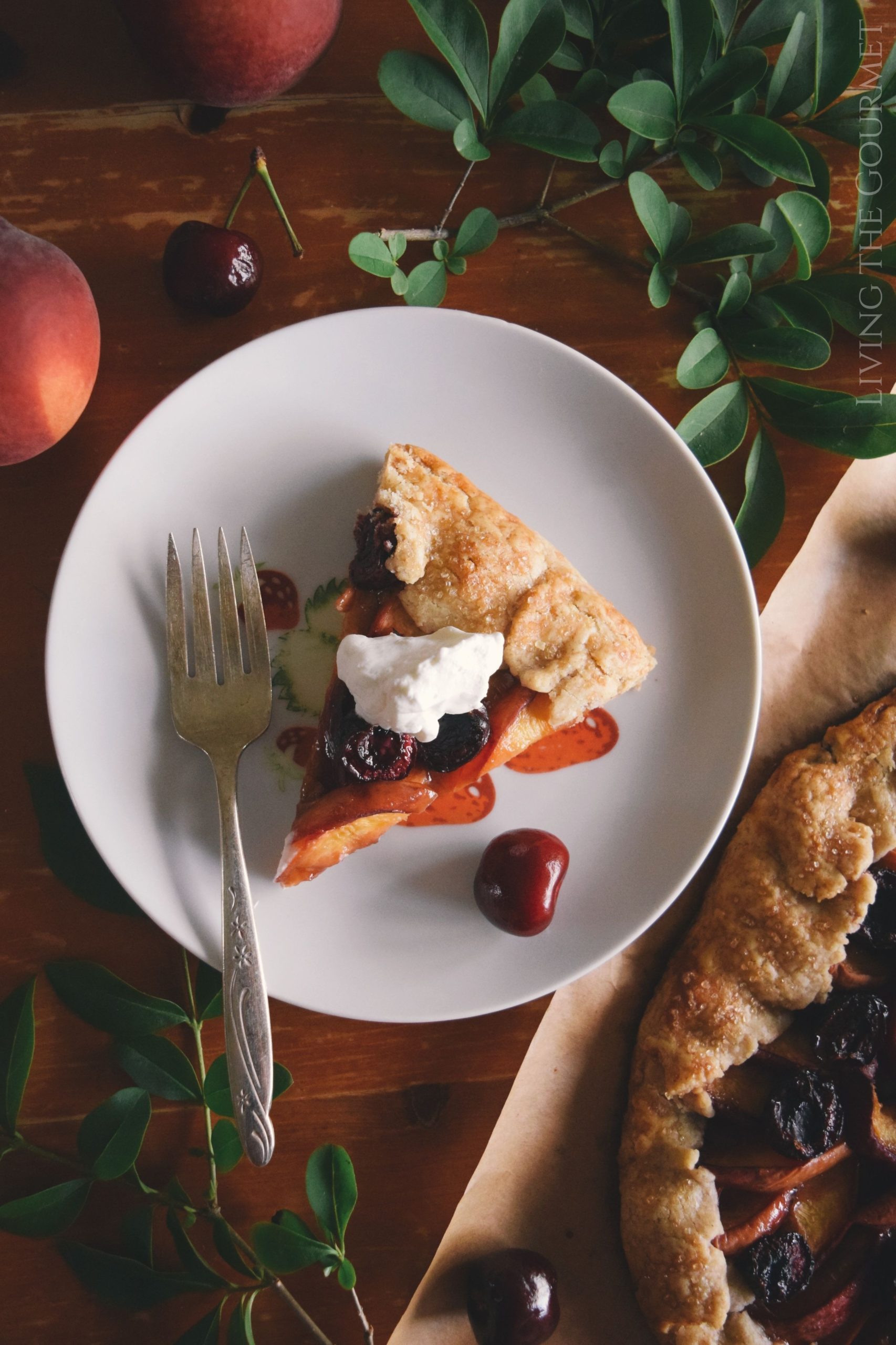 As I mentioned above, as with pies, galettes are just as multifaceted. They can be sweet or savory and may feature a variety of fruit fillings depending on what's in season or what you're in the mood for.
Below I've put together a small collection of my favorite pies, tarts, and galettes throughout the years on LTG for your viewing pleasure:
1. Upside Down Apple Pie. This vintage classic features a caramelized walnut topping baked over a golden, flakey crust and sweet apples in the middle.
2. French Lemon Tart. Hands down one of our most popular recipes on Pinterest (and rightfully so), this tart defines simple elegance with a buttery tart shell baked around a silky lemon curd.
3. Fresh Tomato Tart. Who said all pies had to be sweet?! This tart is baked to golden, flaky perfection with fresh tomato slices, herbs & grated cheese for a light meal or appetizer.
4. Basque Apple Tart. There are many reasons why I love this dessert aside from it's exquisite elegance. Sweet pastry dough is filled with a simple apple filling for a delicious dessert perfect any time of year.
5. Strawberry Spring Galette. Another formless pie (aka galette) showing off one of my other favorite seasonal fruits- strawberries.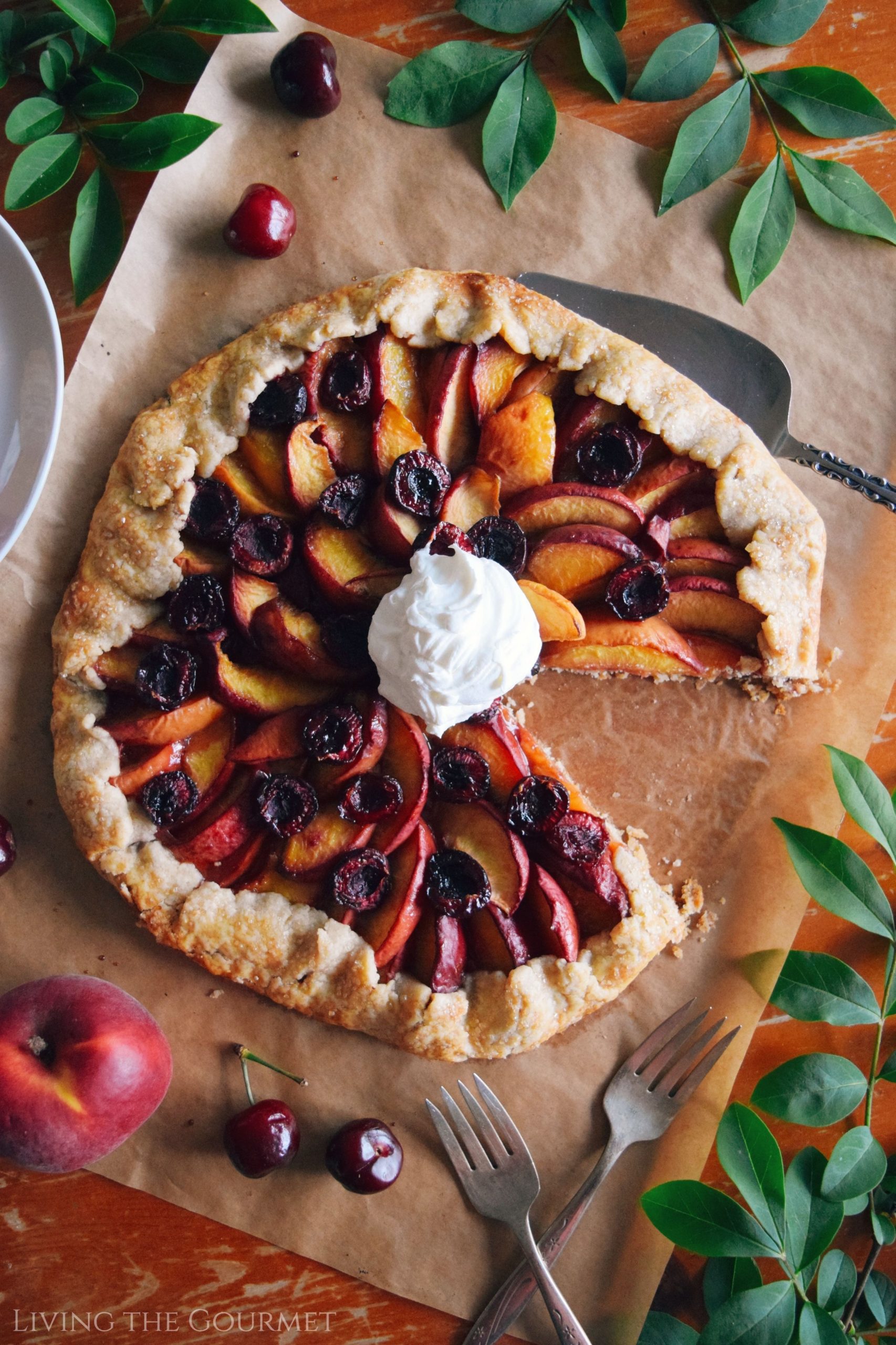 Print
Peach & Cherry Galette
---
Author:

Prep Time:

15 minutes

Cook Time:

35 minutes

Total Time:

50 minutes

Yield:

1

galette

1

x
For the dough:
1 cup

AP flour

1/3 cup

whole wheat flour

3/4 teaspoon

salt

1 tablespoon

sugar

½ cup

chilled butter, cubed

2 tablespoons

shortening

2 tablespoons

cold water
For the filling:
4

medium peaches (yellow peaches or nectarines work best here)

1/3 cup

cherries, halved (I used bing cherries)

½ cup

brown sugar

1 tablespoon

lemon juice

1 teaspoon

pure vanilla extract

1 tablespoon

cornstarch

1

egg + 1 tablespoon water (for the eggwash)
Turbinado sugar, for sprinkling
---
Instructions
In a food processor, pulse together all ingredients for the dough until it is soft and pliable. Shape in a disk, wrap in clingfilm, then chill in the refrigerator for about 1 hour or until ready to use.
For the filling, slice your peaches and cherries and toss them into a bowl with brown sugar, lemon juice, vanilla, and cornstarch. Set aside.
Preheat oven to 375 degrees F. line a baking sheet with parchment paper and set aside.
On a well-floured surface, roll out the dough into a 12-inch round, about 1/8-inch thick. Carefully transfer the dough to the prepared baking sheet.
Fan our the peach slices into the center of the circle, leaving about 1½-inch border. Sprinkle the sliced cherries on top. [NOTE: discard any liquid at the bottom of the bowl]. Fold the rim of the dough up and over the edge of the filling, overlapping the dough as you go and pleating it.
In a small bowl, whisk together egg and water for the egg wash and brush the sides of your galette. Top with turbinado sugar if desired and bake for 30-35 minutes, until the edges are golden.
Remove your galette and transfer to a cooling rack. This can be served warm or completely cooled. Best enjoyed with fresh cream or ice cream.
Notes
Prep Time does NOT include Inactive Prep Time.
Recipe Card powered by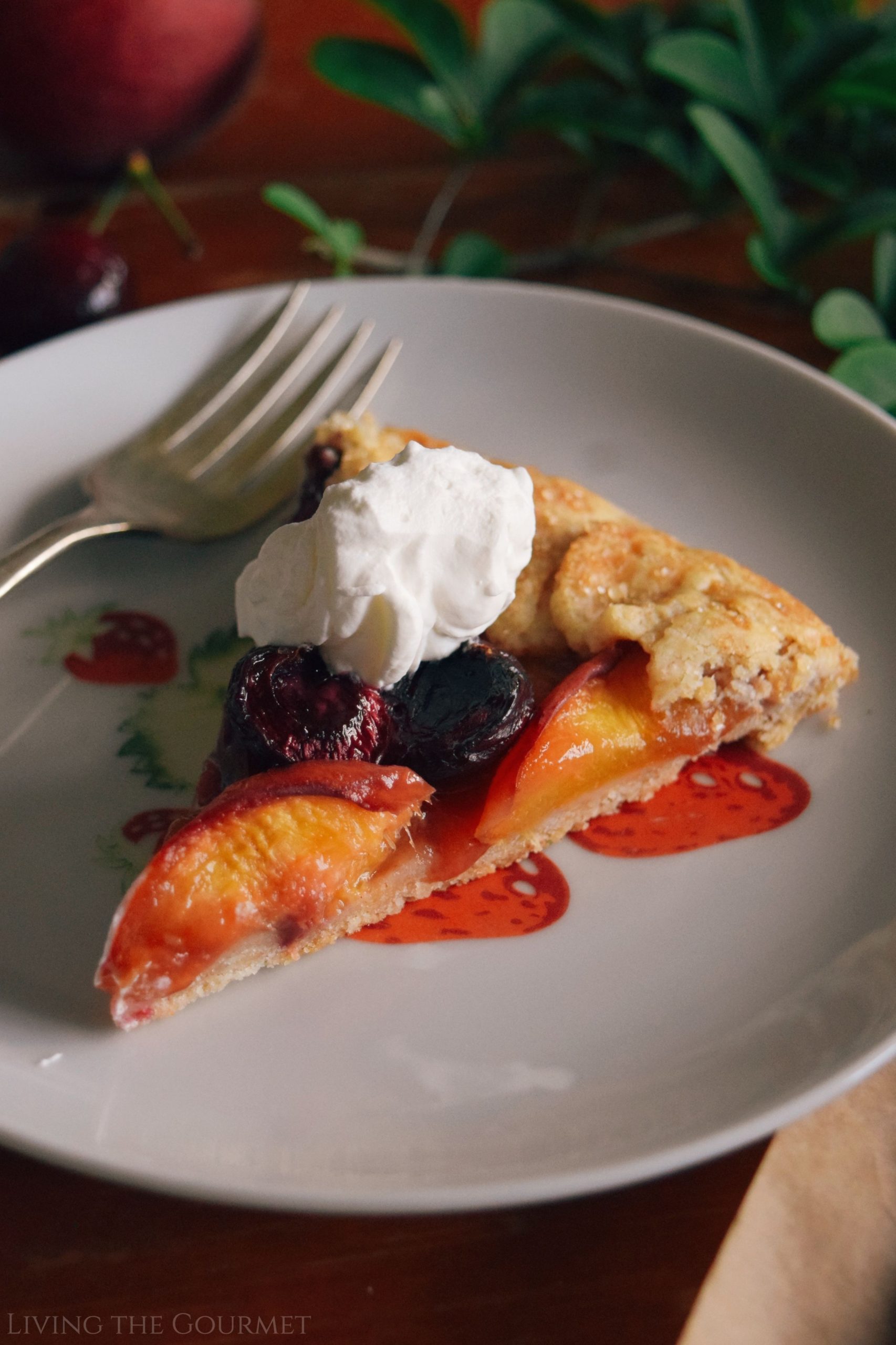 If You Enjoyed Today's Recipe…
Be sure to follow us on Instagram to stay up to date with all things Living the Gourmet, and for more great recipes, tips and tricks.
Did you make this recipe?
If so, let me know in the comments down below, or post a picture to Instagram, or to Pinterest, and I'll give you a shoutout on Instagram, or post your pin to one of my Pinterest boards!
0