Toasted then spread with fresh blackberry preserve, these sweet and savory crostini are a bold fusion of flavors.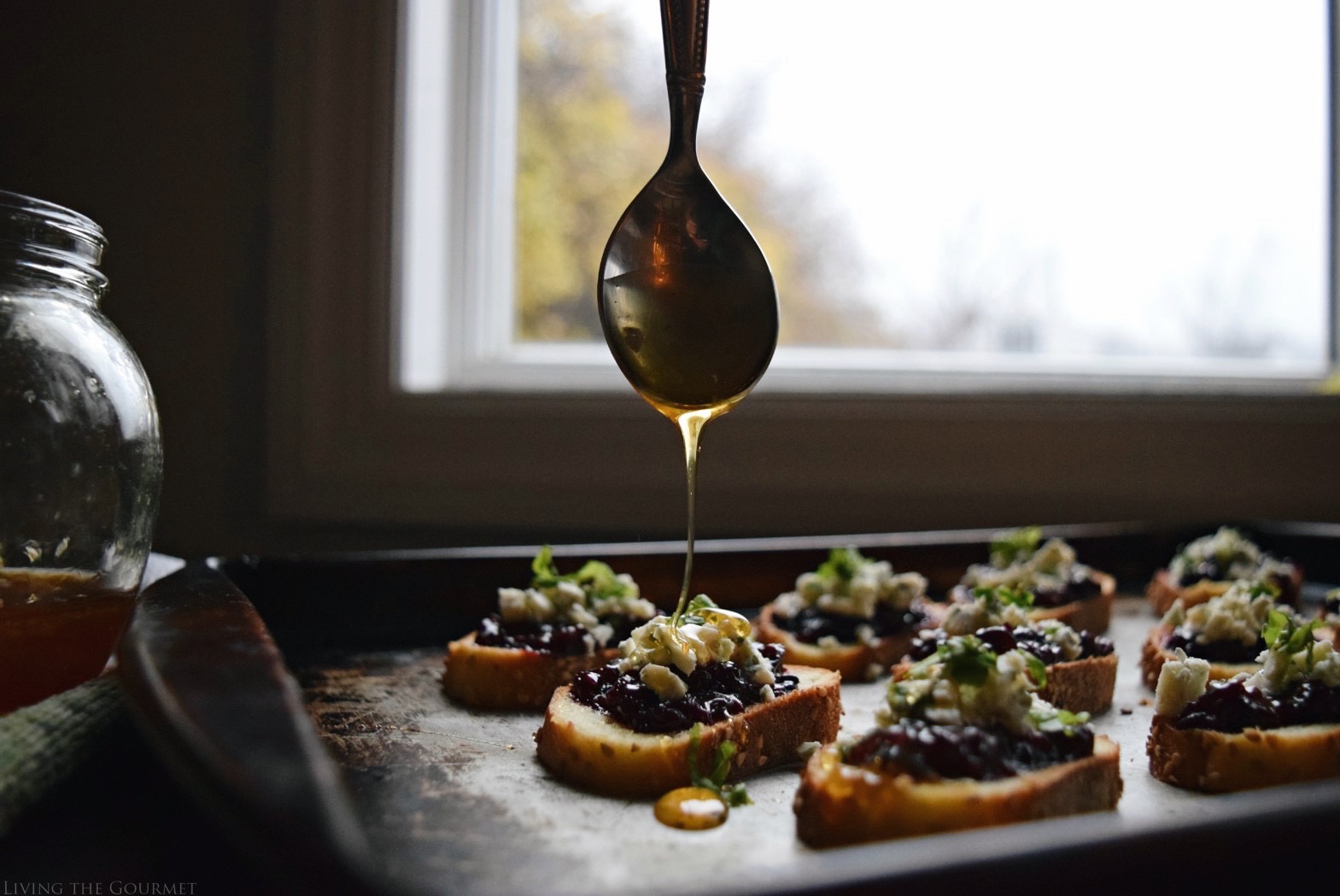 The Creative Cooking Crew is back for the holidays after a long, but needed break.
With our minds refreshed, our creativity renewed, and our mouths craving something new and delicious, we are sharing our best holiday dishes with honey as the star of the show!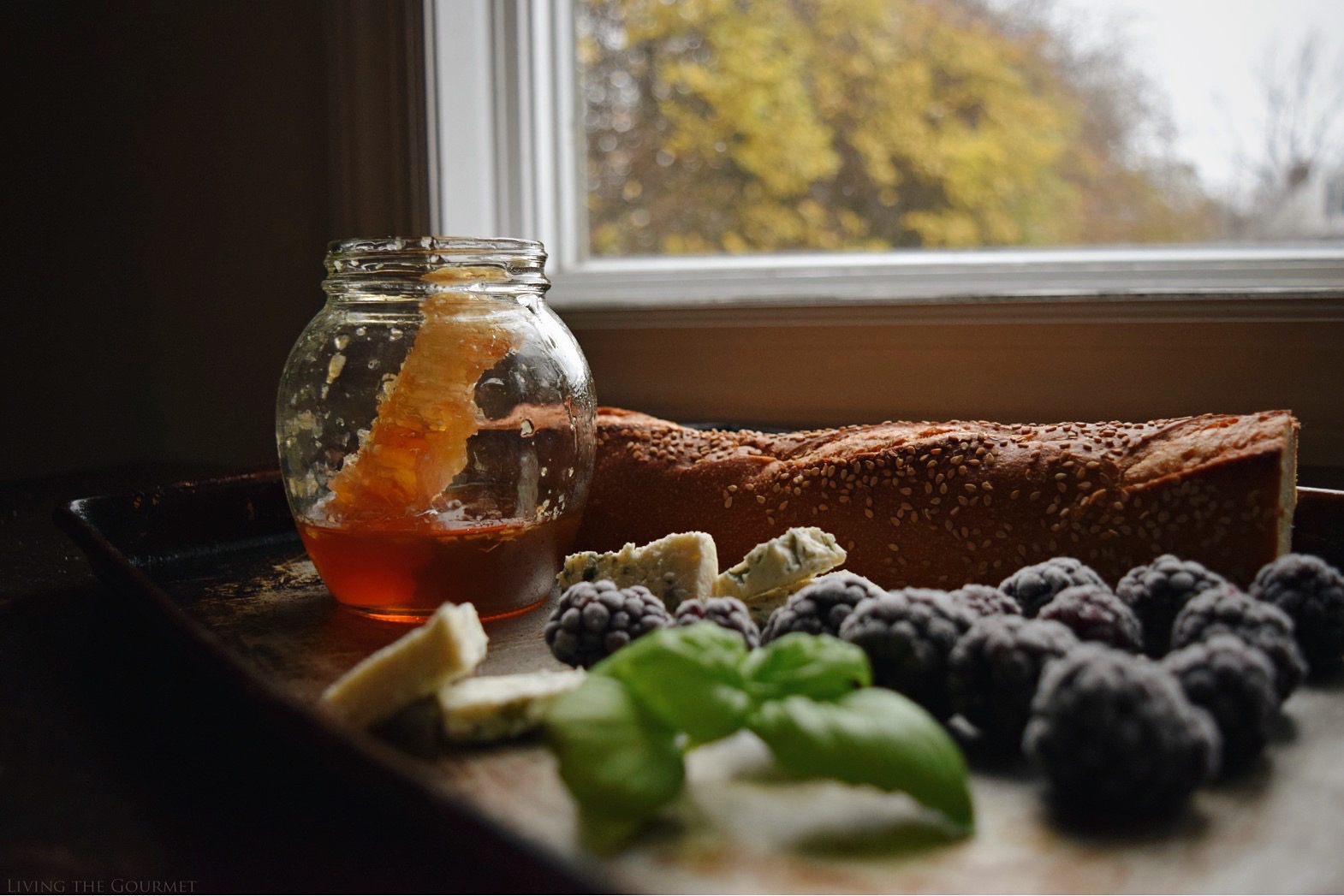 You may recall a couple of months back when we reviewed Don Victor Honey. Ever since then, it has easily become my favorite honey to use because it has a richer depth of flavor and I believe that is due in part to it having the raw honey comb in the jar.
In fact, I used a bit of the honey comb in my blackberry preserve. It evenly countered that bitterness from the blackberries but rather than masking the tartness, the honey complimented it.
To top it off, I crumbled some blue cheese, an additional drizzling of honey, fresh basil and finely chopped nuts to accent the flavors.
What a delightful pairing. This is truly a perfect and best of all, easy appetizer for Christmas and New Years.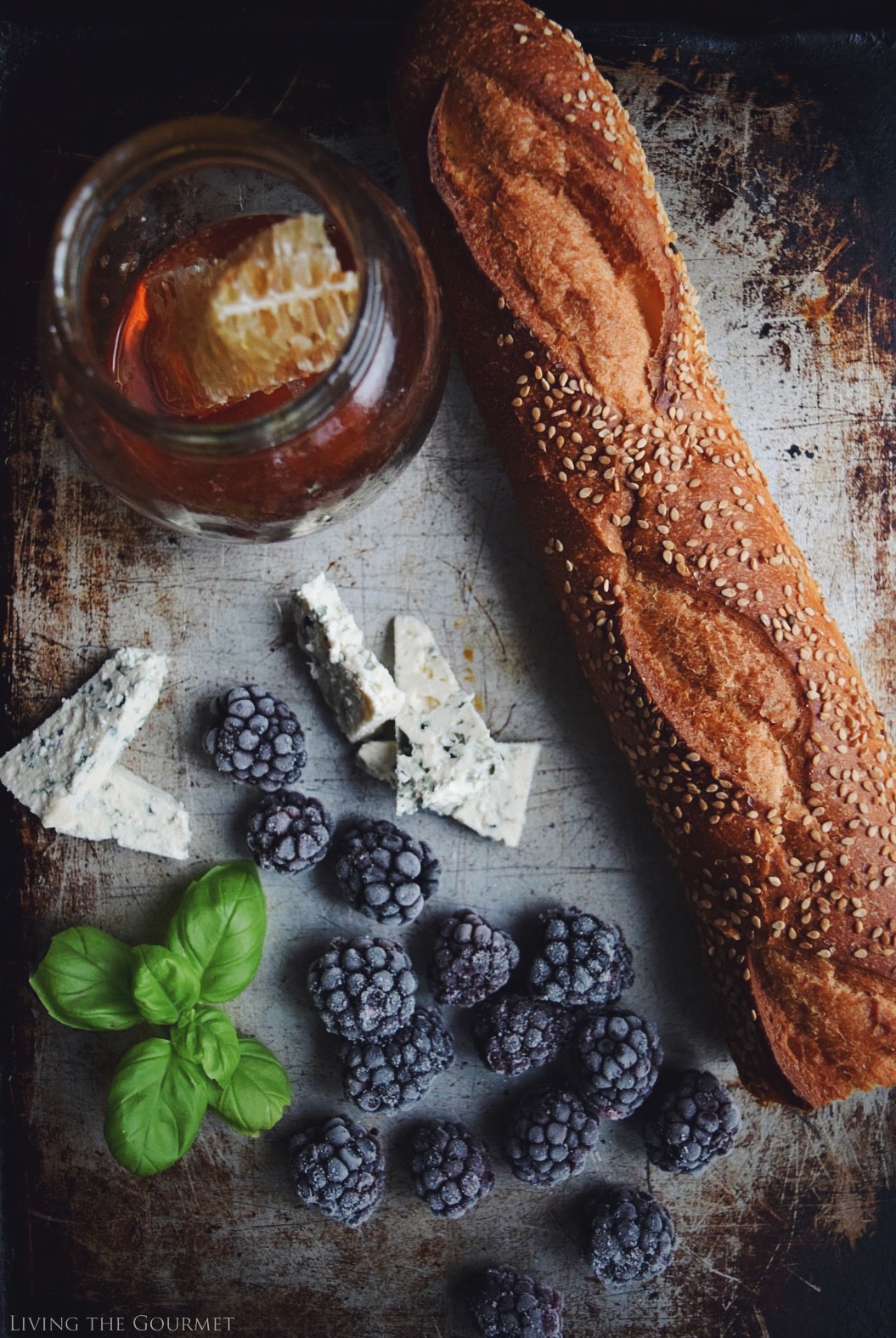 This week, I will be sharing the recipes from this month's Creative Cooking Crew's Honey Challenge.
I do hope you enjoy today's recipe and give it a try.
Living the Gourmet
Yields 12
Blackberry & Honey Crostini with Blue Cheese
5 minPrep Time
15 minCook Time
20 minTotal Time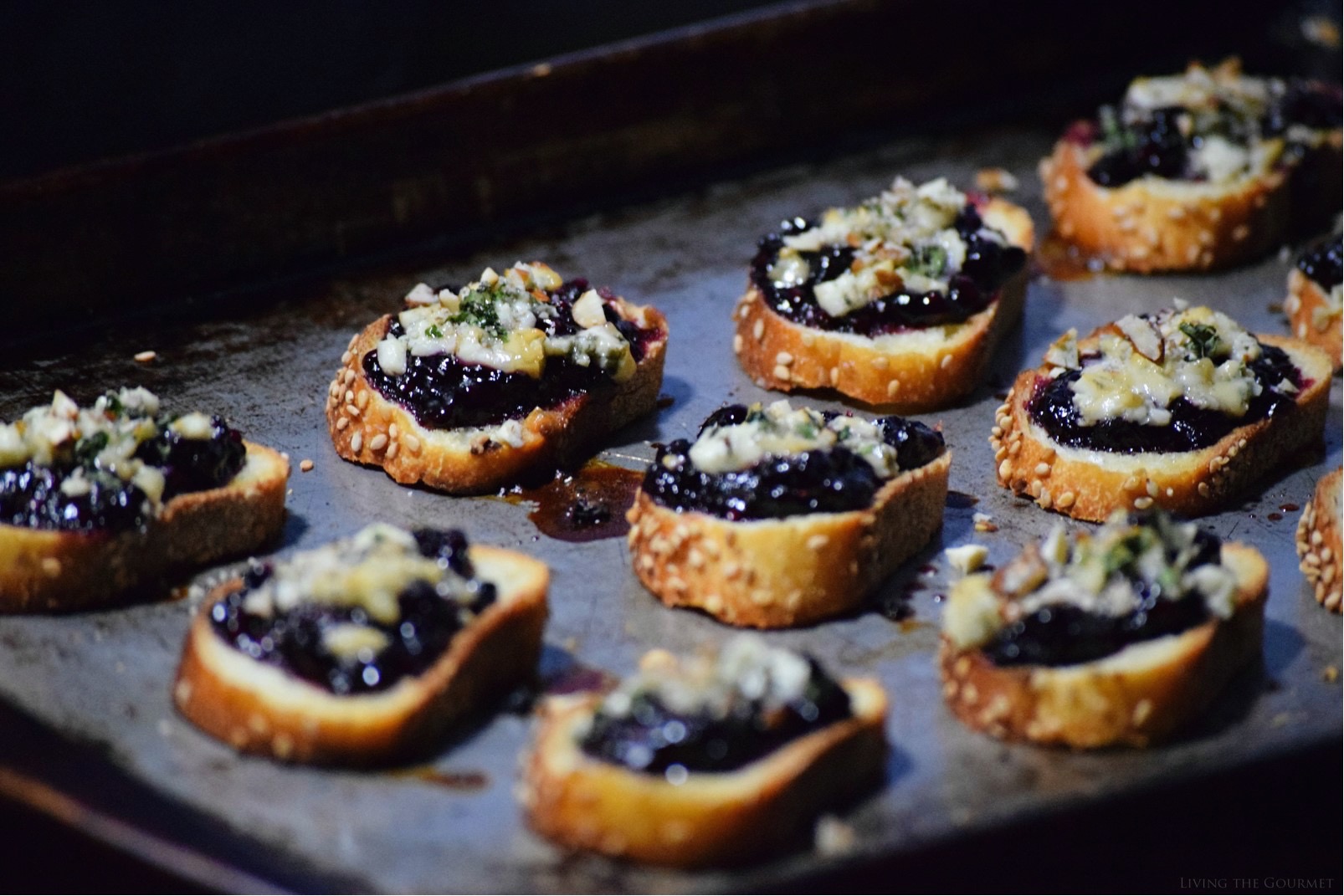 Ingredients
1/2 Semolina or Baguette
Olive Oil, for brushing the sliced bread
1 cup blackberries
1/4 fresh honey comb, about 1 tablespoon worth
3 tablespoons honey, plus more for drizzling
1 tablespoon cornstarch
1/2 cup crumbled blue cheese
1 sprig fresh basil, finely chopped
1/4 cup walnuts, finely chopped
Instructions
Preheat oven to 350 degrees F.
Slice your bread and place on baking sheet. You should have about 12 slices. Brush each slice with olive oil and bake for about 6-8 minutes.
In a small saucepan, cook down blackberries, cornstarch, honey comb and 3 tablespoons of honey. Let simmer until the mixture has thickened and the berries are completely cooked down. Let cool.
Spoon about 2 teaspoons of the blackberry preserve over the sliced crostini. Add a sprinkle of blue cheese, basil and the walnuts. Drizzle with honey and return to the oven for 5 minutes.
Serve & enjoy!
7.8.1.2
225
https://livingthegourmet.com/2015/12/blackberry-honey-crostini-with-blue-cheese.html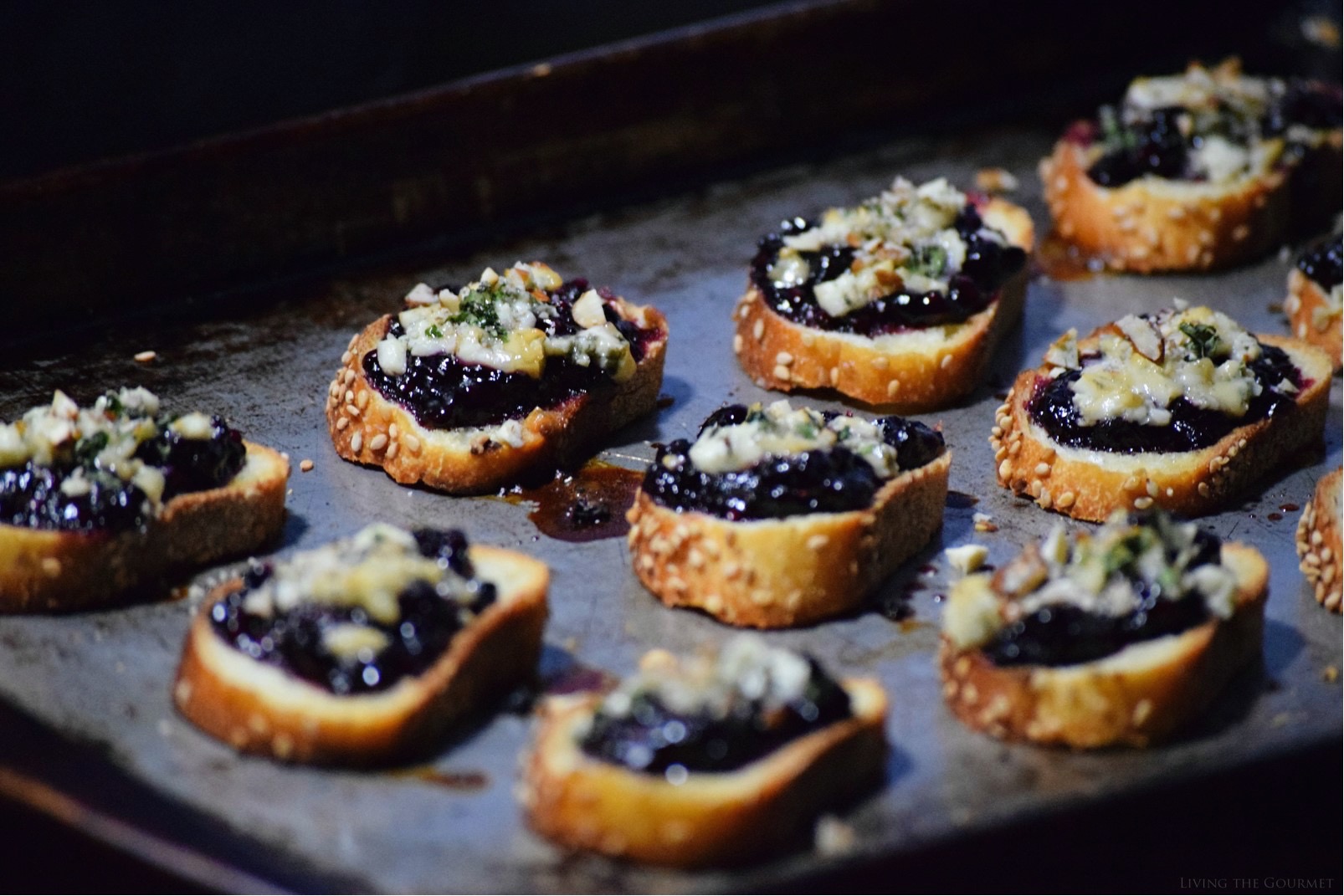 Toodles,
Tammy<3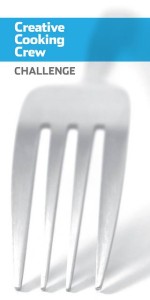 1