I'm always keeping an eye out for new and delicious ways to prepare one of my favorite things in the world – meatballs. Meatballs in soup, meatballs in sauce, meatballs over pasta, meatballs on a hero with melted cheese, red sauce, and plenty of red pepper. Or my son's personal favorite, meatballs cold from the fridge out of a plastic container…
I love a well-made meatball, but I'm not of the idea that there is any 'one' perfect way to make a meatball, which brings us to today's Asian-Style Meatballs, which are a delicious new take on a beloved favorite.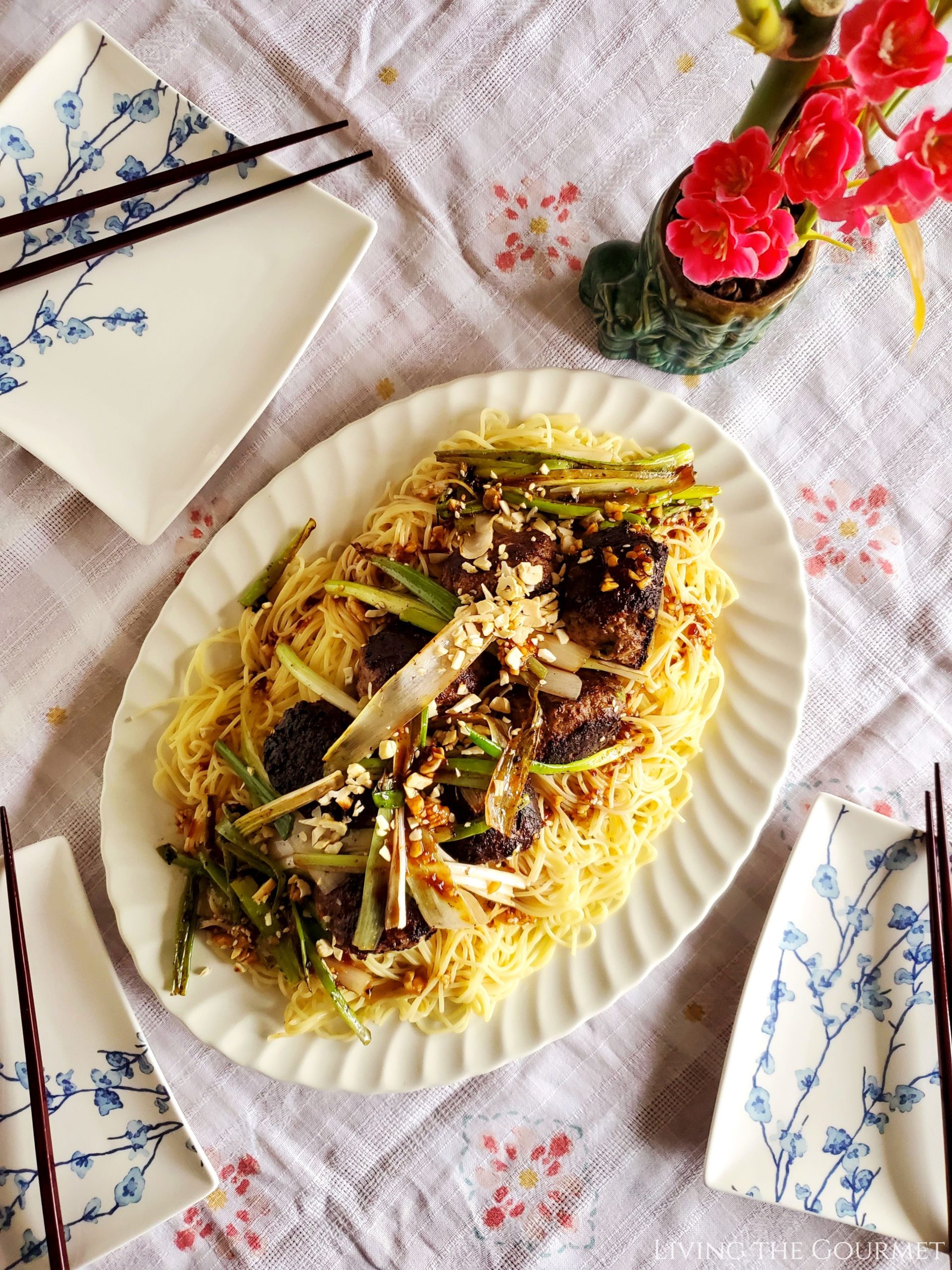 Ingredient Notes
1) Asian Style…what does that 'actually' mean? Asia is a big place…a really big place, and the majority of humanity lives there. However, I doubt many people would say that the various cuisines of India (of which there are many), have much at all in common with the various cuisines of China (of which there are many), and so on. However, there are equally stark differences between the cuisines of Morocco, Turkey, Israel, Greece, Italy, Spain, and Southern France, and yet all of those places often get lumped together when we speak of something being "Mediterranean-Style." What this means, simply, is that there is an overlap of ingredients. Recipes that involve some combination of olives, olive oil, sundried tomatoes, cilantro, sea salt, bay leaves, and the such all feature in most or all of these cuisines, and so when these ingredients come together to form a certain collage of flavors, the recipe can be safely dubbed "Mediterranean-style." The same is true of the various Asian cuisines. Things like sesame oil, peanut sauce, Teriyaki, fish sauce, fish paste, certain types of chilis, chili paste, soy sauce, soy paste, all heavily feature in various East Asian cuisines, and when a medley of these ingriedients come together in a 'one off' we can safely call that 'Asian-Style.'
2) Fish Sauce – What Is it? 'Why' Is It? Fish sauce is used to give recipes a distinct 'umami-fish' flavor to recipes, carried on abundant 'saltiness.' That's really the best way I can describe it, and there really isn't a substitute, as fish sauce is more or less a 'baseline' ingredient in the recipes in which it's used, especially since Soy Sauce and Fish Sauce are so often used together. So, that's 'what' fish sauce is, but 'why?' Well, for some reason, our distant ancestors the world over, from Ancient Rome to Ancient China, decided they loved the flavor of…fermented fish. Now, imagine that process for a second, from perspective of the first person to do it. Someone caught a fish, left it to bake in the sun, in its own juices, until it was quite literally falling apart with decay, after which they locked it away in a clay jar for months, and then…then they discard the now thoroughly decomposed fish and drink the juice. Yeah, our ancestors were braver souls than we. In ancient Europe, fermented fish sauce is recorded from about the 4th century BC in Greece. Roman fish sauce was called 'Garrum,' from the Greek 'Garos,' and it was so very popular throughout the empire that whole 'fabricae' (the ancient muscle-powered factories of the Romans) were devoted to its production. Garrum was typically made from heavily salted mackerel, discarded fish innards, and a mix of herbs, and then sometimes mixed with wine, vinegar, or simply olive oil before being used. In Ancient China, fish sauces and pastes were ubiquitous, with the first recorded uses dating back some twenty-three hundred years. In the Zhou Dynasty, fish was often fermented with soybeans and then used as a condiment. One popular by-product of this particular fermentation process is still widely used today, and you yourself are probably very familiar with it…it's called 'Soy Sauce.' Speak of which…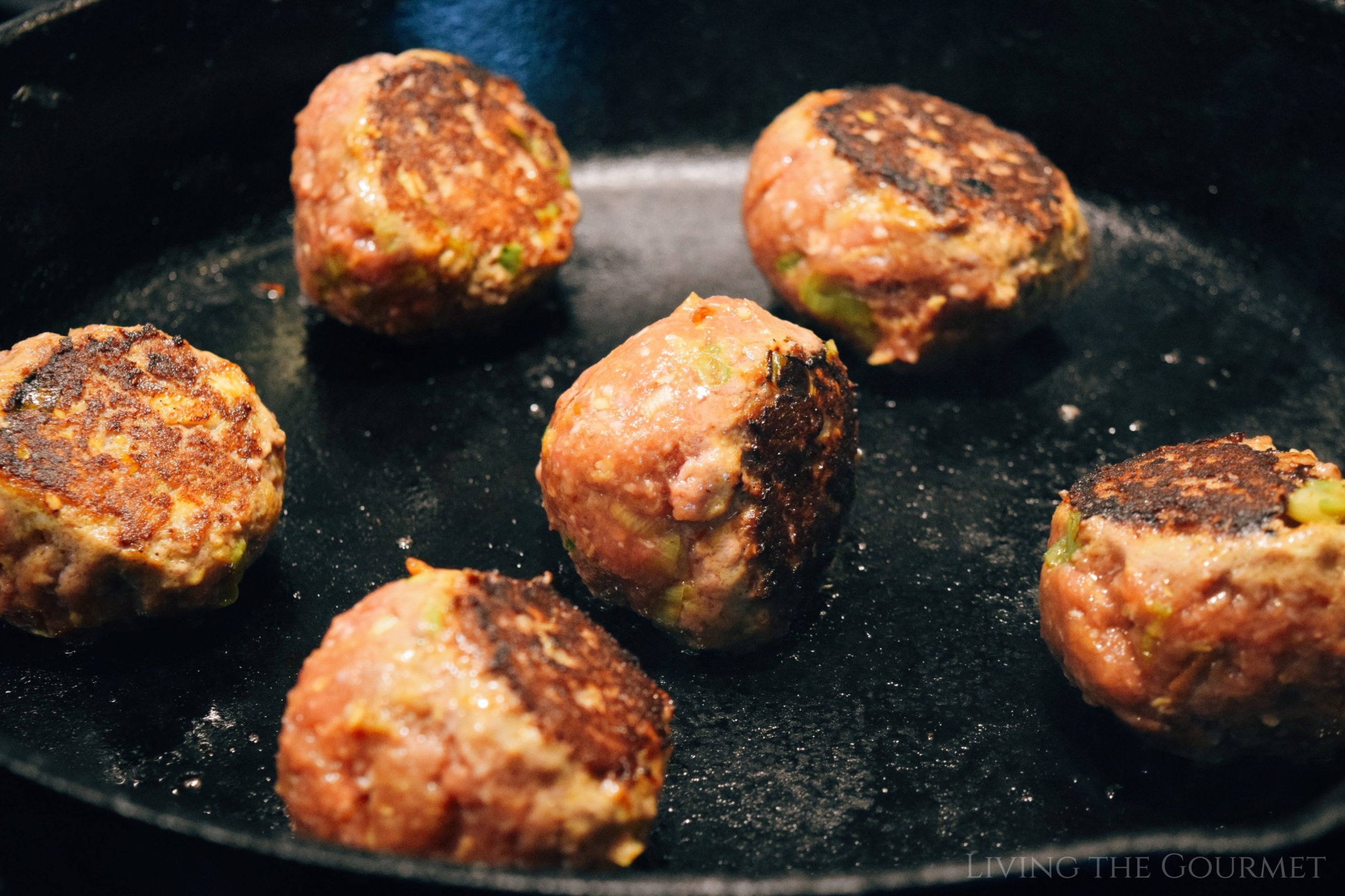 3) The Soy Sauce. The two principle types of soy sauce are 'light' and 'dark.' Light soy sauce is probably what most people think of when they think of 'soy sauce.' It's 'thinner,' having roughly the consistency of vinegar, and is sharp and salty tasting. Dark soy sauce is notably thicker, and somewhat sweet. Today I'm using light soy sauce because we want the added saltiness and moisture, whereas the added thickness and sweetness of dark soy suace simply wouldn't be palatable in the context of today's recipe. However, if you opt for dark soy sauce, let me know in the comments below how it turned out! I love hearing from you!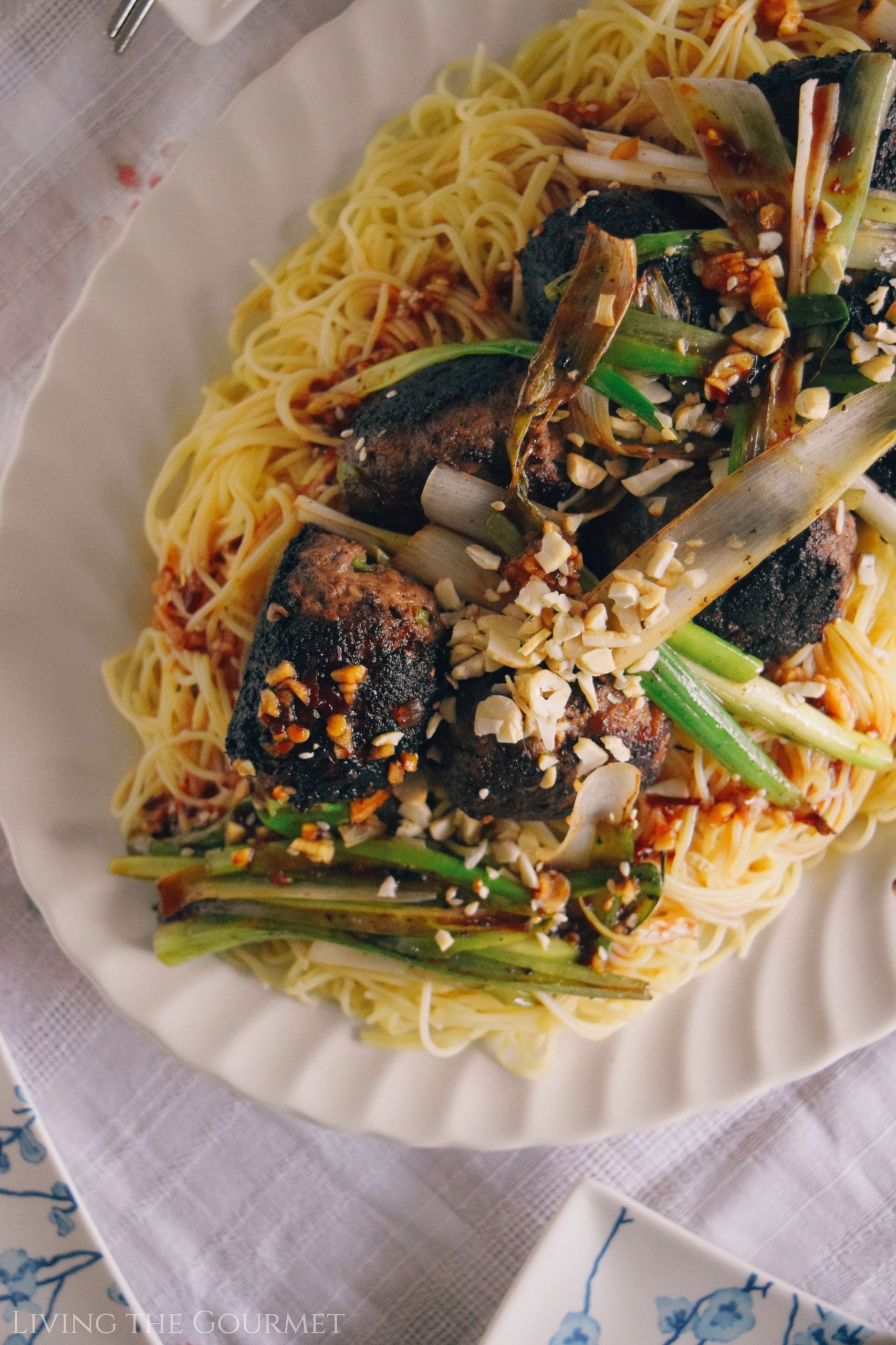 A Meatball Primer – Or How I learned to Stop Overworking, and Love the Mess
1) Don't Overwork The Meat. While it might be tempting to work the meat 'thoroughly' before you begin rolling it into balls, let me stop you right there and advise you 'thoroughly' against it. You want the meat and the ingredients to be uniformly combined, and that's it. Overworking will have the effect of adding too much air to the meat, and of 'squeezing' the meat too much, draining away the juices, or causing the meat to drain too much during cooking. This results in 'rubbery,' 'firm,' and 'dry' meatballs.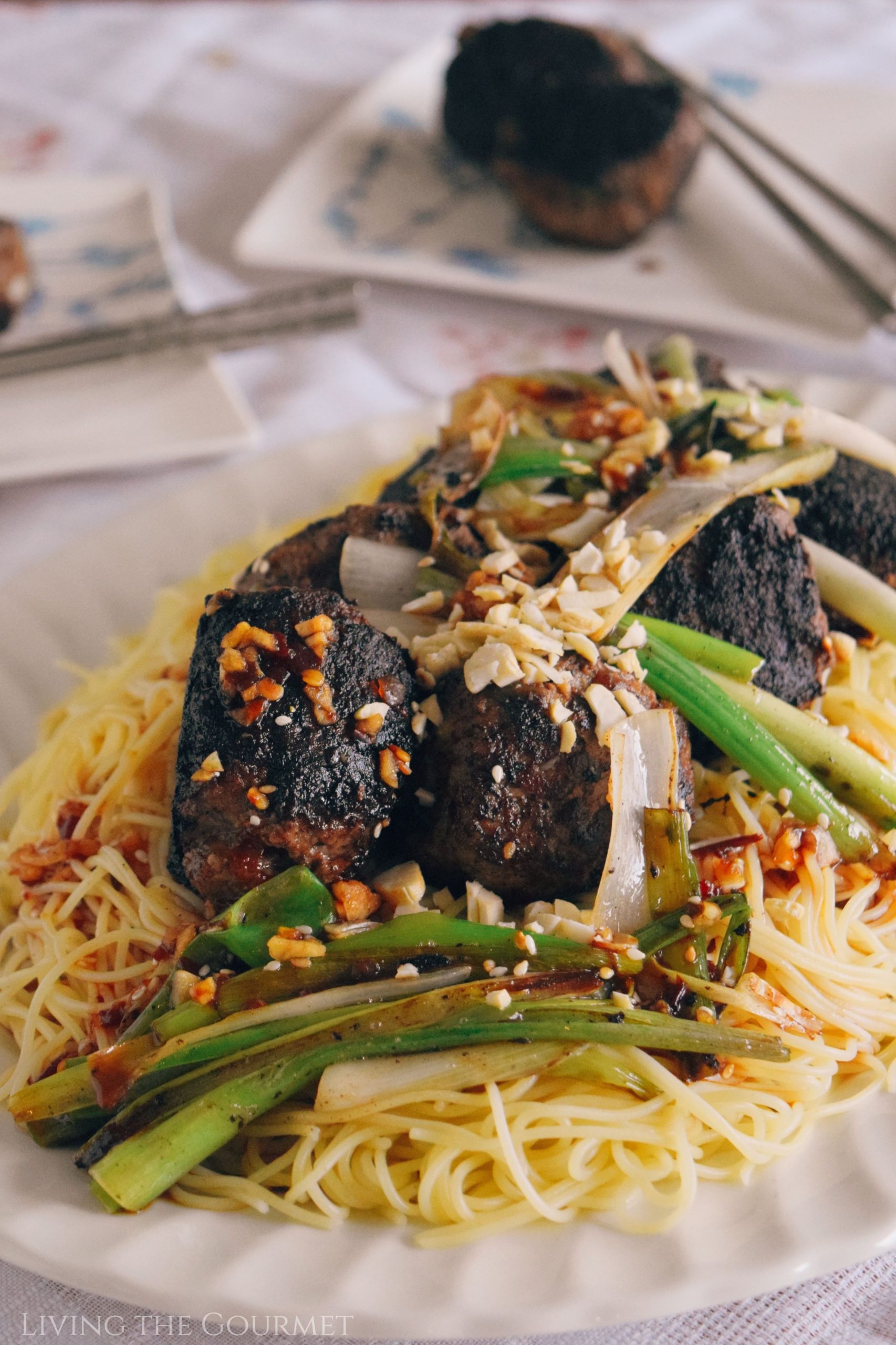 2) Don't Over Roll Them. Once again, this comes down to overworking. You don't need to pack the meat tight or form 'perfect' circular balls. Set them together into rough, loose balls just tight enough to maintain their form, and that's it. Seriously, work the mixture as little as possible.
3) They Love Being Fried. I used to bake my meatballs, but honestly frying them in a cast iron pan with some oil just makes a world of difference. Not only does it give them a crisp and succulent outside, but it truly makes them moister on the inside.
4) Noodles or Rice. You can serve these meatballs tossed with either your favorite noodles or rice drizzled with the leftover Asian Style Sauce. It's easy, versatile, and delicious!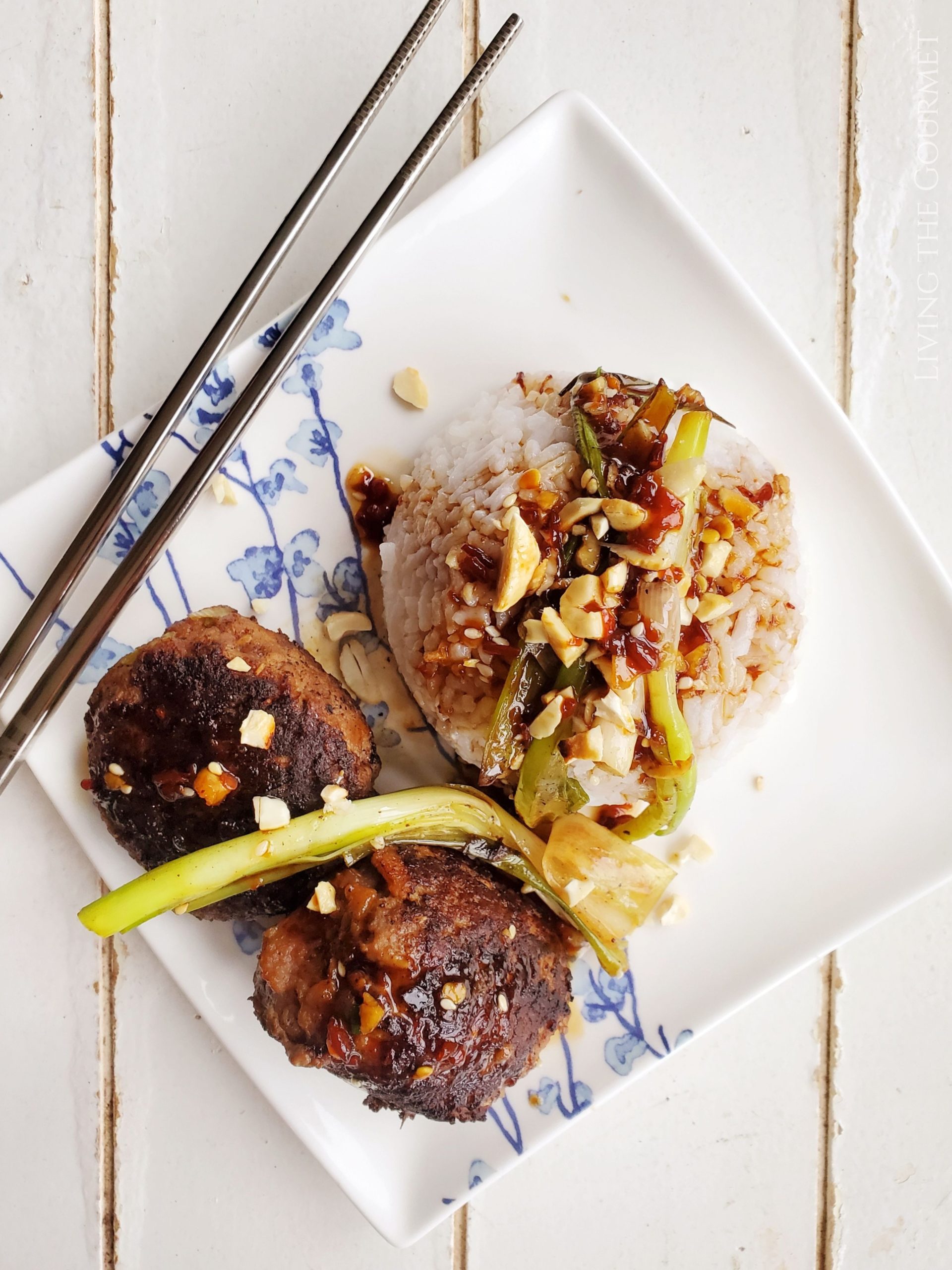 More Meatball Goodness
1) Spinach and Meatball Soup. A hardy and warming soup. The meatballs give the broth a 'thick' texture and 'meaty' flavor, while the veggies and herbs keep the sound grounded. I really can't recommend this one enough.
2) Pignoli Meatballs. One of favorite way to prepare meatballs is with raisins and pignoli nuts, and then to pan fry them, which create a beautifully moist, subtly sweet meatball that's simply a delight from start to finish.
3) Paprika Meatballs. Rustic 'old world' style meatballs in red sauce over spaghetti. The addition of the paprika gives these a bit of 'earthy smokiness' and just a hint of background 'spice.'
4) Greek Meatballs. The addition of cinnamon, golden raisins, and copious amounts of oregano, paired with a Greek Red Sauce, differentiates these Hellenic delights from their Italian counterparts.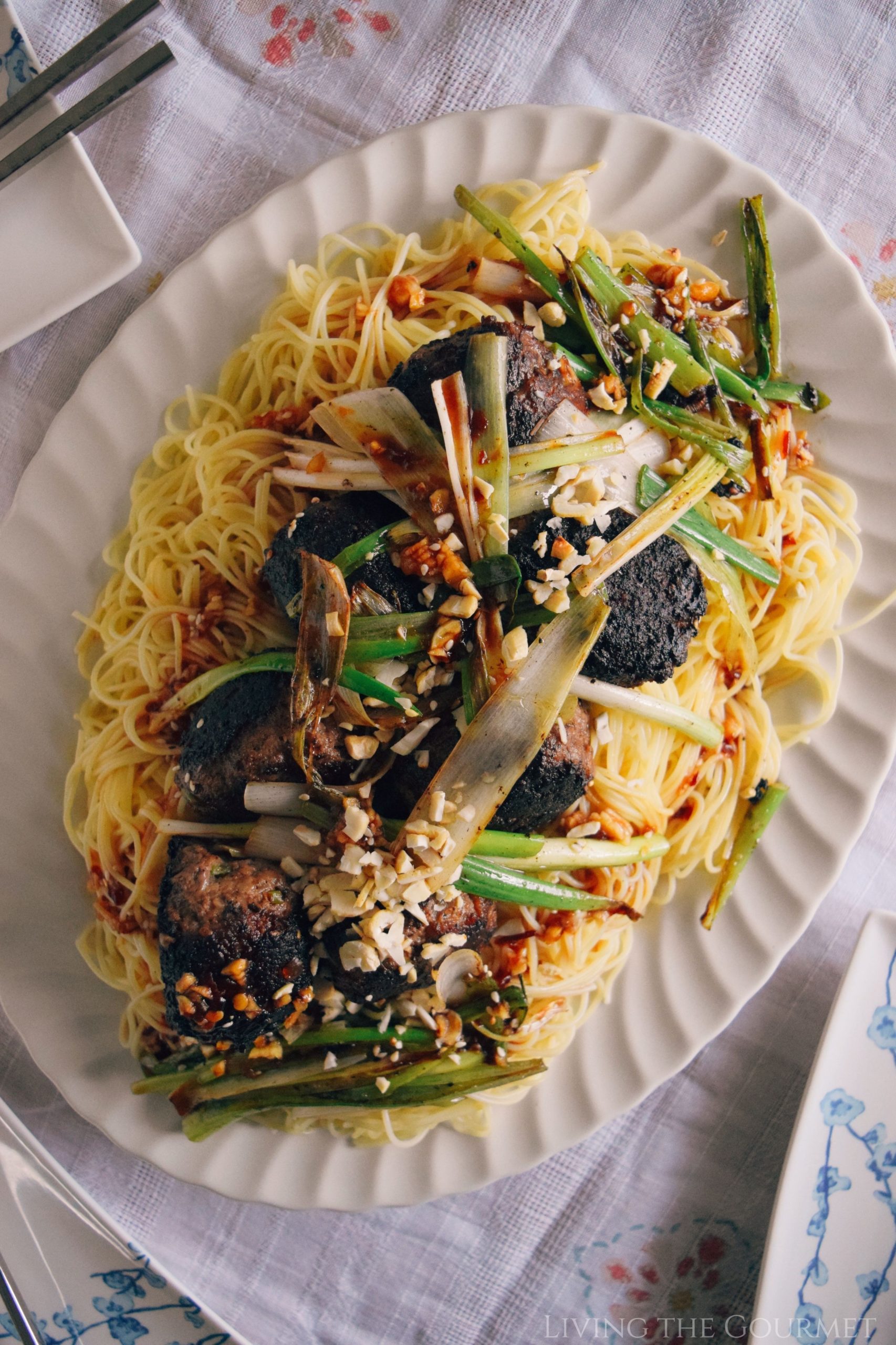 Living the Gourmet
Yields 4
Asian Style Meatballs
10 minPrep Time
15 minCook Time
25 minTotal Time
5 based on 2 review(s)
Ingredients
1 ½ lbs. of ground beef
2 tbs. Teriyaki Sauce
2 tbs. Soy Sauce
2 tsps. Chili Paste
1 tbs. Sesame Oil
2 slices of sandwich bread – crumbled
2 scallions – chopped
3 – 4 cloves of garlic – chopped
2 eggs
1 tbs. sesame seeds
Vegetable oil – for frying
1 lb. of your favorite spaghetti
4 – 5 scallions – sliced in half - reserving these for grilling and garnish

For the Asian Style Sauce:

2 tbs. Soy Sauce
2 tbs. Teriyaki Sauce
1 tbs. Fish Sauce
1 tbs. Chili Paste
1 tbs. Sesame Oil
3 cloves of chopped garlic
½ tsp. sugar
½ cup of chopped cashews
3 - 4 scallions – chopped
Instructions
For the meatballs:

In a large bowl, crumble the bread and add in the eggs, Teriyaki Sauce, Soy Sauce, Chili Paste, Sesame oil, chopped garlic, sesame seeds and chopped scallions. Mix this together with the bread so that the bread absorbs the moisture.
Add in the ground beef and mix, however, do not over-mix, and form into desired sized meat balls.

For the Asian Style Sauce:

Heat a small cast iron frying pan and place the cashews. Let the cashews get a nice golden color on both sides. Remove from the pan and gently chop into small pieces.
Combine all of the ingredients for the sauce in a small bowl and stir, adding in the chopped cashews and scallions If more sauce is desired, simply double the recipe.
Prepare the pasta as directed and drain.
Place the pasta on a serving platter. Place the meat balls on the pasta, followed by the grilled scallions and pour the sauce over the pasta and meat balls.
Garnish with the grilled scallions.
This recipe may also be served with rice replacing the pasta.
Heat a large cast iron frying pan with a tablespoon or two of oil.
Place a few meat balls at a time into the pan, do not over crowd the pan and allow each side of the meat ball to achieve a nice golden color. Cook on all sides, about 2 – 3 minutes per side for smaller meat balls. The cooking time depends on the size of the meat balls, the larger the size the longer the cooking time will take.
Remove from the pan and place on a platter.
Place the sliced scallions in the pan that the meat balls were grilled in and allow to get a nice golden color. Place these aside to garnish the pasta with.
7.8.1.2
1434
https://livingthegourmet.com/2020/05/asian-style-meatballs.html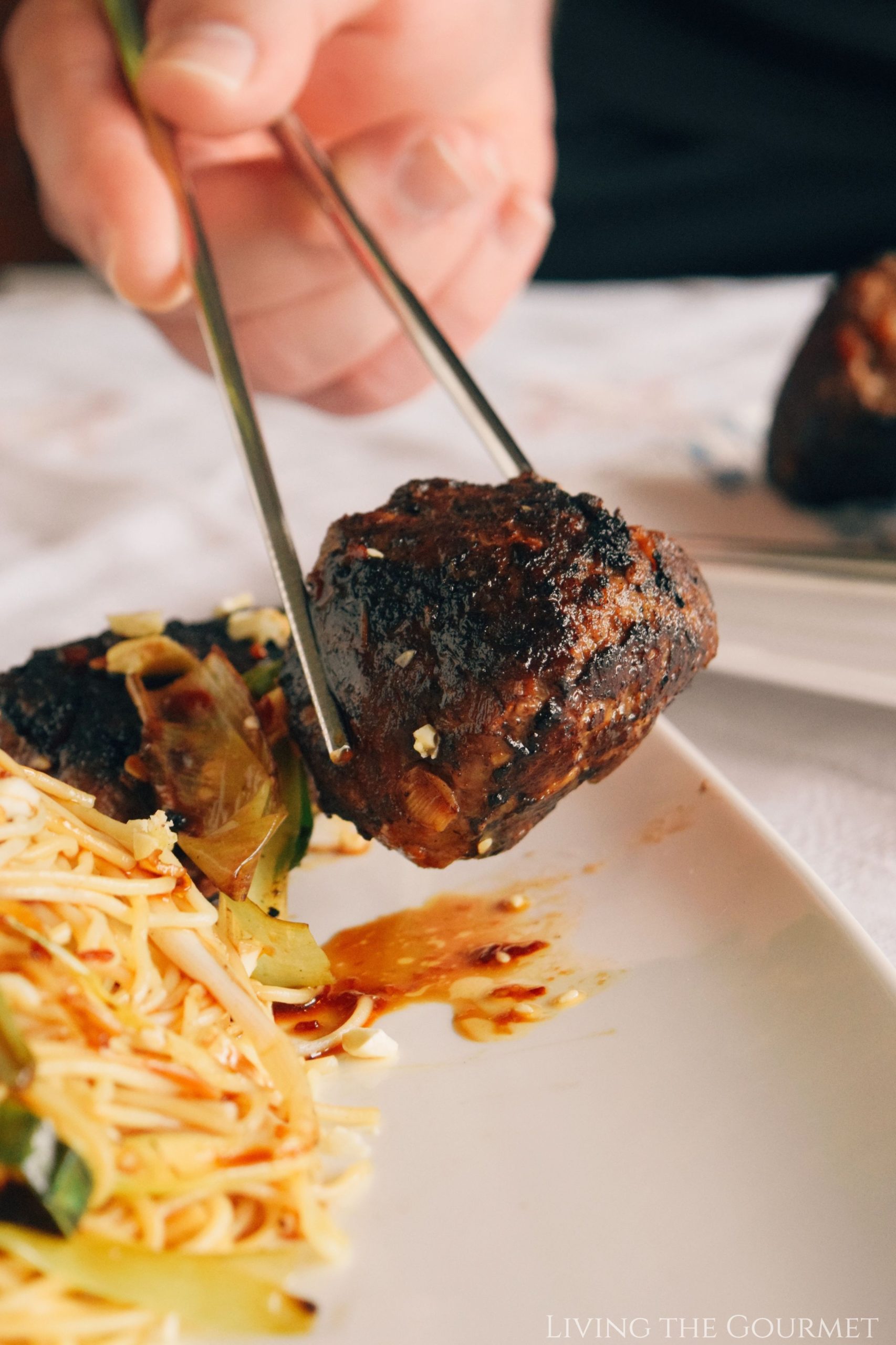 If You Enjoyed Today's Recipe…
Be sure to follow us on Instagram to stay up to date with all things Living the Gourmet, and for more great recipes, tips and tricks.
Did you make this recipe?
If so, let me know in the comments down below, or post a picture to Instagram, or to Pinterest, and I'll give you a shoutout on Instagram, or post your pin to one of my Pinterest boards!
0