Set it and forget it. Drop and go. Autopilot. Cruise control. Whatever metaphor you prefer for a process that's so easy it basically takes care of itself, that's what a slow-cooker is for the kitchen. You set your meal to cook – slowly – and then come back hours later to a finished one pot meal, and that's exactly how we're preparing today's recipe.
Today, we're preparing a super simple, back-to-basics Slow Cooker Pot Roast, with a traditional medley of warming, hardy ingredients, such as fresh garlic, onions, carrots, potatoes and beef bouillon.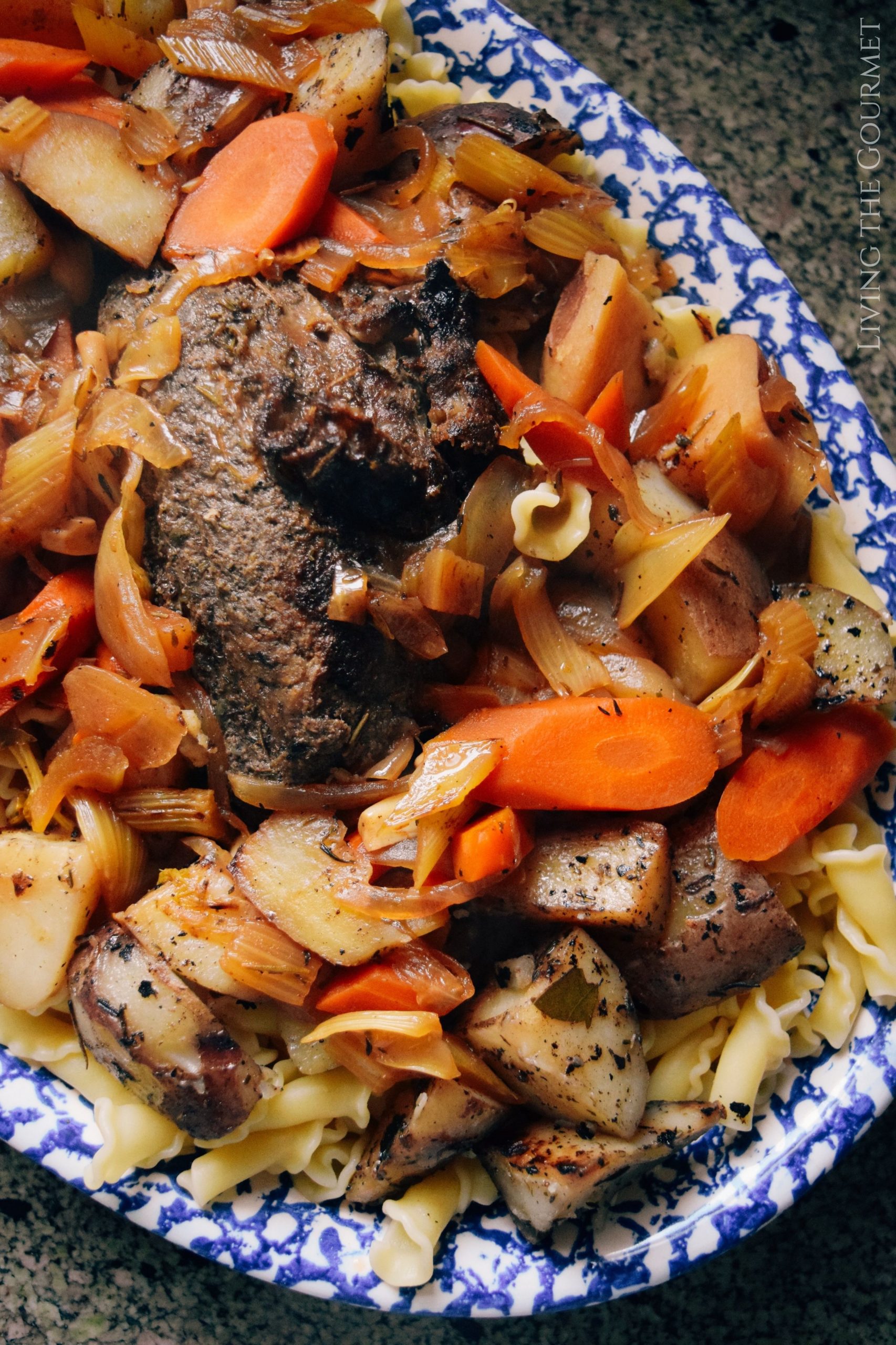 Pot Roast Pointers – A Brief(ish) Primer
1) What is it? Pot roast isn't a 'cut' of beef, but rather a 'cooking process.' At the risk of being 'Madam Obvious,' pot roast is simply beef that has been roasted in a pot, ideally with a nice bouquet of herbs and medley of hardy veggies. The end result is a 'stew-like' one-pot-meal. While you can theoretically 'pot roast' any cut of beef, different cuts give different results – more on that below.
2) Low and Slow is a Must. The best pot roasts are cooked at low temperatures for long periods of time. Slightly raising the temperature to cook the roast quicker results in a tougher, dryer piece of meat. The higher the temperature, the tougher and dryer it becomes, which is why cooking it in a slow cooker would be ideal for this dish. I am really loving my Cuisinart Programmable Slow Cooker these days which I shared a little bit more about on Instagram.
3) Brown First, Pot Roast Second. As a rule, you'll want to give the meat a quick 'browning' in a cast iron pan just before delivering the roast into the pot. This initial browning is where you can add in flavor to the meat, such as brown the meat in herbed butter, or rubbing down the roast with herbs beforehand. This browning process has the effect of sealing in the juices, and giving the outside of the meat a nice 'crisp' and touch of 'color' that it won't otherwise get in the pot.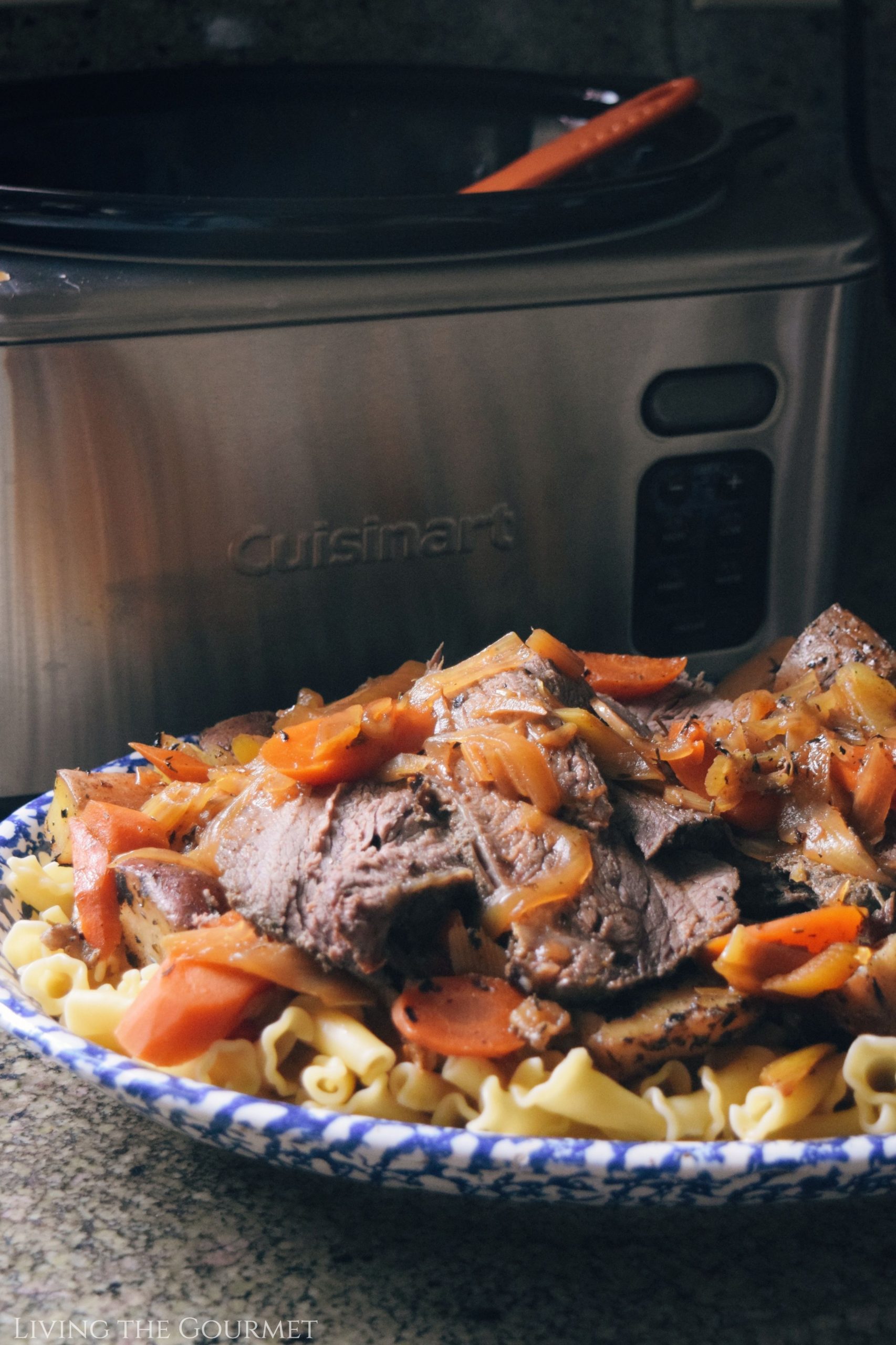 4) The Best Beef for Pot Roasting. Chuck roast. As I covered in a previous post, fat is flavor when it comes to meat – all meat. Why is this? Well, you can thank our lowly origins as a species, and our ancestors' need to 'store nutrients.' For a detailed dive, see the aforementioned link. With that in mind, chuck roast contains somewhere in the ballpark of 20% fat. This is roughly the 'midrange' of fat content when it comes to cuts of beef, being fattier than brisket, sirloin, or round, but leaner than rib or loin cuts. Normally, when selecting beef you tend to look for the juiciest and tenderest of cuts, but while this is a good rule for steaks, the opposite is true when looking for cuts to roast. Slow-and-low pot roasting 'tenderizes' the meat by dissolving the connective tissue, and reducing away the fat into the broth and meat. Thus, if you're starting with a cut of beef that is already maximally tender, you can imagine the issues that might occur. By contrast, if you start with a piece of meat that isn't fatty, you end up simply drying out and toughening the meat as the muscle tissue simply reduces away its juices without having those juices replaced by melting fat.
It's probably worth noting that chuck roast is 'so' common for pot roasting, that some butchers simply label chuck roast as 'pot roast.' Other names for the cut include 'shoulder steak,' 'chuck eye,' 'cross-rib roast,' and my personal favorite 'seven-rib roast.'
However, if you're averse to chuck roast either due to its inherent toughness or high fat content, Beef Brisket also makes an excellent pot roast. While it comes with a slightly higher price tag, beef brisket is naturally more tender, but it's slightly lower fat content will result in a slightly less 'flavored' and 'textured' broth, so you might want to account for that with the type and amount of bouillon you use – use beef bouillon and use a slight touch more than I've outlined below, adjusted for how fatty your brisket is.
Round roast, the starting point for the ubiquitous 'roast beef,' also makes a fairly decent pot roast. However, this cut is even leaner than brisket, and so you'll want to rub it down with herbed butter prior to roasting, and add extra beef bouillon to the broth, otherwise you'll have a fairly dry roast, and a fairly untextured broth. However, if you do that, and utilize a somewhat 'lower-and-slower' cooking process, you'll end up with a perfectly acceptable pot roast.
If you have used something other than chuck with this recipe, let me know in the comments how it turned out! I'd love to hear from you.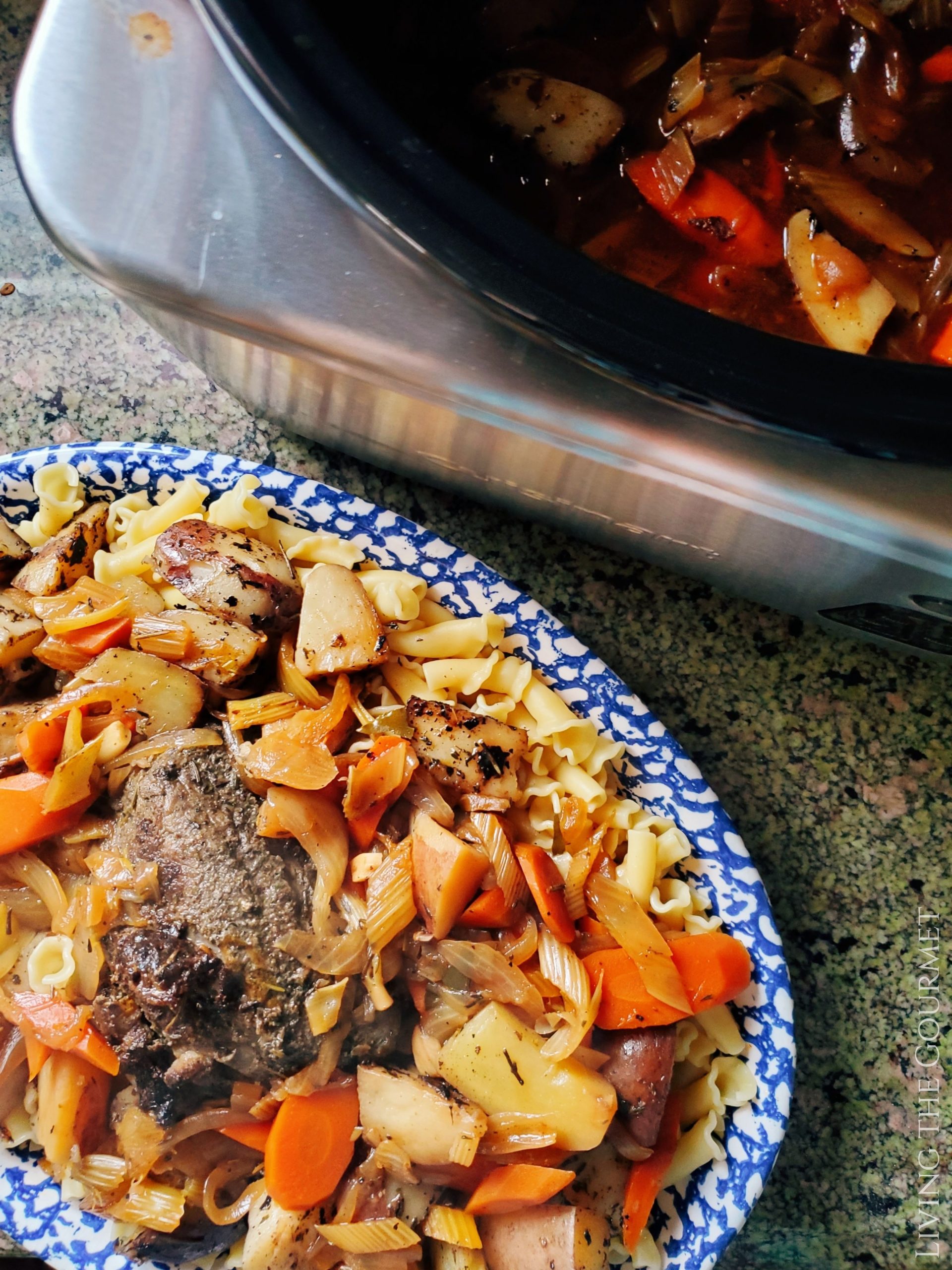 Pasta Pointers – How To Achieve a 'Perfect' Noodle
1) Undercook your pasta. As with all pasta, you don't want overcooked 'mush' with today's recipe. On the contrary, you want a 'firm' noodle. To do this, you need to start by undercooking your pasta. Think about this logically. You are taking your pasta from the boiling water in which it was cooking, and then adding it to the scalding hot 'sauce' form from the pot roast – in which it will invariably continue to cook for several minutes as the 'sauce' cools. Thus, if you overcook or even 'fully' cook the noodles prior to topping them with the broth from the pot roast, the noodles will be 'mushy' and overly tender.
2) No seriously – undercook your pasta. If you don't believe me, a 2017 article in Bon Apetit confirms that Al Dente is 'functionally' overcooked…usually. The article makes the point that you almost always finish your pasta by tossing it in some sort of cooked sauce, be it red sauce, garlic and oil, or – as we're doing today – topping it with a freshly cooked beef broth. Thus, if you want truly cooked-to-perfection pasta, you want prepare it "Molto Al Dente," which translates roughly as 'undercooked,' with the idea being that the pasta will continue cooking for a minute or two (or three) as you toss it in the sauce and then prepare to eat it. Of course, if you're not drenching your pasta in freshly cooked sauce, or coating it in heated oil, then feel free to cook it to the point of Al Dente – but that's precisely what we're doing with today's pot roast.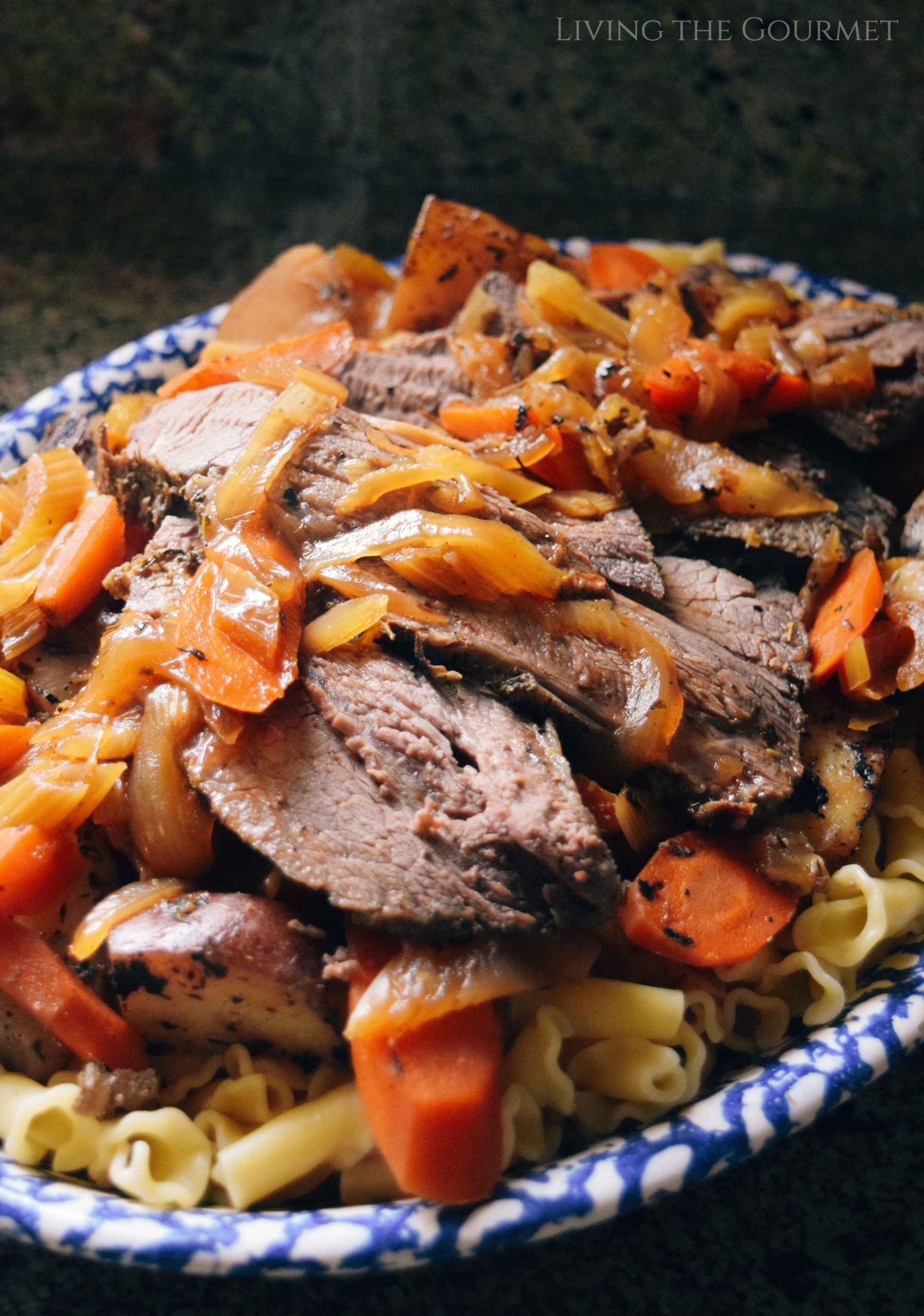 3) Salt the Water – A Lot. I'm not going to expand too much on this point, except to say that salted water adds savory-ness to your pasta, dilutes its starchy qualities, and covers up any potential imperfections – which are present even in the highest quality brands you can buy. The end result is a better tasting, more palatable pasta.
4) Rinsing Pasta Damages It. Rinsing cooked pasta damages it – end of story. I'm not sure where, when, or how this idea came about, but it's a painfully common ritual to rinse pasta under lukewarm-to-cold water in strainers after it's been cooked. I'm honestly not sure what this is meant to achieve aside from artificially cooling it down, or trying to 'unstick' the pasta from itself. The problem is, you can let the pasta cool by just leaving it alone, and the reason the pasta is sticking together is due to 'surface starch,' the same starch that serves to help sauce 'stick' to the pasta, and that gives the pasta a slightly more 'textured' quality. In other words, when you rinse off pasta after cooking, you're literally rinsing away added quality. Stop this, don't do it, it's silly. End of story.
5) The Noodle Shape – More Than Preference, Less Than Vital. Let's be real, no one has ever 'ruined' a recipe by picking the 'wrong' pasta to pair with their sauce, soup, or stew. However, there are some general guidelines that will help you maximize your enjoyment. As a rule of thumb, tube shaped pasta generally pairs well with thick hearty sauces that can 'trap' or 'catch' within the tube, such as ziti, rigatoni, and penne. The larger the tube pasta, the heartier the sauce it pairs with. Stick or 'rod' shaped pasta, such as spaghetti, spaghettoni, and capellini, are generally best paired with olive oil and garlic or tomato based sauces, since these types of pasta serve best when they can be uniformly coated by the sauce, since the pasta cannot 'catch' or 'trap' heavier sauces in the way that something like rigatoni can. Ribbon pasta is generally ideal for creamier sauces. Think of the heavenly pairing of fettucine and alfredo sauce.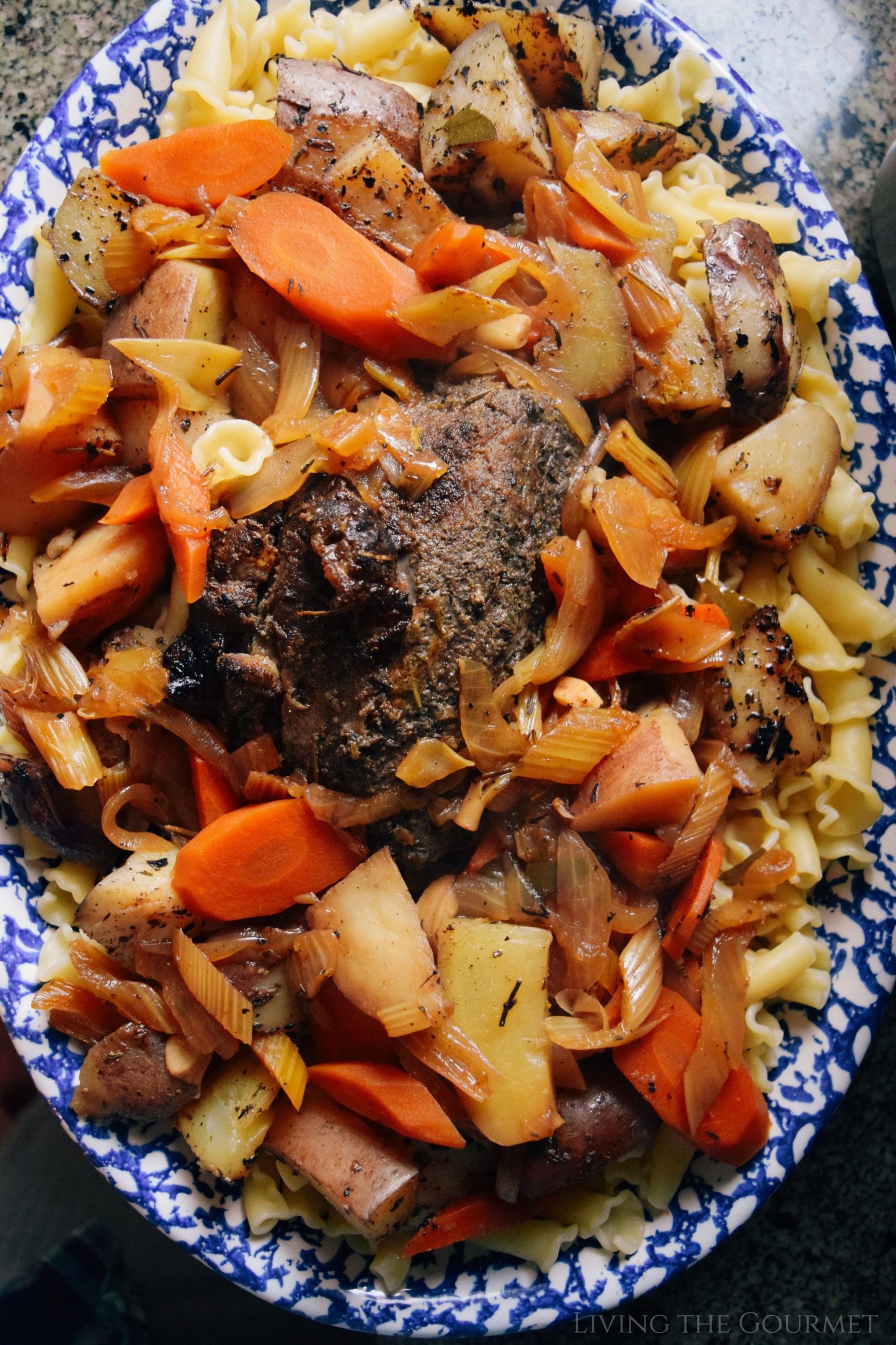 More Beef Favorites
1) Curried Hamburgers. A flavorful twist on a familiar classic, these beef burgers are prepared with a mix of Jamaican curry, paprika, and coriander, and then finished a decadent balsamic glaze. Seriously, give these a try.
2) Classic Roast Beef. If you're in the mood for something familiar and warming, this classic roast beef fit's that bill perfectly. This is a recipe that just exudes 'Sunday Dinner.'
3) Ultimate Steak Platter. Teriyaki and garlic marinated steak, served with a side of warmed mixed greens and grilled potatoes. This is a recipe for a party.
Print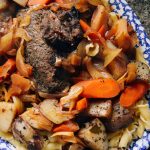 Slow Cooker Pot Roast
---
Author:

Total Time:

4 hours

Yield:

4

-6

1

x
2

lb

. boneless chuck roast

1

large sweet onion - sliced

3

-

4

cloves of garlic - sliced

1

tbs. tomato paste

3

-

4

stalks of celery - roughly chopped

3

-

4

carrots - roughly chopped

4

- red potatoes - quartered

1

cup

- wine

1

cup

beef bouillon

2 tsp

. sea salt - divided

2 tsp

. herb de province - divided

2 tsp

. fresh ground black pepper - divided

4

- tbs. olive oil

1

lb

. of your favorite pasta
For the rub:
2 tsp

. sea salt

1 tsp

. fresh ground black pepper

1 tsp

. herb de province

1 tsp

. ground coriander

1 tsp

. garlic powder
---
Instructions
Combine the ingredients for the rub in a small bowl and stir.
Message the rub into the meat and wrap the meat in plastic wrap and place in the refrigerator for at least an hour to overnight.
Heat a large cast-iron frying pan with 2 tbs. of olive oil. Add the sliced onion, carrots, celery and garlic to the pan and sauté until the onion is slightly golden and the garlic begins to become fragrant.
Season the veggies with one tsp. of sea salt, fresh ground black pepper, herb de province and bay leaf.
Add the tomato paste to the veggies and continue to sauté for another minute.
Add the wine and continue to simmer on a gentle heat for another minute.
Transfer the mixture to the ceramic bowl of the slow cooker. Stir in the beef bouillon and the other half of the seasonings.
Heat the same cast-iron pan that the veggies were cooked with 2 tbs. of olive oil.
Add the roast and brown on all sides. This process should take 8 – 10 minutes.
Place the browned meat on the wire rack of the crock pot.
Heating the same cast-iron pan with two tbs. of olive oil, place the quartered potatoes in the pan to brown to a beautiful golden on all side.
Sprinkle the potatoes with sea salt, fresh ground black pepper and herb de province.
Arrange the golden potatoes around the meat in the crock pot.
When the pot roast is just about ready prepare the pasta as directed.
Place the pasta in a serving platter and top with the veggies, broth and sliced meat.
Cook in the crock pot on a high setting for about 3 - 3 1/2 hours until the meat is tender.
Prep Time:

15 minutes

Cook Time:

3 hours 45 minutes
Recipe Card powered by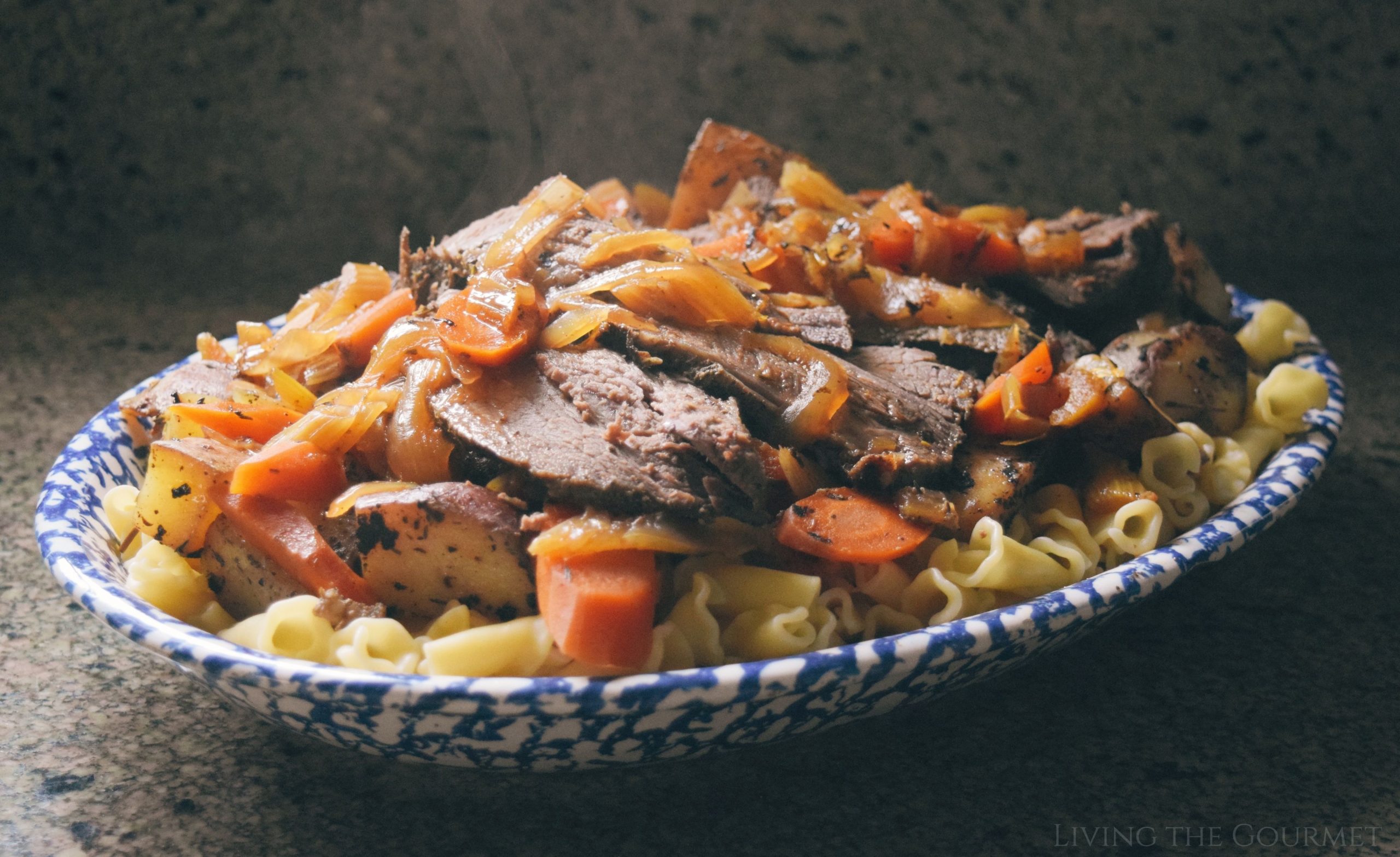 If You Enjoyed Today's Recipe…
Be sure to follow us on Instagram to stay up to date with all things Living the Gourmet, and for more great recipes, tips and tricks.
Did you make this recipe?
If so, let me know in the comments down below, or post a picture to Instagram, or to Pinterest, and I'll give you a shoutout on Instagram, or post your pin to one of my Pinterest boards!
1