Honestly, I'm not sure where to begin with today's recipe, because this is 'not' what I had set out to prepare, and yet I really couldn't be more pleased with what I ended up with.
I had started out wanting to prepare a Chicken Parmigiana, but what I ended up with was something closer to a 'Chicken and Potato Stew.' Now, I know what you're thinking "But those two things are so far apart, how could that have happened?" The answer is that I had leftover baked potatoes I wanted to use, and I didn't realize I had precisely zero mozzarella or provolone on hand. Thus, I started with baked potatoes for the sauce, which ended up with me creating more of a thick 'stew-like' broth than a sauce, and my lack of mozzarella or provolone saw me top the chicken with swiss. So…parmigiana?
Regardless, today's recipe is a pantry-friendly, one-pan meal that's perfect for those of us still on lockdown – or even if you're not, it's a hardy 'stew' the entire family will love.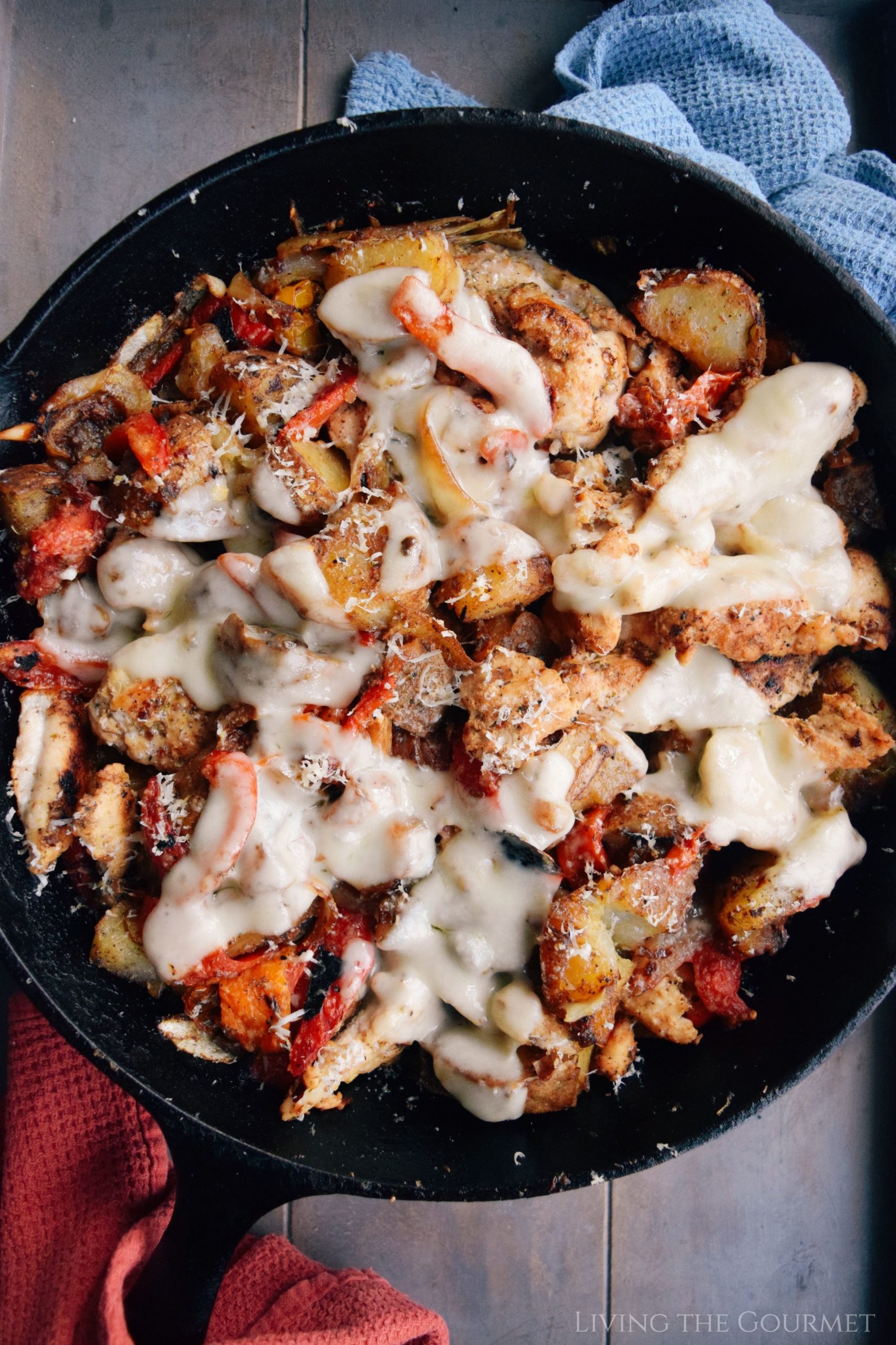 Ingredient Notes, Tips, and Substitutions
1) The Cheese. Yes, I'm using sliced swiss simply because that's what I had on hand. However, today's recipe would also pair excellently with either sliced provolone or a dense topping of mozzarella – or a mix of both! However, you might also consider thinly sliced Jarlsberg if you want something a bit different.
2) The Potatoes – Any Baking Potato. Cubed Round Whites, halved New Reds, or pre-baked Russets cut into thick slices are the way to go. You want the potatoes to hold up nice and firm through the cooking process, so that you get nice 'hardy' chunks of potato in the resulting sauce.
3) Capers – What are these things anyway? Capers are the flower buds of the Finders Rose or 'Caper Bush.' Oddly, they are wildly unpalatable if eaten fresh or dried – and I don't mean 'acquired taste' unpalatable, I mean mouth-parchingly bitter unpalatable. Seriously, if you taste these things fresh, you'll seriously question how they ever ended up being considered 'edible.' However, when pickled, brined, or preserved in salt, the bitterness fades away to a 'pleasant tanginess,' a flavor that's variously described as 'lemony,' 'anchovy-like,' 'salty,' 'olive-like,' or some combination thereof. They are 'not' often described as 'bitter,' which might lead to the very understandable conclusion that their flavor doesn't actually come from the flower bud itself, but rather from their packaging. Thus, capers may in fact merely be the 'vessel' for 'brine flavor.' Regardless of the truth behind their flavor, these little pickled flowers-that-weren't are a staple of Mediterranean cuisine, being especially prominent in Italian, Spanish, Greek, Cypriot, and Moroccan food, while also making an appearance in regional Argentine cuisine. Curiously, caper leaves, which are described as a 'pungent' or simply more 'intense' version of olive leaves, don't often appear outside of Greek cuisine.
Substitutions: The best substitute for capers are chopped green olives. You might also consider a small amount of thoroughly chopped anchovies. Fresh Thyme, green peppercorns, and, lastly, chopped black olives are all possible substitutes. The black olives, however, are likely the 'weakest' substitute of the bunch.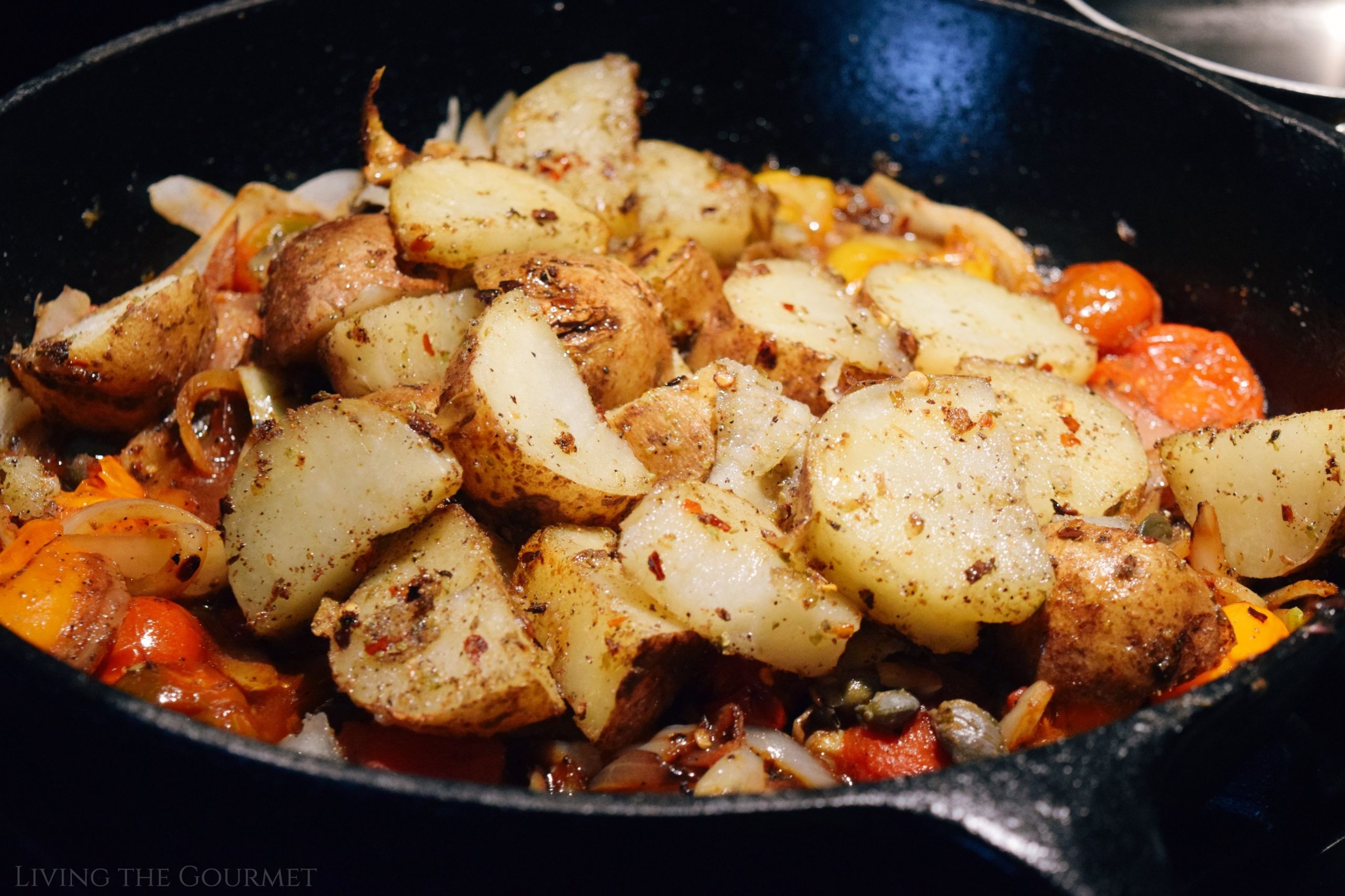 4) The Wine – Or Beer. Red or white wine is just fine. You might also consider an equal amount of beer as a substitute to the wine you're using swiss or Jarlsberg in place of provolone or mozzarella. However, beer would change the flavor profile of recipe quite a bit, since cooked beer is notably less acidic than wine, and would substitute in a 'hops flavor' in place of the characteristic 'wine flavor.' With that said, in either case, as a point of interest, 'all' of the alcohol will have evaporated during cooking, as the boiling point of alcohol is 173 degrees Fahrenheit, well under than the 212-degree boiling point of water. This means that even before the sauce has reached a 'gentle simmer,' the alcohol will have entirely departed the sauce in the form of steam.
5) The Chicken. While I'm using chicken cutlets, you easily swap in chicken thighs or breasts. Simply adjust the cooking time accordingly. You'll want to add on several minutes for chicken thighs – or until the bone is white. For chicken breasts, you want the thickest portion of the meat to reach 165 degrees Fahrenheit at the center.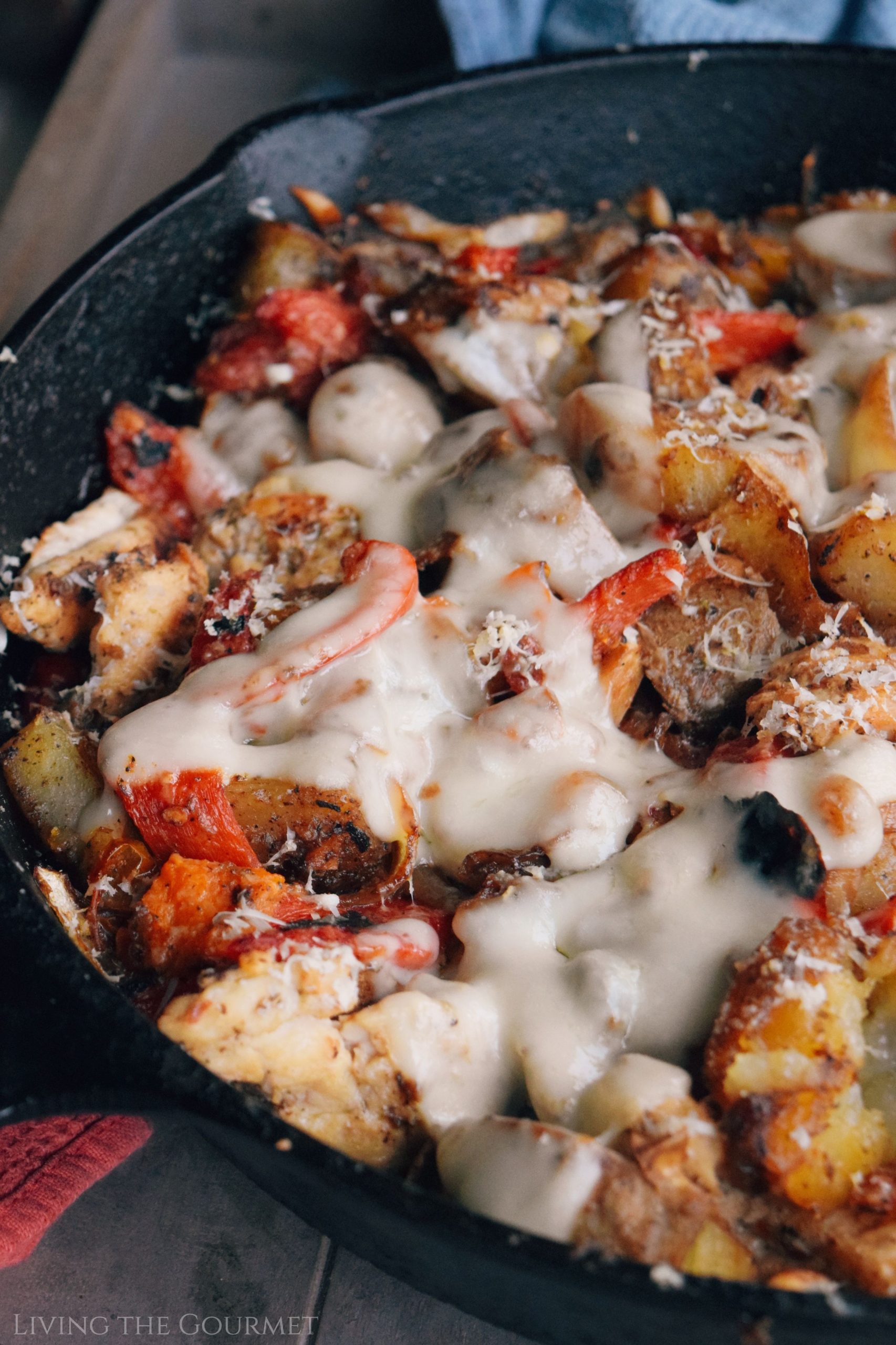 Parmigiana or Stew? A Wide Dividing Line
So, is it parmigiana? No, nope, not really…kind of? While I had originally set out to make a chicken parmigiana, I ended up with more of a 'wintery chicken and potato stew,' with a handful of 'Mediterranean elements.'
Chicken Parmigiana is something we're all familiar with. In its most common incarnation, Chicken Parmigiana features a dense, red marinara sauce with a thick layer of melted cheese set over breaded chicken cutlets – often mozzarella, though provolone isn't unheard of, especially in the case of Chicken Parm Heroes. However, slightly more upscale incarnations of the dish features un-breaded chicken cutlets thoroughly herbed and grilled in garlic and oil, and then set over a delicate 'bed' of fresh red sauce.
So…maybe?
In conclusion, while a lot of the same flavors are there – a thoroughly 'wined' sauce, capers, Italian herbs and spices, a tomato-based 'broth,' and cheese topped chicken, I'm more comfortable classing this as a 'stew.'
You be the judge. Debate it in the comments!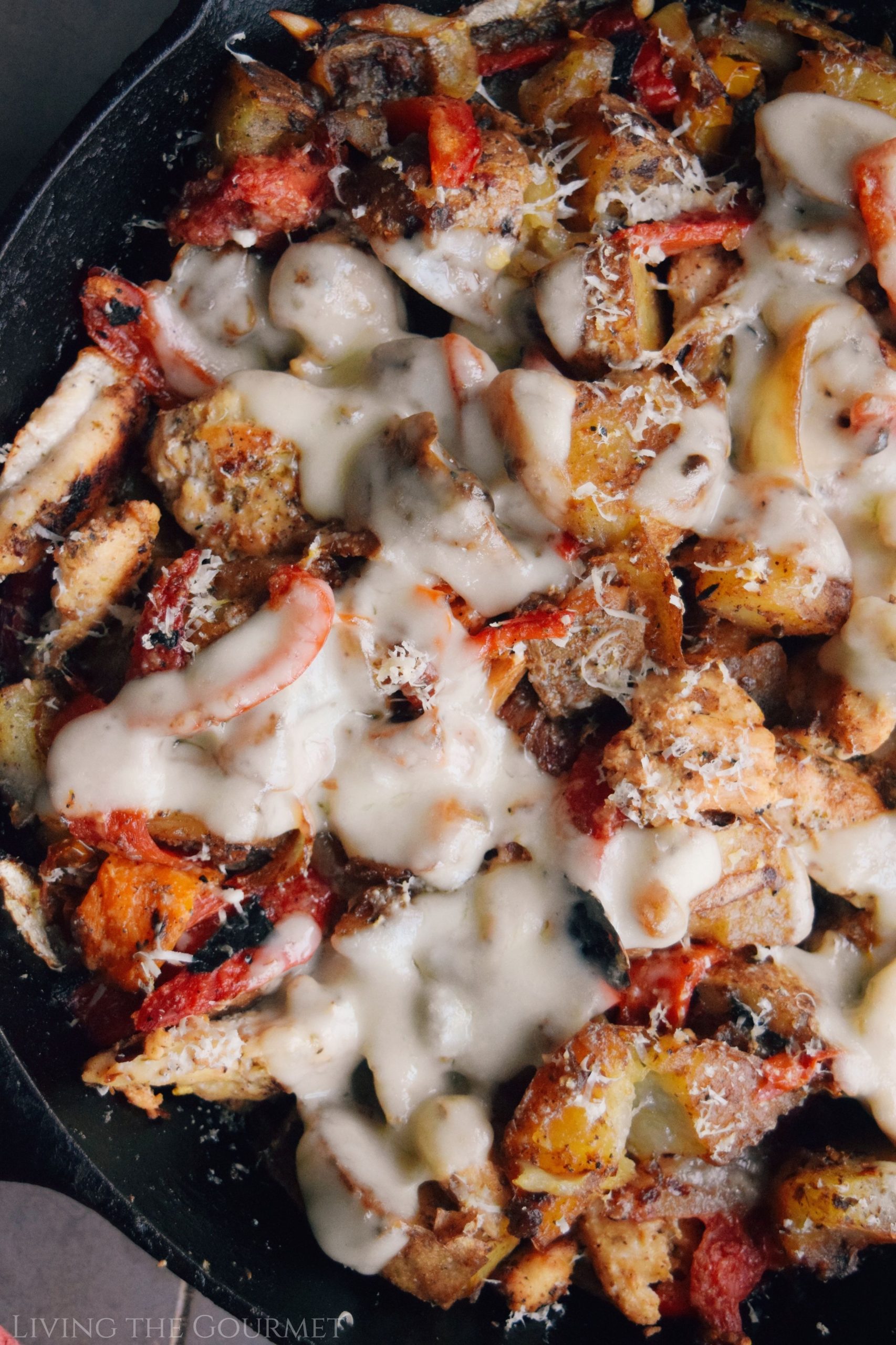 More Cheesy Favorites From Living the Gourmet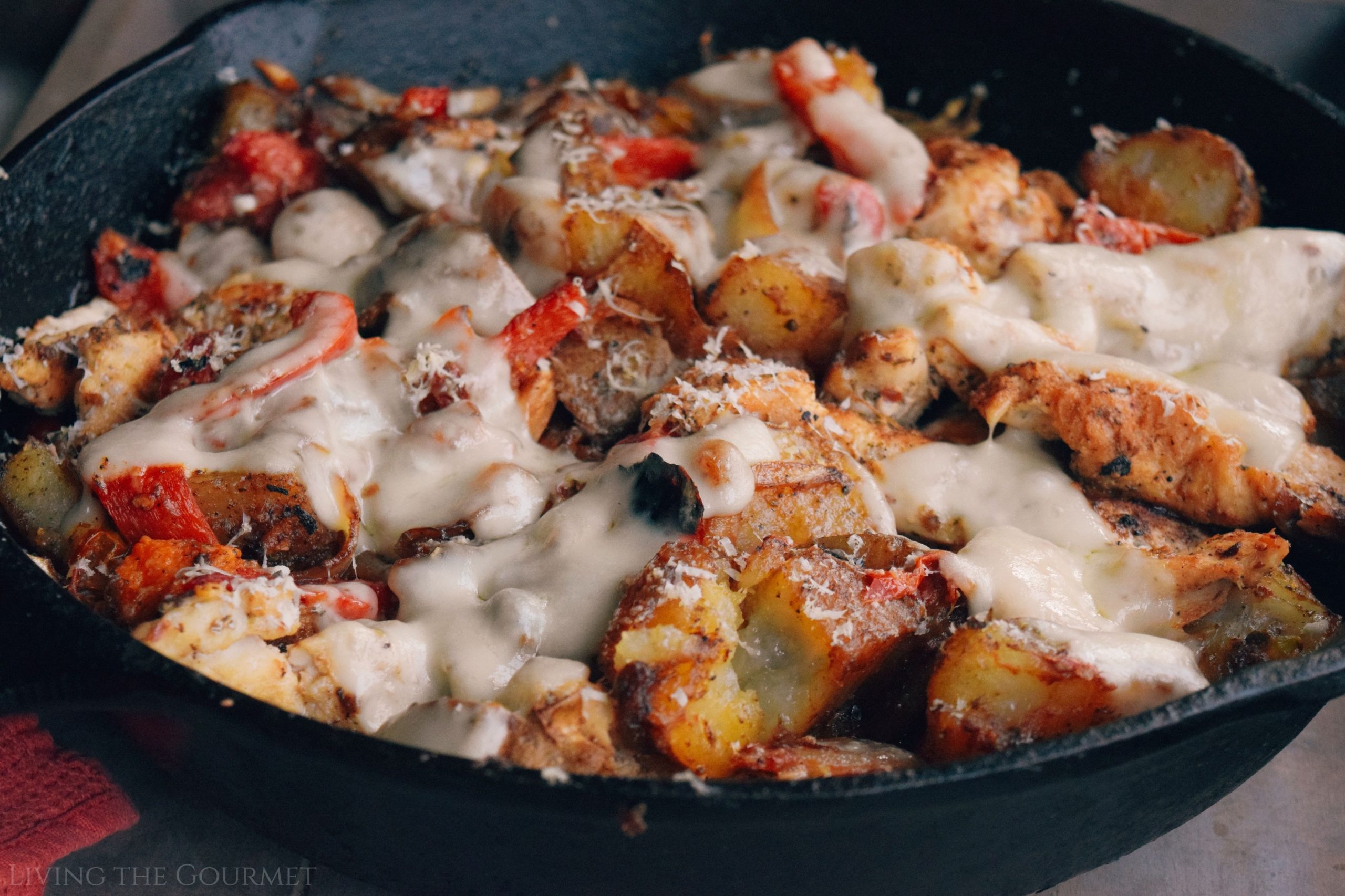 Print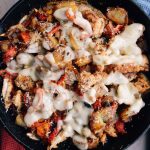 Chicken and Potato Stew
---
Author:

Total Time:

35 minutes

Yield:

4

-6

1

x
2

-

3

boneless chicken cutlets - butterflied and sliced thin
For the Sauce:
2 1/2

large baking potatoes cooked - I had these left over - cut into cubes

1

large sweet onion - sliced

3

cloves garlic - chopped

2

tbs. capers

1

-

pint

grape tomatoes

1

red bell pepper - grilled - scraped and sliced thin

1 tsp

. red pepper flakes

1 1/2

tsps. dried oregano

2 tsp

. garlic powder

1 1/2

tsps. salt

1 tsp

. sugar

1 tsp

. fresh ground black pepper

1/2

cup

wine

2

-

3

tbs. olive oil
Slices of Swiss cheese or Mozzarella
Fresh Provolone or Romano cheese for grating
---
Instructions
Char the bell pepper carefully on a gas burner or in a dry cast iron frying pan. Allow the pepper to get charred on all sides.
Let the pepper cool and then scrape the char off and slice thin.
Heat a large cast iron frying pan.
Place the sliced onion, chopped garlic and grape tomatoes in the dry pan.
Sprinkle the onion, garlic and tomatoes with ½ tsp. of sugar, salt, black pepper, garlic powder, dried oregano and red pepper flakes. Toss and allow the onion to char and become a beautiful golden color.
When the onion and tomatoes are nice and golden drizzle the mixture with olive oil and add the wine and the sliced pepper.
Lower the heat to a very gentle heat.
Heat a separate large cast iron frying pan and place the cubed potatoes into the pan.
Sprinkle the potatoes with sugar, salt, fresh ground black pepper, garlic powder, red pepper flakes and dried oregano. Allow the potatoes to get a golden crisp and then drizzle them with olive oil.
When the potatoes are nice and golden add them to the pan with the tomatoes and onions.
In the pan that the potatoes were in place the sliced chicken.
Sprinkle the chicken with salt, black pepper, dried oregano, garlic powder and red pepper flakes. Drizzle the tops of the chicken with olive oil and then flip the chicken to finish cooking on the other side, cooking about 3 – 5 minutes on each side, or until the chicken is cooked through. The cooking time will be determined by how thin or thick you sliced the chicken.
Place the chicken in the pan with the tomatoes and potatoes.
Cover the top of the chicken and tomato mixture with the sliced cheese, fresh grated cheese and a drizzle of olive oil.
Preheat Oven 350 degrees F.
Place the pan in the oven for 10 – 12 minutes or until the cheese is completely melted.
Prep Time:

10 minutes

Cook Time:

25 minutes
Recipe Card powered by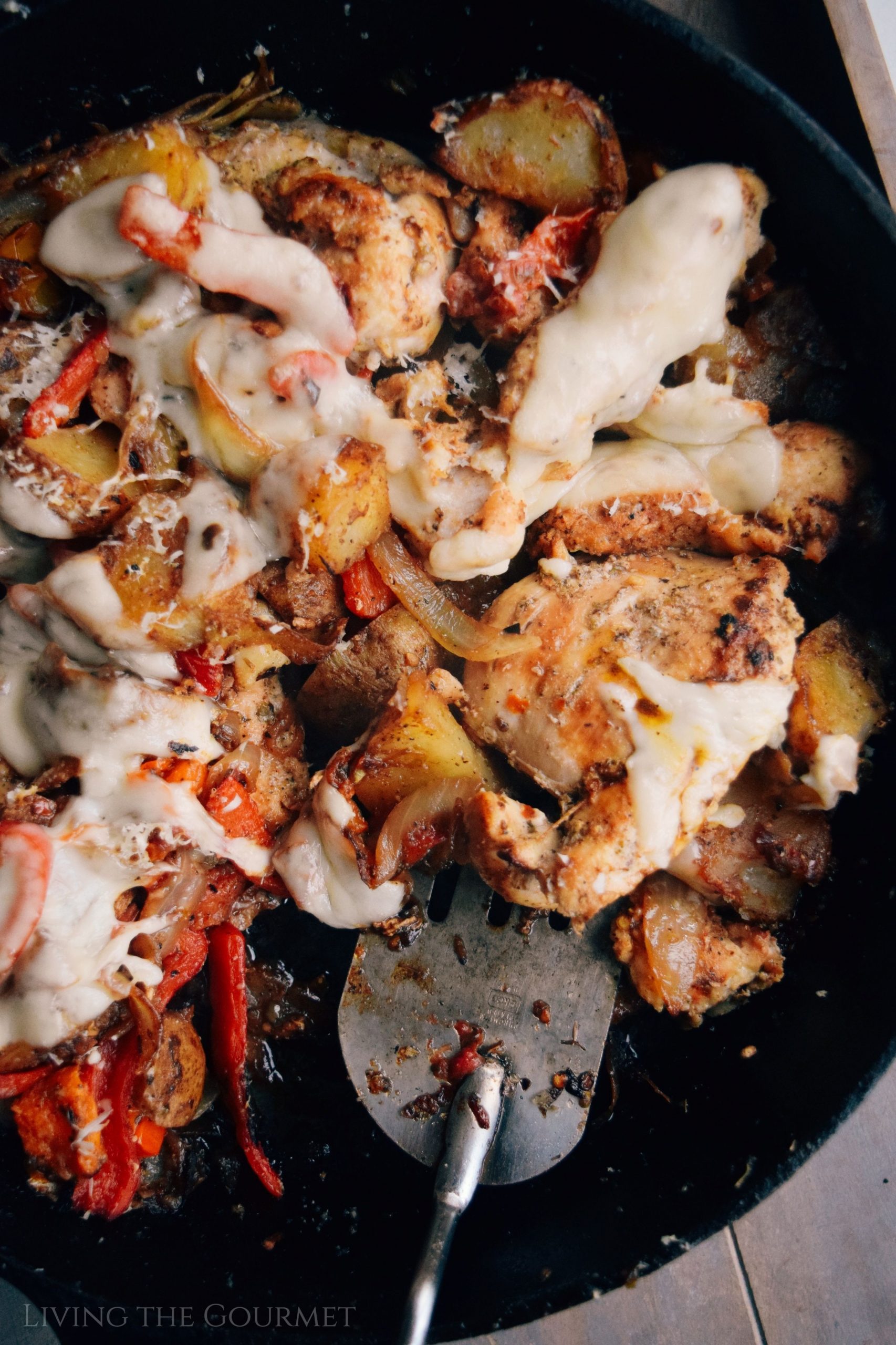 1) Bacon and Onion Burger. Honestly, this is probably my favorite burger recipe ever, combining bacon, carmelized onions, and lots of melted cheese. Seriously, you need to try this.
2) Pasta Bake. This was a big hit with my family. It combines baked pasta with layers of cheese, and a crisped crust. Seriously, this a recipe the entire family will enjoy, and can be made a few days ahead of time, and yes it reheats beautifully either in the oven or stove top.
3) Lasagna Rollups. A delightful pasta recipe the entire family will adore. This recipe features hardy lasagna noodles wrapped around a ricotta filling with a tomato and mushroom sauce, topped with melted Jarlsberg.
If You Enjoyed Today's Recipe…
Be sure to follow us on Instagram to stay up to date with all things Living the Gourmet, and for more great recipes, tips and tricks.
Did you make this recipe?
If so, let me know in the comments down below, or post a picture to Instagram, or to Pinterest, and I'll give you a shoutout on Instagram, or post your pin to one of my Pinterest boards!
1