Potatoes and Leeks are simmered together for a creamy, soul-comforting soup that will melt away all your winter blues.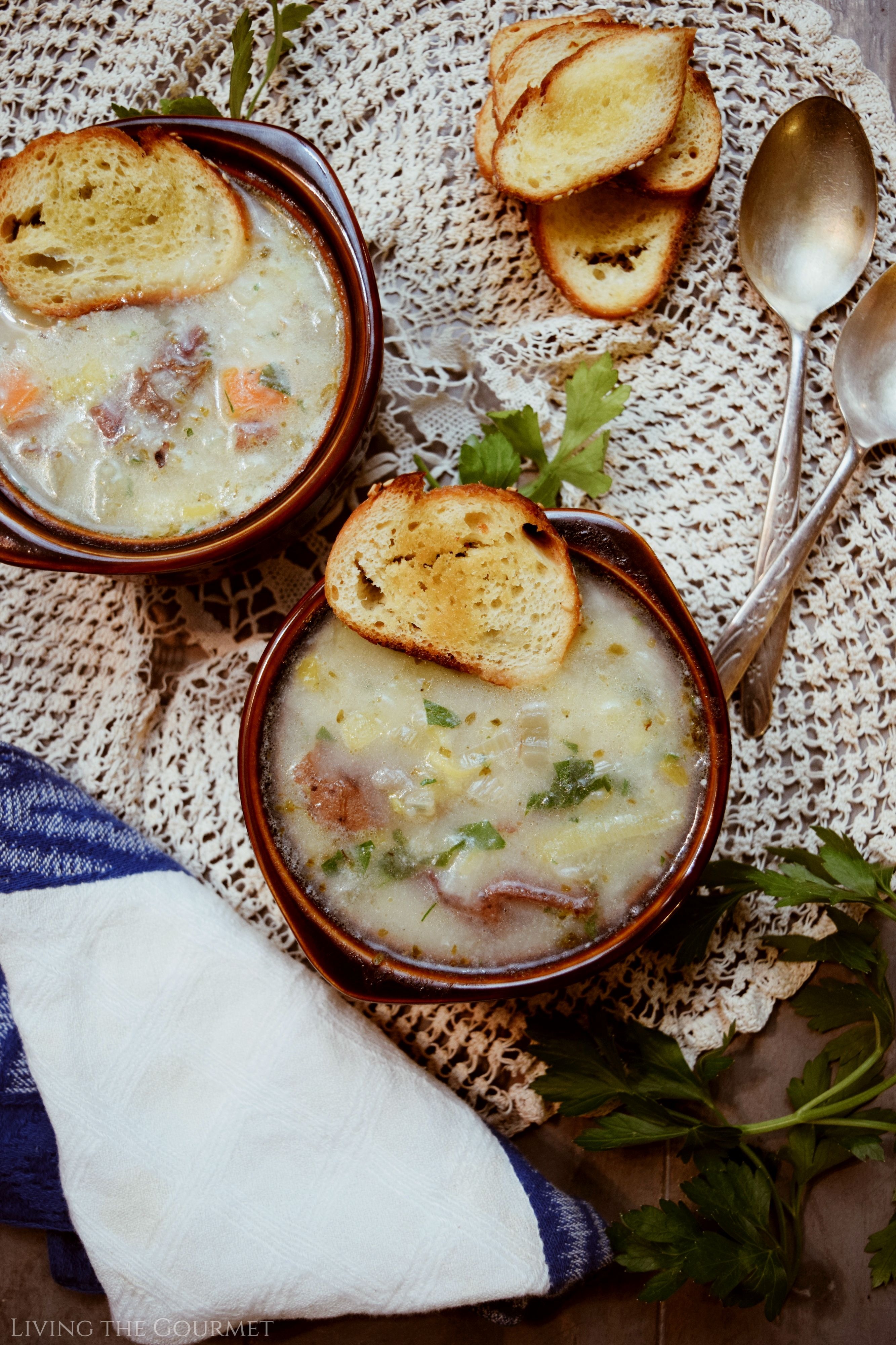 Today's recipe is focused squarely on those pleasantly chilled, blissfully dreary late November and early December days sandwiched between the end of Thanksgiving and the start of the dreaded Christmas rush.
During those few precious days, you slow down and try to catch your breath from the previous holiday, and try to savor the quiet of the wintry season that so often gets lost within the superficial rush of the holidays.
That's more or less where my mind was when I prepared this soup the day after Thanksgiving. While we had a mountain of leftovers, I really just wanted something a little more 'down to earth' than an encore of the previous night's feast. I really didn't feel like starting all over again with pots, pans, foil, and mountains of utensils. The day was calm and quiet, oddly resembling the calm after a storm…and I didn't want that to change.
And to do that, I threw together this no fuss wintry soup that's a meal unto itself, but that could perfectly compliment all of the quintessential flavors of a meal whipped up from Thanksgiving leftovers.
To start things off, we boil red potatoes until they're fork tender, then drain them and set them aside. After that, heat a large soup pot with olive oil and butter, add in sliced leeks, carrots, celery, and garlic, and let that sauté until the leeks have cooked down a fair bit. Then add in the potatoes and gentle mash them down with a potato masher. Then add in the water, some all-purpose seasoning, I prefer Vegeta, along with salt, black pepper, and dried oregano, and let that simmer for about twenty to twenty-five minutes. Then add in milk and chopped parsley, and let that simmer for another ten to twelve minutes, and you're done.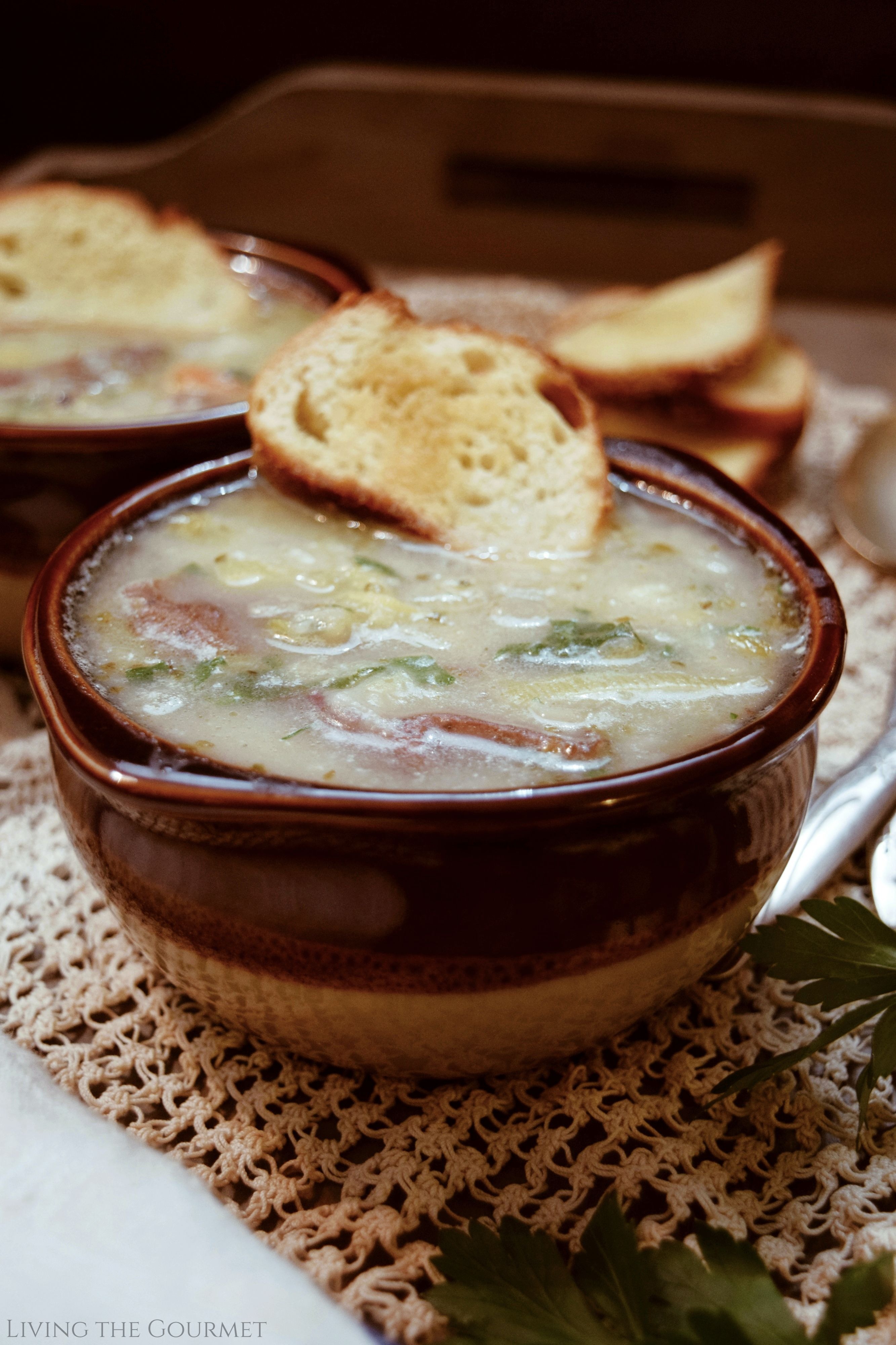 Alterations
You can conjure up this soup in a variety of ways, but here are a few of my favorite alterations.
1) Spice things up. If you're anything like my son, your life philosophy is basically "The hotter the better." To add a bit of heat, you can grill up either a jalapeno or a habanero, or both if you're feeling brave. After the pepper has received a nice, light char, dice it up, leaving the seeds in, and stir that into the soup along with the chopped parsley at the end.
2) Extra Creamy. To make the soup extra creamy, reduce the amount of water used by about one cup, and add half a cup of heavy cream to the two cups of milk.
3) Non-Meatless. While today's recipe is without meat, this recipe would go great with either with some bacon or Italian sausage cooked in. For the sausage, simply cook the sausage through on its own in a separate cast iron pan and set aside. Then, after the step in the recipe where you've cooked the soup for about twenty-five minutes, chop up the sausage, and add it in along with the milk and the parsley, and let that simmer on low for another ten to twelve minutes as directed. The process is the same for the bacon, or you could crisp the bacon and simply sprinkle it on top crumbled.
Serving Tips
To get the most out of this recipe, here are a few tips on serving it.
1) Go Gourmet. Nothing adds 'gourmet' to a soup like fresh croutons – and they are surprisingly easy to prepare. To prepare your own, refer to the crouton recipe I included in my Pumpkin Soup.
2) The Bread. As with burgers, panini, or crostini, I find the key to a really delicious soup is actually the bread you're enjoying along with it. For today's soup, you want something crusty and hardy. Think quality baguette, Italian bread, or even homemade flatbreads, especially if you took the alteration above to turn this into the base for a chili. Sandwich bread, or 'artisan' cut sliced bread, will just fall apart with this.
3) Cheese on Cheese. While most of you will be grating cheese onto this soup before eating, consider, also, frying up some Parmesan crisps and plating those over the soup for added delight – they're super easy to make, and are about as addictive as potato chips, you can never just stop at one. For a Parmesan crisp recipe, see the one I included in my Roasted Tomato and Pepper Gazpacho.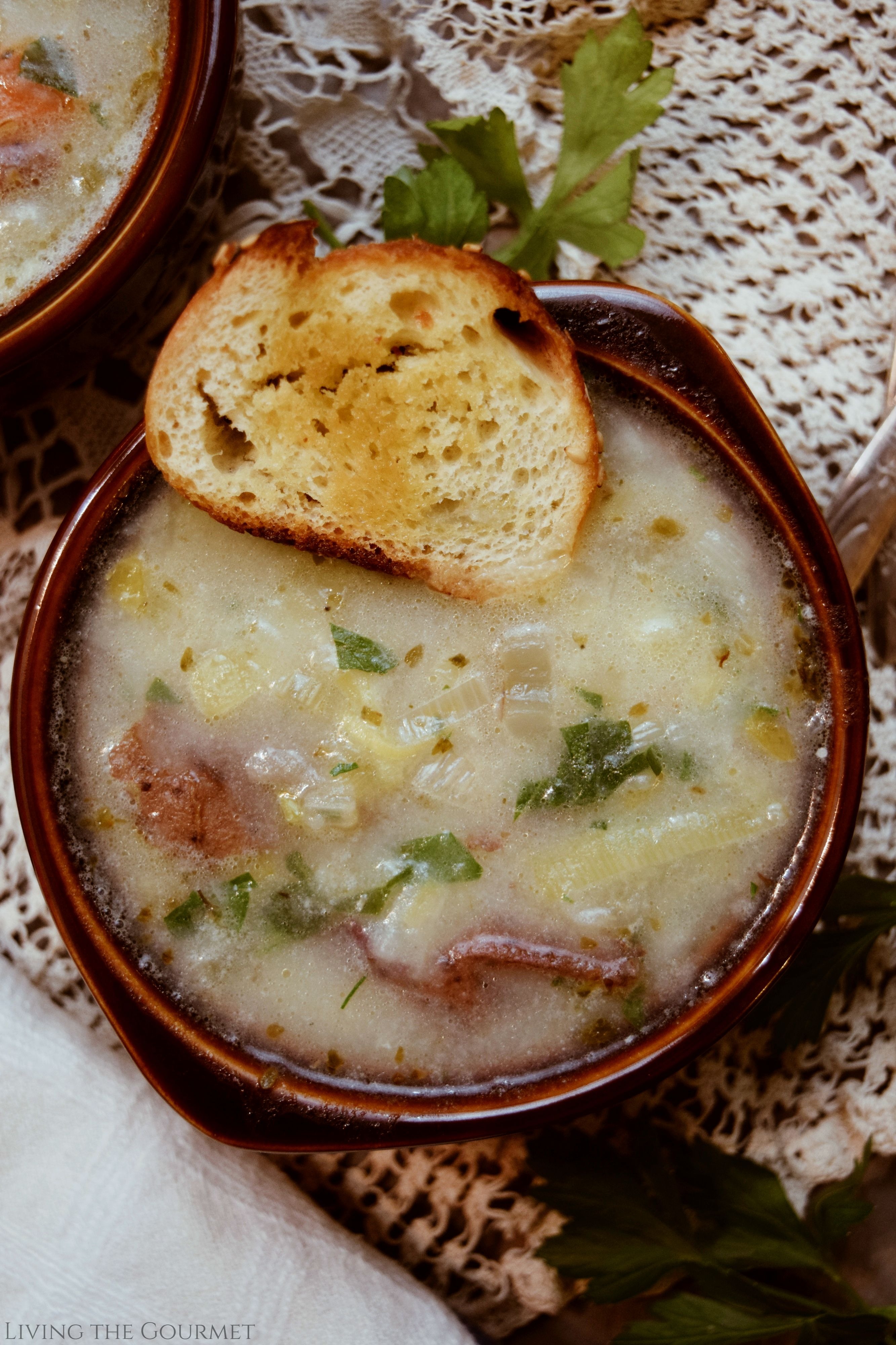 Print
Potato Leek Soup
Author:
Prep Time:

10 minutes

Cook Time:

30 minutes

Total Time:

40 minutes
4

–

5

large red potatoes – with skin

3

leeks – cleaned – dark ends removed and sliced thin

4

–

5

cloves of garlic – chopped

1

bunch of fresh Italian parsley – stems removed and chopped

1/2

stick of butter (

4

tbs.)

2

carrots – diced

4

stalks celery – sliced thin

2 1/2

tbs. Vegeta All purpose seasoning and soup mix

2 1/2

tbs. salt

1 tsp

. black pepper

1 1/2 tsp

. dried oregano

2

tbs. olive oil

5

–

6

cups

of water

2

cups

milk
Crostini or Homemade Croutons for serving
Instructions
Boil the potatoes until fork tender; drain and set aside.
Heat a large soup pot with the olive oil and butter. Add the sliced leeks, carrots, celery and garlic and gently sauté until the leeks cook down a bit.
Add the potatoes and gently mash down with a potato masher.
Add the water and the Vegeta seasoning, salt, black pepper and dried oregano and gently simmer on a low heat for about 20 – 25 minutes or so.
Add the milk and the chopped parsley and simmer on a low heat for another 10 – 12 minutes or so.
Taste for seasoning to see if you need more salt or not.
Serve with fresh Croutons or Crostini.
Recipe Card powered by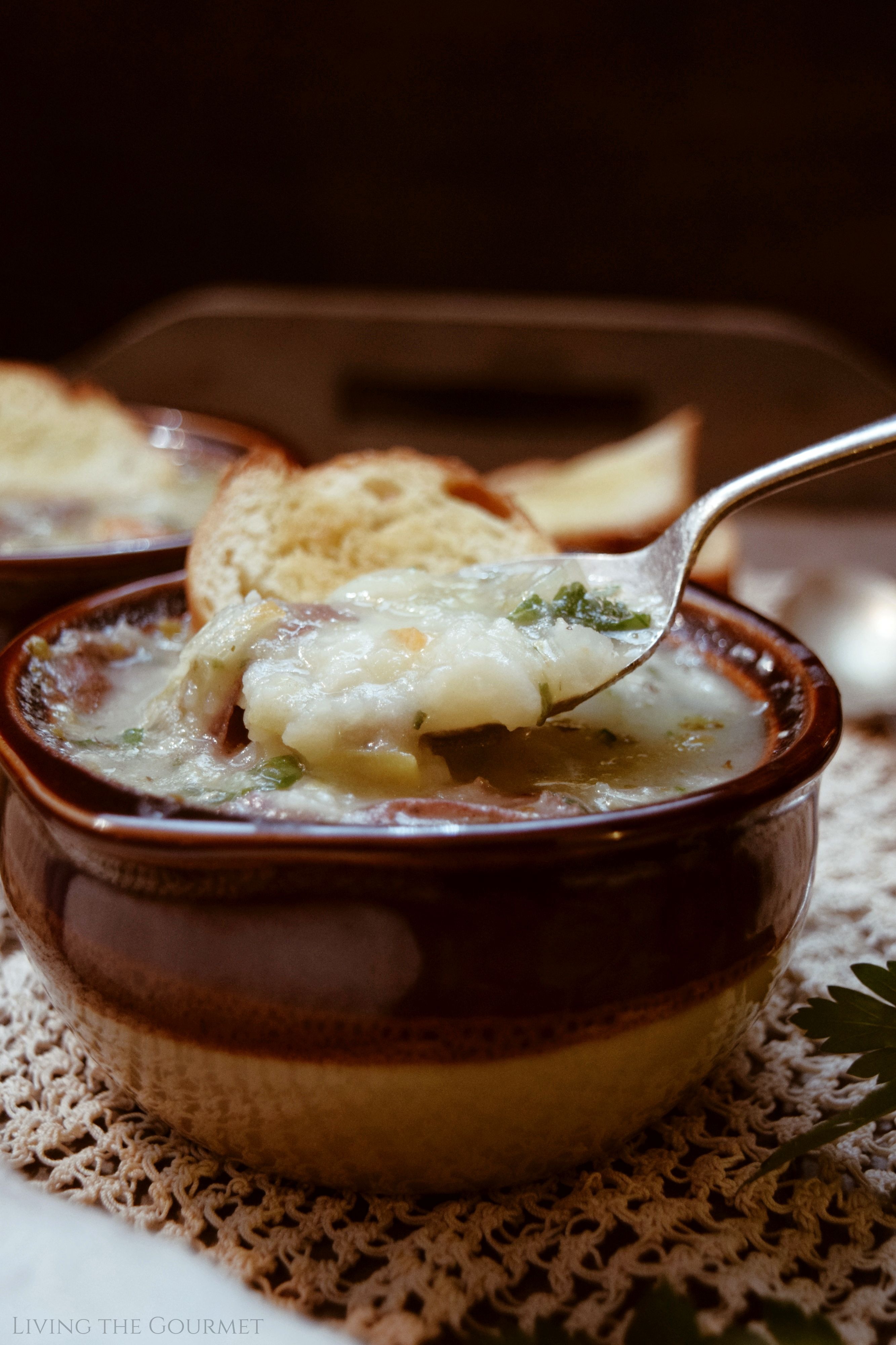 And that's a wrap. Enjoy!
1