Juicy, tender Ribeye Steaks are served alongside Hasselback Potatoes, roasted vegetables and a unique herb butter for a sophisticated palate that is easy enough to pull together for any occasion.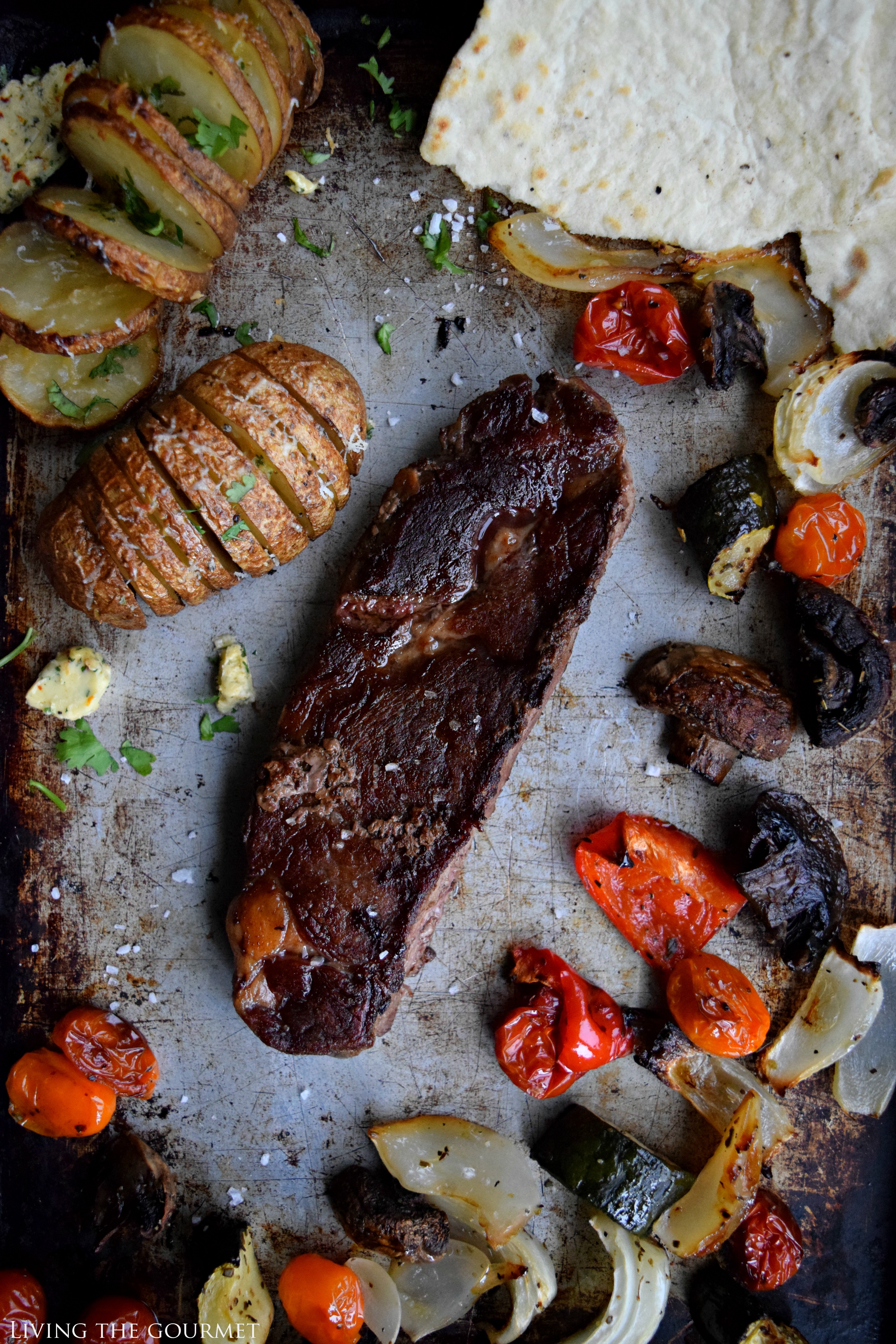 Certain things are simply 'meant' to be a certain way. Espresso, for example, dark roasted with a twist of lemon along the rim of the cup. Wine is best from old winemakers and coastal fields, preferably a fully aged, inky dark Sagrantino. Beef, likewise, is best grass-fed.
In fact, I'll go so far as to say that serving your guests grass-fed beef is perhaps the most important tip I can offer for this summer's grilling season, and especially for the upcoming Memorial Day holiday.
I'll admit that I was initially quite unfamiliar with grass-fed beef. Obviously I had heard of it before, but I had thought it was simply just another 'box to tick' on the long list on what to look for in quality meat. Unfortunately, that meant I was also unaware of just how much of a difference this single trait actually makes.
That all changed when I was contacted by ButcherBox, whose 100% grass-fed beef received high praise from Food and Wine, Cooking Light, and The Today Show.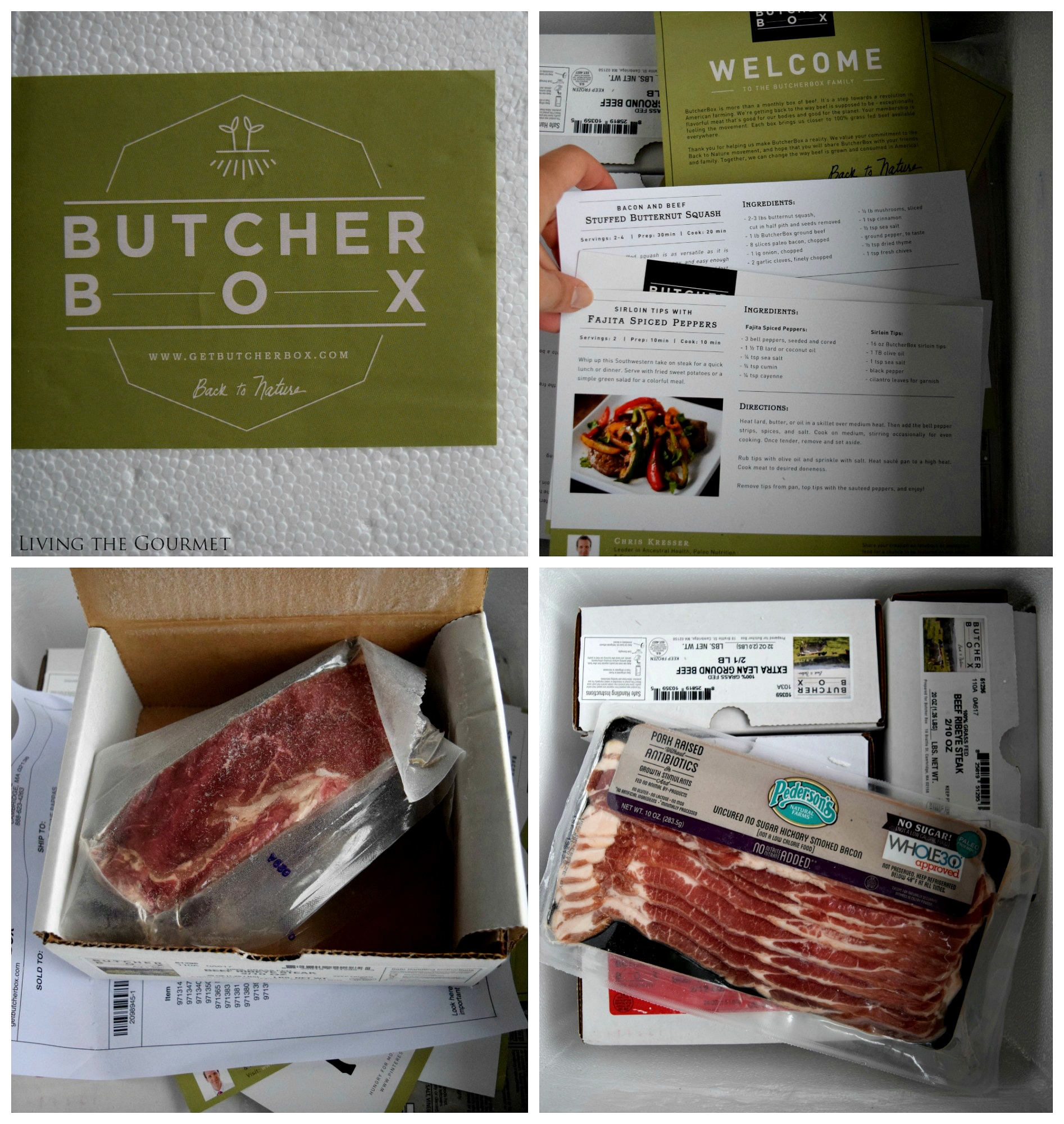 For starters, the first thing I learned, and perhaps most importantly, is that grass-fed beef simply tastes better. For example, in taste tests hosted by The Today Show and the Huffington Post, all but one contestant preferred the grass-fed offering. Furthermore, 100% grass-fed cattle are also far and away healthier than their conventionally fed counterparts. With no antibiotics, growth hormones, or cheap feed fillers such as soy, animal byproducts, or corn, the cattle produce a leaner, far better textured cut of meat.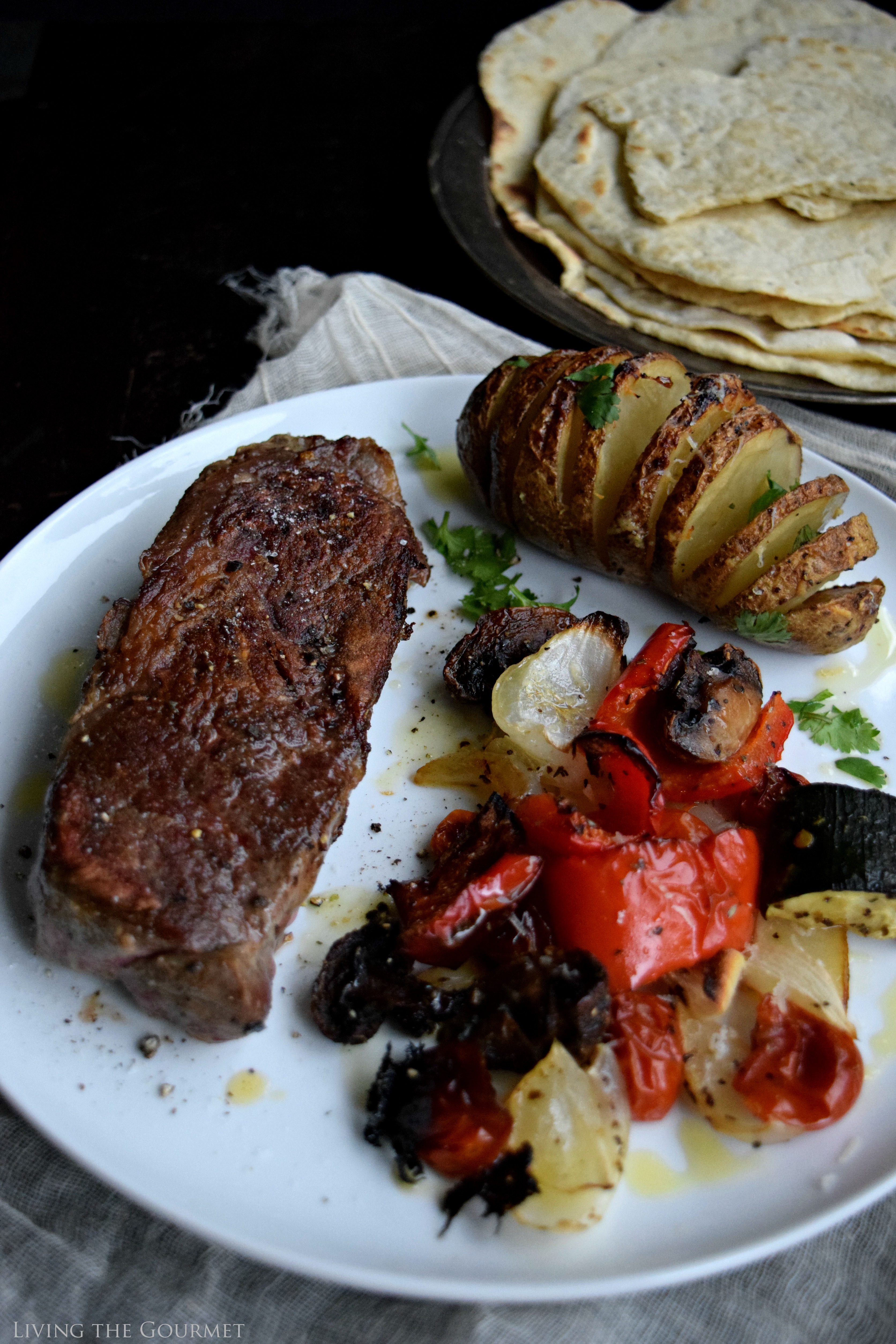 Intrigued, I agreed to see for myself, and received ButcherBox's signature "Beef Box." There's also chicken, pork, and a 'mixed' box available, but I went right for the beef. Each Beef Box contains three to five cuts of 100% grass-fed beef, and each new box you receive after ordering features a balanced selection of premium cuts from ribeye to flat iron to short ribs. In addition, each box also features a premium blend of ground beef, which is a ButcherBox specialty.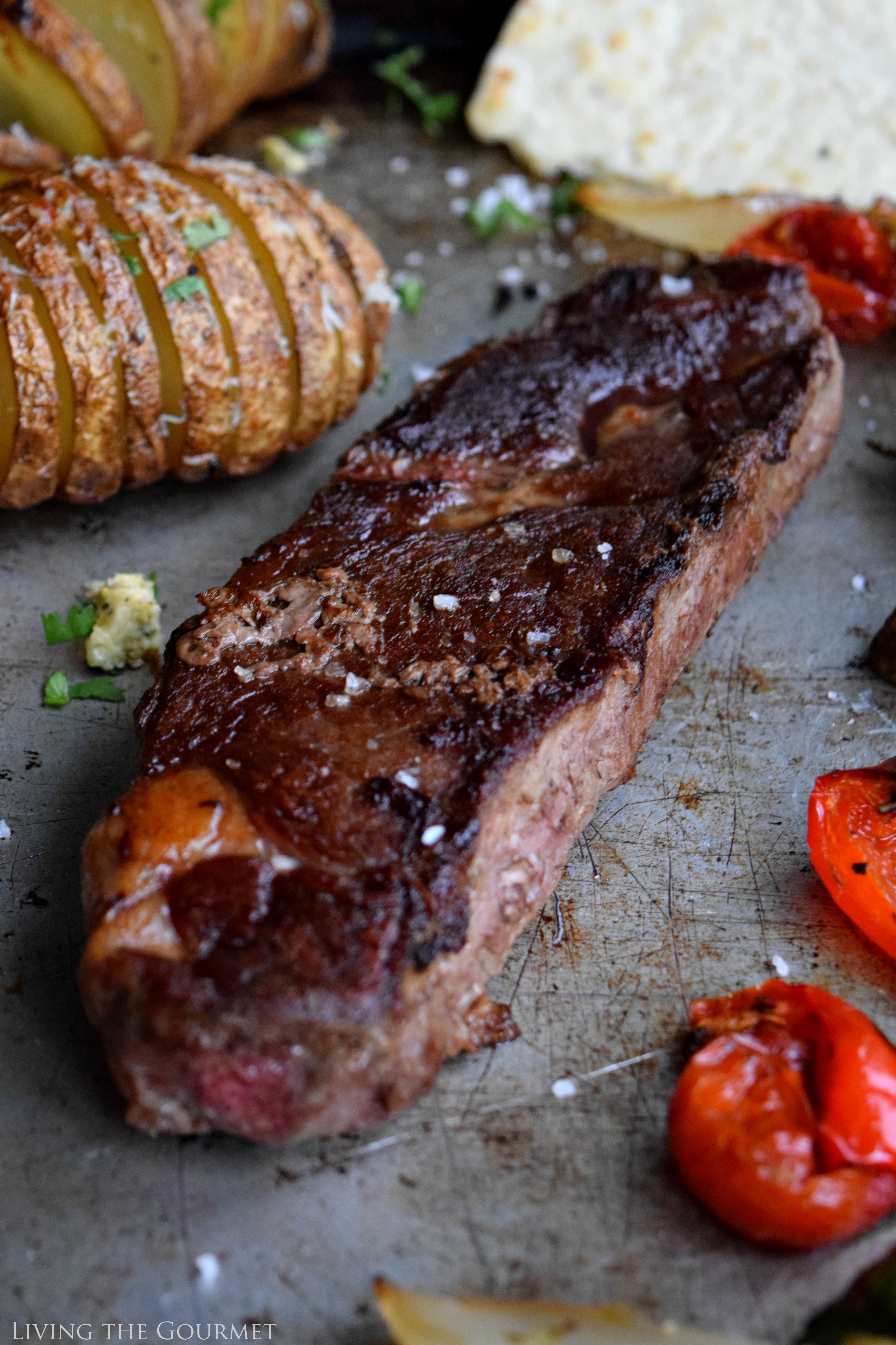 Upon receiving my box, which was packed with a number of cuts including top sirloin, hickory smoked bacon, ground beef, and ribeye steaks, I knew exactly what I was going to put together – a classic Mediterranean-style summer spread.
The centerpiece of the spread would be the ribeye steaks, which I would grill right on my griddle with a classic, rustic-style Herb Steak Butter.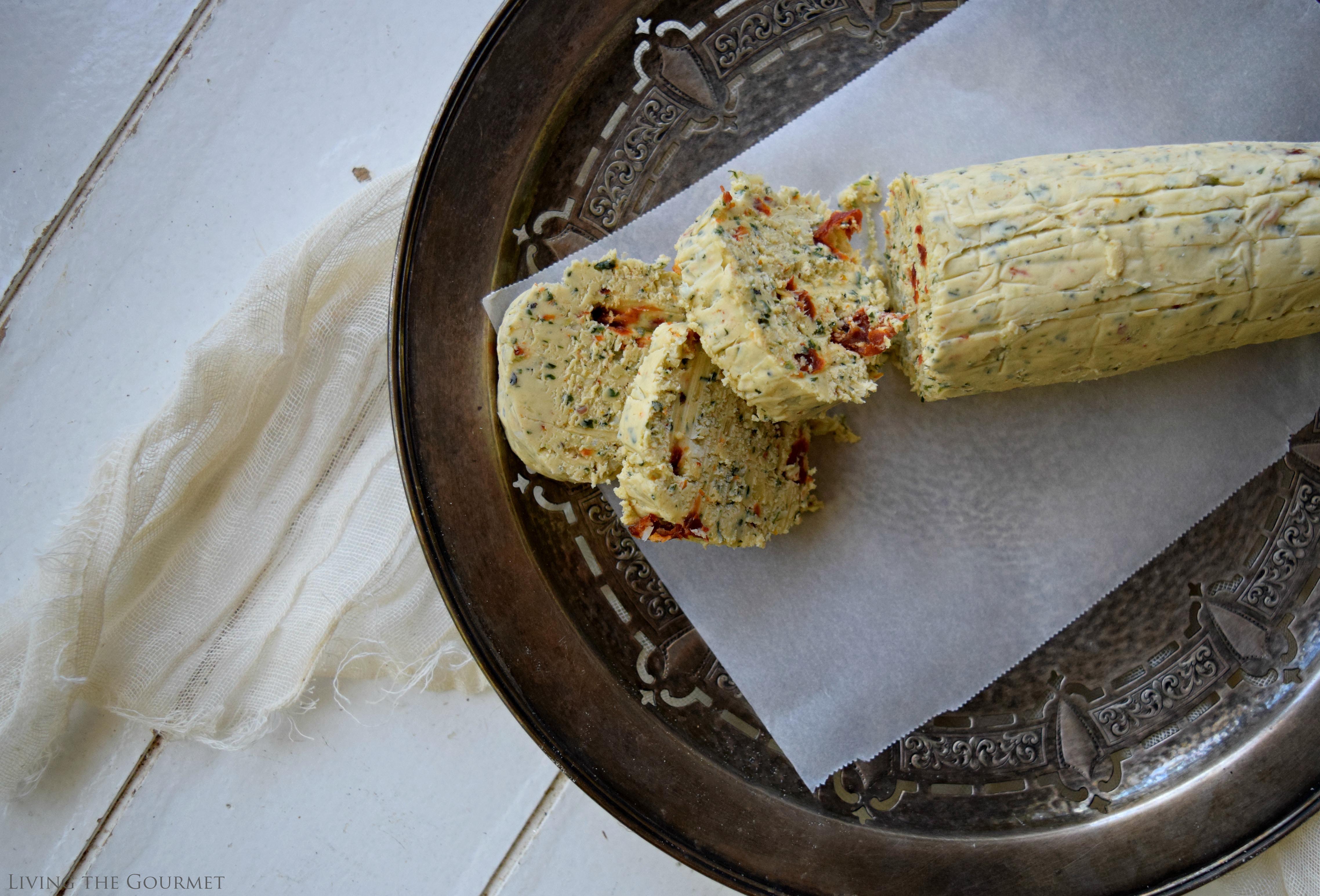 Print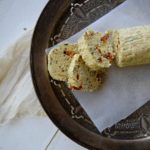 Herb Steak Butter
---
Author:

Total Time:

5 mins
2

sticks of sweet butter - softened
Zest of

1

lemon
Juice of

1/2

lemon

4

garlic cloves - grilled

1/2 tsp

. fresh ground black pepper

1/2 tsp

. salt

1/2

cup

of fresh cilantro

2

sun-dried tomatoes
---
Instructions
In a food processor combine the two sticks of butter, the lemon zest and lemon juice, grilled garlic, salt, pepper, sun-dried tomatoes and the fresh cilantro.
Process until smooth and creamy; then remove from the food processor and place on plastic wrap. Fold the plastic wrap over the herbed butter and form a sausage like roll. Wrap in aluminum foil and refrigerate for at least two hours until the butter becomes solid.
Slice a quarter – half inch disc of the herbed butter and place on top of the cooked steak.
Recipe Card powered by
What I wanted to do was to test the steaks in a setting that would capture all of the season's very best flavors, but to do so without having to fire up the grill. Think impromptu get-togethers, or just a relaxed dinner party. To achieve that, I put together a tray of grilled vegetables, which featured zucchini, tomatoes, and bell peppers. After marinating and assembling them, I charred them right on the griddle – simply the most versatile piece of cast iron any kitchen can have.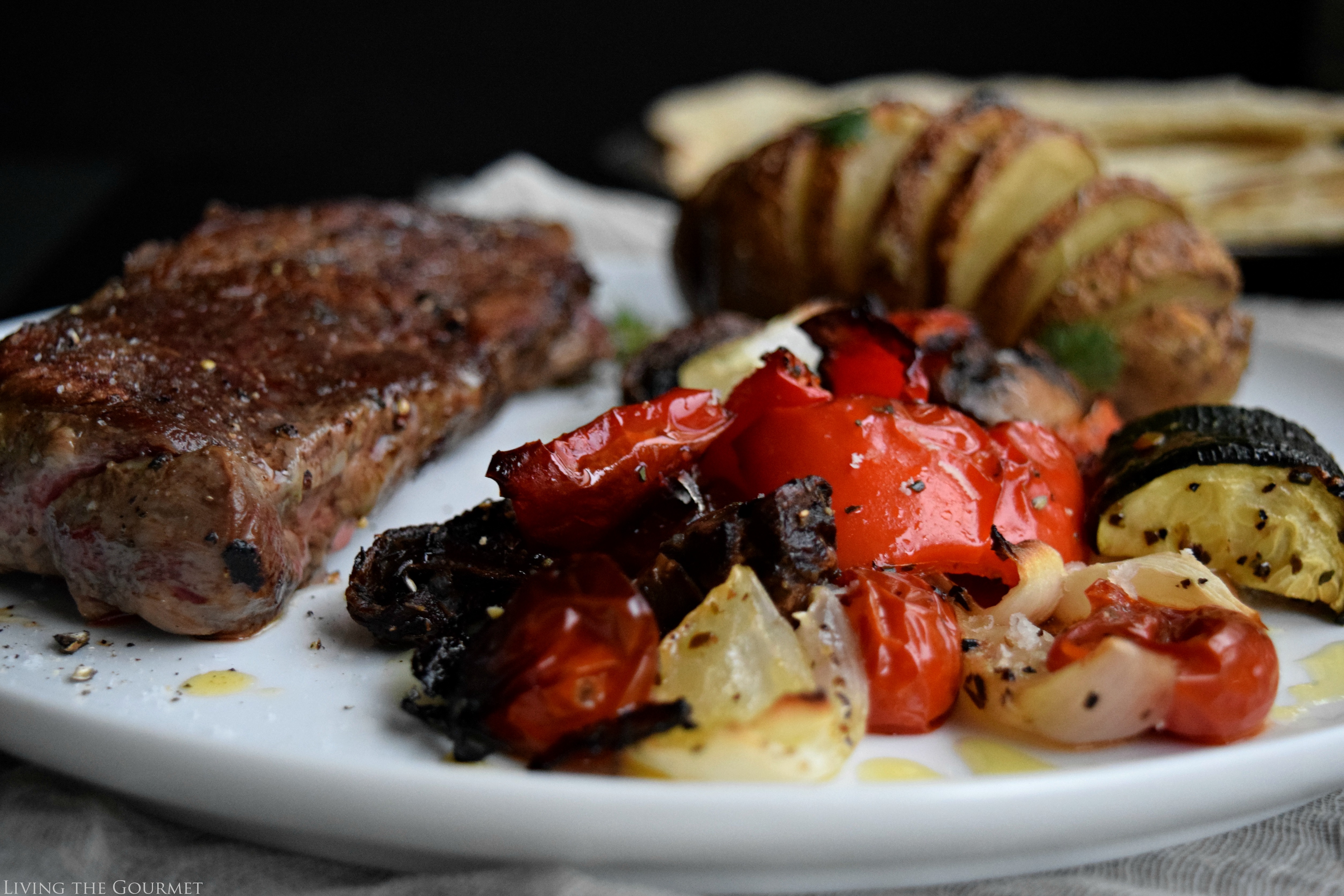 To pair with that, I prepared homemade flatbreads. For the ultimate touch I made Hasselback potatoes which perfectly completed my menu; and then it was time for the steaks. However, the key to tying this altogether, the item that would give the steaks that rustic Mediterranean quality I was going for, was the Herb Steak Butter, which I prepared with sweet butter, fresh lemon juice and zest, garlic, black pepper, salt, cilantro and tomatoes.
After preparing the butter, and letting it harden, I grilled the steaks, and plated them with the grilled vegetables. A few pats of the herb butter on the warm steaks, and I found myself with the very best of the summer season in a plate.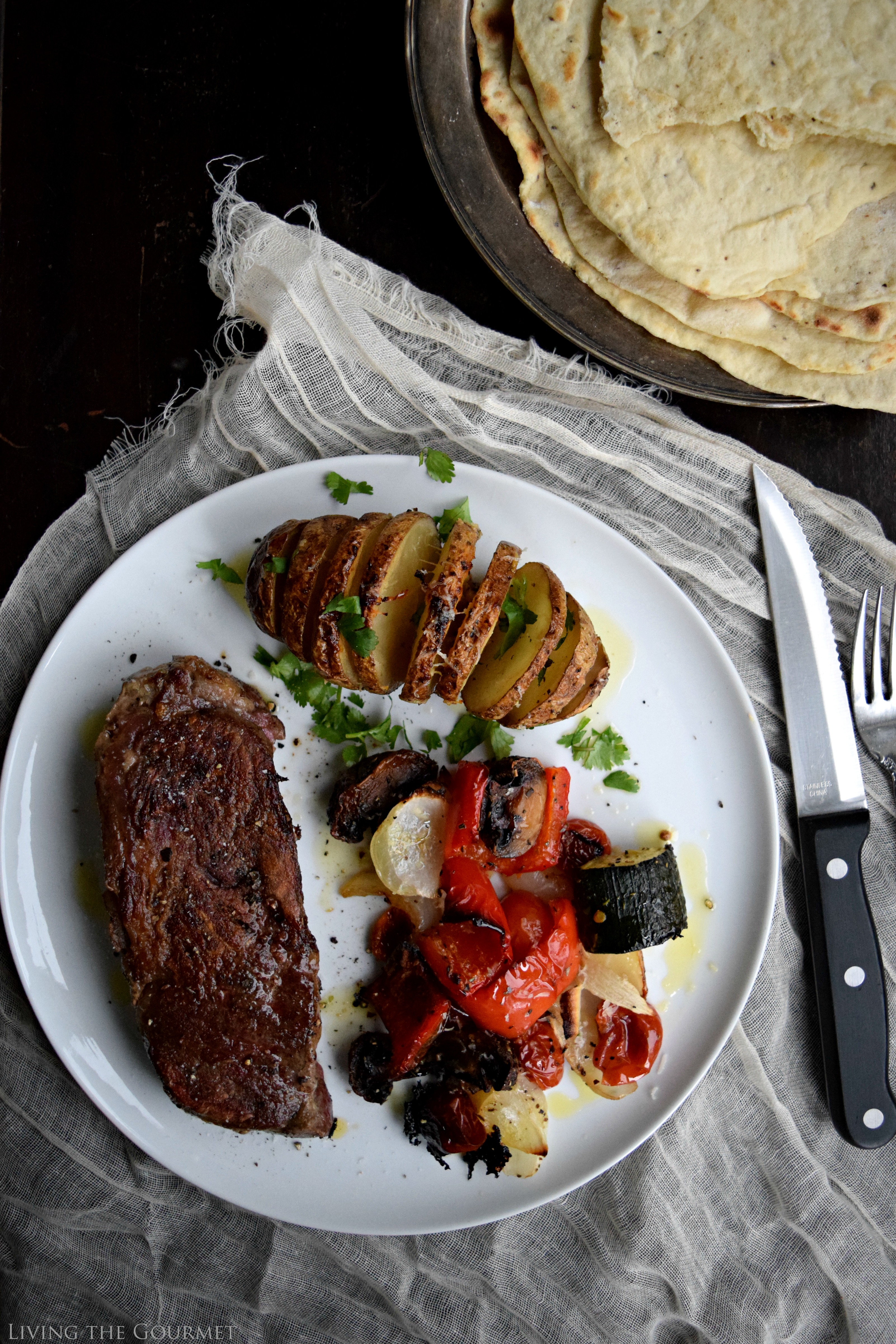 Print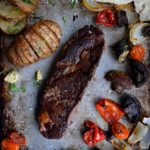 Grilled Beef Ribeye Steaks with Hasselback Potatoes & Roasted Vegetables
---
Author:

Total Time:

50 mins

Yield:

2

1

x
For the Steaks:
2

ButcherBox Ribeye Steaks

2

tbs. olive oil
For the Baked Vegetables & Marinade:
1

bell pepper - sliced into chunks

1

sweet onion - sliced into chunks
Grape tomatoes

1

quart

Fresh button mushrooms - halved

1

zucchini - sliced into chunks
Parmesan cheese for grating
Marinade:
1/2

cup

of olive oil
Juice of

1

lemon

1

tbs. sugar

1/2 tsp

. salt

1/2 tsp

. fresh ground black pepper
Hasselback Potatoes:
4

-

6

potatoes

4

tbs. olive oil
Dash of salt
Dash of black pepper
Juice of

1/2

lemon
Grated Parmesan
---
Instructions
For the Steaks:
Heat a heavy cast iron frying pan with the olive oil. Place the steaks in the pan and cook until one side has a beautiful golden color.
Flip and finish cooking on the other side.
The steak becomes more well-done as it becomes more firm when gently pressed. The cooking time depends on the thickness of the steak.
For the Baked Vegetables:
Combine all of the ingredients for the marinade in a small bowl and mix.
Preheat Oven 350 degrees F.
Place all of the sliced vegetables in a bowl and pour the marinade over the vegetables.
Refrigerate until ready bake.
Place the marinated vegetables as a single layer on a baking pan.
Bake 40 – 45 minutes or until a slight char appears on the vegetables.
Grate a little Parmesan cheese over the vegetables before serving.
Hasselback Potatoes:
Preheat Oven 425 degrees F.
Wash and dry the potatoes.
Rest the potato on a serving spoon. Cut slices in the potato ¼ inch apart, stopping when the knife touches the spoon.
Combine the ingredients for the oil mixture in a small bowl.
Place the potatoes in a baking dish. Brush the potatoes all over; including the bottom, with the oil mixture.
Bake the potatoes for 30 minutes; then brush the potatoes with the oil mixture once more.
Bake another 35 – 40 minutes or until the potatoes are nice and crispy.
Remove the potatoes from the oven and grate with the Parmesan cheese and serve.
Prep Time:

10 mins

Cook Time:

40 mins
Recipe Card powered by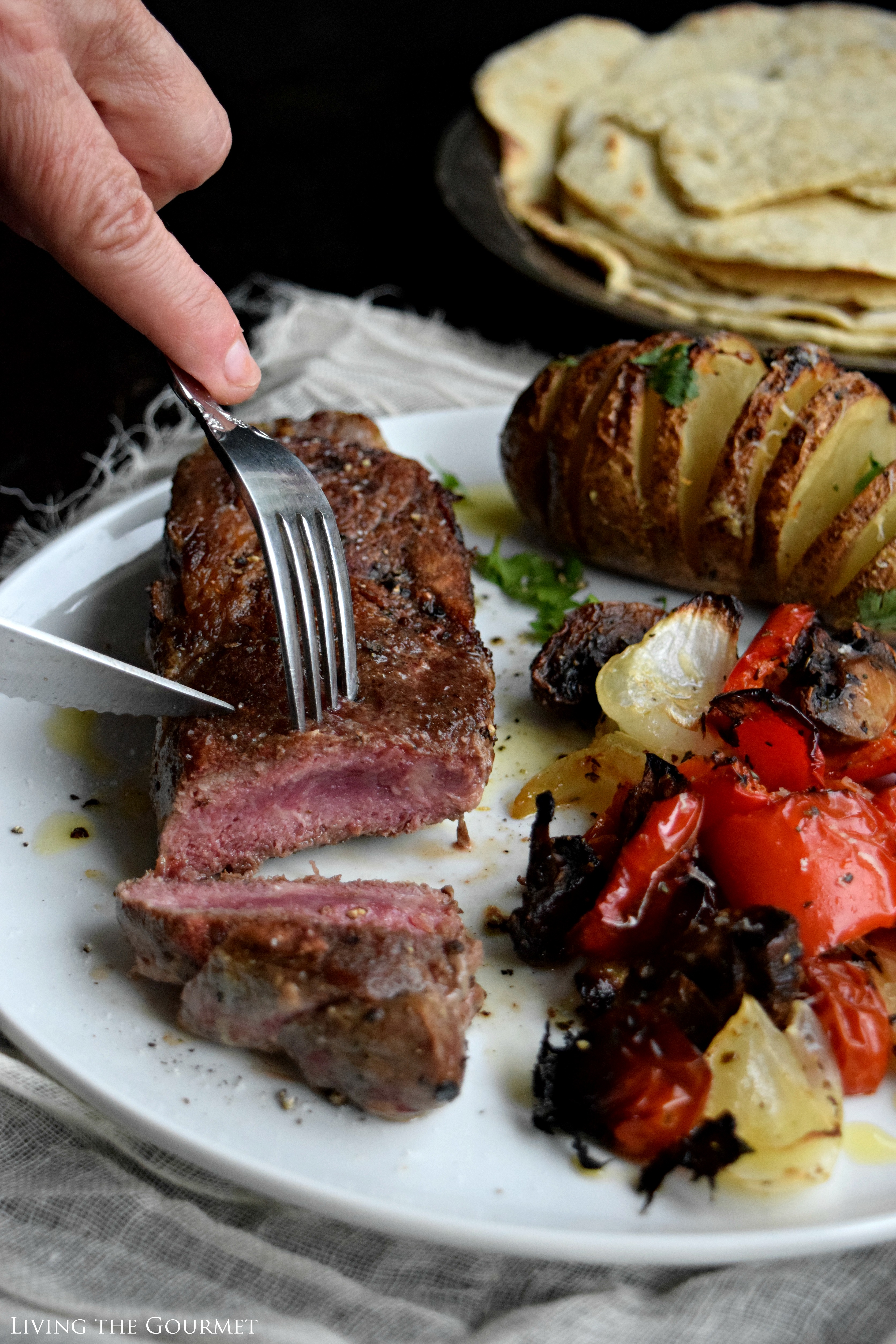 That said, don't let the season pass without ordering a box of these delicious steaks, and see for yourself the difference in quality that grass-fed beef makes. Order now, through this special LTG link and use promo code livingthegourmet to receive $10 off your first offer. Also from now until 5/28 ButcherBox will include a FREE package of bacon in your first box.
Enjoy with Love!
1