This post has been sponsored by Jarlsberg® Cheese. All opinions expressed are my own.
Thanksgiving Leftover Sandwiches are one of everyone's favorite ways to use up what remains of the annual feast. While they were popularized over the last decade and a half courtesy of the 'foodie revolution,' they're hardly something new.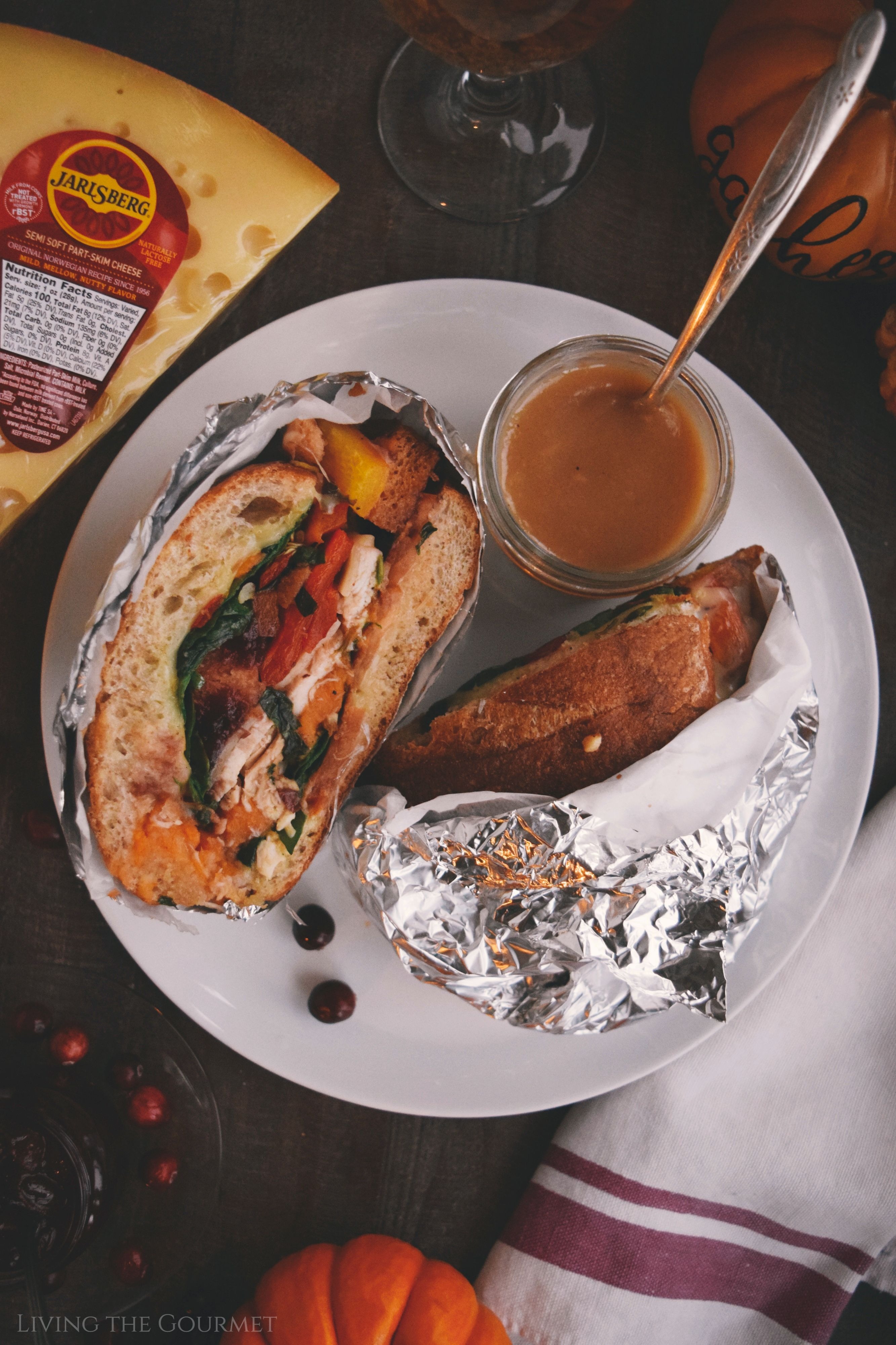 I first encountered these sandwiches years ago at an old-style deli just a few minutes' drive into town, which was owned and operated by a pair of eccentric brothers who were dear friends of mine. They had the all of the expected deli-staples, like from-scratch butterscotch pudding, which was absolutely to die for, and a never-the-same menu of hardy soups and stews, but they also had a few items that were then-ahead-of-their-time, such as balsamic fruit salads and a surprisingly fantastic homemade hummus. However, from the start of November through December, they served a giant sandwich called "A Thanksgiving," which we would today recognize as a "Leftover Sandwich." It was a combination of rotisserie turkey, usually doctored up with various herbs, along with the hardiest, greasiest sausage stuffing I've ever had, crisped reheated mashed potatoes, gravy so thick you could stand a spoon up in it, and jellied cranberry sauce, all of which was piled either on a hero or a Kaiser roll, depending on how adventurous you were feeling.
Naturally, that was the inspiration for today's recipe, but I wanted a "Leftover Sandwich" that was a bit more "up to date" than the original, as well as a bit more 'refined' than most of the 'new' recipes out there, and so we'll be putting a few key twists on this ever-familiar favorite, and we'll be doing so with a little help from our dear friends over at Jarlsberg Cheese.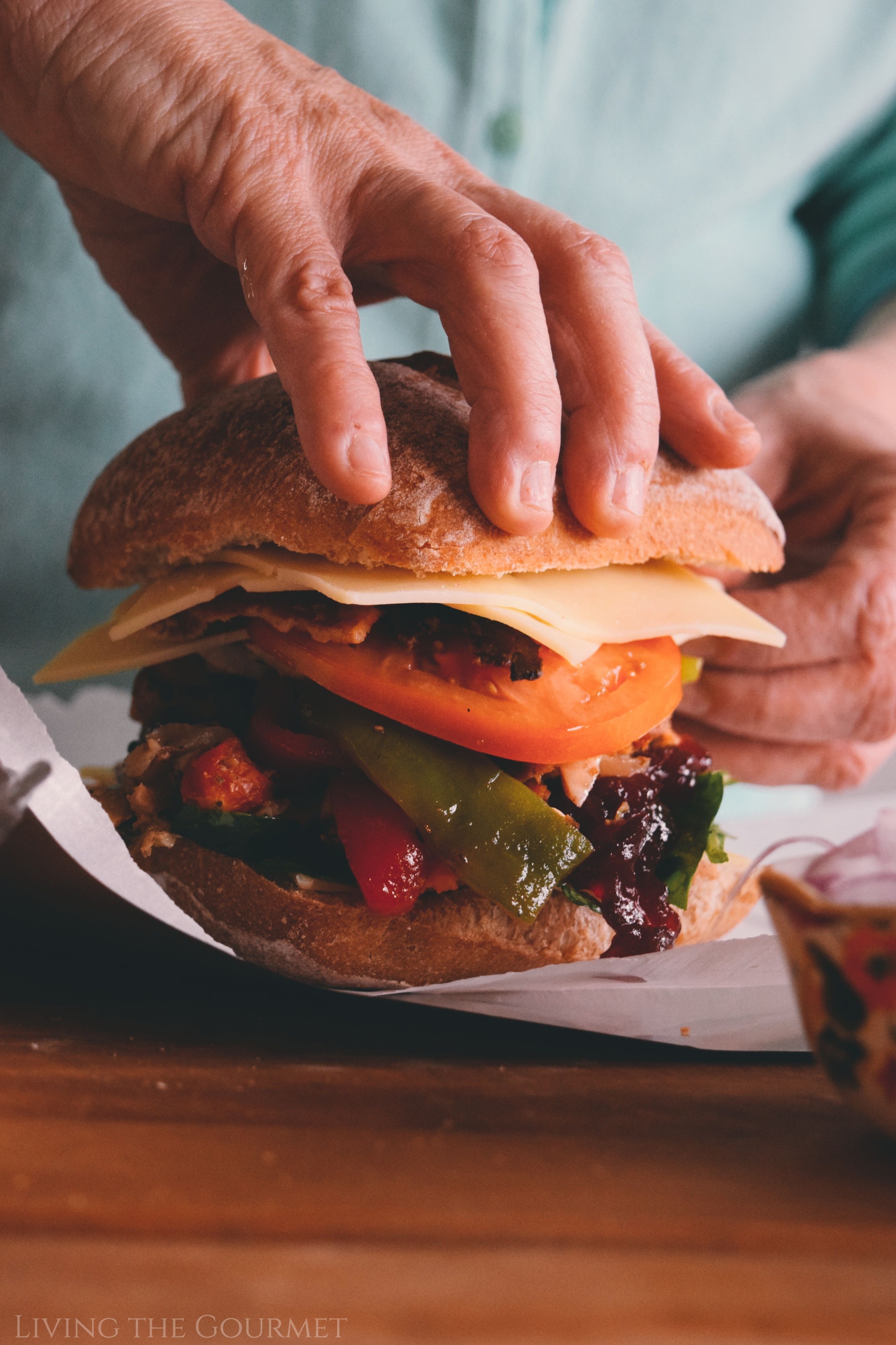 Stacking the Sandwich – How To Leftover
1) The Turkey. The 'meat' of today's sandwich. I'm partial towards using the white meat for sandwiches in general. For best results, heat the turkey up gently before assembling the sandwich, but not all the way through, lest you dry it out.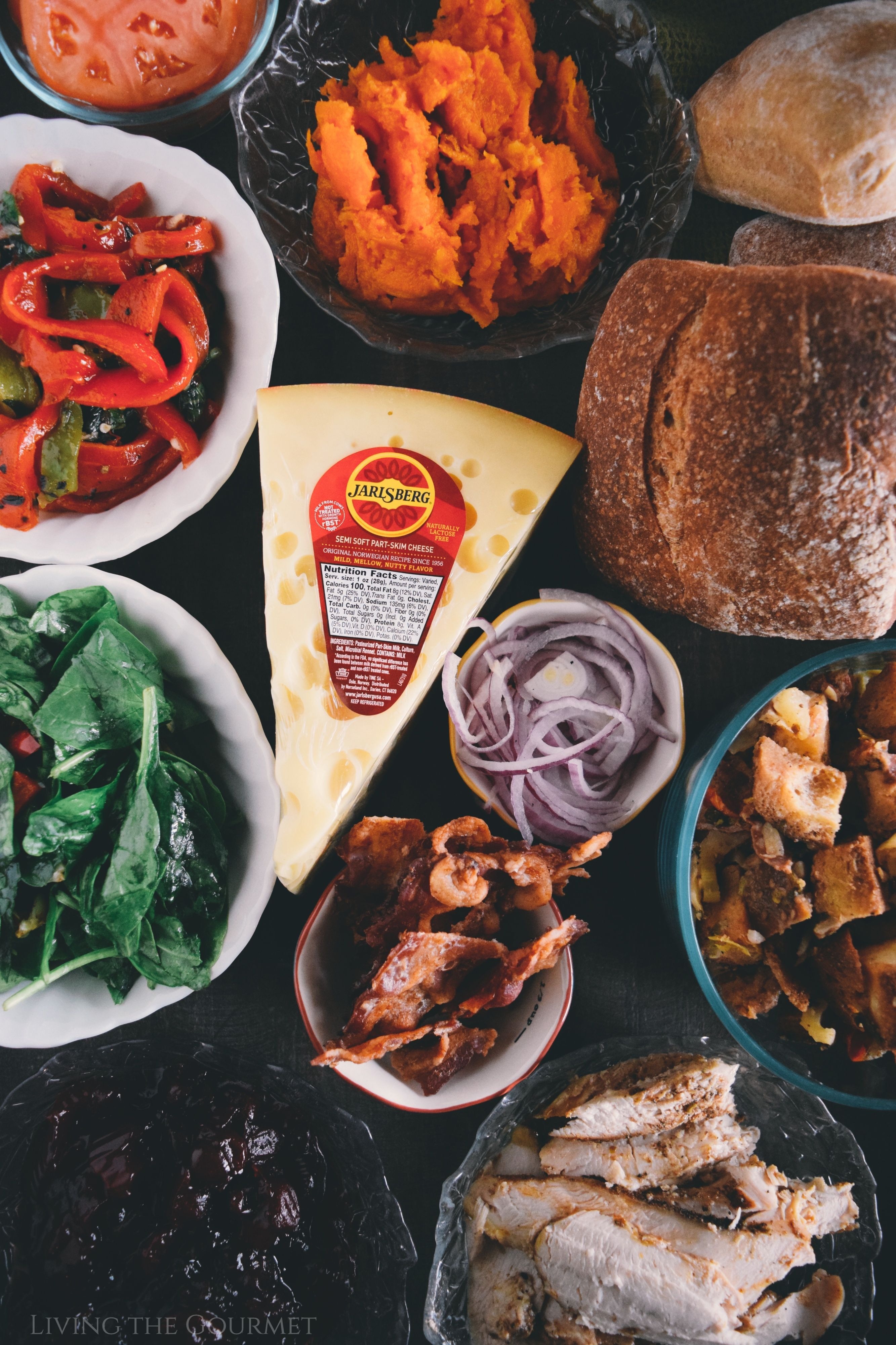 2) The Cheese. For today's recipe you'll want a cheese that, while meltable, remains somewhat firm after melting so that it can act as a 'binding agent' for the rest of the sandwich. You also want a cheese that's more or less mild in flavor, but that compliments the 'earthy' tones of Thanksgiving recipes – a cheese that's perhaps somewhat nutty despite its mildness would be ideal. To achieve precisely that, I'm using Jarlsberg Cheese. Jarlsberg is, to my mind, most at home as a sandwich cheese, especially in warmed sandwiches like today's, where its firm-melting qualities are on full display. Beyond that, Jarslberg is a great 'all purpose' cheese to keep on hand, it's a delicious addition to cheeseboards, or for recipe's like my Pasta Bake or cranberry phyllo cups. For more info, or to order some cheese for yourself, check out Jarlsberg over at www.jarlsberg.com.
3) The Cranberry Sauce – Do's and Don'ts. This is the one 'tricky' part of today's sandwich, since an overly 'soft' or 'watery' cranberry sauce will go straight through the potatoes and saturate the bun, effectively disassembling the sandwich, this will be doubly true when trying to warm the sandwich either in the oven or toaster-oven. That said, you want a 'firm' or 'jellied' cranberry sauce for best results.
4) Grilled Peppers – Leftover or Not. Here's where I'm departing from the 'leftover' ingredient list – albeit I 'have' prepared grilled peppers for Thanksgiving a numbers of times, I've never actually had any leftover (no-so humble brag intended). What these bring to the table for today's sandwich is a nice layer of 'grilled' and 'smoky' flavors, along with a bit of fruity 'crunch.' It's also a nice way to insert some 'spice' into the otherwise traditionally heatless ingredient list. I grilled my peppers stovetop straight on the burners, but if you're not comfortable doing that, you can use a dry cast iron pan or griddle to achieve largely the same effect.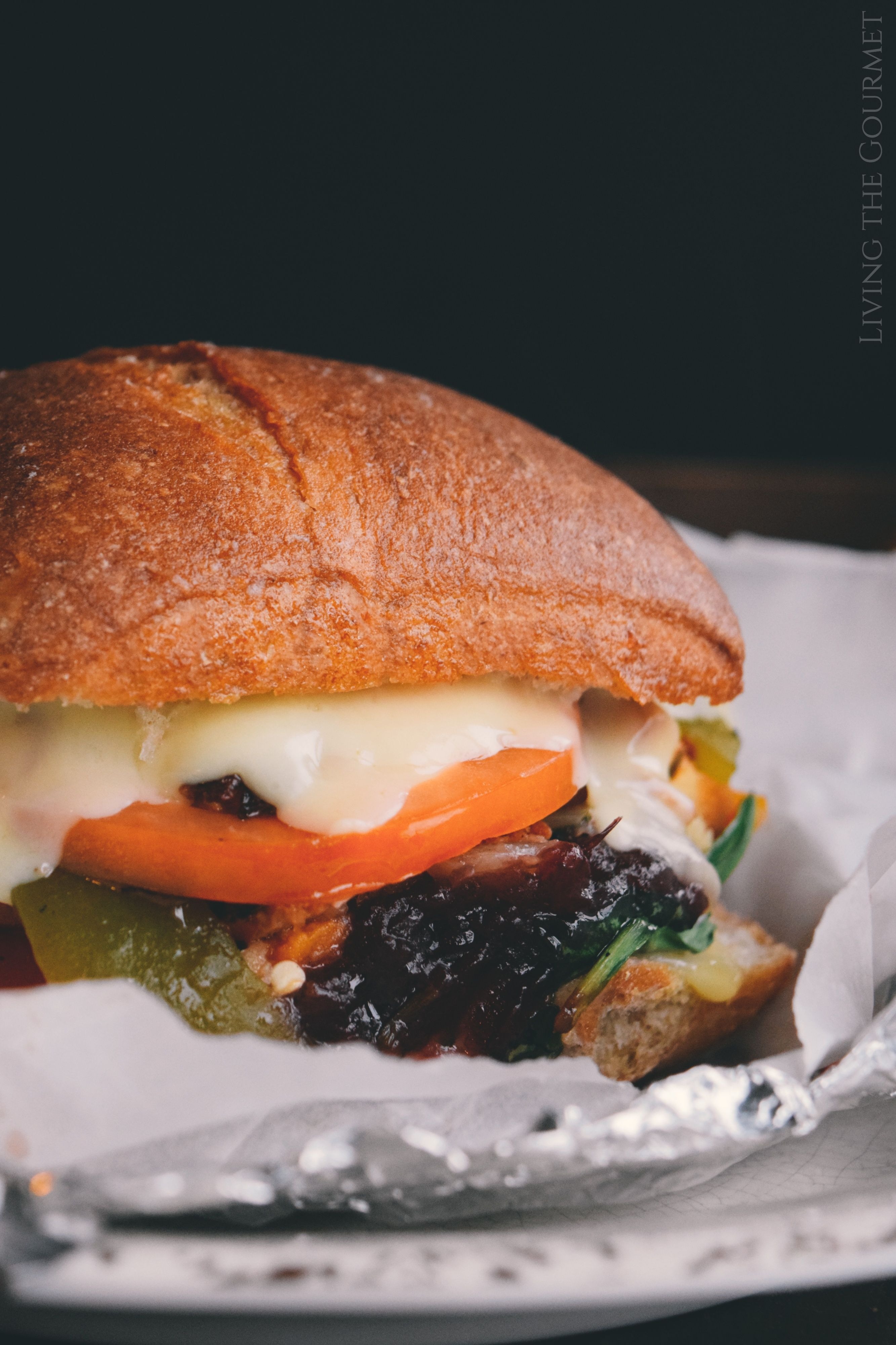 5) The Bread. I cannot stress enough how you 'need' firm bread, preferably some sort of substantial roll, such as the ciabatta I'm using today, or a crusty Kaiser roll. Conversely, you could also use a generous slice of Italian or French bread, provided the crust is 'crusty' enough. "Soft" Italian or French bread would simply fall apart.
6) Potatoes – Your Choice, Get Creative. Believe it or not, you are 'not' limited to slathering on mashed potatoes onto a leftover sandwich. If you have baked potatoes left over, provided they're firm enough, you could either slice them up, and grill them with herbs, garlic, and olive oil, or crisp them on a griddle with butter. Conversely, you could 'hash' them with diced onions and minced bacon, with plenty of salt and pepper, and then scoop that right onto the sandwich.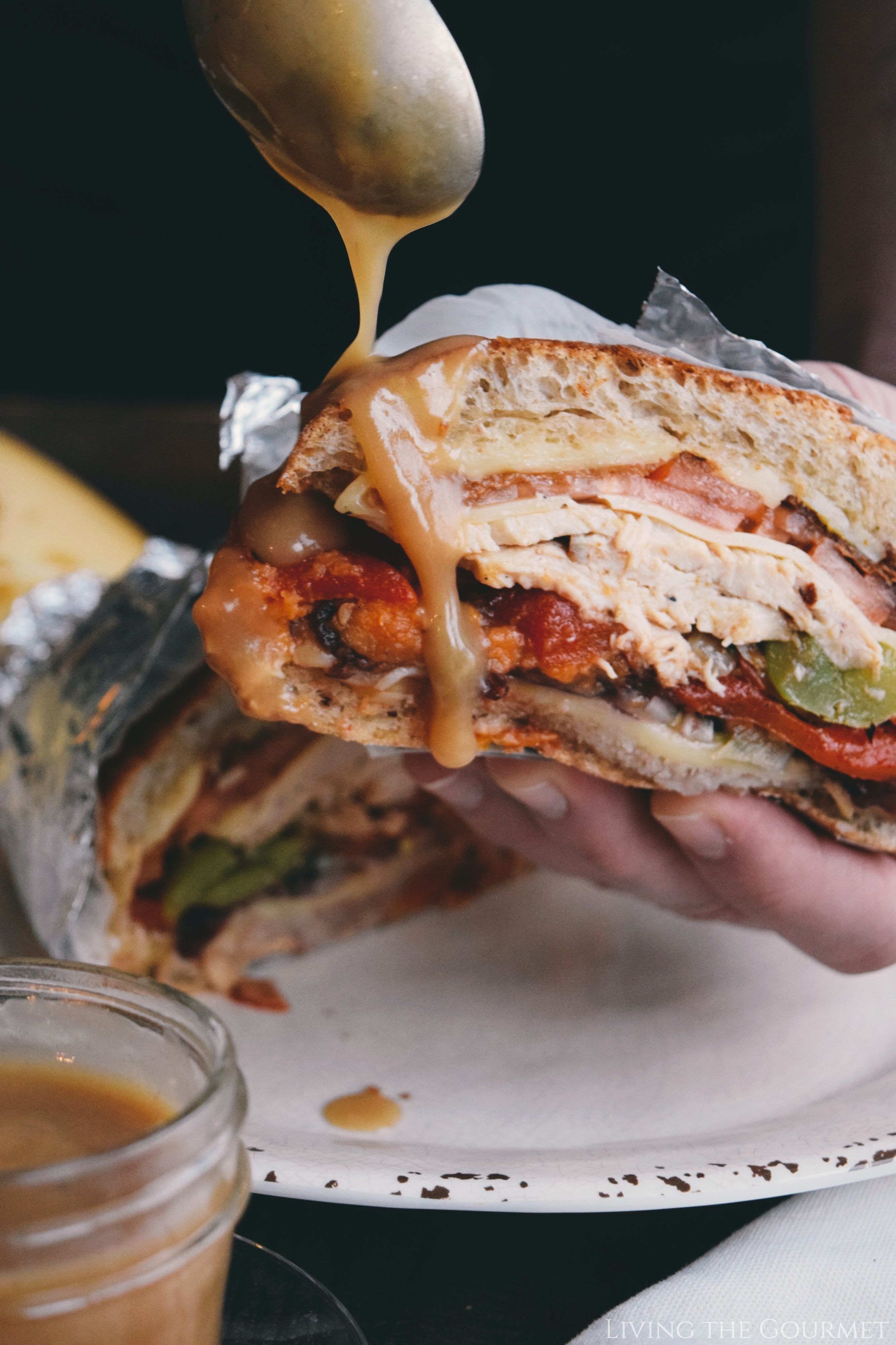 More Jarlsberg Goodness
1) Marinated Cheeseboard. This is a greati antipasto spread for the holiday season, combining marinated cheese, roasted almonds, assorted olives, and shrimp prepared with fresh lemon juice, capers, red pepper, and olive oil.
2) Bacon and Onion Burger. Honestly, this is probably my favorite burger recipe ever, combining bacon, carmelized onions, and lots of melted cheese. Seriously, you need to try this.
3) Cranberry Phyllo Cups. These decorative tartlets add a big of elegance to any autumn or Thanksgiving themed spread.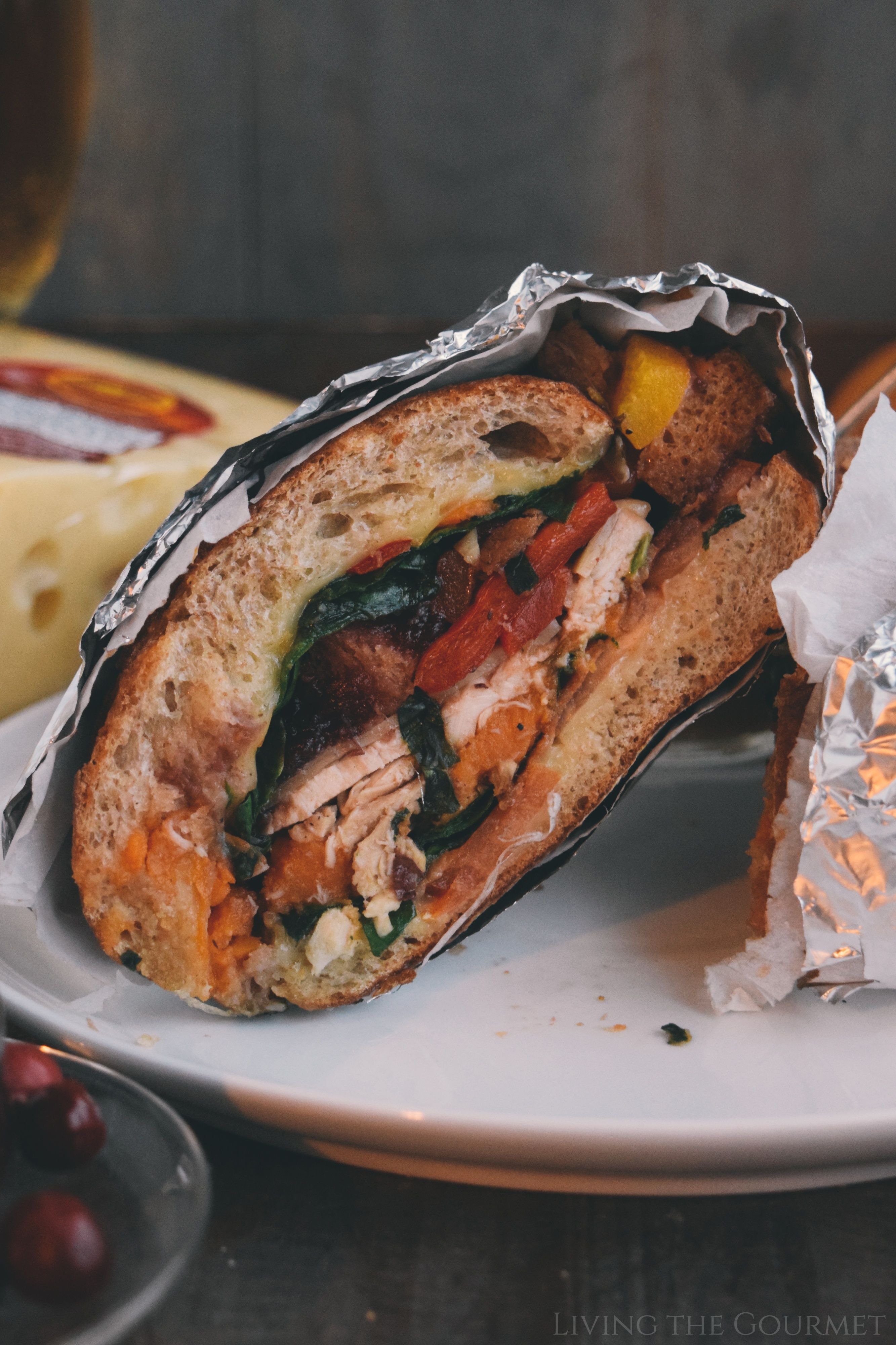 Living the Gourmet
Yields 3 sandwich melts
Thanksgiving Leftover Sandwich Melts
10 minPrep Time
20 minCook Time
30 minTotal Time
5 based on 13 review(s)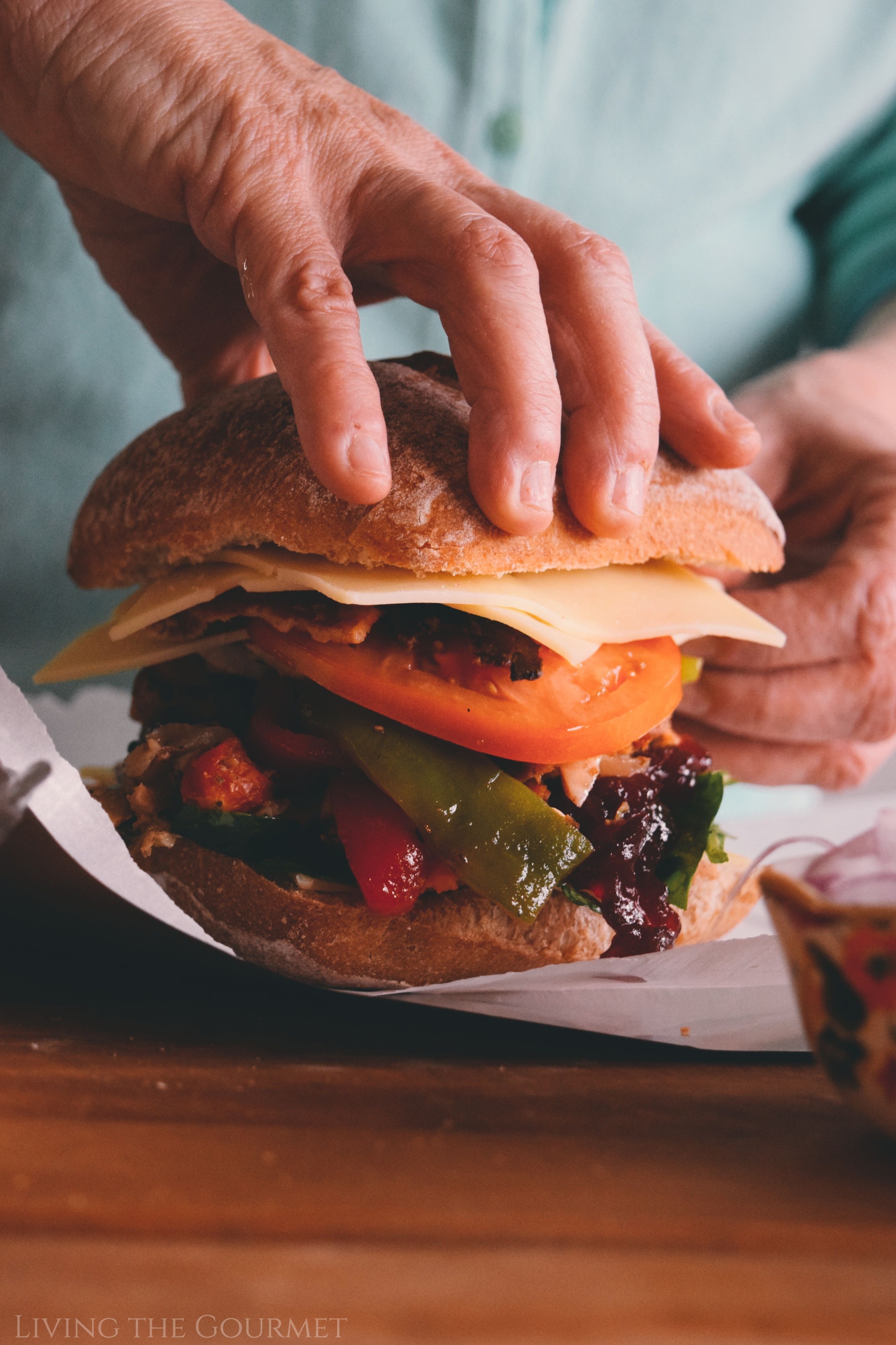 Ingredients
Leftover Thanksgiving turkey
Leftover sweet potatoes – mashed
Leftover cranberry sauce
Grilled peppers - (recipe below)
Baby spinach – (recipe below)
Red onion - sliced thin
Beef Steak tomato - sliced thin
Crisp bacon
Left-over stuffing
Sliced Jarlsberg Cheese
Melted butter – for brushing the rolls
Ciabatta Rolls – or your favorite rolls
Leftover gravy – for dipping the sandwich

Sauteed Spinach:

5 oz. of fresh baby spinach
5 garlic cloves – chopped fine
1 chili pepper – chopped with seeds
Sea salt
Fresh ground black pepper
3 – 4 tbs. olive oil

Grilled Peppers:

4 – 5 bell peppers
4 – 5 cloves of garlic – chopped fine
8 – 10 fresh basil leaves – torn
½ tsp. ground oregano
½ tsp. sugar
½ tsp. sea salt
¼ tsp. red pepper flakes
¼ tsp. fresh ground black pepper
4 tbs. olive oil
1 tbs. balsamic vinegar
Instructions
Sauteed Spinach:

Place the baby spinach in a large bowl and set aside.
Heat a large cast iron frying pan with the olive oil.
Add the chopped garlic, chopped chili pepper and the olive oil. Sauté until the garlic is fragrant and slightly golden.
Pour over the baby spinach and toss with fresh sea salt and fresh ground black pepper.
Set aside until you are ready to build the sandwich.

Grilled Peppers:

Char the peppers and set aside to cool and the peel.
You may char the peppers in a dry cast iron frying pan or carefully over a flame.
Peel the peppers and slice into strips.
In a medium sized bowl place, the chopped garlic, fresh basil leaves, olive oil and seasonings.
Place the pepper slices and toss.
Taste for seasonings.

Assembly:

Preheat Oven 350 degrees F.
Gently scoop out a bit of the inside of the roll to make it a bit easier to fill the sandwich.
Place the roll-on tin foil topped with a slice of parchment paper.
Brush the inside of the roll with the melted butter.
Place two slices of Jarlsberg cheese on each side of the roll.
Top the cheese with the sandwich ingredients listed and before bringing the two sides of the roll together add another slice of Jarlsberg cheese.
Wrap the sandwich tightly with the parchment and tin-foil and place in the oven to 15 – 20 minutes.
Using a sharp knife cut the sandwich while still wrapped.
Serve with a side of leftover gravy for dipping the sandwich.
7.8.1.2
1380
https://livingthegourmet.com/2019/11/thanksgiving-leftover-sandwich-melts.html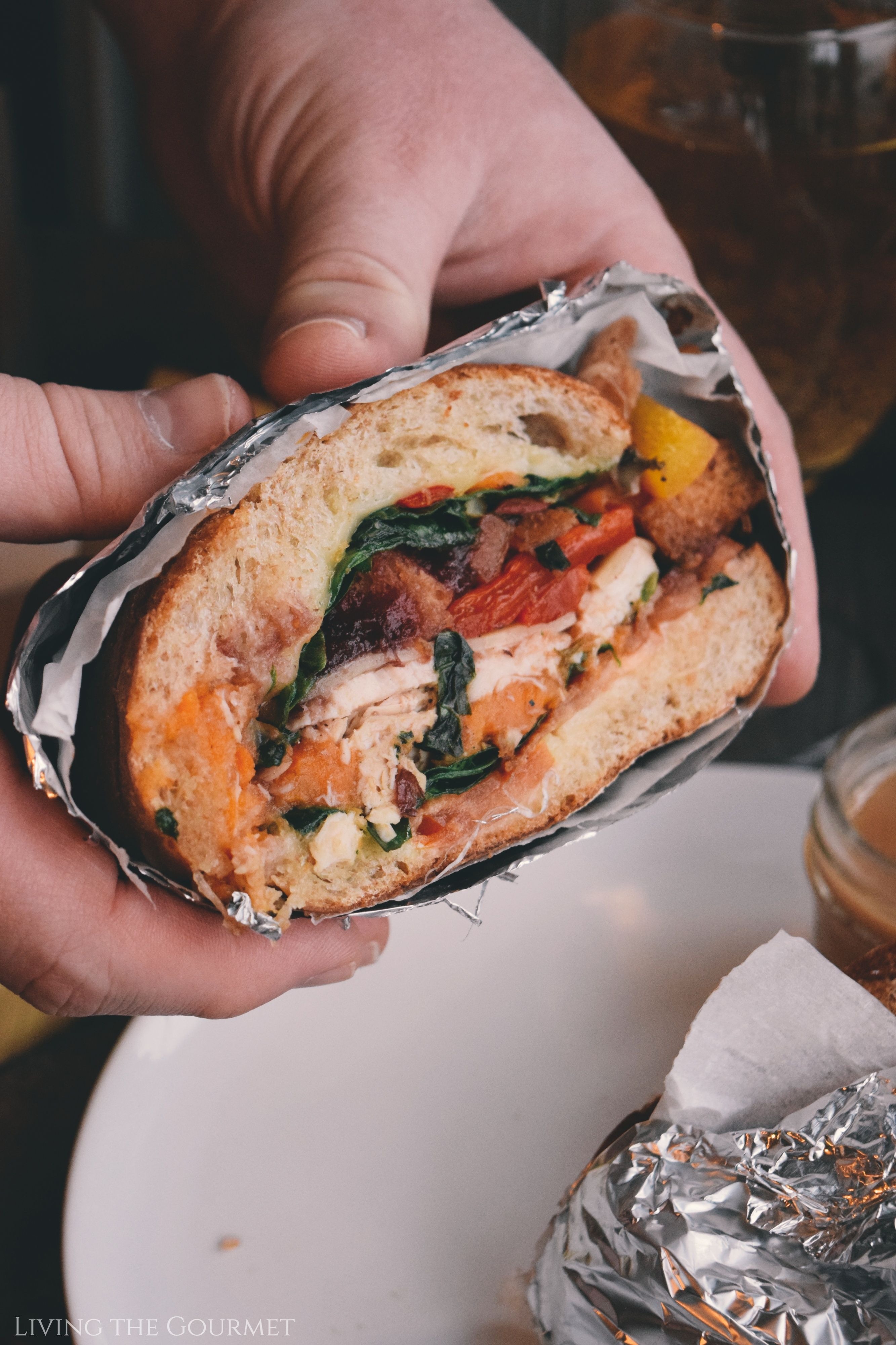 If You Enjoyed Today's Recipe…
Be sure to follow us on Instagram to stay up to date with all things Living the Gourmet, and for more great recipes, tips and tricks.
Did you make this recipe?
If so, let me know in the comments down below, or post a picture to Instagram, or to Pinterest, and I'll give you a shoutout on Instagram, or post your pin to one of my Pinterest boards!
0