Today we're preparing a soup that I think perfectly encapsulates the idea of "Something warming on a crisp autumn day." Combining cannellini beans with seasonal favorites like bay leaves, celery, and fennel, this soup pairs perfectly with a side of crusty bread and a hot tea or coffee. As a plus, while hardy enough to serve as a meal unto itself, it can also double as the starter before a larger main course.
Now, let's get to it.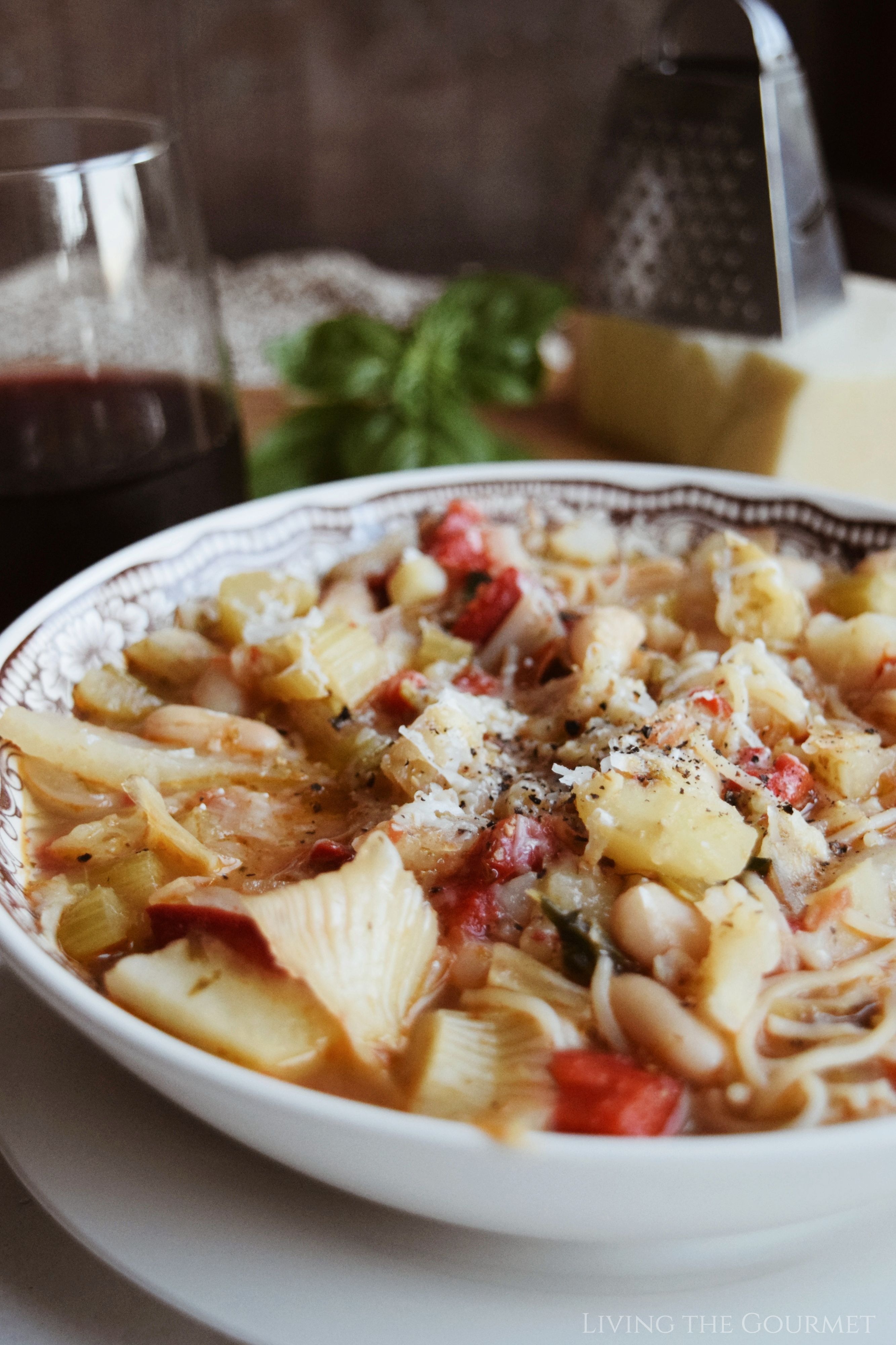 Ingredients – Tips and Notes
1) Cannellini Beans vs Navy Beans vs Butter Beans. The truth is these three beans are often used interchangeably, and you can use any of the three in today's soup. However, there are subtle difference that make one or the other better suited to certain recipes and uses than its counterparts. Today we're using Cannellini beans since they are the largest and 'meatiest' of the 'white bean' group. They also hold up excellently during cooking, as they resist becoming 'mushy,' and retain their shape and texture. They also have a comparatively low starch count. By contrast, Butter Beans are much starchier and somewhat smaller. They are popular in soups in stews where their naturally 'soft' texture is great for achieving a creamy texture. This same quality, however, makes them less desirable when you prefer a 'hardier' texture, or where you want the beans to stand on their own – as in today's soup. Finally. Navy Beans have a low cooking point – basically meaning that they become softer faster – and are the bean of choice for mashing, these qualities, however, also mean that they become 'mushier' than the others during protracted cook times, making them the least ideal of the three for today's soup.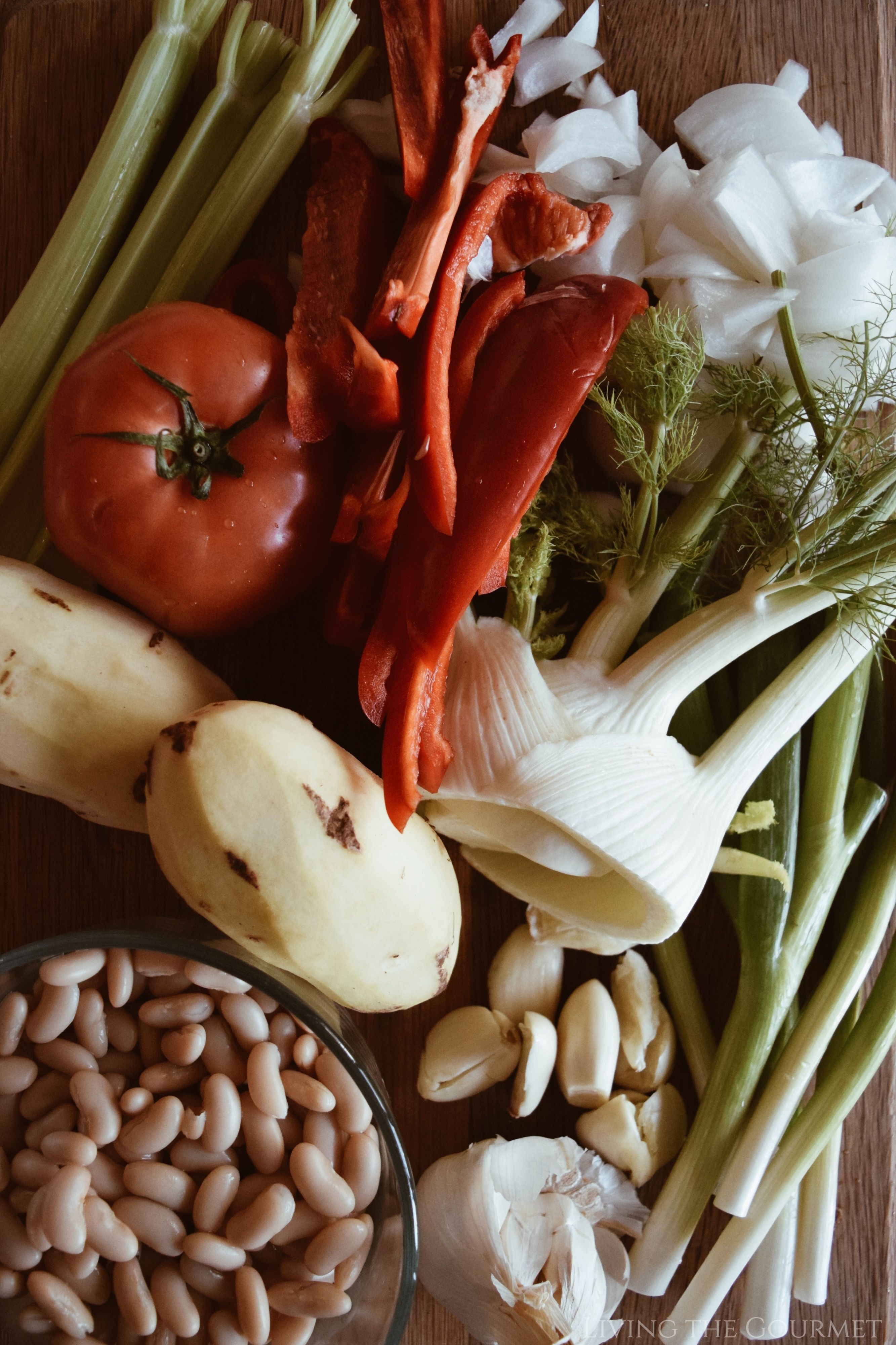 2) Dried Oregano vs Fresh. As a rule, fresh herbs tend to have a 'brighter,' 'crisper,' and 'cleaner' taste than their dried alternatives, as well as a less concentrated or 'powerful' flavor overall. Oregano is no different. However, you typically want to use fresh herbs in place of dried when the 'clean' or 'bright' qualities that typify fresh herbs won't become overpowered by a strong assortment of flavors, or where their 'crispness' won't be destroyed by a harsh cooking process. As such, fresh oregano is simply not needed for today's soup – unless you prefer it for garnish later.
3) Bay Leaves, what are they anyway? This particular herb (or range of herbs, there are many varieties) gets something of a bad rap, with a reputation ranging from articles calling them the "Dryer sheets of the kitchen," to respected food critics stating flatly "What does a bay leaf taste like? Nothing." The mere fact that food critic Alex Delany had to defend the bay leaf's existence is proof in and of itself that the bay leaf is both woefully misunderstood, and sorrowfully underappreciated. That said, they are the key ingredient in Old Bay seasoning, and feature prominently in Italian, Spanish, Portuguese, and Latin American cuisine, where they are used to add sharp pungency and herbal bitterness to already 'rustic' flavor profiles, such as in marinara, adobo, and mole sauces, and that's precisely what we're hoping to achieve by tossing one into today's soup.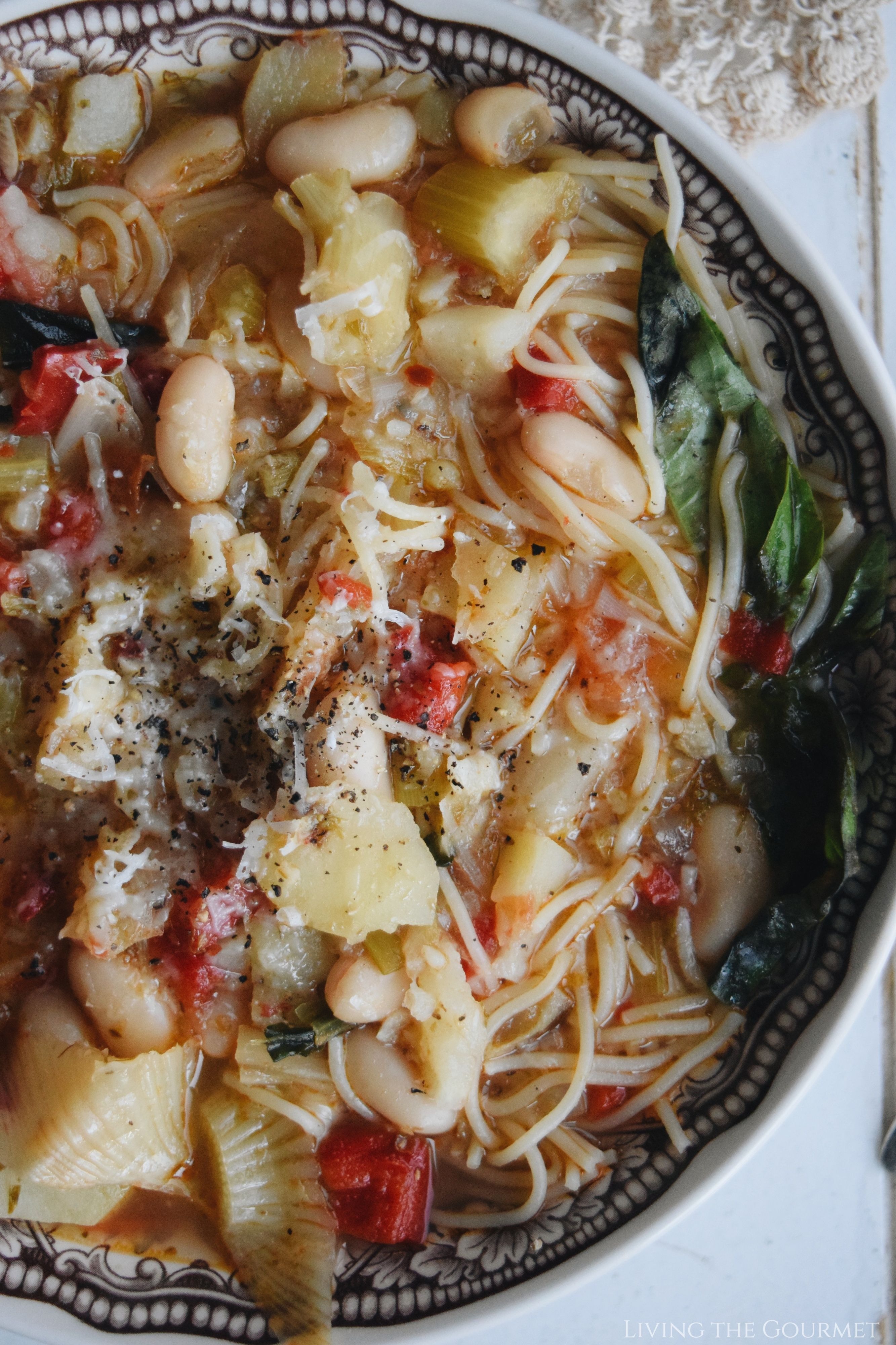 4) The Potatoes. Today we're using standard Russet/Idaho potatoes for the simple reason that I'm not 'really' concerned about them holding their form. In fact, I'm actually using these potatoes more as a 'thickening' agent then as a 'meat' for the soup. Red potatoes or Yukon Golds are generally sturdier and lower in starch, meaning they're more likely to remain nice and firm during the cooking process – but again, that's not really my goal with the potatoes for this particular recipe.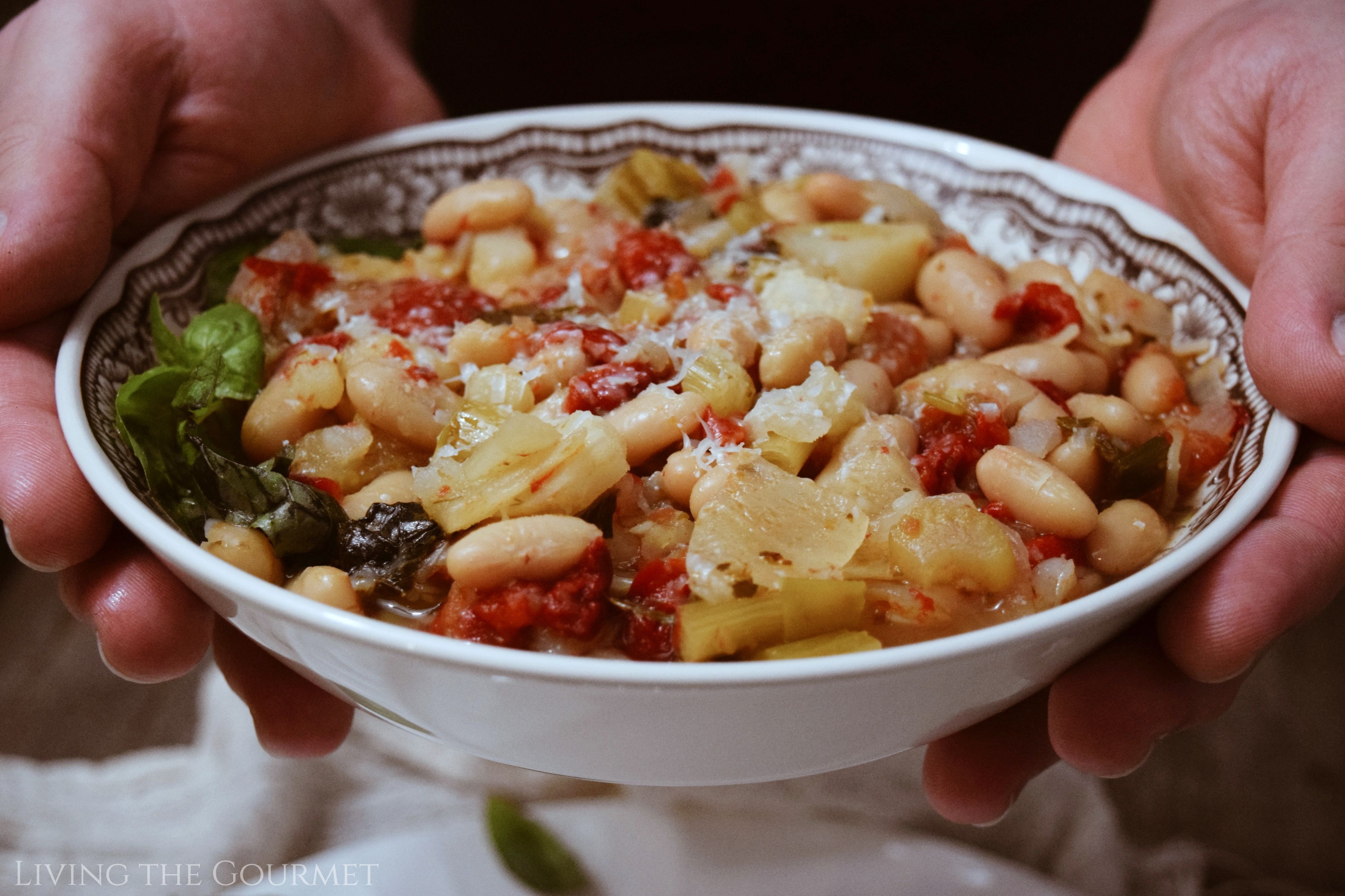 Seasonal Soups Selection
1) Butternut Squash Soup. This soup is what I think of when I think of autumn, combining butternut squash with a medley of fall flavors like smoked bacon, shallots, and garlic.
2) Potato Leek Soup. This super simply potato soup is great for week nights, or as a starter to Sunday dinners, and couldn't possibly be more seasonal.
3) Yam and Tomato Soup. What's autumn without a warming 'red soup' in you repertoire? This is soup as instant fall favorite.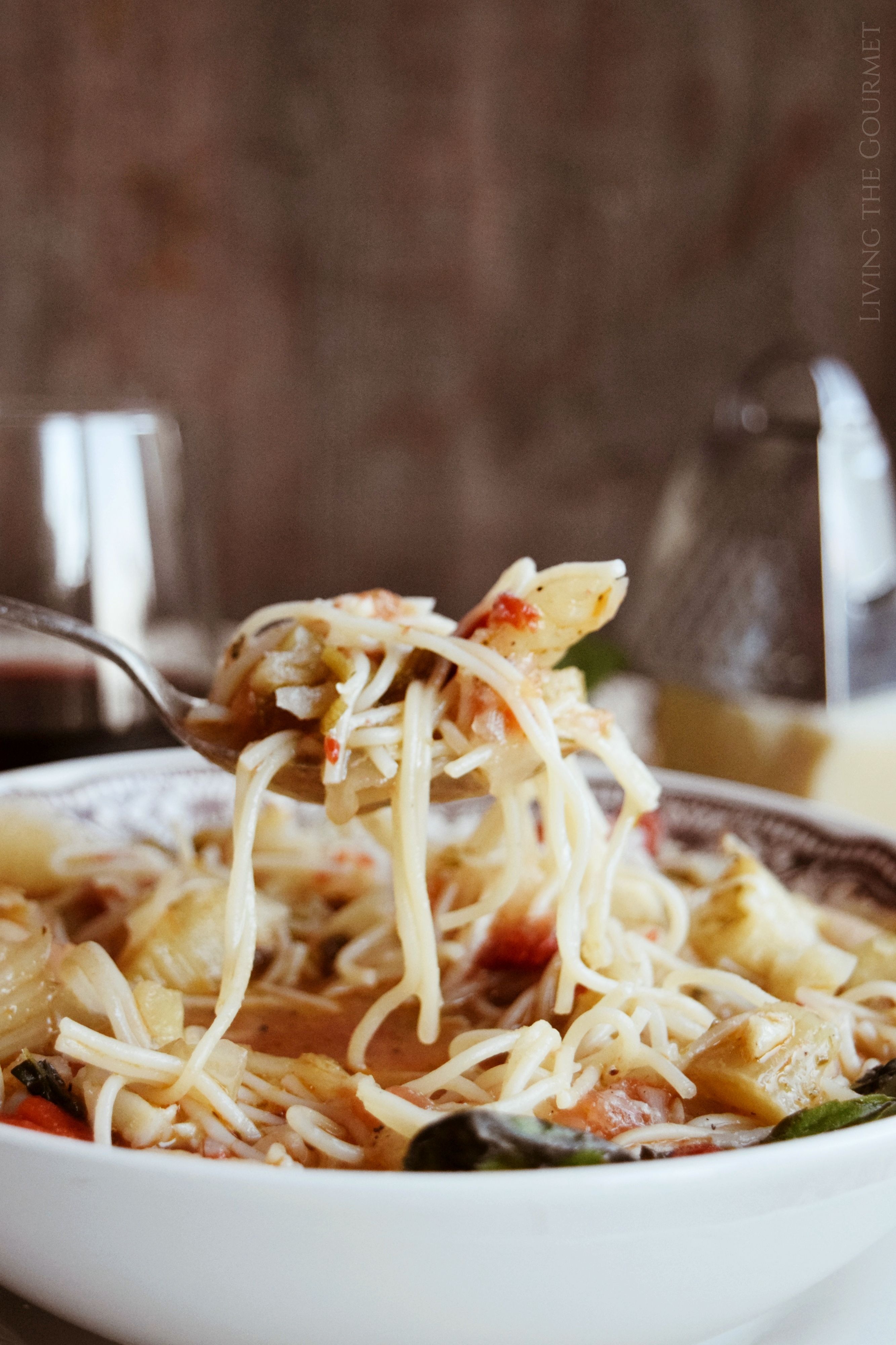 Print
Bean & Vegetable Soup
Author:
Prep Time:

10 minutes

Cook Time:

20 minutes

Total Time:

30 minutes

Yield:

4

-6

1

x
2

red bell peppers - diced

1

bulb of fennel - chopped

2

-

3

stalks of celery - chopped

4

-

5

cloves of garlic - chopped

1

sweet onion - diced

2

russet potatoes - diced

1

bunch of scallions - chopped (about

5

scallions)

10

-

12

fresh basil leaves - ripped

1

tomato - diced

3

tbs. olive oil - plus more for drizzling

2

bay leaves

2 tsp

. salt

2 tsp

. dried oregano

1/2 tsp

. of fresh ground black pepper

1/4 tsp

. of red pepper flakes

6

cups

of water

29 oz

can of cannellini beans - drained and rinsed

1

lb

. of your favorite pasta (I used Angel Hair Pasta)
Romano cheese for grating
Instructions
In a sauce-pot place the diced bell peppers, onions, celery, fennel, garlic and scallions.
Drizzle with 2 – 3 tablespoons of olive oil and season with a teaspoon of salt, oregano, fresh ground black pepper, red pepper flakes and the bay leaves.
Let the veggies cook down and become softened, then add the diced potatoes and continue to cook.
When the potatoes have softened, use a pastry cutter and carefully cut the veggies.
Add the water and simmer on a gentle heat. After 20 minutes or so, taste for seasoning. Re-season the soup if desired.
Add the beans and simmer on a gentle heat while preparing the pasta.
If using a spaghetti type of pasta such as the Angel Hair pasta, I broke the pasta into thirds before cooking.
Serve with a drizzle of olive oil, fresh ground black pepper and fresh grated Romano cheese.
Recipe Card powered by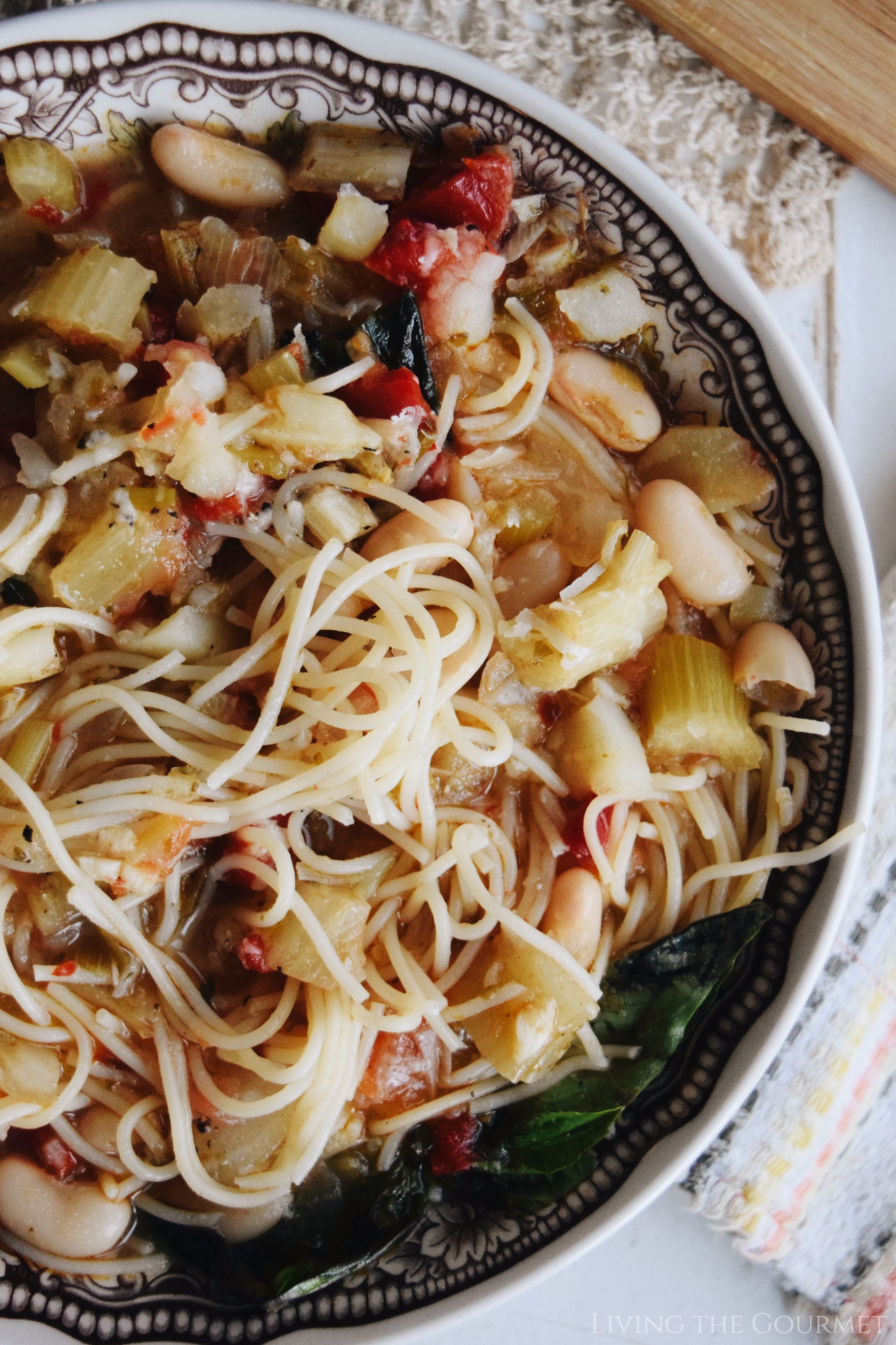 Did you make this recipe?
If so, let me know in the comments down below, or post a picture to Instagram, or to Pinterest, and I'll give you a shoutout on Instagram, or post your pin to one of my Pinterest boards!
1